My good friend, foodie, athletic inspiration, hen-owning, dula master, super cool hair colored, breastfeeding guru coworker and I were brainstorming on Friday about what recipes may be future features on the IG blog. Outside opinions are extremely valuable to me and I sincerely wanted to know what she would want to read about if I weren't already forcing her (and others) to read weekly.
Friendship-by force if necessary.
SO Erika got really pumped up about making a healthy version of the beloved picnic favorite Broccoli Salad. We all know that traditional Broccoli Salad is full of sugary, fatty goodness and those four florets of broccoli you actually end up eating are in no way, shape, or form making up for it. When I was a kid I used it as a dip for my dinner roll, picked out the dried fruit and sucked the sugared mayo off of the broccoli.
Totally normal.
And THEN my mom and I are having a little chatty chat last night and I casually bring up my daily happenings, we get into blog conversation and guess what? Deb says "you know what you should make? A broccoli salad!".
"Ok yeah thanks mom." And I died a little inside.
Anyway, you aren't getting a broccoli salad recipe today because I didn't want to. Plus I really didn't feel like spending my weekend with the broccoli bloat from consuming multiple batches of a gross childhood picnic dish in attempts to perfect it. A recipe of such fibrous caliber takes time and a healthy dose of probiotics. That and I already suffered for THIS recipe just a few weeks ago and my guts are still healing.
Chickpea Pesto Salad with Fresh Parmesan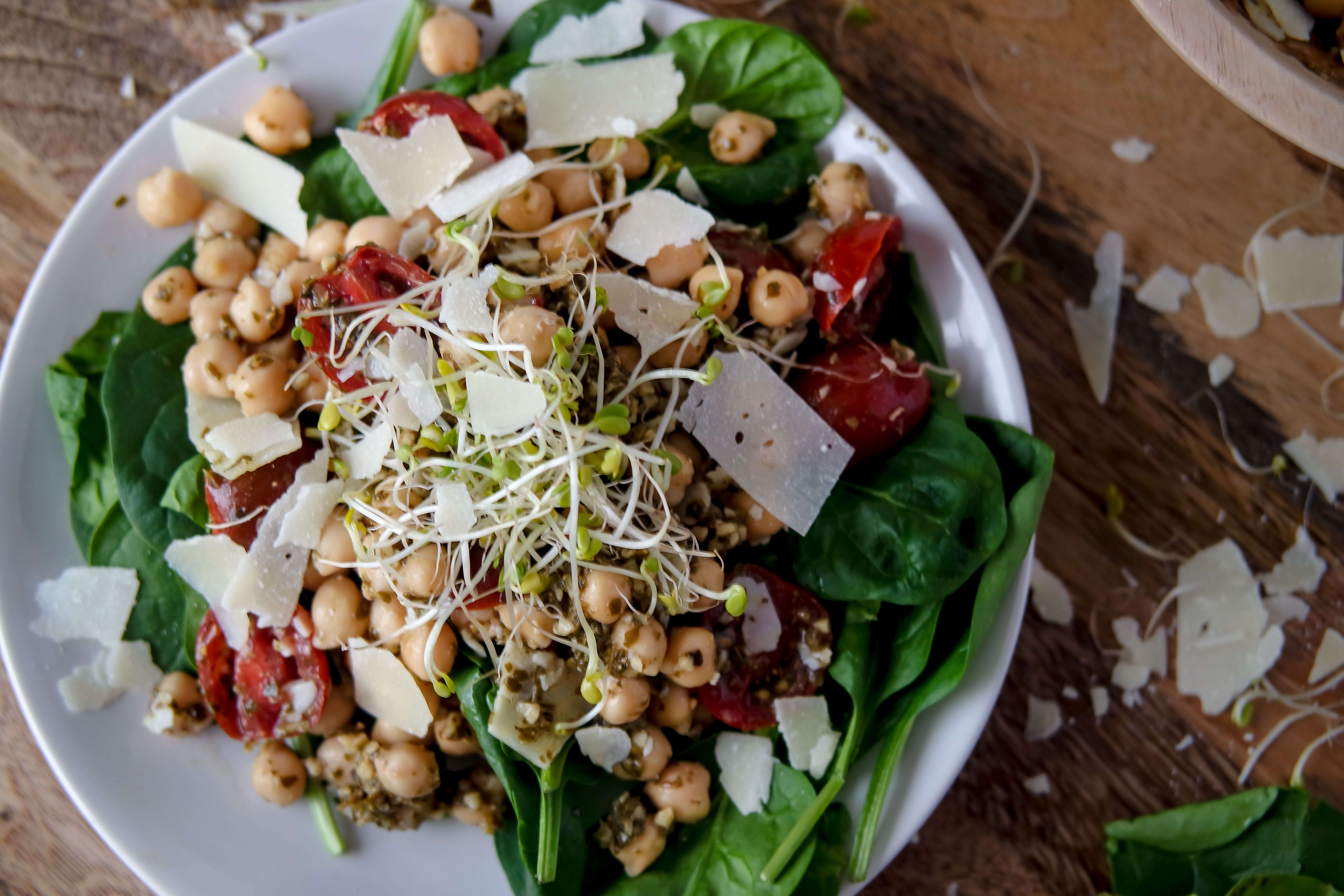 Effortless and easy was way more my speed this weekend. I discovered a series I hadn't watched on Netflix so that sort of rocket-shipped it's way to the front page of my bullet journal.
Just kidding, I don't have a bullet journal. I just saw it on Pinterest and thought it seemed legit.
I don't know if you were already aware of this or not but Pesto makes everything taste fancy AF and people will think you know how to cook things if you use it. You're welcome.
If you hate chickpeas or you are a LOW CARBER then feel free to dice up some grilled chicken and replace the chickpeas. It would probably taste like fresh heaven if you are into that sort of thing.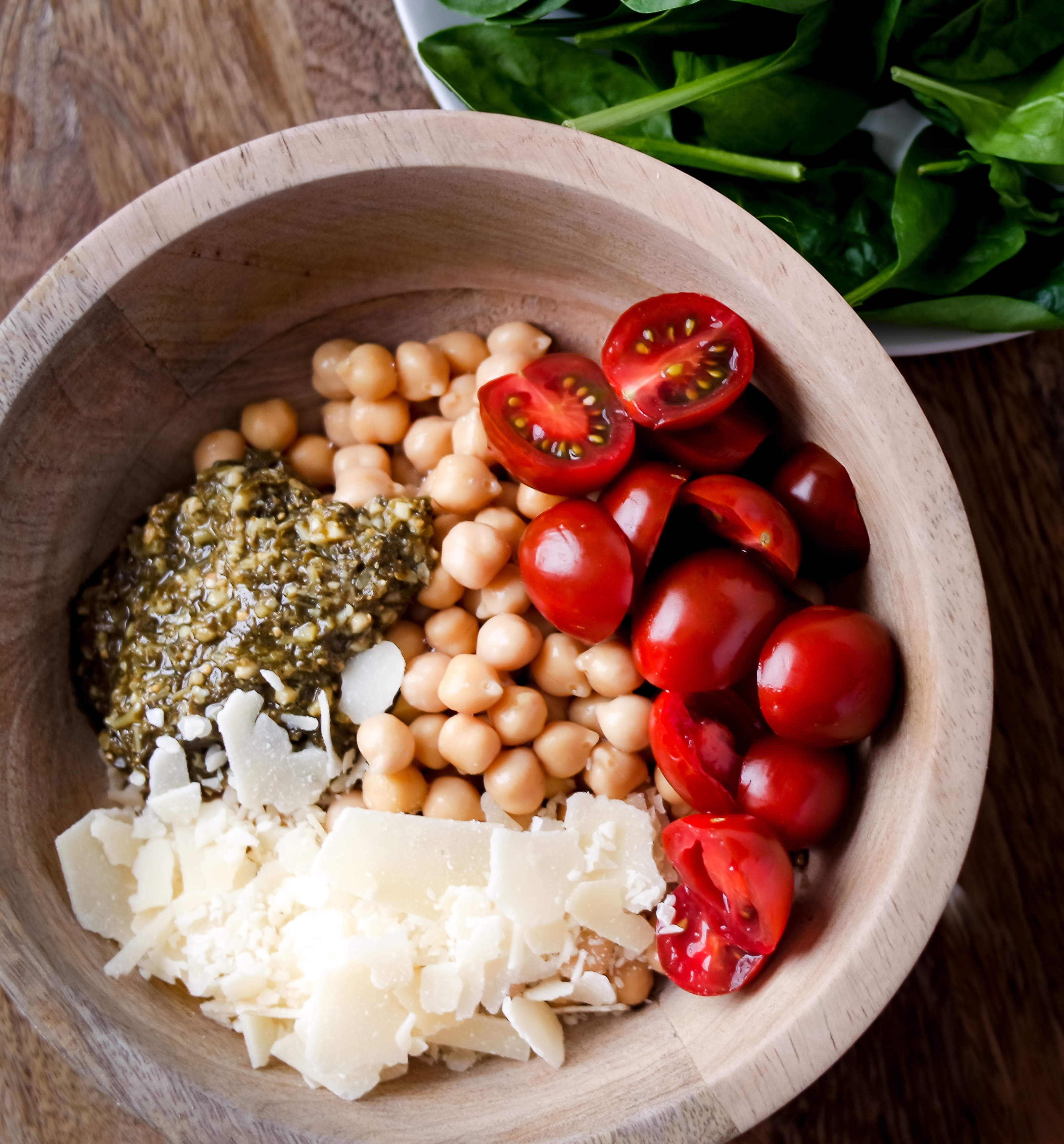 But don't replace the parm or we aren't friends anymore.
At this point in the recipe you have probably done a solid 45 seconds of "cooking". I'd say getting the ingredients out of the fridge took the largest hunk of time so if you have someone to do that part for you, you're really flying.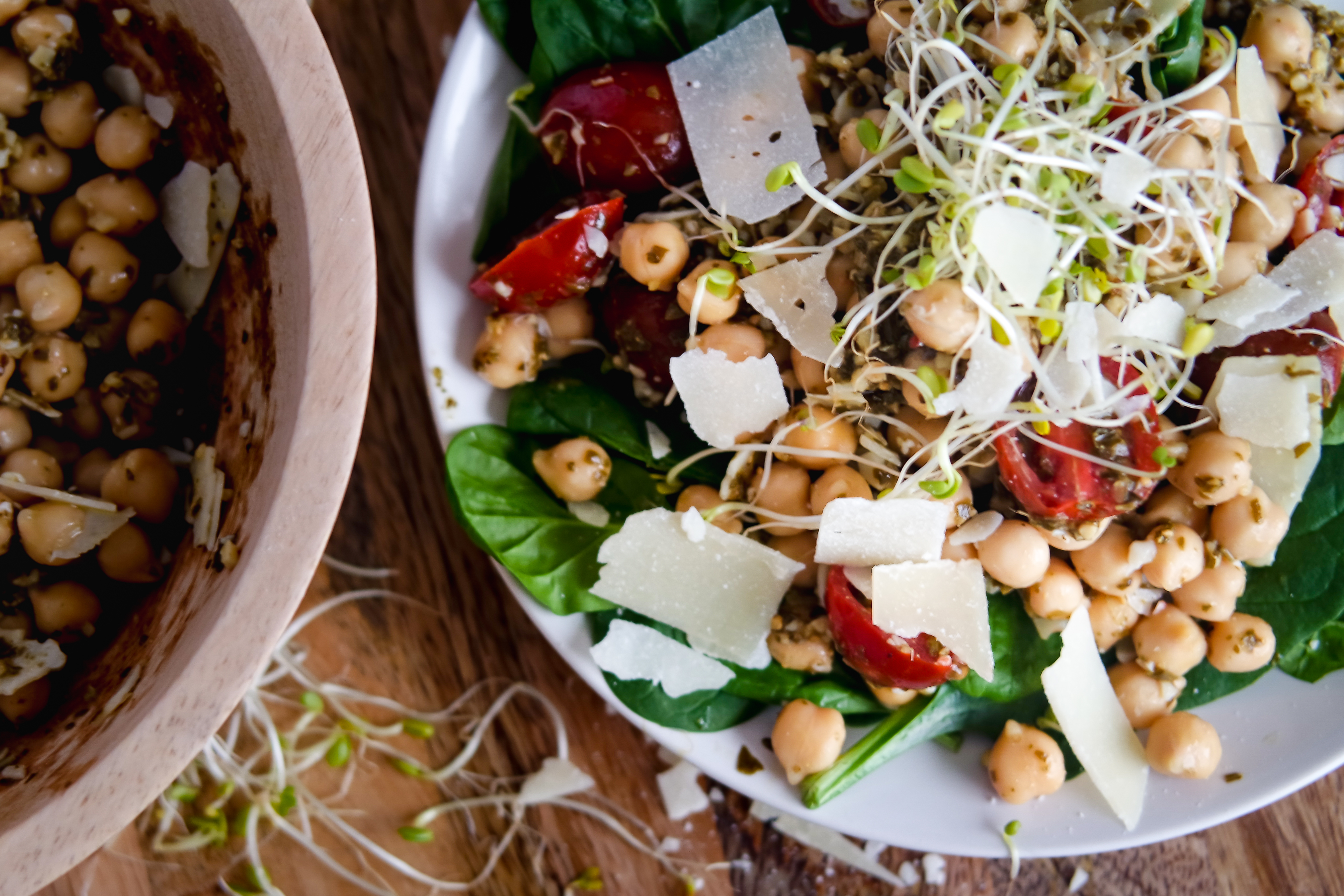 Toppings and….DONE!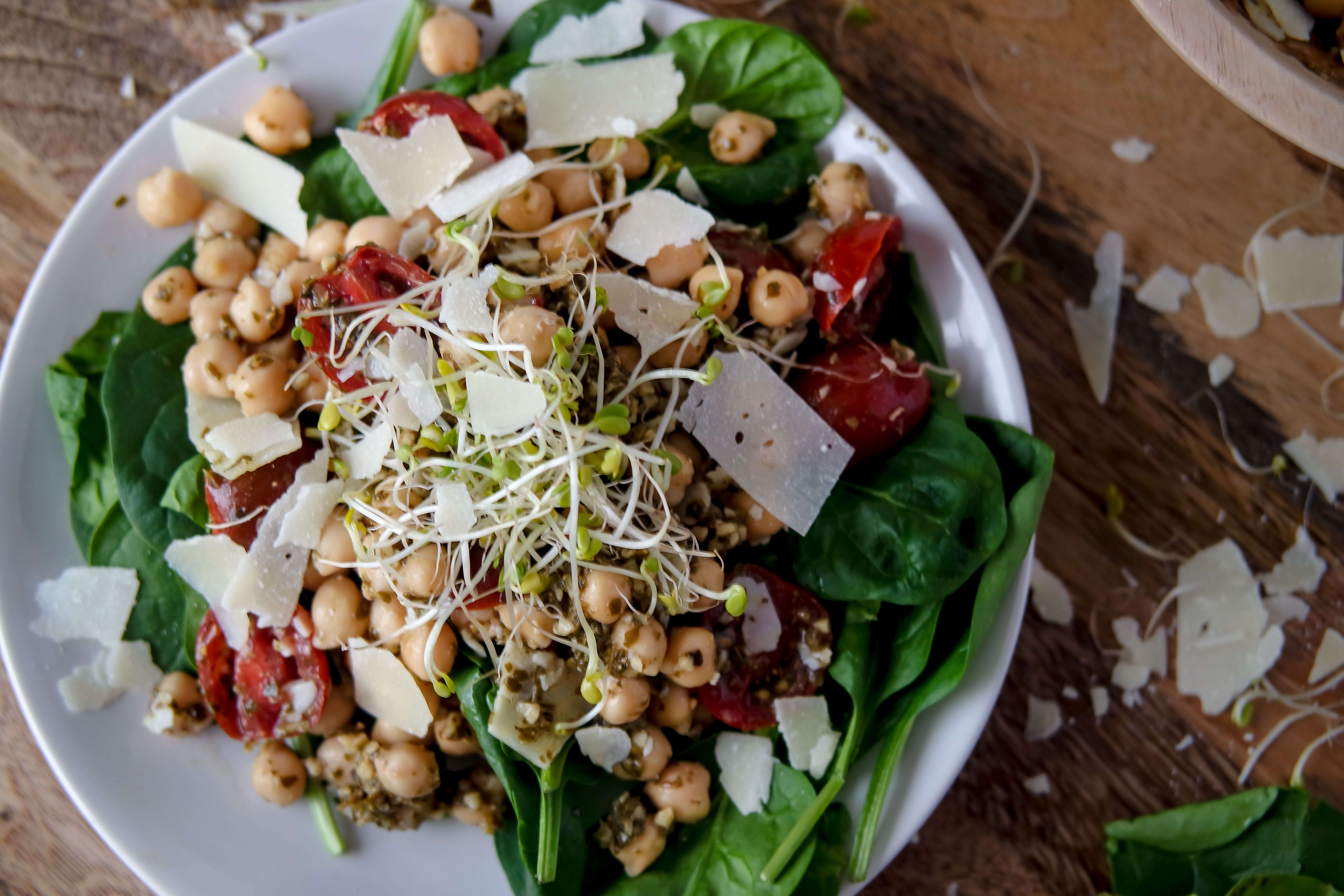 Bring this to a picnic or passing dish sort of situation and watch people's jaws drop at your culinary prowess.
No one needs to hear the pesto came from a jar. That's between you and Jesus.
Chickpea Pesto Salad
Ingredients
2-15 oz cans Chickpeas (garbanzo beans), Drained
1 package Grape Tomatoes, halved
2-10 oz bags Baby Spinach, fresh
1 cup Basil Pesto (more or less depending on your pref)
1/2 cup Mayonnaise
2 tbsp Water (if needed to thin dressing)
1/2 cup Shaved Parmesan Cheese (plus more for garnish)
1/2 cup Alfalfa Sprouts (optional)
Instructions
Fill serving dish with fresh spinach and sprouts and set aside.
In a large bowl, combine drained chickpeas, halved tomatoes, and Parmesan cheese and mix gently.
In a small mixing bowl, stir mayo with the pesto and slowly add water until the dressing is pourable but not thin.
Add the chickpea mixture to spinach and toss gently. Dress with pesto mayo and fold in to combine. Top with more sprouts (ornamental) and more fresh parmesan (not optional).
text-align: left;">
I have also eaten this dish as leftovers because that's a lot of salad. I oiled a screaming hot skillet and threw this concoction in just to let the spinach wilt. OH MY YES. It's really tasty. I guess it's true what they say about cheese: it's always better hot and melty.
What's your favorite, super simple passing dish?
♥Liz