Low Carb Lemon Blueberry Galette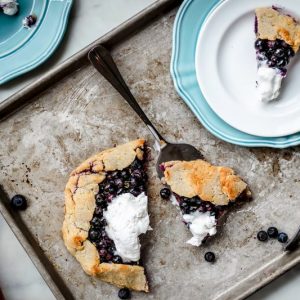 Author:
Inspector Gorgeous
Recipe type:
Gluten Free Keto
2 cups Almond Flour
¼ cups Sweetener (Truvia or Swerve for low carb)
3 tbsp Butter, chilled
1 Egg Yolk
1 tsp Xanthan Gum or Starch see notes for substitutions
⅛ cup Cold Water
1½ cups Blueberries
1 tbsp Butter quartered
⅓ cup Low Carb Sweetener
Juice of ½ Lemon plus the zest
½ tsp Xanthan Gum (or starch of choice)
Prepare the dough first and allow to chill while you mix the filling.
Whisk together the almond flour, xanthan gum or thickener and sweetener until well combined.
Using a fork, cut in the cold butter until the mixture is crumbly and the hunks of butter are small and uniform.
Stir in egg yolk and cold water. Use your hands to mix the crust until a dough forms. Press the dough into a ball and chill in the refrigerator for at least one hour.
Sprinkle blueberries with sugar and starch or xanthan gum and toss to coat, then add in lemon juice and zest and stir until combined.
Roll out your cooled dough on parchment to ⅛ in thickness.
Add berries to the center of the dough and gently fold over the edges. It may break or crack which is easily fixed by pinching and pressing the sides together.
Place quartered butter on the berries and sprinkle the dough with extra sweetener.
Bake for 30 minutes at 350 or until golden brown. I used my broiler for the last five minutes.
Top with whipped cream and make sure to tell everyone how fancy you are.
If you don't have xanthan gum, corn starch or tapioca starch can thicken just as well. If you are using flour and not almond meal, you should only need the starch for the berry filling!
Serving size:
1 slice
Calories:
231
Fat:
20
Carbohydrates:
9
Sugar:
3
Fiber:
4
Protein:
7
Recipe by
Inspector Gorgeous
at https://www.inspectorgorgeous.com/2017/04/glutenfree-lemon-blueberry-galette/