Low Carb Pumpkin Donuts with Brown Sugar Walnut Crumble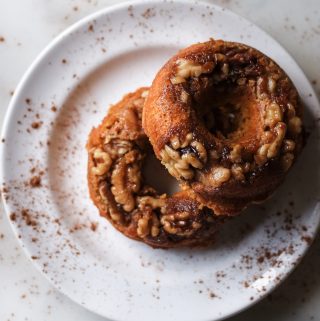 1 cup Almond Flour
1 tsp Psyllium Husk Powder (or sub corn starch if not low carb)
1 tbsp Baking Powder
1 tbsp Pumpkin Pie Spice
½ cup Pumpkin Puree
2 eggs
½ cup Truvia Brown Sugar Blend
1 tbsp Oil (I used avocado oil but melted coconut oil works too)
**Up to ¼ cup of water if your batter is too thick. You want it spreadable but not pourable.
Walnut Pieces
More Brown Sugar
Heat your oven to 350 and spray a donut pan with cooking spray.
Sprinkle the crushed walnuts and brown sugar in the wells of the donut pan and set aside to make the batter.
Beat the eggs, oil, and sugar until well combined. Set aside.
Mix all of the dry ingredients in a large bowl until each part is incorporated, then add the pumpkin and stir.
Fold the dry into the wet until a batter forms.
Scoop the batter into the donut wells and bake for 20 minutes or until browned.
Recipe by
Inspector Gorgeous
at https://www.inspectorgorgeous.com/2017/10/low-carb-pumpkin-donuts/