Dairy Free Whipped Cream Peanut Butter Cookies!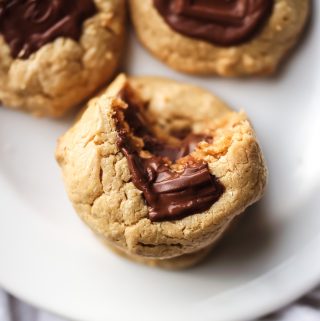 1 cup No Stir Natural Peanut Butter -not the runny kind
⅓ cup TruWhip Dairy Free Whipped Cream, softened
⅓ cup Granulated Sweetener (I used Truvia)
1 egg
2 Chocorite Low Carb Chocolate Bars, or any chocolate variety you like
Heat oven to 350 and prepare a baking sheet with non stick spray.
Beat the egg and sweetener until the egg is light in color and frothy.
Stir in the peanut butter until the mixture is uniform.
Fold in the whipped cream until there are no streaks and the dough is smooth.
Spoon onto baking sheet and flatten the tops so each dough scoop is smooth.
Bake for 10-15 minutes or until edges are golden brown.
Break the chocolate bars into 16 pieces and press each hunk into the center of cookie.
Let cool slightly before moving them too much as they will be very soft at first!
Recipe by
Inspector Gorgeous
at https://www.inspectorgorgeous.com/2017/11/keto-peanut-butter-cookies/