Low Carb Blueberry Almond Granola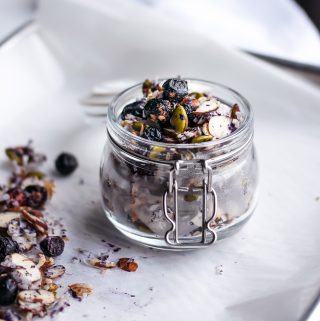 Author:
Inspector Gorgeous
1 cup Slivered Almonds
4 tbsp Unsweetened Coconut Flakes
1 cup Blueberries, freeze dried
2 tbsp Roasted Pumpkin Seeds
½ tsp Salt
2-4 tbsp Sticky Sweetener*
1 tsp Vanilla Extract
Heat oven to 350 degrees and line a small baking sheet with parchment.
Combine the dry ingredients (nuts and seeds) in a large bowl.
Mix the sweetener and tsp of vanilla in a small dish and pour into the dry ingredients.
Toss gently to coat and spread on baking sheet.
Bake for 10 minutes or until the coconut is visibly browning. Let cool, store in airtight container.
*SWEETENERS vary based on what way of eating you follow. I used Walden Farms "pancake" style syrup and it was perfect, not that sticky but enough. You could use any liquid low carb syrup replacement or Honey/Agave for vegan or carb eaters!

3 tbsp Melted butter and 2 tbsp Swerve or Truvia will work the same way but more cals!
Recipe by
Inspector Gorgeous
at https://www.inspectorgorgeous.com/2018/02/simple-low-carb-blueberry-almond-granola/