Low Carb Blueberry Almond Dino Cereal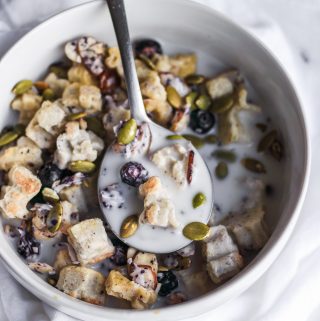 Author:
Inspector Gorgeous
1 cup + 2 tbsp Almond Flour
½ tsp Xanthan Gum
1 tsp Baking Powder
1 tsp Cinnamon
¼ cup Granulated Zero Cal Sweetener *
2 tbsp Butter, soft but not melted
1 egg, lightly beaten
1 tsp Vanilla
1 cup Blueberry Almond Granola**
Heat oven to 350.
In a large mixing bowl, combine the dry ingredients (not including the sugar) and whisk together. Set aside.
In a separate bowl, cream the butter and sugar together until smooth.
Add the egg and vanilla and mix well.
Combine the wet with the dry and stir until a batter forms.
Scoop the batter into a large piping bag and cut the tip at about ½ inch.
Fill each well of the mold about halfway to allow for expansion and tap the molds well to ensure the batter fills each crevice.
Bake for 20 minutes or until the tops begin to brown.
Once cool, pop the cereal from the molds. For additional crunch, return the cereal to the oven for 5 more minutes on a baking sheet to crisp.
*This amount of sweetener makes a very sweet cereal. Reduce by 1 tbsp if you are sensitive to sweet.
**Blueberry granola recipe is linked at the beginning of this post! In a pinch, regular freeze dried fruit is a fine substitute!
Recipe by
Inspector Gorgeous
at https://www.inspectorgorgeous.com/2018/02/low-carb-blueberry-almond-dino-cereal/