Mushroom & Sage Stuffed Butternut Squash!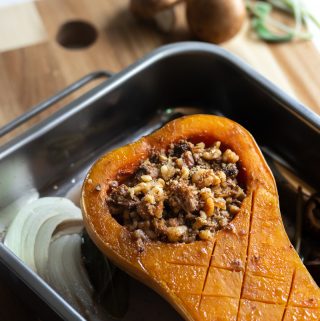 Author:
Inspector Gorgeous
1 Medium Butternut Squash, halved and seeds removed
1 tbsp Butter (avocado oil if vegan)
¼ of a medium White Onion
2 cloves Garlic, minced
6 Crimini Mushrooms, chopped
¼ cup Walnuts, finely chopped
½ tsp Rubbed Sage
½ tsp Oregano
Salt to taste
Oil *to add before baking*
To easily cut and clean squash, insert a sharp knife into the round end to pierce the skin, about 1 inch long. This is necessary for the heat to escape.
Place the squash in the microwave for 3 minutes to soften the skin.
Continue at the original cut to slice the squash open from end to end. Remove seeds and score the flesh of the squash to allow oil and seasoning to marinate. Set aside.
In a saute pan over medium heat, melt butter and saute onion and garlic until fragrant.
While the onions cook, pulse the walnuts in a food processor to a fine crumb.
Add the mushrooms to the pan and saute just until they soften. Stir in the walnuts.
Divide the mixture between the squash halves and let cool.
Seal each half in individual FoodSaver heat-sealed bags and refrigerate until ready to bake.
To Serve- Brush the squash flesh with oil and season with salt and pepper.
Cover and bake at 350 for 45 minutes. Garnish with toasted walnuts if desired!
Recipe by
Inspector Gorgeous
at https://www.inspectorgorgeous.com/2018/09/holiday-prep-with-foodsaver-mushroom-sage-stuffed-squash/