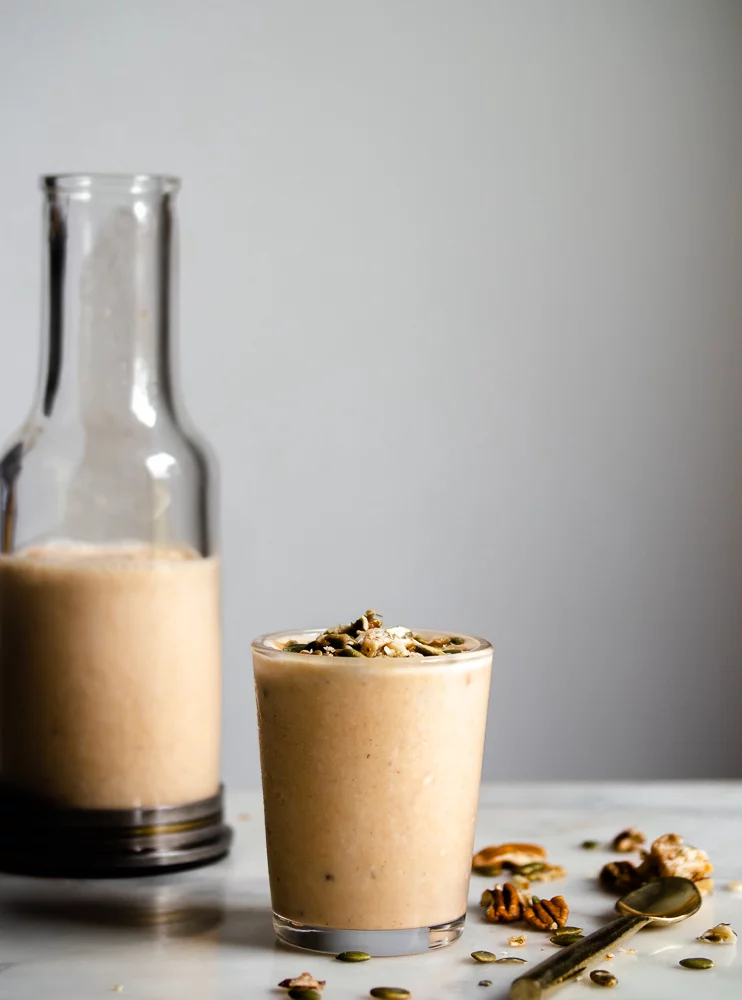 Funny thing about smoothies-
A lot of times, they aren't that smooth.
Actually, a lot of the time they are full of crunchy blenderized bits. Since my blender is worn out and a little busted, the bits have been getting bit-ier lately.
I'm accepting blender donations in the form of cash money
and/or a 1500 watt motor base.
But don't shed a tear for me. I like crunching down on the un-blended bits—especially if the bits are these coco-nutty clusters from last week AND they are paired with a pie flavored smoothie!
Liquefied. Pie.
My brother informed me that not everyone loves maple (him) nor do they love pumpkin pie (also him). If you are one of those people who are reading this but you are on the fence—head over to my ebook for two different keto friendly smoothies, Toasted Coconut Mocha & Frosty Mint Green Smoothie, PLUS a bushel of other delicious low carb/vegetarian recipes!
THEN punch in this code SMOOTHCOUP and get the ebook for just $3.99 🎉
BUT if you are here for the pie smoothie, let's get after it!
Thick & Creamy 🥛 Maple Pumpkin Pecan Pie Smoothie
A breakfast Smoothie-Pie hybrid!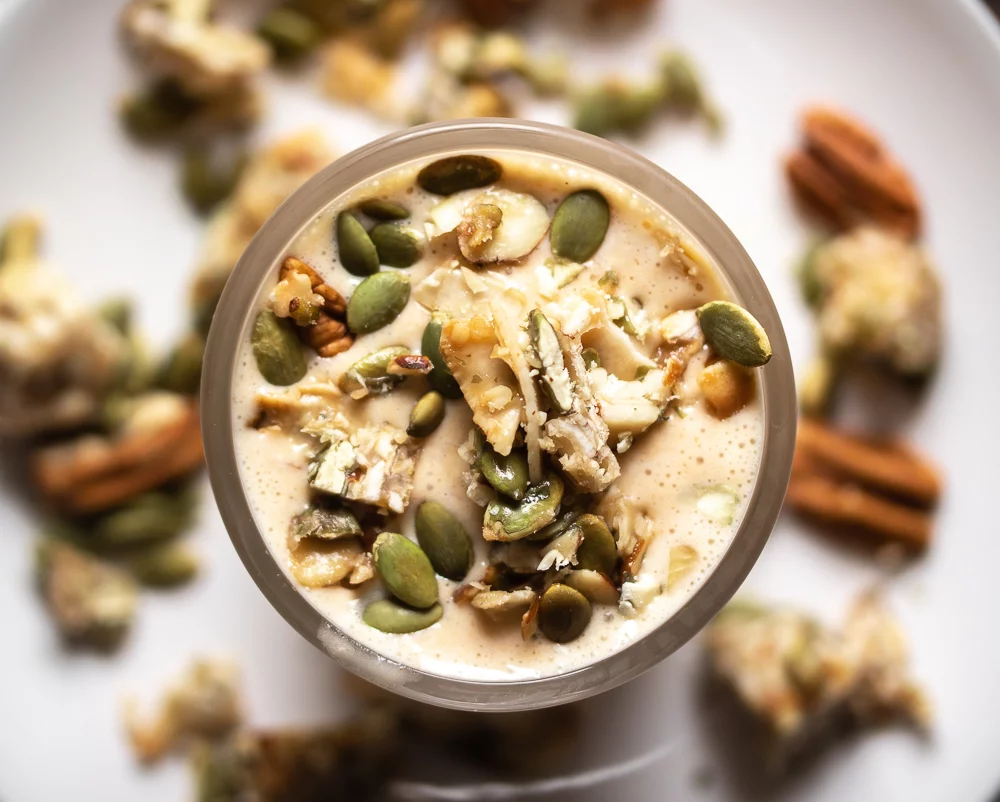 What makes this smoothie so delicious is the combo of a lot
of creamy ingredients.
1. Creamy Greek Yogurt – haiii protein
2. Pureed Pumpkin *or* leftover baked Butternut Squash
(which is actually sweeter and less watery than pumpkin)
3. Almond Butter – creamy & nutty goodness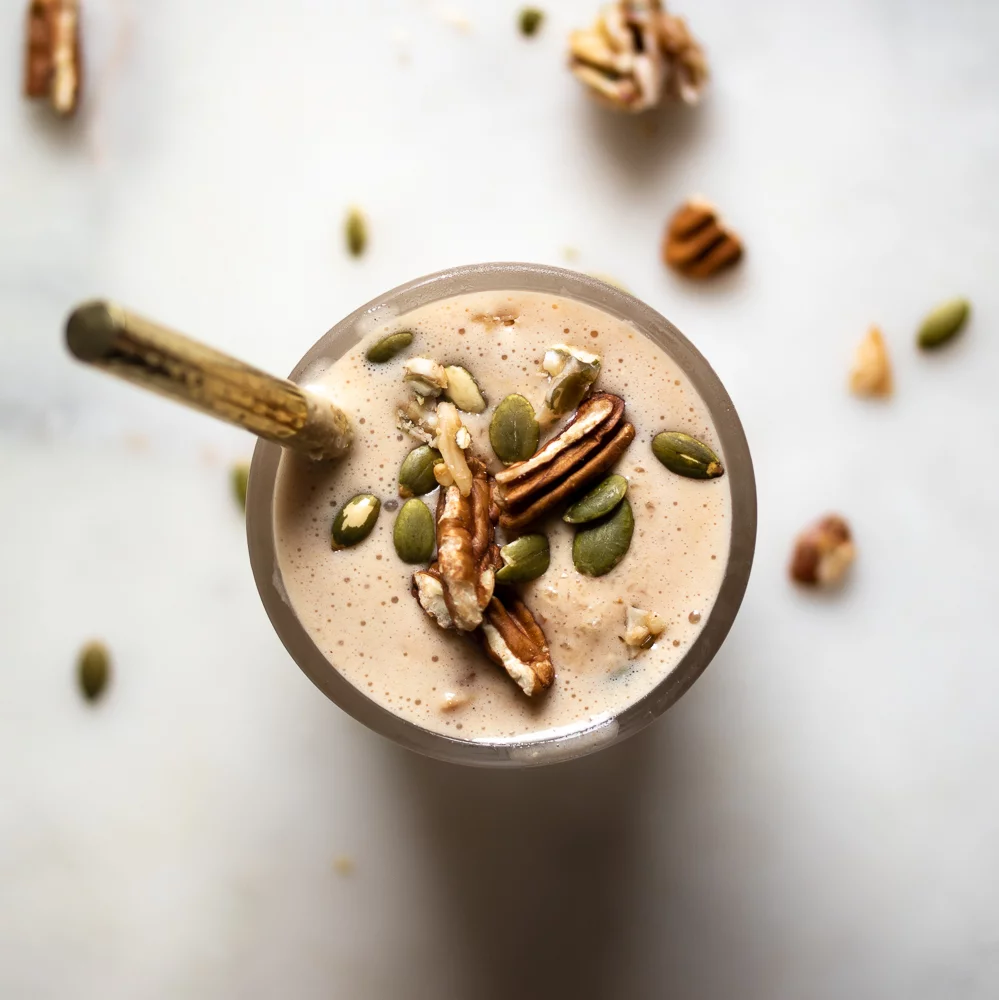 And then it's topped with broken hunks of
✨Magic Coconut Pumpkin Seed Clusters✨
Totally necessary and non-negotiable because a pie smoothie
needs a pie crust. Right?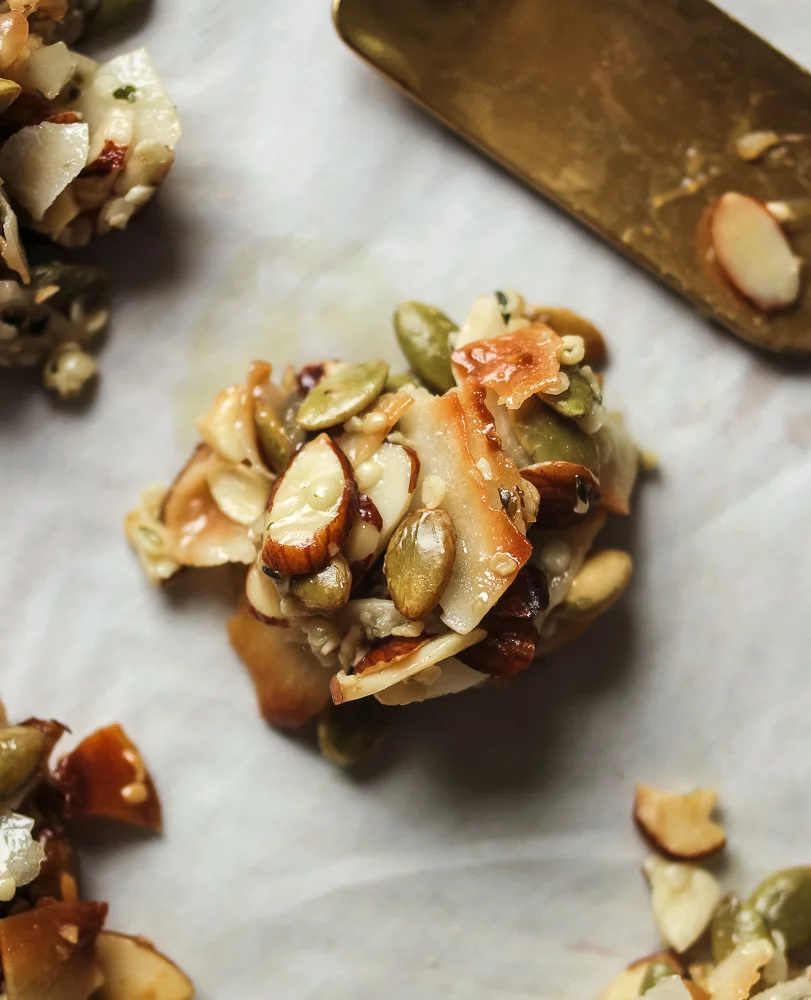 And don't forget the Maple Extract!
I freaking love this stuff. It makes everything taste a little better.
It's like adding maple syrup without adding maple syrup carbs!
I haven't found a brand I like as much as the cheap and easy-to-find McCormick.
I'm accepting suggestions if you have one!
Cold, creamy, and deliciously fall-filled.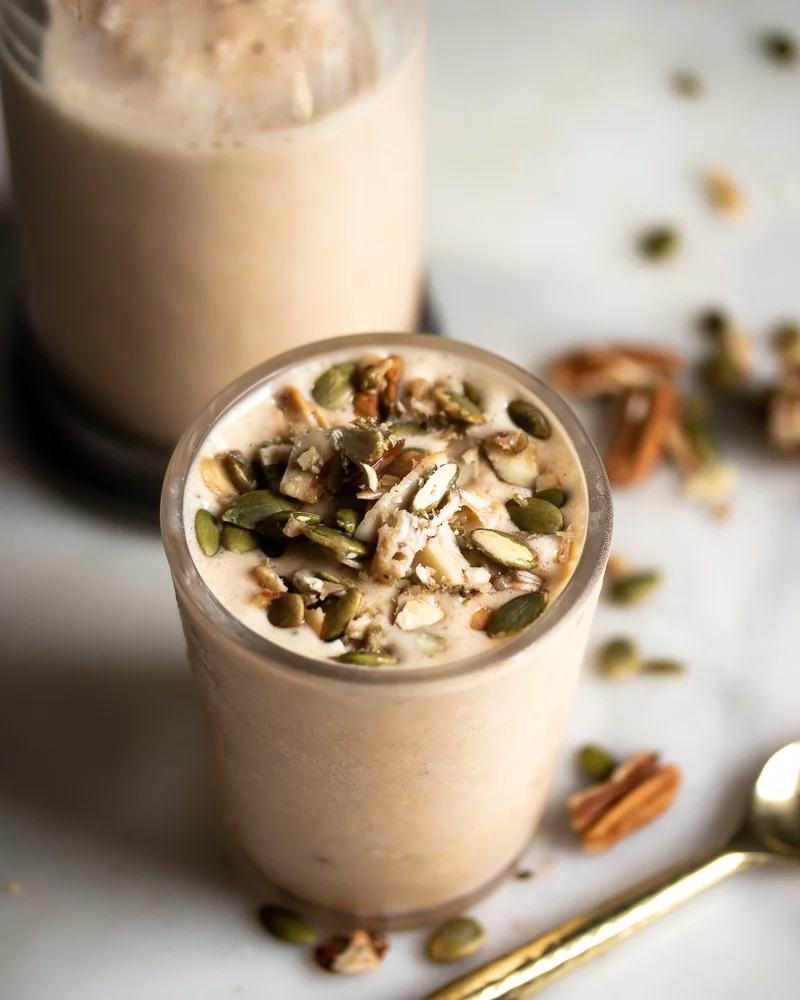 I'm still on vacation in the cooler climate of Michigan this week,
but I'll be back and ready to bake for Tofurkey Day next week!
Drop a message in the comments if you have other pie-flavored smoothie requests
and I promise to binge drink them until they are perfect 🧡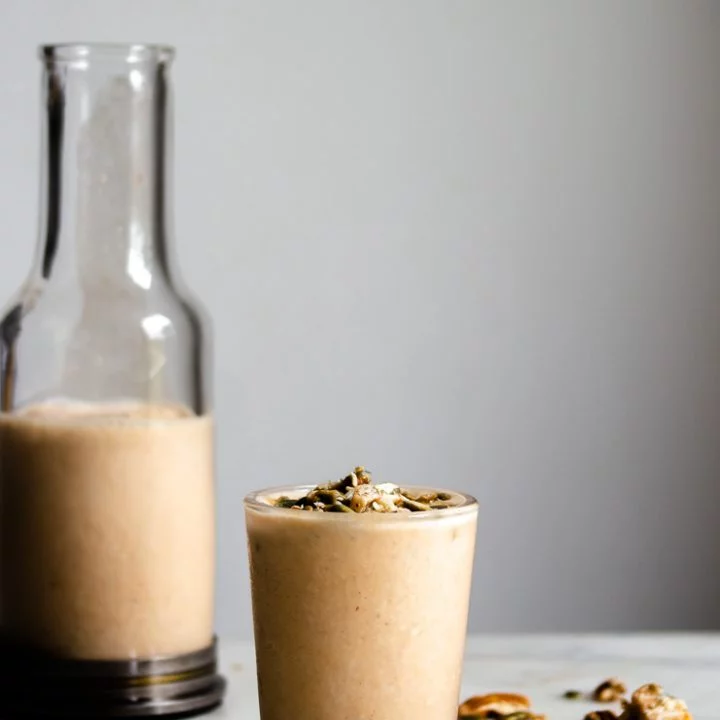 Thick n' Creamy Maple Pumpkin Pecan Smoothie
Sip it or Zip it-Fall Edition
Ingredients
1 cup Non-Dairy Milk
1/4 cup Greek Yogurt
2 tbsp Pumpkin Puree*
1 heaping tbsp Almond Butter
1/4 tsp Pumpkin Pie Spice
1 casual handful Pecans (actually 2 tbsp)
1/2 cup Ice
Extra Nutrient Boosts
Grated Ginger
Extra Cinnamon
Instructions
Blend it like Beckham.
Top with goodies.
Slurp.
Notes
*I love leftover squash in this even more than pumpkin, but I don't always have squash leftover! Also, adjust to more pumpkin if you choose.

Net Carbs = 6 grams

Macros Calculated using Almond Milk and unsweetened Greek Yogurt. They do not include any toppings you choose, but those facts are found on the coconut cluster recipe!
Nutrition Information
Amount Per Serving
Calories

187
Total Fat

13g
Carbohydrates

10g
Net Carbohydrates

6g
Fiber

4g
Protein

10g