For a girl who doesn't really like quiche, I could literally eat this daily. This keto bacon and swiss quiche is the perfect balance of egg, cream, and obviously bacon!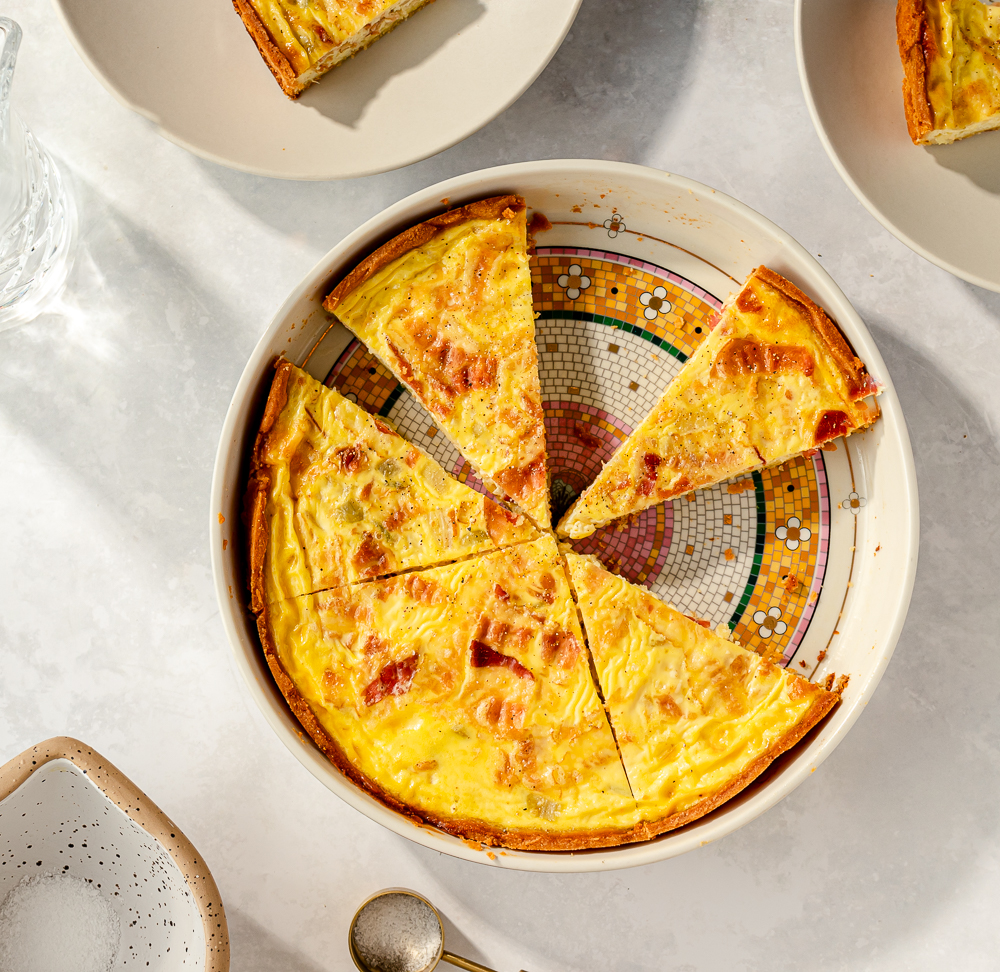 The Best Keto Quiche Filling
I've never been a quiche girly and I think it's because a lot of quiches out there are just way too "custardy" for my tastebuds. I need something that has some bodyyy without being too stiff and rigid, ya know?
In my humble opinion, the perfect quiche has a soft filling that is not overly loose or custard-like. For me, the ratio of 1 egg to 1/4 cup of dairy gives a soft creamy filling. For a 9-inch pie pan, you need 6 eggs and 1 1/2 cups of half n' half. Easy peasy!
When it comes to keto quiche filling extras like cheese, the possibilities are pretty much endless. There's no right or wrong cheese here guys! They are all good. My go-to is a Swiss and gruyere blend but you can use your favorite cheese unapologetically and I will support you.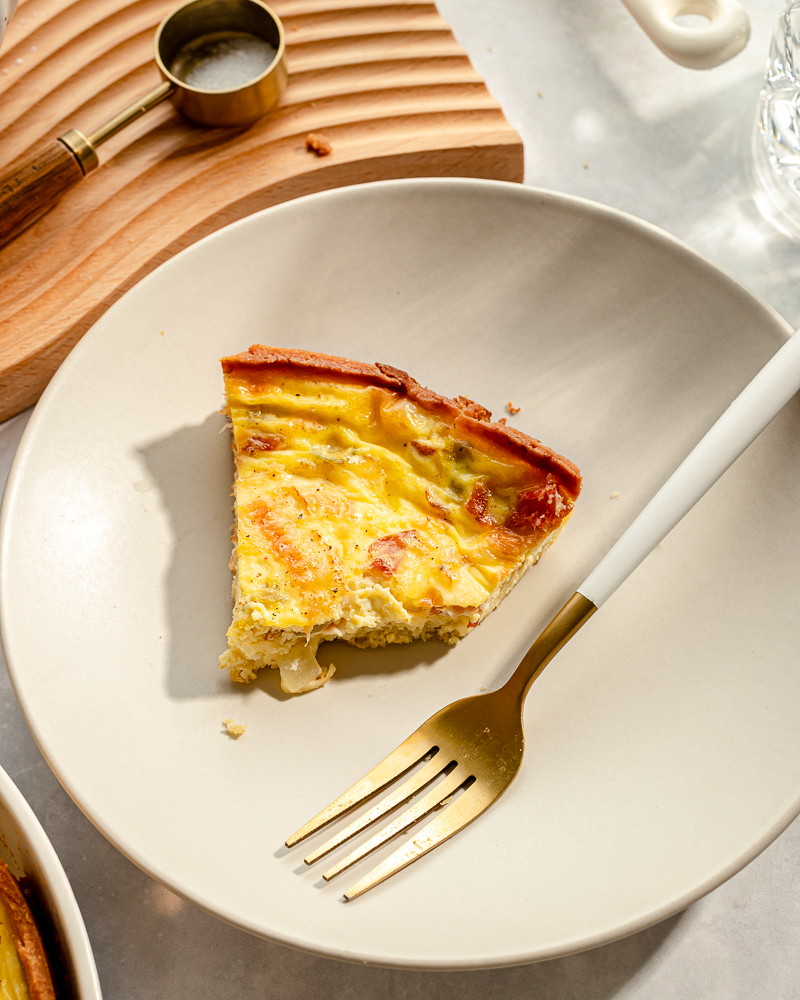 How to Make Keto Pie Crust
To make a keto and gluten-free pie crust that is soft, tender, and buttery, you'll need a few key ingredients and (sorry) a blender or food processor. This is the same dough recipe I use for many things, including my Keto Raspberry Danish and it's a hit every time! But it is very sticky and wet so keep reading.
1. Using a blender or food processor is the easiest want to make a keto pie crust. In a blender, the egg and butter are evenly distributed (quickly) and keep the ingredients from getting too warm. I use my Ninja Blender but a traditional food processor will also work well.
2. Keeping the dough COLD is very important to keep its shape and to hold the crust together before baking. I recommend chilling the dough for at least 30 minutes before attempting to roll it out.
3. You must use TWO pieces of plastic wrap and not parchment to form this keto pie crust. Parchment is more likely to stick to this dough. Plastic cling wrap is easy to see through which is very helpful, and it's completely non-stick from start to finish.
4. To get the pie dough seamlessly into the pan I roll the dough between TWO pieces of cling wrap to form a circle. Then once the dough is large enough to fill a 9-in or 8-in pie dish, I move the flattened dough to a large plate or baking sheet. Next, I remove the TOP layer of cling wrap and place my pie dish upside down on the dough. Then simply hold both the plate and the pie dish and invert the two! Now the dough is in the pan and you can press out any seams or smooth the sides before removing the final piece of plastic wrap.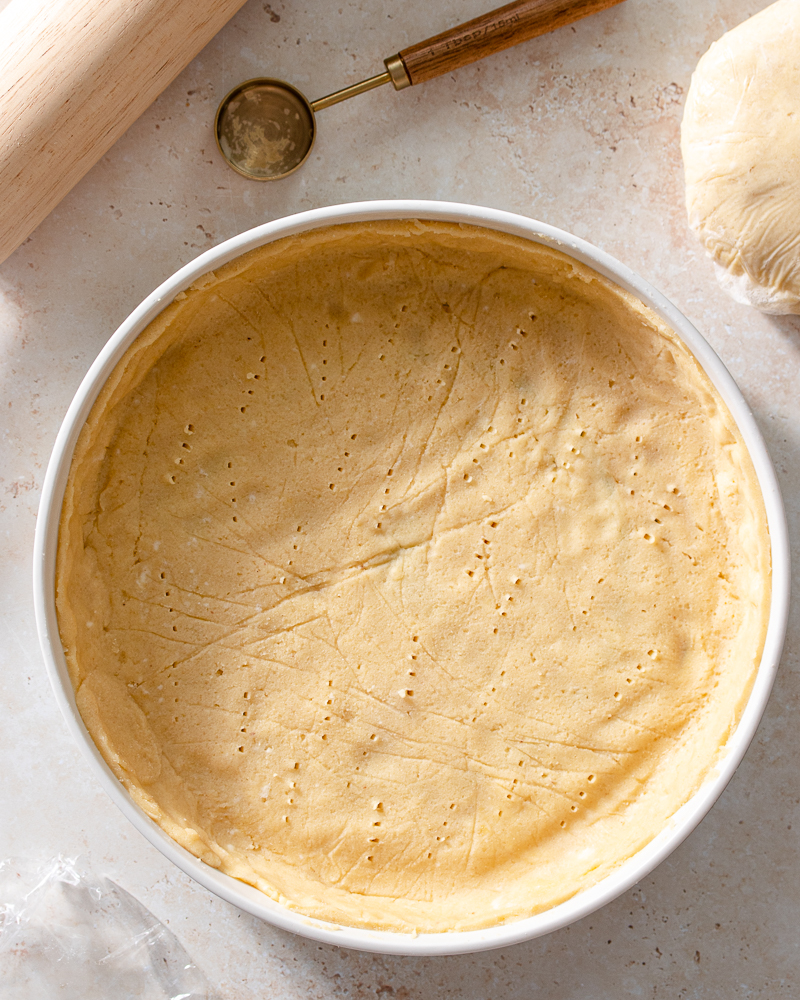 How To Make Bacon For Quiche (The Easy Way!)
I truly love bacon but I despise frying it in a pan. For this keto bacon and cheese quiche I *highly* recommend doing the sheet pan method. Cooking bacon in the oven gives you perfectly crips strips of evenly cooked bacon with almost zero mess to clean up!
Preheat the oven to 400 degrees Fahrenheit and line a baking sheet with aluminum foil.
Arrange the bacon on the prepared baking sheet and place it in the oven. It does not need to be fully heated yet! I often put the pan in before it reaches 400F.
Bake for 15-22 minutes, watching for the bacon to crisp and brown.
Remove the bacon from the oven and transfer the cooked slices to a paper towel-lined plate.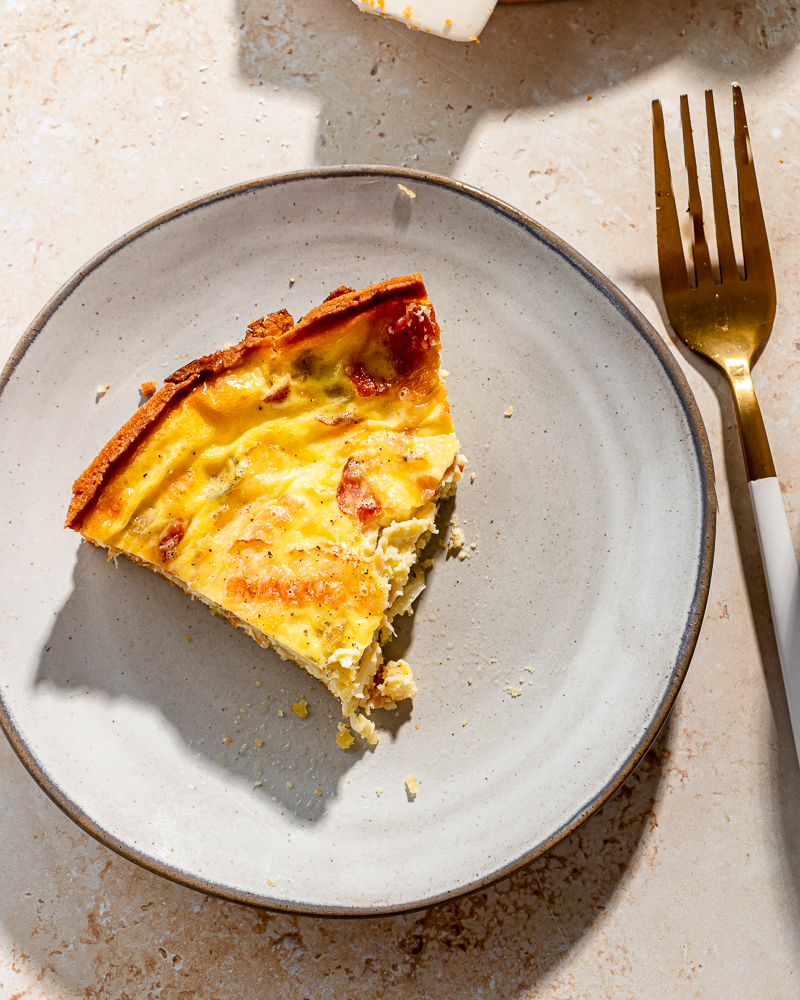 Phew! There are a lot of tips to be shared when cooking keto and gluten-free. If you've made it this far, congrats! Your quiche will probably turn out amazing. If you skipped the tips that's okay too! It will still be just as delicious, just maybe a little more difficult (wink wink).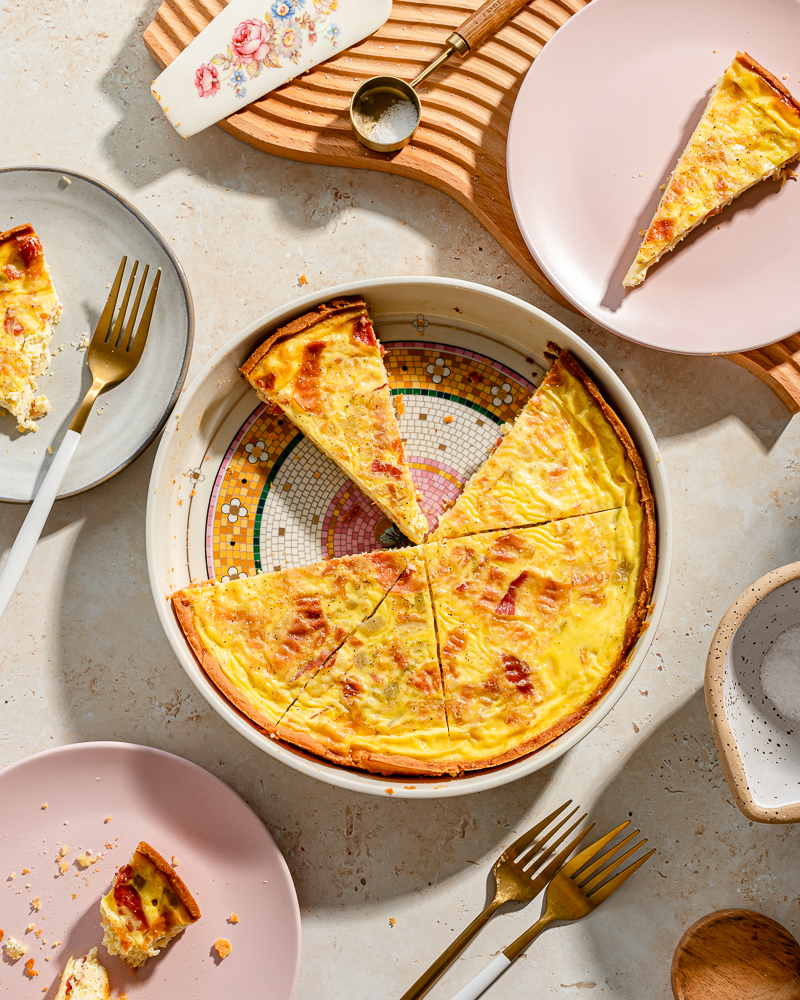 Looking for More Recipes? Try These!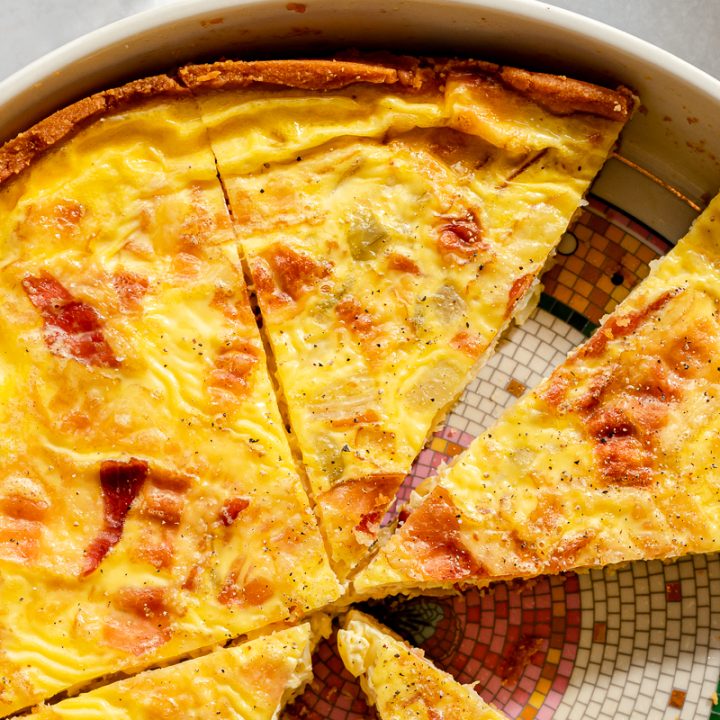 Keto Bacon and Swiss Quiche!
Additional Time:
30 minutes
Total Time:
1 hour
40 minutes
Keto or not, this delicious quiche is the perfect ratio of egg to cream and is absolutely LOADED with bacon and cheese!
Ingredients
For the Crust
1 cup Almond Flour
2 tablespoons Coconut Flour
1/2 teaspoon Xanthan Gum
1/2 teaspoon Baking Powder
1/4 teaspoon Salt
6 tablespoons cold Butter
1 tablespoon Apple Cider Vinegar*
1 large Egg, lightly beaten
Quiche Filling
1 tablespoon Olive Oil or butter
1 Shallot, diced
8 oz Bacon, fried or baked in the oven, crumbled
6 large Eggs
1 1/2 cups Half n' Half
1 cup shredded Swiss Cheese or Gruyere, or a mixture of the two
1/8 teaspoon ground nutmeg
Salt and ground pepper, to taste
Instructions
This recipe will fill a 9-inch pie dish (shown in the photos above).
To a food processor or blender add the almond flour, coconut flour, xanthan gum, baking powder, and salt and pulse to combine. Add the cold butter and pulse until the mixture looks sandy. Add the beaten egg and vinegar and pulse just until the dough forms.
Transfer the dough to a piece of plastic wrap and form it into a ball, covering it tightly. Refrigerate for at least 30 min.
Once the dough is chilled, preheat the oven to 350F. Place the dough ball between TWO pieces of plastic wrap and roll into a 9-in round or the size of your pie dish. Parchment does not work here.
Once the dough is in a circle slide a large plate or baking sheet underneath. Next, remove the top layer of plastic wrap and place a greased pie dish upside down over the dough. Flip the plate over while holding the pie pan to invert the crust into the pan. Smooth the edges of the dough and adjust as necessary, then remove the final sheet of plastic wrap! Poke the bottom crust with a fork to allow venting and bake for 8 to 10 minutes. Let cool.
Meanwhile, saute the shallot in oil or butter over medium heat until translucent. Set aside.
In a large bowl beat the eggs, half n half, nutmeg, salt, and pepper. Add the crumbled bacon, shallots, and shredded cheese to the crust in an even layer, then pour the egg mixture on top. Bake uncovered for 10 minutes, then tent the edges with foil and bake for 30 minutes or until set in the center.
Nutrition Information
Yield

9
Serving Size

1 slice
Amount Per Serving
Calories

348
Total Fat

31g
Carbohydrates

6g
Net Carbohydrates

4g
Fiber

2g
Protein

11g