Nothing says springtime like a batch of soft and moist keto carrot cake cupcakes. Topped with like, a metric ton of cream cheese frosting!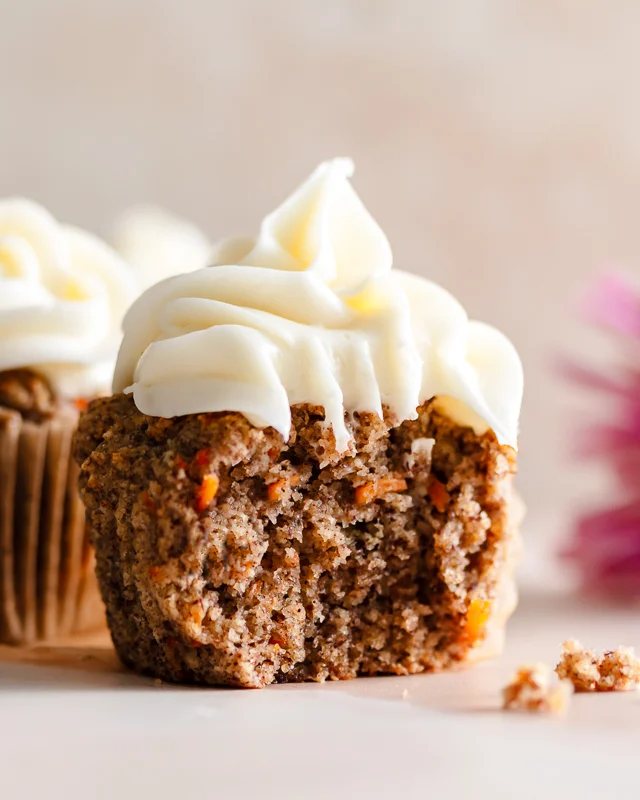 So if you know me, you know I LOVE a cupcake. I mean, your own personal cake that you can eat entirely by yourself…and you don't have to share? What's not to love?
Now that it's carrot cake season, you know I had to make a keto carrot cake cupcake so that all of us gluten-free keto cake lovers could enjoy our dense vegetable muffins with the rest of the world! And if you thought THAT was a mouthful, wait till you get a bite of these cupcakes!
Keto Carrot Cake Cupcake Texture!
This cupcake has all of the soft and delicious flavors of a traditional carrot cake, all baked into 6 individually wrapped servings that come in at around 2 grams of carbs per serving! The texture is somewhere between a cupcake and a muffin that is lightly sweet and very soft.
If you hate eggy, dry, or gritty cupcakes then this is the recipe for you my friend.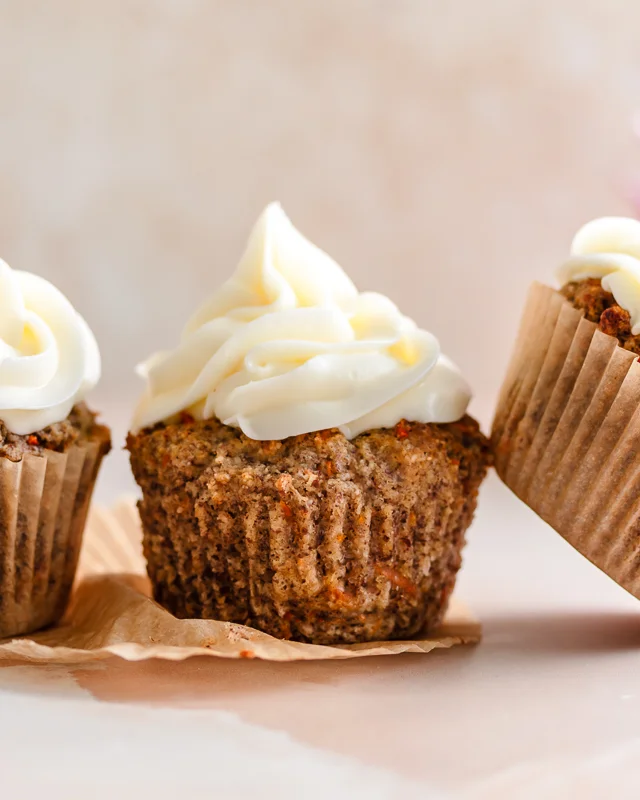 Keto Carrot Cake Cupcake Ingredients!
The ingredients for these keto carrot cake cupcakes are slightly different from my other cupcake recipes! But don't worry, they are still AMAZING. Because I've had a lot of requests for recipes with less almond flour, I've increased the ground flax seed and decreased almond flour to make these cupcakes moist, soft, and cake-like! Here's what you'll need to make keto carrot cake cupcakes:
Finely Shredded Carrots: There is no way to have carrot cake without carrots so we had to include them! Plus, carrots are a great source of Vitamin A, potassium, and biotin which play an important role in fat and protein metabolism. Even with the addition of carrots, these macros are still excellent.
GROUND Golden Flaxseed Meal: I always re-grind my golden flaxseed meal in my coffee grinder for the perfect texture. It seems extra, but I promise it's worth it!
Baking Soda & Baking Powder: Both baking soda and baking powder are key to getting this very thick "batter" to rise! Just be sure to whisk the dry ingredients well so you don't get a bitter bite of baking soda.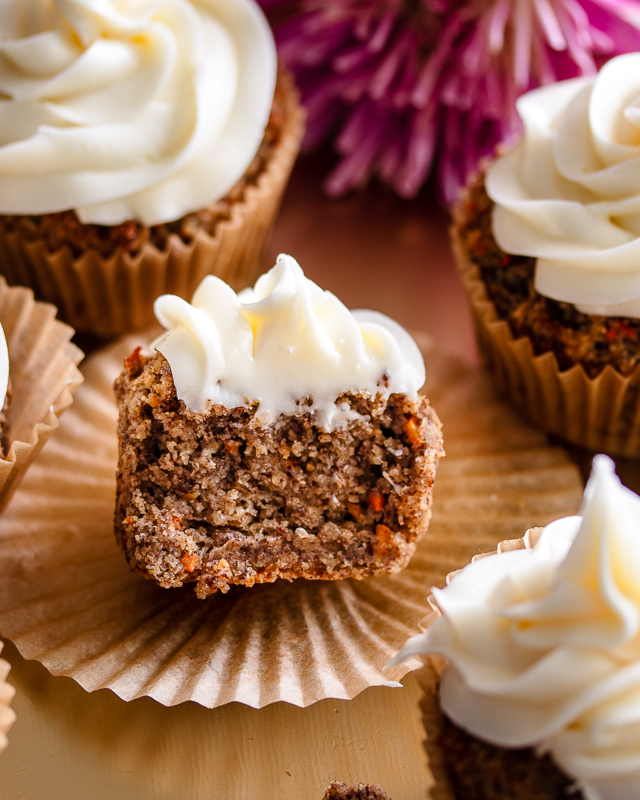 Keto Whipped Cream Cheese Frosting
Top these keto cupcakes with a luscious cream cheese frosting that almost feels like a buttercream-cream cheese hybrid! It's a lot of softened butter + soft cream cheese whipped until fluffy with your favorite keto sweetener!
Try this frosting with some of my other drool-inspiring cupcake recipes like my Soft Keto Pumpkin Muffins! Pipe it into a beautiful swirl with a Wilton open star 1M tip or just smear some frosting on top with a spoon and go to town.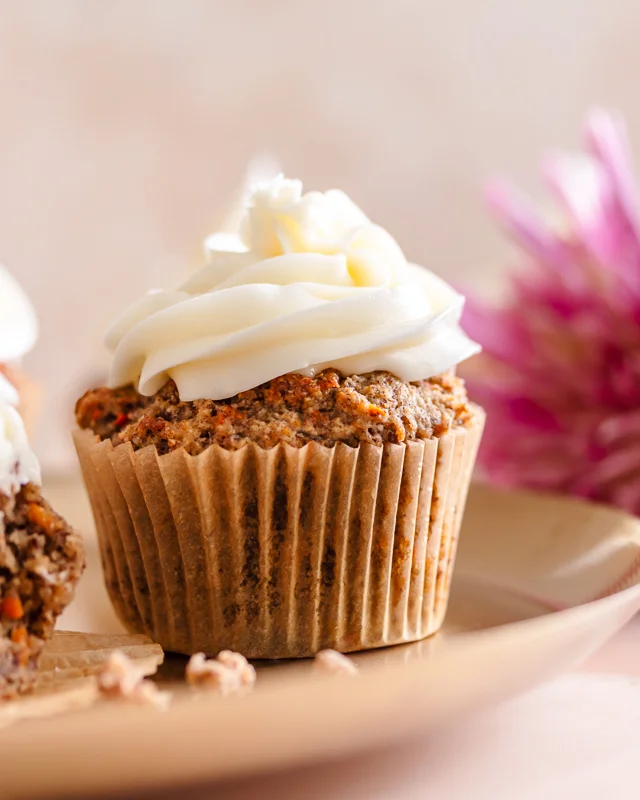 Other Helpful TIPS!
Bake time can be tricky for these muffins. The batter is VERY thick so when these cupcakes are baking, they will begin to brown before the center is cooked. Lightly cover the pan with foil after about 10 minutes of baking for perfect results.
Mix this batter WELL. You want the ground flax to absorb moisture and create a thick batter. When flax has enough water it gels, similar to chia seeds. This helps retain structure in the cupcake so mix for at least 2-3 minutes.
Store these cupcakes in an airtight container. All baked goods get dry and that goes double for keto cupcakes so make sure to wrap these tightly to preserve their soft texture. After cooling, of course!
Looking for More Treats? Try These!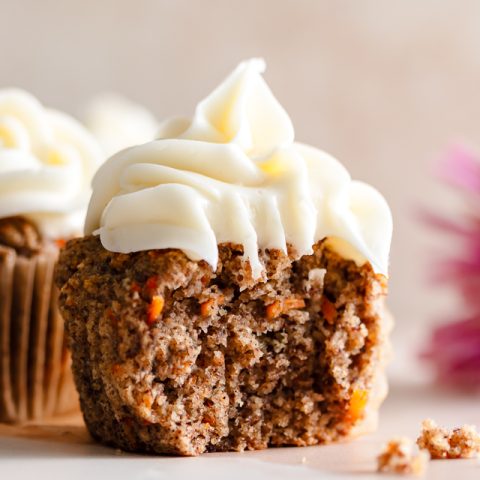 Keto Moist Carrot Cake Cupcakes!
The best soft and moist Keto Carrot Cake Cupcakes with Cream Cheese Icing!
Ingredients
For the Frosting
5 oz Cream Cheese
5 tablespoons Unsalted Butter, softened
1/4 cup Powdered Erythritol or Allulose
Splash of Vanilla Extract
Instructions
Preheat oven to 350°F and add 6 paper liners to a muffin pan.
Using a coffee grinder or a blender, pulse the golden flax meal until it's fine. This step is really important (and worth it).
In a large bowl whisk the ground flax, almond flour, coconut flour, xanthan gum, baking powder and baking soda, salt, cinnamon, and ginger. Whisk VERY well so there are no bitter bits of baking soda in your cupcakes!
In a separate bowl beat the butter and sweetener until combined. Add the eggs, vinegar, and vanilla and continue to beat until smooth. It may seem a bit gritty but that's ok!
Add half of the dry ingredients to the wet and mix well, followed by the rest. Once the batter is thick, fold in the carrots and chopped pecans. Portion the thick batter into the prepared pan and smooth the tops gently. Bake for 18-20 minutes, covering after about 10 to prevent over-browning.
Cool the cupcakes completely before frosting (perfect time to make the frosting!) then top with a swirl of cream cheese frosting. Cover and refrigerate leftovers for 3-4 days.
For the Frosting
In a large bowl beat the cream cheese and butter together until fluffy. Add the powdered sweetener and vanilla and beat until smooth. Chill completely before piping or frosting.
Nutrition Information
Yield

6
Amount Per Serving
Calories

216
Total Fat

19g
Carbohydrates

6g
Net Carbohydrates

2g
Fiber

4g
Sugar Alcohols

16g