When you don't feel like exercising your willpower muscles around a whole lotta chocolate cupcakes, use this recipe to whip up just TWO gluten-free and keto chocolate cupcakes!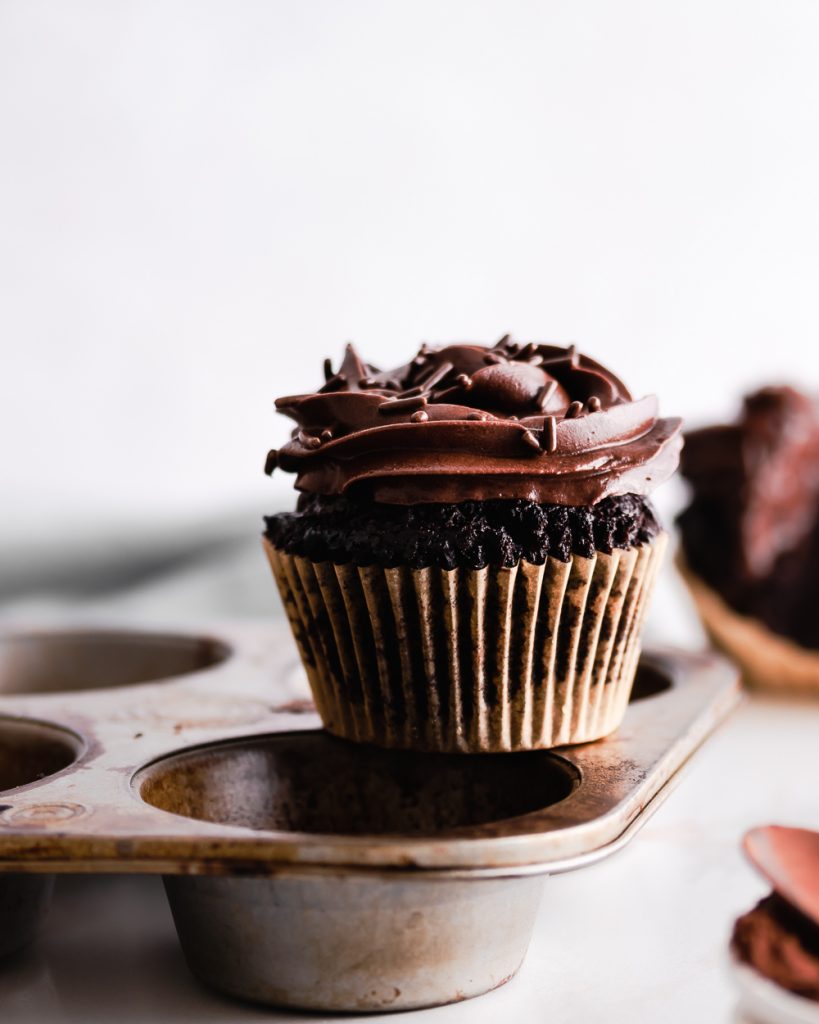 Sometimes You Just Need A Cupcake.
Not a batch. Not six. JUST ONE.
But I couldn't get a "just one " recipe to work and still taste amazing. So TWO it is!
Here's the deal: splitting up eggs into tablespoon-size servings is maddening, and honestly kind of wasteful. So to keep the integrity of a devilishly-delicious keto chocolate cupcake without tossing out half an egg, I figured a double serving recipe was just as useful as a single-serve one.
Luckily, this keto devil's food cupcake (for two!) is SO GOOD that your cravings for chocolate cupcake decadence will be squished. And you might even be successful at saving the second for tomorrow.
Or twenty minutes later. No judgments.
Let's Bake Two Cupcakes!
Perfect for you and a fellow cupcake lover, or just you now and then you again a little while later.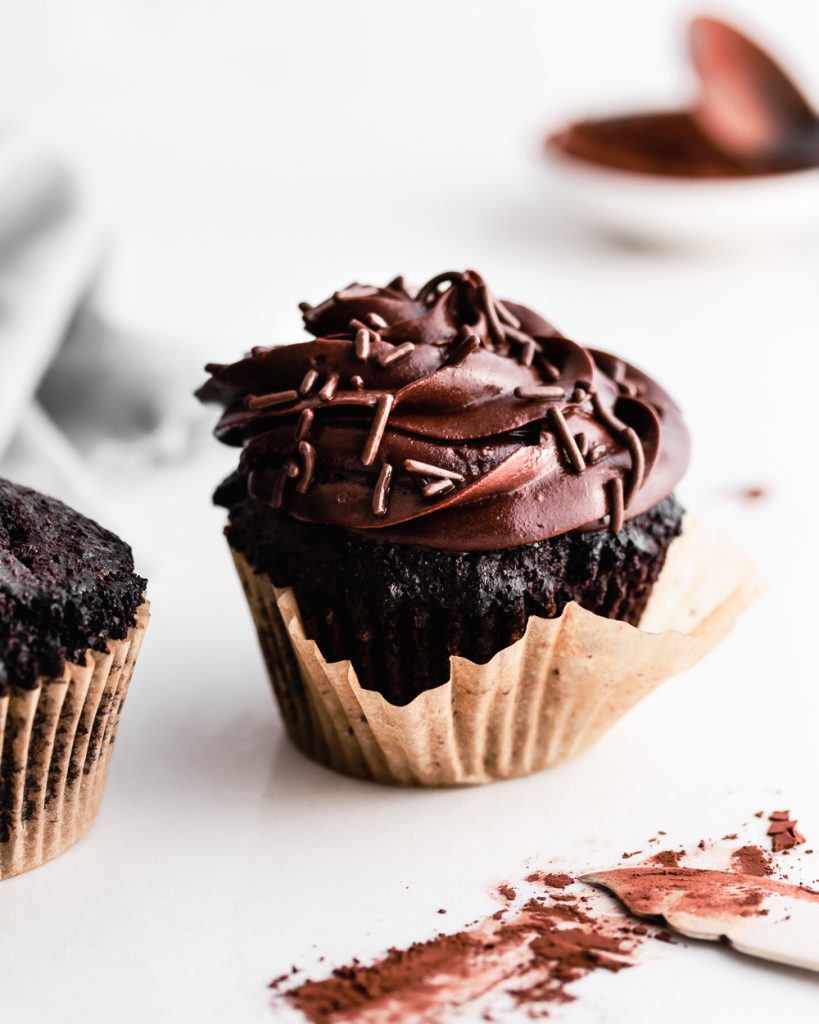 Keto Frosting for Two
You didn't think we were just leaving our cupcakes unfrosted, did you?
Not when it's disaster land in stress-city and we need cupcakes to fill the void. We need sugar-free whipped chocolate ganache frosting! For TWO!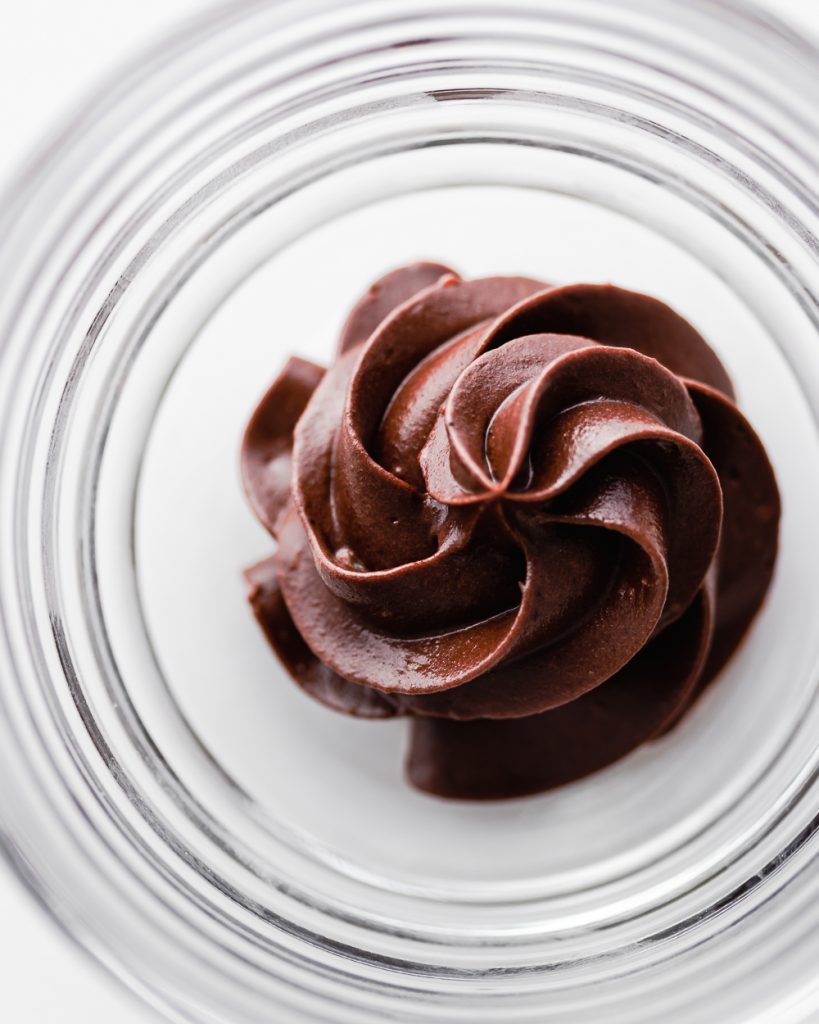 This frosting is GOOD.
It's got a rich chocolate flavor with some serious depth and uber creaminess.
It pipes well too and gets super stiff in the fridge! Pretty and functional.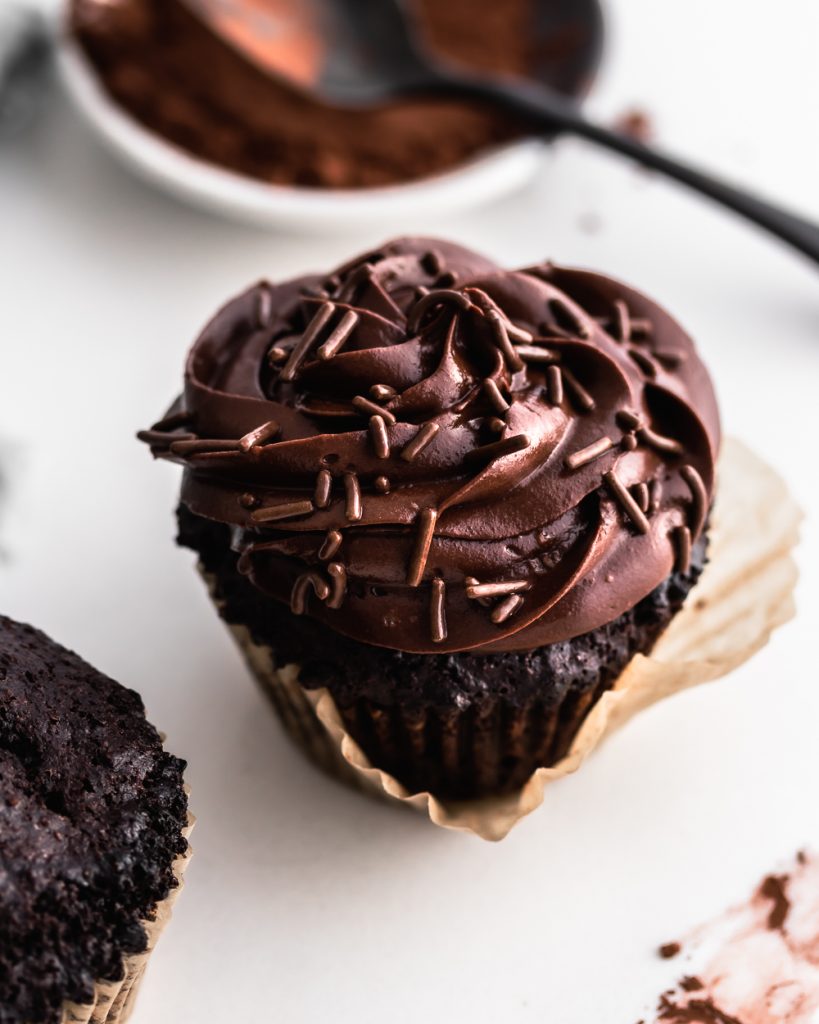 Keto Devil's Food Texture
Spoiler: it's light, open crumb, and totally moist!
Trust me when I say (if you follow the ingredients) you won't even realize this is keto. Just make ABSOLUTELY sure you use Allulose as your sweetener and fill the cupcake liners 3/4 full. This ensures they will bake for the right time and that they won't dry out.
You CAN use erythritol (like Swerve) but the test batches were much crustier and not as moist with erythritol.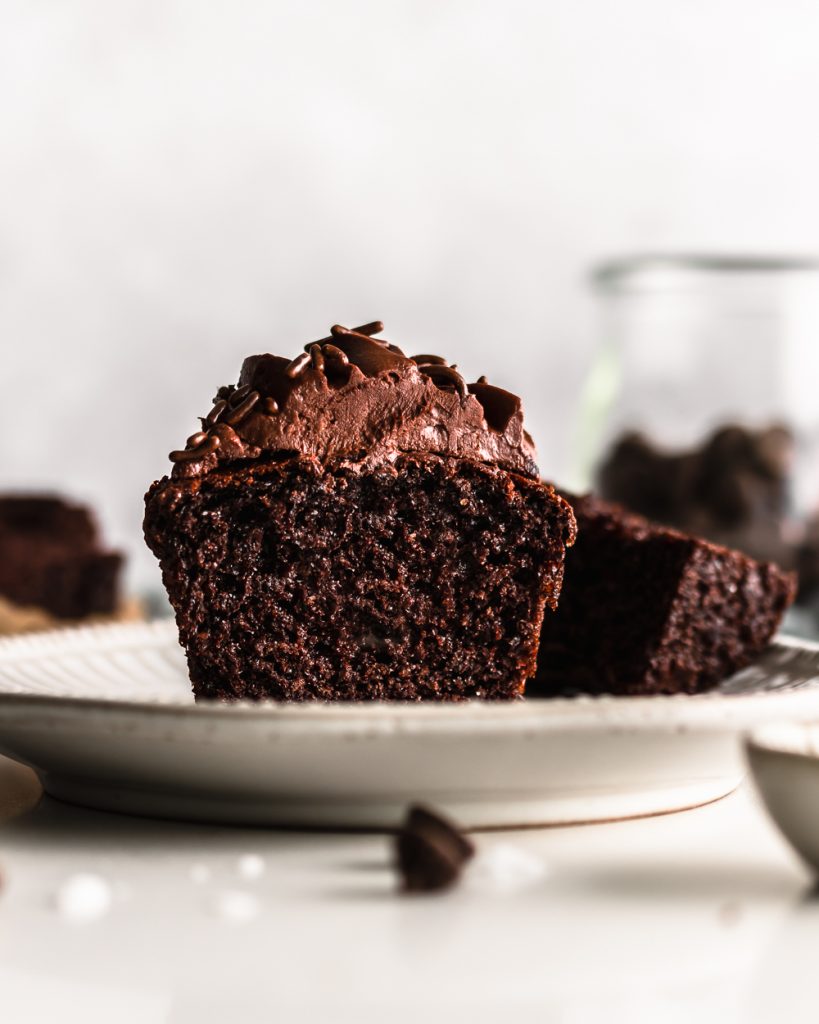 She's a beaut, eh?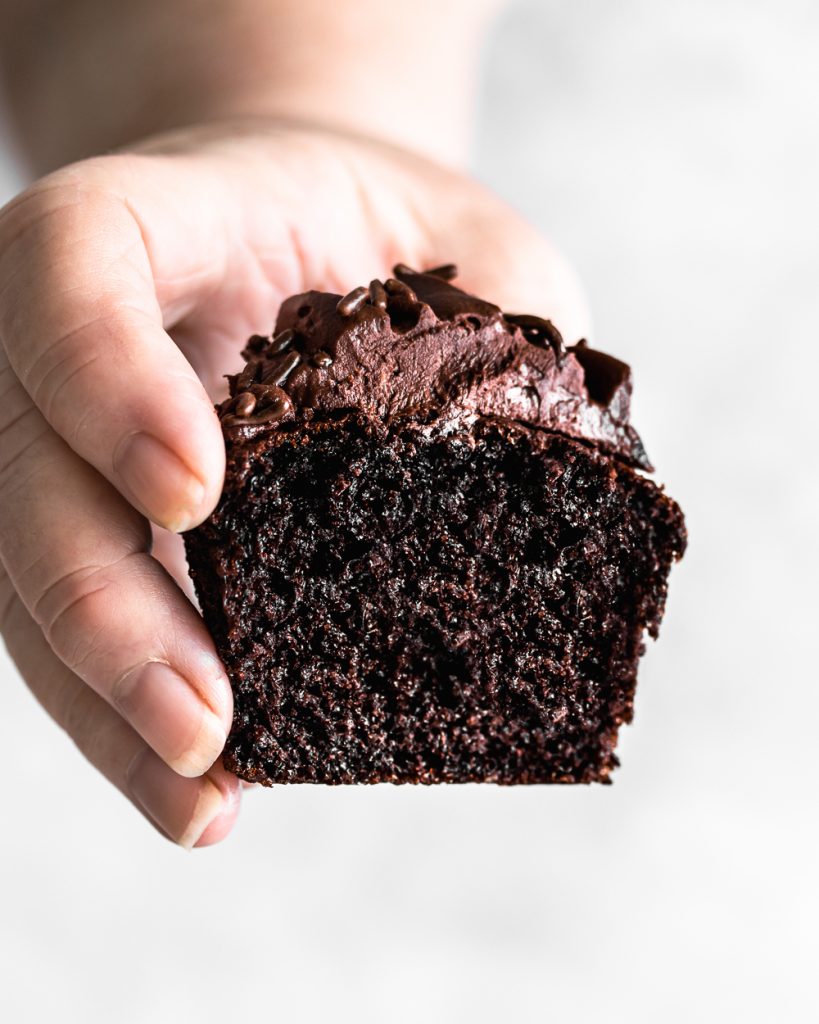 Other Important TIPS!
You don't have to scrape the bowl clean for this. You can lick it clean…but not every oz of the batter needs to go in the liner. That's because it's IMPOSSIBLE to get exactly two servings and to NOT overfill the cupcake liner. Just fill it 3/4 full so it will bake for the correct length of time.
This Frosting is such a small amount that it helps to have an immersion blender to whip in the butter. A handheld mixer will work but be careful not to make a mess.
Cocoa Powder and Chocolate are both used in the frosting so we can keep the carbs and calories lower while still getting a semi-stiff ganache. Less chocolate + cocoa powder helps even it out!
Heads UP! This post contains affiliate links. As an Amazon affiliate, I earn from qualifying purchases.
Want More Single-Serve Keto Treats? Try These!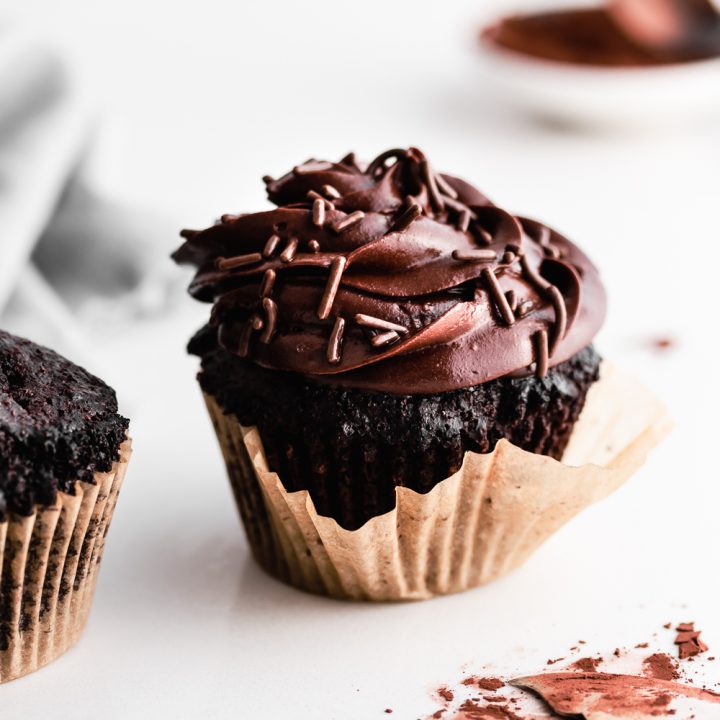 Keto Devil's Food Cupcakes For TWO!
Additional Time:
5 minutes
Rich and chocolatey cupcakes in a SMALL BATCH! Plus, just enough whipped chocolate frosting for both!
Ingredients
For the Cupcakes
1 large Egg
1 teaspoon Light Sour Cream, or full fat
1 tablespoon Butter, softened to room temperature
2 tablespoons Granulated Allulose, or erythritol *see notes*
1/4 teaspoon Baking Powder
1/4 teaspoon Baking Soda
Pinch Salt
For the Frosting
1/4 cup Heavy Cream
2 tablespoons Powdered Allulose, or powdered erythritol
1 tablespoon Cocoa Powder
2 tablespoons Butter, softened, cut into small chunks
Instructions
Make the Cupcakes
Heat oven to 350°F and line a cupcake pan with two liners. Spritz liners with non-stick cooking spray.
In a medium mixing bowl whisk the egg, sour cream, softened butter, sweetener, and cocoa powder until smooth.
Add the almond flour, baking powder, baking soda, xanthan gum, and salt. Whisk together until smooth.
Portion the batter into the prepared cups. Don't worry about scraping the bowl clean, just make sure the cups are filled ONLY 3/4th full. Bake for 14-16 minutes (mine baked for the full 16) or until a toothpick inserted comes out clean.
Make the Frosting
Measure 1 oz chocolate chips in a medium-size bowl.
In a separate microwave-safe bowl, microwave the heavy cream and powdered sweetener in 15-second increments until it starts to simmer. Stir.
Pour the hot cream over the chocolate chips and let them melt for about 1 minute. Gently whisk until the mixture is smooth and the chocolate is melted.
Add the cocoa powder and continue to whisk until combined. With a hand mixer (I used an immersion blender) beat in the softened butter a few pieces at a time until thick and creamy.
Scoop into a piping bag with a 1M tip and pipe onto prepared cupcakes. *If the ganache is too thin to pipe, chill in the refrigerator for a few minutes to stiffen.
Store any leftovers in the fridge for up to 3 days.
Notes
Sweeteners: Allulose is the best in this cupcake because it doesn't harden when cooled. That means a softer, fluffier cupcake! Erythritol will work, but the cupcakes will be stiffer.
Nutrition Facts for the Frosting: 1/4 recipe
Cals: 129
Fat: 14g
Carbs: 3 (minus 3g fiber)
Net Carbs: 0
Protein: 0g
Nutrition Information
Yield

2
Serving Size

1 unfrosted cupcake
Amount Per Serving
Calories

254
Total Fat

20g
Carbohydrates

11g
Net Carbohydrates

6g
Fiber

5g
Protein

13g