Say goodbye to eggy keto cupcakes and say hellooooo to moist and rich chocolate heaven. Complete with Creamy Strawberry Cheesecake Frosting!
---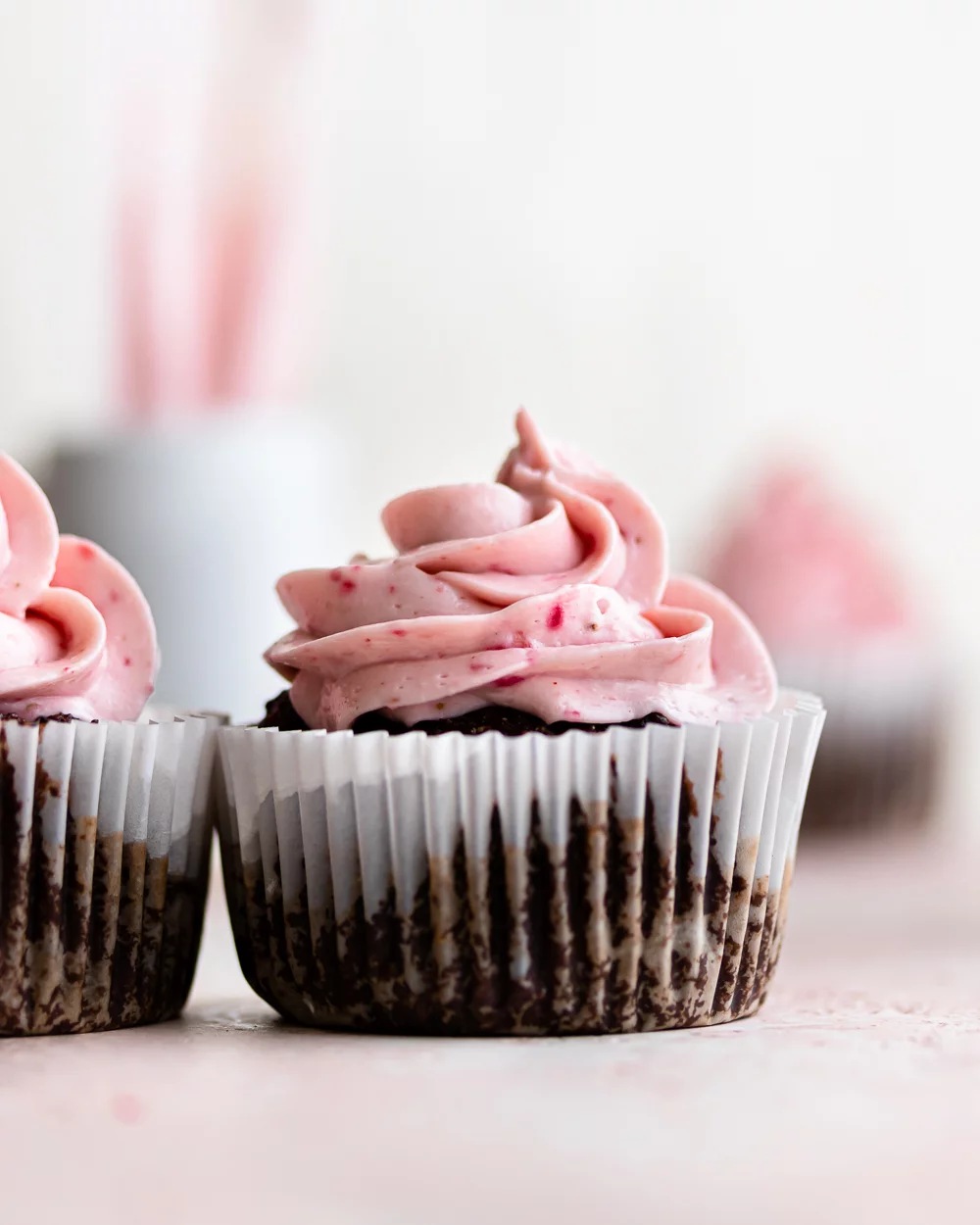 Hard Truths, Soft Cupcakes
I hate to be the bearer of bad news, but it's incredibly difficult to make a gluten-free keto baked good act like the full-flour, sugared-up version.
Almonds are such dicks, honestly.
But even with the limitations of nut flour and the laws of food physics against us, I have decided that we (yes, we) deserve a cupcake-like dessert that we can frost into oblivion and share with our super judgemental, non-keto friends.
Without them gagging.
G O A L S.
Anyway, it's done. I made exactly 6 different batches and fudged up all but this one. YAY?
But now we can kick back with a chocolate cupcake that doesn't taste like dirty chocolate dust! Plus, there's cheesecake-y top!
Butter or Oil Me UP?
These cupcakes have been meticulously tested with all sorts of substitutions and let me tell you, butter and oil are very different.
In the first batches of this recipe, I used OIL (like refined coconut oil) that is liquid at room temp. But I have since updated this recipe to make these cupcakes EVEN MORE CAKE LIKE(!!) so I actually recommend softened butter instead of oil.
If you are an oil lover, I'll put it the measurement for that as well.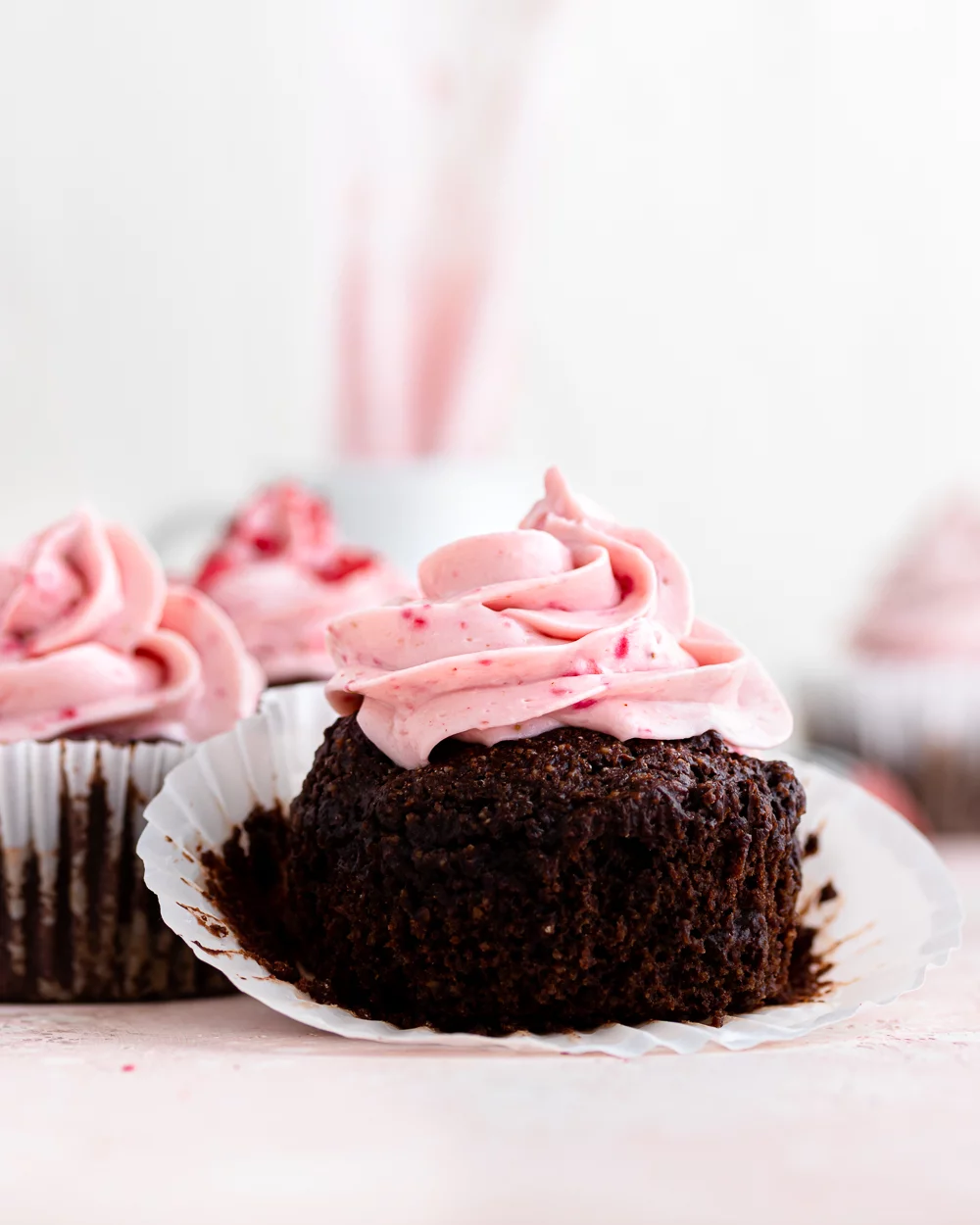 I Spy…Almonds?
If you really get in there with your inspector goggles on, you can see some of the almond flour granules, and that's annoying.
I could have photoshopped them out but this 2020 and we don't edit our imperfections away, right? We EMBRACE THEM.
Or, just buy Super-Fine Almond Flour (I ran out).
Still love your flaws though 💘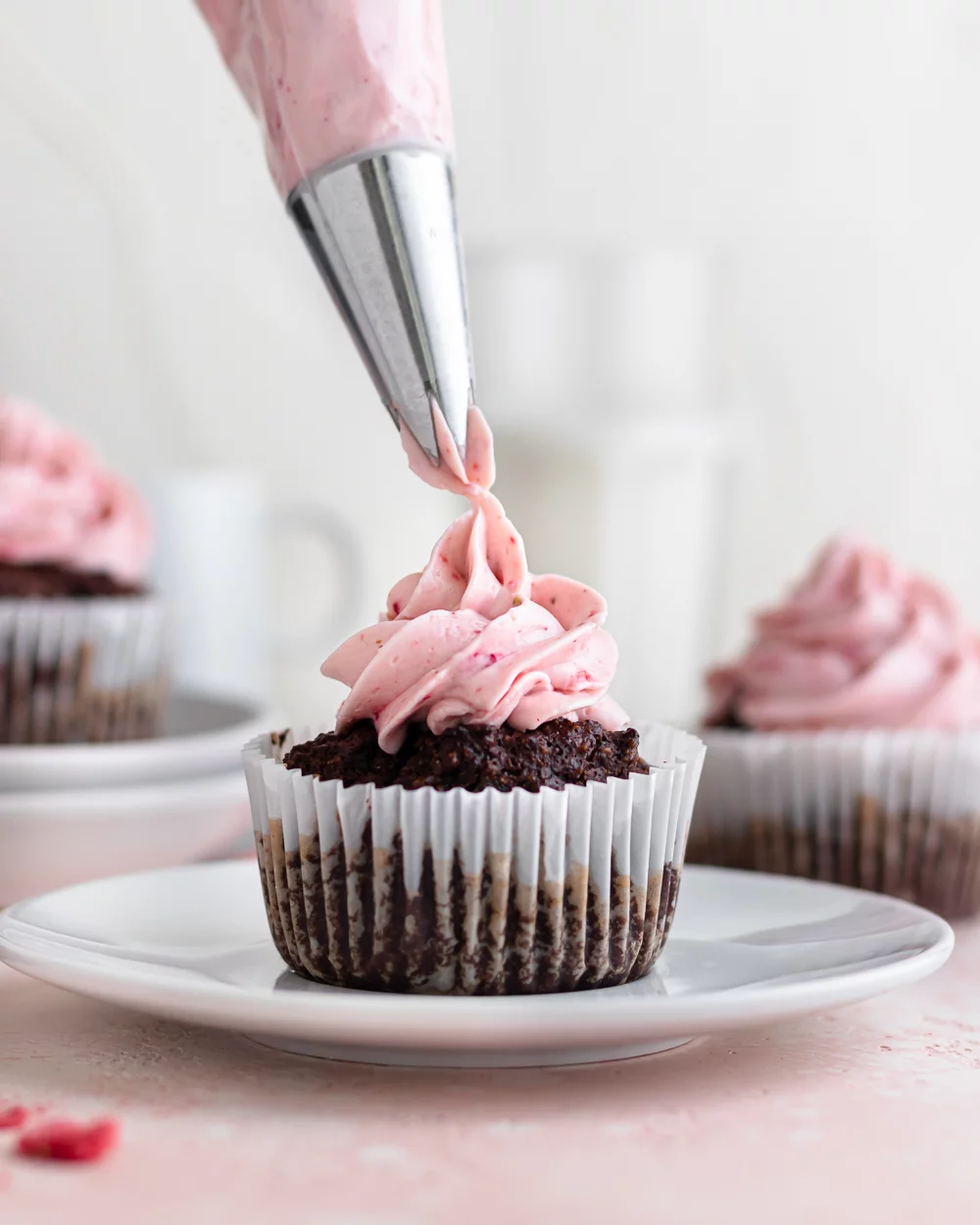 Now, you might be tempted to make chocolate frosting for your cupcakes and that's cool…BUT I want you to think about the possibility of making CHEESECAKE to top your cupcakes.
Put your trust in me, please. I promise I won't let you down.
Strawberry Cheesecake Frosting is super easy and you're going to want to lick it off of your spoon like an animal.
Highly recommend, btw because spoons don't have any carbs.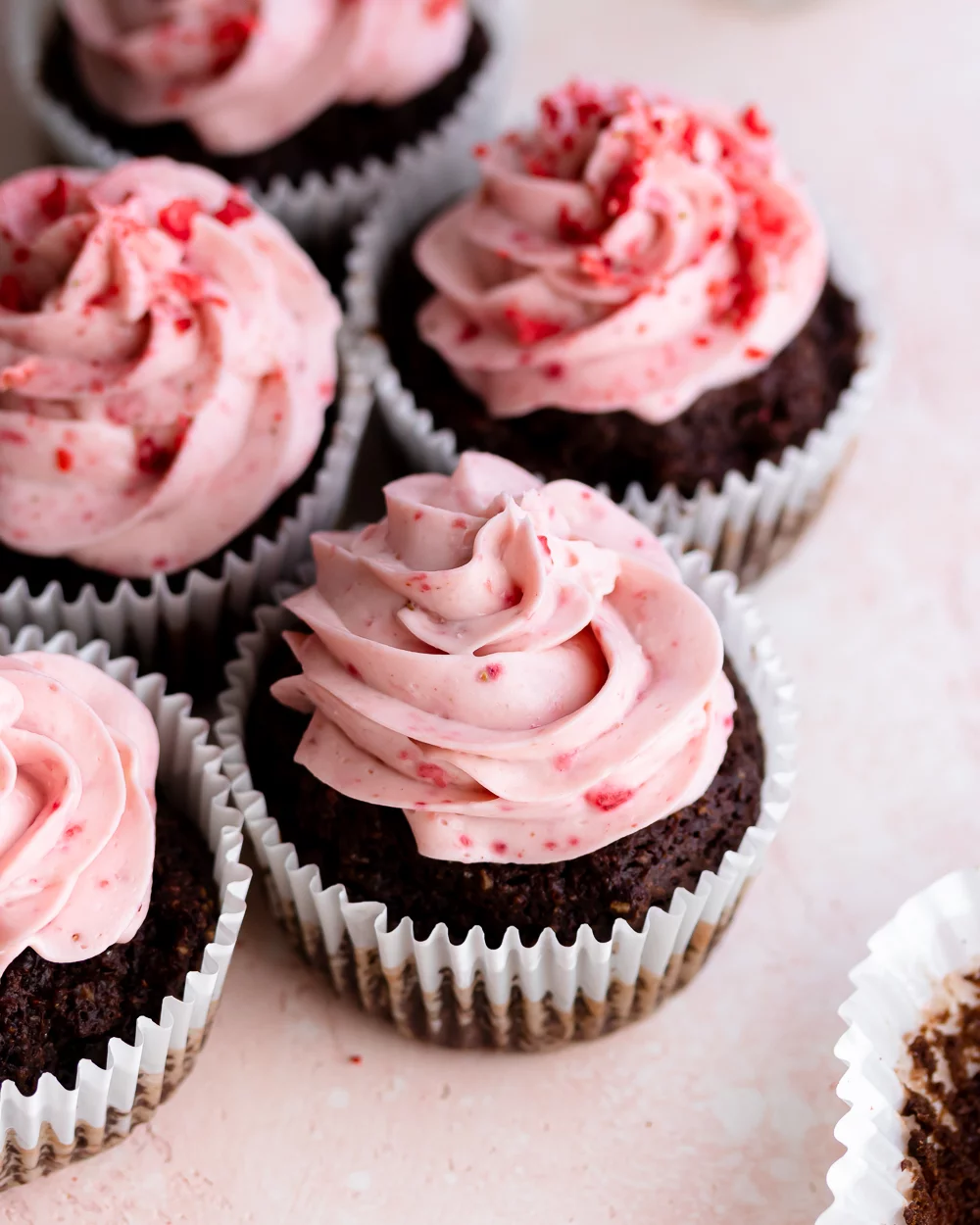 Dehydrated Strawberries are the way to go on this. Fully hydrated ones just won't work! Your frosting will be totally gooey and watery. I use the same trick for my Low Carb Strawberry Cheesecake Truffles
Blend them in a food processor and fold that powdery goodness right into your frosting. THEN top them with any leftovers like strawberry sprinkles from nature.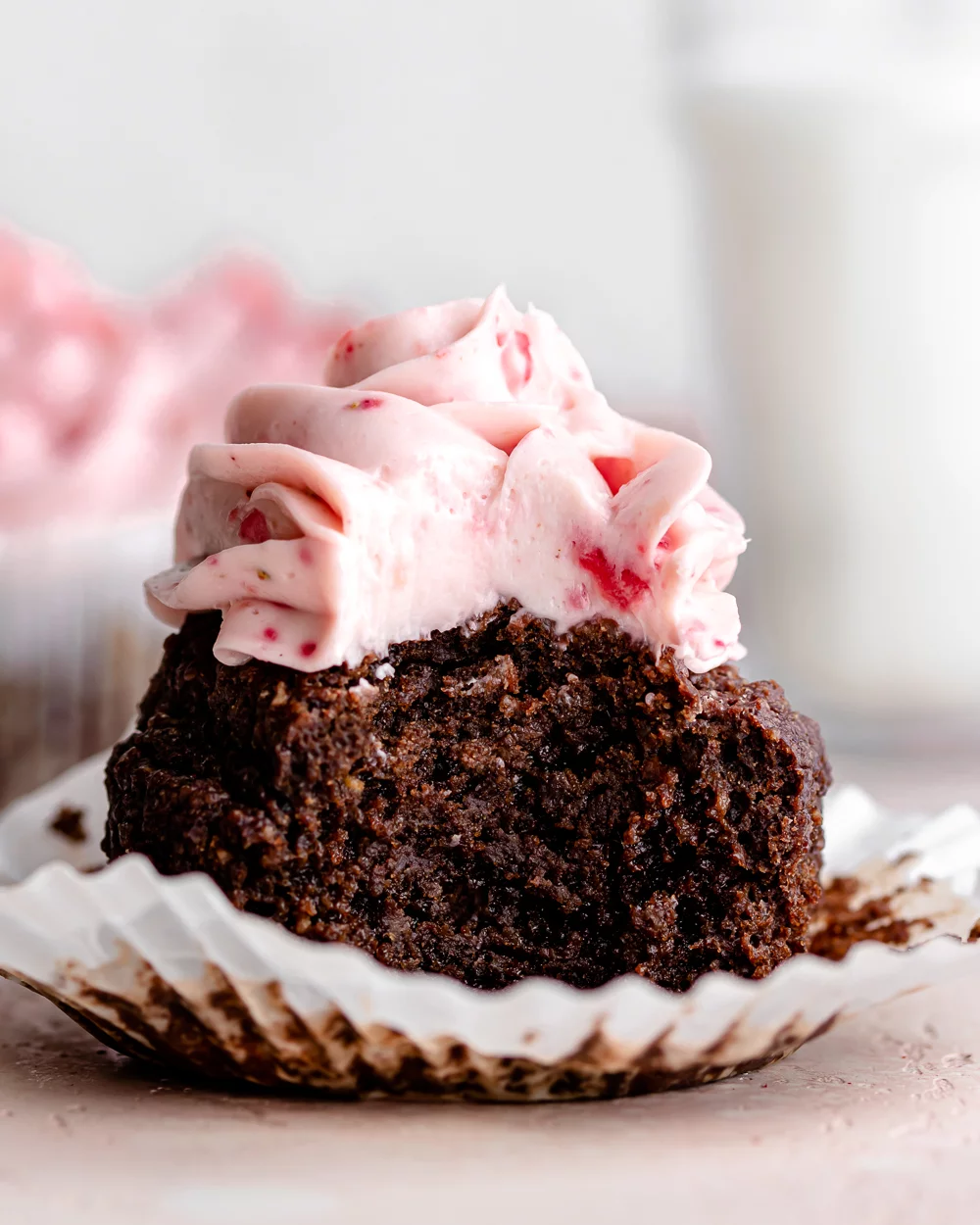 Tip Time! Expertly decorate these babes without actually being an expert.
Use a 1M Wilton tip and a real piping bag, then just hold the tip directly over the edges of the cupcake and swirl.
Keep the bag mostly straight up as you go and you'll be golden!
Looking for More Gluten-Free Treats? Try these!
This recipe has been updated as of 1/21/2021 to be lighter and cakier!
If you loved the original, you'll die for this one…but I'll share the original at the bottom of the page!
Super Moist Keto Chocolate Cupcakes
Additional Time:
10 minutes
These keto chocolate cupcakes are the perfect balance between soft and cakey! You'll never know it's totally gluten-free and keto!
Ingredients
3 large Eggs, room temperature
3 tablespoons Butter, softened, NOT melted
1 level tablespoon Sour Cream
3/4 teaspoon Baking Powder
3/4 teaspoon Baking Soda
Pinch of Salt
Strawberry Cheesecake Frosting
6 oz Cream Cheese
1-2 tbsp Heavy Cream, as needed
Instructions
This recipe was updated on 01/2021 to be softer and cakier! If you loved the old recipe, I've typed it out at the end of the post.

Cupcakes
Heat oven to 350°F and line two cupcake pans with 10 liners. Depending on my eggs, once in a while, I get 11 cupcakes. Spritz liners with non-stick cooking spray.
In a medium mixing bowl whisk the egg, sour cream, softened butter, sweetener, and cocoa powder until smooth.
Add the almond flour, baking powder, baking soda, xanthan gum, and salt. Whisk together until smooth.
Portion the batter into the prepared cups. I use a standard spring-loaded ice cream scoop as a size guide! Make sure the cups are filled ONLY about 3/4 full so they don't overflow during baking. Bake for 18-20 minutes (mine baked for 20) or until a toothpick inserted comes out clean.
Let cool before frosting.
Strawberry Frosting
Beat the room temperature cream cheese with a hand mixer until smooth; about 1 minute.
Add the vanilla extract and confectioners sugar and whip until incorporated. Taste, then adjust to desired sweetness. To thin the consistency, add 1 tbsp of heavy cream at a time with the beaters running; 2 to 3 tbsp total.
Pulse the freeze-dried strawberries in a blender or food processor until powdery. Fold into the cream cheese frosting and pipe onto cupcakes. I used a 1M Wilton tip!



Notes
These cupcakes need to be covered tightly to prevent drying out and refrigerated because of the frosting!
Nutrition Information
Yield

9 cupcakes
Serving Size

1 fully frosted cupcake
Amount Per Serving
Calories

295
Total Fat

29g
Carbohydrates

6g
Net Carbohydrates

3g
Fiber

3g
Protein

6g
And the original recipe for anyone who loved the denser version!
2 large Eggs, room temperature
1/2 cup Mild Cooking Oil, or melted coconut oil*
3-4 tbsp Whole Milk
1/3 cup Natural Cocoa Powder
1/4 tsp Xanthan Gum
1/4 tsp Baking Soda
1 cup Almond Flour, sifted
1/2 tsp Baking Powder
2 tsp Ground Flaxseed, ground super-fine
1/2 cup Granulated Swerve, or erythritol
2 tbsp Swerve Brown Sugar
1 tsp Vanilla Extract
Heat oven to 350° and line a muffin tin with 10 cupcake liners.
Whisk together the eggs, both sweeteners, vanilla extract, 3 tablespoons of milk, and oil. Make sure your eggs are room temperature!
In a separate bowl, sift your almond flour to remove any large granules. Combine the dry: 1 cup sifted almond flour, 1/3 cup cocoa powder, 1/2 tsp baking powder, 1/4 tsp baking soda, 2 tsp finely ground flax, and 1/4 tsp xanthan gum. Add a pinch of sea salt.
Add half of the dry ingredients into the wet and mix well. Add the rest of the dry and stir until no clumps are visible. *If the mixture feels too dry, add another tablespoon of milk.
Portion batter into cupcake wells so they fill about 3/4 of the liner. Filling too full will make your cupcakes sink!
Bake for 16-20 minutes or until a toothpick inserted comes out clean. Then, turn off the oven and let cool inside for 5 minutes.