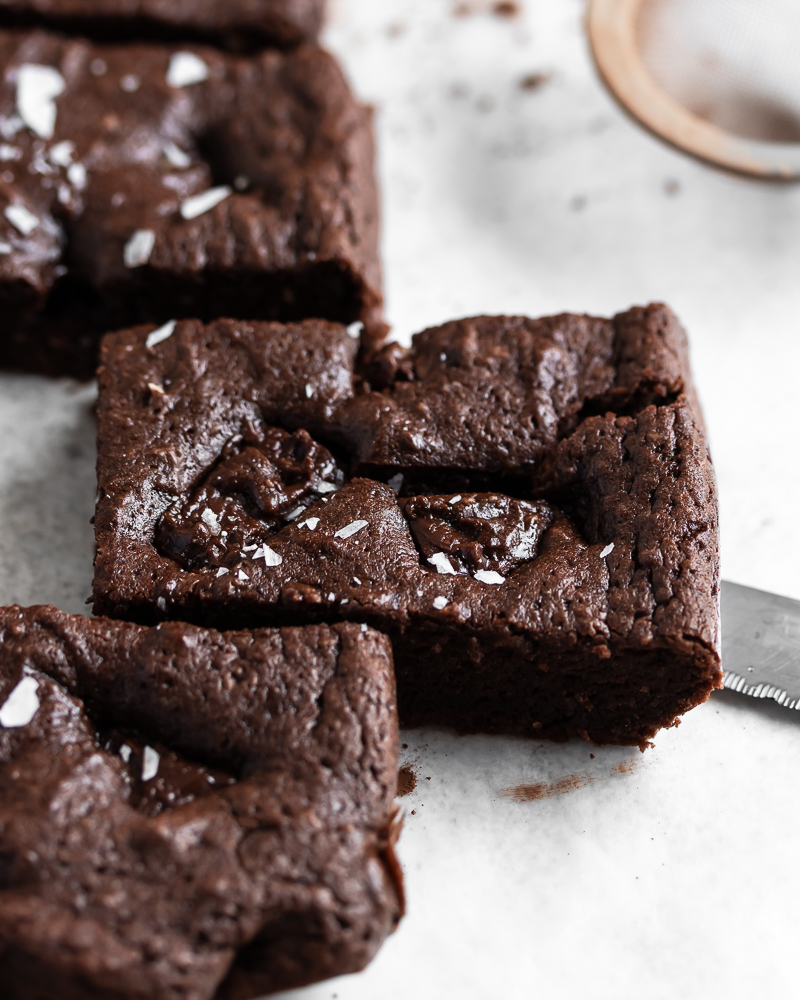 Does Anyone Even Make Brownies Anymore?
Because I feel like I haven't seen a real-life brownie in years and I'm starting to get concerned.
I mean, they are all over Instagram and Pinterest, but those are just pictures of what I am now convinced are an extinct dessert. Cookies and cupcakes—EVERYWHERE. It's like we, as a society, have totally turned our back on the brownie and have replaced all of its fudgy goodness with sub-par desserts. And that's wrong.
I like cookies but come on. Enough is enough already.
Ah, Fudge.
So now that we are *officially* bringing back brownies, let's talk about getting the perfect ration of dense and fudgy. Sure, you want it firm enough that you can get it out of the pan, but you want it ~FUDGY~ enough to sort of make a mess.
A lady in the pan but a freak in the hand. Amirite?!
So the key is to get enough fat in there to fudge it up real nice, but enough batter (or smaller pan) to give it some height and girth.
I opt for the smaller pan because I'm single and I will eat every single brownie. Double batches are for double occupancies and that's just the facts of life.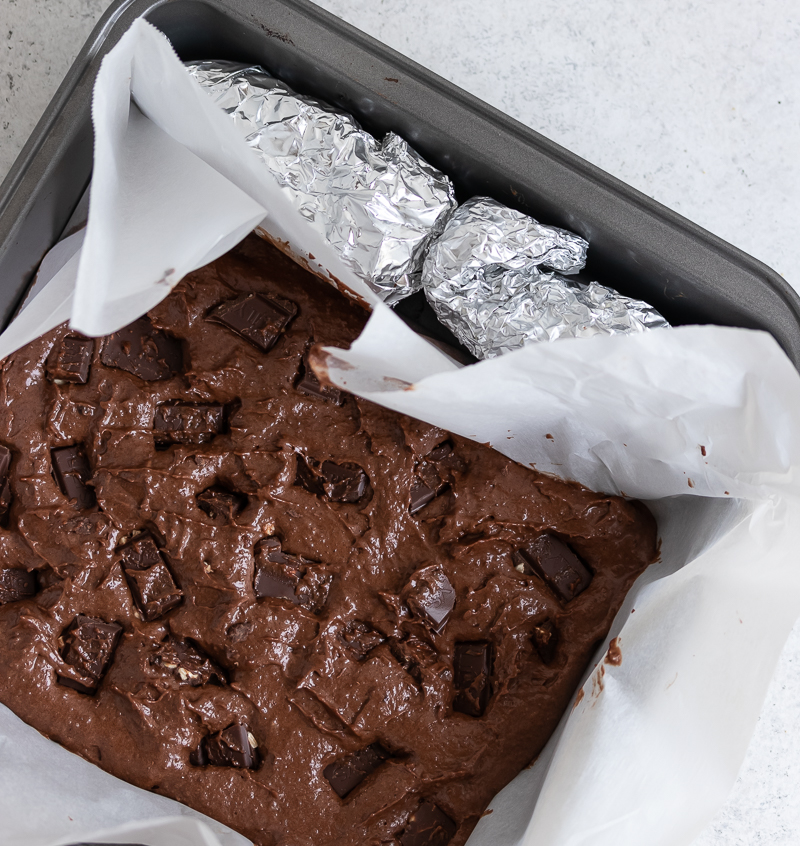 Make your pan smaller by adding a hefty bunch of foil to the pan which makes my 8×8 a 6.5×8 for free. You can absolutely use an untouched and unfoiled 8×8 pan but just know that your brownies will not be as thiccc as my brownies.
Rich & Fudgy Keto Brownies
Welcome to Brownie County:
Where everyday is fudged up and there's not a cookie or cupcake in sight!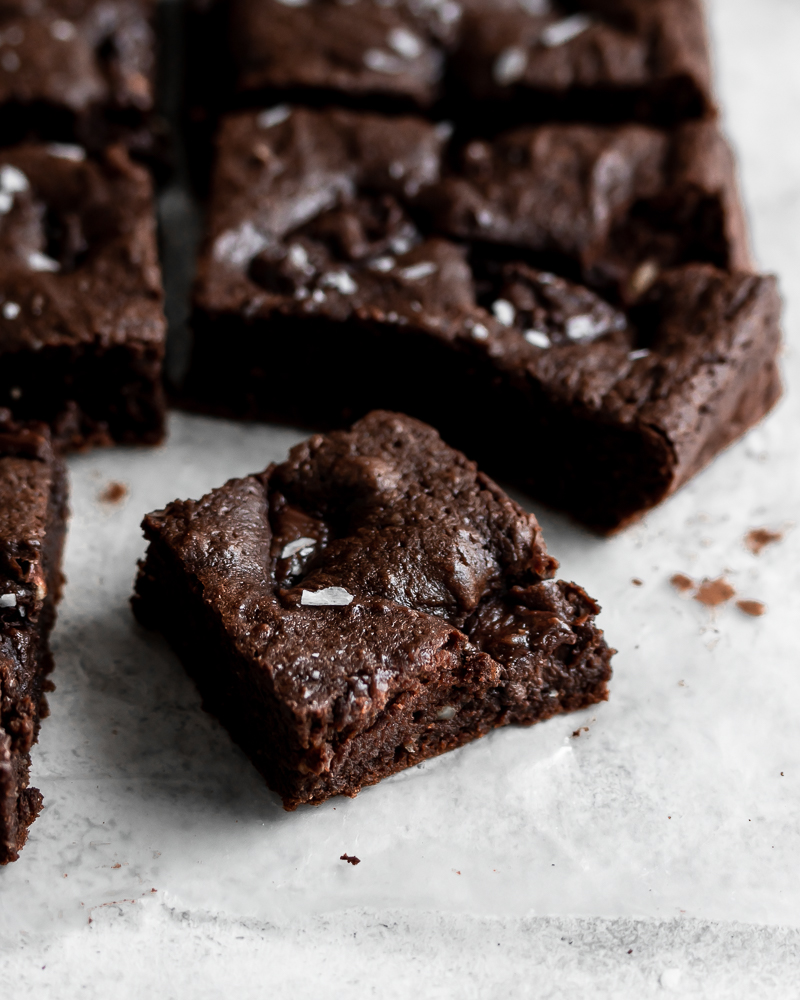 I made these brownies two ways because I care about your brownie journey.
FIRST WAY was with Lily's Milk Chocolate Almond Bars shoved into the batter. It was good and you should try it.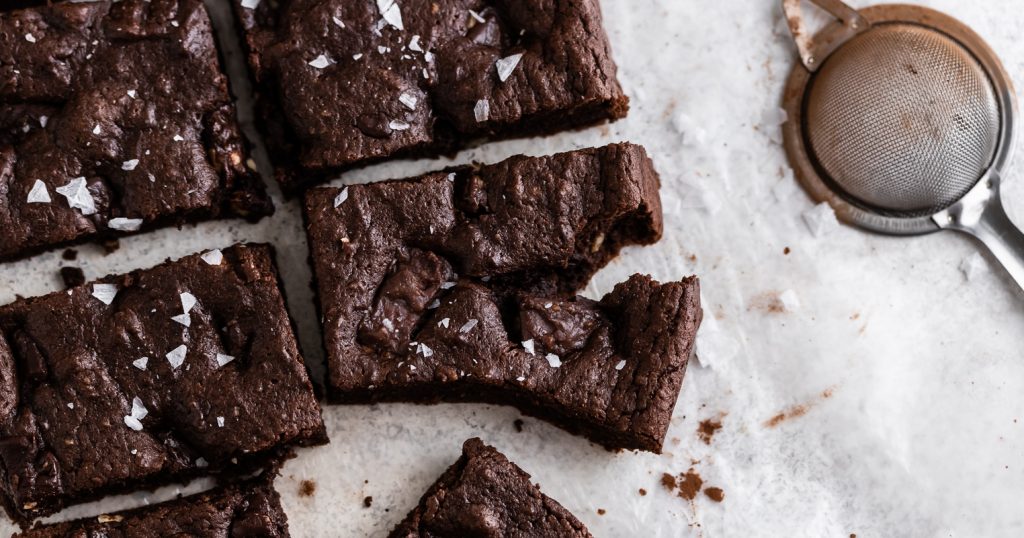 The SECOND WAY was with Lily's dark chocolate baking chips folded in.
HERE'S why it's different:
Folded in baby chips will increase the number of gooey chocolate pockets in your brownie.
Both are good. You decide which is better. Just don't skip the flaky sea salt topping!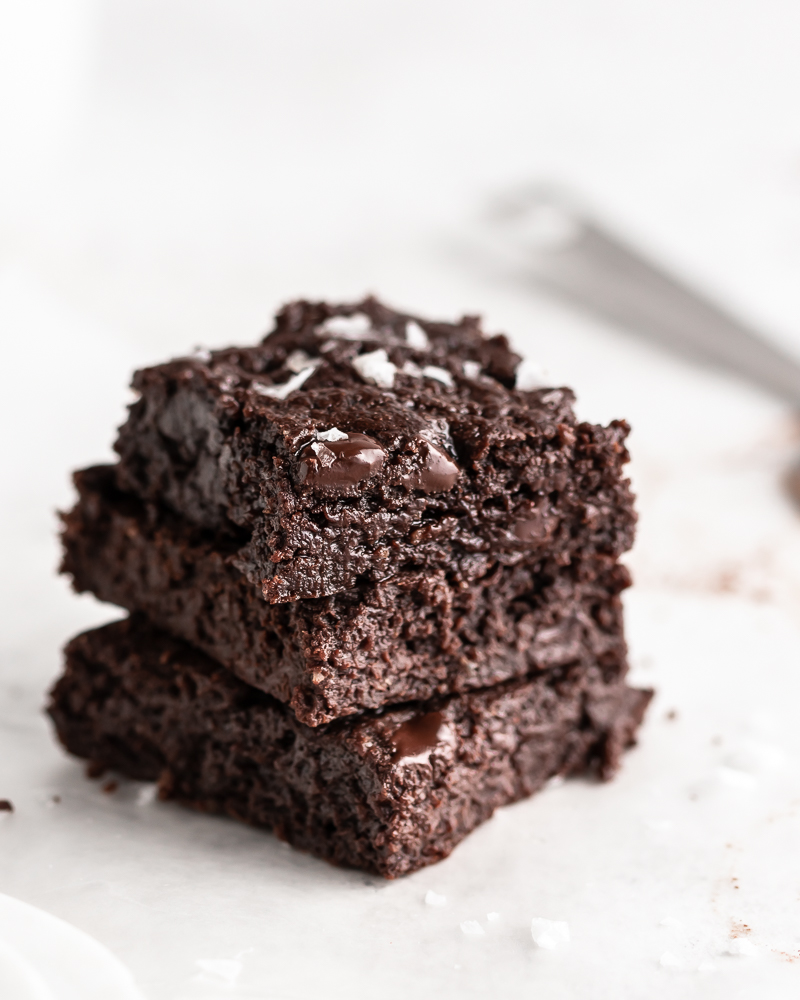 Warning: Don't forget to underbake!
You have to strike while the iron is hot (Cher Horowitz said that) and pull those babies out when they are at their *peak* of gooey-ness! THEN wrap 'em up because keto brownies made with erythritol can dry out and harden up in a matter of minutes.
Rich & Fudgy Keto Brownies
Fudgy and rich keto brownies studded with chocolate and topped with flaky sea salt!
Ingredients
6 tbsp Unsalted Butter
4 oz Lily's Dark Chocolate Baking Chips
2 Large Eggs, room temperature
1 Egg Yolk, room temperature
1/4 cup + 1 tbsp Unsweetened Cocoa Powder
3/4 cup Granulated Swerve*
1 tsp Vanilla Extract
1/4 cup Almond Flour
3 tbsp Lily's Dark Chocolate Baking Chips (to mix in) or 2 oz Lily's Milk Chocolate Bar broken into squares
Pinch Falk Salt* optional but delicious
Instructions
Heat oven to 350 degrees and line an 8x8 baking pan with parchment. *For taller brownies, fold a large piece of foil into a 1-inch rectangle and place it at the end of your pan.
To melt the butter, microwave for 20 seconds in a microwave-safe bowl. Add the chocolate chips to the hot butter and stir until all of the chips are melted. Set aside.
In a separate bowl, beat (or whisk) the eggs and egg yolk, cocoa powder, salt, sugar(swerve), and vanilla.
Stir in the almond flour, followed by the warm chocolate-butter mixture. The batter will become very thick.
Fold in the chocolate chips (if using) and spread into the prepared pan. If using chocolate squares, spread the batter in the pan then press the chocolate squares on top.
Bake for 17 minutes and check for browning at the edges. The brownies are done when the center is still soft but doesn't jiggle.
Sprinkle with a pinch of flaky salt. Let cool before slicing and store in an airtight container.
Notes
Watch the bake time on these brownies! If you bake them slightly under-done, they will be the perfect amount of fudgy once they cool!
Recommended Products
As an Amazon Associate and member of other affiliate programs, I earn from qualifying purchases.
Nutrition Information
Serving Size

1 brownie
Amount Per Serving
Calories

92
Total Fat

9g
Carbohydrates

4g
Fiber

2g
Protein

2g