If you find yourself feeling a little nostalgic for the lazy days of cereal for breakfast (and lunch and dinner) but aren't too keen on the whopping 26g of sugar per child-sized serving, it's time to dust off your spoon and fall in love with cereal again.
Pop Quiz: Do you miss sitting criss-cross applesauce with a bowl of sugary cereal in one hand and the remote in the other? Do you often reminisce about watching Power Rangers with the volume entirely too loud because your crunchy breakfast was getting in the way? Same.
I'll admit it, I've been missing the good old days of carefree cereal snacking. Back when nutrition labels were second billing to colorful characters on the back of the box and total carbs could suck it. Nowadays I'm a gluten-intolerant 30-something with a metabolism that does not accept Cinnamon Toast Crunch as fuel. *Shrugs*
SO you can imagine my delight when I found out there was a cereal that could live up to my spooning fantasies without guilt or any majorly shady ingredients.
The Cereal School founders Helen Guo and Dylan Kaplan have been on a mission to bring a healthier version of cereal to the world that tastes like childhood. No, we aren't talking about a shredded wheat or flaky bran version of cereal. Those are pseudo-cereal imposters. It's the good stuff. The crunchy and sweet, make you want to drink the milk, type of cereal and let me tell you—it's legit.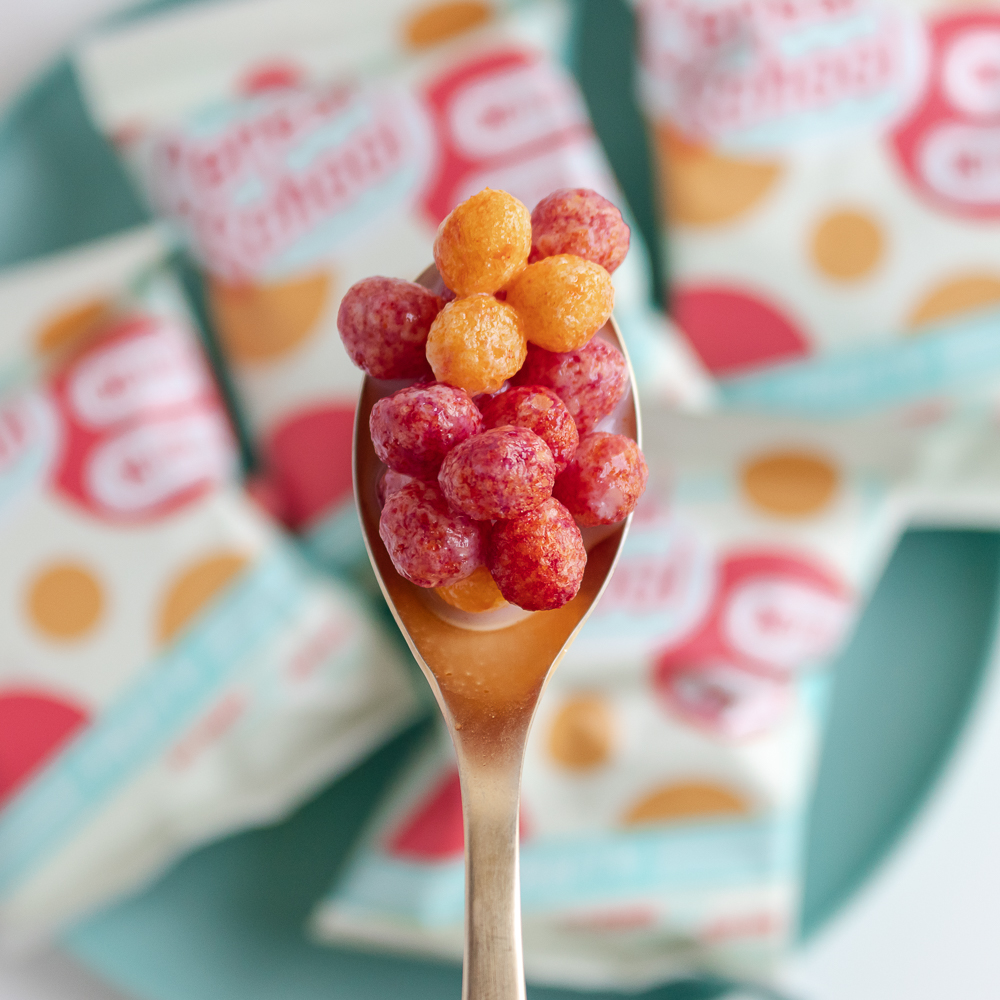 Making The Grade
With a current offering of two flavor varieties (Cinnamon Bun and Fruity) and a rumored third on the way, The Cereal School boasts a pretty clean ingredient list that just might surprise you. Though it doesn't taste like typical health food, the main ingredients are a mixture of lactose-free milk protein, monk fruit, and high-oleic sunflower oil. Other than some beet juice and paprika extract—that's it.
Other fancy food facts: both varieties have zero sugar, high protein (16 grams worth), are low carb/keto-friendly, free of lactose, gluten, grains, soy, and nuts. If that wasn't enough to sell you—it's non-GMO, too. You can check out the full macros and ingredient list on their website.
So like, how does it taste?
I should preface this paragraph by saying that, for me, it was love at first whiff. This cereal nails it with the intoxicating aroma of both flavors. As for the true test, the taste is reminiscent of fruity and cinnamon-y cereals you loved as a kid. Sure, just like any other sweetener substitute, there's a bit of a learning curve. If you love monk fruit, you will love both flavors. Each is lightly sweet with a strong presence of either fruity-ness or cinnamon without being overpowering.
If you are okay with monk fruit (like me), you'll still enjoy both flavors but you'll likely enjoy them more with milk vs dry. But the real deal-sealing fact is the texture.
No matter your stance on the flavor profile of substitute sweeteners, there is no denying that The Cereal School brings the crunch. Each cereal piece is light and airy with that "typical" texture that we all know and love (and miss). The best part? It doesn't cut the roof of your mouth like some of those other versions which makes going back for bowl #2 a whole lot more enticing.
So if you're in the market for a keto/gluten-free/grain-free cereal substitute that gives you all the feels you've been missing, this one will absolutely do the trick. Each box is packed with 12 or 24 single-serve pouches (oh hey portion control) but it does come at a higher price than your average *cheap* cereal, which is to be expected from a product that has such a clean list of non-GMO ingredients.
Grab yourself a 12 pack for $29.99 and see what the buzz is about!