These keto vanilla wafers are crispy little cookies that will take you back to your childhood!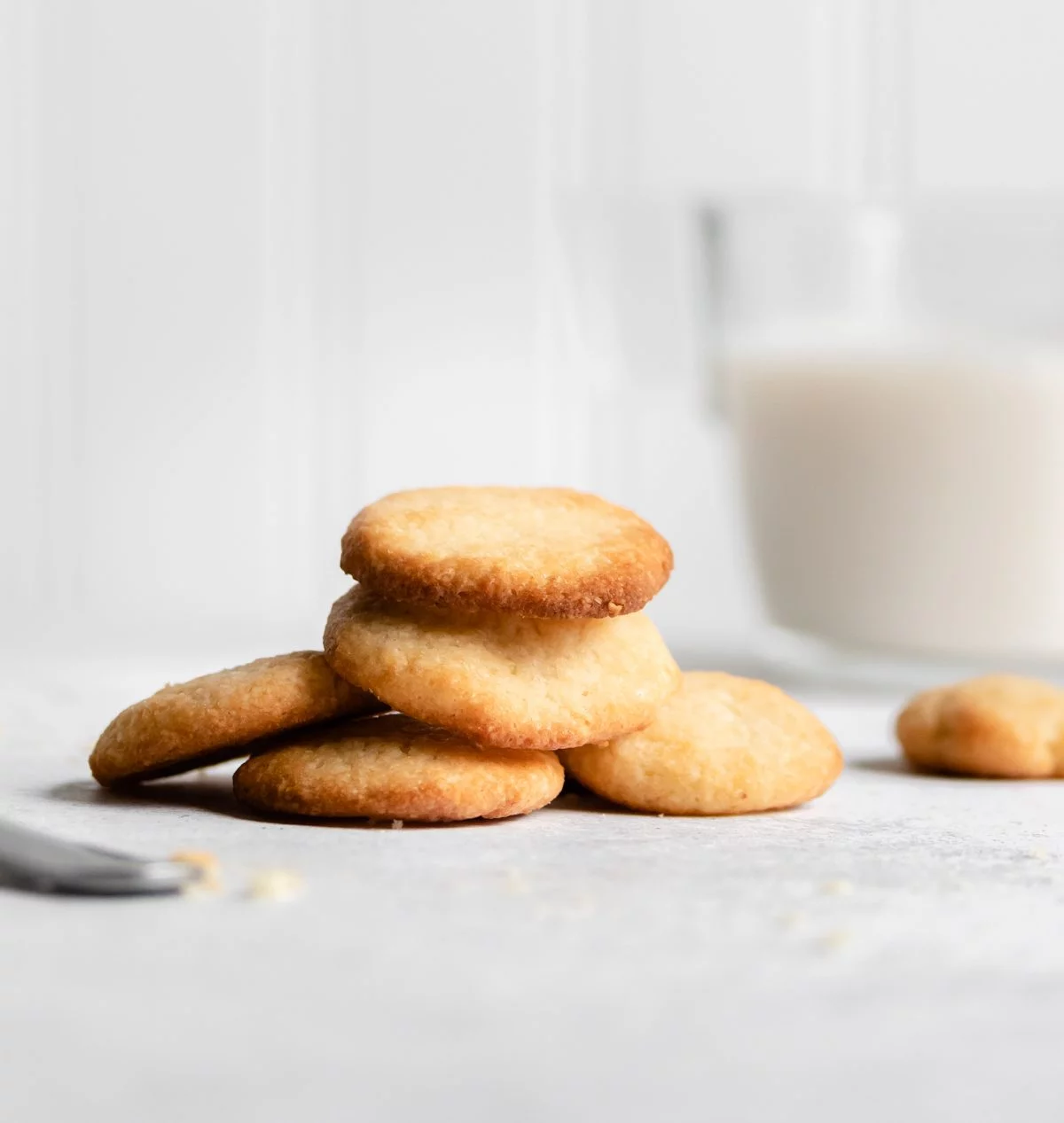 Keto Nilla Wafers? Or Just Mini Cookies?
And does it even matter???
Spoiler, it matters. Because if I were you and I was reading this blog fully intending to find a cookie that acts like a keto and eats like a Nabisco—I would be pretty upset to find out it's just a miniature version of a plain old cookie. Ya dig?
Of course you do! We are cookie-eating kindred spirits on a mission to never feel deprived again. No longer will we wallow in despair, pining for crispy cookie wafers. Hungry for banana pudding dessert.
How to Get Crunchy Keto Cookies
The sad thing about a lot of gluten-free keto cookies is that they can be a little soft. Call me old fashioned but I like my Nilla's to be crisp! So how do we make a keto cookie that can get crisp and stay that way? With a lot of butter and the correct keto sweetener.
The Butter Ratio
To get a crisp keto vanilla wafer, we need the right ratio of butter to flour for that crunchy texture! Too much butter will make them oily and not enough butter will make them fall apart.
Make sure your butter is cool but not so cold that you can't work with it. If that doesn't make sense, it's ok. Just take it out of the fridge while you are gathering ingredients and then drink one cocktail (if it's 5 pm) and you'll be good.
Keto Sweeteners for Crisp Cookies
Lastly, you have to use erythritol and you have got to be ready to wait for it. Other sweeteners don't crisp up quite as much and even though Swerve can get you to crunch town, it's going to take an hour (or more) before they are crisp. 
The other super important thing about making these pseudo shortbread rounds of heaven is to never take our eyes off of the oven. NEVER. Ever. Burned cookies are not desirable.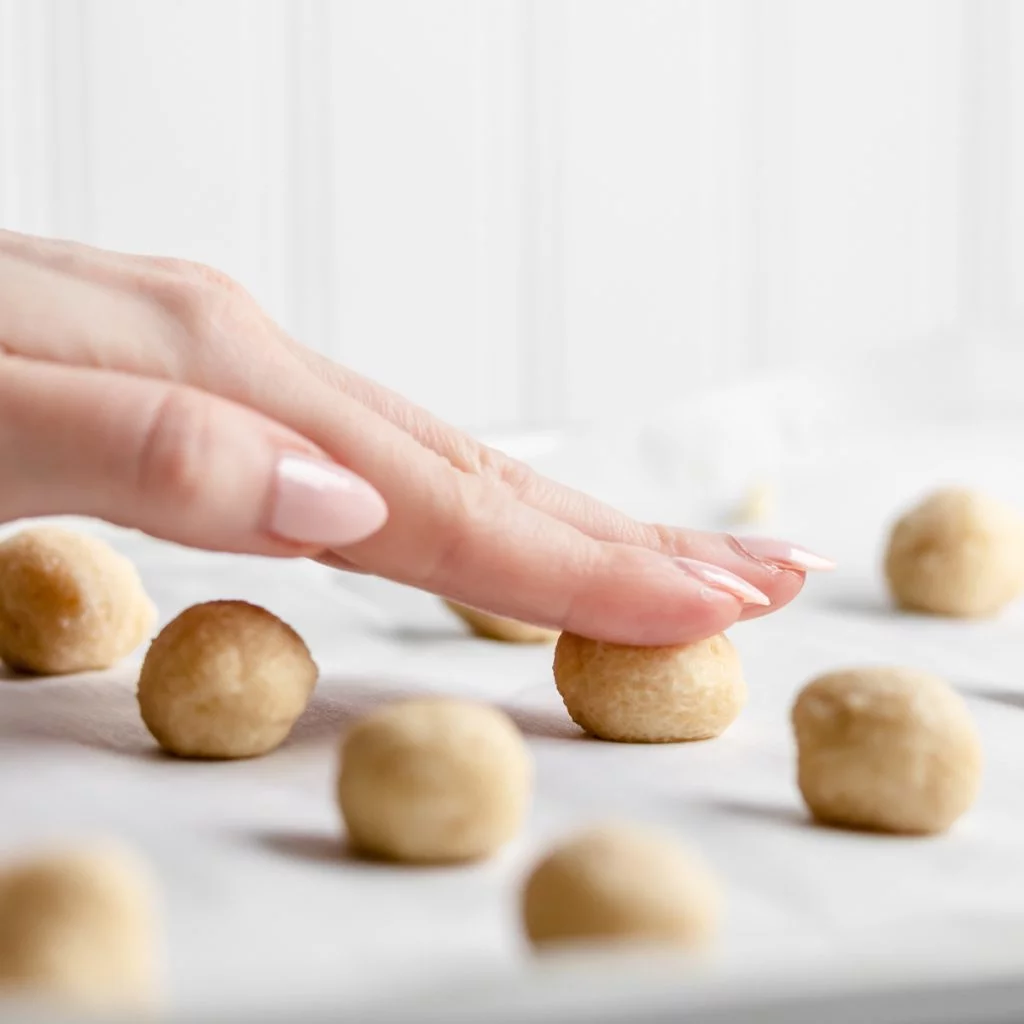 Shaping Keto Vanilla Wafers
As you can see, these cookies are also VERY cute and that's on purpose! For optimal crispiness and texture, the cookies need to be a little flatter on the edges than they are in the center. To do this, I like to place the dough ball in the palm of my hand, then press it together with my other palm. This creates the perfect cookie shape!
Then, just smooth out the edges and place on the baking sheet. Once they bake the cookies won't spread so be sure to form them into the shape you want to see in the end!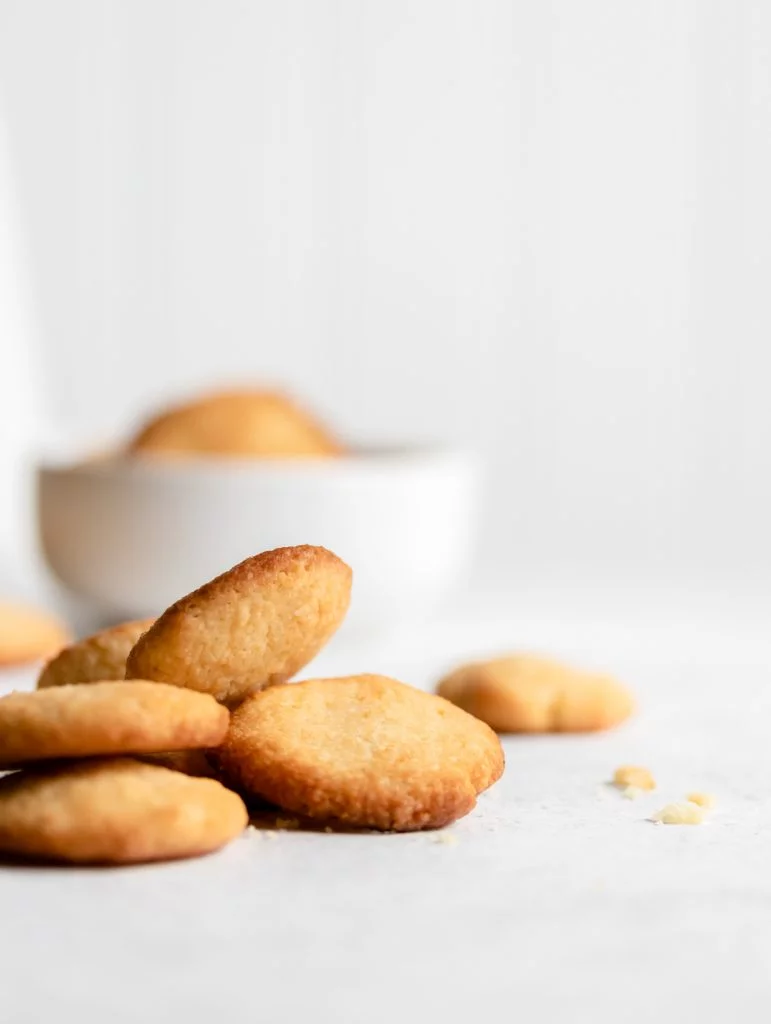 How do they taste? Like crispy vanilla almond rounds of delight!
If you are a Nilla Wafer purest you may just want to eat these with milk, but I'd like to offer a suggestion! Smear them in peanut butter.
It's creamy, crunchy, buttery, sweet, and all other descriptive food terms that inspire drool.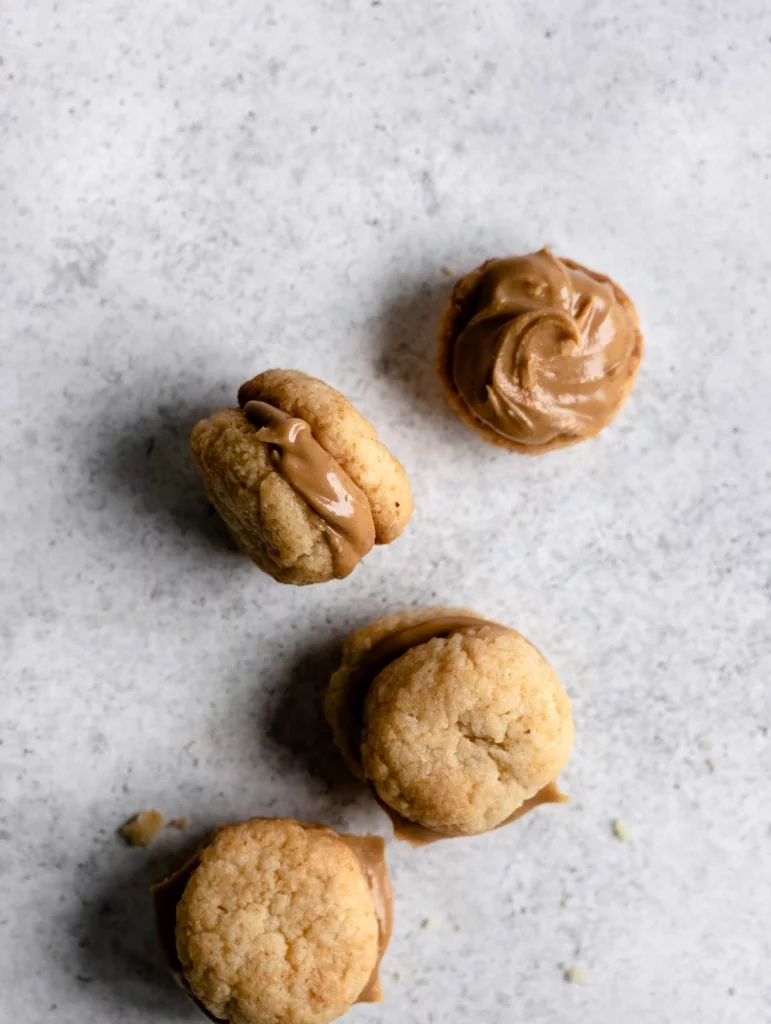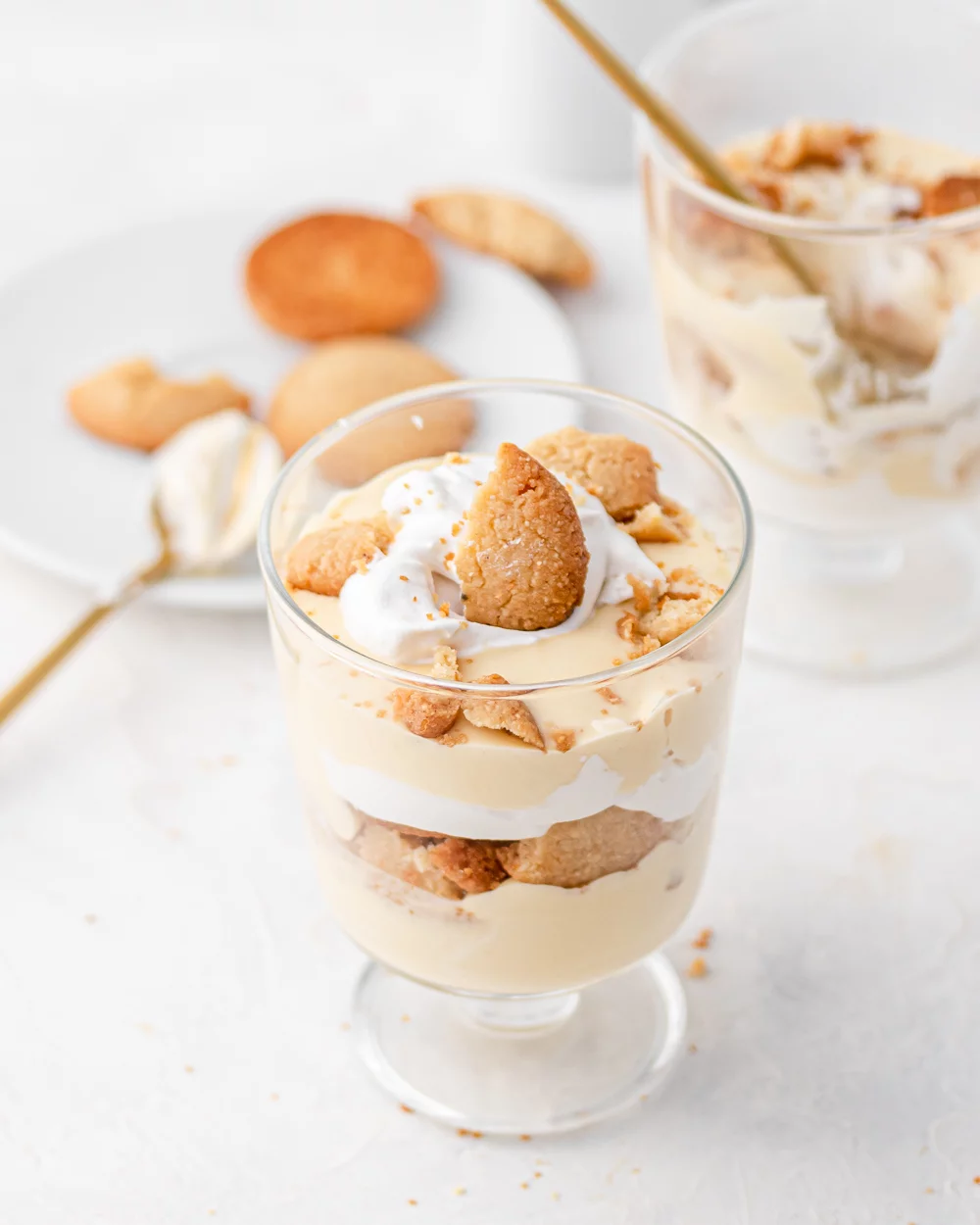 You can also use these cookies to make THE BEST nostalgia dessert ever—Keto Banana Pudding Dessert. 
I love it because it's low-carb, keto-friendly, and totally packed with banana flavor (without bananas!!!). My dad loves it because as a type 2 diabetic, it doesn't spike his blood sugar and he never feels deprived with treats like these.
Bottom line: you have to try it!!
Heads UP! This post contains affiliate links. As an Amazon affiliate, I earn from qualifying purchases.
Want More Guilt-Free Treats? Try These!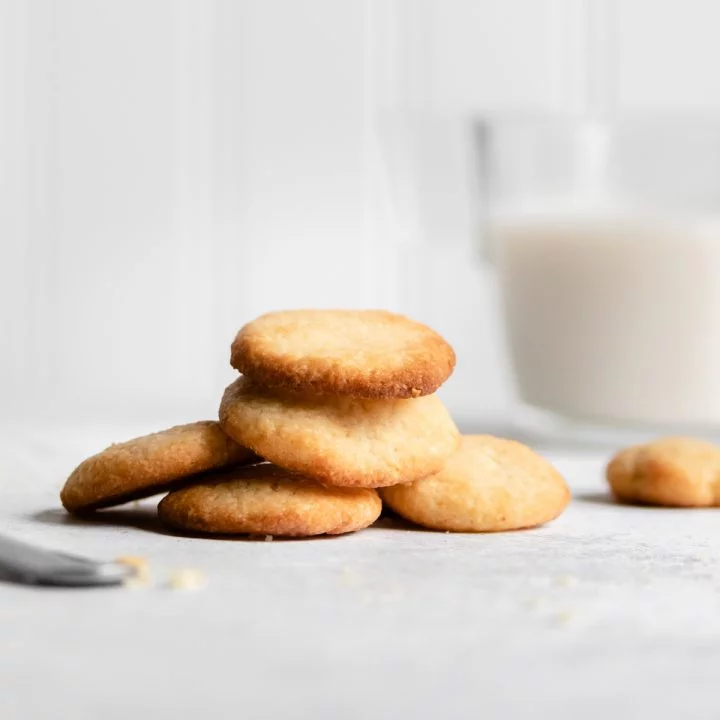 Keto Vanilla Wafer Cookies
Additional Time:
30 minutes
Total Time:
1 hour
19 minutes
Copycat Keto Vanilla Wafers are a MUST for late night snacking or making a classic banana pudding dessert!
Ingredients
1 cup Super Fine Almond Flour
1/4 cup Powdered Swerve or favorite no-calorie sweetener
1 tsp Baking Powder
1 pinch Sea Salt
1 tbsp Vanilla Extract
3 tbsp Unsalted Butter, softened but not warm, see notes
Instructions
In a large bowl, whisk together the Almond Flour, Baking Powder, Sweetener, and Salt. Pour in the Vanilla Extract and stir. There will be some clumps but they will diffuse as we mix!
Chop the butter into 4-5 chunks and add to the flour. Using your hands, begin to work the butter into the flour mixture until a dough forms. Work quickly to keep the heat from your hands from melting the butter! Wrap in plastic wrap and refrigerate for 30 min.
Heat oven to 350°f and line a large baking sheet with parchment or a silicone baking mat.
To bake: scoop about 1.5 tsp of dough and form into a ball. Place between the palms of your hands and press into a saucer shape. To get THE LOOK of a nilla wafer the edges should be flatter than the center; they won't spread.
Place on the baking sheet and bake for 9 minutes, watching until the edges are brown. They make bake up to 12 minutes depending on how long you chill your dough.
Transfer the baked cookies to a cooling rack; they will be delicate when hot. Let the cookies cool completely for maximum crispness!!! After about 1 hour they will firm up and continue to get crispy.
Notes
I find that it is easiest to take my butter out of the refrigerator about 10 minutes prior to making these cookies. It's easier to work with but not too soft, which can affect the texture. Just like pie crust!!
Recommended Products
As an Amazon Associate and member of other affiliate programs, I earn from qualifying purchases.
Nutrition Information
Serving Size

2 cookies
Amount Per Serving
Calories

123
Total Fat

11g
Carbohydrates

3g
Fiber

2g
Protein

3g