If Willy Wonka had a pumpkin patch, and that pumpkin patch was keto…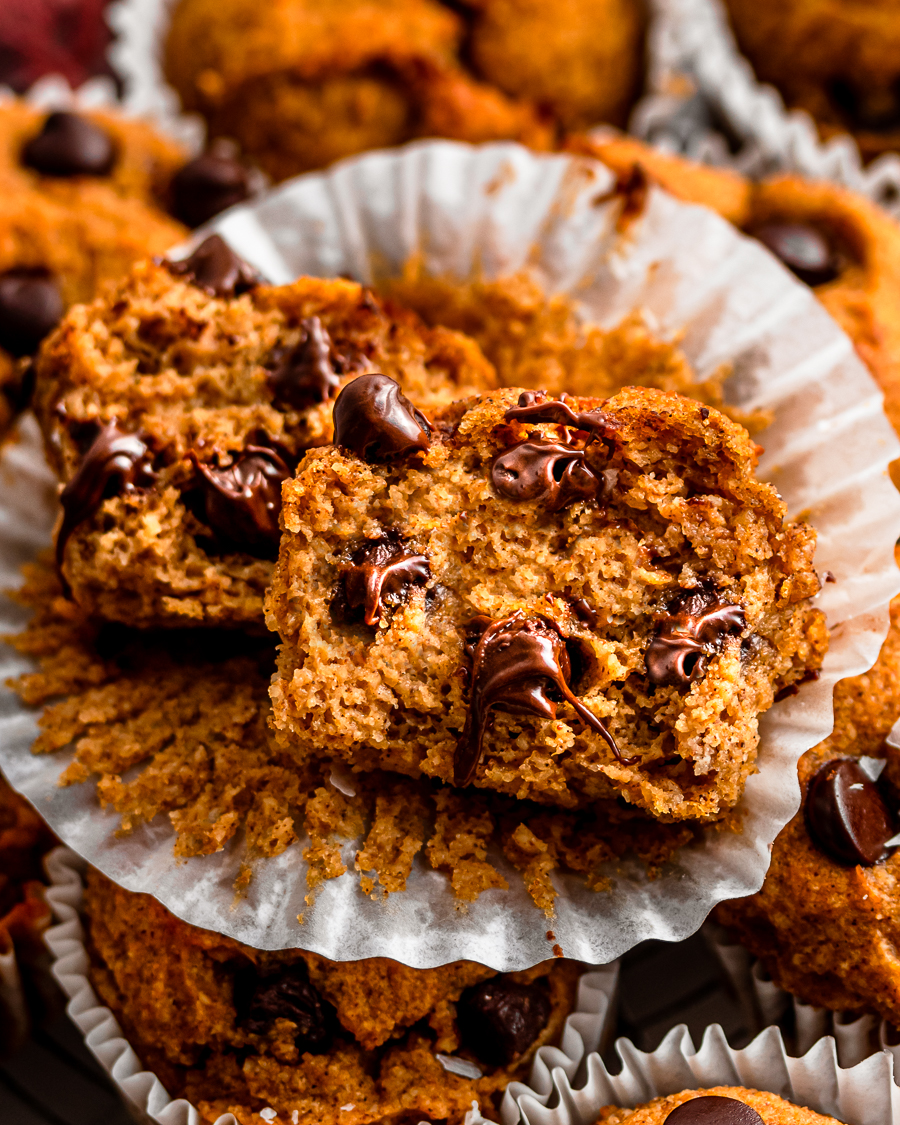 Honestly, What Can't Pumpkin Do?
It's like the cauliflower of the gourd world, only unlike cauliflower, it makes everything taste better instead of worse.
I KID! But not really. Sometimes cauliflower can be less than amazing, but pumpkins? They never fail us in the (fall) flavor department. They add a moist and velvety texture to everything they touch, and who doesn't love eating bright orange foods???
Adults, dogs, babies…everyone!
No Sugar, Tons of Spice, Super Duper Nice
The weird thing about having a recipe be gluten-free AND low sugar is that it's taking away the two ingredients that make baked goods taste good. It's like I'm a masochist for recipe development, but I do it for the satisfaction. And the snacks.
SO how do we make these muffins taste great and look sexy?
Weigh your almond flour. I don't weigh my other ingredients because that seems overkill. But weighing your almond flour has proven to be useful over the years, so I do it.
Sift your dry ingredients. Also a huge pain and time consuming, but worth it when making goodies such as cakes and muffins. I like to use a fine mesh strainer and the business end of a pestal to grind my dry ingredients right through the mesh. I always discard the very small amount of almond pebbles left over.
Bake in a moist oven. It's nothing weird, this just means we add a small pan of water in the oven while it pre-heats. This releases steam into the oven environment and keeps the muffins from drying out with the insides cook through.
Are you into scoopers? I am. Cookie scoops of various sizes make baking so much easier. They are one of those desert-island sort of tools that once you have, you can't live without.
I use a standard-size cookie scoop (overflowing) to fill my muffin liners and I leave them with a rounded top. This gives you the best shape, the perfect amount of batter, and an outstanding rise.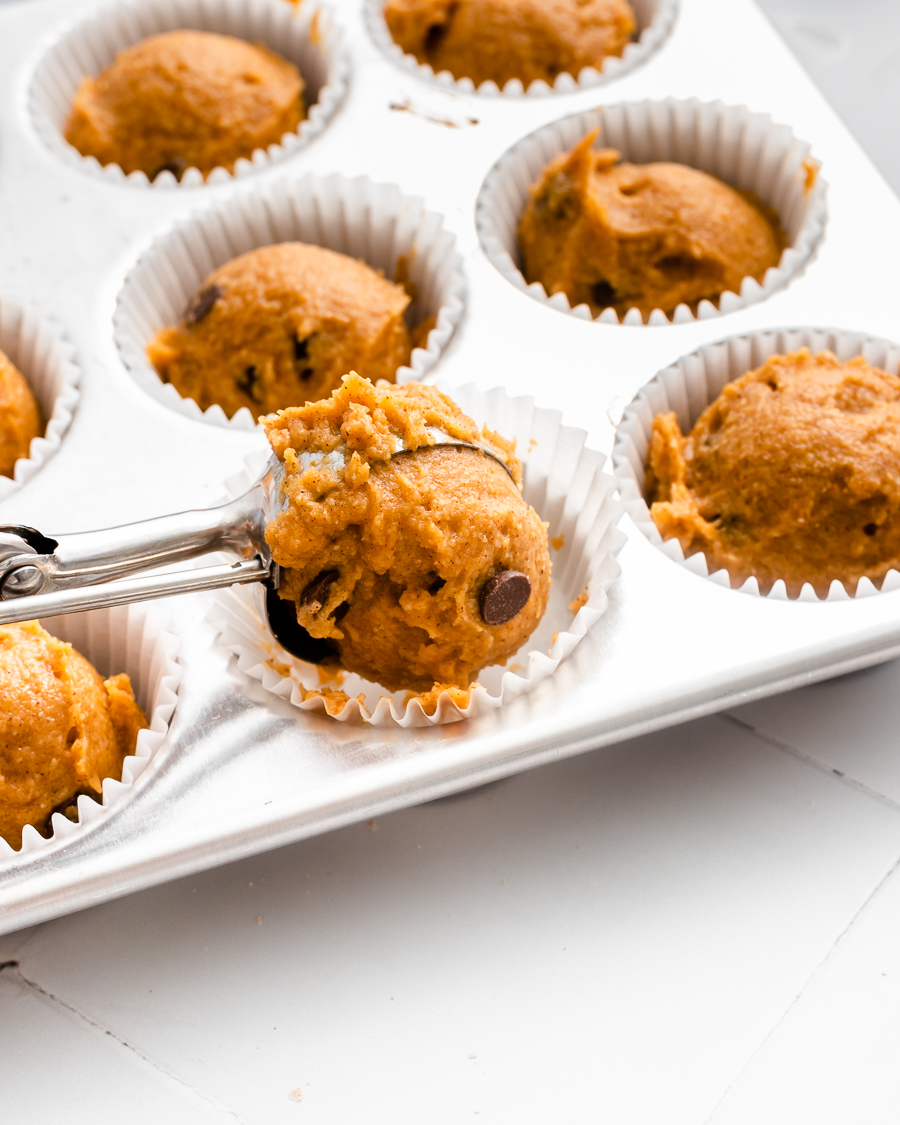 And now we've made it to the glamour shot portion of the blog post. Let's start with some tasteful close-ups.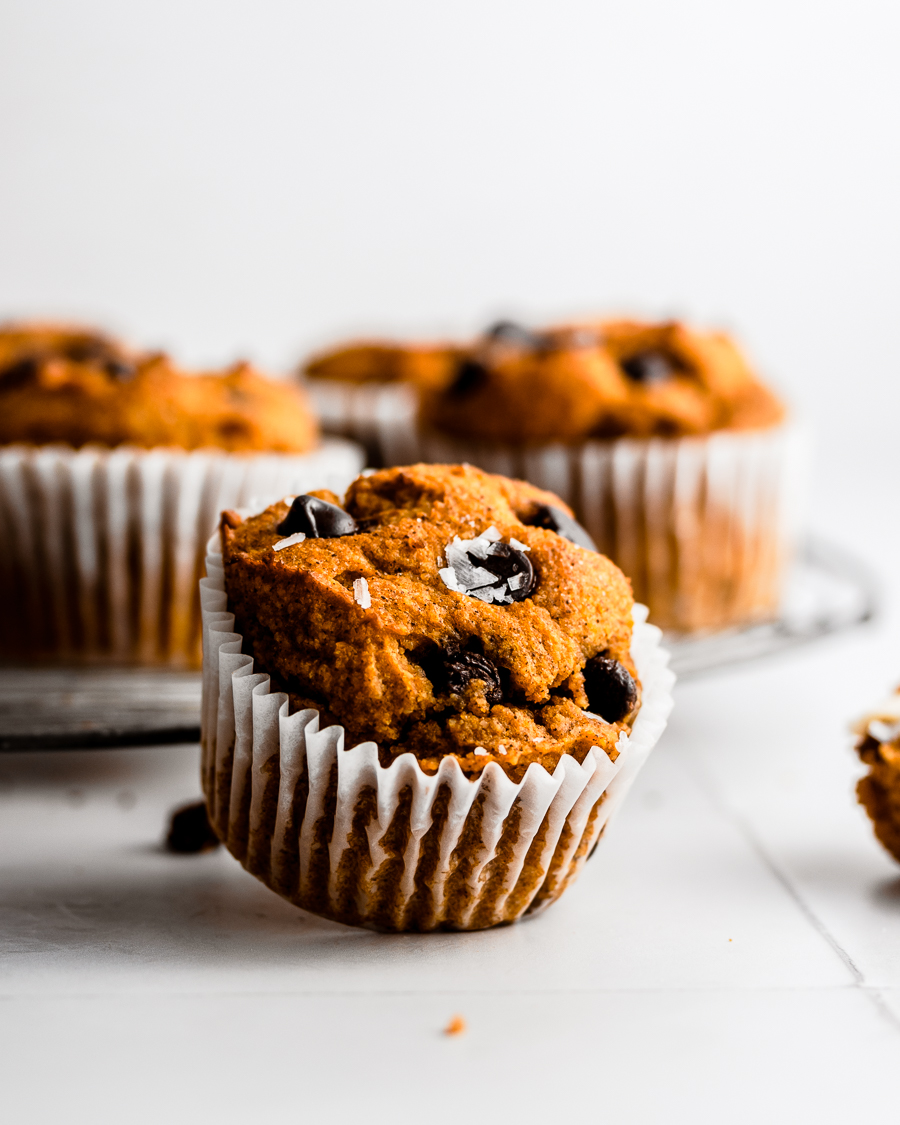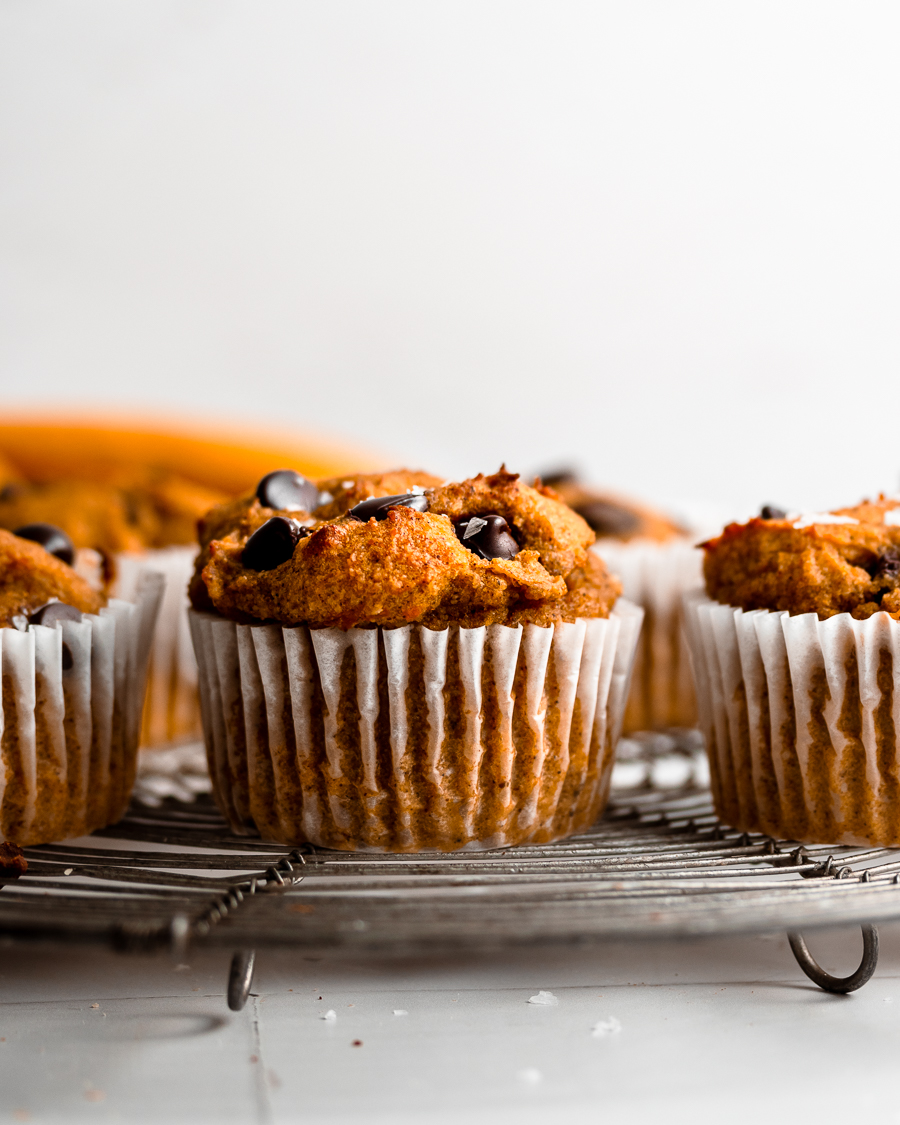 That orange spray tan vibe doesn't work for everyone but this pumpkin muffin is Pulling It OFF.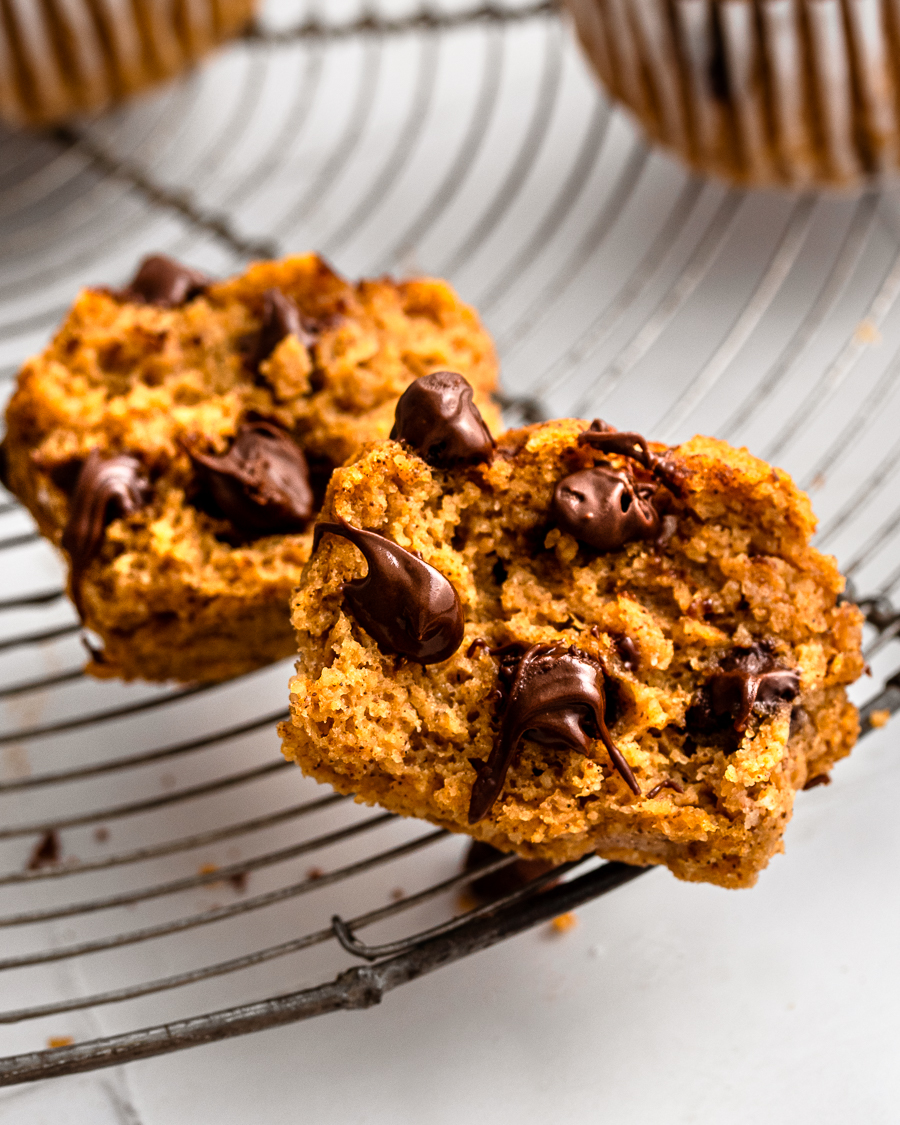 Heads UP! This post contains affiliate links. As an Amazon affiliate, I earn from qualifying purchases.
Want More Gluten-Free Treats? Try These!
Keto Pumpkin Chocolate Chip Muffins
Take your tastebuds on a trip to pumpkin patch city! Population: these marvelous muffins.
Ingredients
1 1/2 cups (180g) Almond Flour
3 tablespoons Coconut Flour
1 1/8 cups Powdered Swerve, or sweetener of choice
1/4 teaspoon Salt
1 tablespoon Pumpkin Pie Spice
2 teaspoons Ground Cinnamon
1 tablespoon Baking Powder
1/4 tsp Baking Soda
1 teaspoon Xanthan Gum
4 large Eggs
5 tablespoons Butter, melted and cooled
1 1/2 teaspoons Vanilla Extract
1 cup Pumpkin Puree, not packed in*
1/2 cup Lily's Milk Chocolate Chips
Instructions
Heat oven to 350°F and line two muffin tins with 15 liners. This will take two pans. To bake in a moist oven: Add a small square pan to the lowest rack of the oven and add 3 cups of water.
In a large bowl, whisk together the dry ingredients (almond flour, coconut flour, xanthan gum, baking powder, baking soda, sweetener, cinnamon, and pumpkin pie spice) until combined.
In a separate bowl beat the melted butter, vanilla, and pumpkin puree until smooth. Add the eggs and beat until combined.
Add half of the dry ingredients to the wet and stir with a large silicone spatula until all of the flours have been absorbed. Add the rest and mix well.
Fold in 1/2 cup of the milk chocolate chips and let rest for 5 minutes. Fill the lined muffin tin with a standard cookie scoop or until each is 3/4 full. *See blog post for more details!
BAKE for 23-30 minutes or until a toothpick inserted in the center comes out clean.
Let the muffins cool for 10 minutes before moving to a plate or to store. Store in a sealed container on the counter or refrigerated.
Notes
Pumpkin Measure: To have the right amount of pumpkin, gently spoon into the 1 cup measure without flattening or packing it in. Too much pumpkin makes these muffins too moist!
Powdered Sweetener: You can use granulated sweetener buy in my experience powdered Swerve is best for texture and flavor!
Nutrition Information
Yield

15
Serving Size

1 muffin
Amount Per Serving
Calories

155
Total Fat

13g
Carbohydrates

8g
Net Carbohydrates

4g
Fiber

4g
Protein

5g