If you love salted pecans but also love pumpkiny pumpkin pie, then this dessert's for you pal!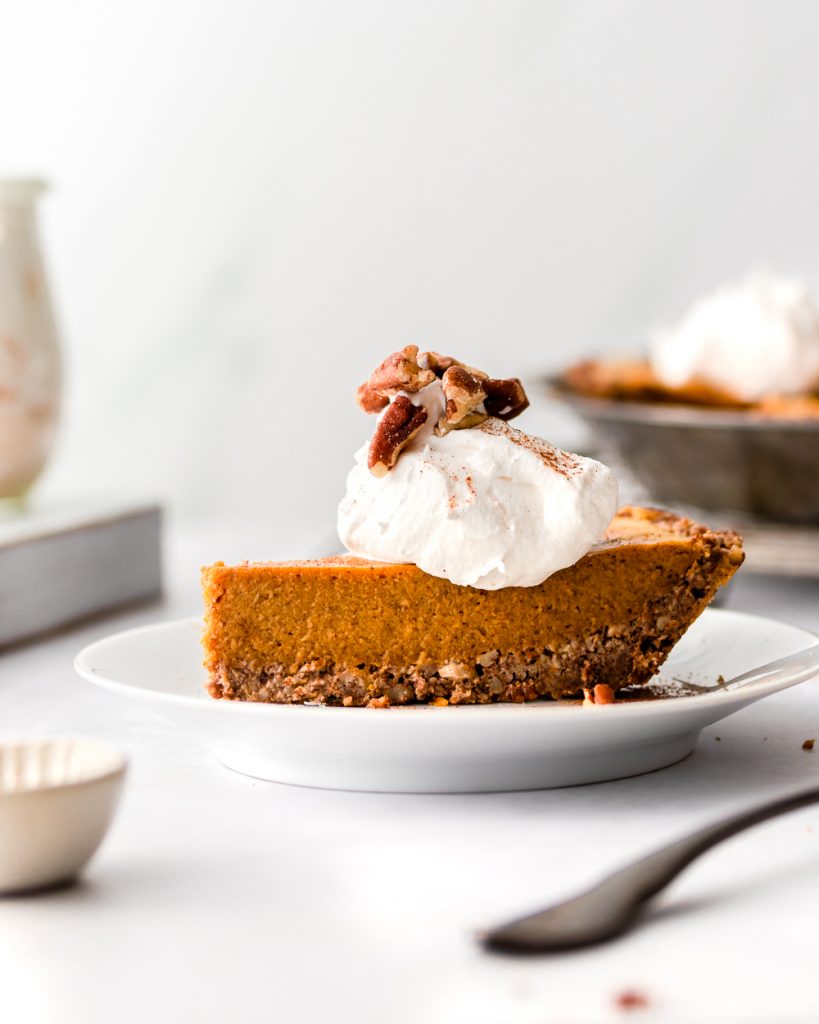 Dairy's Day Off
Because even though heavy cream is good, pumpkin pie doesn't need it!
Yep, dairy is cool but it's not cool for everyone. And since pumpkin pie is a Thanksgiving/Christmas holiday food star, I'd like to make it accessible to everyone. Except vegans.
Sorry. I'll get ya next year. ✌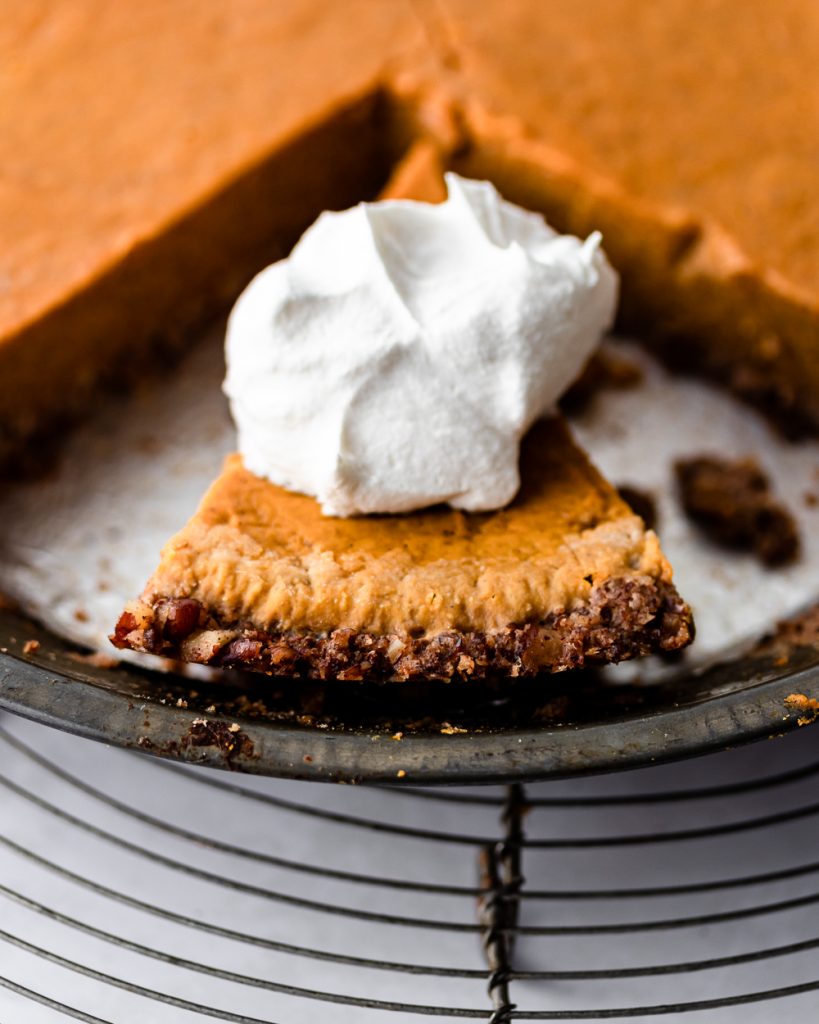 Salty Nut Bottom
Is there really anything better than a pie crust made entirely of sweet n salty nuts?? Only a pie crust that's made out of more pie, but I haven't figured that out yet.
Till that fateful day comes, we can enjoy the nutty goodness of salted pecans baked with cinnamon, sugar, vanilla, and a bit of egg yolk to hold it all in place.
Not a droplet of butter in sight, either! Yet it's still SO GOOD. Like, how?
It's because pecans are amazing. Just, wow. Good job nature.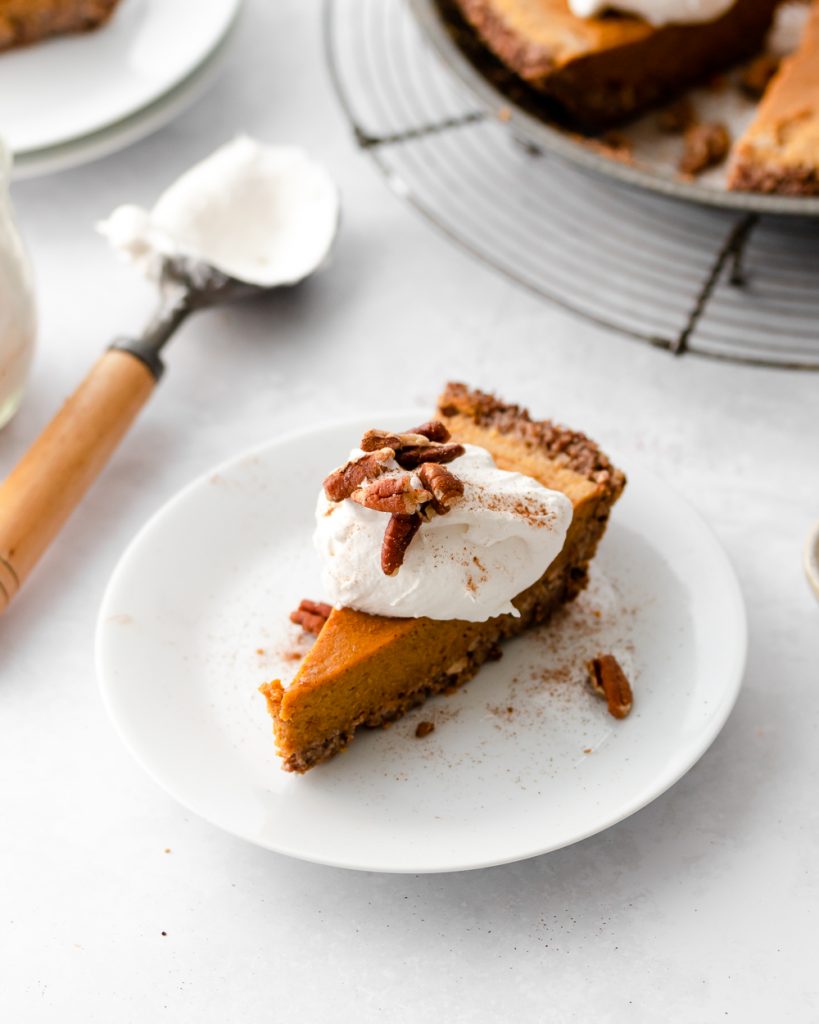 This pie is super simple so I'm not going to make a big fuss over the tips and blah-bity-blah-blahs.
What I will say is that though it's not EXACTLY like pumpkin pie made with condensed milk, it's pretty damn good and it won't cause your dairy-free dinner guests to double over in agony.
Tastes pretty good, too.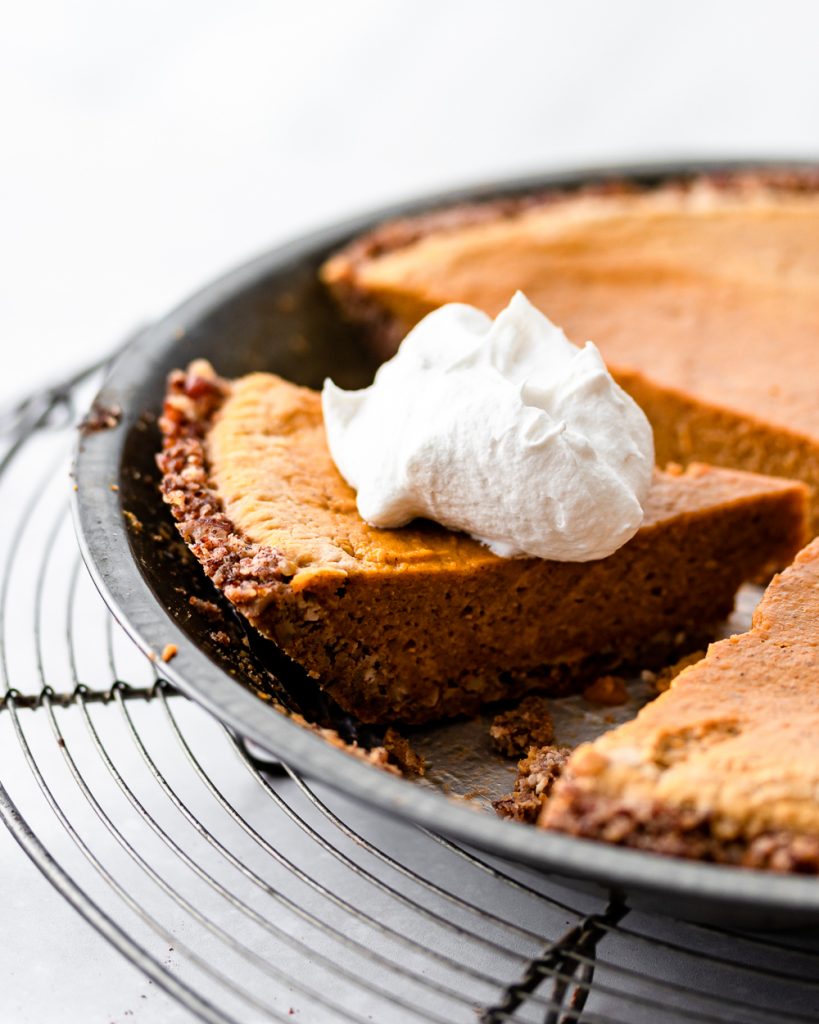 Heads UP! This post contains affiliate links. As an Amazon affiliate, I earn from qualifying purchases.
Easy Pumpkin Pie with Salted Pecan Crust (Dairy Free Keto)
Total Time:
1 hour
5 minutes
Salted pecans get blitzed (literally) for a crumbly sweet crust filled with pumpkin pie goodness! Dairy-free and keto-friendly!
Ingredients
Crust
1 cup Roasted Salted Pecan Halves
2 tablespoon Ground Flaxseed
1 teaspoon Vanilla Extract
1/2 teaspoon Cinnamon
1/3 cup Granulated Erythritol, like Swerve
1 Large Egg Yolk
Filling
1 can Pumpkin Puree
2 Large Eggs
1 Large Egg White
1/2 cup Granulated Erythritol
1 teaspoon Molasses
1/2 cup Unsweetened Almond Milk
1 teaspoon Pumpkin Pie Spice
1/2 teaspoon Cinnamon
Instructions
Make the Crust: Heat oven to 350° and Add all of the crust ingredients to a food processor and whiz until crumbly and soft. Taste for saltiness and add a pinch if needed.
Press the crust into a pie tin and bake for 10 minutes. Set aside while you make the filling.
Filling: In a large bowl, beat the pumpkin puree, two whole eggs and one egg white, sweetener, molasses, almond milk, sugar, and seasonings. Once smooth, pour into the prepared crust.
Raise the oven temp to 400° and bake for 10 minutes. Lower temp back to 350F and continue to bake until the center is set, about 40-50 minutes total. **IF the edges begin to brown too much, lightly cover with foil.
Let cool, slice, and serve with dairy-free whipped topping!
Nutrition Information
Yield

12
Serving Size

1 slice
Amount Per Serving
Calories

116
Total Fat

9g
Carbohydrates

4g
Net Carbohydrates

2g
Fiber

2g
Protein

3g