If you've got 20 minutes and an oven, you can be elbows deep in this crusty keto artisan bread! Totally gluten-free, grain-free, and 3g Net Carbs!
---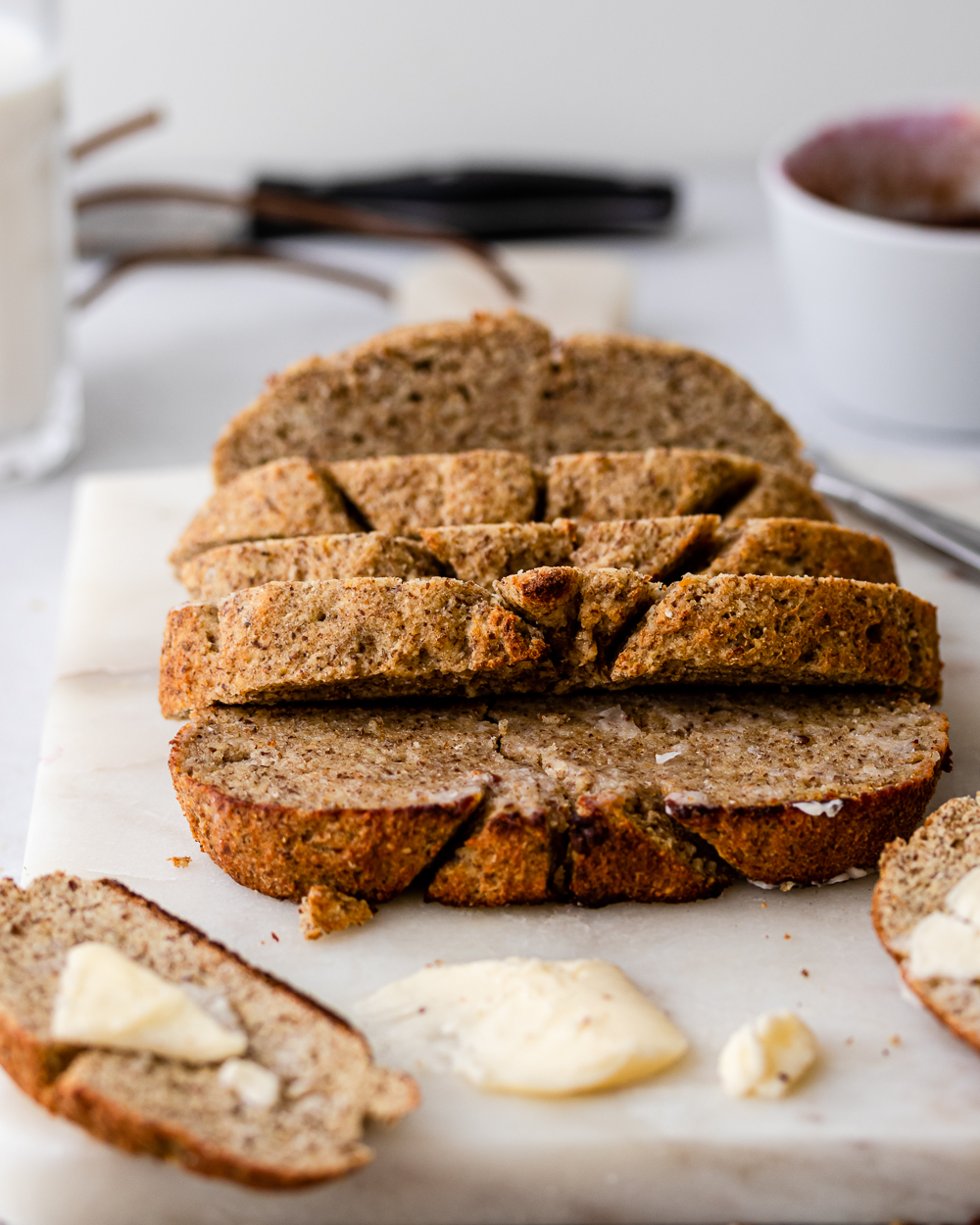 Hearty Har Har
Only this bread is no joke!  It's a VERY serious loaf full of complex flavors and a depth like the freakin' Pacific! 
You might be a light and fluffy bread lover. That's fine. This bread isn't for you. This loaf is for lovers of a fat-toasted slice of 7-grain-style bread…without all of the gluten grains! It's also for those of you who value your time because this beautiful loaf of artisan keto bread bakes up in under 20 minutes!!!
I was also *highly motivated* to get those cool score marks on top like the artisans do!
Crusty Gluten-Free Keto Bread (In less than 20 minutes!!)
If the smells don't make you fall in love, the first bite will!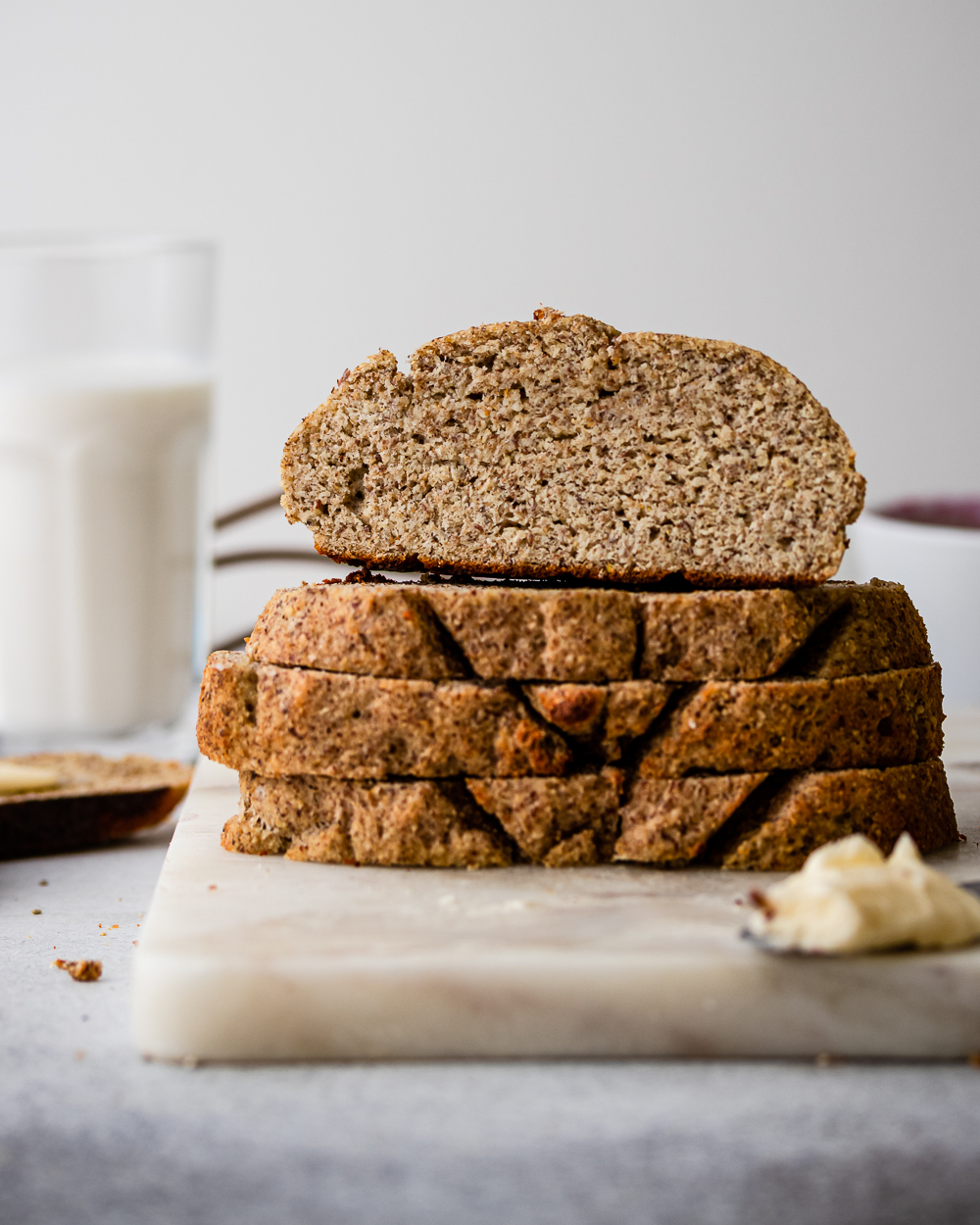 How to achieve hearty keto bread
This loaf is built like a thorough(bread), meaning it's very dense and hearty, much like traditional whole grain bread. To achieve this texture, grinding your binders (chia and flaxseed meal) is a must. By pulsing the seeds in a spice grinder or food processor, we break the hard seed shell and allow moisture to get in creating a gelatinous texture that holds this bread together.
It might be annoying but it really does matter for the texture and binding power! Just pop in it a bullet blender or coffee grinder and you're set.
Keto Bread and Decorative Yeast
I tried to raise this baby with yeast, but to create a free-form loaf of keto artisan bread that shines with the beauty of a thousand suns, you need stiff dough. But a dough that is yeast-risen needs to be soft enough to be pliable while being firm enough to hold together.
The bottom line: Yeast is important for FLAVOR but not for the rising. Don't skip it though because the taste is why we are here! 
💡 Yeast doesn't work that great on stiff keto dough so we use a boatload of baking powder to leaven.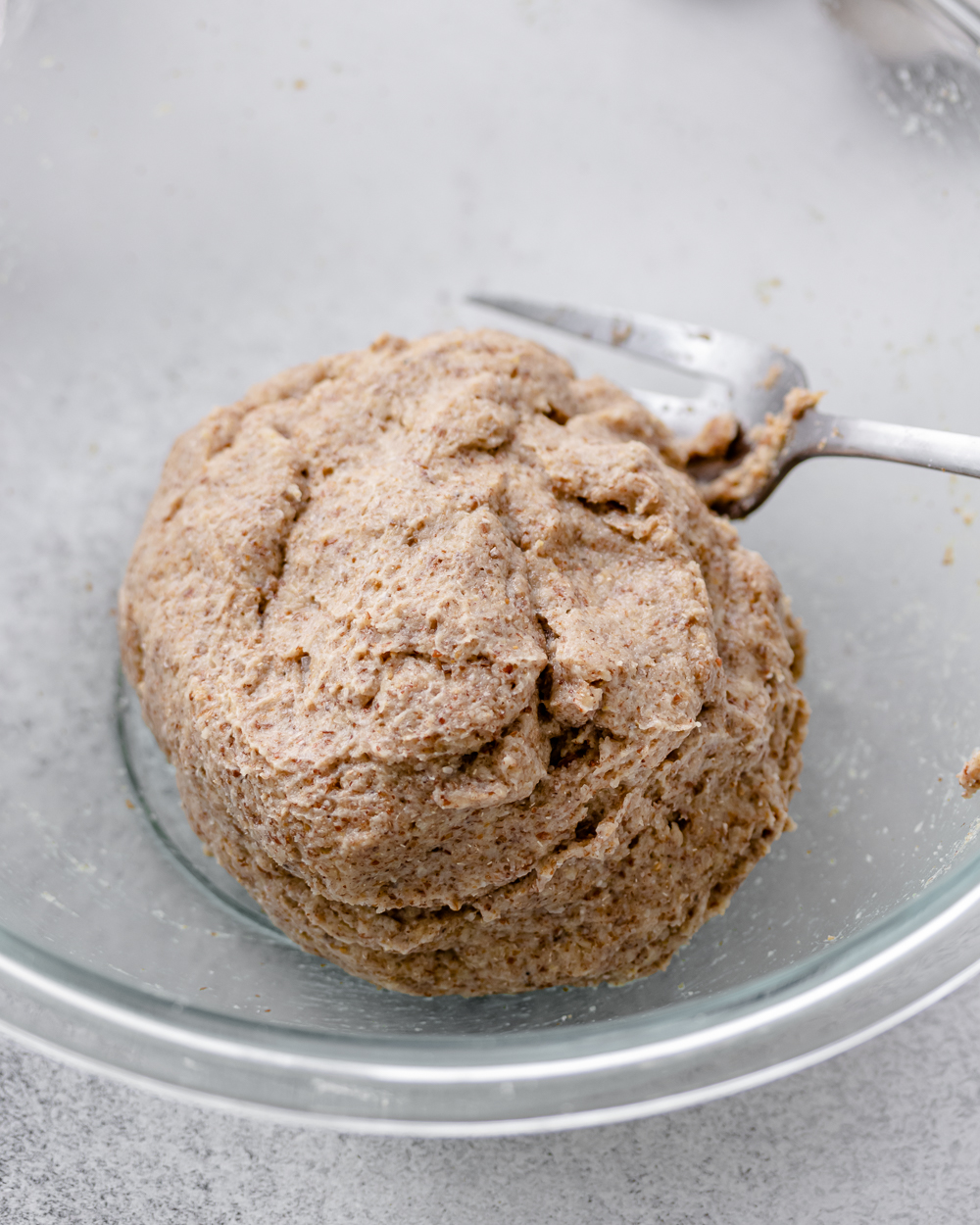 Shaping Your Keto Bread Loaf
Shaping and scoring this bread is really based on your preference. For the best texture and to make sure the bread is baked through, try to make your loaf about 6.5 inches in diameter with a slightly oval shape. Keeping the bread loaf short and wide ensures an even bake.
💡 The score marks are necessary because they let some of the moisture escape during baking. No soggy centers here!
Smear it. Slather it.  SYRUP IT! It's your call. It's got just a hint of sweetness (like real bread!) but it can be used for savory or sweet toppings i.e. this borderline pornographic stacked greek yogurt and blueberry chia jamm'd sandwich. Or try it dipped in Green Goddess Soup! Whatever you choose is going to be good. Pop it in the toaster and it will be even BETTER! 
Looking for more? Try These!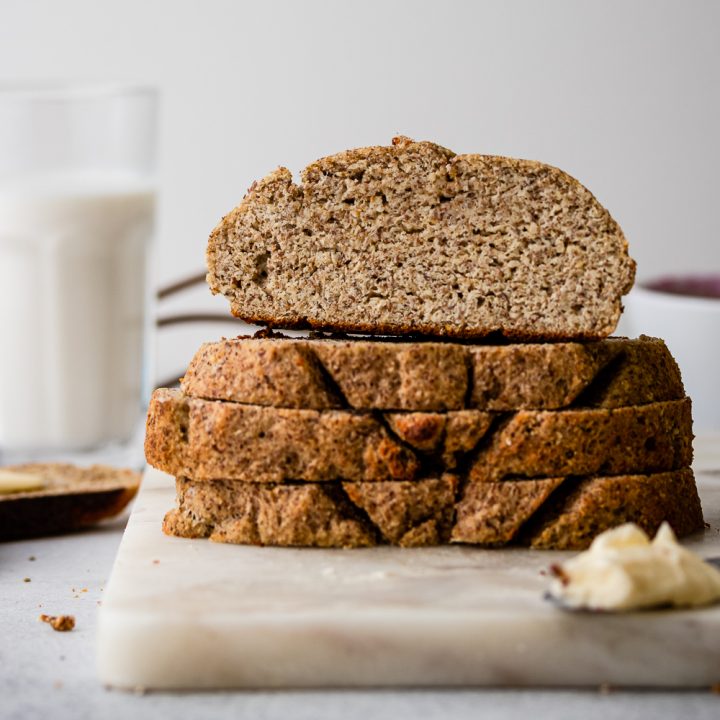 Hearty Gluten Free Keto Bread
Additional Time:
5 minutes
This mini loaf of keto gluten-free bread is hearty, seedy, and full of substance for only 3g net carbs per serving!
Ingredients
1 tsp Granulated Erythritol, or sweetener of choice
1 tbsp Baking Powder
1 pack Dry Instant Yeast, for flavor
5 large Egg Whites, room temperature
1 tsp Apple Cider Vinegar
Optional Add-In
1 to 2 tbsp Hulled Hemp Seeds, Pumpkin Seeds, or Sunflower Seeds
Instructions
You will need 1 small pan filled with 2-in warm water, a small baking sheet greased with oil or lined with parchment and greased, and Room Temperature Egg Whites.

Heat oven to 475° while you prepare your dough.
In a coffee grinder or bullet blender, pulse the chia seeds and ground flax seeds a few times to grind. Don't over-grind! A few pulses, a shake, and another pulse should do it.
Whisk together the dry ingredients: 1 cup almond flour, 1/4 cup coconut flour, 1/4 cup nonfat milk powder, ground chia and flax, 1 tbsp baking powder, 1 tsp sweetener, yeast, 1 tsp xanthan gum, and salt. *Optional seeds can be added as well.
In a separate bowl, beat the warm egg whites and vinegar just until combined, then add to the dry mixture and stir with a silicone spatula until a sticky dough forms.
If the dough is sticking to your hands, wet it with water or a touch of oil. Form the dough into an oval, about 6 1/2 inches wide, and place it on the baking sheet. The uncooked dough will look like the shape of your finished loaf. If it's too tall the center won't cook fully.
Use a very sharp knife to deeply score the top with a star (4 lines) or pattern of choice. Place the pan of warm water on the bottom rack of the hot oven and the baking sheet on the middle rack and lower the temperature to 450°. Bake until brown and crusty, about 12-15 minutes, then turn off the oven and continue to bake for about 5 minutes, watching for over-browning. If the bread is getting too dark before the baking is complete, tent the loaf lightly with foil.
Let rest for 5 minutes, slice, toast, and enjoy!!!
Notes
Eggs: If you hate wasting egg yolks, save them! Add to a whole egg for extra creamy scrambled eggs or make a batch of keto ice cream!
Yeast: The function of yeast here is not to rise but for flavor and that AMAZING bread smell! If you are allergic, you can omit!
Bake Time: The bake time is very delicate on this since we are using high heat to achieve crust. Just keep a close eye on the bread and if the center isn't getting done before it's brown, lower it to 350 and lightly cover it with foil to finish.
Nutrition Information
Yield

10 slices
Serving Size

1 slice
Amount Per Serving
Calories

124
Total Fat

8g
Saturated Fat

1g
Unsaturated Fat

2g
Carbohydrates

8g
Net Carbohydrates

3g
Fiber

5g
Protein

6g