Go bananas without breaking the carb bank with this faux banana pudding dessert. Just like Grandma used to make!!
---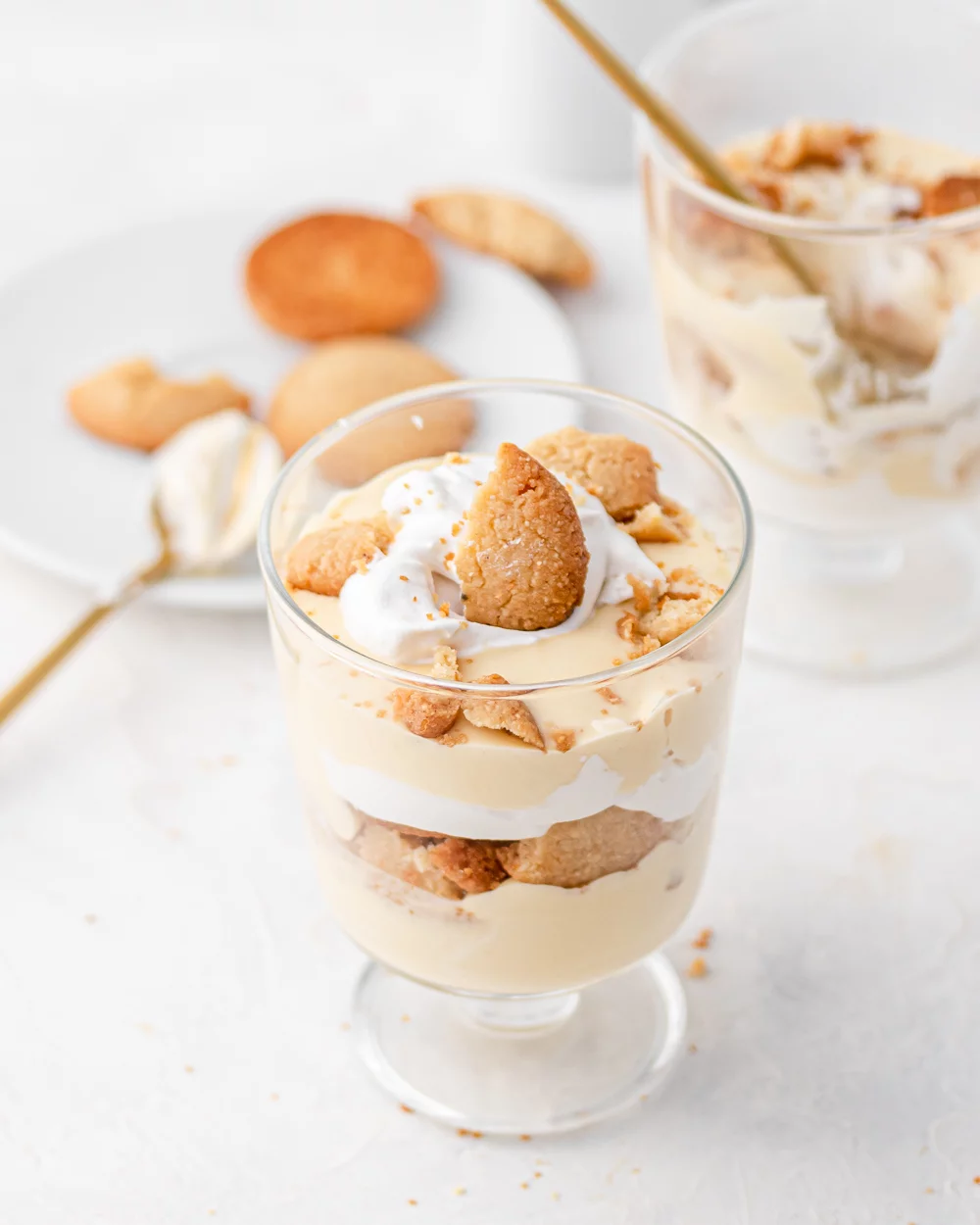 Not Your Grandma's 'Nilla Pudding Dessert
Unless your grandma was a trailblazing gluten-free keto lady!
Which is what I aspire to be someday.
To this day, my mother still makes some form of pudding dessert for holidays and it's an epic battle between my brother and me for which velvety variety she makes: Chocolate Pudding Dessert or Banana Pudding Dessert.
Both legit, neither gf or keto-friendly, and I will forever to fight to the death in favor of banana, even though I can't even eat it.
UNTIL NOW! Because I've made it keto and even my mother approved. Take that, brother!
Out of The Box Pudding
Sure it's easier to just buy a box of sugar-free banana pudding and be sheer minutes away from a layered cup of heaven…but the ingredients are kind of gross and it gets wayyyyy too thick for my liking.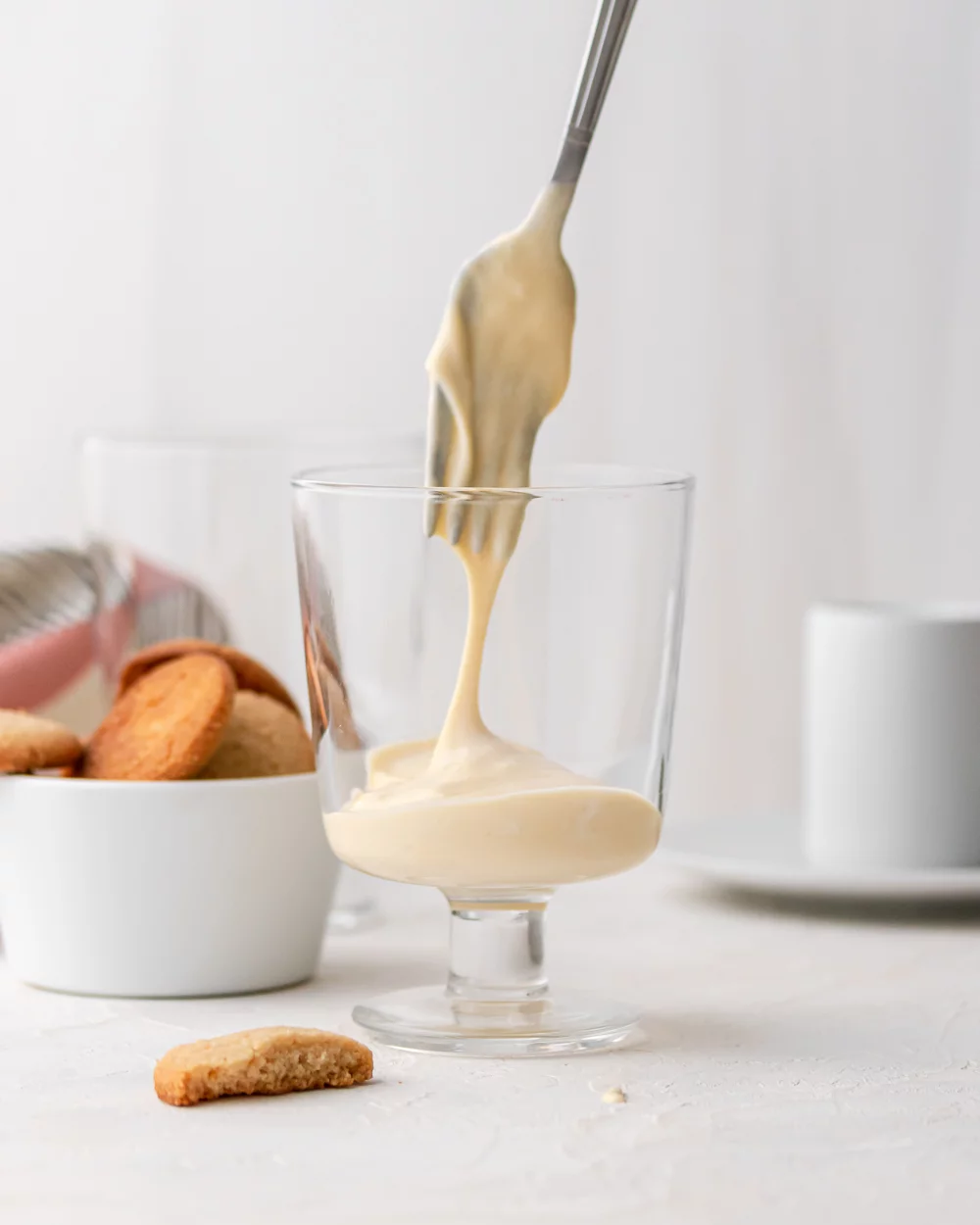 This pudding is soft set and super smooth (because we strain it!!!!). It's custard-esque because of the egg yolks and has ZERO food dye, sucralose, maltodextrin, corn starch, dairy, etc.
Just a splash of the banana extract is all it takes! I use Frontier Banana Extract which smells like you just peeled a perfectly ripe banana and may cause spontaneous drooling.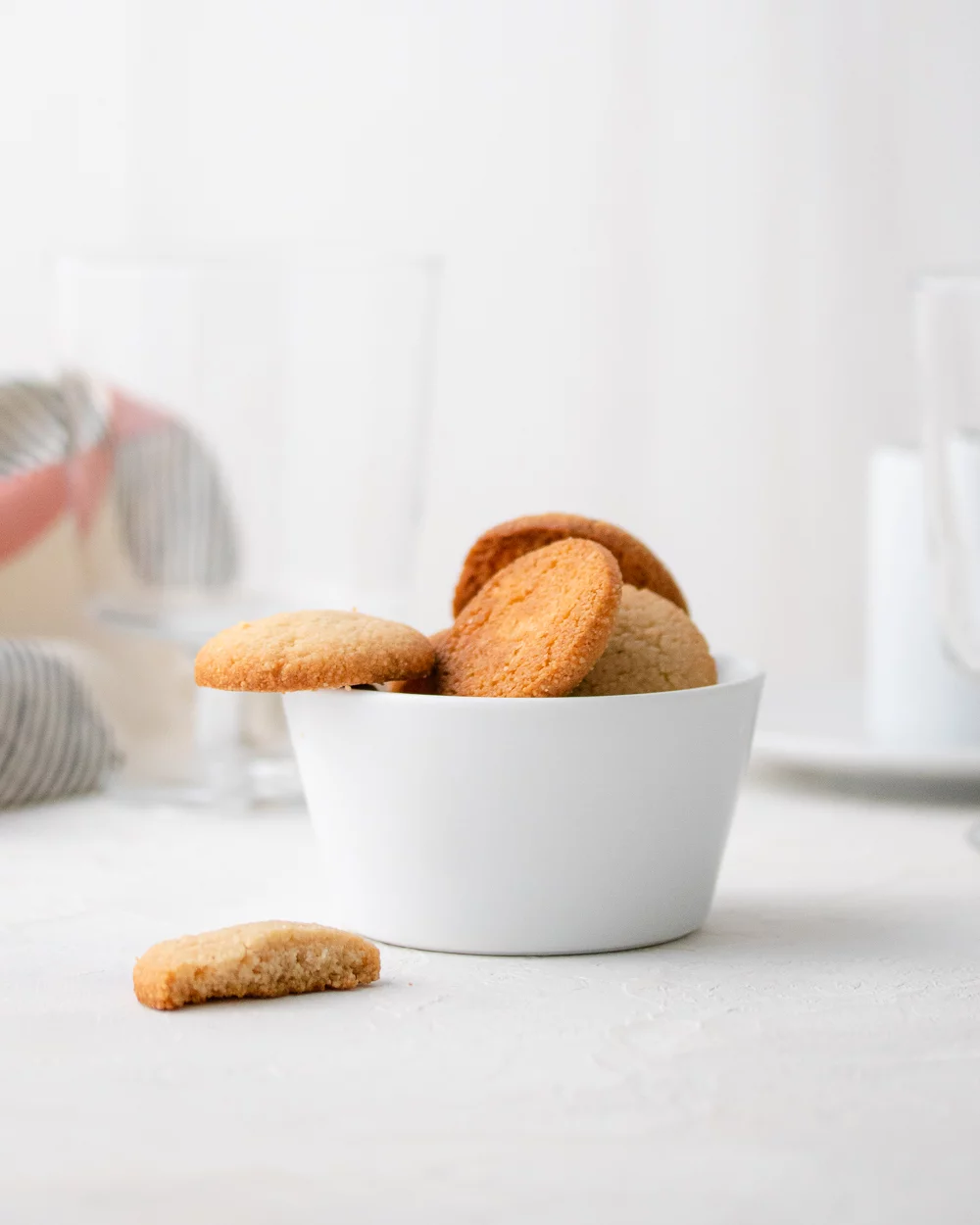 Then there are the copycat 'nilla wafers. HOW CUTE?! They won't seem sturdy fresh out of the oven, but they are super crisp once they cool so don't be scared.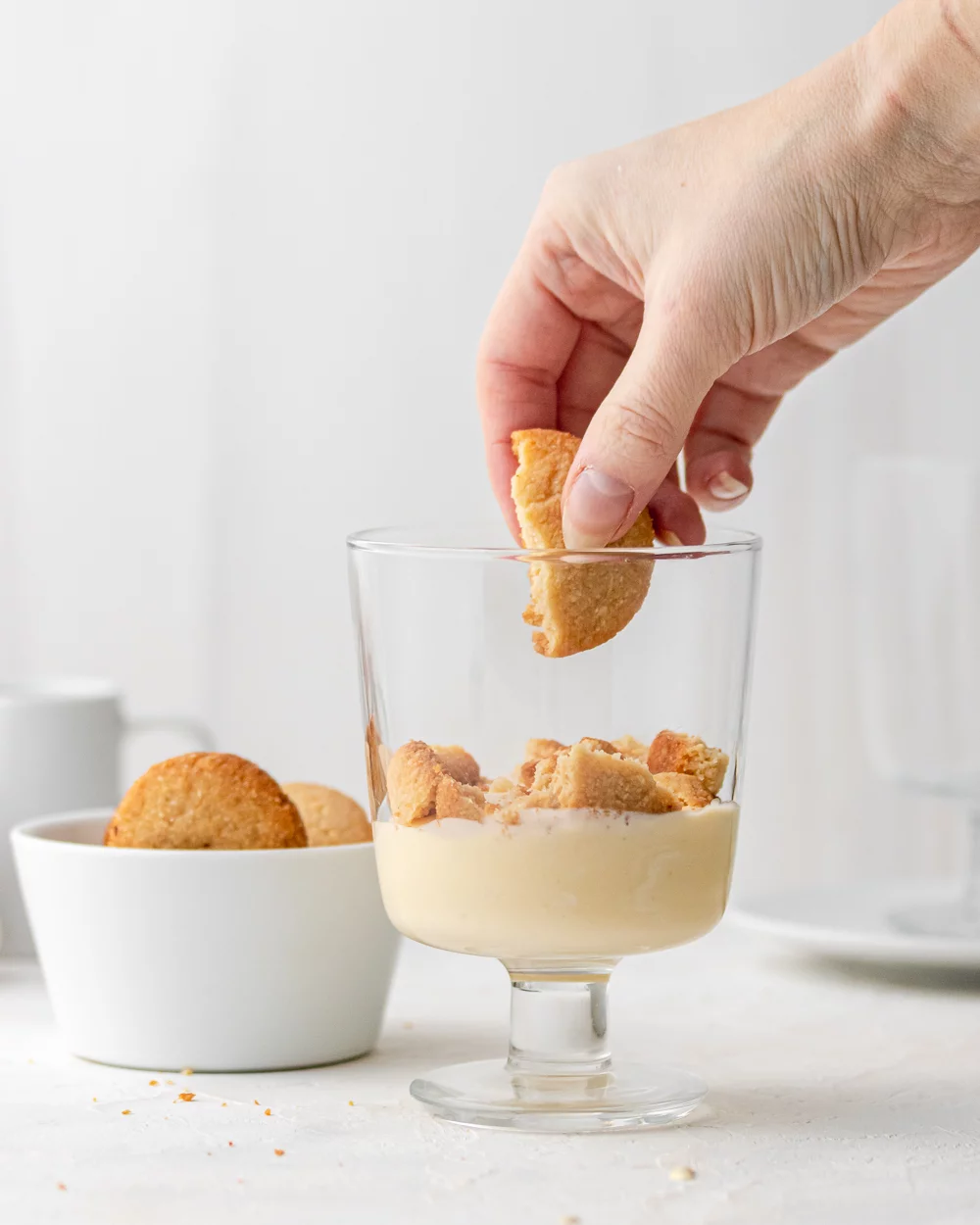 You can layer your pudding dessert a few different ways.
Old school, like my mom, in a cake pan with one solid layer of each ingredient
In a trifle thingy which means you have to make a freakin triple batch to fill it. Eck.
OR you can make these perfectly portioned dessert cups that control your carbs and you don't have to make 7 tons of pudding and waste your saturday.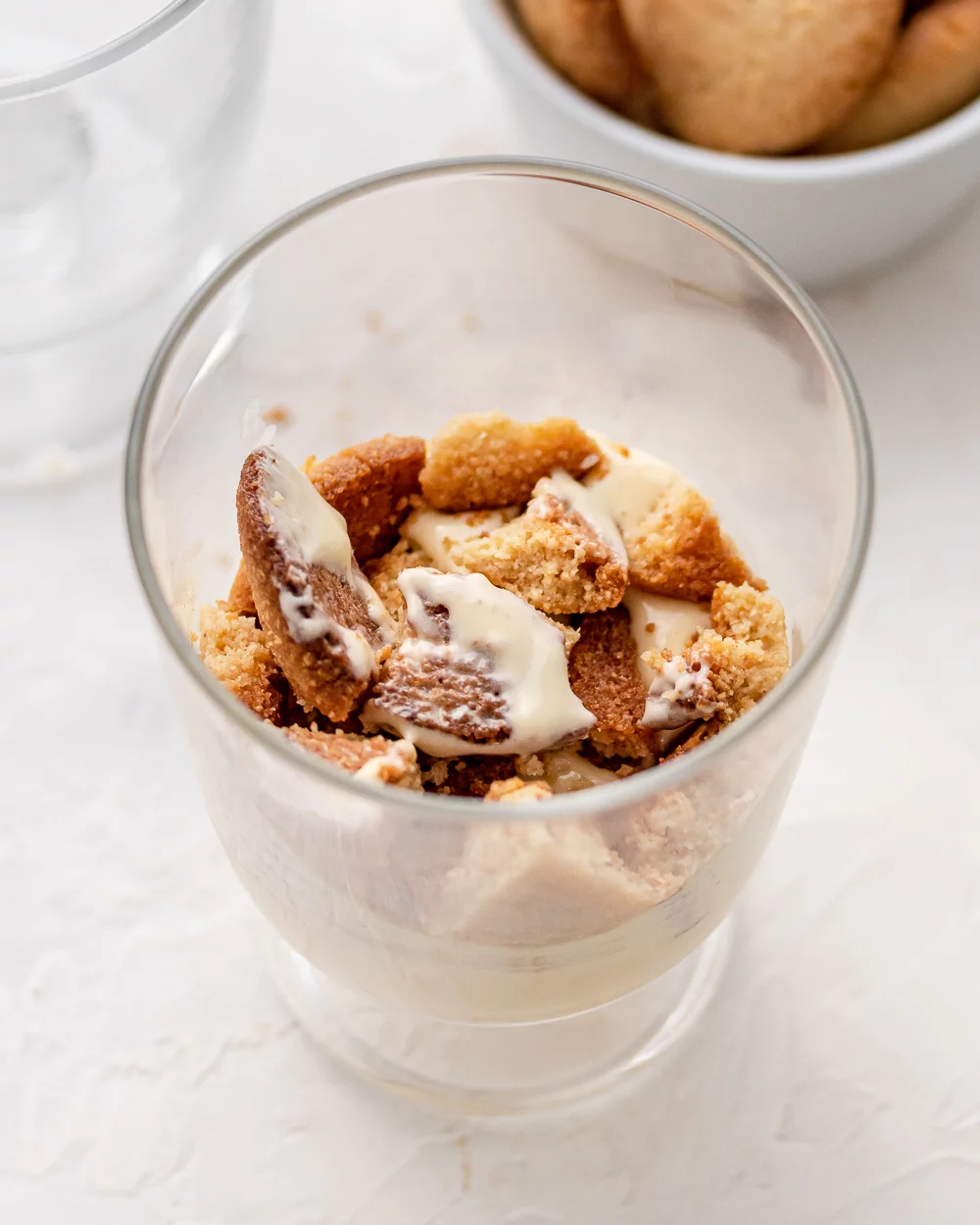 Did you see that pudding/cookie crumble combo? All creamy yet crispy and crunchy? Like the pudding dessert of yore!
💡 Why Crumble? Because tossing them in whole makes it hard to eat! Plus you will use fewer cookies and save on carbs/cals!
💡 Also, yore is old-timey talk for "long ago".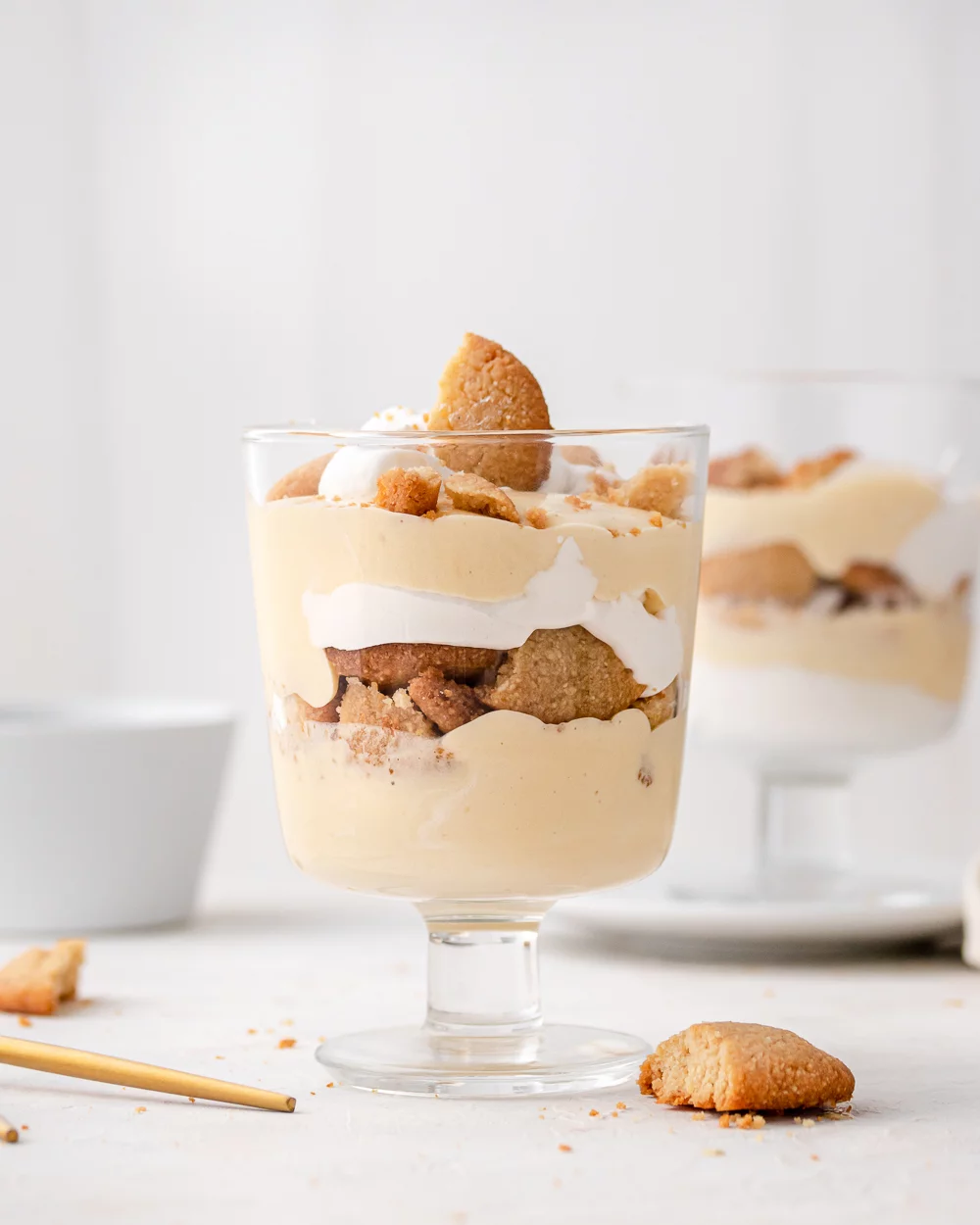 Haters Gonna Hate Coconut
If you can't coconut and you want to do full-dairy, do it! I've done it, it's pretty okay. Just be sure to use Whole Milk and Heavy Cream.
BUT if you want to reduce the calories, cut out the lactose, and try something creamy, new, and exciting…follow the recipe as is and give the cows a break for the day!
💡 If you are low carb and not keto, you could skip a step and try dairy-free whipped cream like Truwhip for a fun shortcut.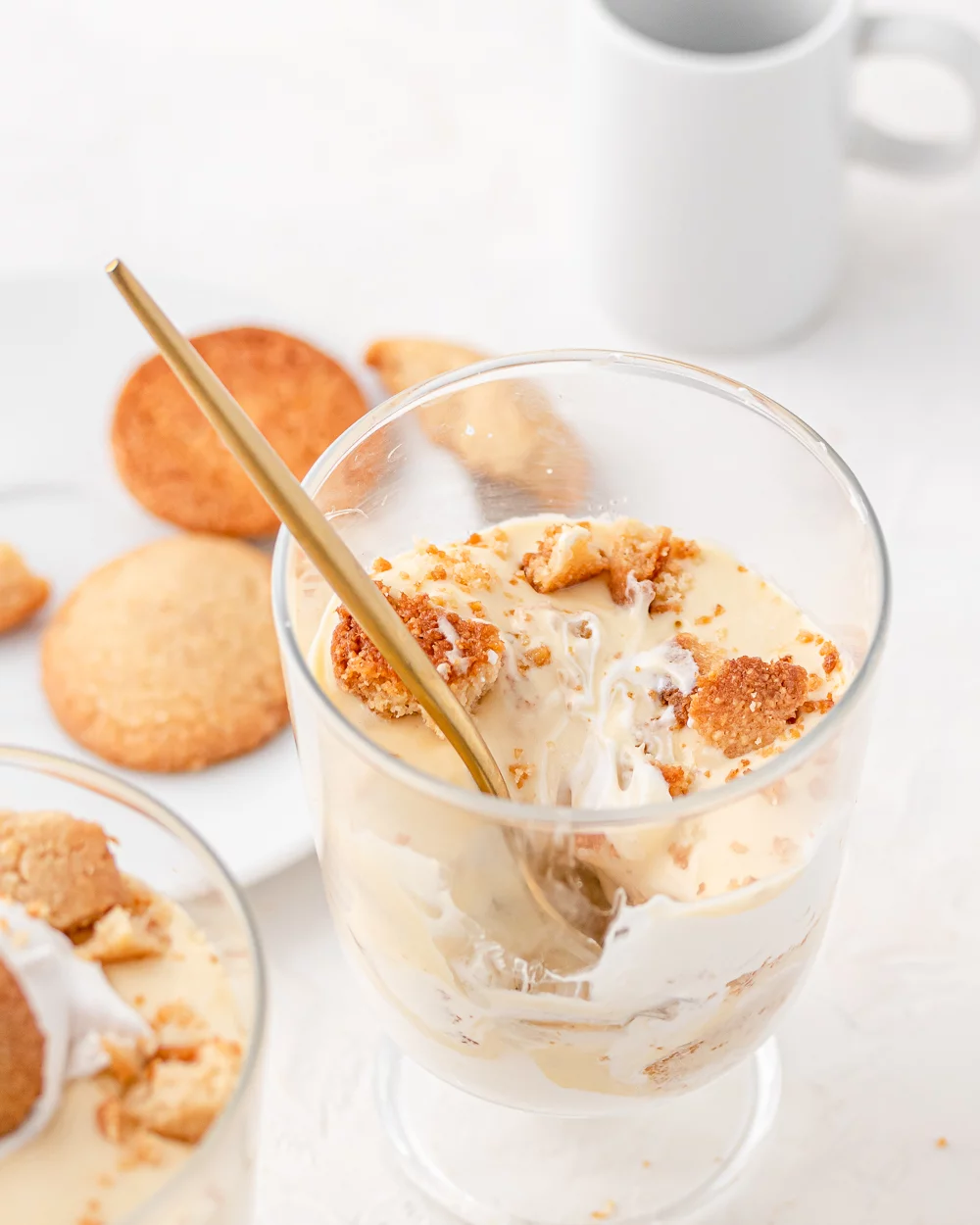 Keto Banana Pudding Dessert! Gluten Free & Dairy Free!
Total Time:
2 hours
35 minutes
Dish up this old fashioned Banana Pudding Dessert in individual servings for the perfect gluten-free keto treat that even your tough-as-nails granny would approve.
Ingredients
6 large Egg Yolks
1/2 tsp Vanilla Extract
1 cup Keto Whipped Cream* or Whipped Coconut Cream
Instructions
*See notes section or read through the blog to see dairy options and swaps!
Prepare the vanilla wafers and let cool while you make your pudding! These take about 2 to 3 hours on the counter to get really crisp!
For the Banana Pudding: Heat the 1 1/2 cups Almond Milk, 1/2 cup Sweetener, and 1/2 cup Coconut Cream in a medium saucepan; bring to a simmer.
Continue to cook the mixture for 15 minutes, stirring frequently. Meanwhile, whisk the 6 egg yolks and 1/8 tsp xanthan gum until smooth.
Temper the Egg: Ladle 1 cup of the hot milk from the pan and slowly pour into the beaten eggs to temper. Whisk vigorously, add another ladle, and continue to mix until smooth.
Turn heat to just below medium and slowly whisk the tempered egg mixture into the saucepan. Continue to cook for 2-5 minutes or until the pudding begins to thicken; remove from heat and stir in vanilla extract and banana extract.
Strain pudding into a glass bowl with a fine mesh strainer to remove any lumps! Refrigerate for 2 hours to set.
*If the pudding doesn't set, don't worry! Just lightly dust a few pinches more of xanthan gum into the cold pudding, whisk, then let thicken and whisk again if clumping occurs.
Make It Dessert!
Layer six small dessert cups with 2 tbsp pudding, followed 2 crumbled Vanilla Wafers, 1 scoop of keto whipped cream or coconut cream (optional).
Top with another layer of pudding and dollop of whipped cream and a cookie on top! Refrigerate before serving for softer cookies.
Nutrition was calculated using 3 cookies and all of the pudding + 1 cup prepared whipped cream

Notes
Coconut Cream: You can't taste coconut in this pudding! Promise. But the coconut cream is solid at room temp which helps this pudding set. You can use Heavy Cream but you may need to cook the pudding longer.
Milk Options: I have successfully made this with whole milk as well and the results are a thicker pudding. I have not tested it with 2%!
Keto Whipped Creams: To make keto whipped cream or whipped coconut cream, simply whip your sweetener of choice with heavy cream or chilled coconut cream until fluffy!
Nutrition Information
Yield

6
Serving Size

1 Prepared Dish
Amount Per Serving
Calories

342
Total Fat

32g
Carbohydrates

5.5g
Net Carbohydrates

2.5g
Fiber

3g
Protein

4g