When I die, just lay me to rest on a fluffy cloud (cookie).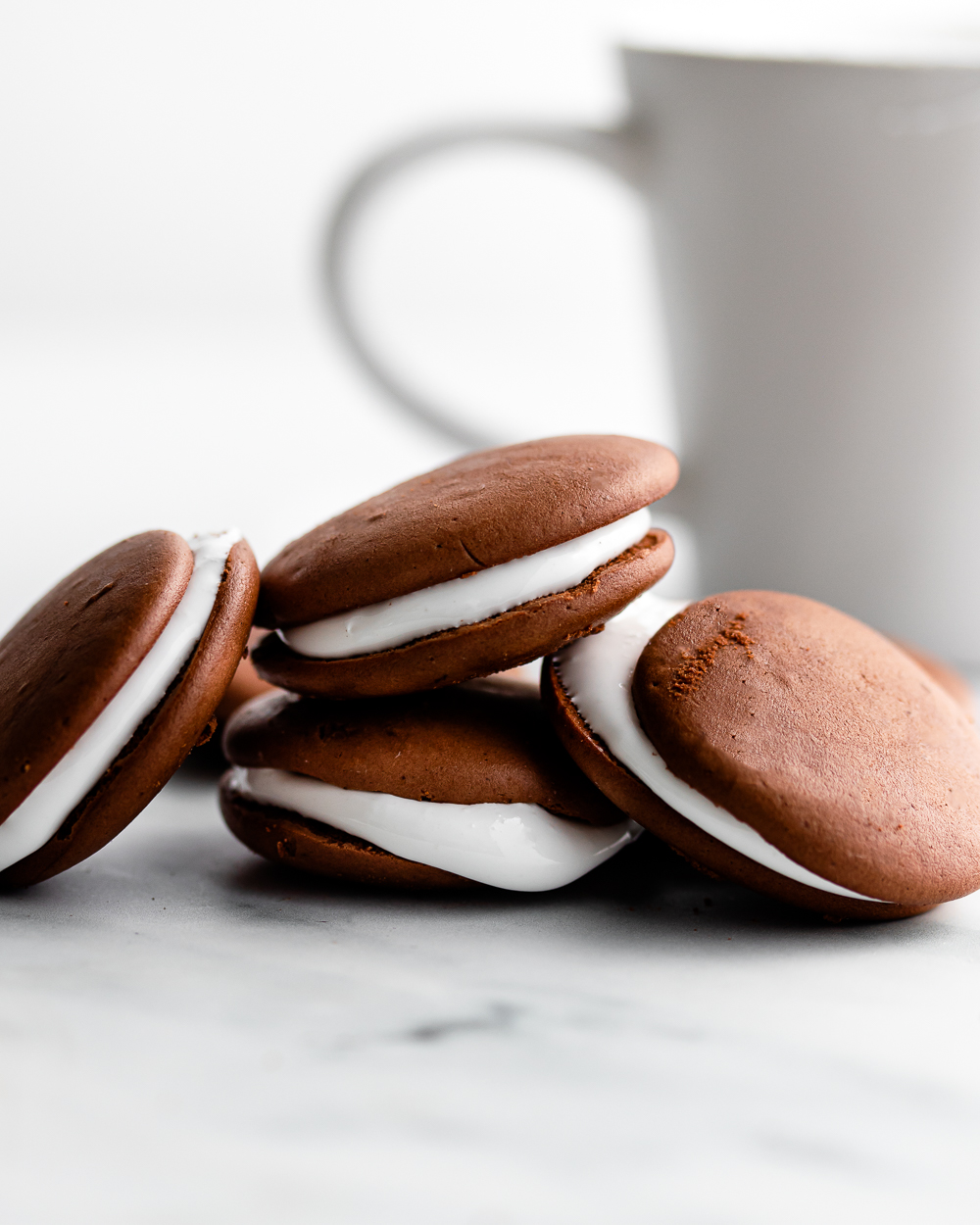 Here's the deal with cloud cookies
And why you need one in your mouth like, immediately.
First of all, I know that keto cloud cookies sound made up and that's because…they are. More accurately, a total accident. You see, during numerous attempts to perfect the flourless almond butter cookie (and subsequently having a full-on breakdown) I ran out of almond butter. SO I gave up, decided to whip the already cracked eggs into some melted chocolate and just like that—history was made.
It was like penicillin being invented, only better.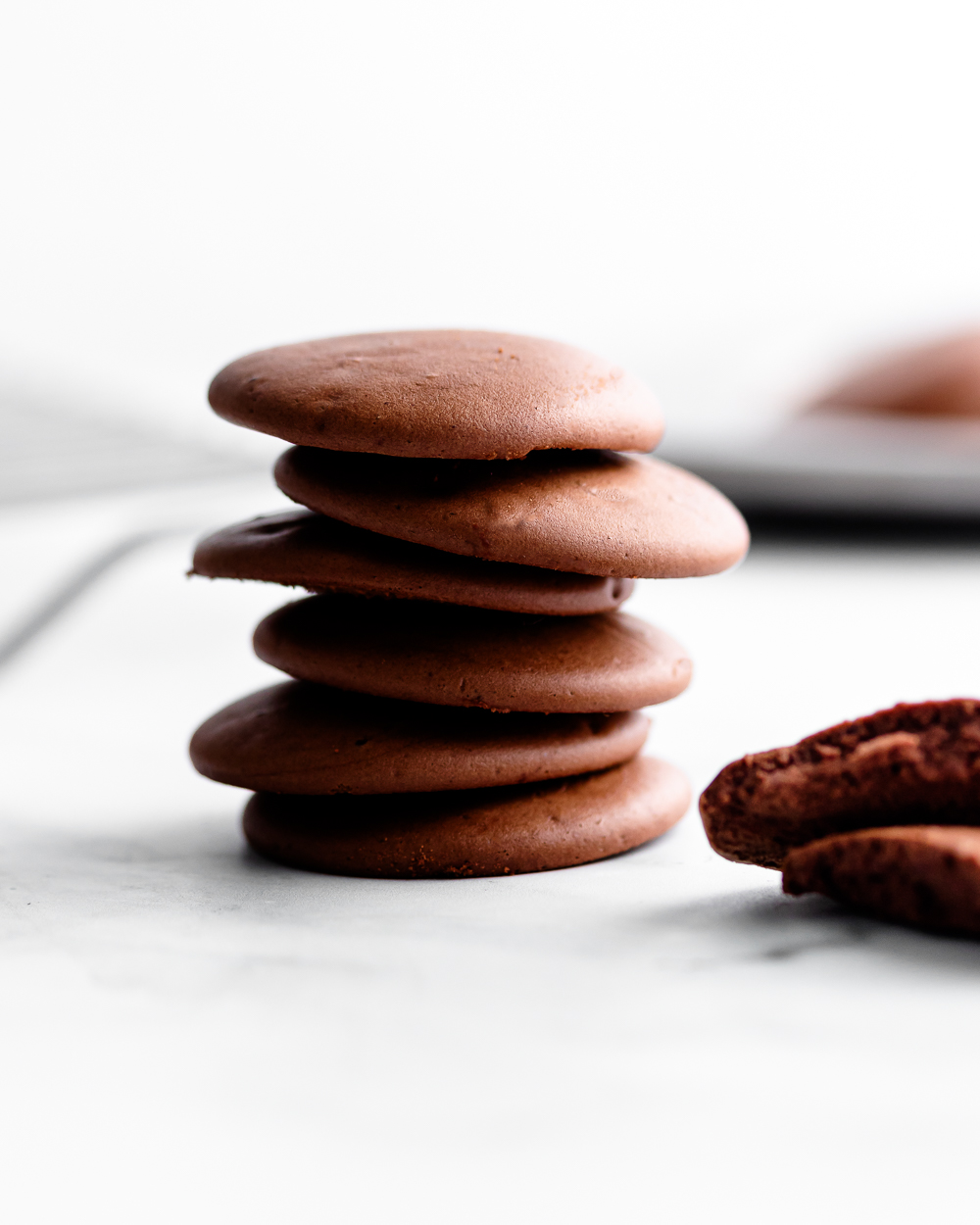 The cookie itself has been described by fellow taste-testers as "melt-in-your-mouth" and "so chocolatey" while being super light and airy. I think the words HEAVENLY and DELICATE UNREAL MORSELS OF ECSTACY to be more accurate but none of us eat real sugar anymore. We are very strict with our sweets so our pallets are more sensitive. See the recipe for tweaks if you want super-sweetness.
3 Ingredient Cloud Cookie: Crash Course
Yes, these are really just as simple as I continue to make them sound. Here are the essentials that you need, so click on over to Amazon and prime this shiz asap so you can get cookie(ing):
GOOD Low Carb MILK Chocolate: I use Lily's milk baking chips because they produced a lovely, soft cookie cloud that won't get too bitter in the heat of the oven.
Hand Mixer: Arm power doesn't whip this fast enough, but in a pinch, you can still make it work (mostly).
Piping Bag and 1A Tip: Yes, you can use a Ziploc bag and just cut the tip in a pinch, but if you are going to make these regularly (which you'll want to) you might as well Amazon Prime a 1A tip and Disposable Piping Bags too.
OTHER INGREDIENTS: 2 Large Eggs and 1 tbsp Unsweetened Cocoa Powder (or 2 tbsp for extra dark cookies). That's it!!! Unless you want to make the filling (which we will talk about below).
Tips for the best keto cloud cookies
Here's the fine print that you definitely want to read! These cookies are super easy, you just have to work quickly and know the tricks for the perfect batch every time.
Take the time to measure out all of the ingredients first. You'll want to weigh the chocolate chips, crack your eggs in a separate bowl, and measure your 1 tablespoon of cocoa powder. Have your piping bag ready and line TWO baking sheets with parchment or silicone baking mats.
Make sure to pipe all of the cookies at one time. The longer the whipped cookie mix sits at room temp, the tougher it becomes. If you can do two baking sheets at one time, that is best! If not, make sure to remove the first batch from the oven and IMMEDIATELY swap out the parchment or baking mat so you can get the second batch in the oven ASAP.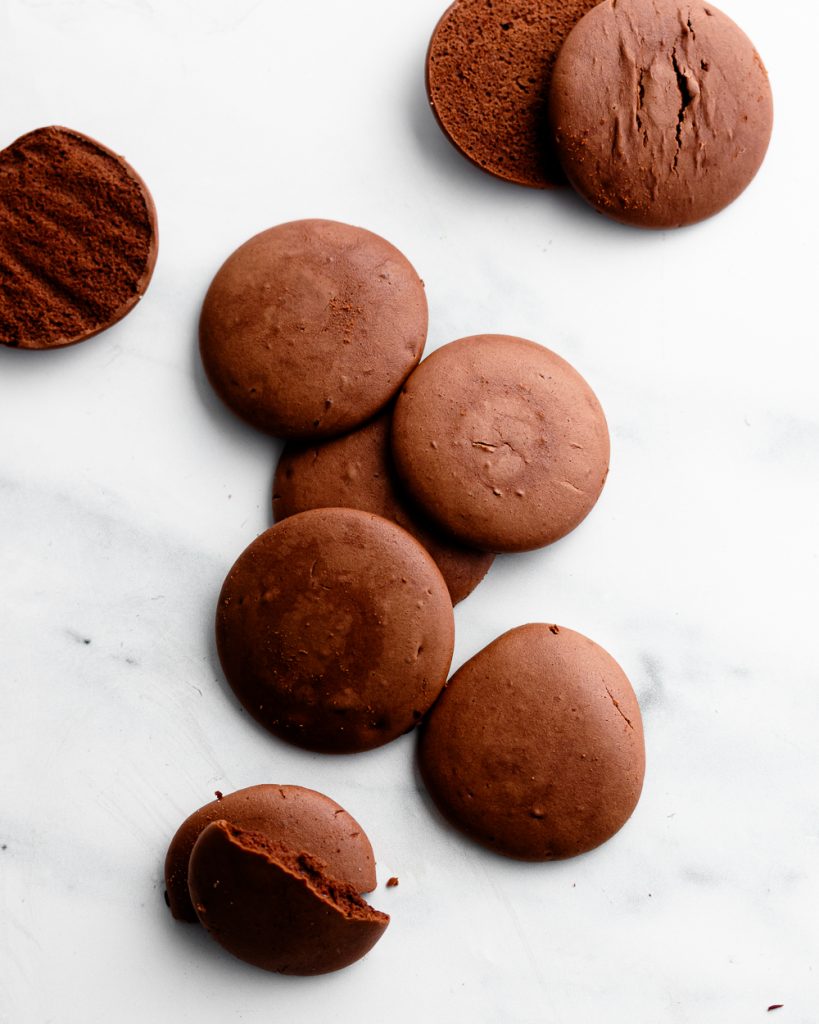 When are they done and How do I get them off the cookie sheet?
You'll know that they are done when they have sat at room temp for 5 minutes and they "peel" from the parchment fairly easily. If they stick too much or break in half, they need another minute or two in the oven.
Removing these can be tricky so check out the photo below! You'll want to let them cool, then lift the parchment or mat and sort of push from underneath the get the cookie to release. Work your way through the first two rows, then switch to the other edge and keep going until you finally get to the center cookies.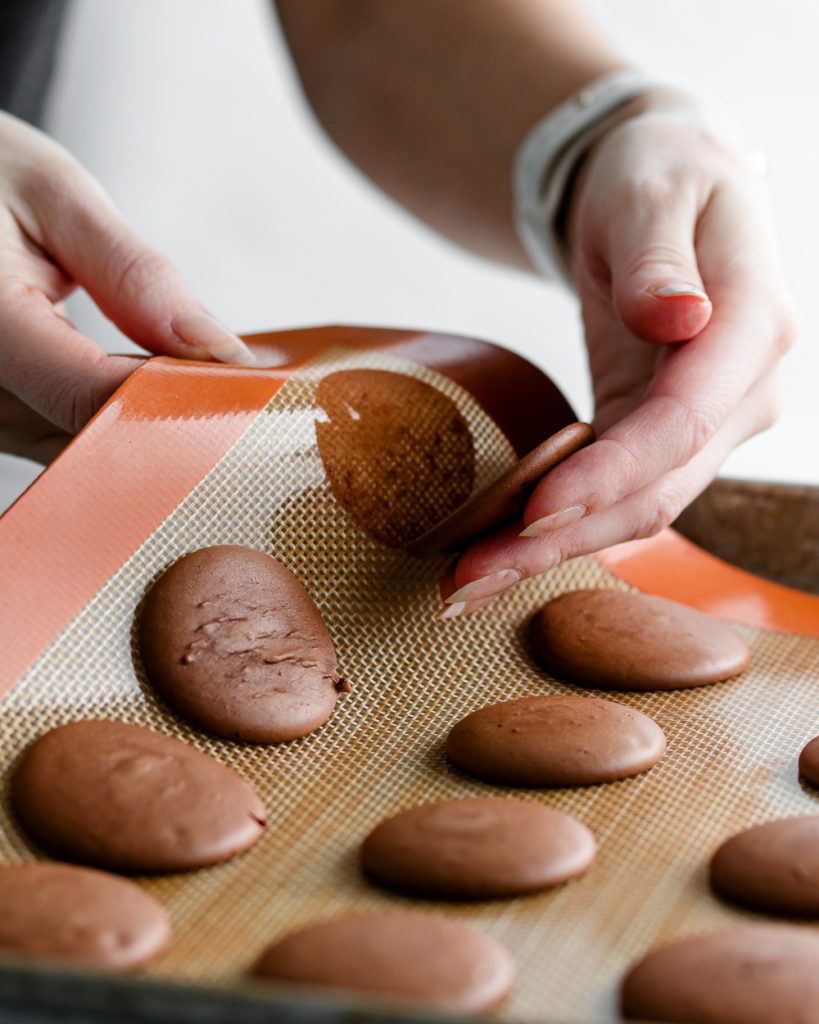 Filling Options
I love to fill these with a whipped keto marshmallow cream but you can use anything (or nothing!).
To make the filling: Use my Keto Half Batch Marshmallow Recipe with the measurements for filling/frosting. Then, whip in 4 tablespoons cool butter and let it set up slightly before adding to the cookies. That's it!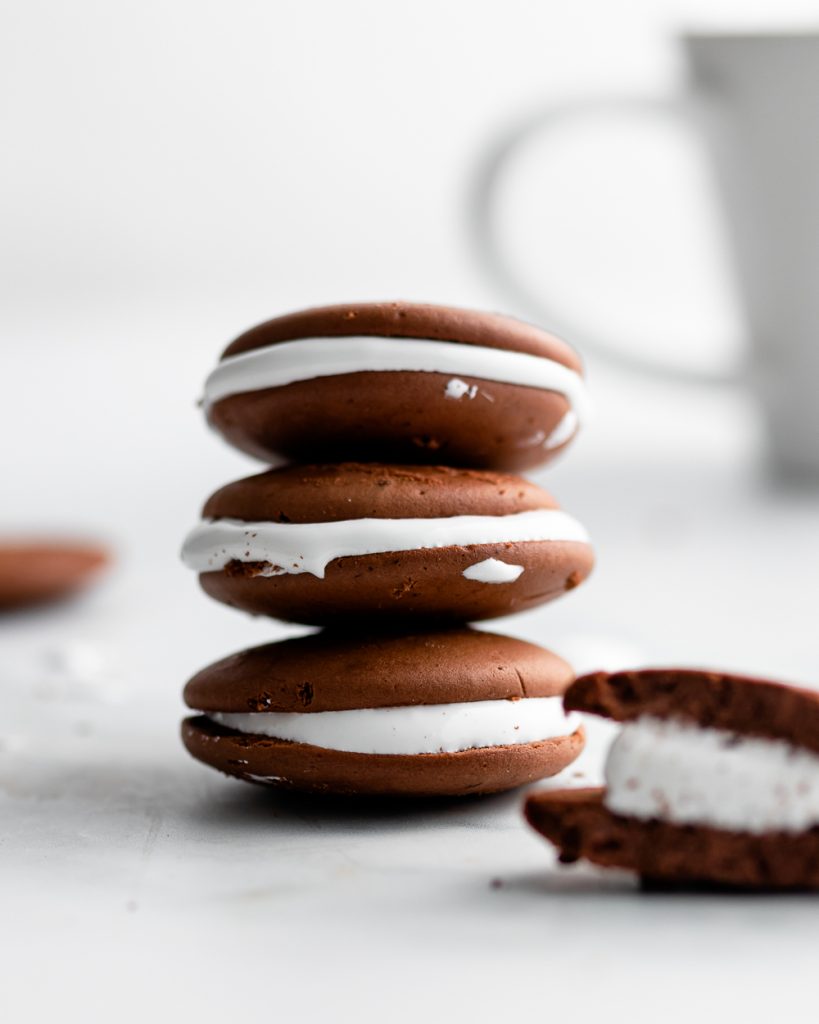 NOTE: the filling can kind of run all over if you live in warm/humid climates. If I didn't run my air conditioning, the marshmallow never fluffed. To make sure they don't melt all over before the gelatin sets, just add a small dollop of the cream to one half of each "bottom" cookie and let them rest for about 10 minutes in a cool area of the home. Then add your cookie top and you're good! IF it sets up before then, just give it a good stir and keep going.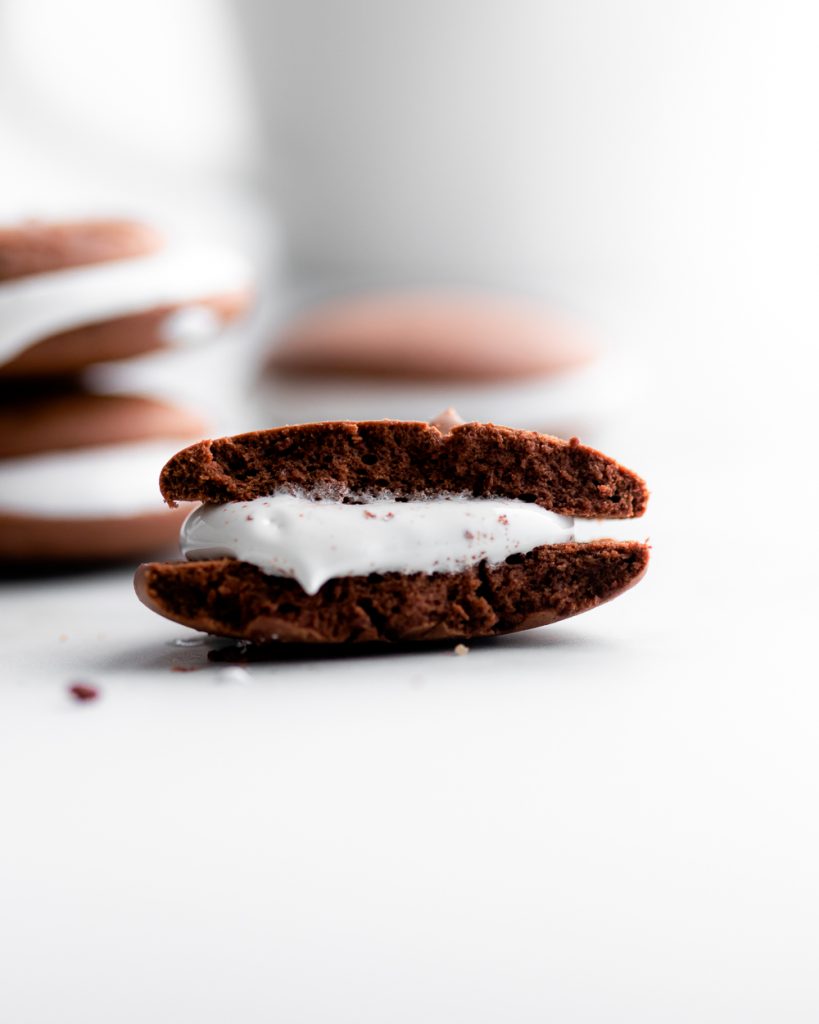 Heads UP! This post contains affiliate links. As an Amazon affiliate, I earn from qualifying purchases.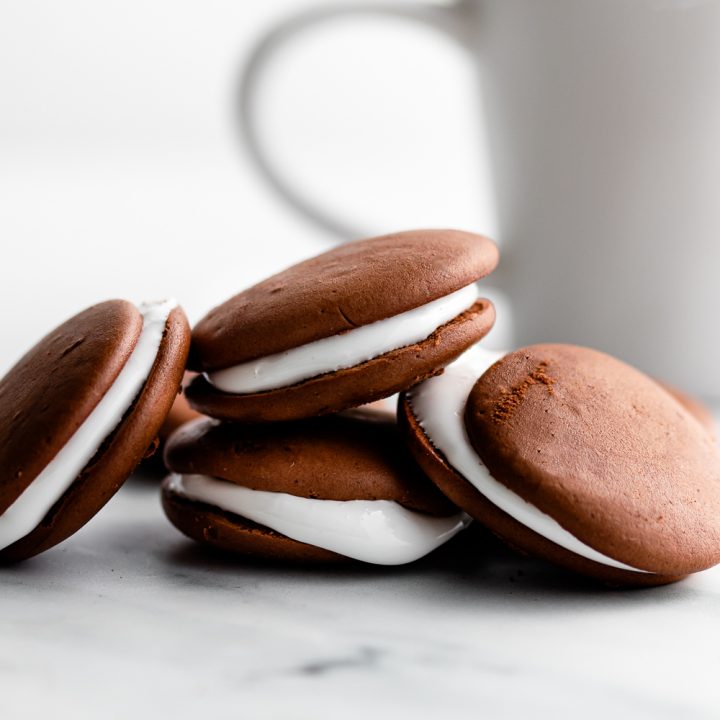 Three Ingredient (KETO!) Chocolate Cloud Cookies with Marshmallow Cream Filling
Yield:
15 cookie sandwiches
Additional Time:
20 minutes
Ingredients
For the Cookie
For the Whipped Marshmallow Filling
4 tablespoons Butter, chilled and cut into small pieces
Instructions
Heat oven to 325° and line TWO baking sheets with parchment or silicone baking mats.
Gather all of your cookie ingredients because this recipe moves fast! Weigh your chocolate chips in a microwave-safe bowl, crack two eggs in a separate bowl, and measure out the cocoa powder. Have a large bowl ready to whip the mixture together and get your pastry bag set up.
Melt the chocolate chips in the microwave at 25-second intervals, stirring frequently, until smooth. Scrape into the large bowl.
With the hand mixer ready, pour one egg into the melted chocolate and begin to whip for about 30 seconds. Add the second egg and continue to whip until the mixture looks light and creamy. Add the cocoa powder and whip until combined, about 30 seconds to 1 minute. The mixture should resemble chocolate mousse.
Quickly scoop the cookie mixture into the pastry bag with 1A tip (or you can just cut a large opening) and pipe 1 1/4 inch rounds onto the prepared baking sheets. They will spread, but not much.
Use a slightly wet finger to push down any peaks or pointy tops, then put both trays in the oven and bake for 7-10 minutes or until the cookies feel slightly firm but still soft.
Let cool for about 5 minutes, then gently lift the parchment and peel it away from the cookie gently. Transfer to a flat surface to cool completely. If they break, they may need to bake for an additional 1-2 minutes but before putting them in the oven, let them rest a bit more and try again. Overbaking makes them a bit dry.
For the Whipped Marshmallow Filling
Prepare the marshmallow according to the frosting/filling directions. See more photos and details from the marshmallow blog!
Once whipped and fluffy, add the sliced cool butter to the marshmallow fluff a few pieces at a time, and beat with a hand mixer.
Let stand for about 5 minutes, then add a dollop to the underside of half of the cookies and let rest. After 10 minutes, top with another cookie half and enjoy!
***Humid warm temps may keep your marshmallow from forming so run a/c if you have it!

Notes
Cocoa Powder Measurements: I find that 1 tbsp is just enough chocolate flavor while keeping the cookie puffy and smooth for my sensitive keto pallet. BUT(!!!) some taste-testers have desired a bit more chocolate flavor. Adding an extra tablespoon of cocoa powder will give a stronger fudge flavor but will also make the cookie a little less beautiful. Either way, delicious.
REMOVING THE COOKIES: These can be tricky to peel from the parchment so you'll want to LIFT the paper and push from under the cookie. If it starts to break, it's either not baked enough or not cooled enough. See the photos in the blog for details!
Nutrition Information
Yield

15
Serving Size

2 cookies
Amount Per Serving
Calories

43
Total Fat

3g
Carbohydrates

5g
Net Carbohydrates

2g
Fiber

3g
Protein

1g