This recipe is the perfect amount for a half-pan of marshmallow or to use as a creamy keto cupcake filling!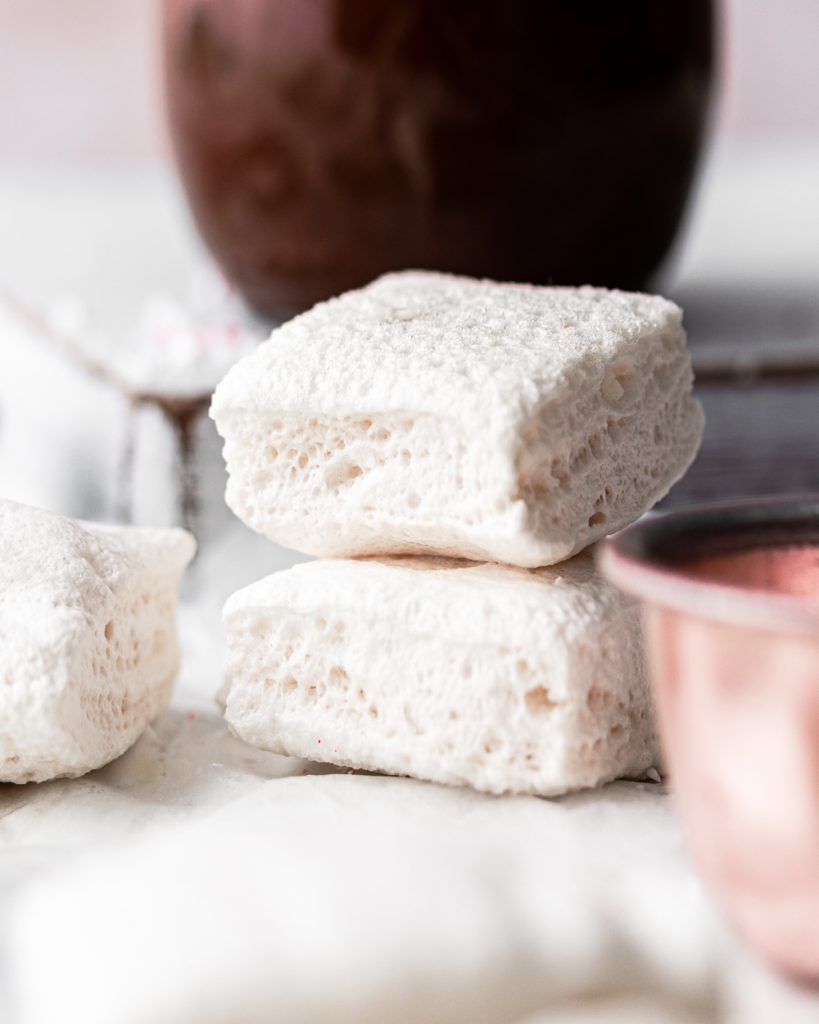 That's A Huge Batch
Correction, was a huge batch…
Because today we are dialing down the servings and making a small batch of keto marshmallows!
I know that sometimes you need a big ol' batch of whatever you're cooking. I get it. I like sharing too. But sometimes half-batches are just better. Especially when you only need a few servings, or you're super scared to waste a lot of ingredients trying something you've never had before.
That's the glorious thing about a small batch (or half batch) recipe!
You don't feel quite so bummed if you don't LOVE it. And there's less waste if you're a party of one (like me) and you can't be maxing out your skinny jeans because you hate to see a little marshmallow fluff go to waste.
So let's make a small batch of marshmallow fluff (or marshmallows) and then see where this journey takes us.
Hand Mixer, Stand Mixer,
And Does It Even Matter?
Not everyone has the ballin' kitchen budget for a fancy stand mixer, so I tested this recipe with a hand mixer. Spoiler: IT. WORKS.
You just want to make sure you have all of your ingredients measured out and you've not just done a ton of push-ups or something (because your arm's gonna get some work in).
Steps To Marshmallow Nirvana
Here's the rundown, as shown in the pics above.
Bloom your gelatin in a good size bowl with cold water. Let that do it's gellin' for a few minutes.
Get your water, sweetener, salt, and vanilla in a saucepan and ready to melt. You'll want this mixture to reach the soft-ball stage (220F ish) on a candy thermometer. Don't worry if you don't have one though, boil the mixture for a few minutes and you'll be in range!
Turn your hand or stand mixer on and start pouring in the hot melted sugar. It will look wet and not like marshmallow at all. This is normal.
Beat it a little on low, then crank it to medium, then let it magnificently transform from a liquid to a white fluffy cloud of goo. (This process takes anywhere for 10-20 minutes, but worth it)
From here you can spread it in a parchment-lined pan, OR use it as a keto marshmallow frosting/filling for cupcakes, cakes, or to dip a cute little cookie in!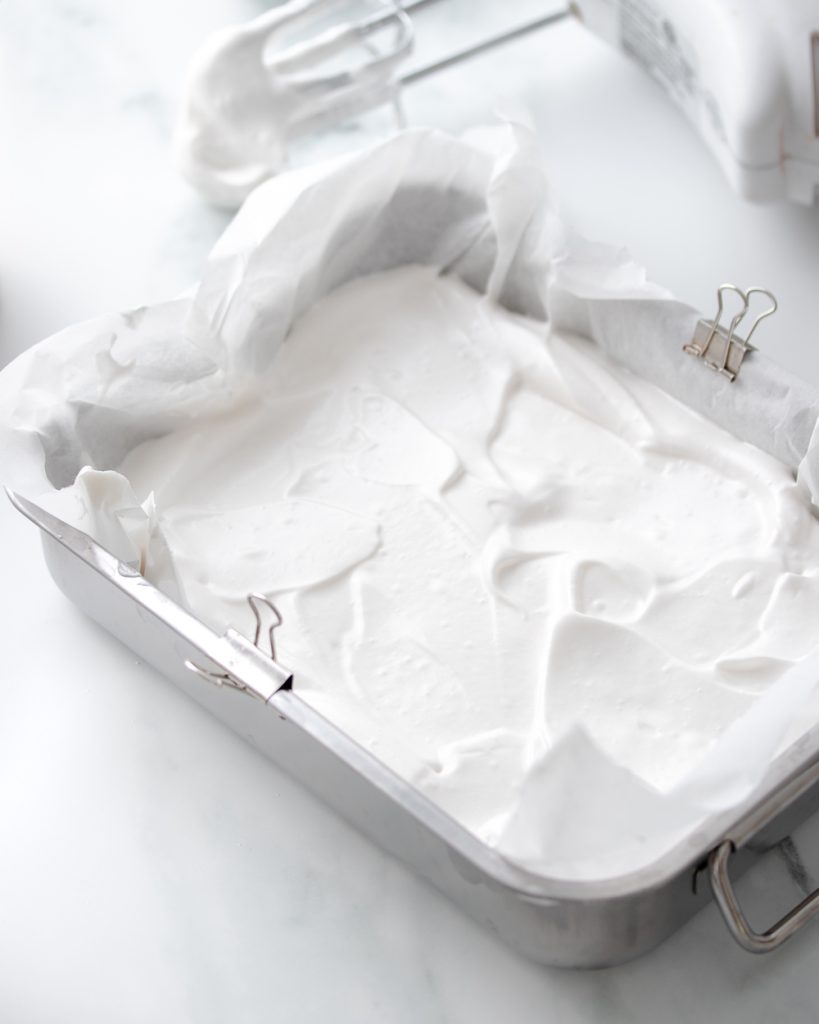 Marshmallow & Keto Sweeteners
This is one of those times where I highly recommend taking the extra time to order Allulose online or see if your local grocery store carries Allulose. Allulose is a keto-approved sweetener that melts smoothing and won't crystalize. It's the gold standard for this recipe so it's worth the buy!
There's no crystallization with Allulose and it makes a fluffier marshmallow. There's also no cooling sensation with Allulose, either! But if you do try it with erythritol, you'll use about 3/4 cup instead of the full 1 cup allulose.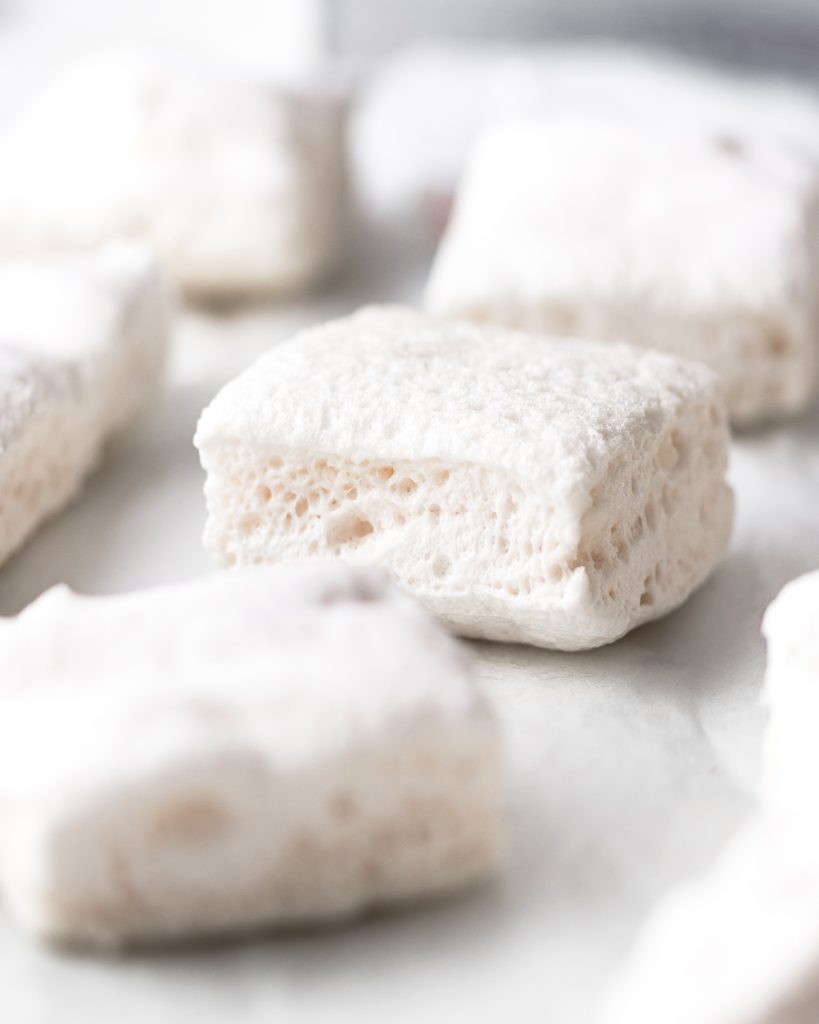 Remember, keto marshmallow is pretty wet and takes some time to dry out so this is an overnighter. Spread it in your prepared pan and let it dry at room temperature (not the fridge!), then slice and feel free to let it air out a bit more.
You can dust them with a little powdered sweetener if they are too hard to handle, too!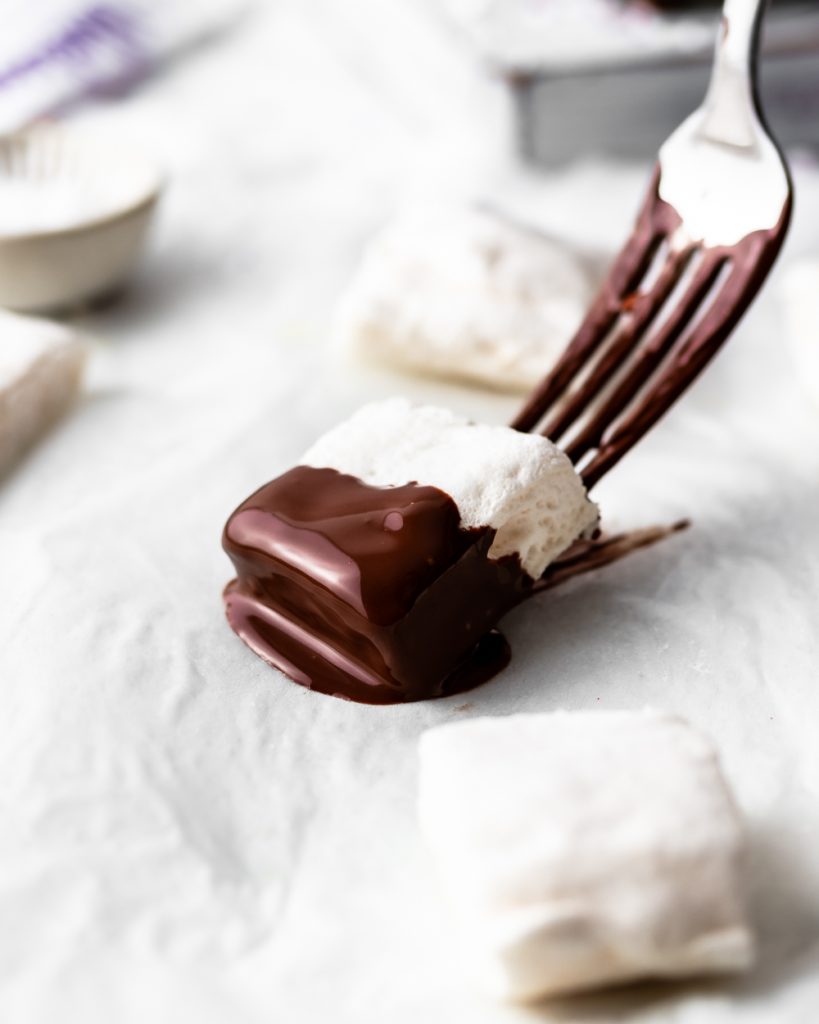 Or, dip them in low carb chocolate, sprinkle them with something crunchy, and go to town.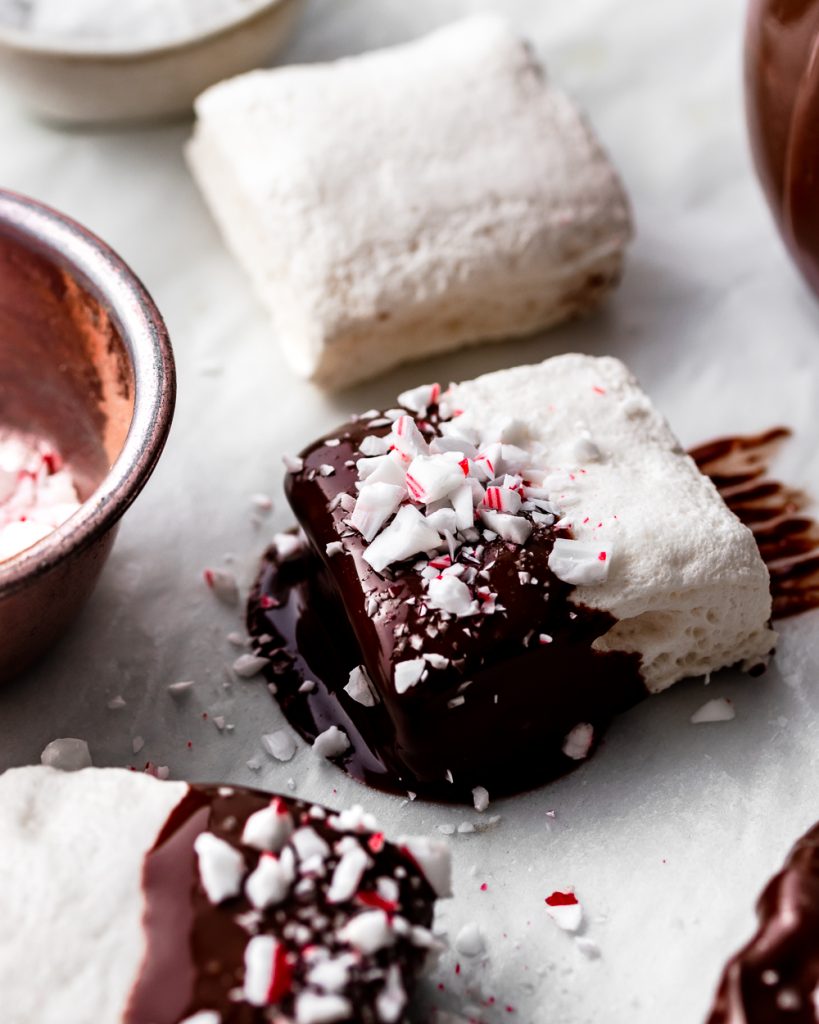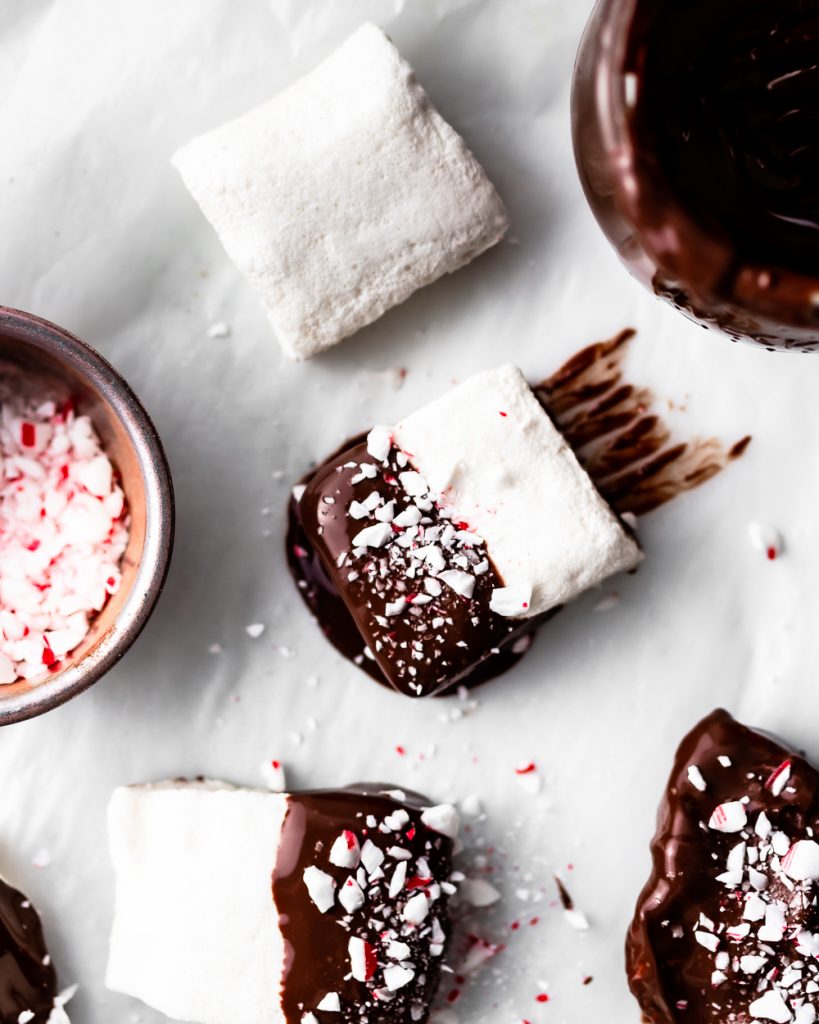 Heads UP! This post contains affiliate links. As an Amazon affiliate, I earn from qualifying purchases.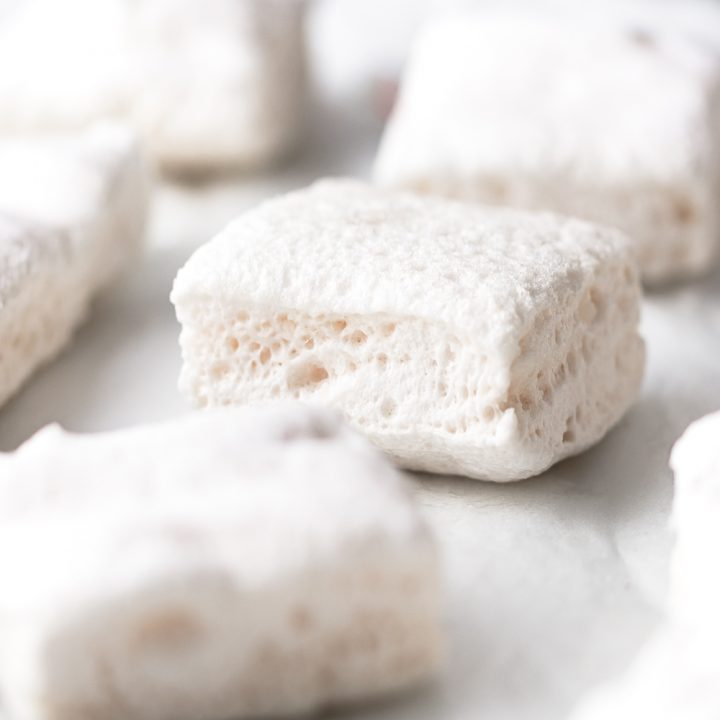 Keto Easy Small Batch Marshmallow!
Total Time:
4 hours
10 minutes
A small batch of keto marshmallow, perfect for turning into marshmallow squares or marshmallow fluff!
Ingredients
In a Large Bowl
In The Saucepan
Instructions
Measure all of your ingredients and line a square pan with parchment.
Combine the 1/4 cup Cold Water and Gelatin and set aside.
In the saucepan, heat the sweetener and water over medium-high heat and bring to a simmer; reduce to medium. Cook for about five minutes, or until the temperature reaches 220°F on a candy thermometer.
With your stand mixer or hand mixer running, add the cooked sugar mixture to the gelatin and beat. Pour in the vanilla and pinch salt and continue to whip for about 15-25 minutes. Once the marshmallow has thickened and doubled in size, it's ready!
To Use: Spread in prepared pan and let dry out at room temperature preferably overnight. Then slice and enjoy! No need to store them in the refrigerator, this causes condensation and the marshmallows will get slightly wet.
Alternately, use to frost cupcakes or fill keto pastries!
Notes
Allulose works best here so I highly recommend getting your hands on a bag!
*For use as a FILLING reduce the gelatin to 1 tablespoon+ 1/2 teaspoon. It will stay soft-set rather than getting chewy!
Nutrition Information
Yield

20
Serving Size

1 marshmallow
Amount Per Serving
Calories

2
Total Fat

0g
Carbohydrates

0g
Fiber

0g
Protein

0g