Get your coffee mugs ready for these incredibly easy (and crisp!) keto cinnamon swirled biscotti!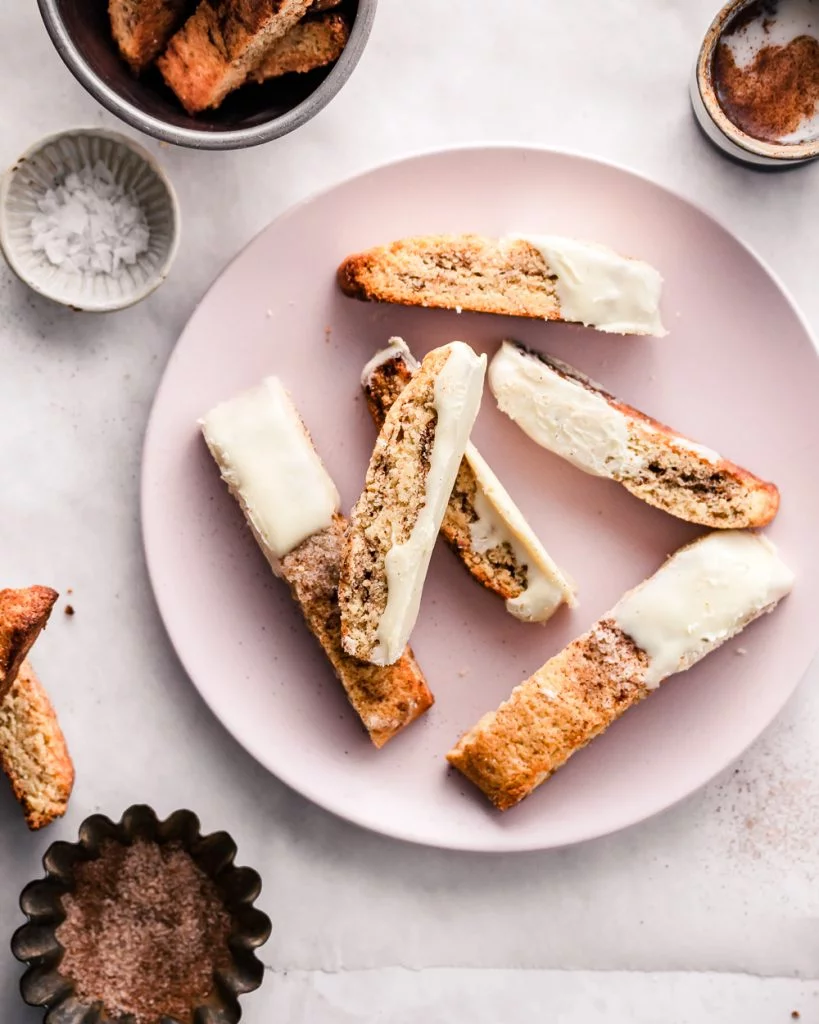 Better For You Biscotti
And not just because it's healthy AND keto!
It is, but it's better because I worked out the kinks and butchered like, five batches all to find the best (less stressy) way to make keto almond flour biscotti work.
I do this because I care about you being able to have cookies for breakfast.
SO these biscotti are totally different from my Keto Peppermint Stick Biscotti because they are super crisp for all of you die-hard traditionalists! The dough has vanilla-almond vibes like a classic biscotti, but then there's the swirling of cinnamon and sugar marbled through. Plus more cinnamon sugar on top!
It's downright cinn-full (wink wink)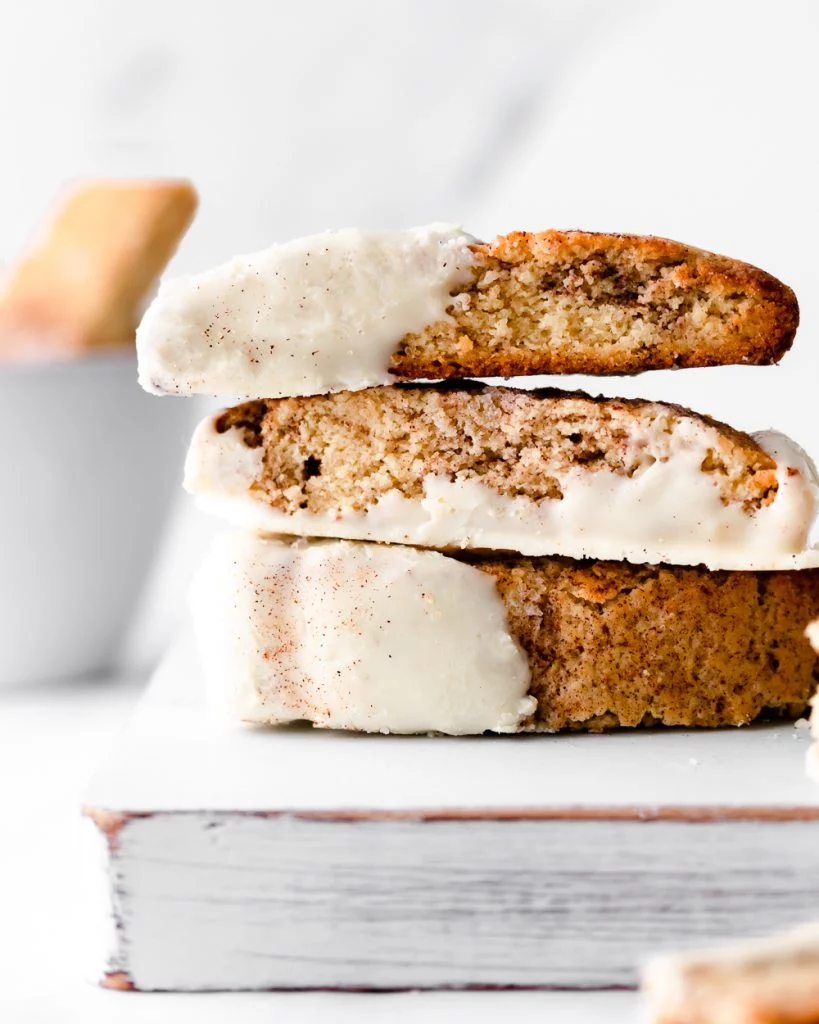 Totally Dunkable
(and Doable) Biscotti
Don't make the same mistakes I made! Follow these tips for the BEST biscotti possible while staying gluten-less and keto.
Okay folks, the two major things to remember when banging out biscotti are small loaves and cooling time.
Making 3 small loaves lets the biscotti cook more evenly without over-browning on the edges.
Cool them completely before you try dipping them in chocolate, or even moving them around too much, because like all almond flour cookies…they will be soft and delicate at first!
For beautifully swirled cinnamon biscotti, add the cinnamon (and some sweetener) at the very end. Make the dough, then dash in the cinnamon and fold it through the dough as opposed to mixing it in from the start. Then you'll have beautiful pockets of cinnamon sugar goodness.
Dip them once they are completely cooled and crisp. You don't want to encase your biscotti before it's finished curing or the texture and flavor won't be as prominent!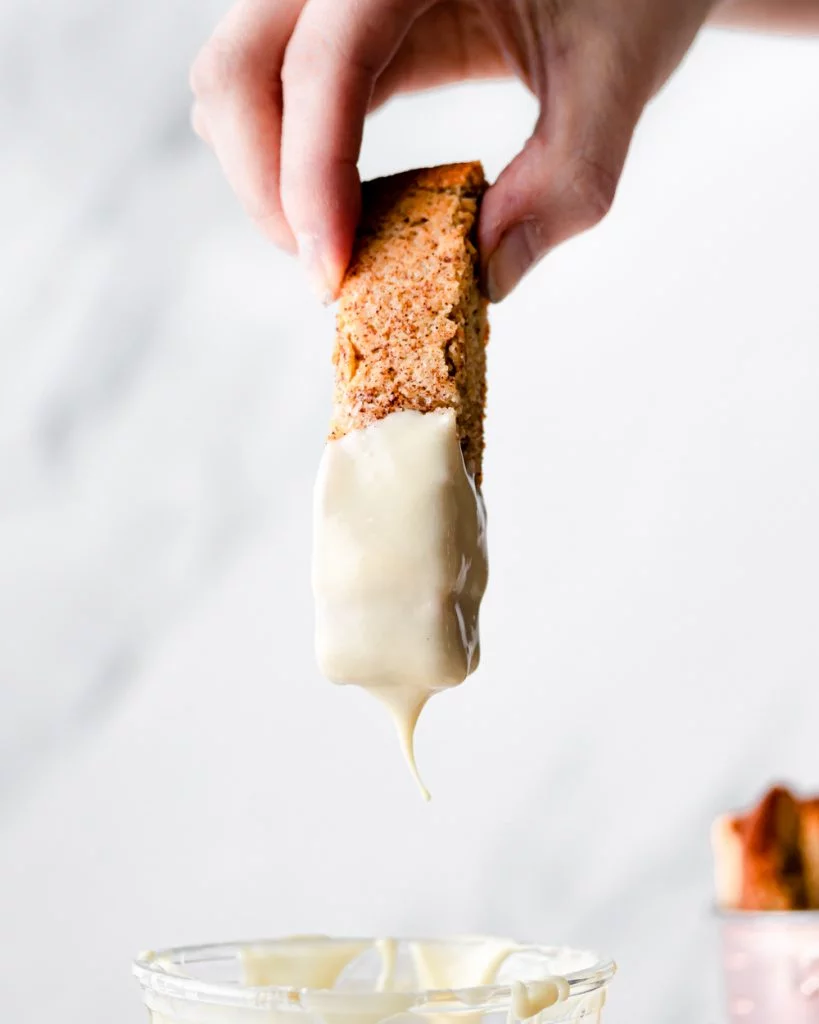 Feeling adventurous? Dip these in milk or dark chocolate! Sprinkle them with chopped nuts!
Or here's an idea, use it as an edible spoon to scoop your favorite peanut butter. That's saving time AND adding protein to your diet!
Aren't biscotti amazing?!?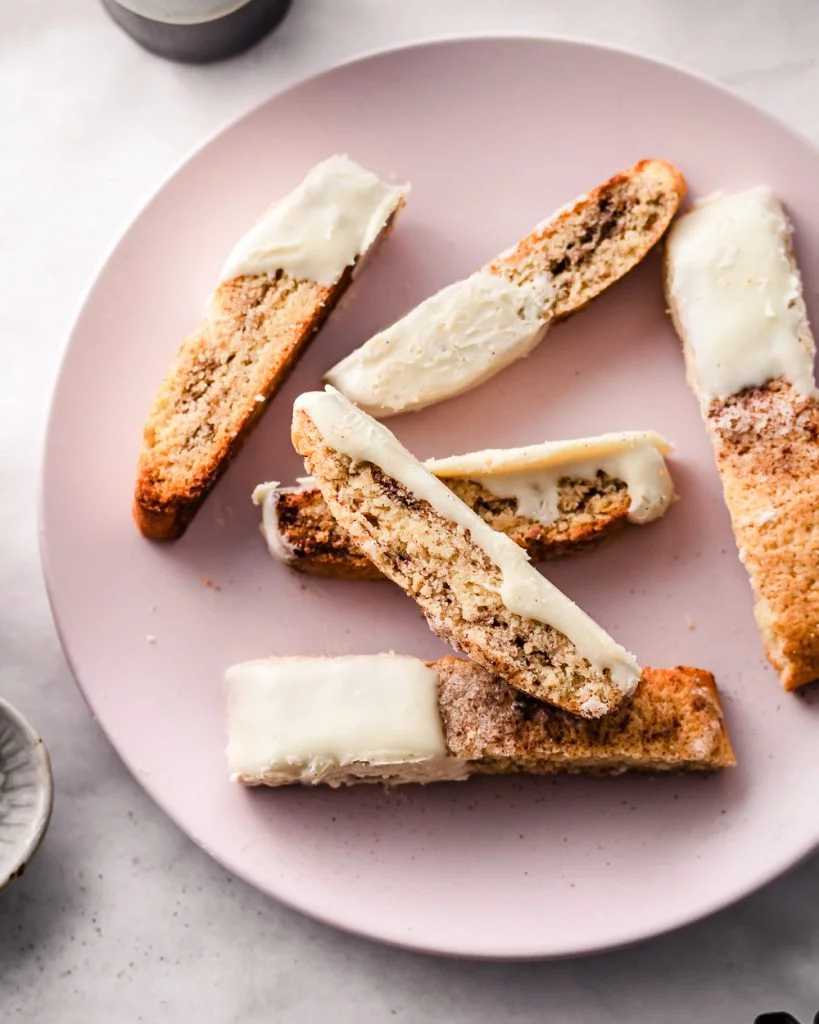 And this blog post wouldn't be complete without one more classic cliché cookie-stacking image so…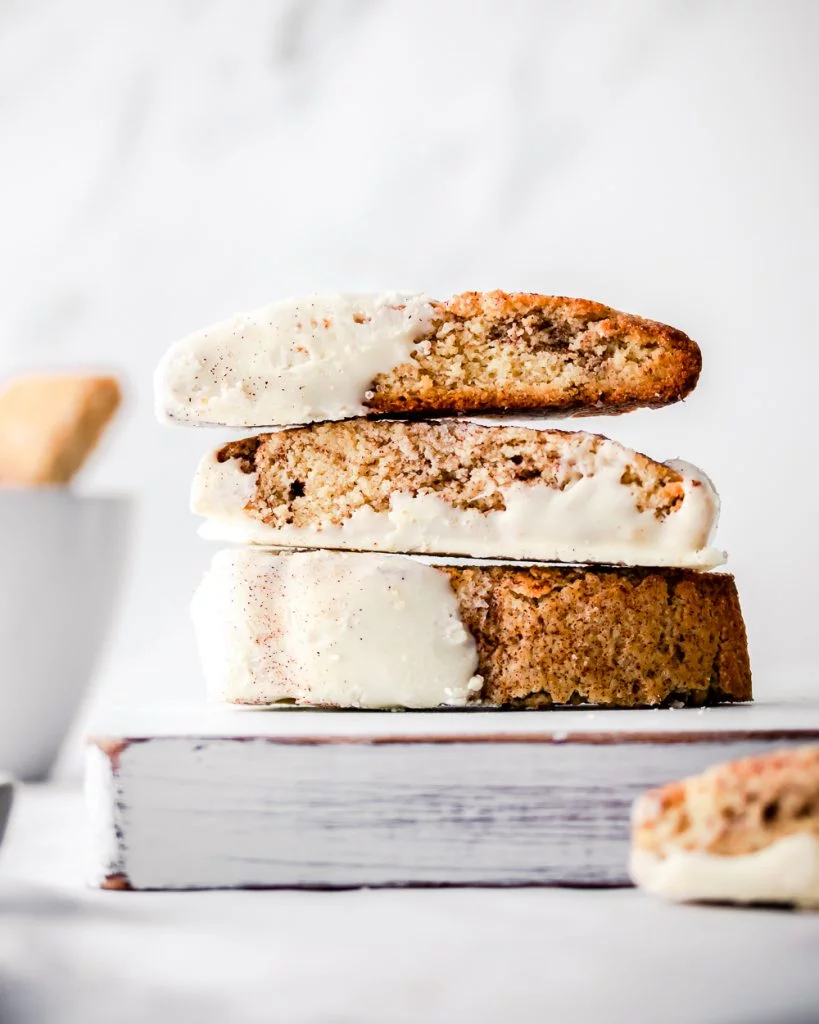 Heads UP! This post contains affiliate links. As an Amazon affiliate, I earn from qualifying purchases.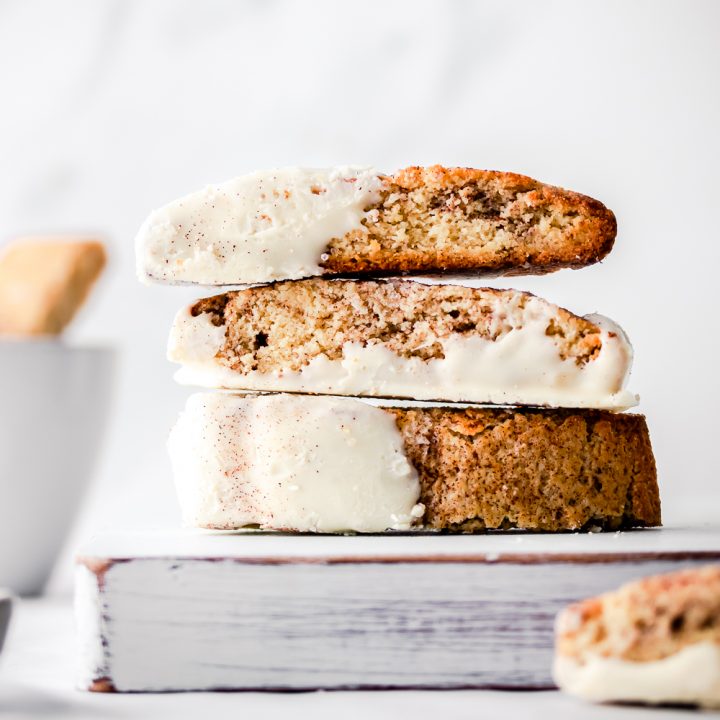 Keto Snickerdoodle Biscotti
Total Time:
1 hour
35 minutes
Sweet and crisp keto biscotti with a cinnamon sugar swirl. The ultimate treat for your morning cuppa joe!
Ingredients
1/2 teaspoon Baking Powder
5 tablespoons Butter, softened
1 teaspoon Vanilla Extract
1 teaspoon Apple Cider Vinegar
1 Large Egg + 1 Egg White (save the yolk for an egg wash!)
Egg Wash
1 Egg Yolk
1 teaspoon Water
More cinnamon and sugar for dusting
Instructions
Heat oven to 350°F and line a large baking sheet with parchment or silicone baking mat.
Whisk together the almond flour, coconut flour, baking powder, xanthan gum, and Swerve. Cut in the soft butter and mix until the mixture looks like a sandy dough.
Beat the 1 egg and egg white, vinegar, vanilla, and molasses until frothy. Add to the dry mix, stir and fold for 1 minute until a soft dough forms.
Mix the 1.5 tsp cinnamon and 1 tbsp Swerve, then add to the dough and gently fold so the mixture marbles through. Divide the dough into three equal parts and place on the prepared baking sheet.
Form each mound into a rectangular log (approx 1 to 1.5 inches in thickness). Whisk the egg yolk and water and brush on each log. Sprinkle with more cinnamon and swerve, then bake for 18 minutes, watching for browning.
Once the loaves are golden brown, let cool for five minutes.
To Slice: Using the tip of a sharp knife, pierce through the outer crust from one side to the other, then slice through completely. Lay biscotti cut side down and return to oven 7-10 minutes or until the edges just begin to darken. Arrange on a wire rack to cool and dry out completely. *They will be firm after 30 in and crispier after 2 hours!
Once ready, dip in melted white chocolate, cool, and enjoy! Store lightly covered at room temperature.
Nutrition Information
Yield

21
Serving Size

1 biscotti
Amount Per Serving
Calories

82
Total Fat

7g
Carbohydrates

3g
Net Carbohydrates

2g
Fiber

1g
Protein

3g