Melt your cares away with these luscious thin mint meltaways! Totally keto (and pillow) friendly.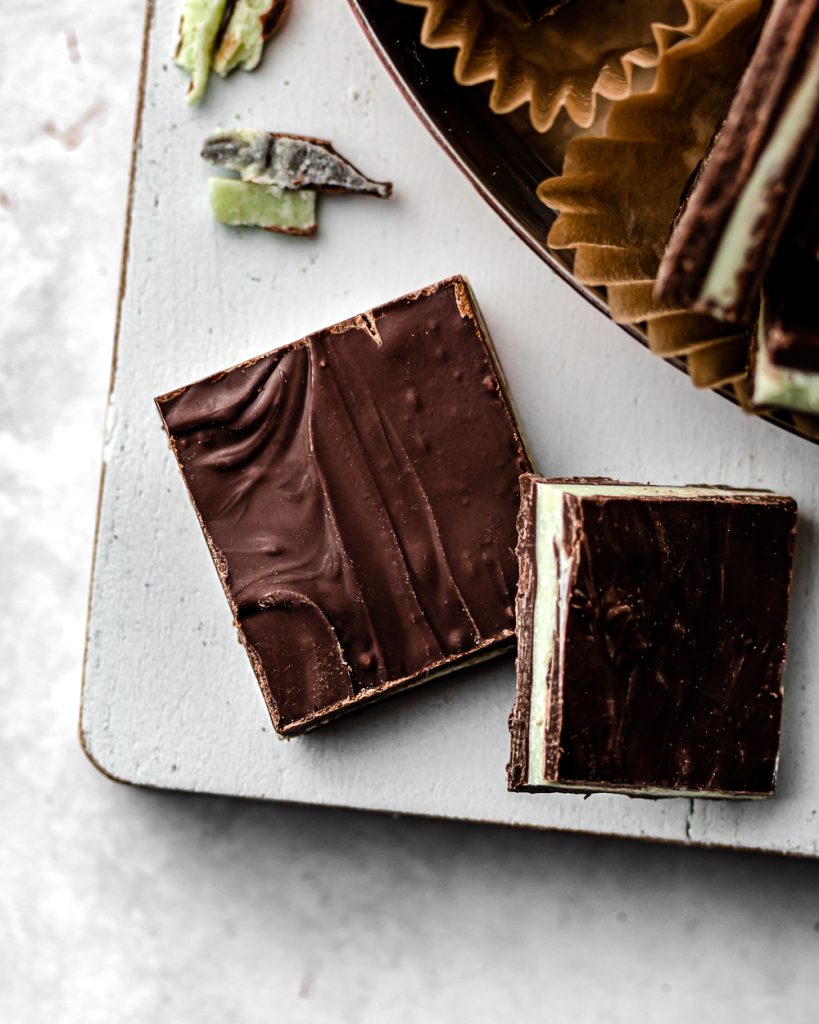 A Thin Mint
With Thick Mint Energy
Because you get to choose how minty is minty enough!
Another bonus to making your own knock-off Andes Mints? Zero pesky wrappers to shame you. The last thing you need right now is some piece of unrecyclable trash telling you how many mints you've actually eaten.
Which in a way is self-care for your psyche.
And what about all of the delicious treats we could make with Keto Andes Mints? Just spitballing here, we could add them to Keto French Vanilla Ice Cream, fold them into Chocolate Chocolate Chip Cookies, or some keto Fudgy Brownies!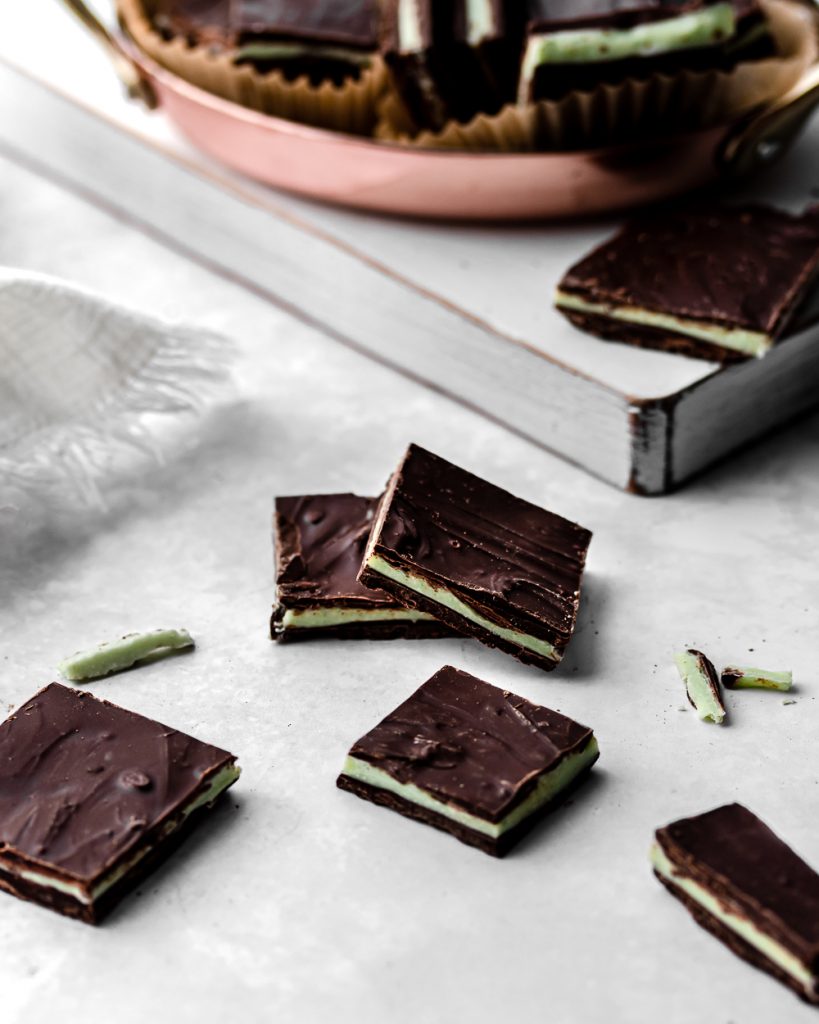 Layering: The Hard Part
I won't lie to you, making these look *perfect* can be tricky. Luckily, imperfect mints are still amazing so don't have a coronary if you mess it up a little.
Here are my best tips for getting your layers right!
Use binder clips to hold your parchment in place! It will save you so much stress in this recipe (and baking ones too!).
Get REALLY close to the parchment when you pour the chocolate and do it in a zig-zag pattern. Don't waterfall-pour your layers or good old gravity will make them mix more.
If you are struggling to spread the chocolate, pick up the tray and tilt it from side to side while you spread. This is where gravity actually helps. JUST MAKE SURE the parchment is secured so it doesn't slide right onto the floor……
Make sure the layers don't completely chill before adding the next. You need them still soft so they stick together!
Mint Extract vs Mint Oil is up to what you can find/have. Just know that peppermint oil will be much stronger so you will need less than if using an extract.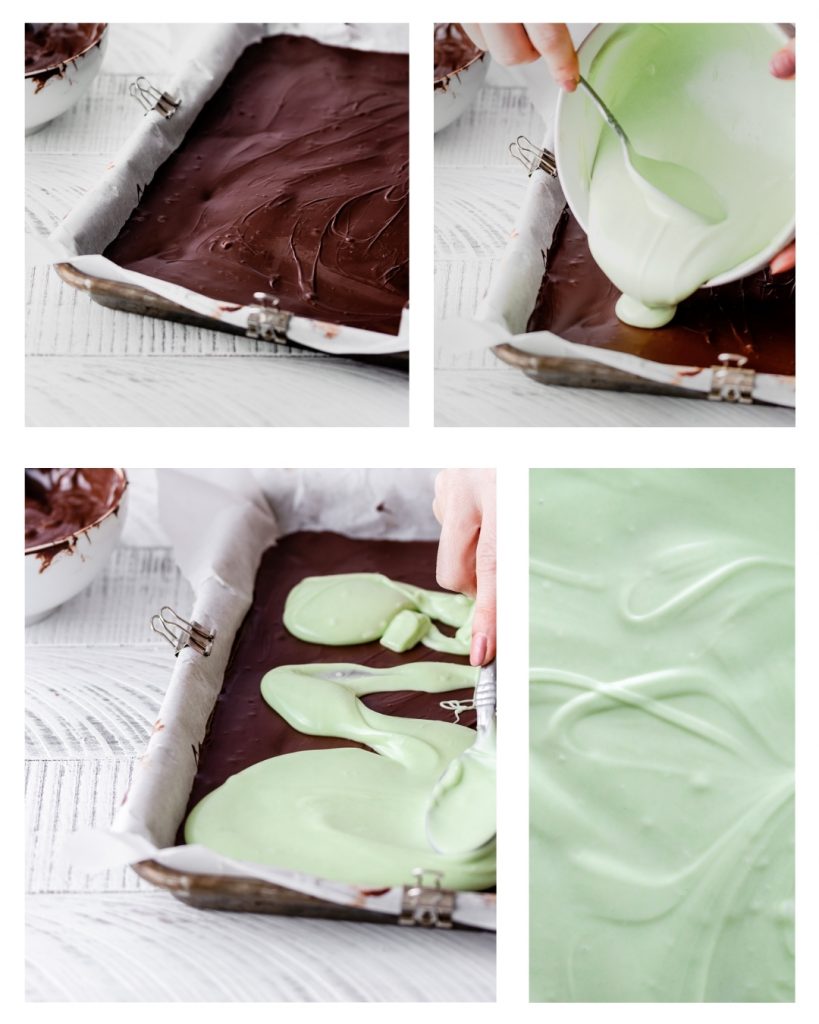 Cutting The Mints
If you try to cut these cold, you will regret it. I know I did.
Only let these mints set until the sheen wears off, then star slicin'. You're looking for the amount of resistance like a firm fudge. If you wait until they are too set, the chocolate will crack and break.
And so will your heart, so keep things moving.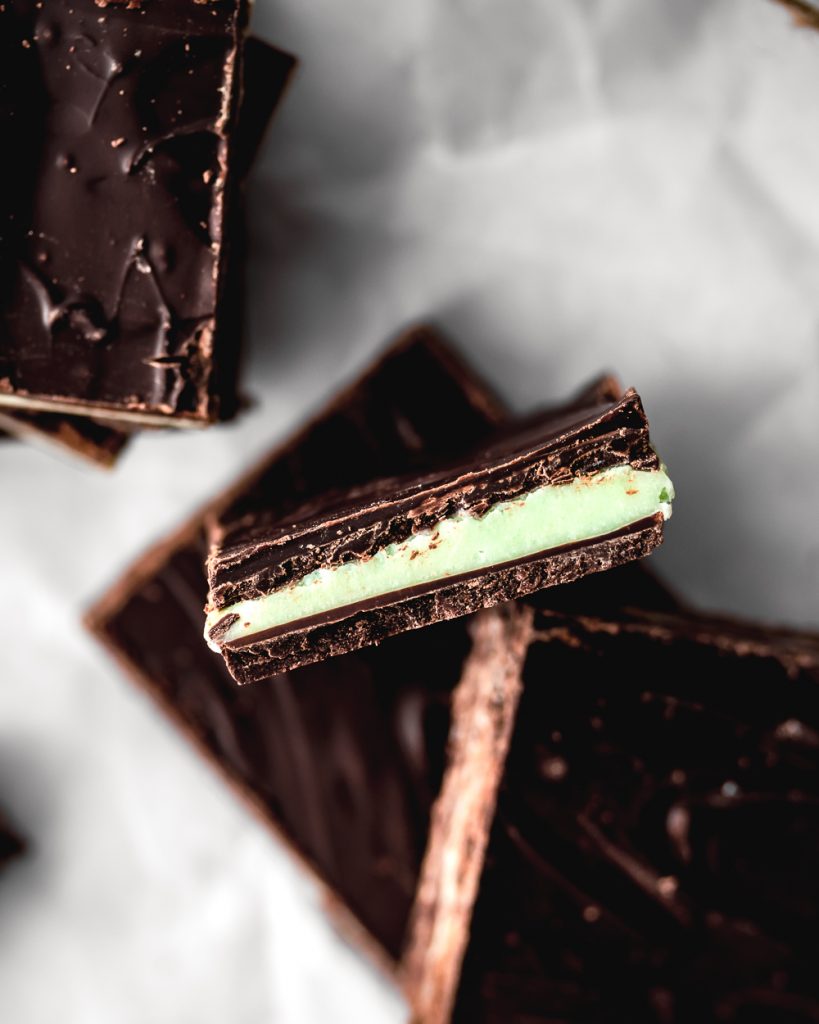 Once they are sliced and cooled, you can arrange them on a tray for guests, pop one on your pillow (fancy!) or even give them out as gifts!
Or just eat them while you rewatch your entire netflix queue. Again.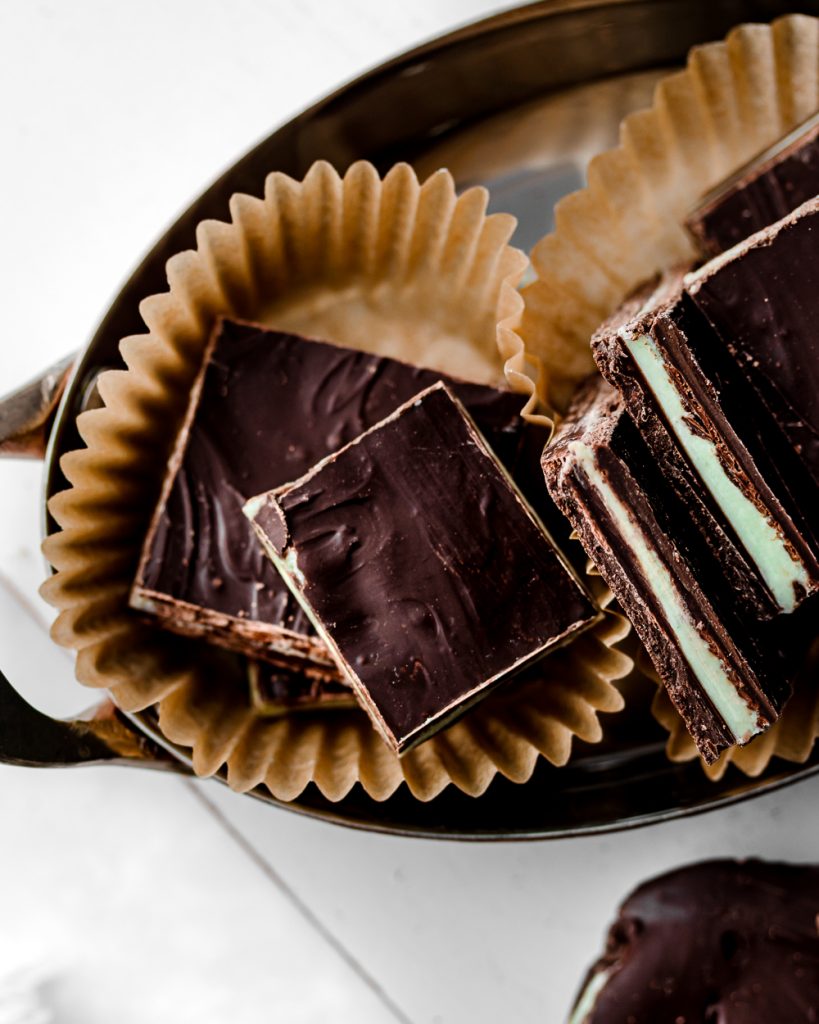 Heads UP! This post contains affiliate links. As an Amazon affiliate, I earn from qualifying purchases.
Want More Keto Treats?
Try These!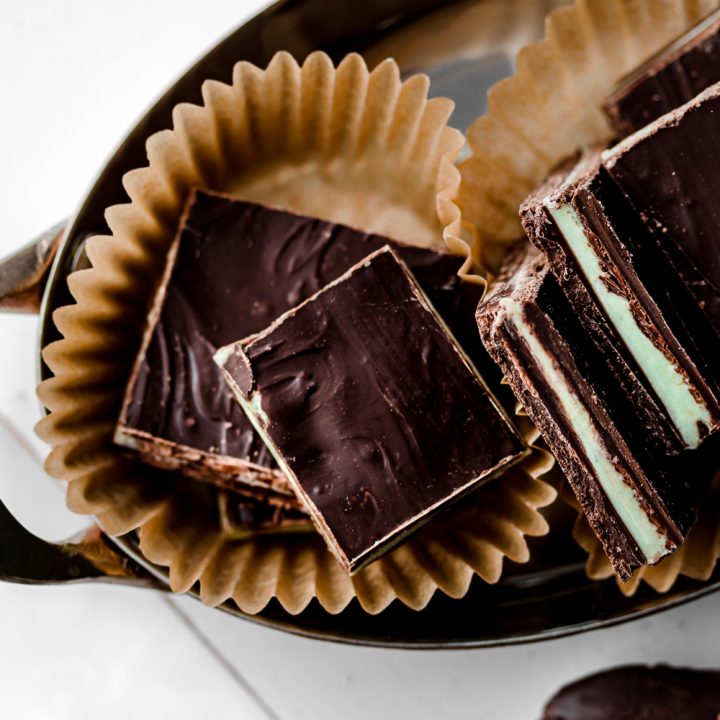 Keto Copycat Andes Mints!
Total Time:
1 hour
13 minutes
Cream de Menthe chocolate filling sandwiched between two layers of dark chocolate. The ultimate keto after-dinner mint!
Ingredients
Instructions
Line your quarter sheet pan or cake pan with parchment and weight out your chocolate, extract, and coconut oil. *TIP* use small binder clips to keep your parchment in place!
Divide the dark chocolate chips into two equal portions and place in separate bowls. Microwave one at a time in 20-second intervals, stirring frequently until smooth.
Pour one bowl of melted chocolate starting at the top of the prepared pan and zig-zagging down to the other end. Gently smooth with a spoon or spatula and tap repeatedly to release any air bubbles. DO NOT CHILL!!! If this layer cools the mint layer will not adhere.
Add the coconut oil to the white chocolate, heat at 20-second intervals until smooth. Add the mint extract, taste and adjusts, then the gel food color and mix well.
Let your first layer continue to rest for about 3-5 minutes or just until the chocolate starts to lose its shine. Pour the white chocolate layer starting at the top and working to the bottom in a zig-zag pattern, staying very close to the first layer to prevent any swirling. Slowly smooth with a spoon or spatula then tap to release any air bubbles.
If needed, reheat the final bowl of dark chocolate for 5-7 seconds and stir well. Once the mint chocolate layer begins to set (if you touch it you will see a fingerprint but not solid) pour on the remaining dark chocolate and smooth.
DO NOT CHILL before slicing or it will crack and break! Instead, let it set in a cool part of the house for about 10 to 20 minutes, then check. Once it's lost its sheen, use a sharp knife to slice into squares, then chill to set completely.
Notes
*Peppermint Oil vs Extract: Either of these will work, but peppermint oil carries the flavor in the fats better so you'll need less. The extract is alcohol-based so you need a bit more!
Nutrition Information
Yield

35
Serving Size

1 square
Amount Per Serving
Calories

64
Total Fat

5g
Carbohydrates

9g
Net Carbohydrates

5g
Fiber

4g
Protein

1g