Like cookies that taste like brownies? Then these dark cocoa cookies with white chocolate chips are for youuuu!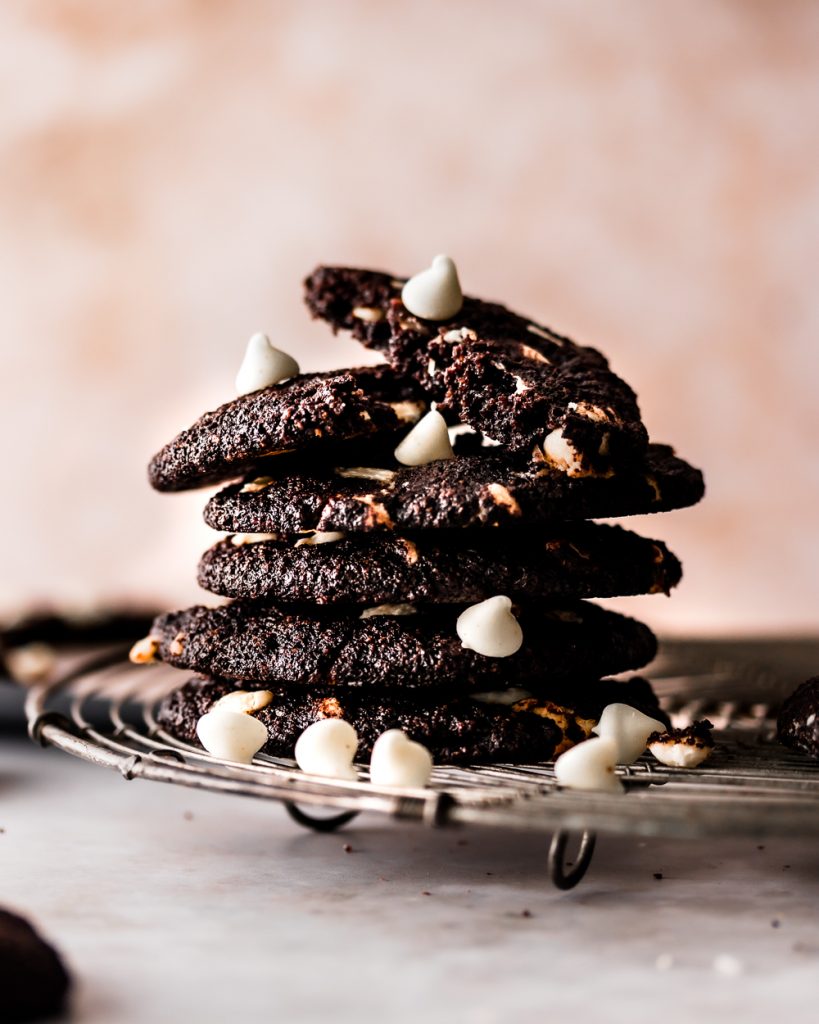 Flipped-the-Chip Cocoa Cookies!
And what's a cocoa cookie you ask? Try to imagine a plain, super tradish chocolate chip cookie that got completely turned inside out, then had a midlife crisis where it decided it wanted to get frosted tips and be called brownie instead of cookie.
That's what this is! A flipped-out and fabulous version of a chocolate chip cookie…Only the cocoa is on the cookie side and the chips are WHITE!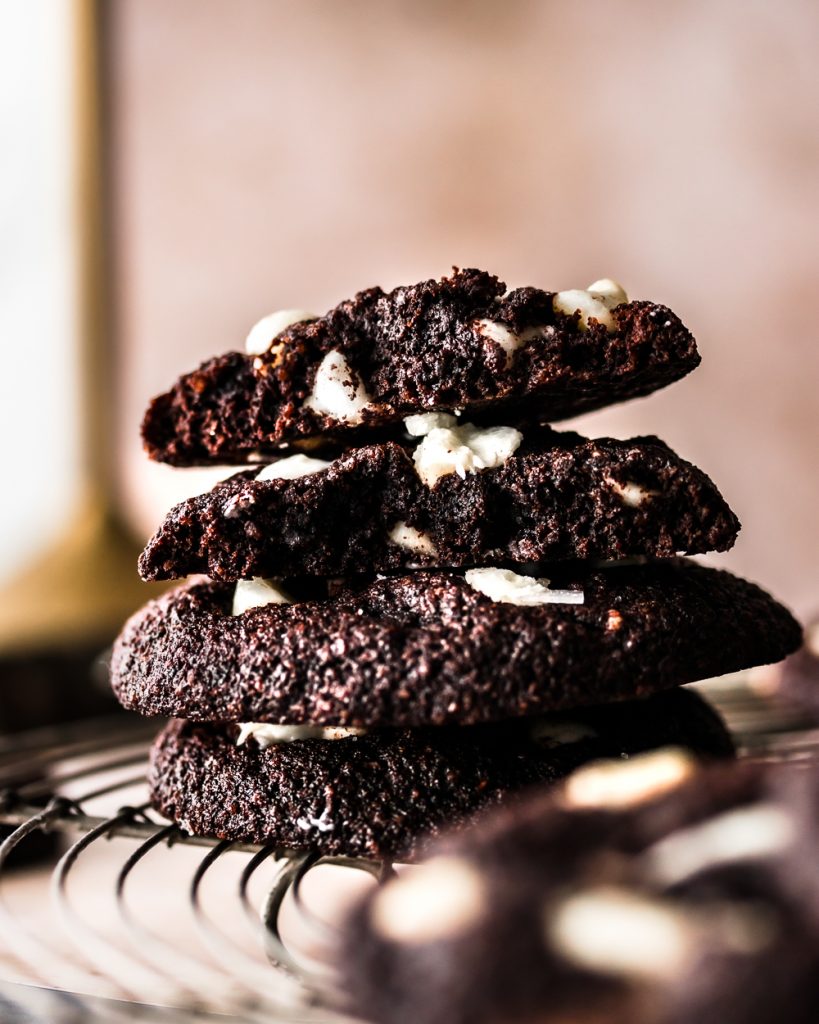 How To Nail These Flipped Cookies
SO these are very similar to my absolutely loaded keto chocolate chip cookies, but also sort of like my keto sugar cookies because they use Greek Yogurt to keep them soft. Here's how to make sure they turn out just how you like them!
Beat the wet ingredients with a hand mixer and make sure your butter is soft. You don't have to go crazy creaming butter and sugar forever, just make sure everything is combined and smooth.
Whisk the dry ingredients really well. NO LUMPS! You want all of the flours (almond and finely ground flaxseed meal) to be evenly distributed.
Combine the wet and dry and REALLY work that mixture, turning and folding, to make sure the moisture is absorbed evenly.
Roll & Chillllll because it's easier than chilling the whole bowl! It's messier but my preferred method. Just roll all the dough and line them up on a tray and refrigerate them until they are chilled through. Then arrange them on your baking tray and go in batches! *or freeze and bake whenever*
Shaping them depends on how you like your cookies. Fat and puffy or thin and slightly crisp? *keep reading*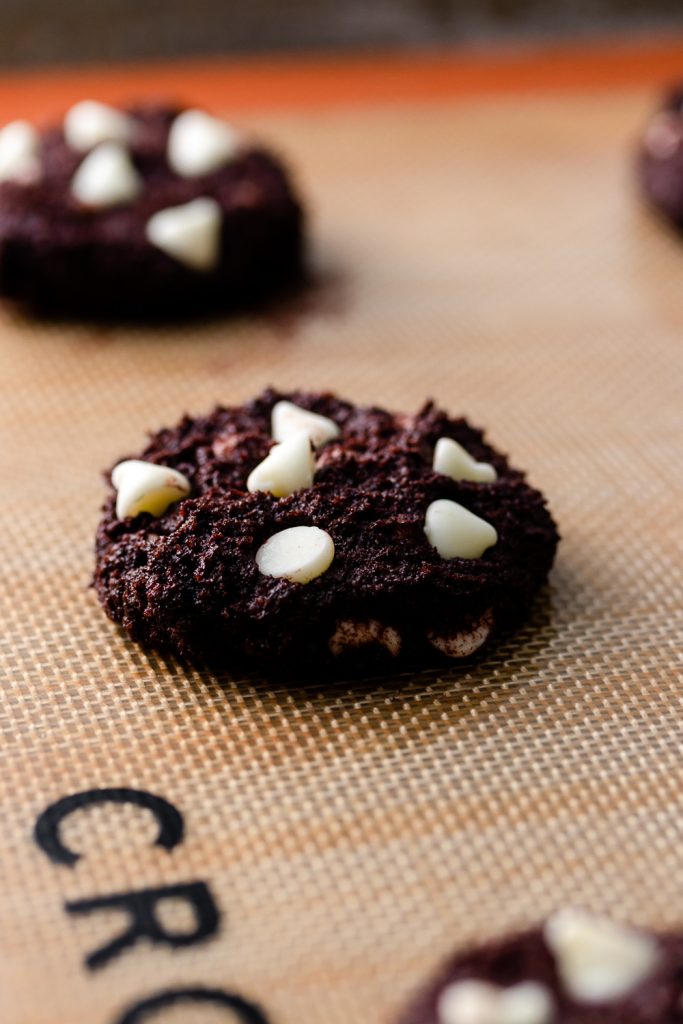 Cookie Shaping
These cookies have a different texture depending on how you shape them!
For a cakier thick cookie, you want to roll these balls and only flatten them slightly. Take a few white chocolate chips and press them on the top and press gently to make a cookie "puck" (pic above). They won't spread as much and the center is nice and soft.
For a thinner cookie (and somehow deeper chocolate flavor?) you shorten chill time to about 10 minutes. Then, flatten your cookie round into the shape of an actual cookie (pictured below). Pop a few chocolate chips on top and goooo!
Not chilling the dough gives you an even thinner cookie because the butter melts faster in the oven. I also found that not chilling the dough added two minutes to the bake time to make sure they didn't fall apart!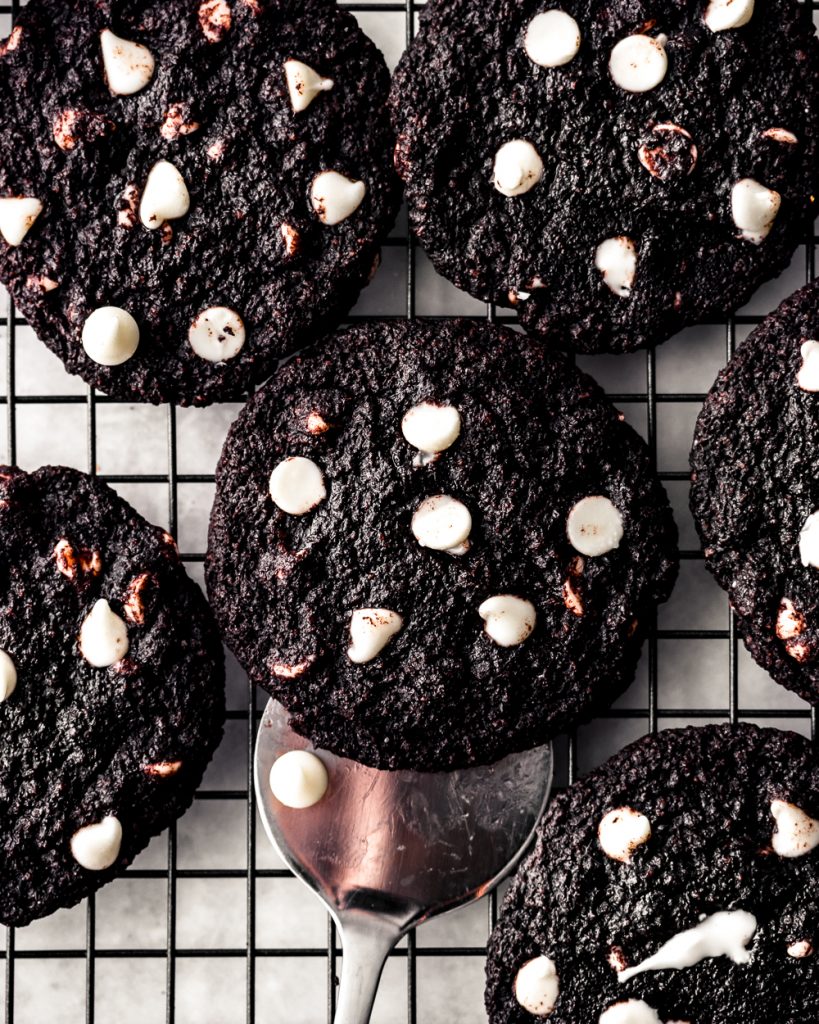 Can you see the difference?!?! It's amazing how just the shape will change the texture.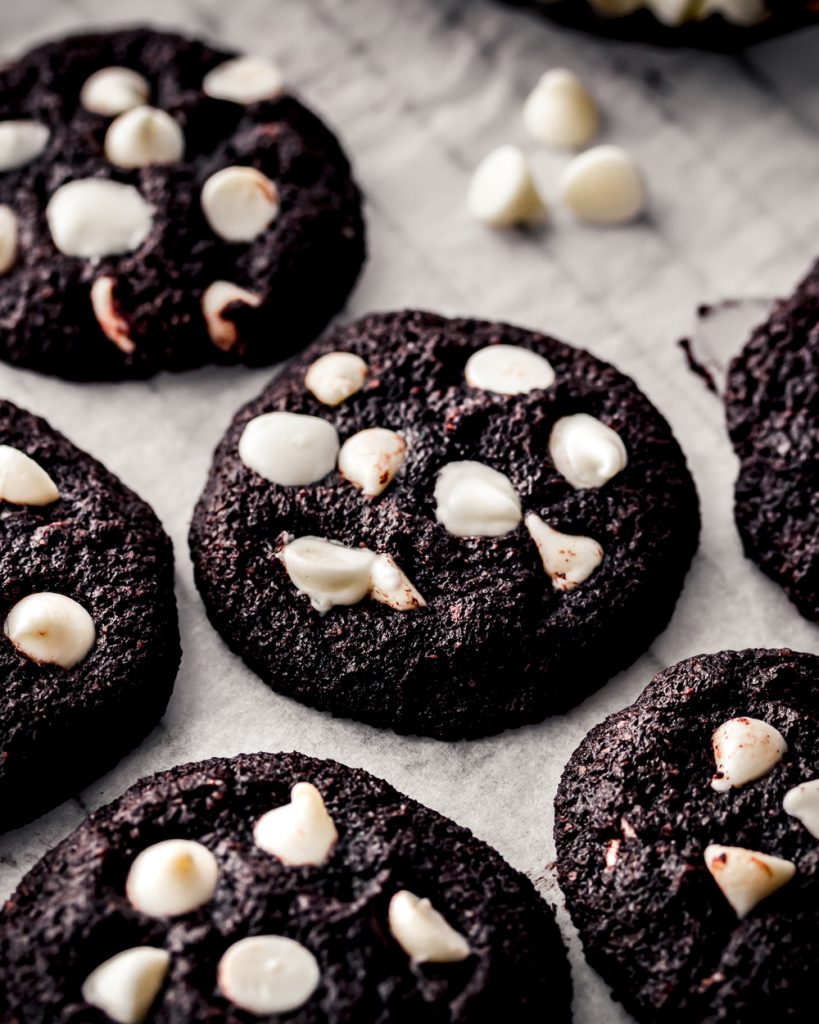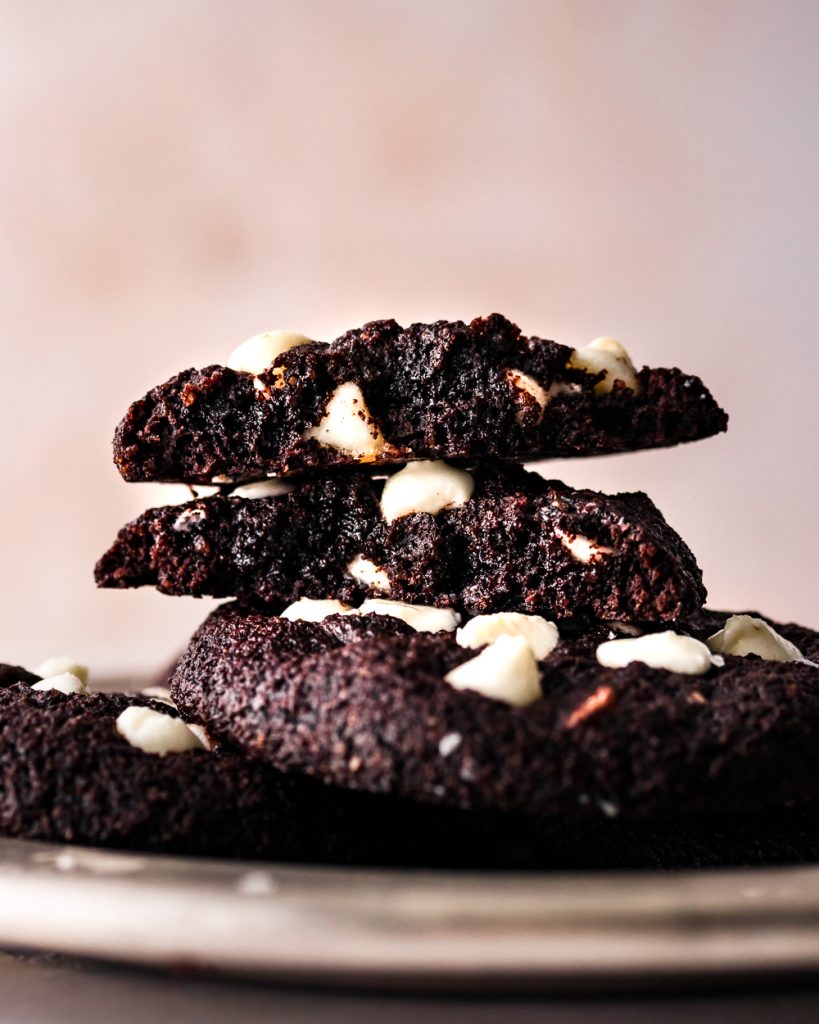 Heads UP! This post contains affiliate links. As an Amazon affiliate, I earn from qualifying purchases.
Want More Gluten-Free Treats?
Try These!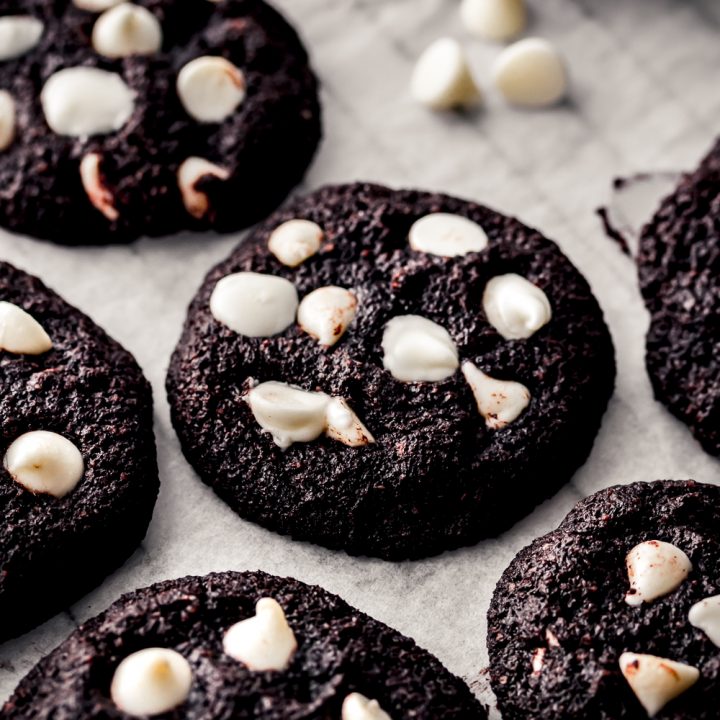 Keto Chocolate White Chocolate Chip Cookies!
Additional Time:
20 minutes
Crazy chocolatey and rich almond flour cocoa cookies studded with white chocolate chips!
Ingredients
4 tablespoons Butter, softened
1/2 teaspoon Vanilla extract
1 large Egg
2 level tablespoons Greek Yogurt, or full-fat sour cream
2 tablespoons Ground Golden Flax Seed reground, see notes for substitutions
1/2 teaspoon Baking Powder
Instructions
Line two baking sheets with a silicone baking mat or parchment paper. When ready, heat oven to 350°F.
Cream the butter and sugar. Add the egg, vanilla, molasses, and greek yogurt and beat until combined.
In a separate bowl whisk together the almond flour, finely ground flax (see notes for the why!) baking powder, and cocoa powder until no lumps remain.
Add the dry to the wet and mix with a silicone spatula until the flours are evenly distributed and a sticky dough forms; fold in the white chocolate chips.
Chilling the Dough: You can chill the bowl of dough for 30 min to an hour, but I prefer to roll my cookies into balls and put them all on one tray to cool. It's faster (like 15 minutes)! Then you can transfer them to your baking sheet in batches.
For Thinner Crisp Cookies: Scoop a heaping 1.5 tablespoons of dough and form into a ball. Flatten the cookie into a round (see photos above) and press a few chocolate chips into the top. Bake for 8-12 minutes, checking at 8 for doneness. If the center still seems wet, continue to bake (I baked mine for 12 minutes). Let cool before moving because they are delicate when warm!
For Thick, Cakier Cookies: Scoop a heaping 1.5 tablespoons of dough and form into a ball. Press a few chocolate chips into the top and only flatten very slightly. Bake for 8-12 minutes. Let cool before moving because they are delicate when warm!
Bonus TIP! Just like my slam cookies, I like to bang the pan on the counter a few times right when these come out of the oven HOT to help everything spread properly. It's optional but wonderful!
Notes
Flax Seed Grinding and Substitutions: The flax in this recipe helps hold things together and gives the cookies a softness. BUT if you don't regrind it they can be gritty. Just add your 2 tablespoons to a bullet blender, coffee grinder, or even process a larger amount in a food processor to save for later!
***You can also substitute the flax with 1/2 teaspoon psyllium husk powder or 1 to 2 tablespoons coconut flour (add one, check the texture, then add a second if the dough is very wet)
Nutrition Information
Yield

12 cookies
Serving Size

1 cookie
Amount Per Serving
Calories

105
Total Fat

9g
Carbohydrates

7g
Net Carbohydrates

4g
Fiber

3g
Protein

3g