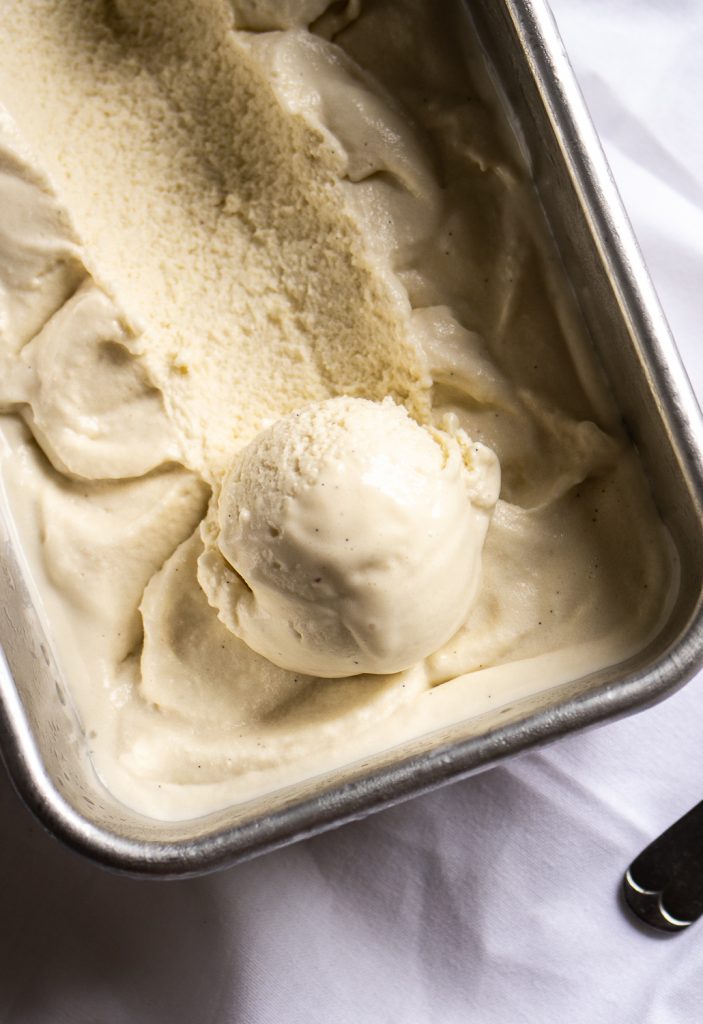 Silky dreamy & ice-creamy
Today we are talkin' ice cream! And not just because I feel a deep need to share my silky smooth ice cream base that can be used for like, any flavor, BUT more due to me going completely poor buying the low carb pints that are overpriced and underfilled.
But mostly because it's frenchy and creamy and dreamy.
What the french, Vanilla?
YES, there's a difference! All of those times you stood in the ice cream aisle, tasked with the choice of Vanilla or French Vanilla, it mattered. The fact is that the F R E N C H part of french vanilla has nothing to do with the vanilla at all. Egg yolks are what set this ice cream and all of the other frenchy ice creams apart from the rest.
Are you stunned?!
There are also some HUGE flavor and texture benefits from going french on your ice cream from now on. Whipping egg yolks into your ice cream mixture means it gets creamier a whole lot easier. Think frozen custard, but keto! And if that wasn't enough, there's a full fat can of coconut milk as a bonus to cut the dairy in half and add the silkiness that only the creamiest of coconuts can add.
So rich! So silky! So many superlatives!
Let's check out the step-by-step so you can get to the frenching. ⇓
Really Real French Vanilla Ice Cream
Yes it's Low Carb and Keto friendly, but really a friend to all.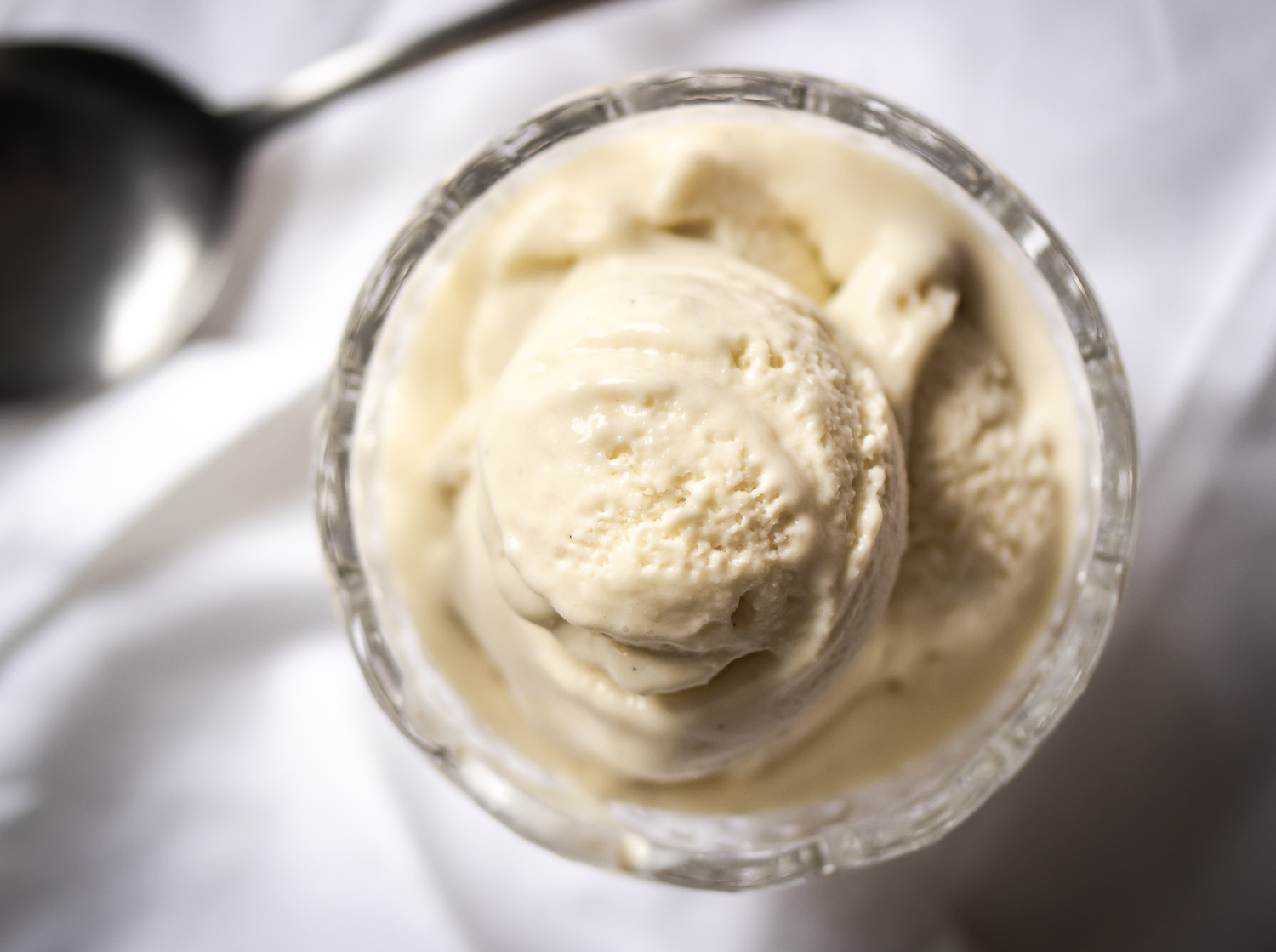 Custard Class: Tempering Your Eggs
I really want to take the fear of tempering eggs away from everyone because once you figure it out, life is so much better. I learned from years of helping my mom make rice pudding and I've never been more thankful.
The key is to heat your creams and milks and sweeteners to HOT but not simmering. Mom used to refer to it as scalding the milk, which also helps infuse the vanilla bean (if you use the real stuff…which you should).
Add a ladle of the hot liquid to beaten egg and whisk to bring the temp of the eggs up slowly. Then you can add the tempered mixture back into your saucepan (OFF HEAT) and stir until combined.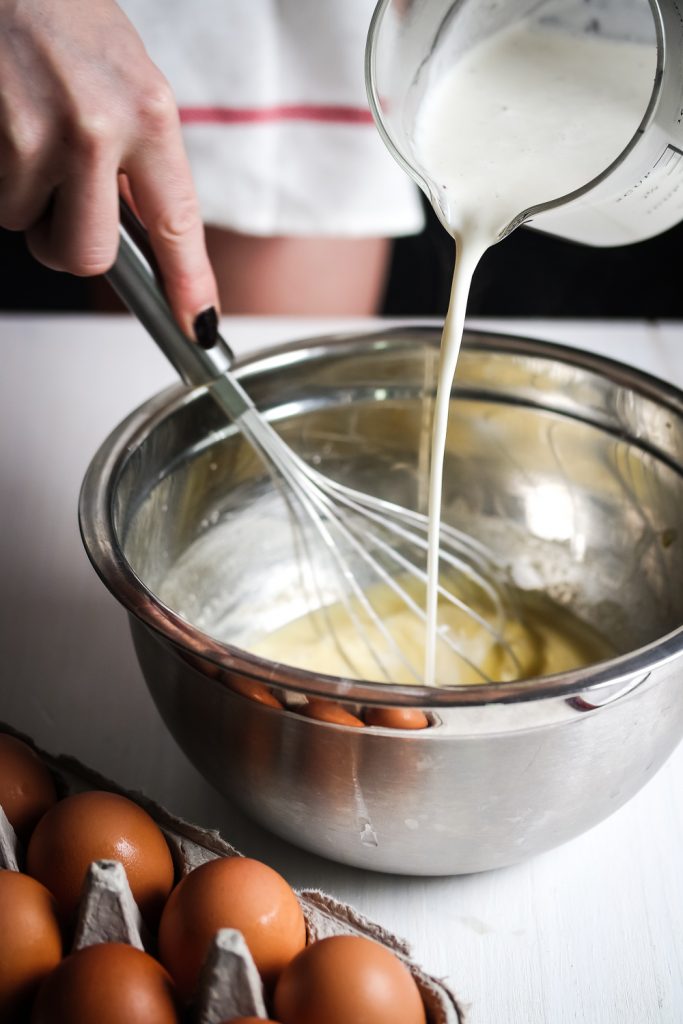 Smooth Moves: Strain You Custard
There's nothing worse than a rubbery bit of egg in your ice cream sundae, so always ALWAYS strain!
PLUS this gives you the opportunity to cool it very quickly and get to the ice cream machine much faster.
Prepare an ice bath which is just a large bowl filled with ice and some water or rock salt and place a smaller bowl inside. Strain your mixture directly into the chilled out bowl and stir frequently.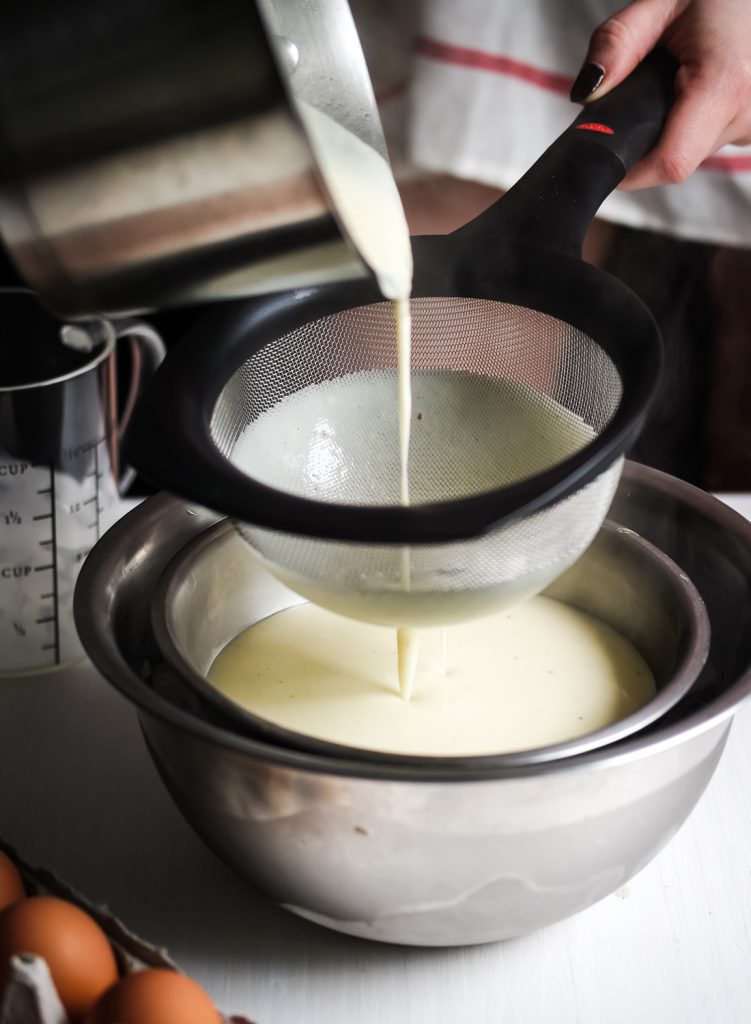 Let it cool here or in the fridge, stirring frequently, until it's chilled enough to go in your ice cream machine.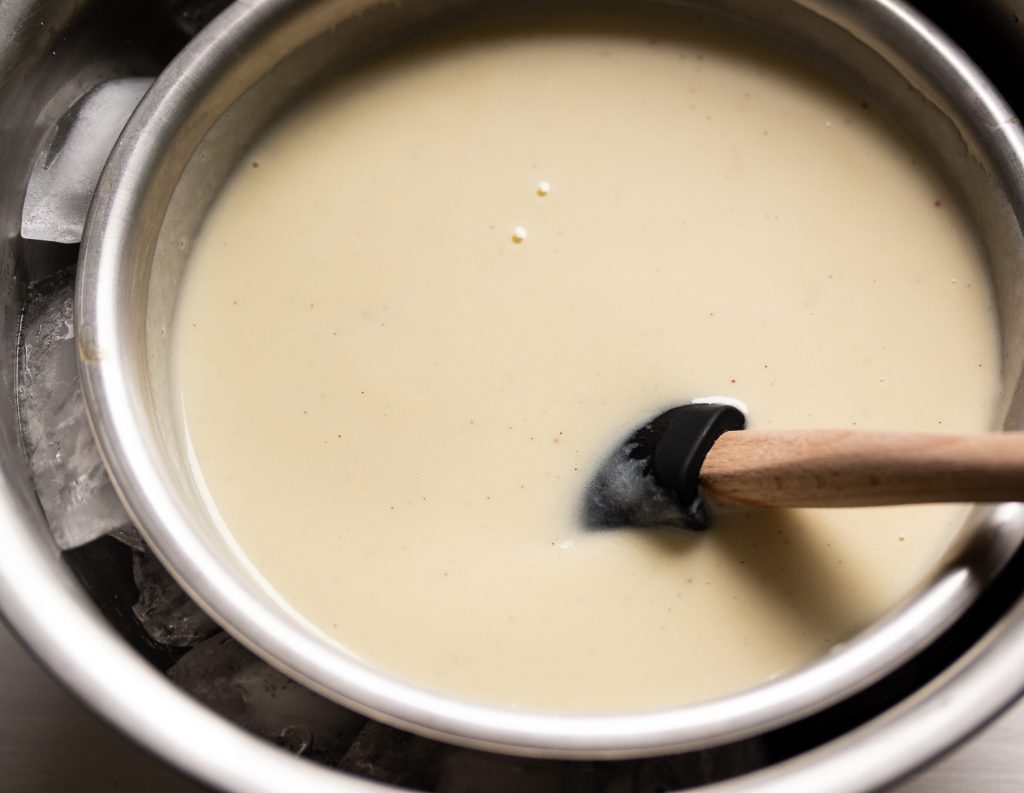 WHY an ice cream machine? Why not a no-churn recipe?
Well, glad you asked. VOLUME and SCOOPABILITY in ice cream is created by whipping or folding air into the cream base as it freezes. Churning ice cream gives it a different texture and that signature scoop that we all know and love.
Invest in an ice cream maker (I use THIS one) and store the tub in the freezer. Then you are always ready to ice some cream and it's worth it.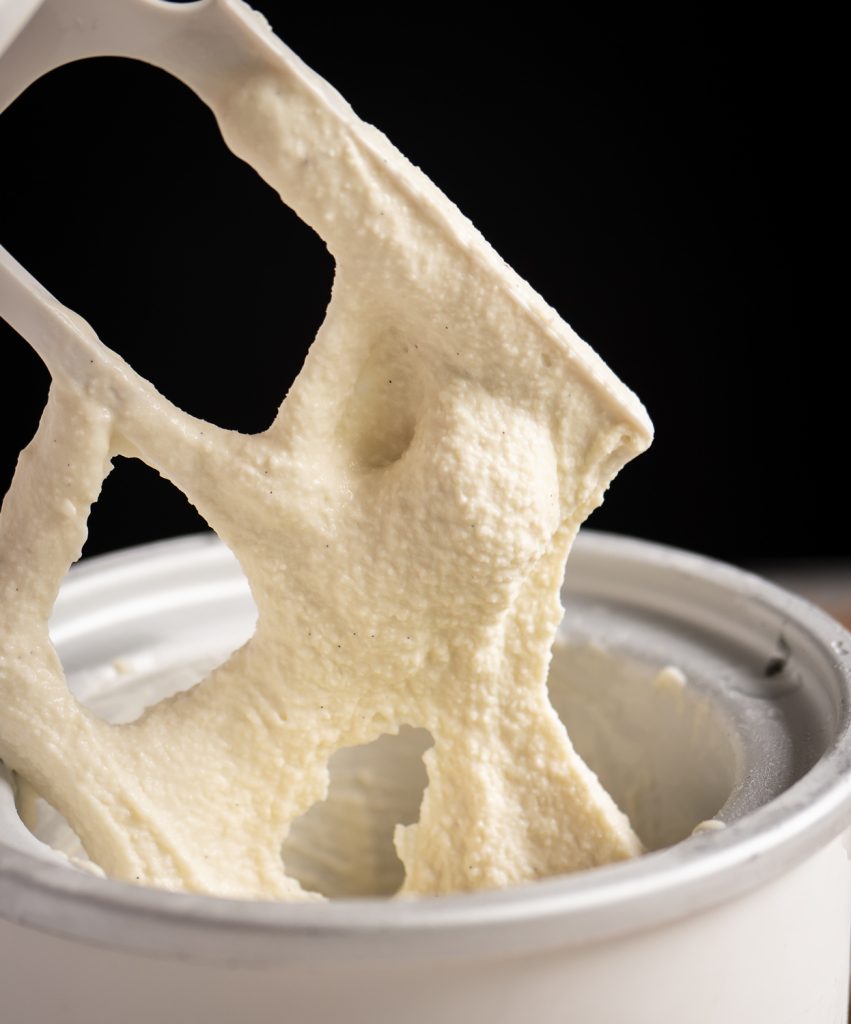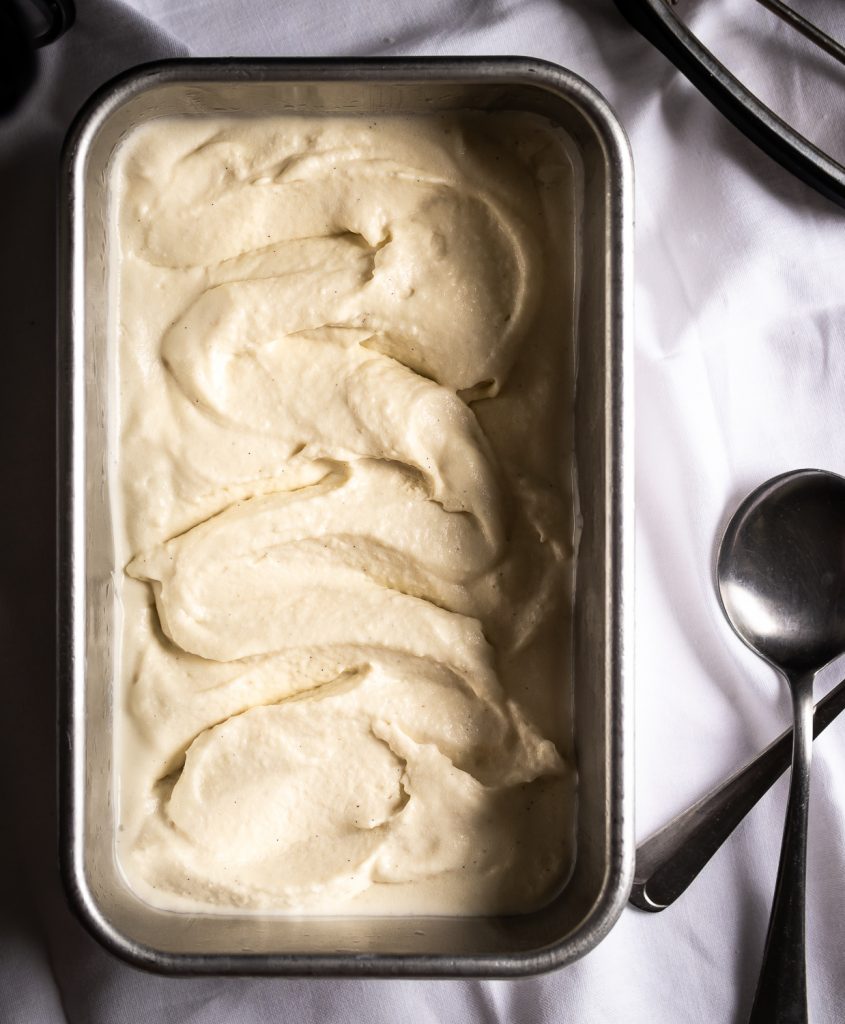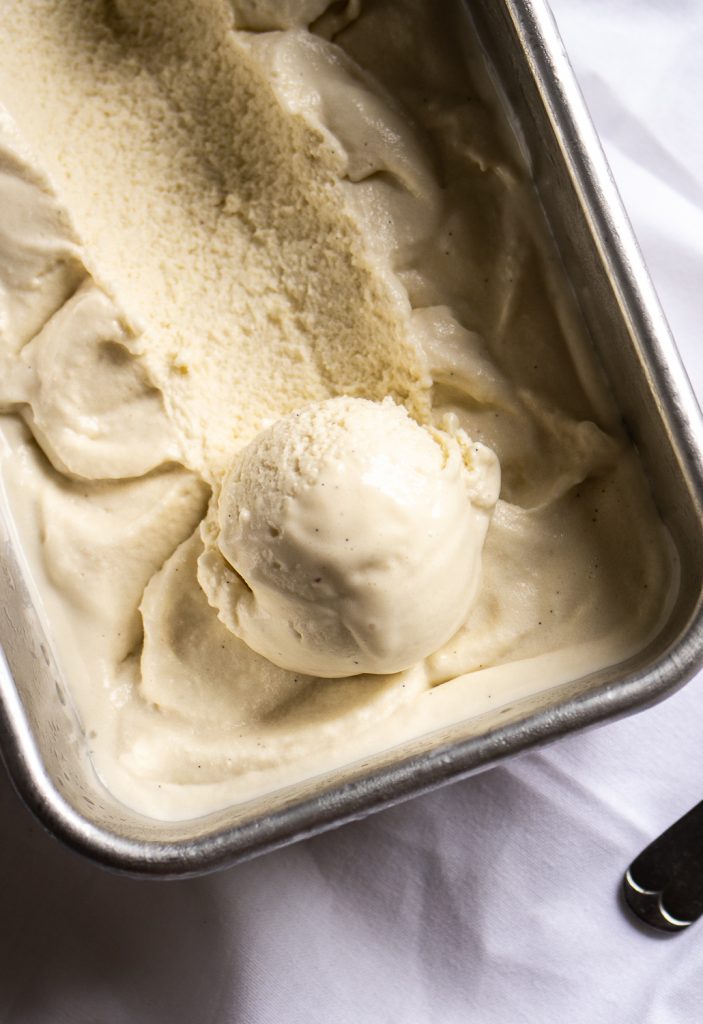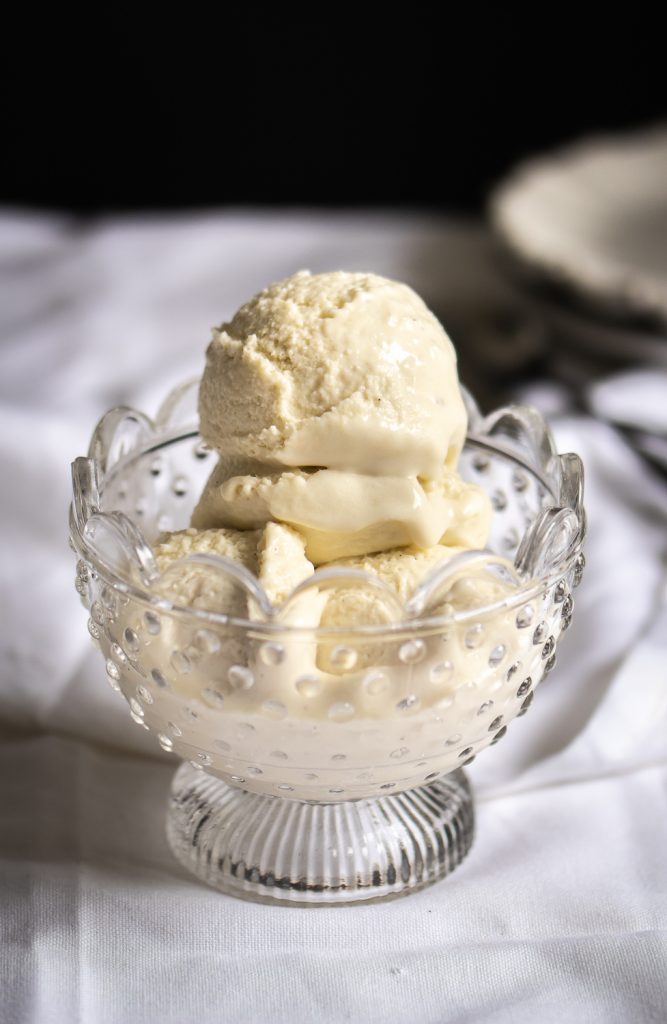 The Best Keto French Vanilla Ice Cream
This isn't just any vanilla ice cream, it's FRENCH Vanilla! Yes, there's a difference!
Ingredients
1 can Full Fat Coconut Milk, room temperature (yields about 2 cups liquid)
1 1/2 cups Heavy Cream
3/4 cup Swerve, divided into 1/2 and 1/4 c.**
2 Vanilla Beans, halved and seeds scraped
OR 2 tsp Vanilla Extract
Pinch Salt
5 Large Egg Yolks
*A Sieve for straining
Instructions
Heat the coconut milk, heavy cream, vanilla (pod and seeds), salt, and 1/2 cup Swerve (or sweetener of choice) in a saucepan over medium high heat.
Keep the heat at just below a simmer, stirring frequently for about 5 minutes.
Fill a large bowl with ice and sprinkle with rock salt and set aside. This is to cool the ice cream base quickly, but you can let it cool in the refrigerator overnight as well.
In a separate bowl, beat the egg yolk and remaining sweetener with a wire whisk.
Temper the egg by adding 1 cup of the hot cream mixture to the beaten egg and mixing well, followed by another cup of the cream mixture until the two are completely combined.
Return the mix to the saucepan and cook over medium heat, stirring constantly until the cream base thickens. It should coat the back of a spoon but still be thin enough to pour.
Strain the mixture through a mesh sieve into the prepared ice-water bath and let it cool completely, stirring occasionally.
Once cool, add the base to your ice cream machine and flip the switch! Once it's done processing, store it in a loaf pan or airtight container to firm up more before serving.
Notes
**Powdered Swerve works best here to reduce and gritty texture but regular (granulated) Swerve would do in a pinch too.

-Swerve is a non-nutritive sweetener brand. The product is a combination of erythritol and oligosaccharides that are naturally derived from fermentation.