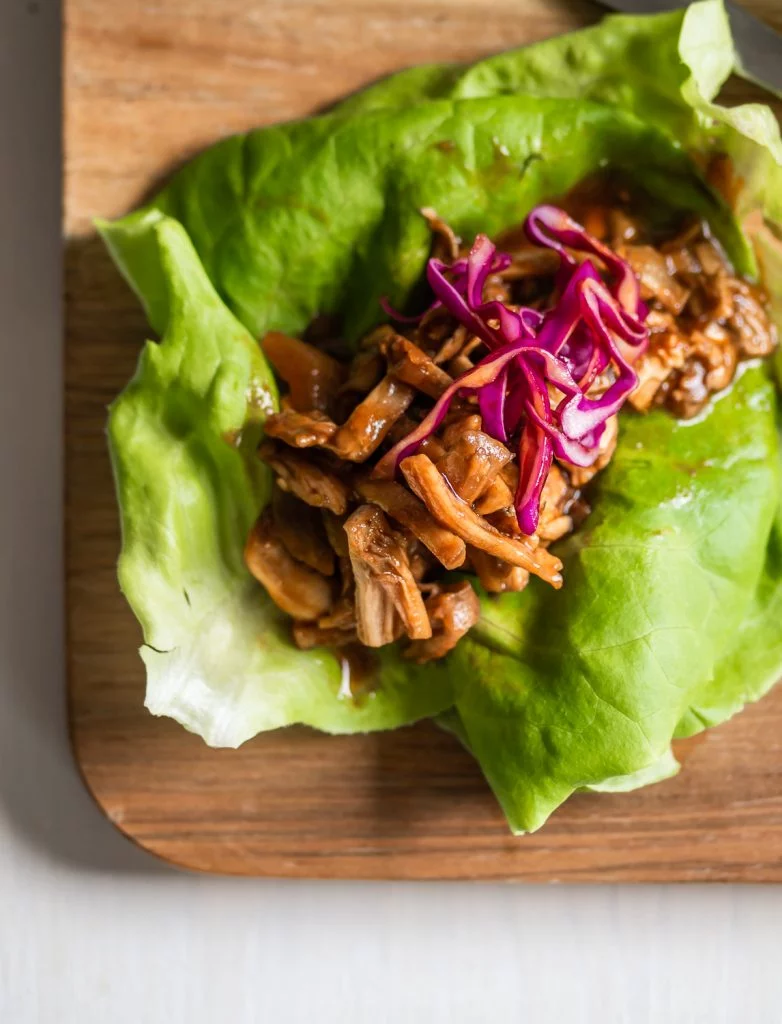 When I tried to explain this recipe
to my nephew and his lovely girlfriend, they were aghast. The concept, so fleeting, that all they could do was stare at me as if something in my aging vegetarian mind had finally snapped.
Well, it did snap, but in a cool way. Like how you applaud a beat poet in a 90's coffee shop and not like a mental break.
The good snaps.
It's not a new idea, but it's new to me.
"Pulled" mushroom stems and caps are the basis of this recipe which means you have to be OK with the texture of mushrooms. Though it changes slightly once sauced, they are still mushrooms! Now, I can't lie, even before my vegetarian days, I was not much of a meat consumer. I had tried pulled pork twice (MAYBE) in my life so I am no authority on pork, pulled or otherwise. I do have an opinion on saucy flavor, and a good sauce makes the fact that this is mushroom stems and not flesh easier to swallow.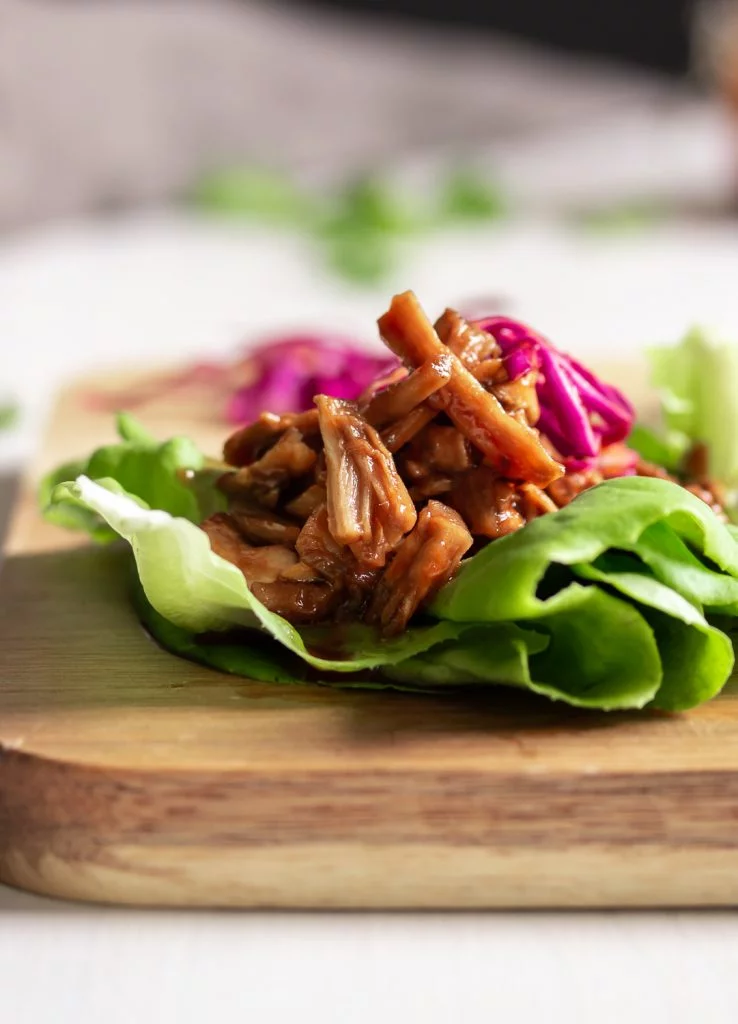 Why not Jackfruit?
The miracle of jackfruit and it's stringy, meaty fruit flesh is delicious. That I cannot deny. It is also a fruit that is lower in fiber and water content which pushes the carb-to-fiber ratio out of most low carb or keto dieter's safety ranges.
Where a 1/2 cup serving of Jackfruit BBQ is approximately 11 g Net Carbs our mushroom counterpart is closer to 2 g Net Carbs. SO it is definitely worth the consideration (and the work)
Vegan Porkless Pulled Pork!
The other white non-meat!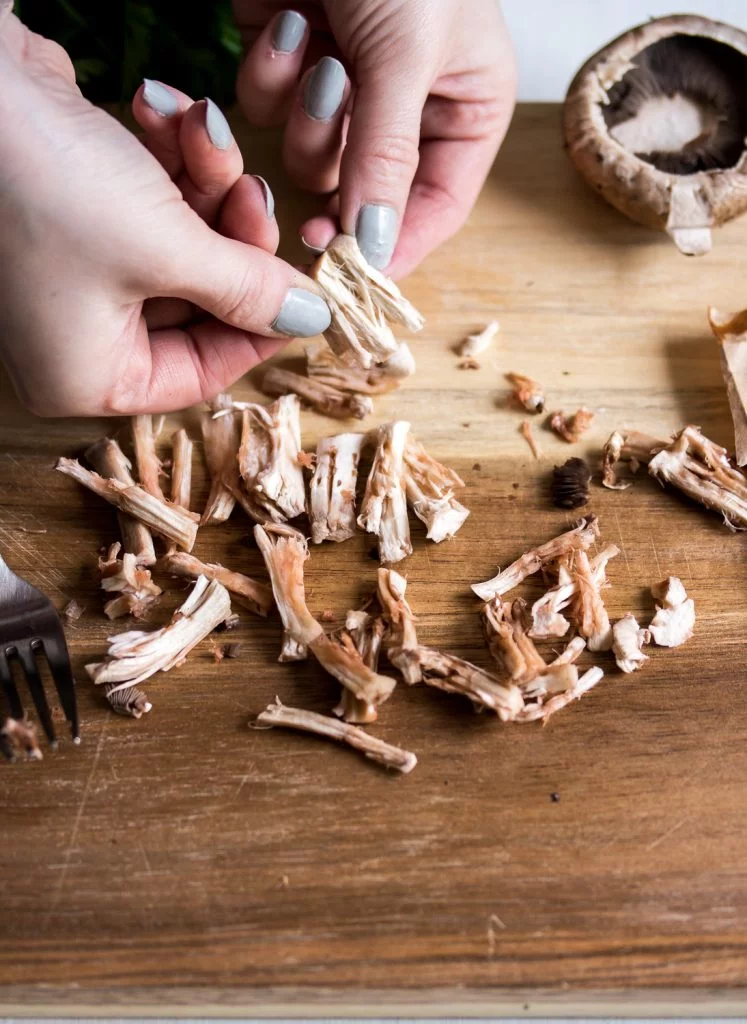 To prepare the mushrooms, remove the stems and scrape all of the gills from the inside of the caps. This is for texture and to reduce any added moisture.
Use a fork to begin the shredding process on the stems, then finish the job by peeling the remaining stem apart with your fingers.
And don't forget that every task is less tedious with a cocktail nearby.
That's just science.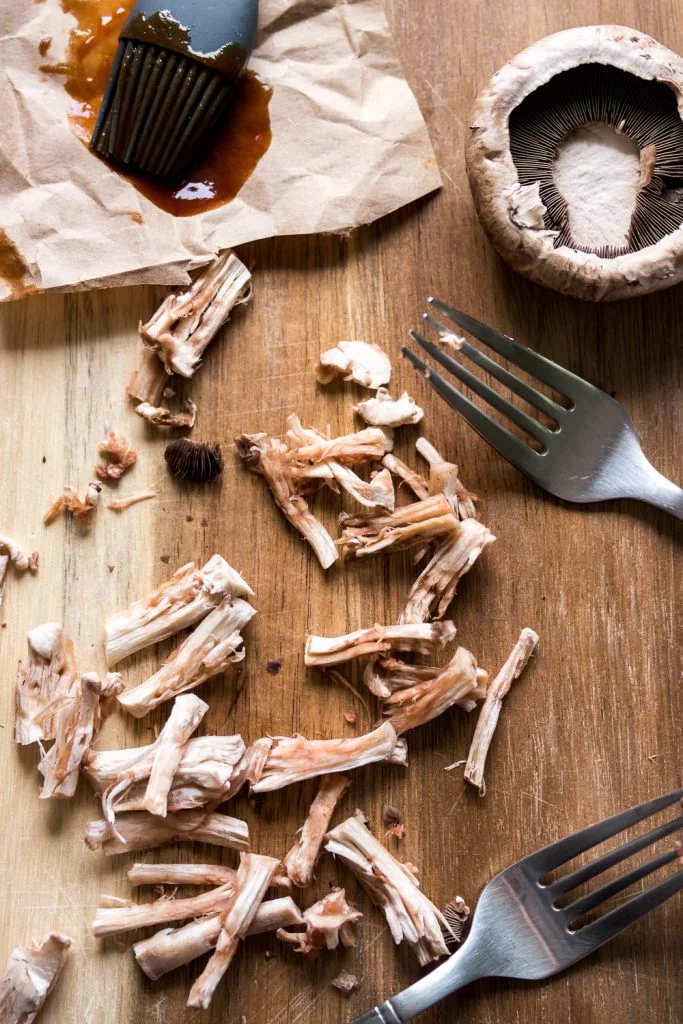 Cook carefully because mushrooms release a good deal of water during the cooking process.
The goal is to let the mushrooms release their water so the pulled "pork" mixture isn't too wet or runny when we add the sauce. Once the mushrooms sweat out most of their water, you can add the onions and saute them until soft.
Then just add your sauce and heat over medium until the mixture is hot and bubbly.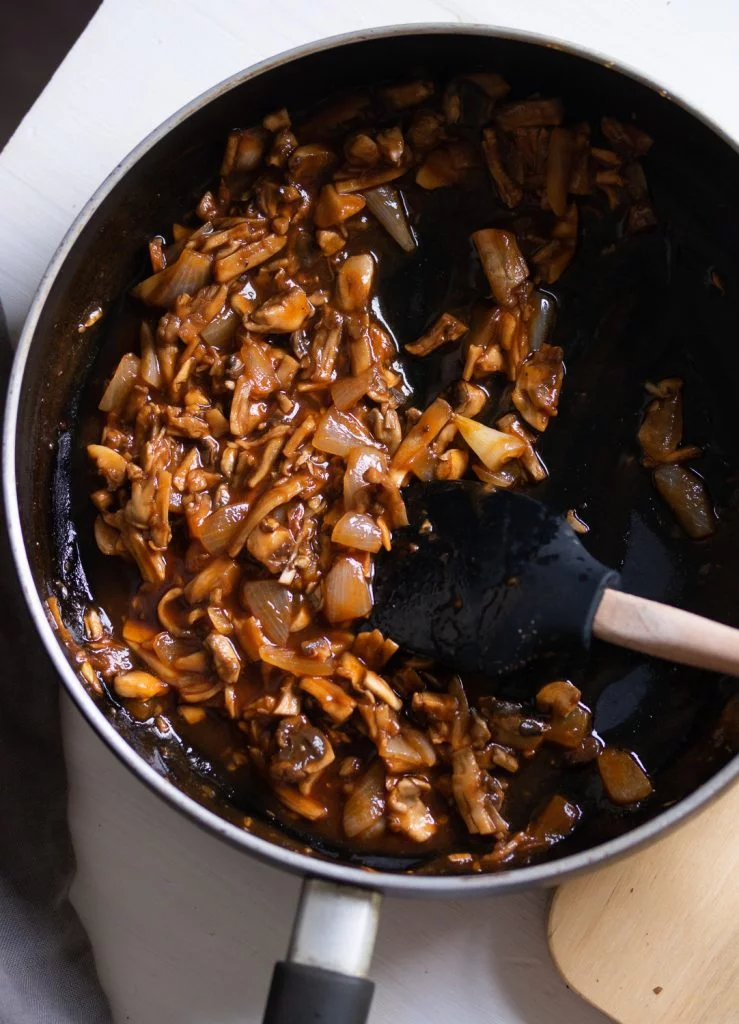 You can use any barbecue sauce you prefer, or you can try my super simple Keto Barbecue sauce and make your own!
Wrap it in lettuce cups or pile it high on a keto burger bun.
I'm going to test it out on a pizza and in nacho form soon because it's so quick and FULL of flavor.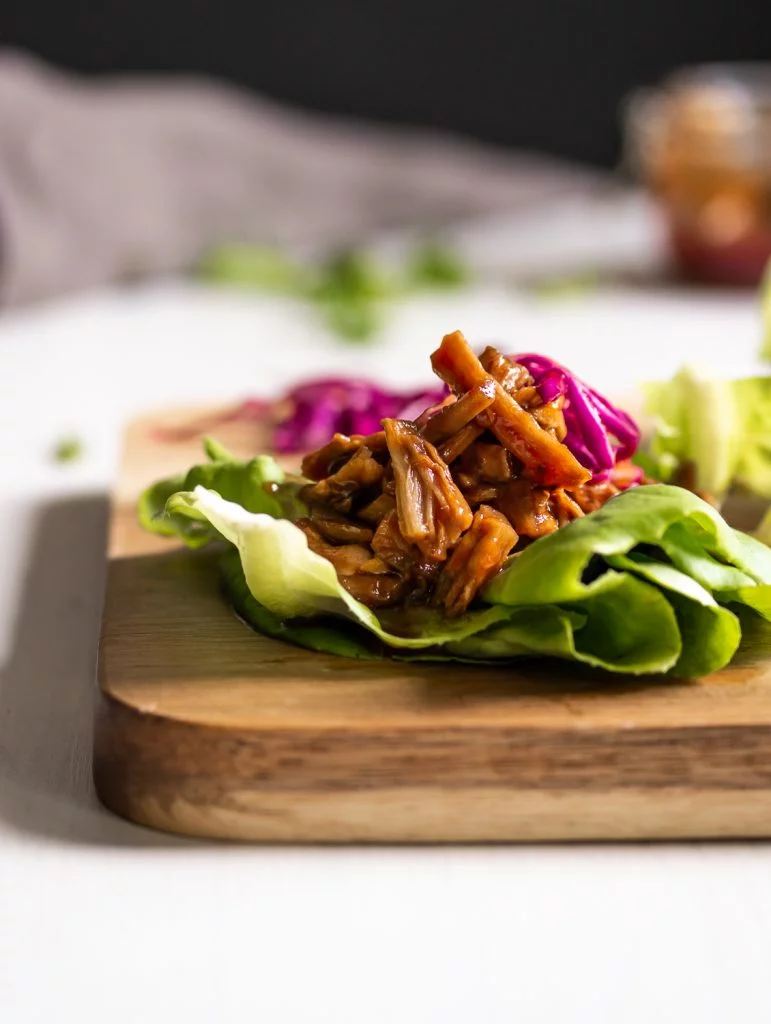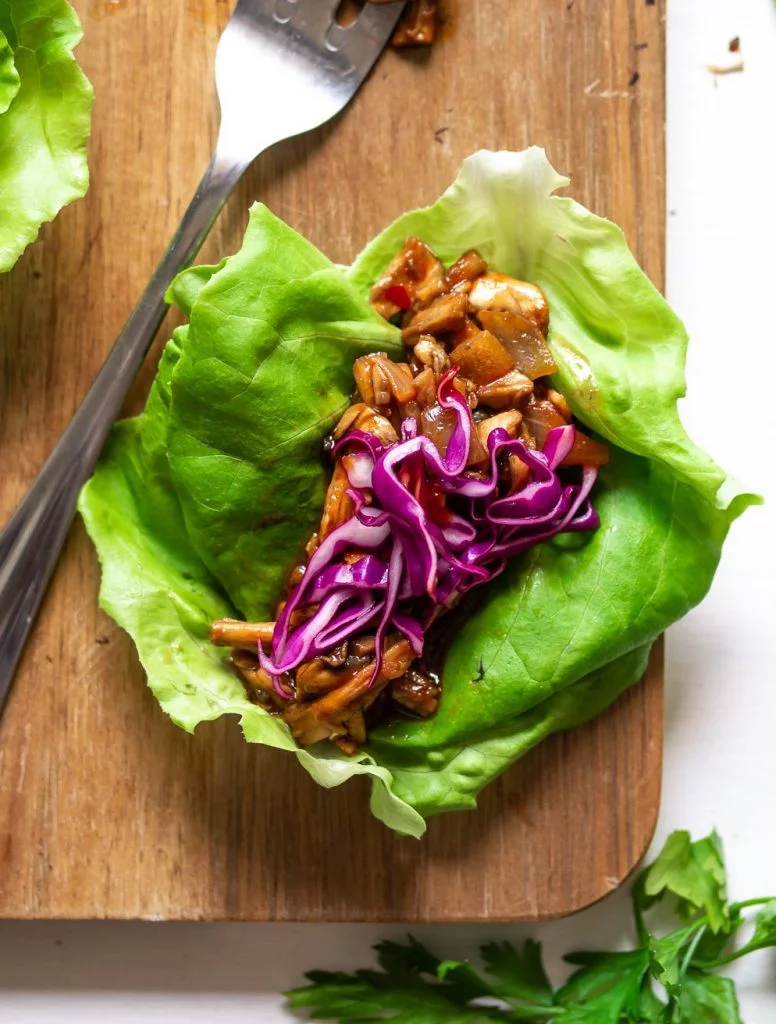 Keto Pulled "Pork" Lettuce Wraps
The porkless pork substitute that isn't jackfruit! Sauce it with your favorite bbq and pair it with sturdy lettuce leaves or buns of your choice!
Ingredients
2 8 oz packages Portobello Mushrooms *can use other varieties too!
1 tbsp Olive or Avocado Oil
1/4 cup diced Yellow Onion
1/2 cup Sugar-Free Barbecue Sauce
Lettuce Leaves, for filling
Pickled Cabbage or creamy slaw for topping
For the BBQ Sauce
3/4 cup Ketchup no sugar added
2 tbsp Swerve Brown Sugar
1 tbsp Apple Cider Vinegar
1 tbsp Worcestershire sauce
2 tsp Smoked Paprika
1 tsp Dry Mustard
2-3 drops Liquid Smoke
Instructions
For the Sauce
Whisk all ingredients together.
For the Pulled "Pork"
Remove the stems from the mushrooms and scrape the gills from the mushroom caps. I used all of the stems but about half caps for texture purposes. Safe the rest for literally anything else because it's mushroom caps!
Slice the caps into long thin strips, then using the tines of a fork, begin to shred the stems. Finish by pulling apart with your fingers.
In a skillet saute the mushrooms so they release their water.
Add the oil and onions and saute gently. Stir in bbq sauce and cook over medium-low until the sauce is heated.
Serve immediately.