Why aren't more folks making baked mushroom fries breaded in parmesan cheese and dipped in Sriracha mayo?? Because these baked mushroom fries are keto, gluten-free, and seriously addictive!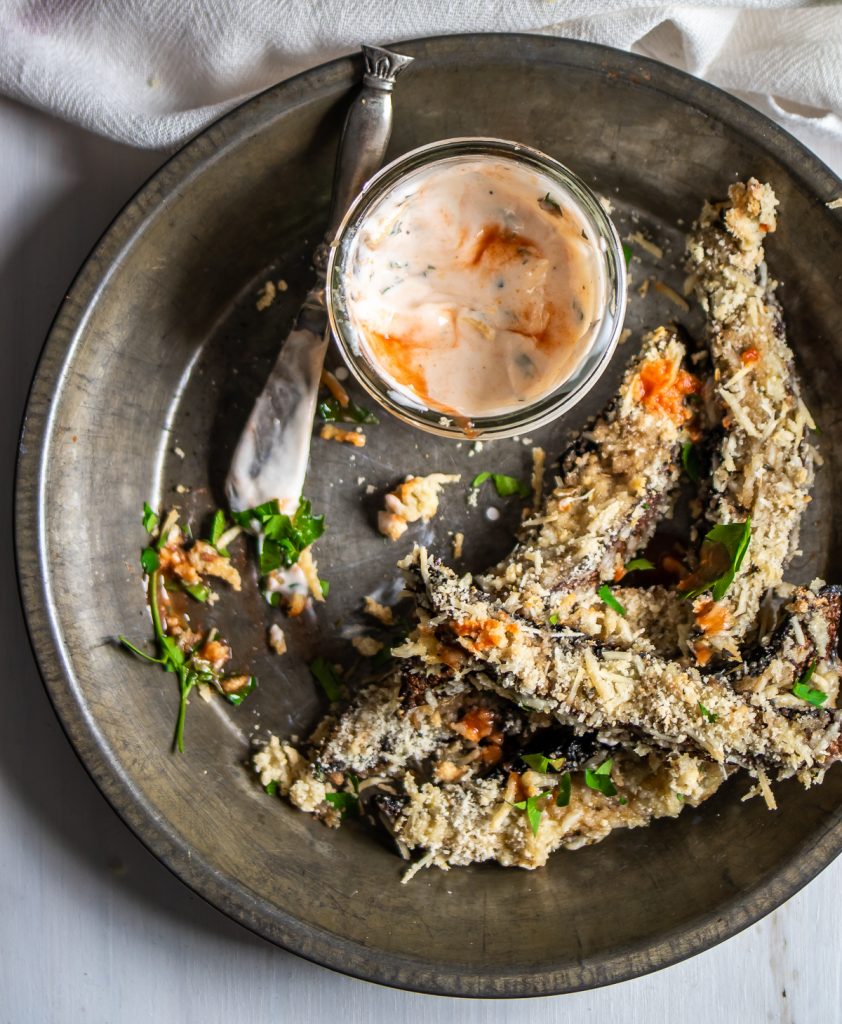 These baked mushroom fries and I have some history…
Not like the "we dated but the recipe and I grew apart but it ended amicably" kind of history, but the kind of powerful history that speaks to something I struggle with regularly and I'm betting some of you do too. Self-doubt.
I have wanted to post this delicious recipe for two years(!!!) but I didn't. Until today, I put it off with the excuse that the recipe wasn't "ready" yet. Maybe the cut was too thick or there wasn't enough crust…and then it was too damn crusty. Oh, and then I felt the moment for mushroom fries had passed. Really! That was a true statement from my inner dialog…
And that's just how I think about food so I'll let you guess how hard I can be on my appearance, work, and life. Sound familiar?
Let's stop stopping and start starting
How often do you postpone something that you know will be great because it's not perfect? How often do you miss out on good because you're afraid you're not good enough? We are GREAT at reminding ourselves how bad we are at things but really bad at reminding ourselves how GREAT we are at things. So this is an opportunity: me asking you to recognize how great you are and to enjoy life. Thanks for coming to my Ted Talk. Now on to the recipe!
Steak Cut Portobello Mushroom Fries
Mushrooms are friends,
not foes.
But they are fauxs,
for potatoes.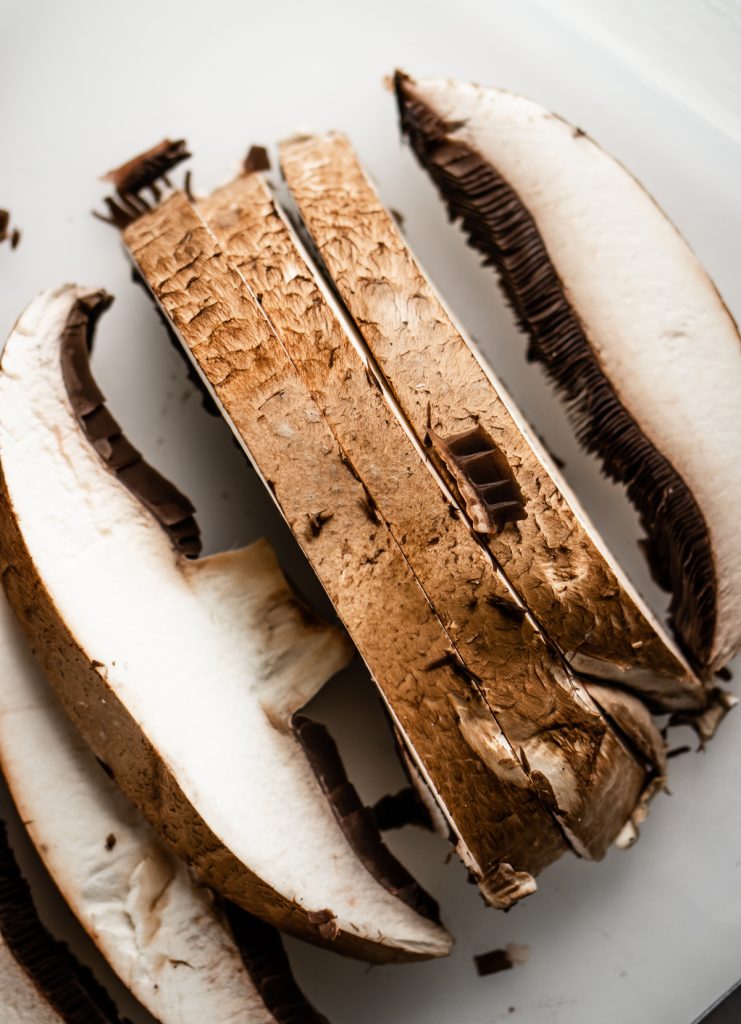 The key to making the best baked mushroom fries is:
The size of each slice
The proper gluten-free breading
Patience
You want to be sure to clean the mushroom well and remove the gills (the dark interior) to prevent the fries from becoming soggy. To remove the gills from a portobello mushroom, use a small knife to remove the stem, then scrape the gills away with the edge of a spoon. Easy!
Then slice the cleaned mushroom cap into 1/2 to 1-inch thick strips. Don't go thinner than that or the mushroom fries won't stand up to dipping. Much larger mushroom strips can work, but they will take longer to bake and won't have as great of a breading-to-mushroom ratio.
After that, it's your basic dredge & coat situation. Dip the mushroom strips little beaten egg and a little keto breading, repeat, and bake until golden! This is a basic keto breading method and believe it or not, can be done with a ton of different vegetables! Or even Mozzarella String Cheese!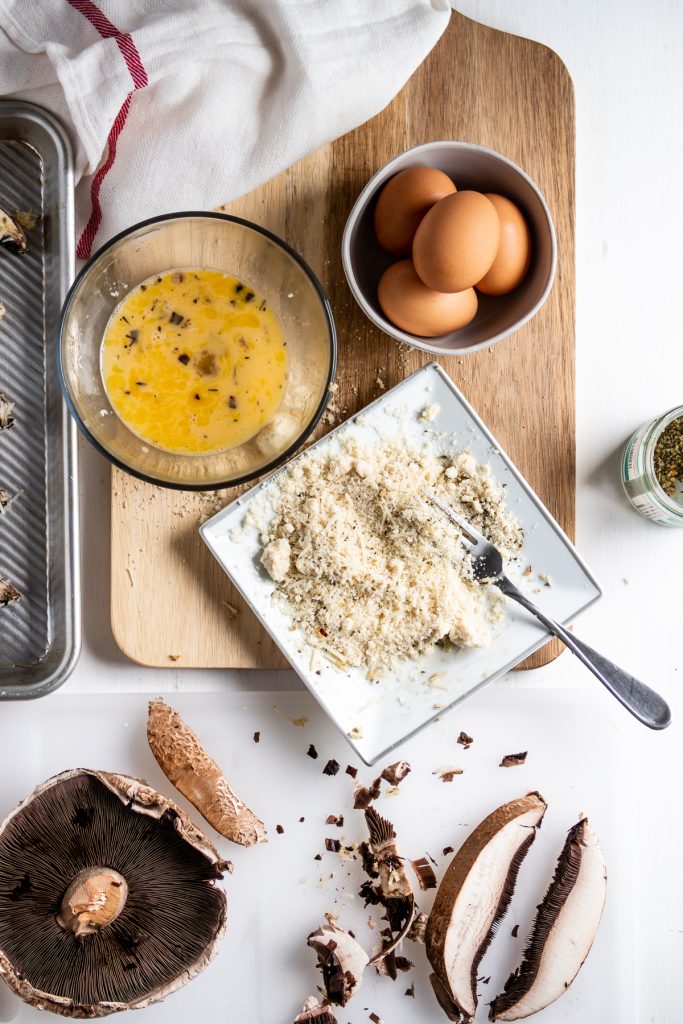 And finally, the REAL secret to a delicious mushroom fry is dipping it in an unmeasured mixture of sriracha and mayo. I'm not sure if the first step to self-love and acceptance is mayo mixed with sriracha…but it could be.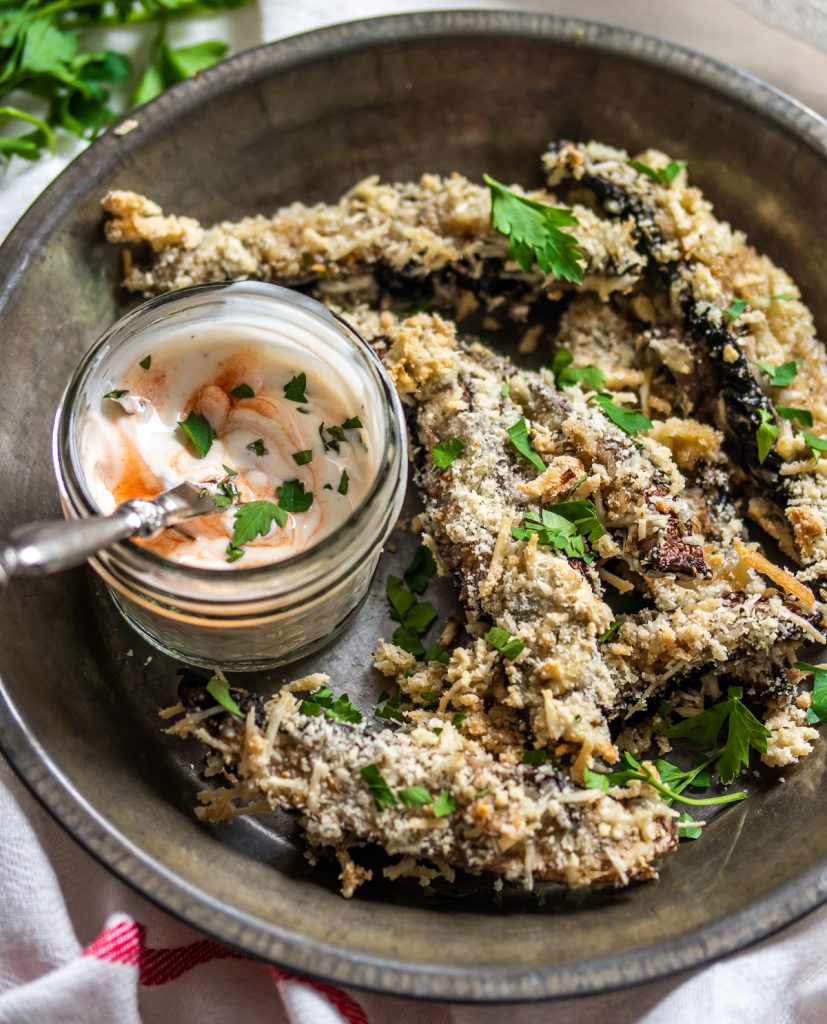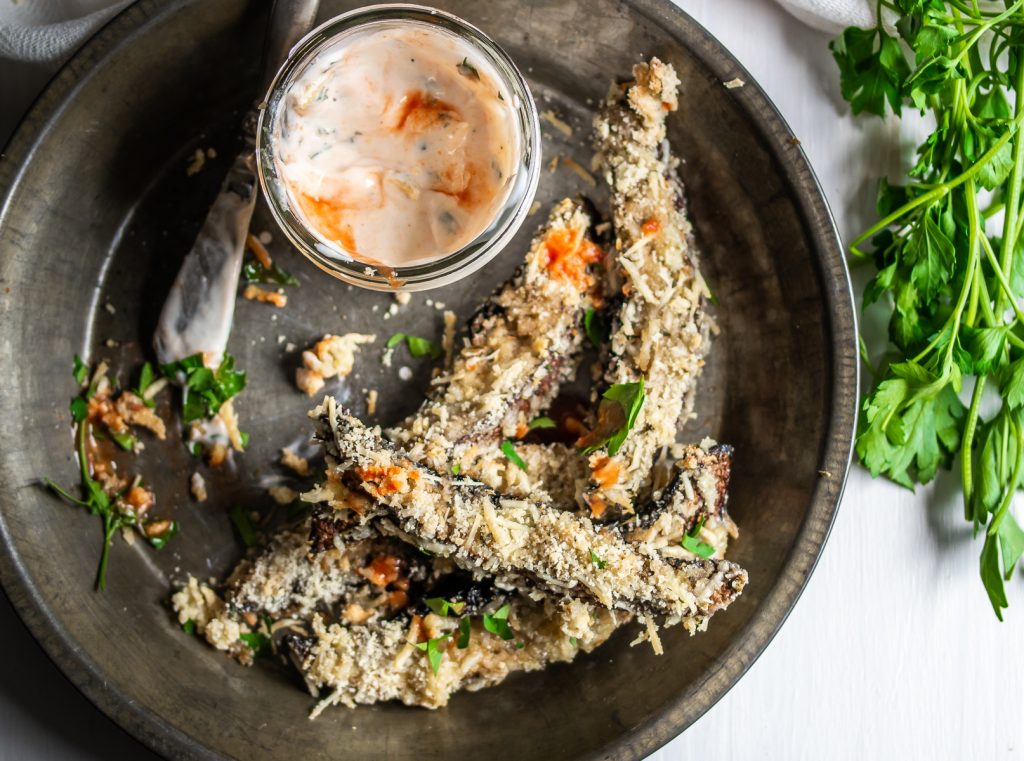 Looking for more? Try These!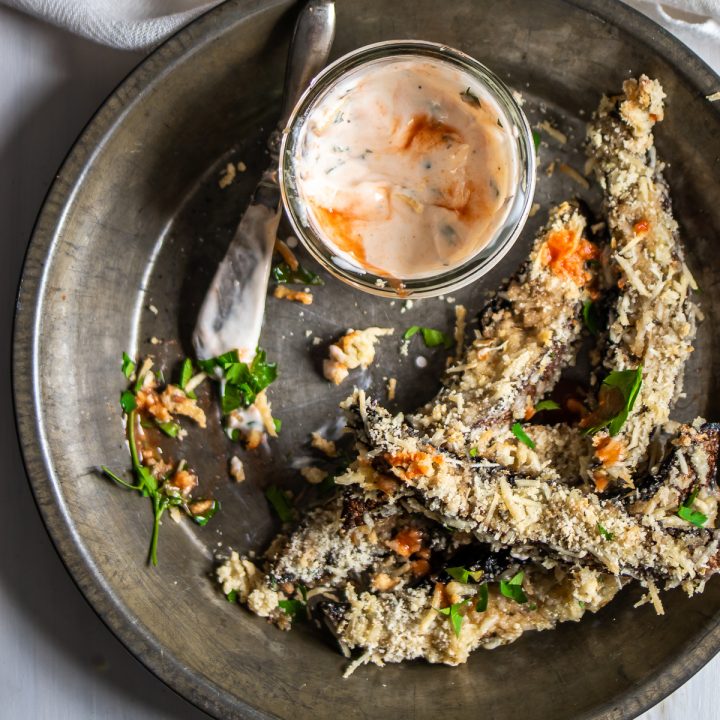 Steak Cut Portobello Mushroom Fries
Picture the popular breaded mushroom appetizer, only healthier and baked and 100x better.
Ingredients
2 large Portobello Mushroom Caps, cleaned and sliced THICK
2 eggs, beaten
1/2 cup Almond Flour
1/2 cup Shredded Parmesan Cheese
1 tbsp Italian Seasoning
Parsley to garnish
Instructions
Heat oven to 400 degrees and line a baking sheet with parchment or a spritz of cooking spray.
In a small shallow dish, combine the flour, cheese and italian seasoning.
Dip mushrooms in egg and then in the flour mixture.
Place on baking sheet and cook for about 10 minutes or until the crust begins to brown slightly. It might take longer depending on the oven.
Serve hot with a plethora of dipping sauces and self confidence. And wine.
Nutrition Information
Amount Per Serving
Calories

191
Total Fat

14g
Carbohydrates

5g
Fiber

3g
Protein

14g