The classic tale of Boy meets Girl but with Caprese Salad and Potato Salad. Only the Caprese gets wise to Potato's sneaky, starchy ways, dumps the carbs and upgrades to Cauliflower!
If that's not a love story, then I don't know what is…
---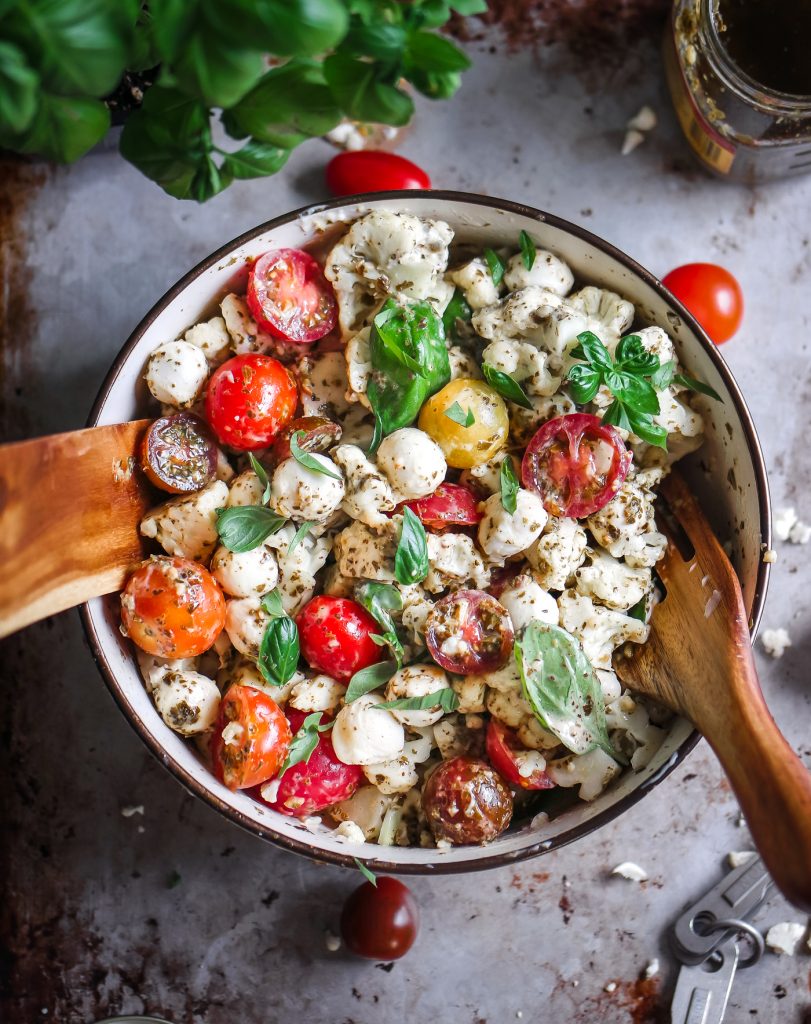 So maybe cauliflower isn't the most romantic food
But I'm not really sure what kind of food romances a Low Carb, Gluten-Free Vegetarian in her mid-thirties? Does anyone?
Does it even exist?
Probably. But if I can't think of even ONE romantic food item (other than wine…) that means I've been cooped up for too long.
Honestly, once I started referring to cauliflower as "romance food" is when the intervention needed to begin. Luckily, I finally thought of something. Cheese.
Mozzarella Balls = 😍
Is anything more romantic that balls of salty cheese? And pesto?! PLEASE. Pesto is #1 love story material, just from the sheer fact of how oily it is. I may be on the single streak of my life, but I know for a FACT that pesto is romantic and sexy. Look it up.
Luckily, this salad is filled with pesto and cheese and a bunch of other really delicious things that have nothing to do with romance but I feel like now I'm on a roll so…let's go with it.
Also, I'm not entirely sure why I keep pairing Caprese with potato salad. All I can gather is that I was eating a vegan polish sausage and craving some of the classics with a twist and here we are.
Vodka was probably involved.
Keto Caprese Cauliflower Salad
It's like potato salad with absolutely no potato salad ingredients!
AND no potatoes!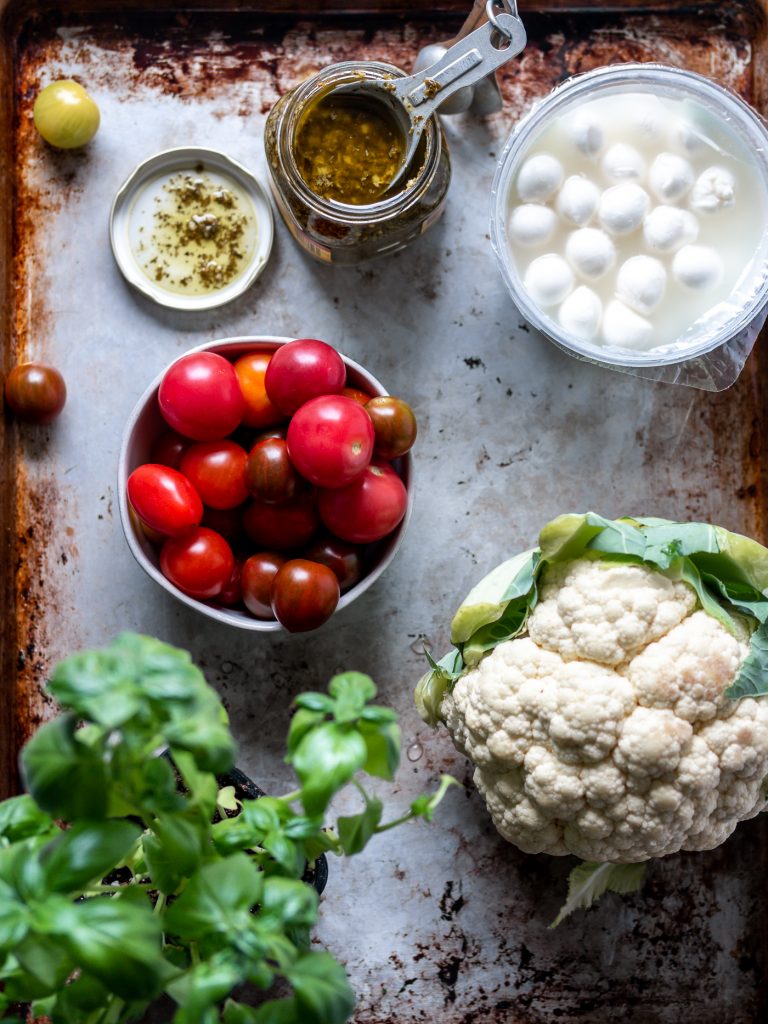 This is what love should be, in food form.
Complicated but simple. Lots of ingredients but it seems totally doable!
Probably even good enough to bring to the family barbecue on the fourth of July!
Everyone will at least give it a fair shot, though we all have that one uncle will give you a hard time about your choice of passing dish.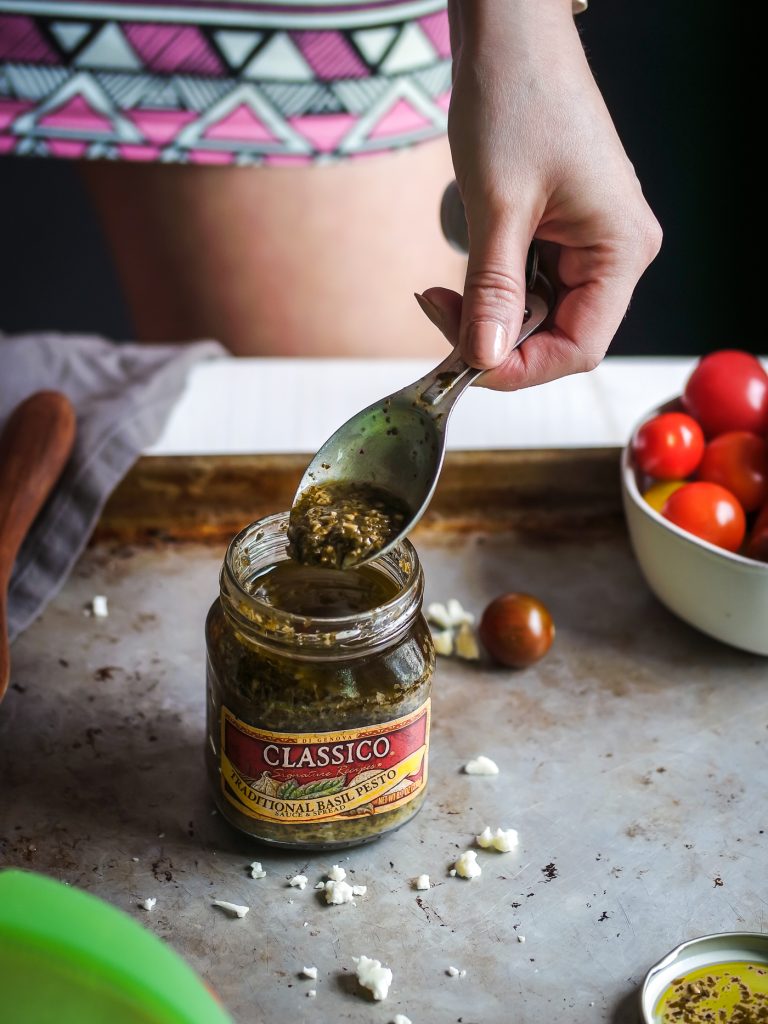 You know, the norm.
But you don't even care because this "dish" that you have prepared is new and exciting while still fitting in your macros!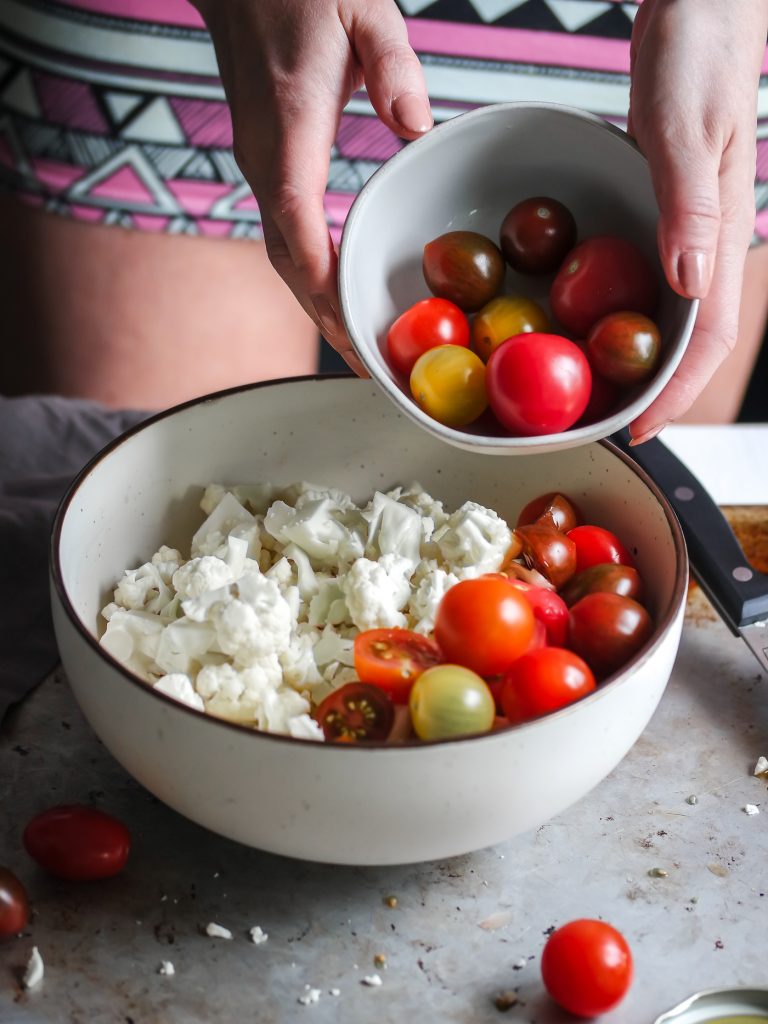 It's got it all. The green. The salty factor.
The creamy but then there's a health factor, but also a little extra fat to feel like you're being a little dangerous. And Keto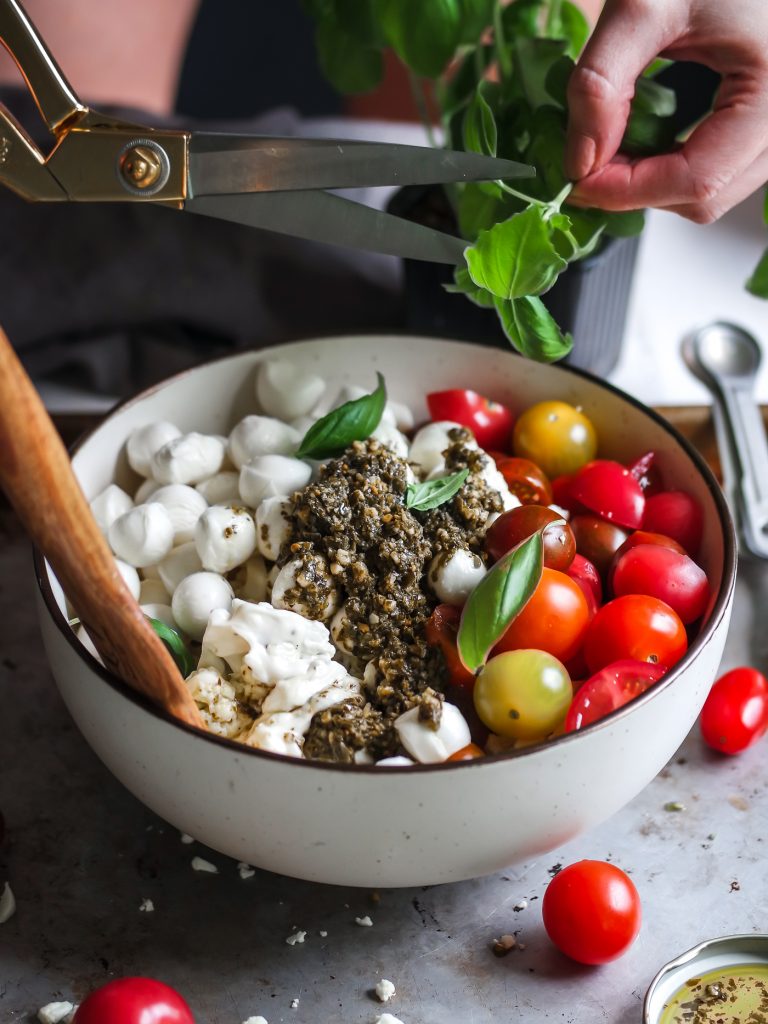 And just like introducing a new dish to the fam, some of the ingredients will be fudged.
There is no "exact" measurement for this salad.
A head of cauli, a few heaping scoops of mayo, and a lot of pesto.
We all have different tastes and preferences. Make it your perfect love salad.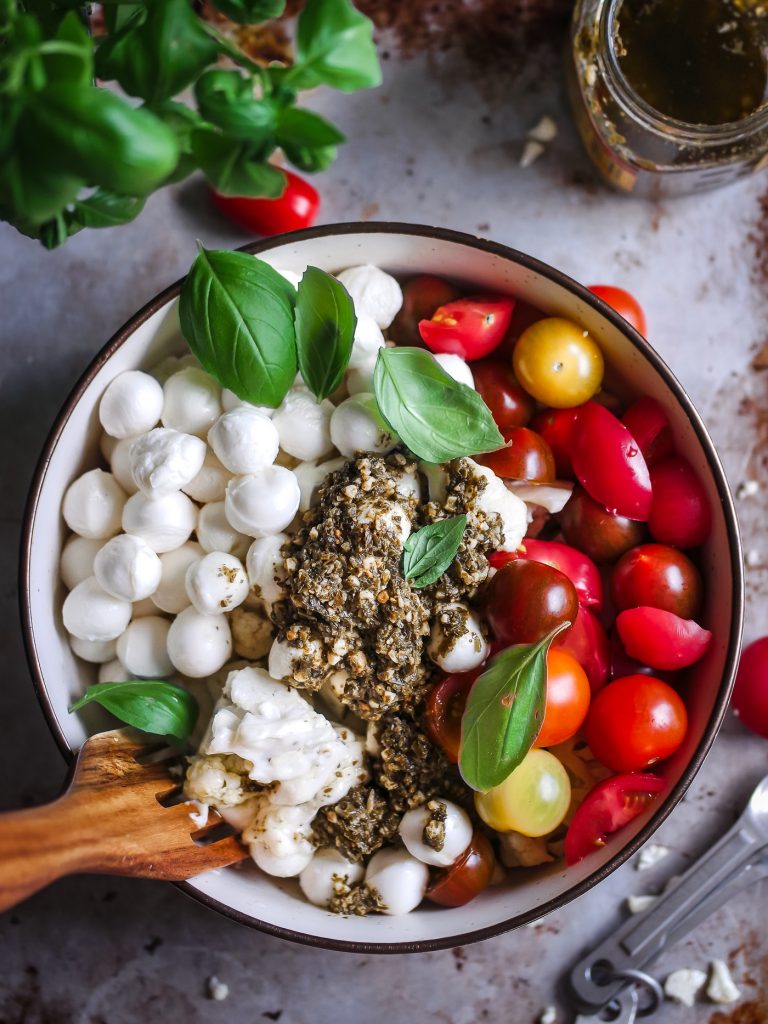 And since nobody likes a tough guy salad, the cauliflower should be at least steamed slightly.
Just a few minutes covered in the microwave or steamer does the duty.
Fresh basil is non-negotiable. If you want to win everyone over, this dish has to smell amazing…
And it will.
BONUS if you want fewer calories!!!!
Use less pesto and go light mayo instead of full fat and garnish from here to eternity with basil. It will be so beautifully fragrant. Trust me.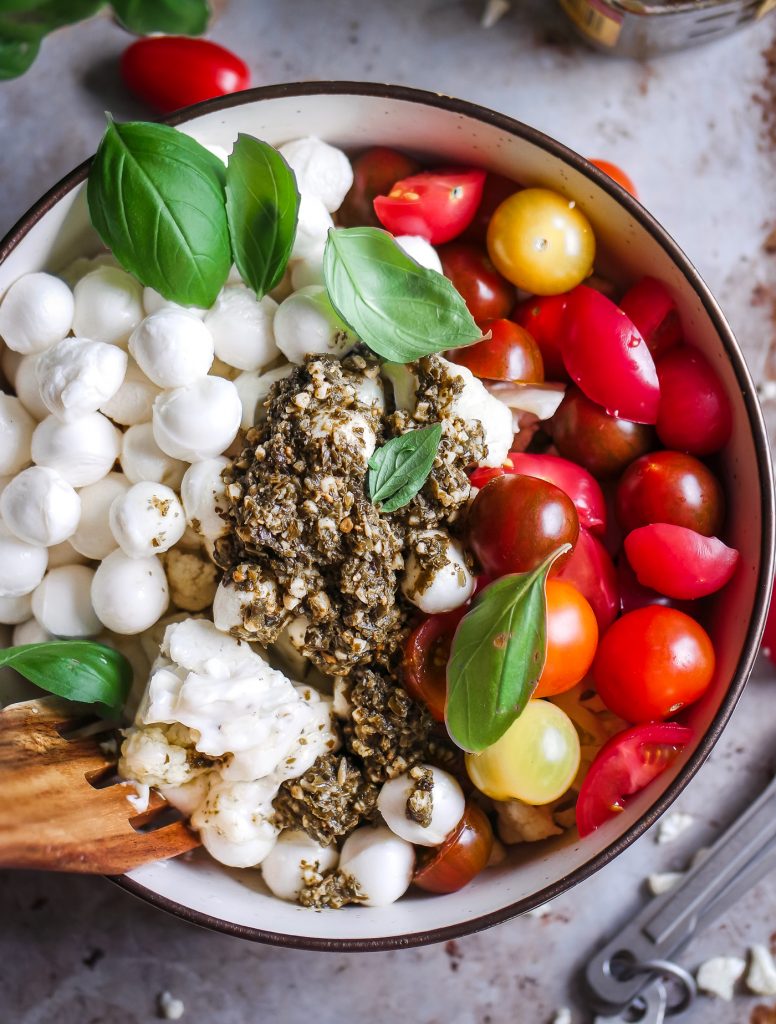 Once you toss it all together, it just gets better.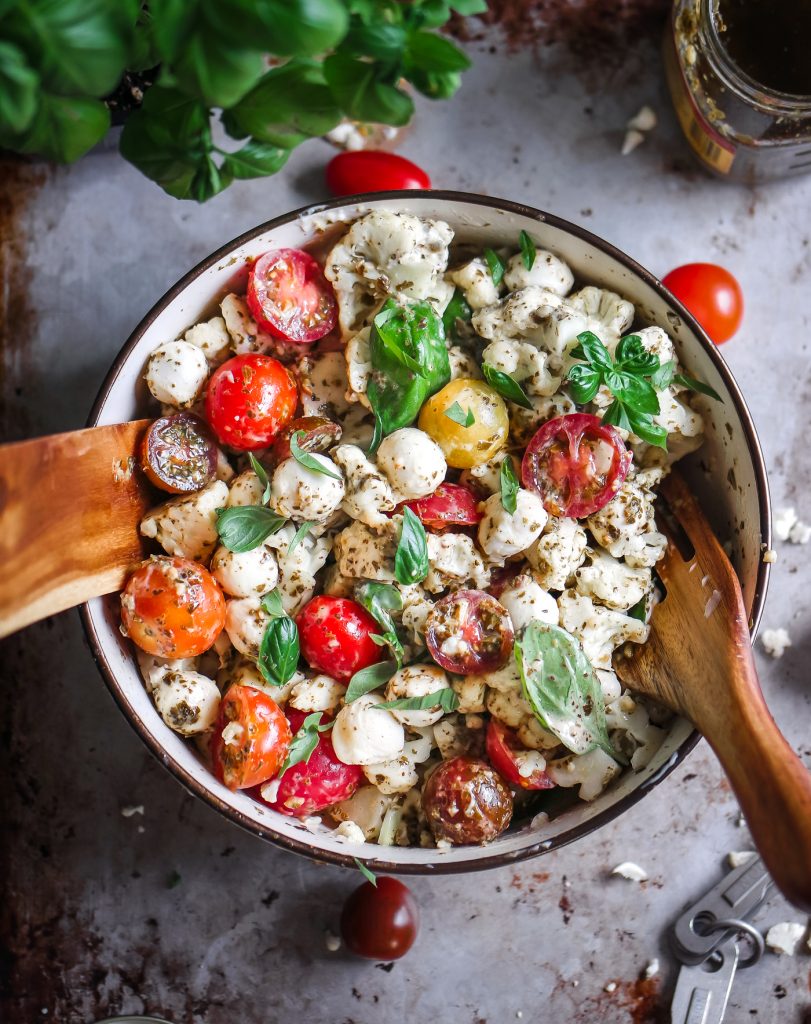 This dish just might be the one!
You know, until the next recipe comes along.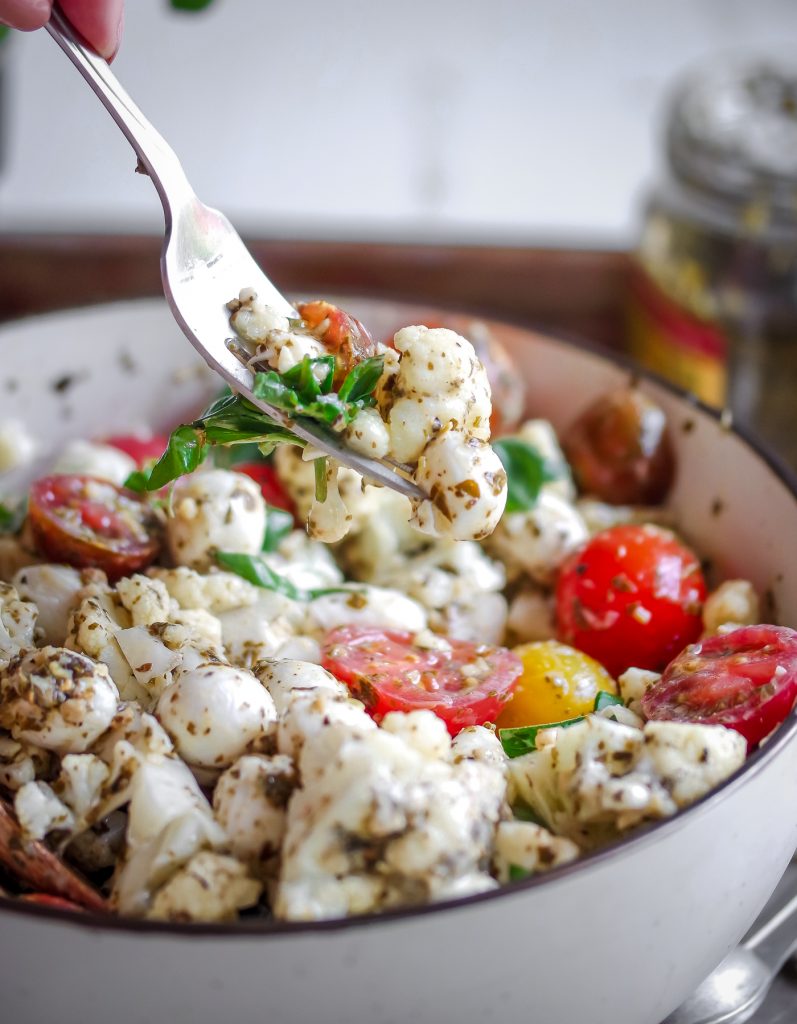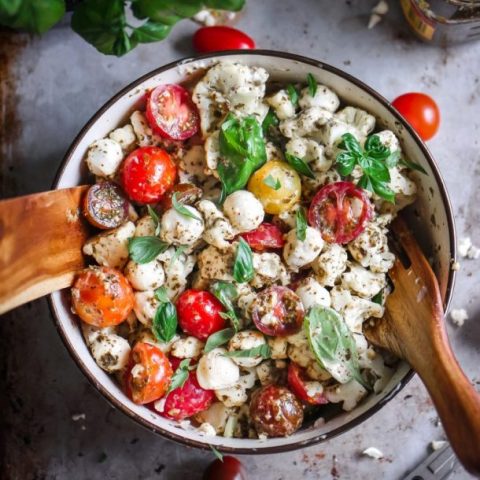 Keto Cauliflower Caprese Salad
Fall in love with caprese in a different way!
Ingredients
1 uncomfortable family bbq and/or pool party
1 head Cauliflower, stems removed and hunk'd
2 cups Cherry Tomatoes, halved
Fresh Basil to garnish forever
Sea Salt and Pepper, to taste
Instructions
Rough cut the cauliflower and place it in a microwave steamer or blanch in hot water until the florets are firm but can be pierced with a fork, about 3 to 6 minutes.
Drain the cauliflower and let cool for 5 minutes at room temperature. Add all of the ingredients to a large bowl and toss gently to coat. Add more pesto or mayo as desired.
Top with fresh basil and season with salt and pepper.
Serve to a new lover in uncomfortable family situations with glass after glass of wine.
Nutrition Information
Yield

6
Serving Size

about 1/2 cup
Amount Per Serving
Calories

218
Total Fat

16g
Carbohydrates

7g
Net Carbohydrates

4g
Fiber

3g