Not actually corn, but who am I kidding? I don't even like corn anyway!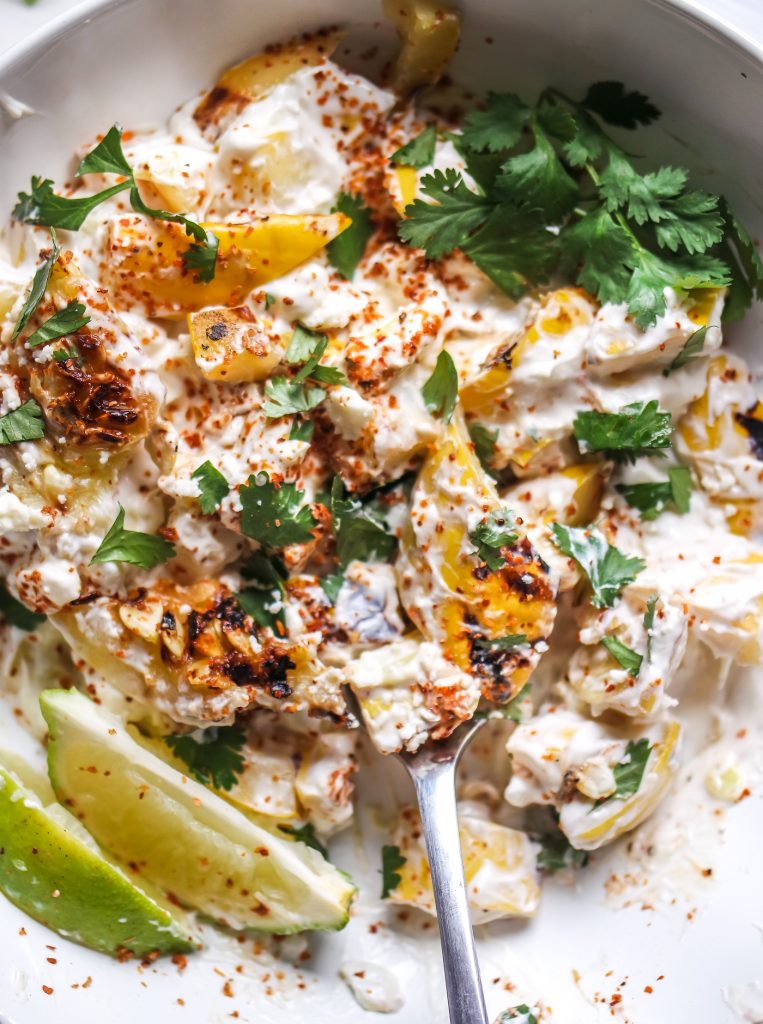 Let's Squash This Summer.
Because while everyone is out cooking corn in all of the popular corn-cooking ways, we will be low carb livin' it up with the abundance of yellow squash recipes that I plan to share this summer!
Did I mention I L U V yellow squash?
My mom used to smother it in butter and that super yellow cheddar cheese and pan fry it when I was a kid. I always thought to myself, "Hey Deb, why don't you make this more often?" but I never said it.
Regrets.
So here I am, loving yellow squash and wanting to use it for keto good instead of keto evil and then it hits me: Street Corn!
You might already know that I tried to fake everyone out with my Mexican Street Corn (but as keto) using yellow squash and I feel like it went over well. So now I'm trying it in a tossed up, less labor intensive version.
And let me tell you, it's still not corn. BUT my favorite part about street corn is the toppings so do we really even need the corn? Plus, it tastes pretty good so let's just squash it, shall we?
Keto Mexican Street Corn Style Salad
It's soft and sweet and slightly sour with a TON less carbs than the other guys!
So here we have a shot of cilantro because I was testing the light and
that cilantro was poppin'.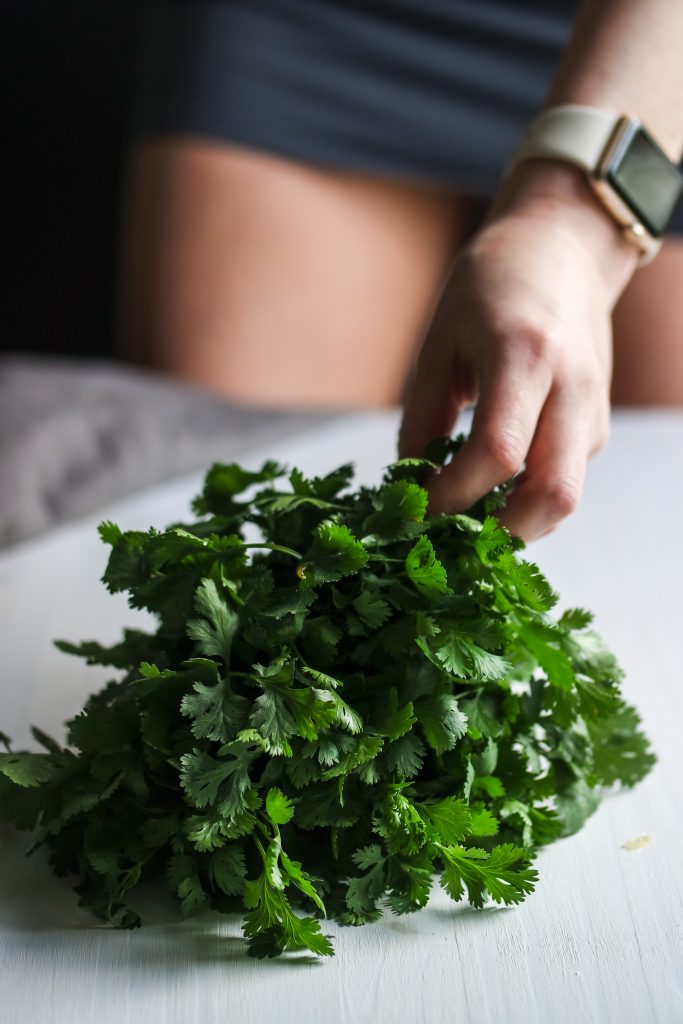 So here's the idea behind your level of sear on the squash.
Blackened but quickly! No mushy squash.
I used a screaming hot George Foreman Grill because I can't grill on my patio.
If you are looking for a grill, SolidGoldEats has tons of grill reviews that might be helpful.
And get those seeds out of there. Yuck.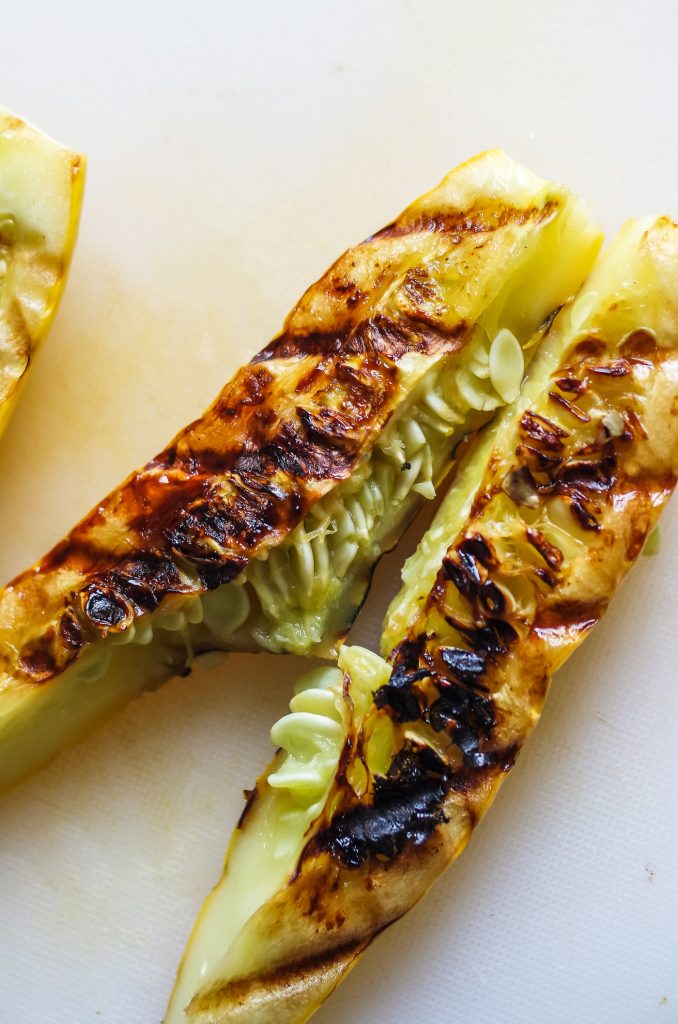 Once it cools a bit, dice it up in to tinier pieces than I did.
I burned my fingers so many times that I left the big hunks.
Lessons. Learned.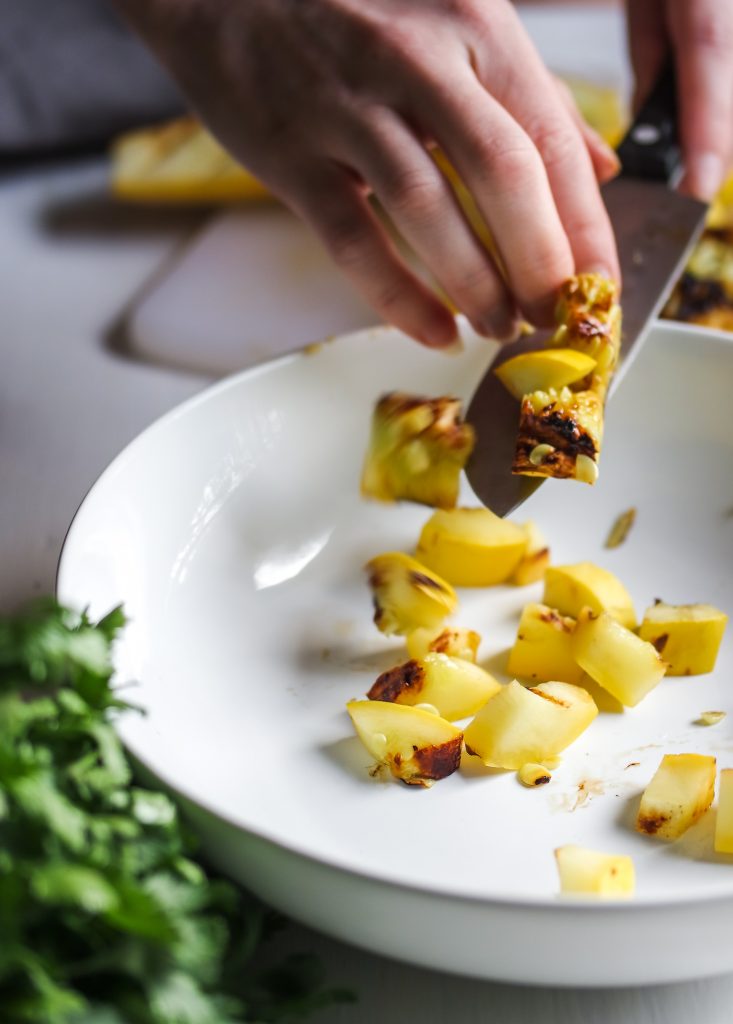 In my new home, the proper ingredients were hard to come by.
I guess the takeaway is that you really need to plan for this.
Get the Tajin. Get the Cotija Cheese, the crema. It's worth the effort.
BUT if you can't…Cotija is like feta but more mild and crema is comparable to sour cream.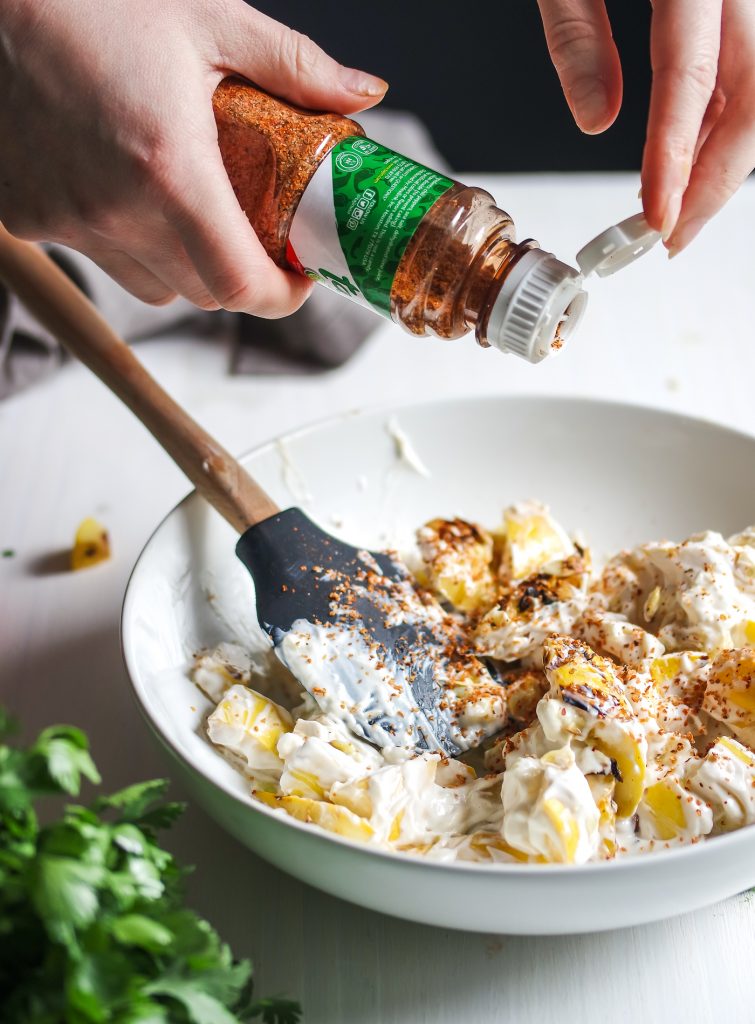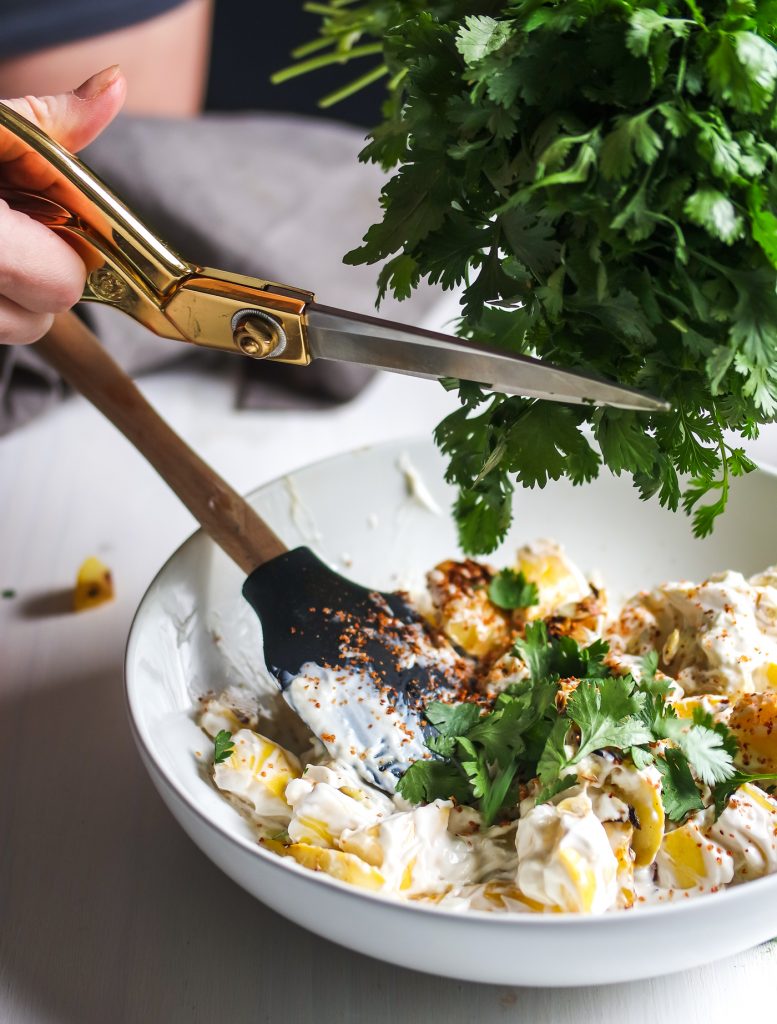 The result is creamy, salty with a hint of sweet squash that has all the makings of a really subpar crop of corn.
The recipe isn't subpar, just the "corn". But for squash, it's spot on!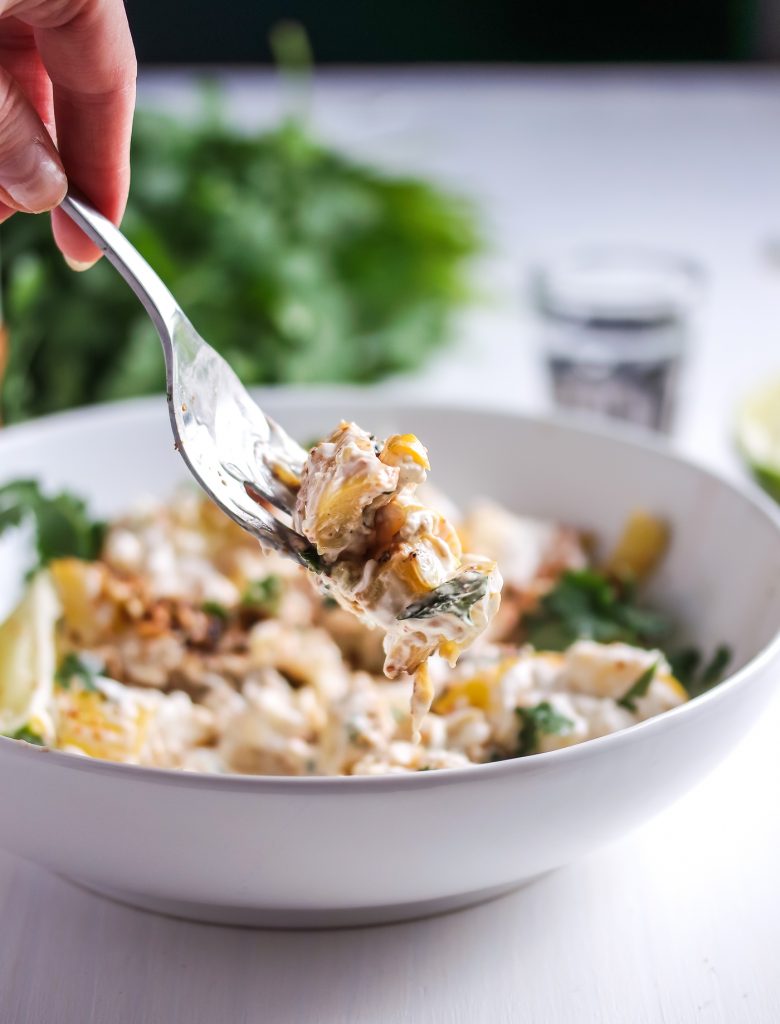 Keto Mexican Street Corn Style Salad
We're at it again with the corn substitutes! Can't stop, won't stop.
Ingredients
3 Small Yellow Squash, halved and some seeds removed
1/4 cup Mexican Crema or Creme Fraiche
1/4 cup Mayonnaise (or miracle whip for added sweetness)
3 to 4 tbsp Cotija Cheese, plus more to garnish
1/2 tsp Hot Sauce, optional
Tajin, sprinkle as needed
Cilantro, chopped
Fresh Lime, to garnish
Instructions
Heat a dark coated skillet, grill pan or grill on medium high heat.
Slice the squash lengthwise and remove some of the seeds while being careful to leave the squash intact.
Sear each side of the squash on the hot grill, just until in slightly softens and you can see grill marks. Let cool and dice.
Combine the crema, mayo and cotija cheese along with the hot sauce if desired.
Add the cream mixture to the diced squash and gently toss to coat.
Topp with Tajin, cilantro and garnish with fresh lime.
Notes
A small squash will have fewer seeds and be more sturdy than a large yellow squash so stick with the little guys!
I was undecided if I preferred it warm or cold so I ate some straight away and also as leftovers. Both salty, cheesy, and cilantro-licious.