Forget being perfect for a moment and revel in the gorgeous phenomenon of imperfecticity: a completely made-up word that so fittingly describes a balsamic strawberry galette that tastes prettier than it looks.
---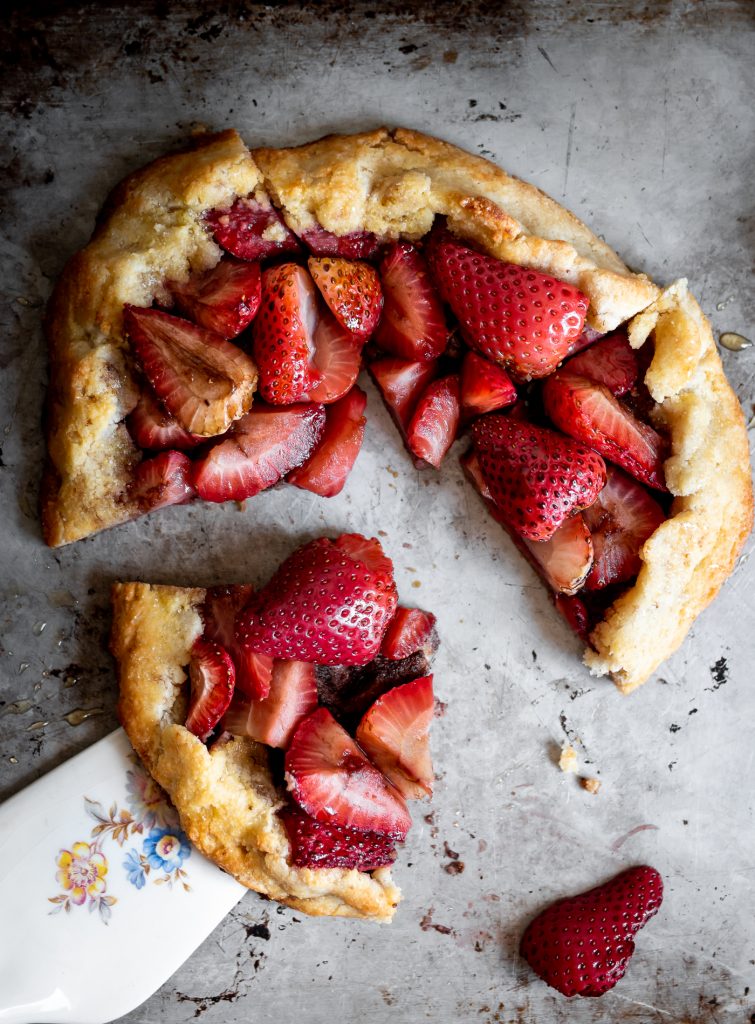 Hooray, the move is over!
Well, it's starting to feel like hooray. Other than a handful of boxes shoved in the closet so I can pretend I'm totally unpacked, it's getting homey. For a while there I really thought I was living a minimalist life, which I now know is an absolute lie.
Just stuff everywhere.
And so many fur rugs.
How does one accumulate the number of Ikea fur rugs that I have accumulated? And mirrors? It's unreal.
Baggage
Moving felt like a real-life reenactment of Macklemore's Thrift Shop video. Overwhelming and totally imperfect.
For D A Y S I struggled with trying to get everything to be exactly as it was back in Michigan; my setup, furniture, closet, everything. I almost had a breakdown because I couldn't get my very large couch to fit on a not-so-large wall, but I kept trying. Really, really next level nuts.
Today, I had a revelation. THINGS WEREN'T PERFECT BEFORE. Sofa setup aside, the entire reason for moving was to bring on change, so why cling to what was? Move on, babe! Get with the new. Make it messy then fix it up in a new and different way. Clinging to the past is a recipe for disaster (pun intended). Forward, onward, upward, however, you want to phrase it-do it.
SO that's what I did. I choose upward because I went from basement-level to a room with a view in more ways than one. Let me introduce you to the dirty, messy, imperfectly perfect for now *Rustic* galette that is the first recipe of the rest of our lives, guys.
Balsamic Roasted Strawberry Galette
So imperfect it just might be perfect.
Gluten-free – Grain free – Lowish Carb – Nutrient heavy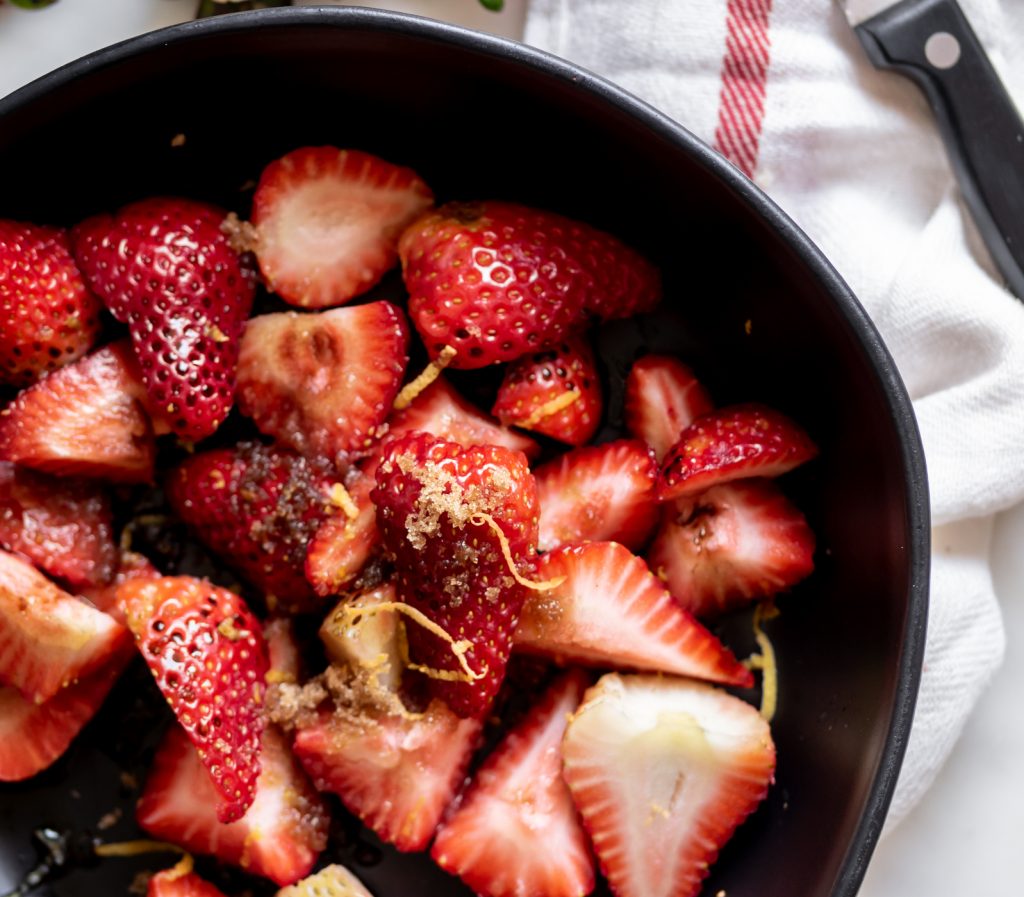 Did you know that roasting anything in balsamic vinegar makes it inherently fancy as heck?
So does lemon zest.
Just because we are being imperfect doesn't mean we can't get up in that flava.
Now toss these fruity fruit hunks in some goodies like balsamic vin and zest, then stuff them into some good gluten-free pie crust.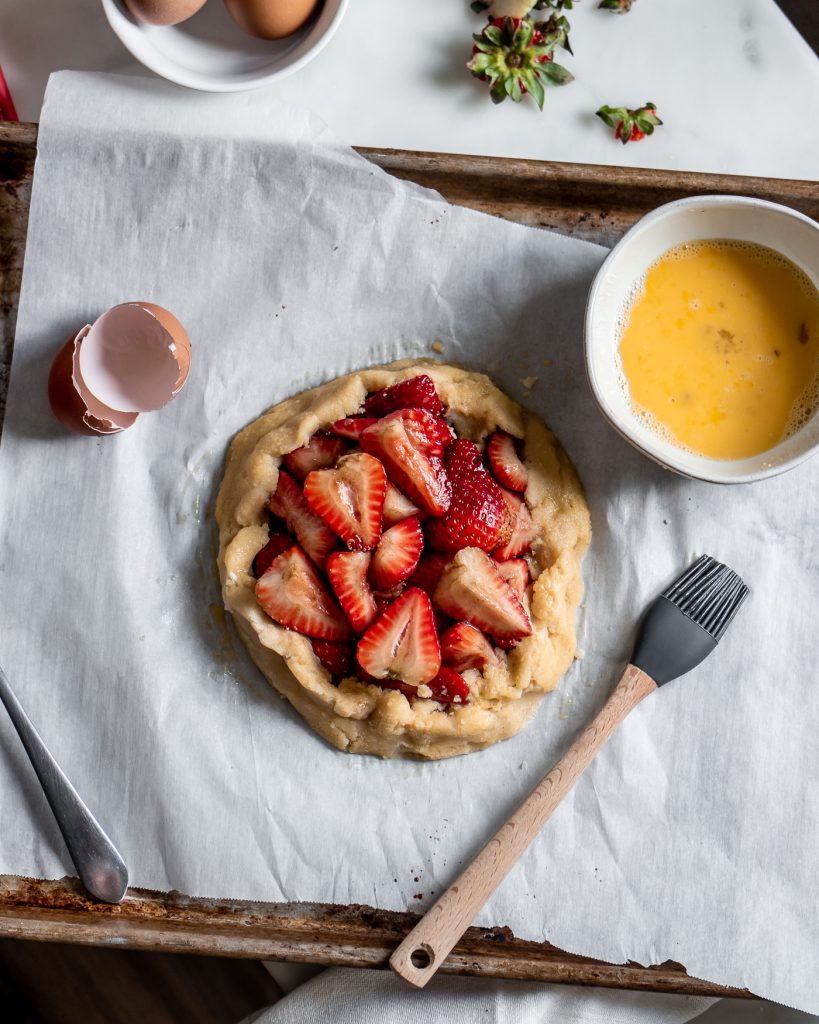 DO NOT forget, or skip, whatever you do, on your LIFE, egg wash.
That was a lot of commas but I needed to make myself heard. Egg wash gives you…
Golden browns
Beautiful crispness
A really nice glue to hold everything in place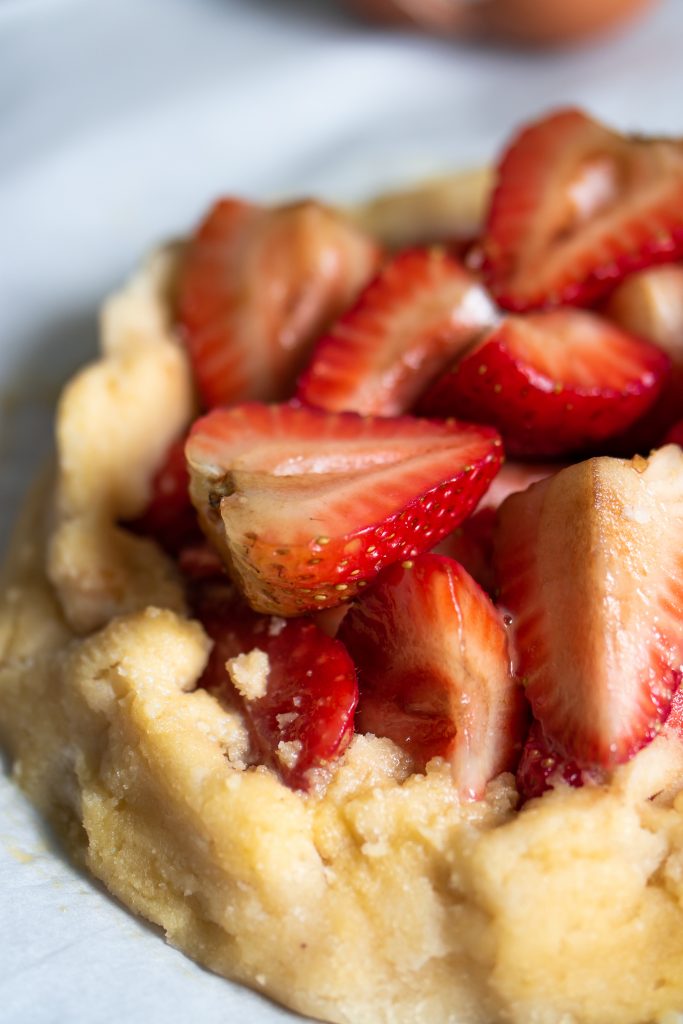 After it bakes, it's just browned strawberries in the most balsamic-y glaze you can imagine.
No gooey pie-like filling.
No frills. Just flavor and berries.
Oh, and a buttery crust that might entice you to eat the entire thing…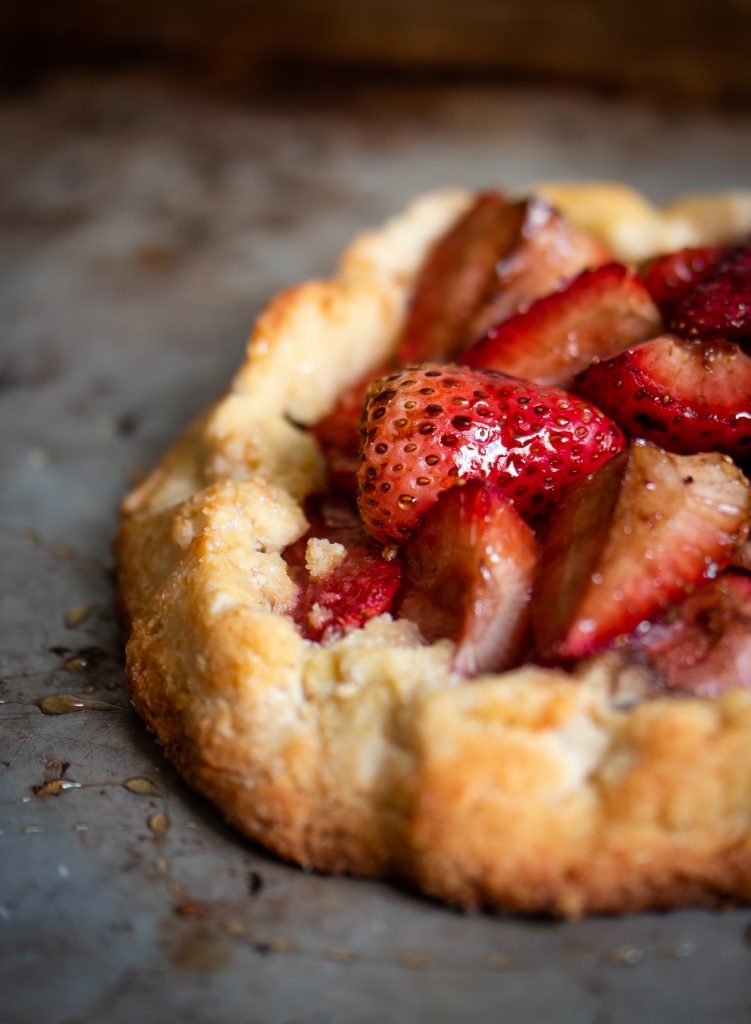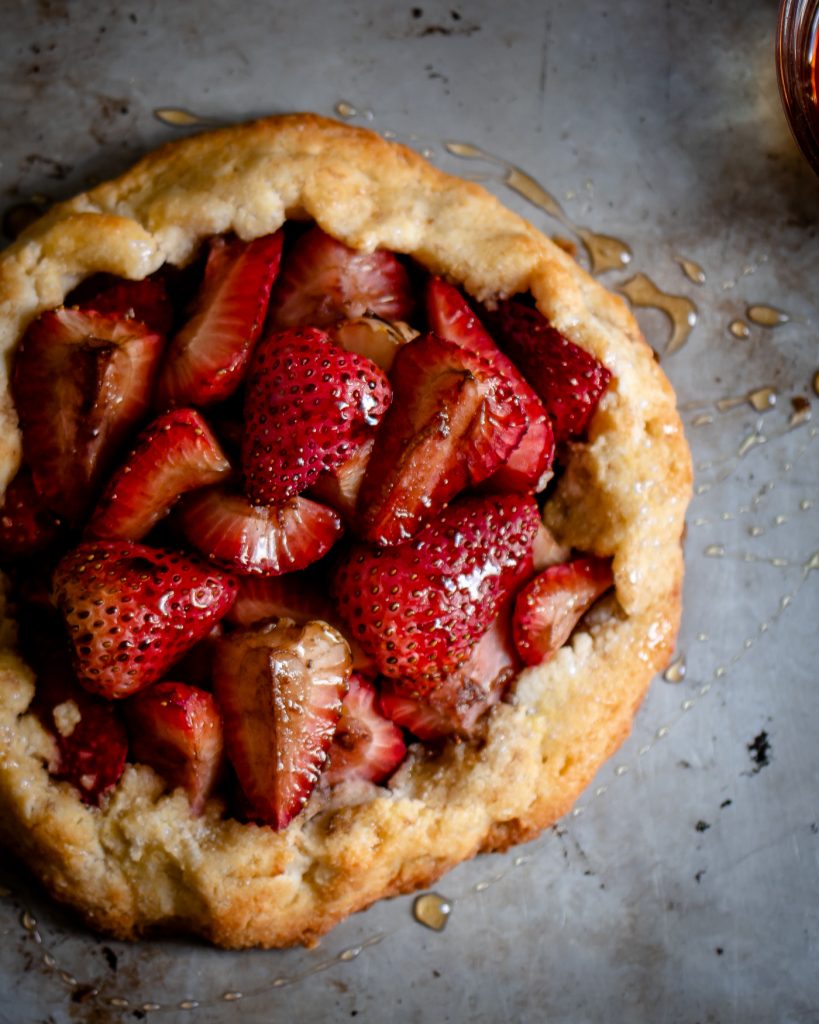 What you might notice drizzled about is Truvia's answer to honey.
It still has sugar in it, but less and I like it.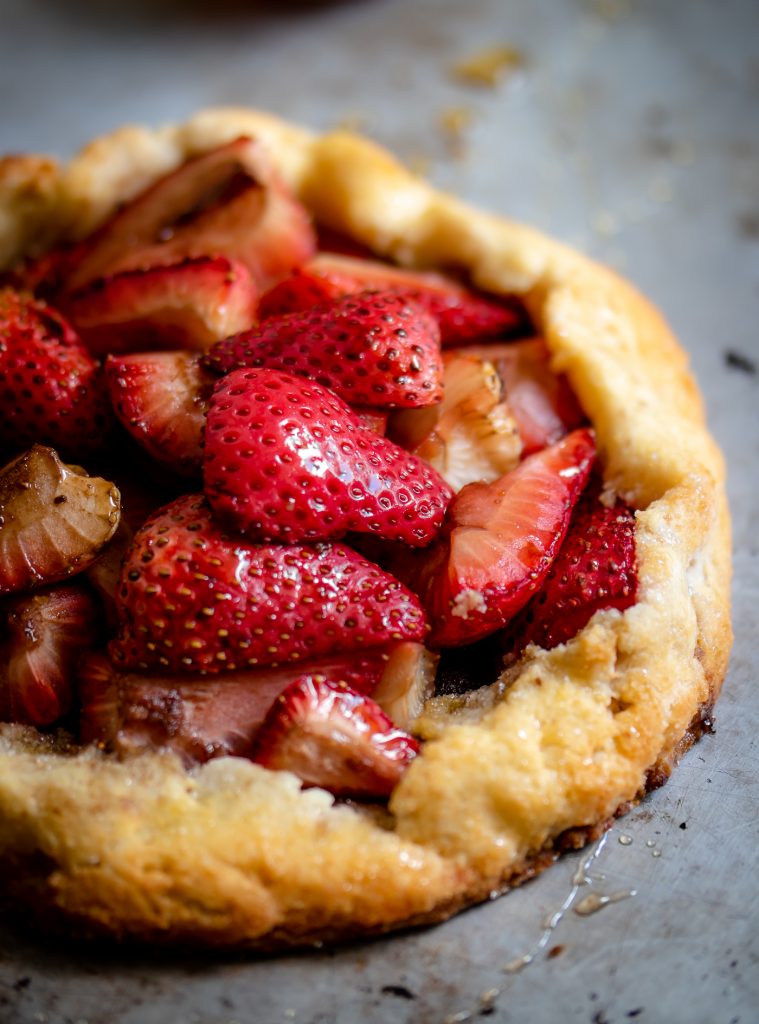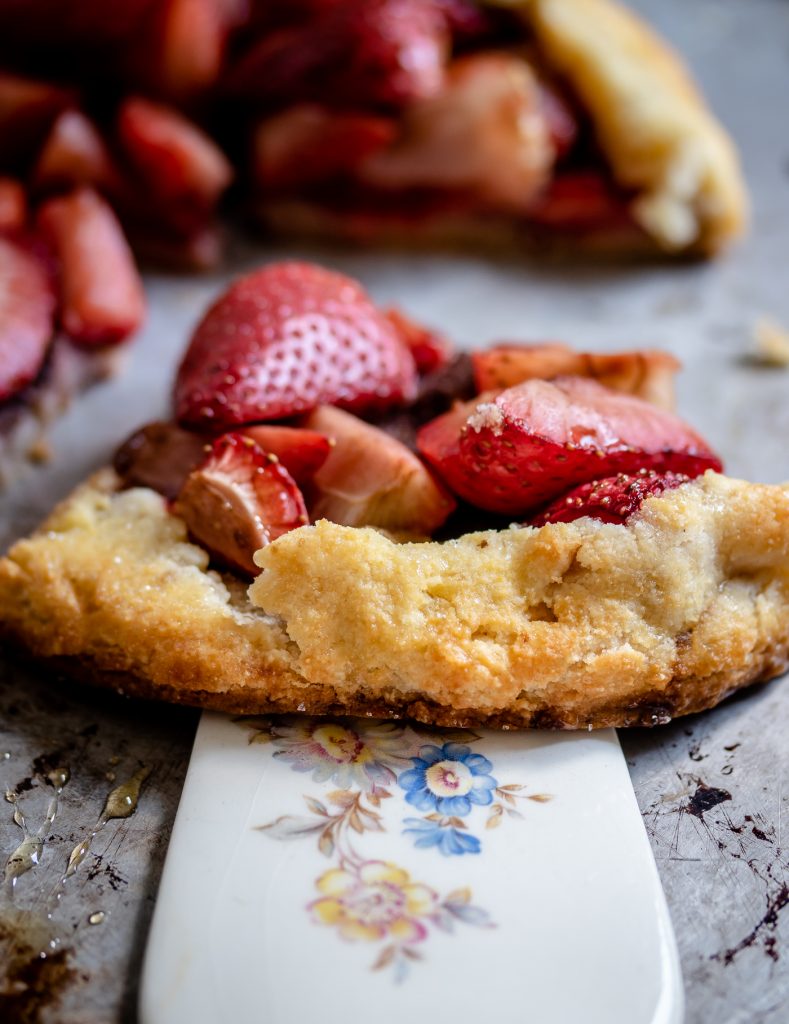 Gluten Free Balsamic Roasted Strawberry Galette
Roasted berries snuggled up in keto crust? Sounds like summer to me!
Ingredients
Crust
1 cup Almond Flour
2 tbsp Coconut Flour
2 tbsp Swerve Granulated Sweetener
1 tsp Xanthan Gum
4 tbsp Butter, cool but not cold
1 to 2 tbsp Cold Water
Strawberries
1/2 pint Very Ripe Strawberries, quartered for looks, diced for ease of eating
2 tbsp Balsamic Vinegar
1 tbsp Brown Sugar Substitute
Zest of a small lemon
1 egg, beaten, for the egg wash
Instructions
Heat oven to 350 and line a baking sheet with parchment.
Make the dough by whisking together the dry ingredients until there are no clumps.
Cut in the cool butter using a pastry cutter or fork. Using your (clean) hands to knead the dough, adding the cold water 1 tbsp at a time.
Roll the dough into a circle in thickness. This is really up to you! The smaller the circle, the thicker the crust and the fewer servings you get.
Toss the prepared strawberries in the vinegar, sugar substitute and lemon zest and pile them onto the center of the crust.
Use a pastry brush or spoon to cover the berries in any leftover liquid.
Gently fold the crust over the berries, squeezing and pressing together any breaks in the crust.
Brush with the beaten egg and bake for about 25 minutes or until golden brown.
Notes
This recipe would also be equally delicious if the berries were mashed a bit first and then added to the crust, but for beauty's sake, I left them whole!
Nutrition Information
Amount Per Serving
Calories

160
Total Fat

14g
Carbohydrates

7g
Fiber

3g
Protein

4g