Fall in love with roasted broccoli again! This simple side has all of the yummy Greek flavors you love and is ready in 25 minutes or less!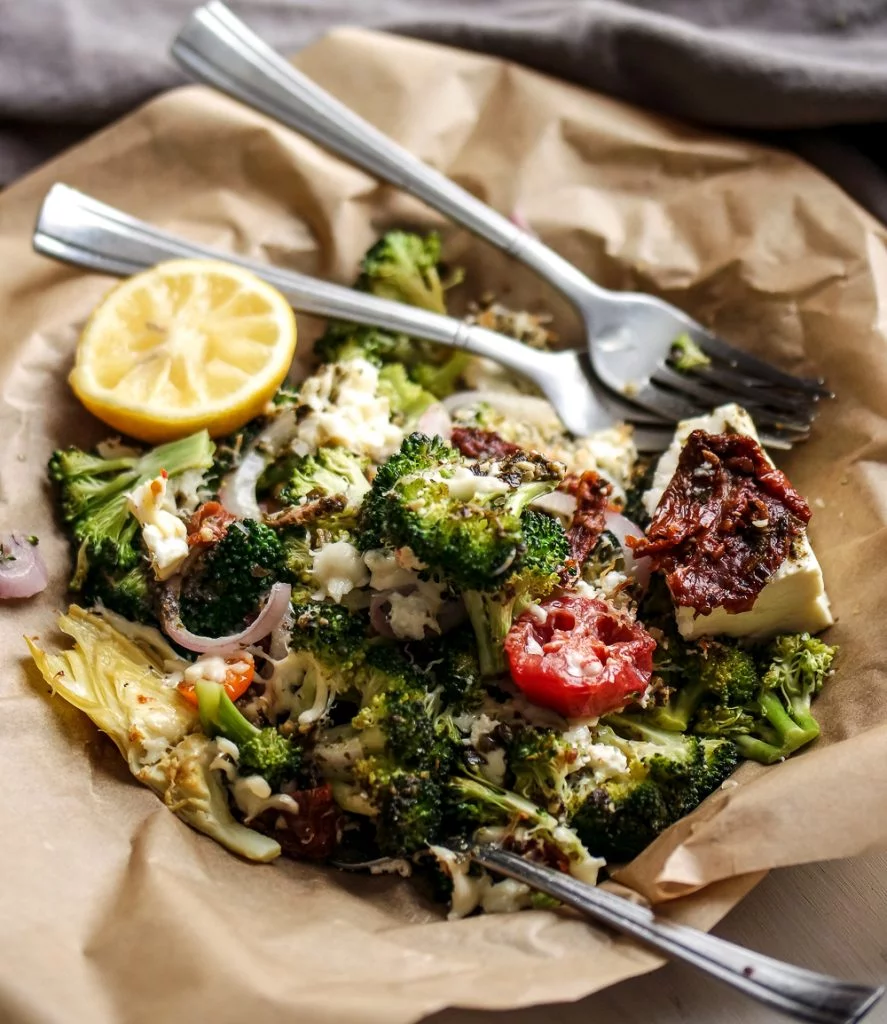 I Love Greek Roasted Broccoli and here's why you should too
Life Update: So I'm going to be Greek from now on. Not really sure if there's anything I need to do formally or not? I will just watch My Big Fat Greek Wedding a few times and switch from coconut oil to olive oil. All set.
Okay, all joking aside I'm not actually Greek, but I am seriously loving the revamp of the Mediterranean diet lately! It's a lot of vegetarian-friendly meals and it's filled with lots of good fats. Though I don't follow just one way of eating, I love having different influences in my recipes so I (and you) never get bored!
Smothered Greek Broccoli from Start to Finish
It's super Greek, super Greek. It's super greeky, yow.
Now that I've got my Rick James reference out of the way, let's talk about chopping broccoli.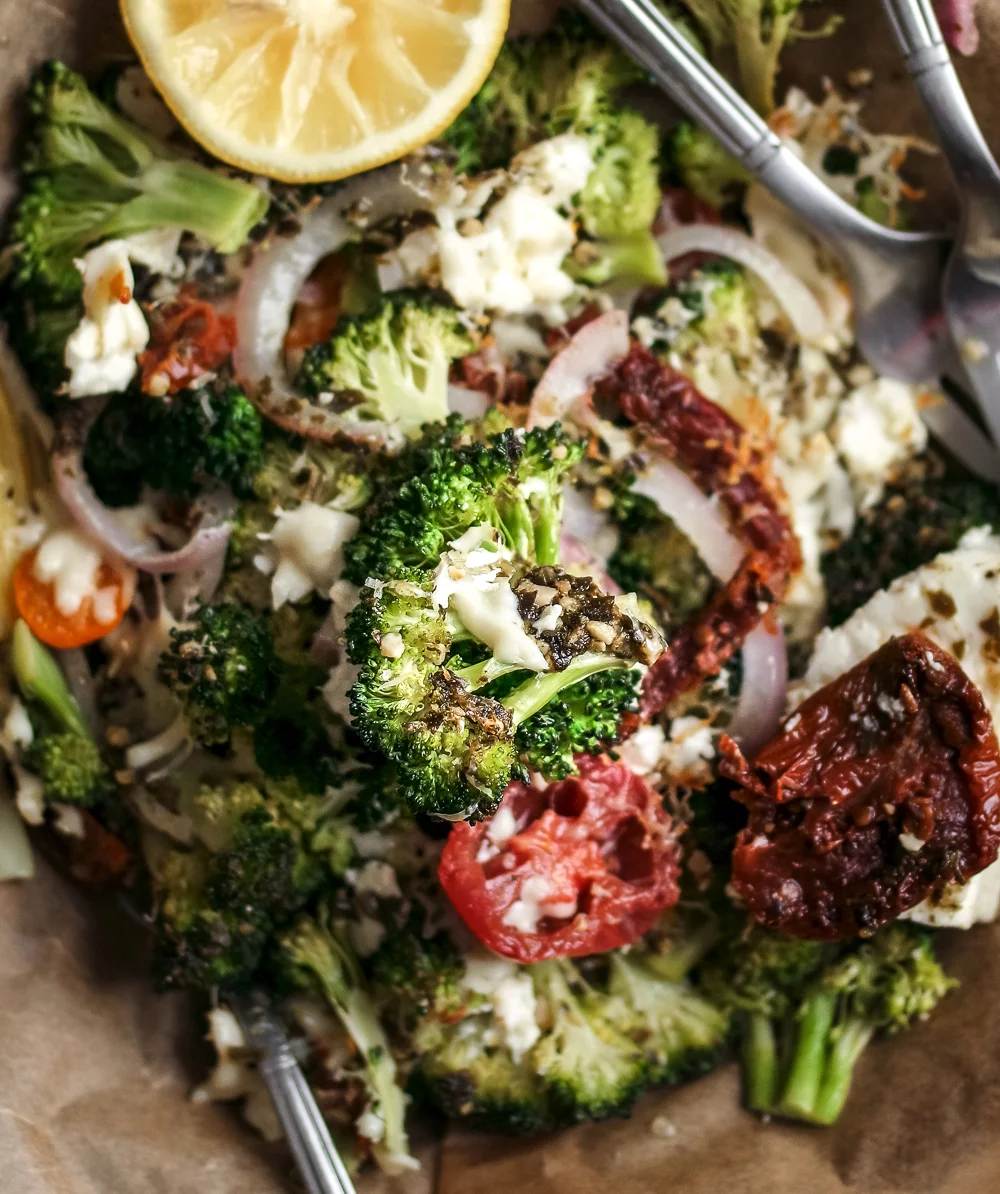 For this recipe, we want the broccoli to roast quickly and evenly! To do that, we need the broccoli pieces to be small and uniform in size. I recommend slicing the broccoli starting at the stem right on through to the leafy green as shown in the next photo.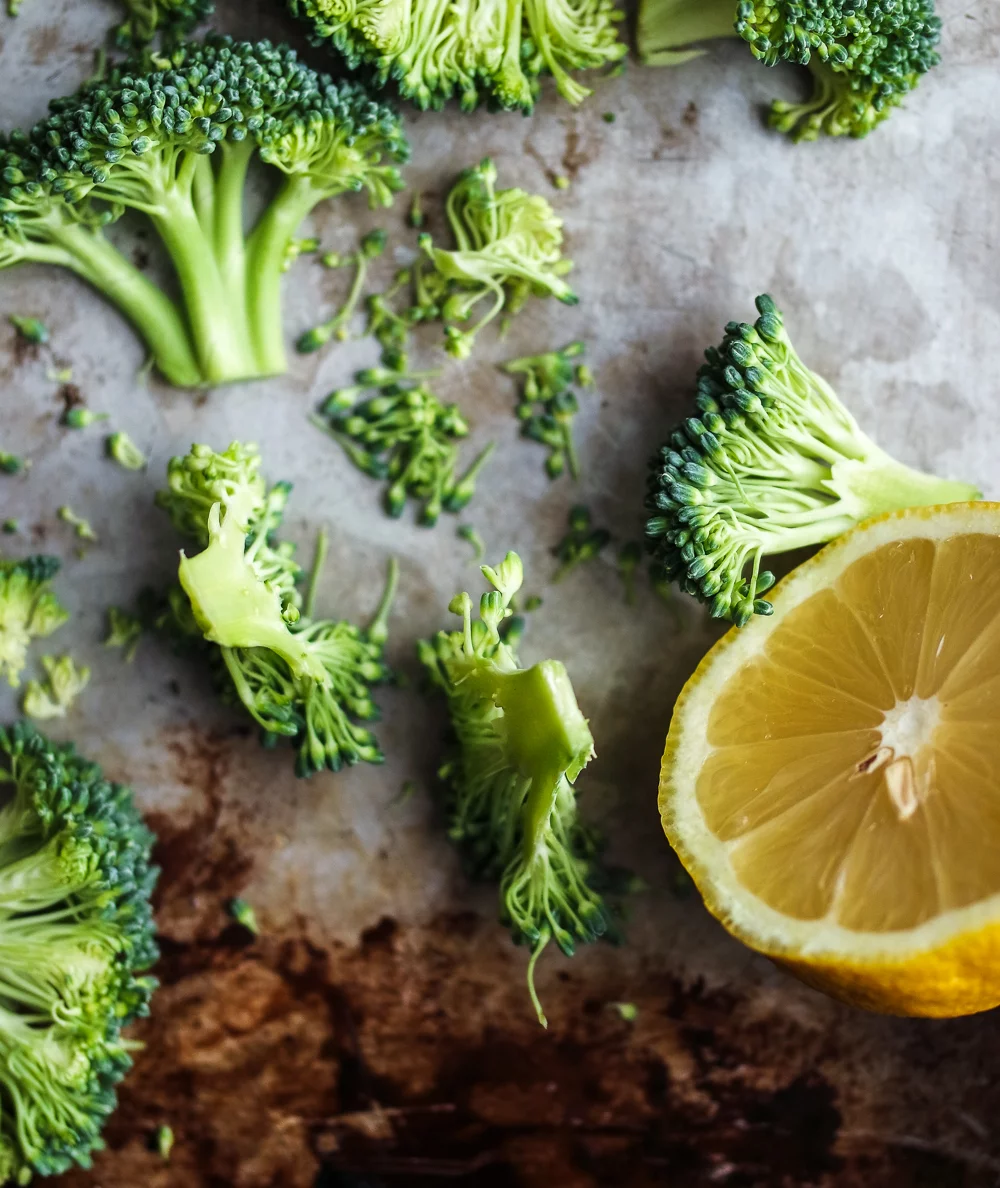 Now, to stay true to the Greeks, we have to eat lathera¹ veggies which is *loosely* translated to "lather that shit in oil". Don't believe me? Google it.
Today, we are lathering our roasted broccoli in PESTO because it's THE BESTO. Then you want to smother a hunky block of feta in a few sundried tomatoes and a dash of the oil they're jarred in.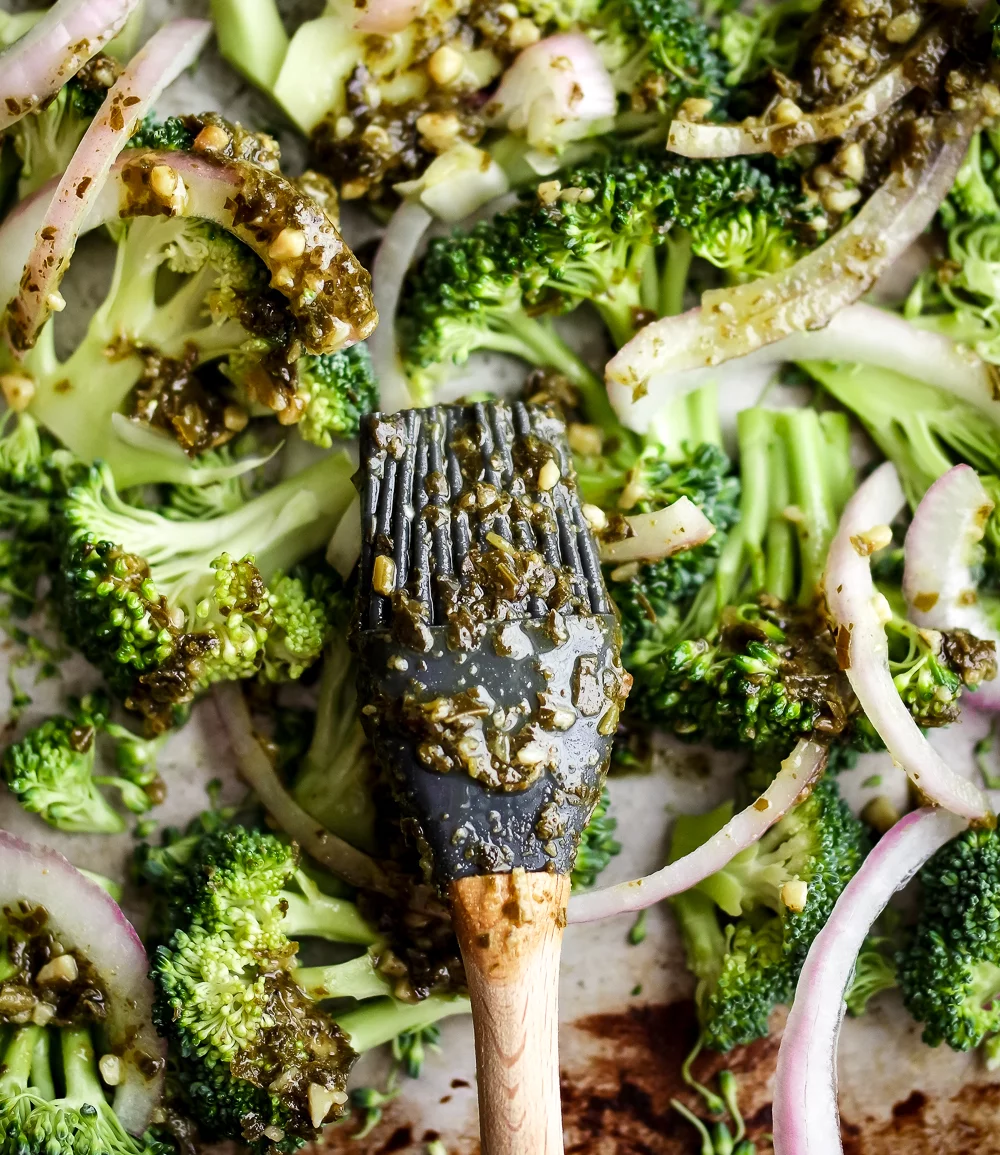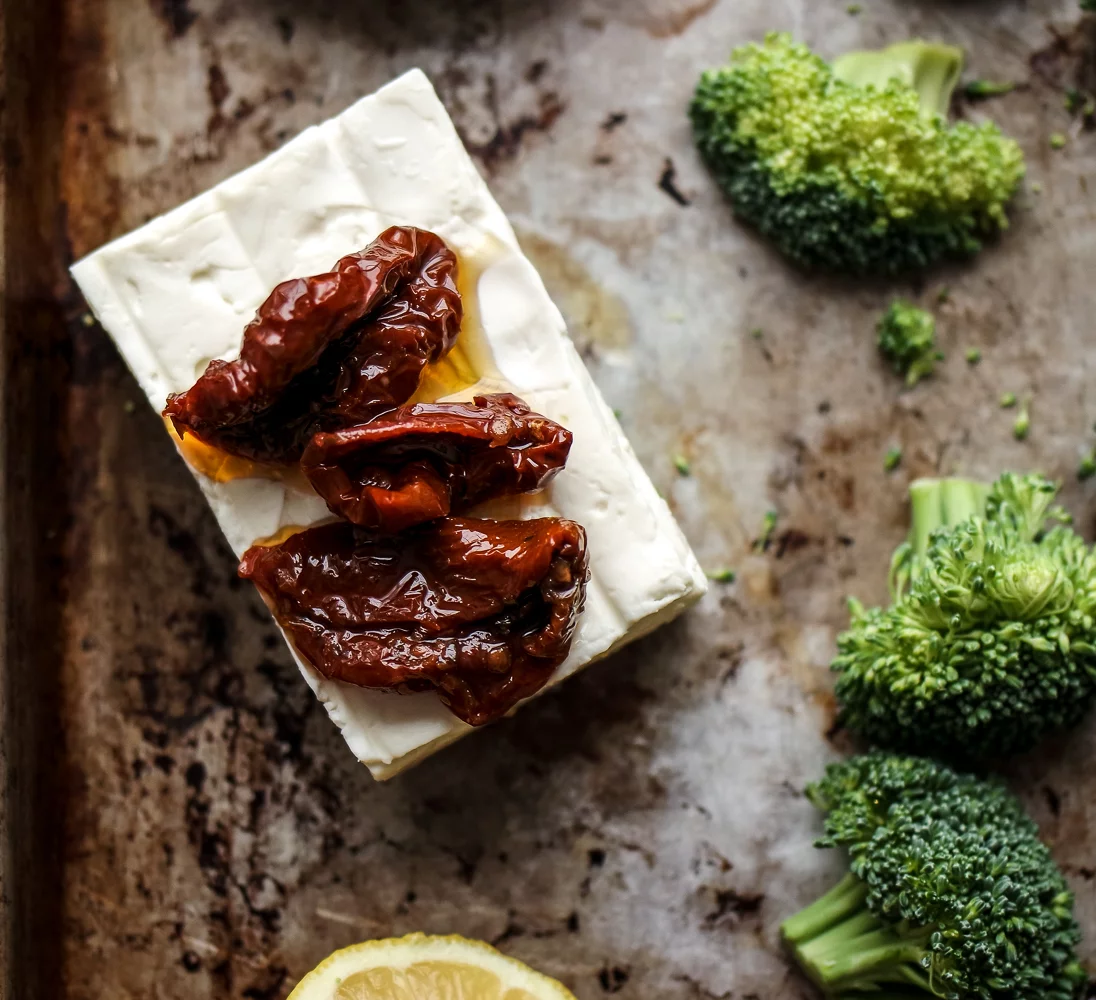 The layers of roasted greek broccoli goodness go a little like this:
Purple Onion
Sliced Up Baby Tomatoes
Feta and Mozzarella
Sundried Tomatoes
1 whole lemon, sliced in half and placed cut side down on the pan
And obviously, that big bag of broccoli getting a little too comfy in my fridge.
I'll be damned if another bag of broccoli goes un-lathera'd!
Next, you bake it and then give it a squeezie of the lemon that you casually left sliced and face-down on the roasting pan, just getting all juicy and delish.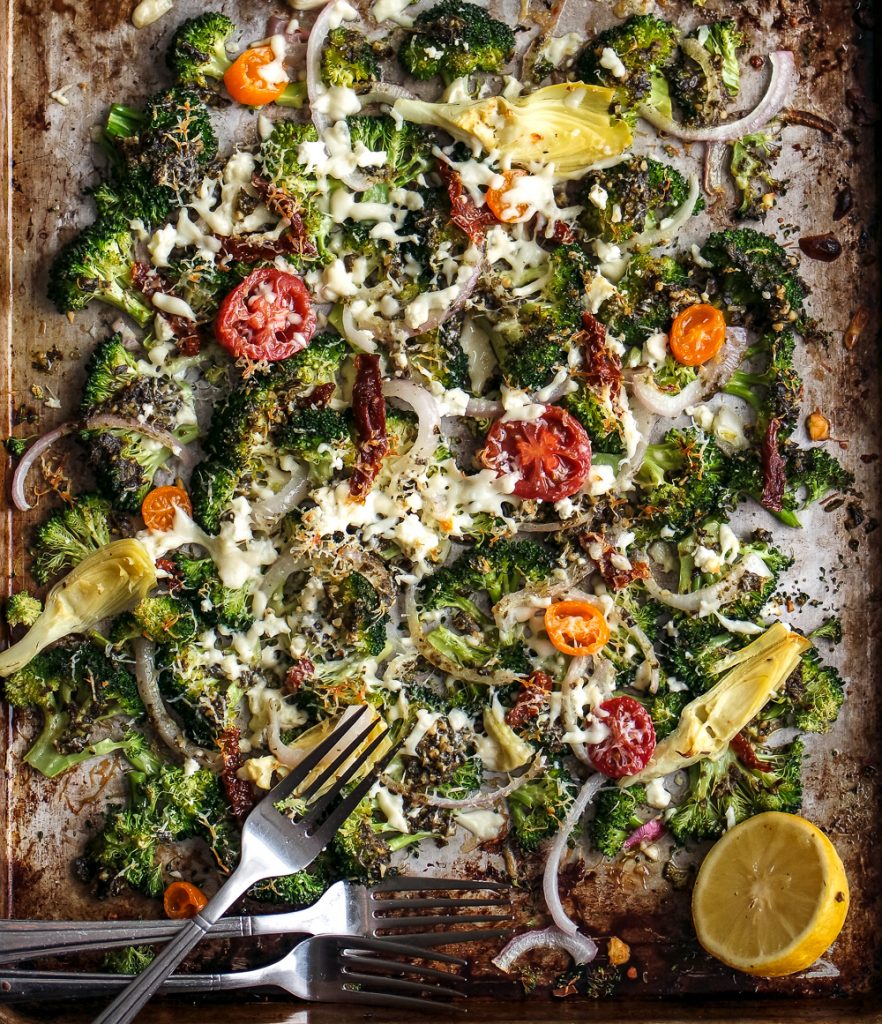 Serve this Greek roasted broccoli as a side or have it as a main dish! It's so filling and full of flavor that I can eat the pan all by myself. But I guess the Greeks would probably share and maybe serve it with a beautiful piece of salmon or a tender chicken breast. Go with your gut on that friends.
Opa!
Looking for more healthy recipes? Try these!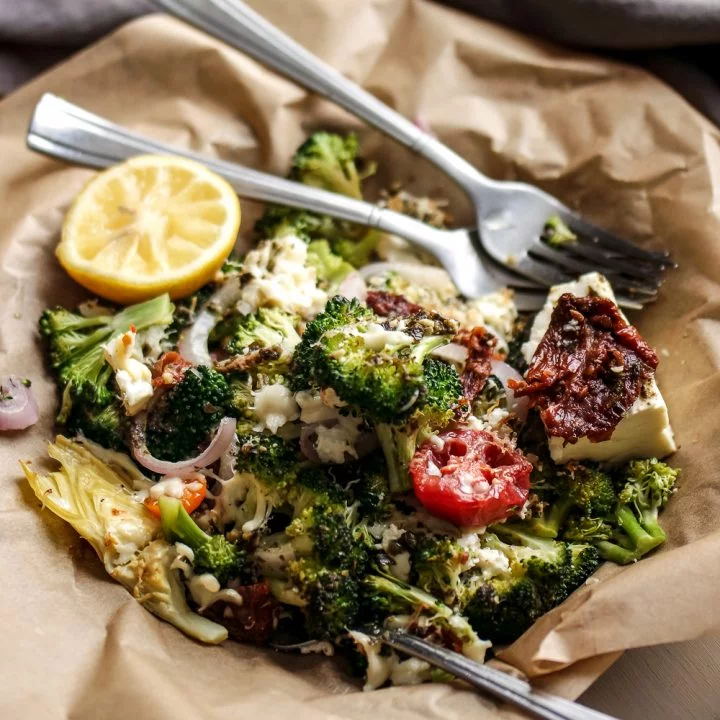 Smothered Greek Broccoli with Roasted Lemon
This addictive smothered roasted broccoli is the perfect sheet pan meal! And don't forget the roasted lemon!
Ingredients
10 oz Broccoli florets, or about 2 crowns
1 tbsp Olive Oil
1/2 Purple Onion, sliced
2 Whole Artichoke Hearts or 4 halved
1/2 cup Cherry tomatoes, halved
1/4 cup Mozzarella Cheese, finely shredded
1 lemon, halved
Handful of Green or Kalamata Olives
Instructions
Preheat the oven to 400°F and line a baking sheet with parchment or foil.
Remove any large stems from the broccoli and break into mostly equal-sized pieces. Slice each floret down the middle and toss the broccoli in pesto and olive oil to coat. Use a pastry brush to make sure all florets are covered.
Arrange the broccoli in a single layer on a large baking sheet.
Top with sliced onion, sliced sundried tomatoes, artichoke, cherry tomatoes and half of the feta crumbled.
Place the lemon halves face down on the pan along with the rest of the feta cheese and a handful of olives.
Bake for 10 minutes, remove from oven, sprinkle with mozzarella, and return to oven until cheese is melted.
Garnish with a squeeze of the roasted lemon and serve with hot feta.
Notes
REMEMBER that a lot of the oil will end up in the pan and not in your belly but the calorie and fat count is based on ALL of the oil and pesto. Also, the entire block of feta which was a feat for myself and my parents!
Nutrition Information
Serving Size

1/3 pan
Amount Per Serving
Calories

225
Total Fat

13g
Carbohydrates

10g
Fiber

3g
Protein

17g

¹Lathera is actually a Greek dish that consists of cooked veggies in oil and usually with a squeeze of lemon
³Lemons are very common in Greek cuisine and are often served alongside meals and are meant to use, not look pretty.