Brownies just got a lot cakier! Impress everyone you know with this Keto brownie cake layered with fresh strawberries and whipped cream!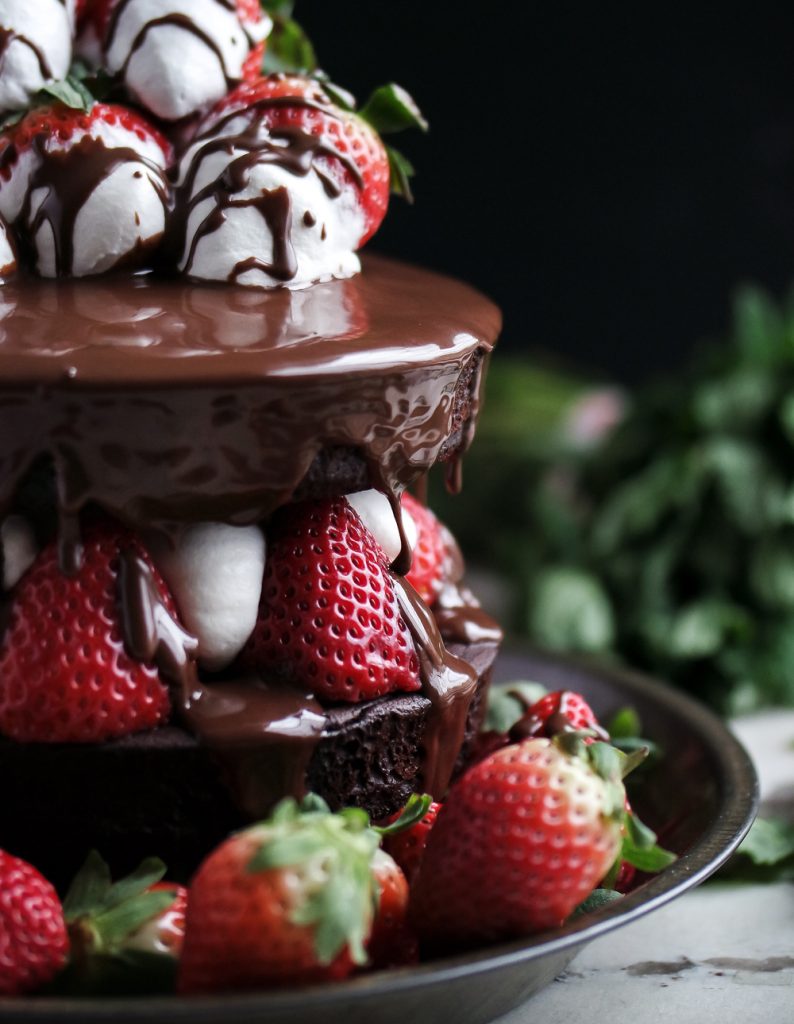 Put on your party hats people, it's officially the shortest, sexiest month of the year! Just kidding. February is irritating. Here's why!
The days are getting longer but they refuse to get warmer because the furry rodent who chooses our meteorologic destiny is a masochist.
Getting bombarded with heart-shaped Reese's AND egg-shaped Reese's is like getting punched in the face twice.
Target is ruined. See reason #2.
But it's not all bad I guess. I can be an optimist. I can get on the bandwagon. *Read all lines dripping with sarcasm* 
For starters, genetically modified strawberry monstrosities that are perfect for dunking into various dips are RIGHT up my alley. Organic is cool and all but I can't get past the size of the berries if you know what I mean…
Other things in which a single lady with workaholic tendencies loves to participate in are Rom-Com movie marathons (solo) and listening to the best jams (LIKE THIS) while drinking straight bourbon. Or eating it in the form of whipped cream. From the tub. With her classy lady fingers.
But since you are here for the recipes, let's get down to it!
Keto Strawberries, Bourbon Whipped Cream & Brownie Cake Layers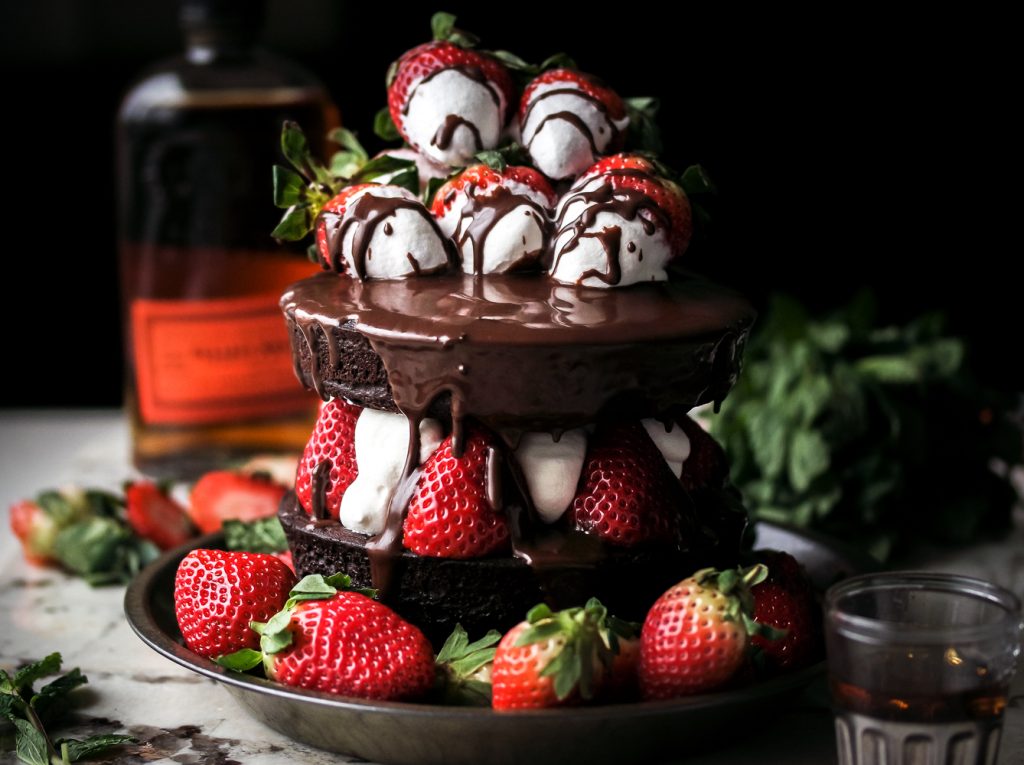 I honestly don't know if this bourbon is any good or not but it was a really pretty bottle and I drank most of it while watching Ever After ft Drew Barrymore. Seemed ok to me.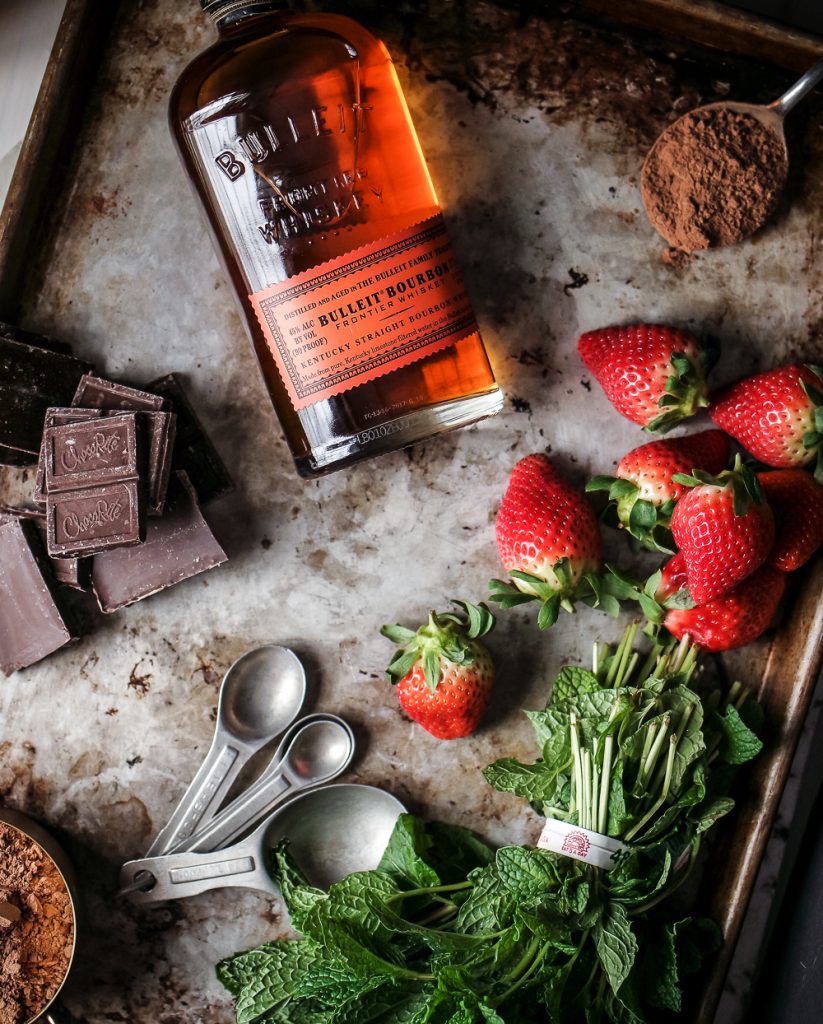 The "cake" portion isn't that pivotal in this recipe, therefore I small-a-sized the photos of the production. It's your basic, flourless brownie cake recipe with my thighs in the background.
Laundry day has been postponed and I've been reduced to stretchy skirts and swimsuit bottoms.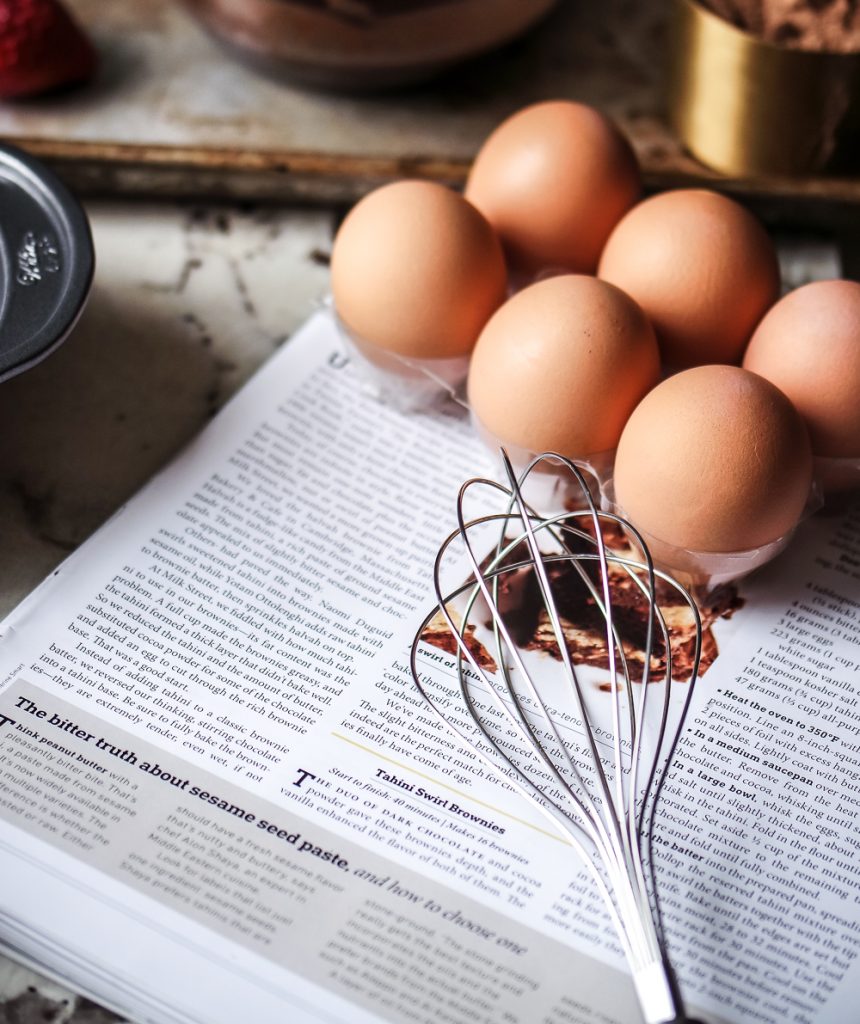 Here come the boozy glamor shots because once I get behind a camera I go a little nuts…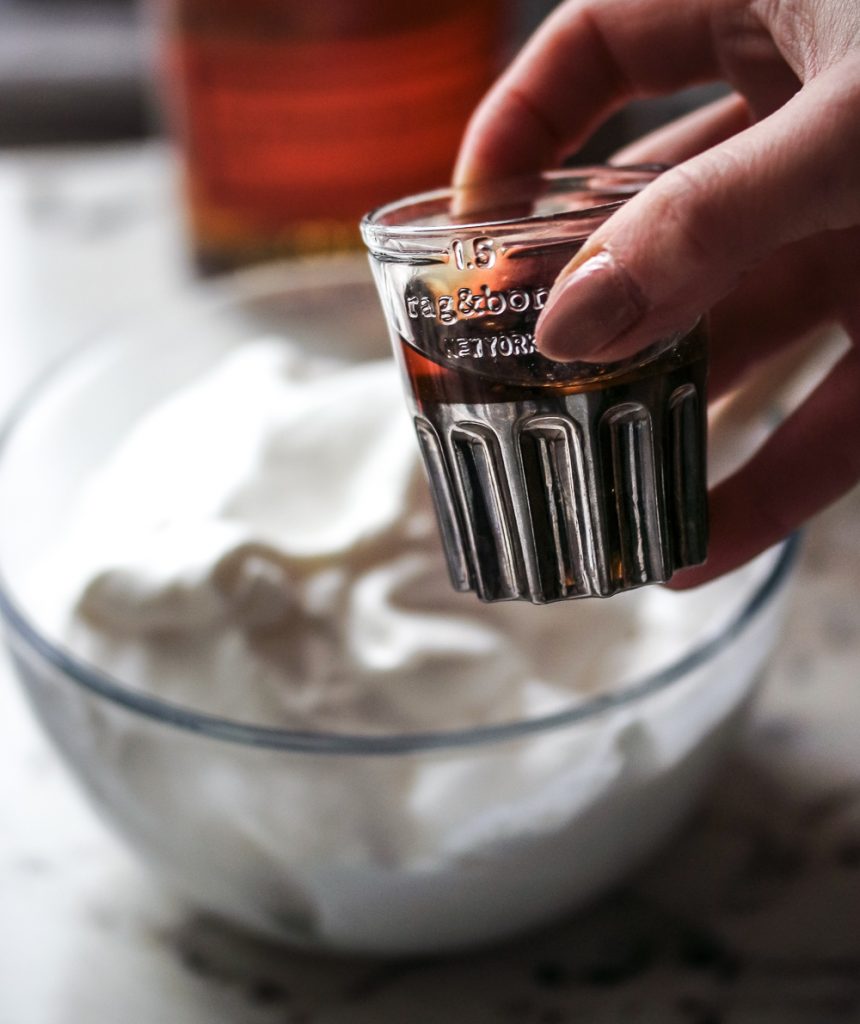 I mean, why aren't more people doing this?!?! You just mix the alcohol into the whipped cream… It's NEXT LEVEL GNARLY.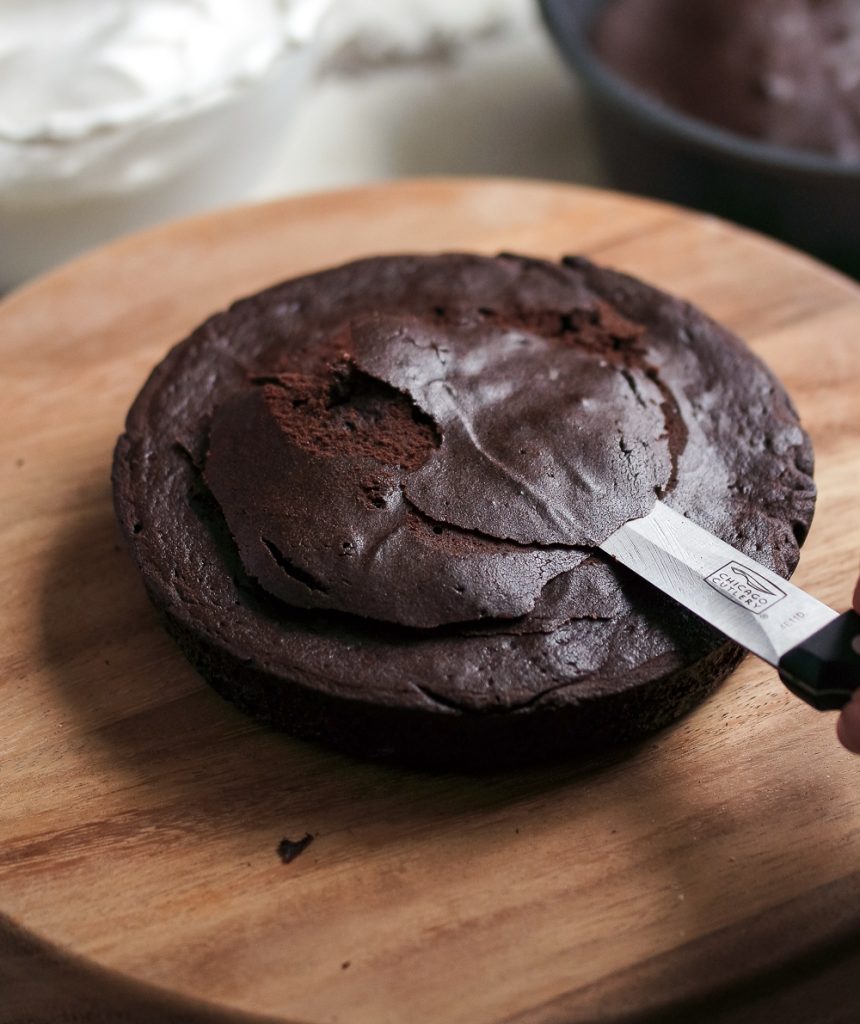 Especially when it's tossed into a situation with berries and chocolates.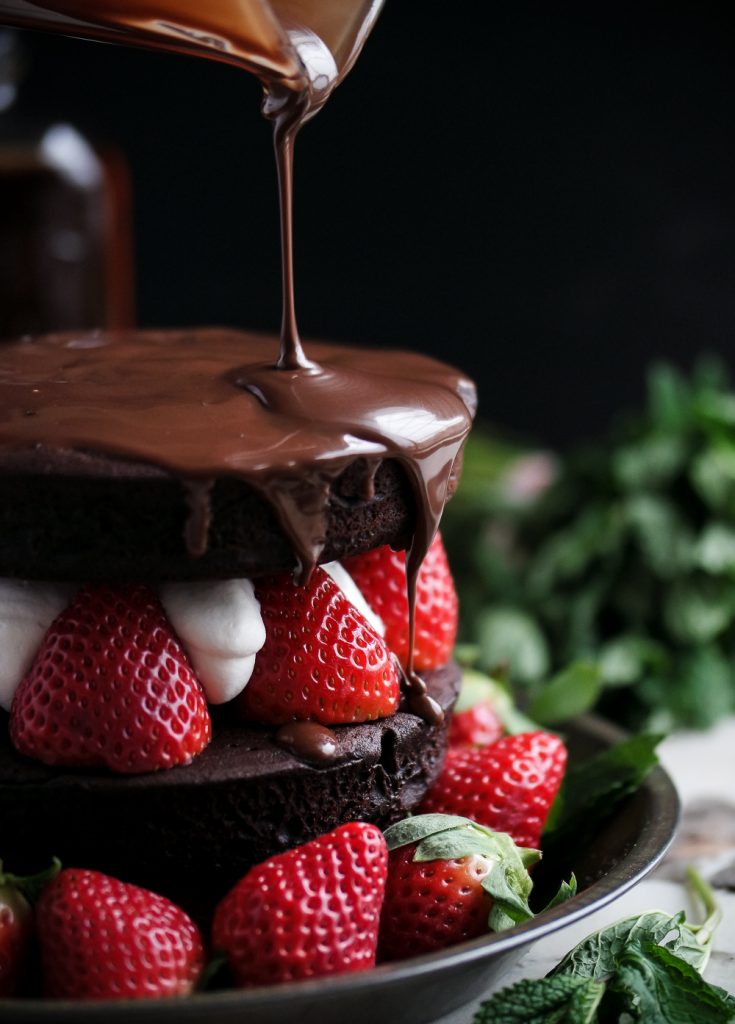 Shhhh. I know.  It's breathtaking the first time you see it. Just wait till it's in your mouth.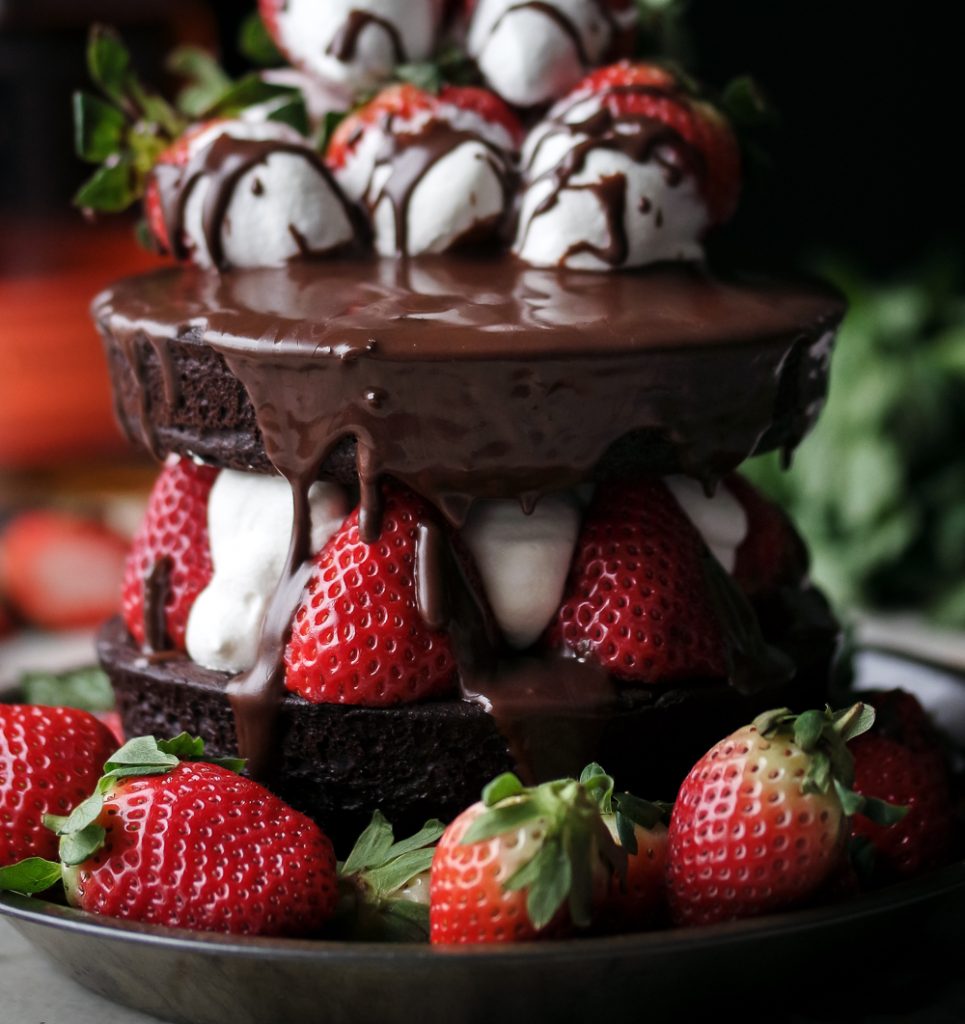 I like big berries and I cannot lie.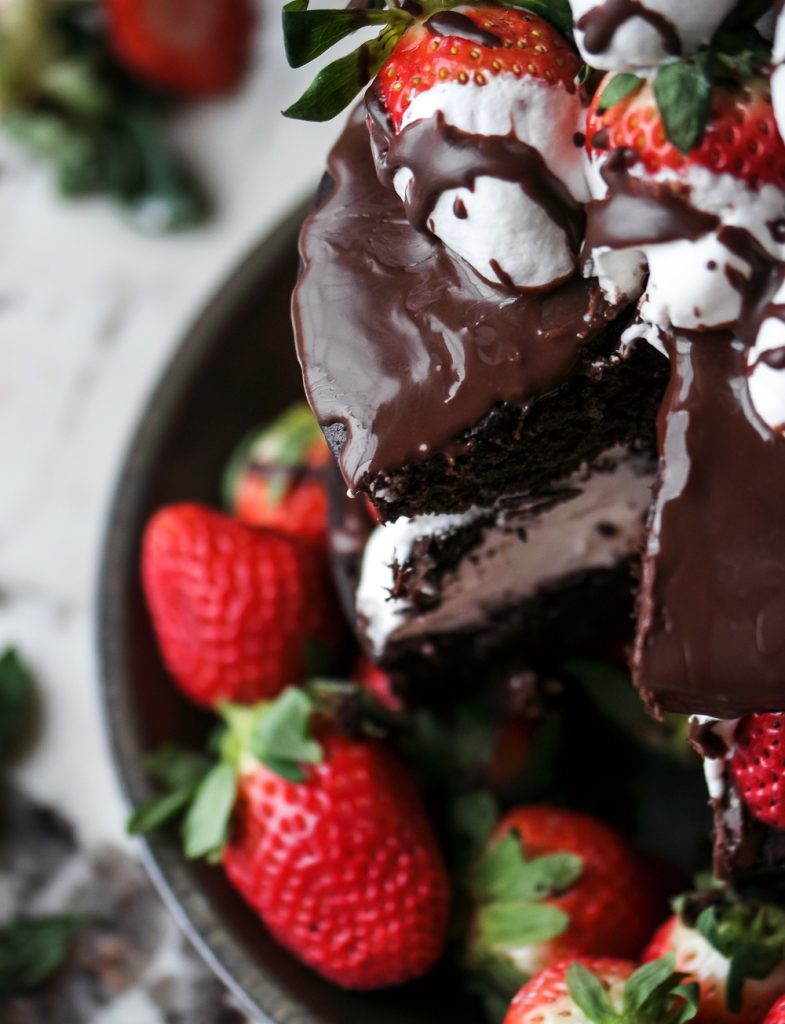 You won't even realize you are forking a healthy cake when you are forking this. It's that forking good. 
Looking for More? Try These!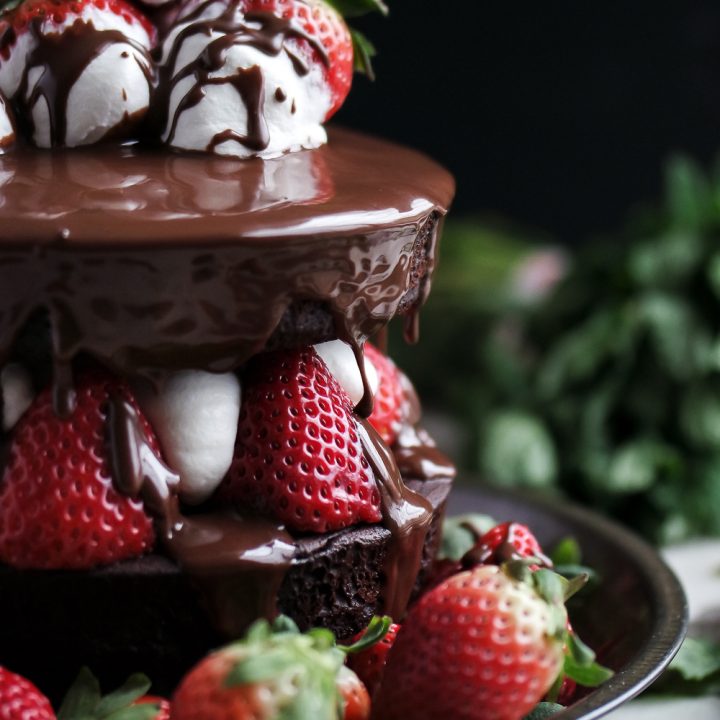 Strawberry Bourbon Whipped Cream Brownie Cake
Self love comes in many forms. Sometimes it's a bath bomb and a good book and other times it's a double layer brownie and whipped cream bourbon cake. Just follow your heart wherever it may take you.
Ingredients
Brownie Cakes
4 tbsp Butter
5 large Eggs
1/2 cup + 2 tablespoons Unsweetened Cocoa Powder
1 teaspoon Baking Powder
1/2 teaspoon Salt
12 Jumbo Strawberries, tops removed
Bourbon Whipped Cream
2 cups Whipped Cream (I use TruWhip which is dairy-free and no HFC)
1 shot Good Bourbon
Chocolate Drizzle
2 oz Low Carb chocolate, melted
1 tbsp Coconut Oil
Instructions
Heat oven to 350 degrees and grease two 6-in round cake pans and line with parchment.
Melt the chocolate in the microwave by heating for :30 sec intervals, stirring between each. Add the butter, which will melt into the chocolate.
Beat eggs, vanilla, and sugar together.
Combine cocoa powder, baking powder, and salt. Add into the egg mixture, whisking until a batter forms.
Pour the chocolate mix into the egg mixture and mix well. Divide batter between the two pans and bake for 20-25 minutes. If it seems like the center is still slightly underdone after 25 minutes, you can return the cakes to the oven and turn off the heat for an additional 5 minutes.
While the cakes cool, gently fold the bourbon into the whipped cream and keep it refrigerated until it's time to garnish.
After the cakes are cool, layer the strawberries and the bourbon whipped cream mixture. Don't worry if the cakes sink slightly in the center, the strawberries and chocolate will cover it.
Top with more berries, cream, and drizzled chocolate!
Cover as best you can to prevent drying and refrigerate for up to three days.
Notes
I find that Milk Chocolate and Allulose give the best texture and flavor for this cake! Darker chocolate will give a darker, more bitter flavor. Erythritol will give a firmer, dryer cake...and you'll want to use about 1/2 cup instead of the full 3/4 cup.