Don't love pie? I gotchu. Let's bake a pumpkin cake! Totally grain free, gluten free, and moist as heck.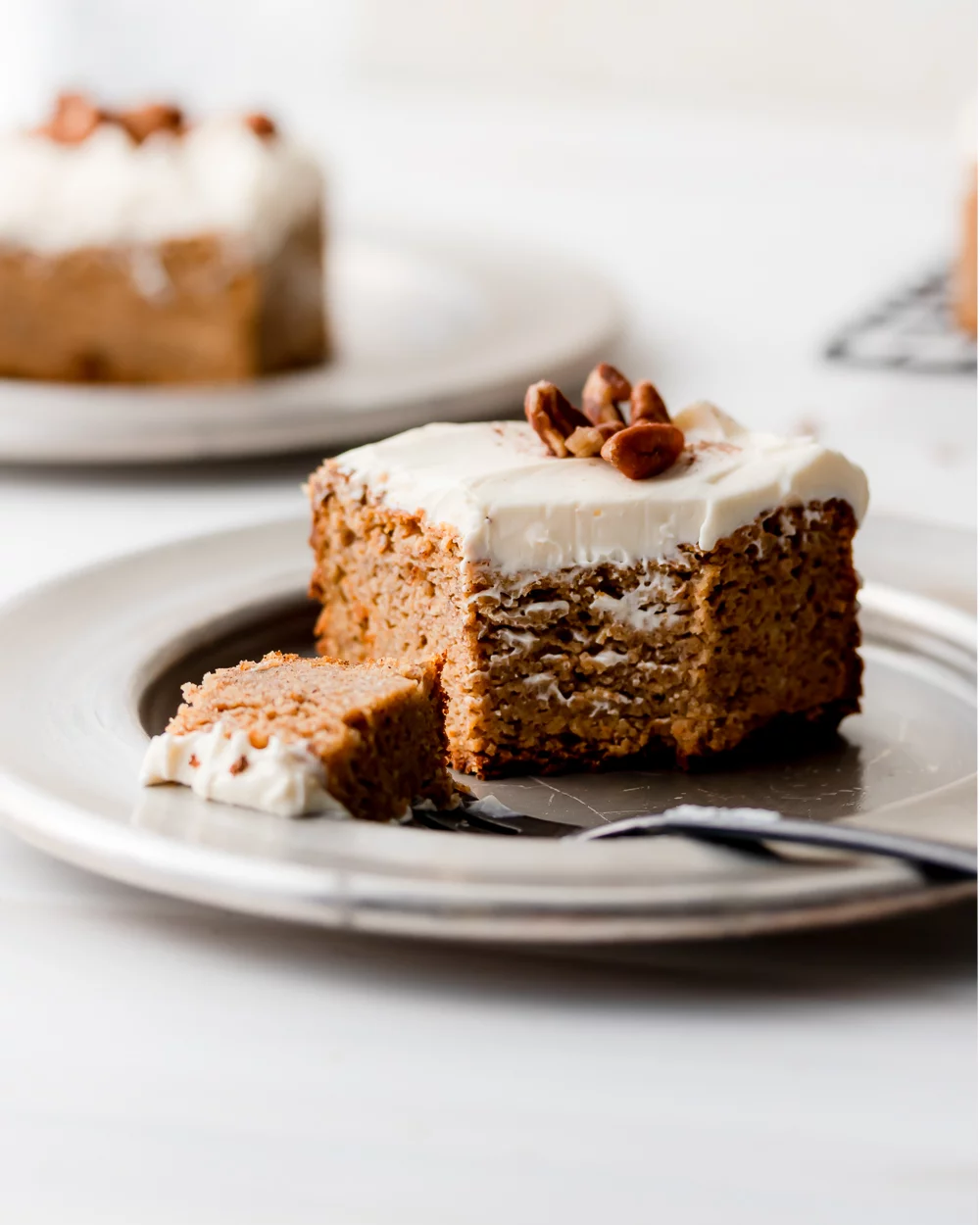 The Best Pumpkin Cake I've Ever Made
And I made a couple really awful ones this week that taught me that there actually is a limit to the amount of pumpkin you can add to a recipe…
I really wanna say this is even better than a regular pumpkin cake made with gluten and refined sugar. So, I'm saying it.
IT'S BETTER.
The texture is exactly what you'd expect from a spicy cake and it's not a super short, embarrassing cake either. It's a tall boy, as long as you use a 9×9 pan.
AND!!!! It's a single layer which means it's easy to take to potlucks, socially distanced holidays, or to just eat alone on your couch. From the pan, with minimal mess. *my personal fave*
p.s. It's not that I don't love a short cake, I just enjoy a cake that can rise to the occasion…if you know what I mean.
Here's How You Make it!
The pictures make it look easy and that's because, it is! But here are my best tips for not ruining this cake and all of your precious ingredients.
Use a hand mixer to beat everything EXCEPT the when you add the final half of the flour. The batter gets mega thick so we add half of the dry mix, beat it, then add the rest of the dry mix and stir with a spatula.
Make sure your butter is melted. Any chunks of butter with leave holes in your cake. This is not supposed to be a holey cake.
Tent your cake with foil halfway through baking. I know it's annoying, but it keeps the top from burning before the center gets baked.
Don't expect it to look like normal cake batter. It won't. Just get it in the pan and it will bake!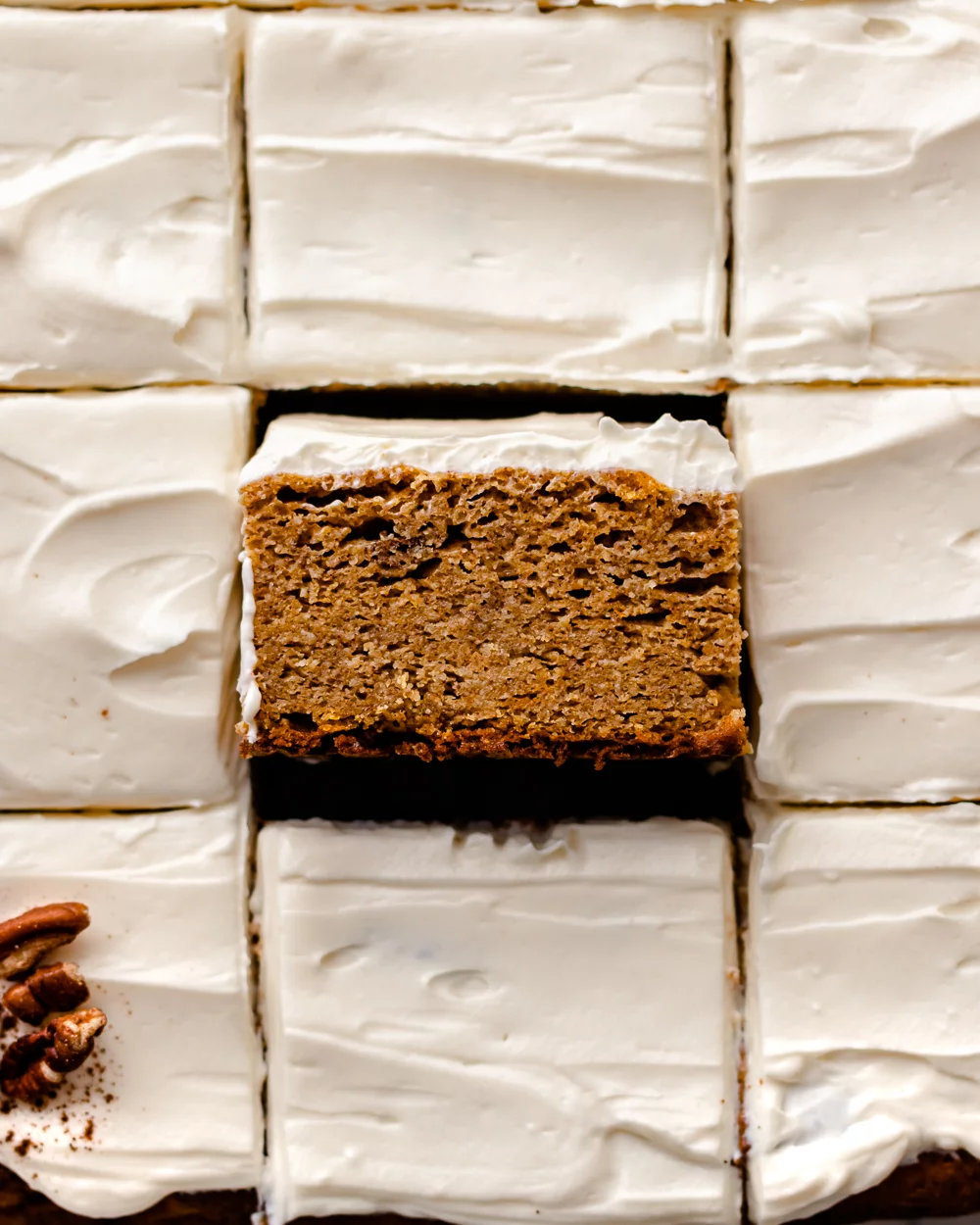 Check out the density on that cake, amirite?!?!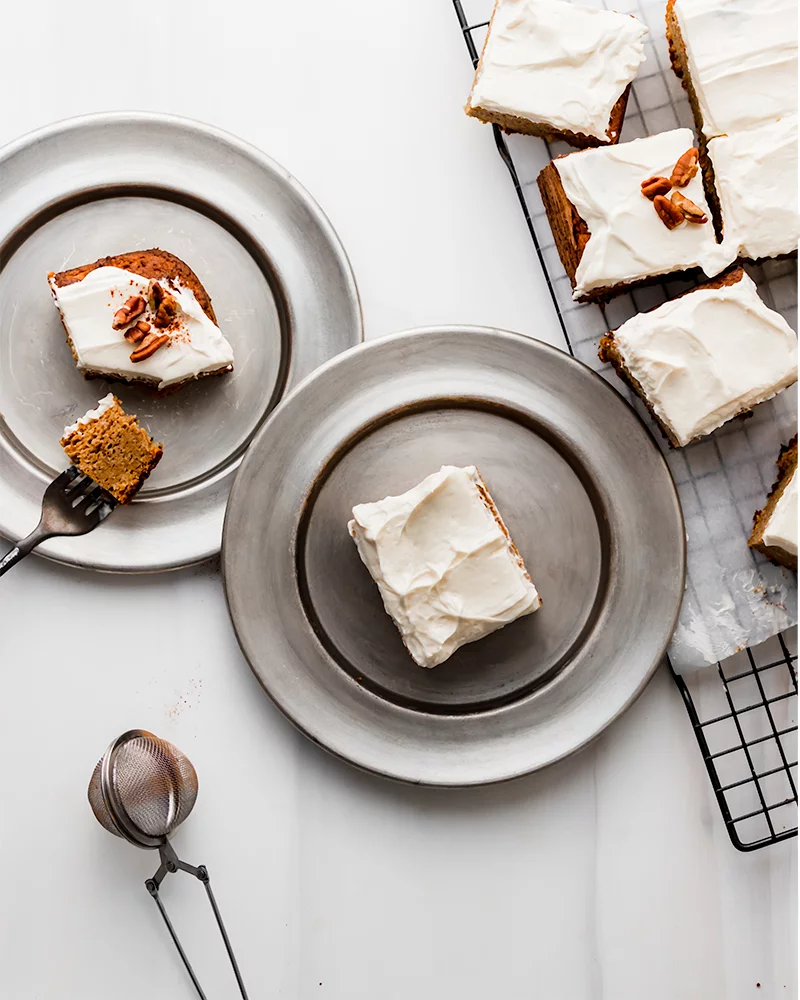 Oh and the crushed pecan toppings are totes optional. I just like toppings so I went for it. Topless is cool, too.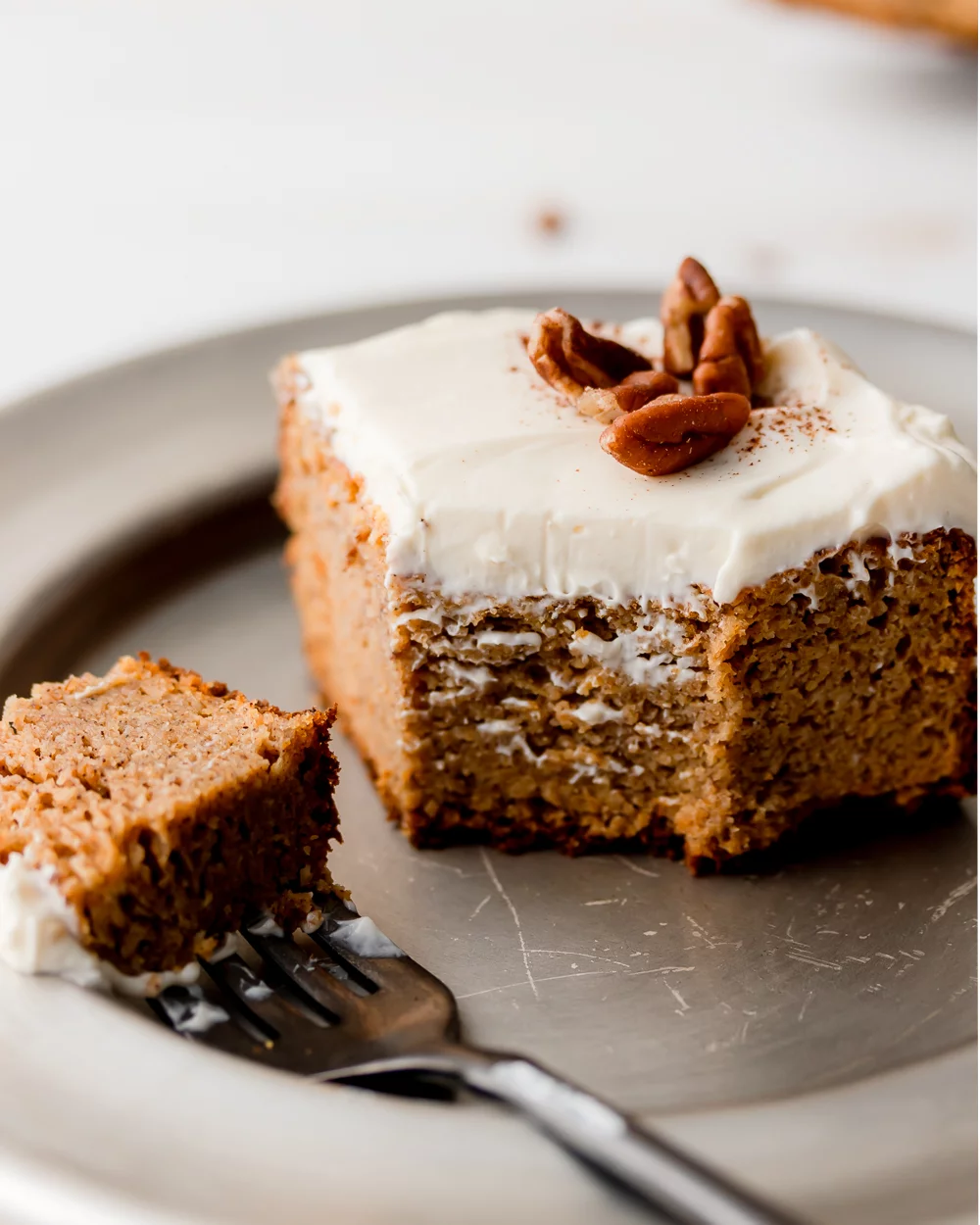 Heads UP! This post contains affiliate links. As an Amazon affiliate, I earn from qualifying purchases.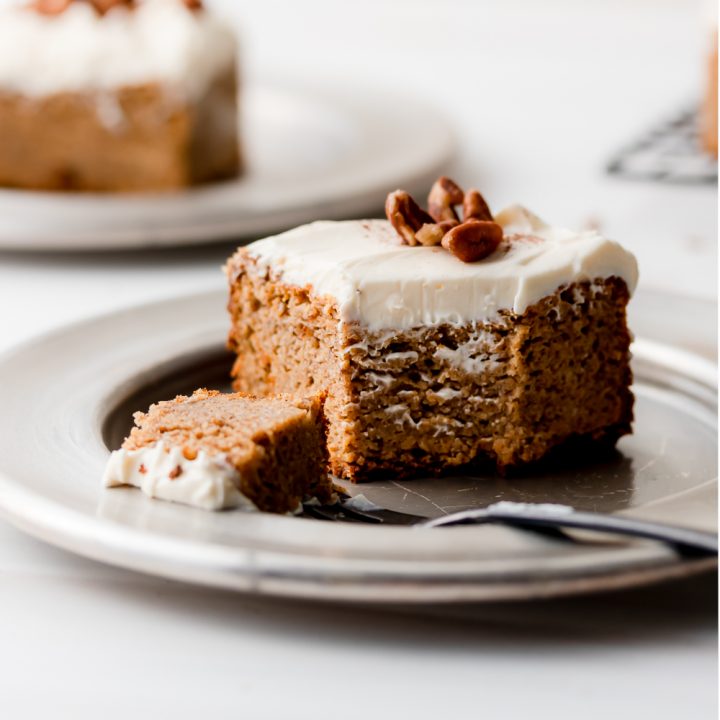 Keto Pumpkin Spice Cake
Total Time:
1 hour
50 minutes
Just say no to flat boring keto cakes! This pumpkin spice cake serves extra-tall slices and BIG flavor.
Ingredients
2 tablespoons Baking Powder
1 tablespoon Pumpkin Pie Spice
1 teaspoon Ground Cinnamon
Pinch of salt
1 teaspoon Unsulfered Molasses
6 large Eggs
8 tablespoons Butter, melted and cooled
2 teaspoons Vanilla extract
2 teaspoons Apple Cider Vinegar
For the Frosting
1-8oz block Cream Cheese, softened to room temp
1 stick unsalted Butter, softened to room temp
1 cup Powdered Sweetener, adjust to desired sweetness
1 teaspoon Vanilla extract
1/4 cup Heavy Whipping Cream
Instructions
Heat oven to 350° and grease a 9x9 glass or porcelain baking dish. Or line with parchment for easy cleanup. See notes for pan size options*
In a large bowl whisk the flours, xanthan gum, baking powder, spices, sweetener, and salt. Set aside.
In a separate bowl combine the eggs, pumpkin, molasses, butter, vanilla, and apple cider vinegar. Beat with a hand mixer until smooth.
Add HALF of the dry mix to the wet and beat until combined. The batter will be VERY thick! Using a silicone spatula, stir in the rest of the dry mix until no lumps remain; scoop into prepared pan and smooth out any bumps with a wet spoon or spatula.
Bake for 20 minutes, then cover with foil to prevent over-browning. Continue to bake for 20-25 minutes or until a toothpick inserted comes out clean. Total bake time is approx 45 minutes. Let cool completely before frosting.

For the Frosting
Add the room temperature butter, cream cheese, sweetener, and vanilla to a large mixing bowl. Beat with a hand mixer until smooth and fluffy. Adjust sweetener as needed.
Store frosted cake and any unused frosting in the refrigerator.
Notes
Pan size can differ depending on your cake preference. You can use a 9x13 cake pan for a shorter cake, just adjust your bake time.
Alternately, be careful if you use an 8x8 pan because this cake rises VERY high! You can use 3/4 of the batter and add the leftovers to a muffin tin if needed!
Nutrition Information
Yield

12 large slices
Serving Size

1 slice
Amount Per Serving
Calories

310
Total Fat

28g
Carbohydrates

9g
Net Carbohydrates

5g
Fiber

4g
Protein

9g