You don't have to be keto to fall (get it??) in love with this streusel-topped pumpkin bread!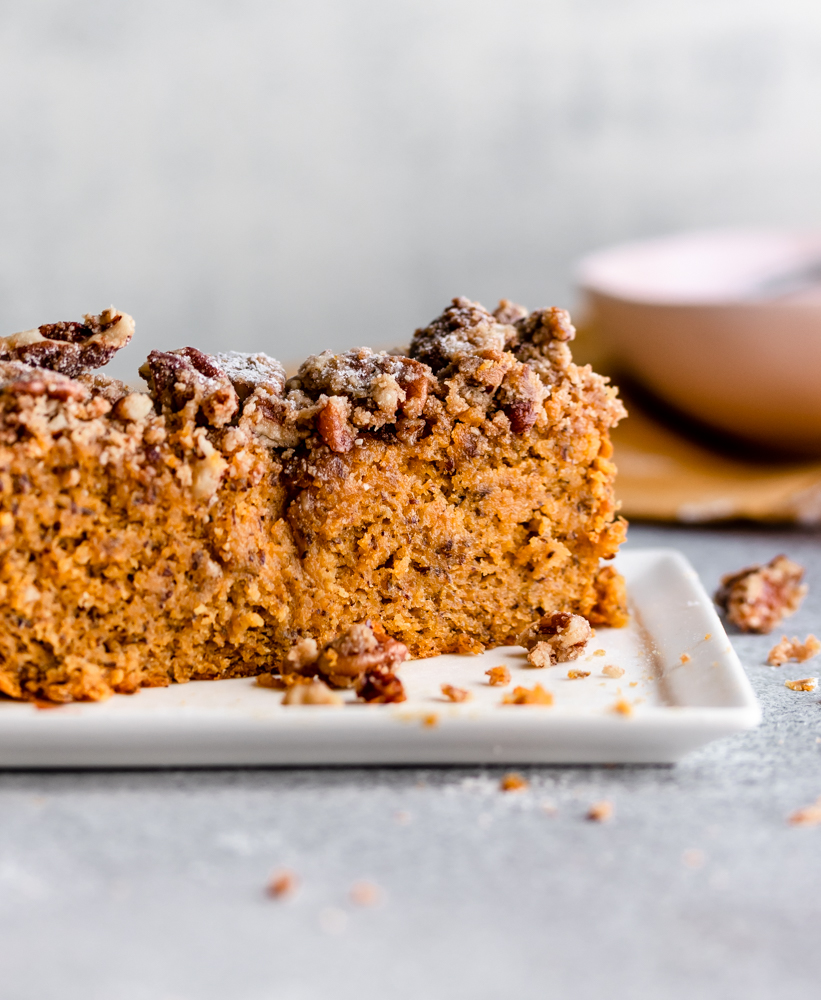 It's finally fall! And that means we can eat all of the deliciously decadent fall foods and start working on our hibernation techniques, right?!
Okay, well maybe not literal hibernation, but it's still absolutely time to get out our cozier clothes (and recipes) and start baking all of the pumpkin things. And apple things…and spooky things…
Keto Pumpkin Bread
with Pecan Streusel
If you love bread (keto or not) that is incredibly moist and flavorful, you are going to LOVE this bread. It's got just enough *real* pumpkin hiding in there to give it all of those fall feels and flavors.
But then BAM—it has that texture of a crunchy pecan and brown sugar streusel layer that make it better than any old borning, non-crusty pumpkin loaf!
Oh, and did I mention it's only 3g NET CARBS per slice??
I kid you not when I say this is super soft and moist on the inside without being gummy or strange. It's perfect to slice, halve, and butter to your heart's content! And then some!
Sweeteners
Depending on your preference, any of the popular low carb and keto sweeteners will work in this recipe. If you are sensitive to the cooling effect of erythritol, I'd recommend Allulose. Just remember that allulose is only about 70% as sweet as erythritol so you'll need to use a little more to get the same level of sweetness.
But How Does It Rise??
This keto pumpkin bread is heavy and soft which means it can hold up to reheating and getting slathered in butter like a champ! Because of its density, it also won't get a rounded high-top loaf like you were used to pre-keto.
Just make sure you use finely ground almond flour and superfine ground Golden Flaxseed Meal and you'll be good to go. I have found that re-grinding the flax can really help with the texture and overall structure. Just pop in in a coffee grinder and pulse it a few times for the perfect consistency.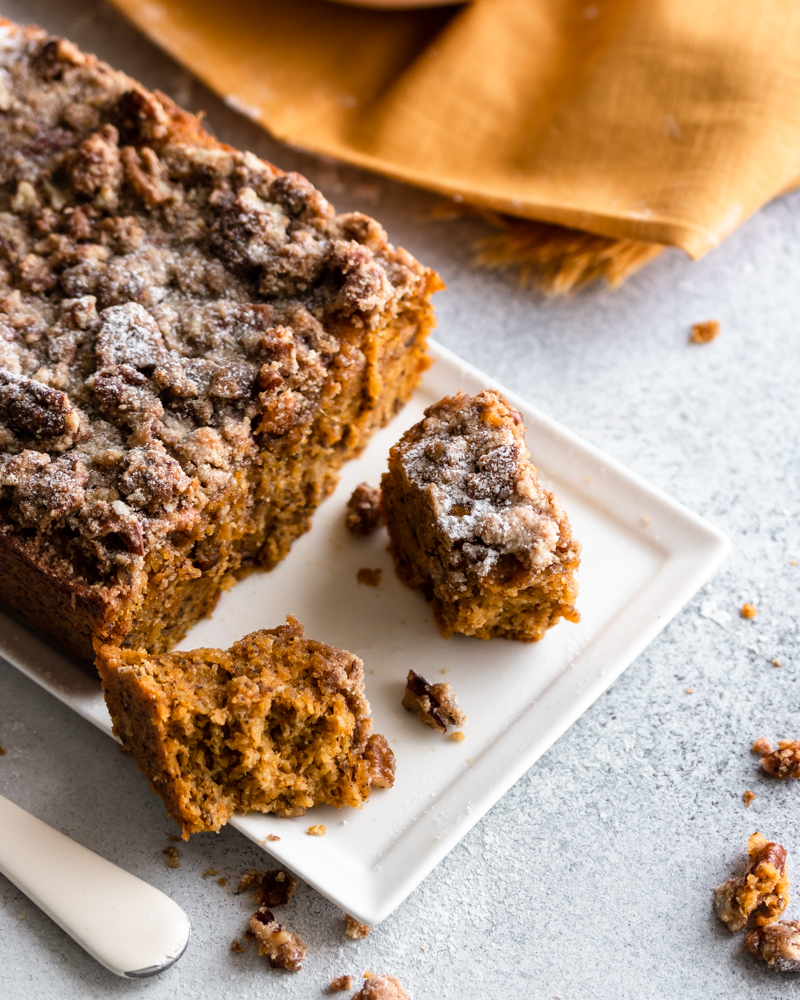 Do you see the beautiful crumble on this keto pumpkin bread? Silly question. Of course you do. If you have eyes and a pulse then you are seeing (and feeling) this streusel.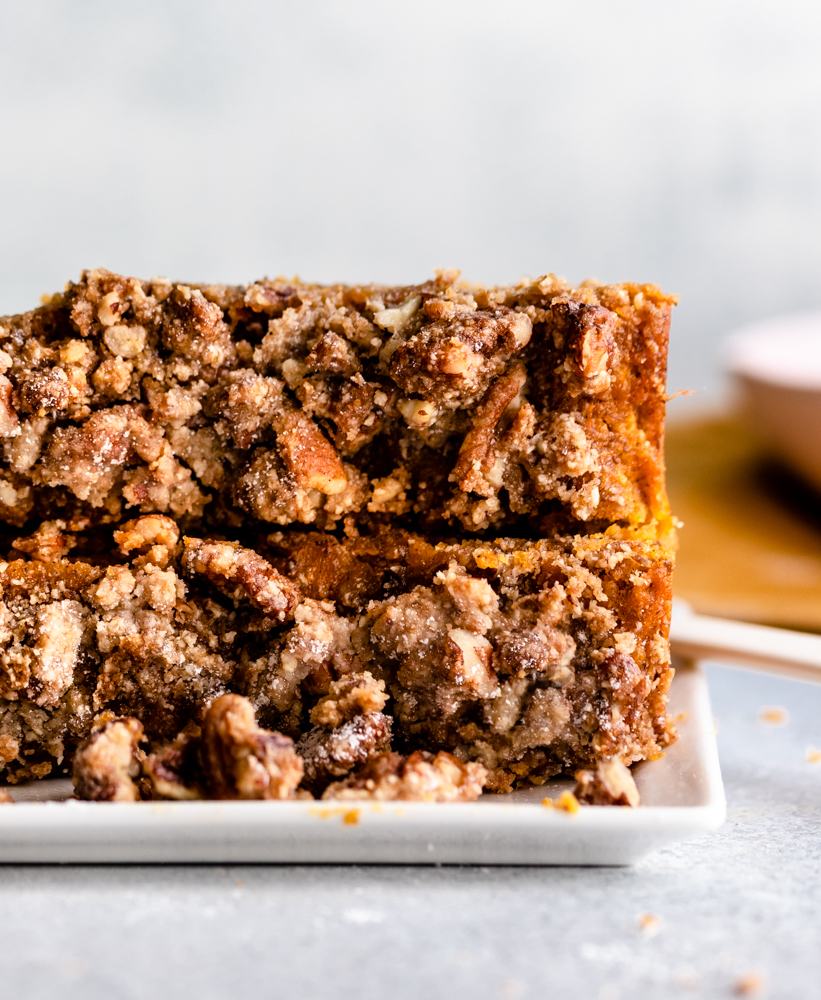 If you want, you can skip the pecan streusel but honestly why would you want to??? It's sweet and crunchy and slightly seductive, in a dessert kinda way, and it takes almost zero extra effort. Just trust me on this.
Want More Fall-Inspired Treats?
Try These!
Baked Apple Cider Donuts – Keto Friendly & Gluten Free
Baked Apple Tartlets with Cinnamon Hemp Seed Crumbles
Swirly Cheesecake Pumpkin Bars with Spiced Cream Cheese Icing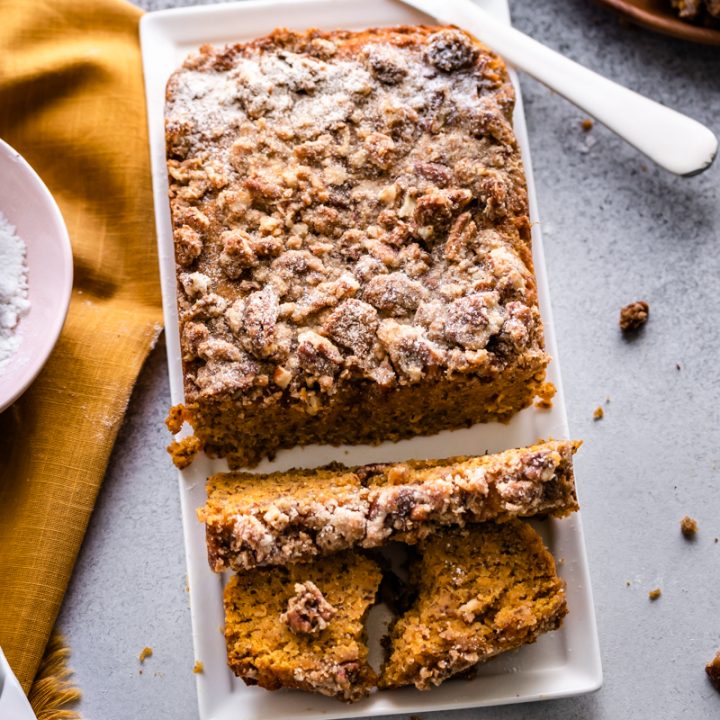 Keto (or Not!) Pumpkin Bread with Pecan Streusel Topping!
Cook Time:
1 hour
15 minutes
Total Time:
1 hour
25 minutes
Soft and filling keto pumpkin bread with only 3g net carbs per slice!
Ingredients
1/4 cup Coconut Flour
1 tbsp Baking Powder
1/2 tsp Ground Cinnamon
1/4 tsp Ground Tumeric
5 tbsp Salted Butter, very soft
3/4 cup Pumpkin Puree
3 large Eggs
Pecan Streusel
1 cup Pecan Halves, roughly chopped
3 tbsp Salted Butter, chilled
Instructions
Heat oven to 350° and line a loaf pan with parchment or non-stick spray.
Make the pecan streusel: Use a fork to cut the butter into the sweetener, almond flour, and pecans. Pop the mixture in the refrigerator to stay chilled while you make the batter.
Make the Batter: Whisk together the almond flour, coconut flour, golden flax, xanthan gum, baking powder, and spices.
In a separate bowl, beat the sweetener and butter until smooth. Beat in the eggs one at a time, followed by the pumpkin puree.
Add half the dry flour mix to the wet and stir to incorporate, followed by the rest of the mixture. Make sure you don't leave any lumps of the dry mix!
Scoop the batter into the prepared loaf pan and top with the pecan streusel. Bake for about 20 minutes, then tent with foil and continue to bake for 40-50 minutes, watching for the edges of the loaf to brown.
Remove from the oven and let the loaf cool completely before removing. It will continue to cook even out of the oven! Store wrapped in wax paper on the counter for 3-5 days.
Nutrition Information
Serving Size

1 slice
Amount Per Serving
Calories

130
Total Fat

18g
Carbohydrates

6g
Net Carbohydrates

3g
Fiber

3g
Protein

4g