With only 5g Net Carbs and ZERO gluten, these mini apple tarts are going to be your go-to fall dessert!
---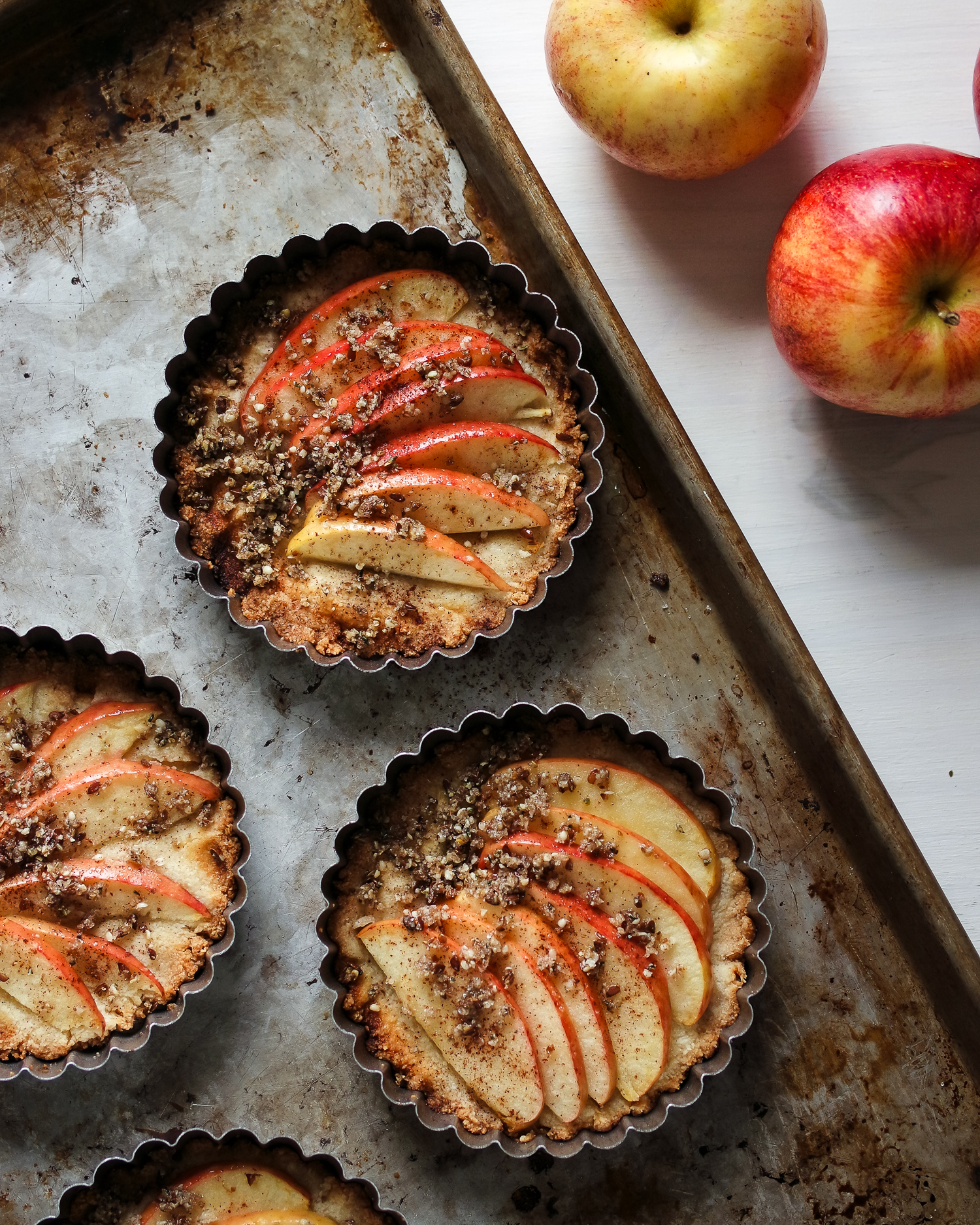 Rainy Day Baking
The best way to pull yourself out of a sad mood is to bake delicious treats!
Have you ever just been in a mood and you didn't want to leave the couch? That was me this weekend.
I actually had to read an article about being clinically depressed (!!!) on Mental Floss to get motivated to shower. And if it weren't for that article I may have never moved again BUT after day two of pouring rain and self-indulgence in Gloomsville, USA, I finally got in gear and ended up making TWO recipes!
Apples and Low Carb
Normally I steer clear of apples because the carbs can really add up, but my great pal Emily recently bought a skunky bag of apples that she was going to toss so I ∗obviously∗ took them and promised to make them into something magical!
Since this recipe calls for ONE APPLE to make FOUR SERVINGS I don't think it's too terrible!! Plus you'll have some slices leftover, which makes it 5 grams of carbohydrates from the apple per serving.
Living your life (keto or not) and making the foods you love fit into your lifestyle is key to a healthy relationship with food!
Baked Apple Tartlets with Cinnamon Hemp Crumbles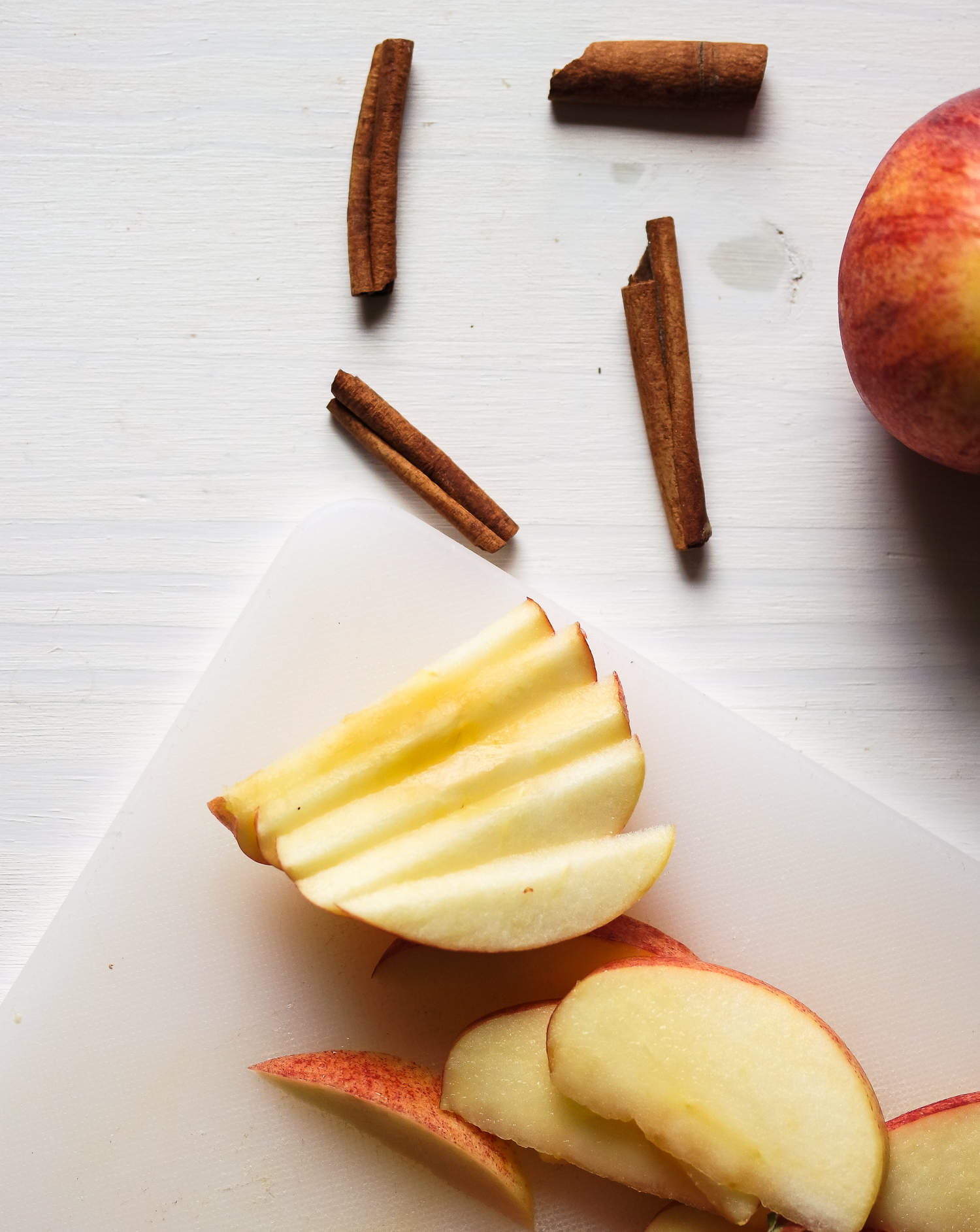 Slicing the apples very thin is the key to making them pretty.
The thinner the apple, the easier they fan out.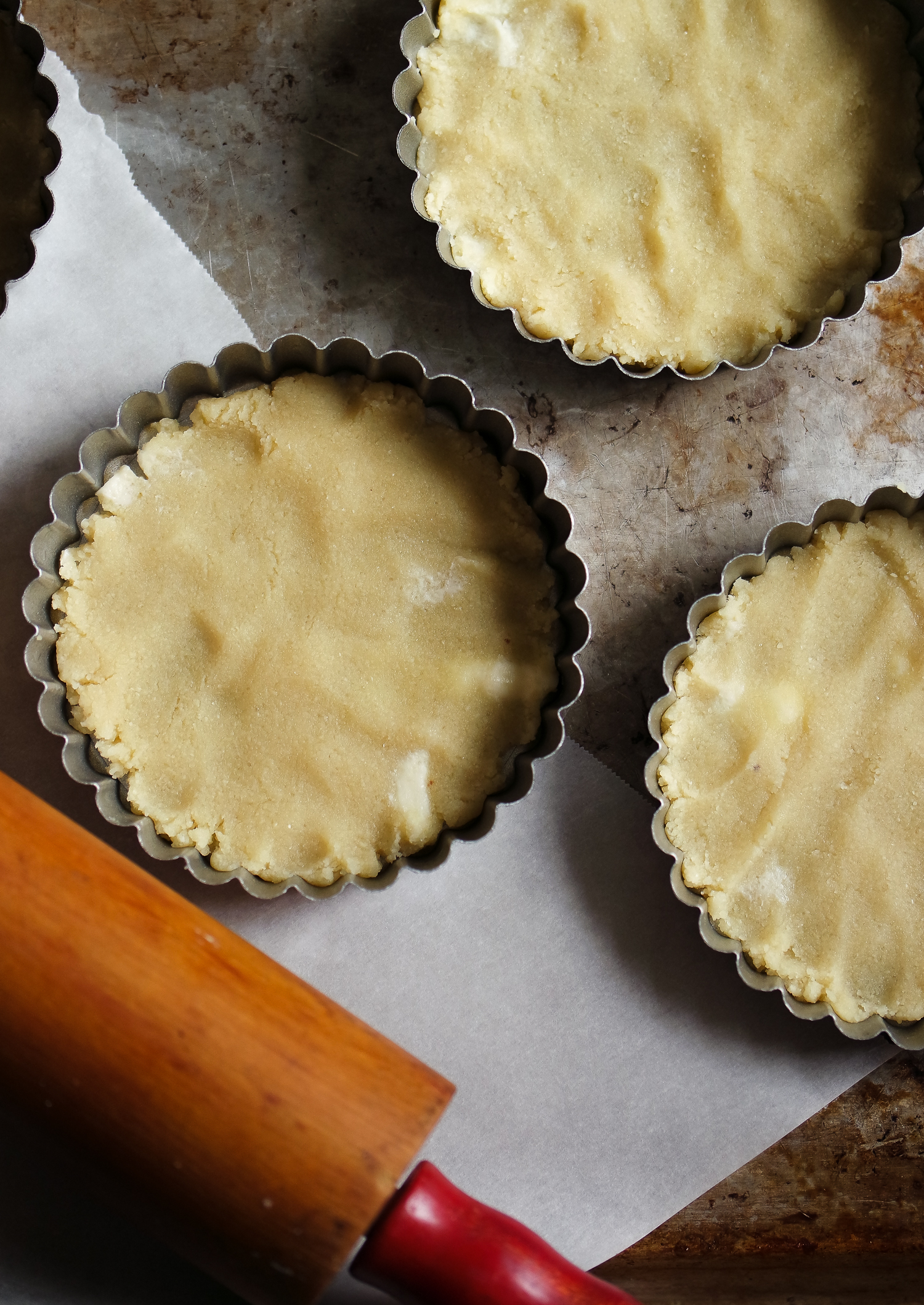 This almond flour crust is my go-to for anything that is pie-like.
You can mold it and meld it just like gluten-full pie crusts.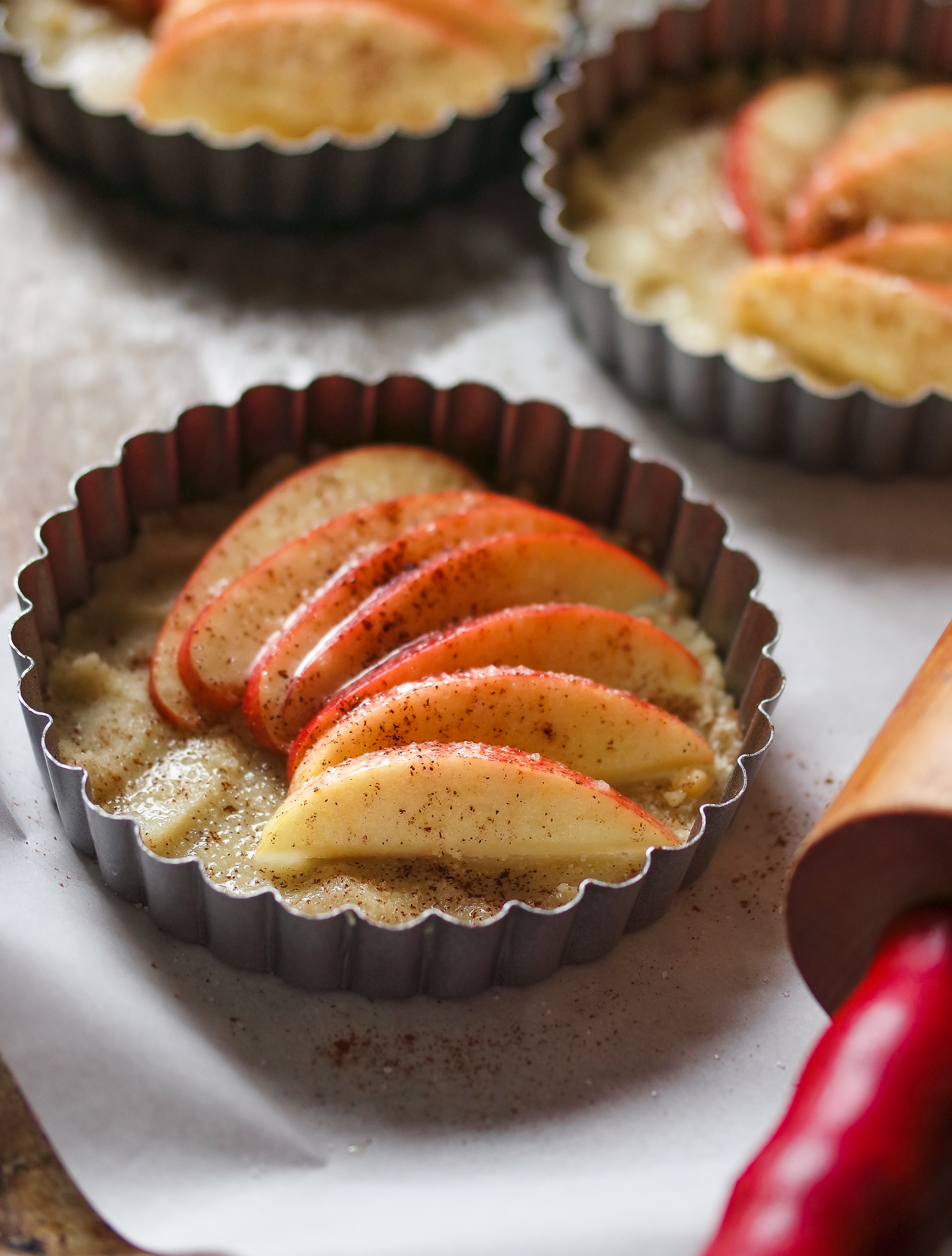 Once you have your crust ready and your apples prepped, fan them out because #PresentationIsEverything!
I also added a spritz of cooking oil because the photo process left them a bit dry, but it's not required.
Hemp Heart Crumble
Mid baking I decided to mix some hemp seeds with a little granulated Swerve and some maple extract for a superfood boost. The result was a nutty, sweet maple crumble that was just what these mealy skunk apples needed!
Hemp literally fixes ∗everything∗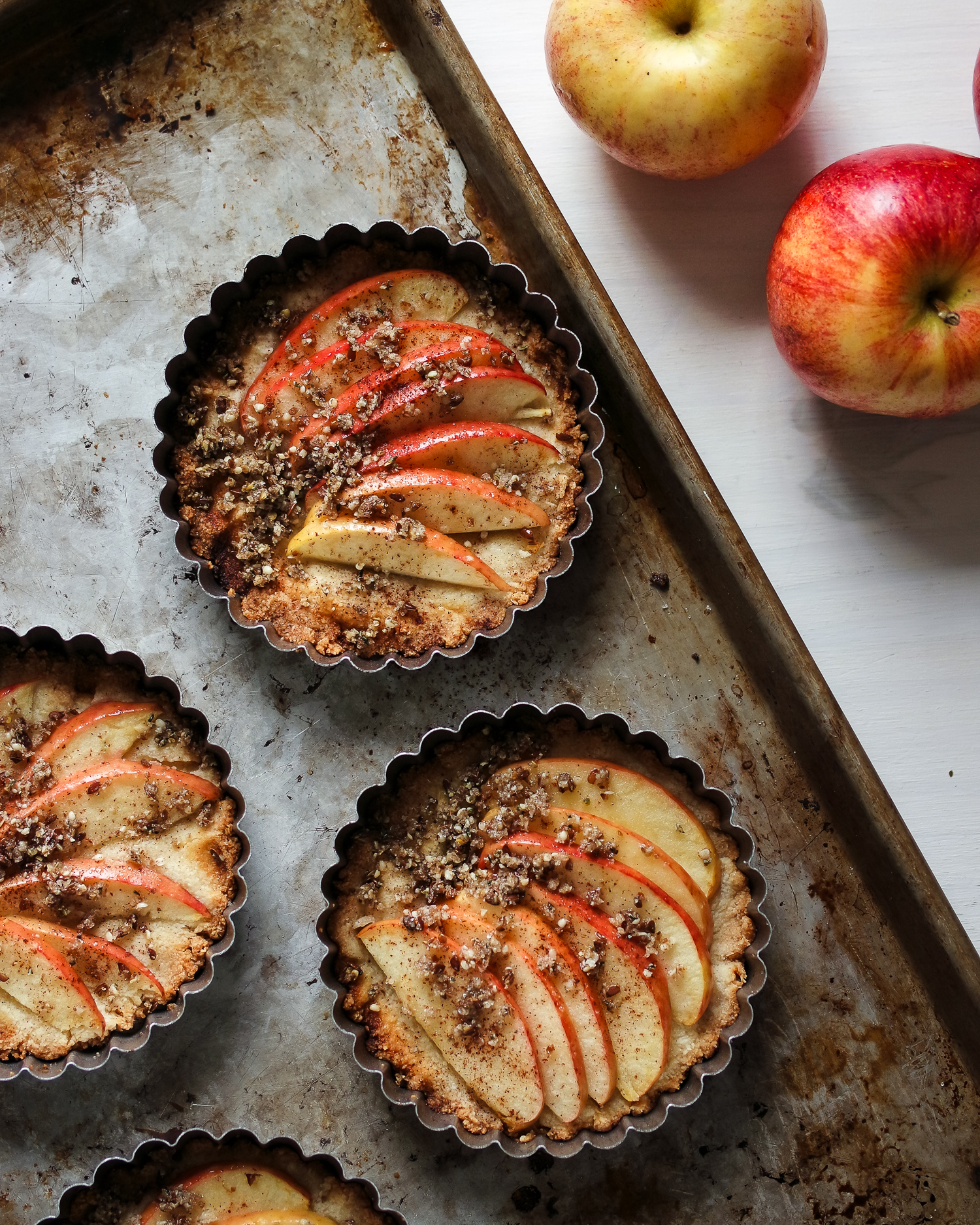 They are so light and crispy without the goo that comes with an apple pie.
Plus the hemp and maple give this tart the extra wow factor!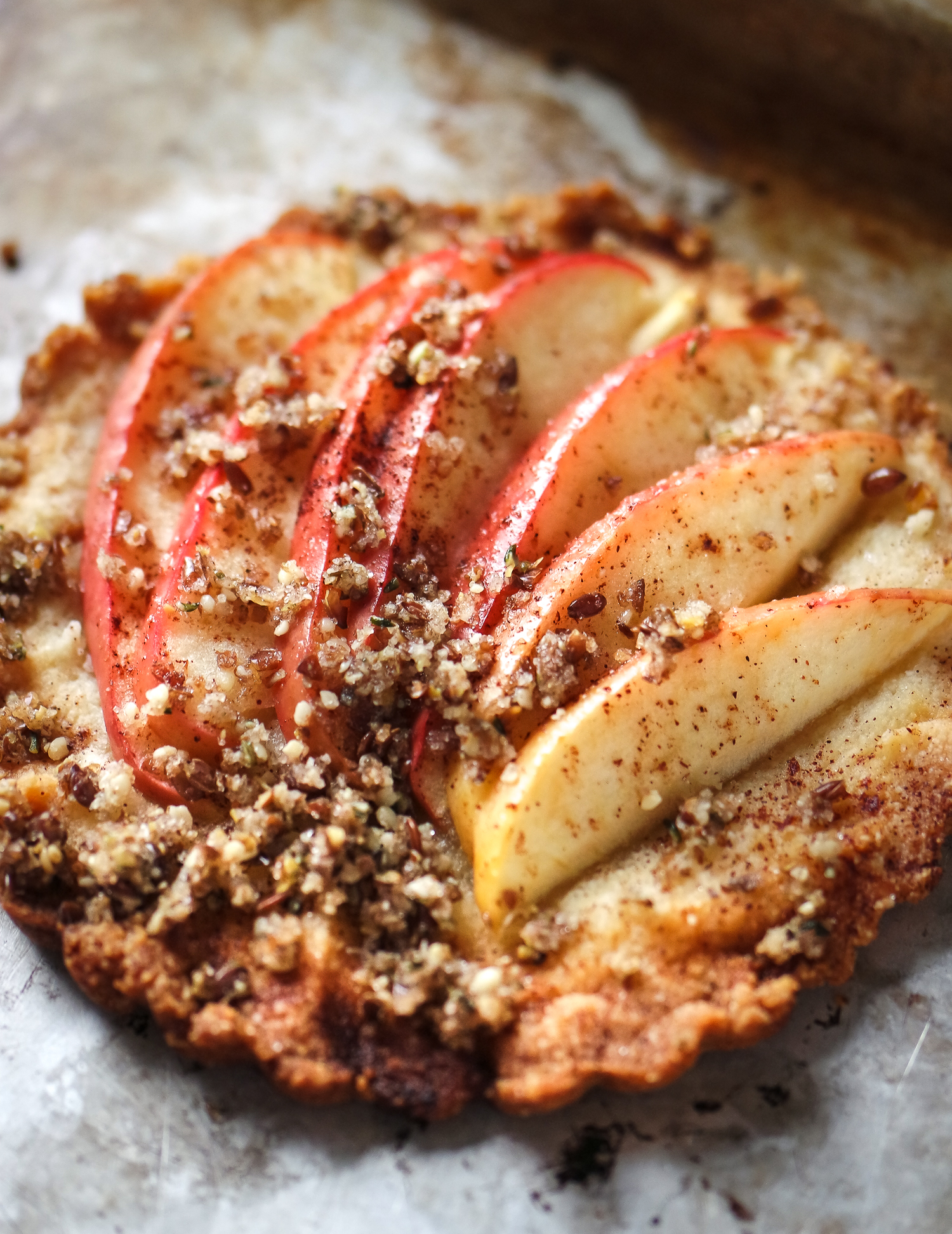 Want More Fall Flavored Recipes?
Try These!
Baked Apple Cider Donuts – Keto Friendly
Butternut Squash Pie 🥧 with Bourbon & Brown Butter!
Baked Eggs and Squash with 🍳 Ginger Spiced Granola
Swirly Cheesecake Pumpkin Bars 🍂☕ with Spiced Cream Cheese Icing
Baked Apple Tartlets with Cinnamon Hemp Seed Crumbles
Not quite keto but sort of lower carb apple tartlets with a gluten free, grain free crust!
Ingredients
For The Crust
1 cup Almond Flour
4 tbsp Butter, chilled
1/2 tsp Xanthan Gum
2 tbsp Erythritol or Swerve
1 tsp Lemon Juice
For the Apples
1 Apple, very thinly sliced
1 tbsp Erythritol or Swerve
2 tsp ground Cinnamon
1 tsp Lemon Juice
Hemp Crumble
1 tbsp Hulled Hemp Hearts
1 tbsp Golden Erythritol or Swerve Brown
1/2 tsp Maple Extract, optional
Instructions
Heat oven to 350 degrees.
Make the crust: Cut the chilled butter into the almond flour, xanthan gum, and sweetener with a fork or pastry cutter. Add the lemon juice and continue to work the mixture until a dough forms. You can use your hands (I do!) until the dough holds together.
Prep The Apples: Clean and core the apple, then slice into very thin pieces. Toss the thinly sliced apples in the lemon juice and sprinkle with sweetener and cinnamon.
Press dough into tartlet pans, you should have enough for 4, and top each with the apple slices.
Mix hemp hearts, 1 tsp granulated sweetener, and maple extract to make the crumble. Sprinkle the crumble over the apples and bake for about 15 minutes or until the edges begin to brown. Serve warm.
Nutrition Information
Yield

8
Serving Size

1/2 Tart
Amount Per Serving
Calories

152
Total Fat

13g
Carbohydrates

8g
Net Carbohydrates

5g
Fiber

3g
Sugar

3g
Protein

4g
I think this might be the beginning of a beautiful relationship with apples! If the apples are thinly sliced and it involves three slices…