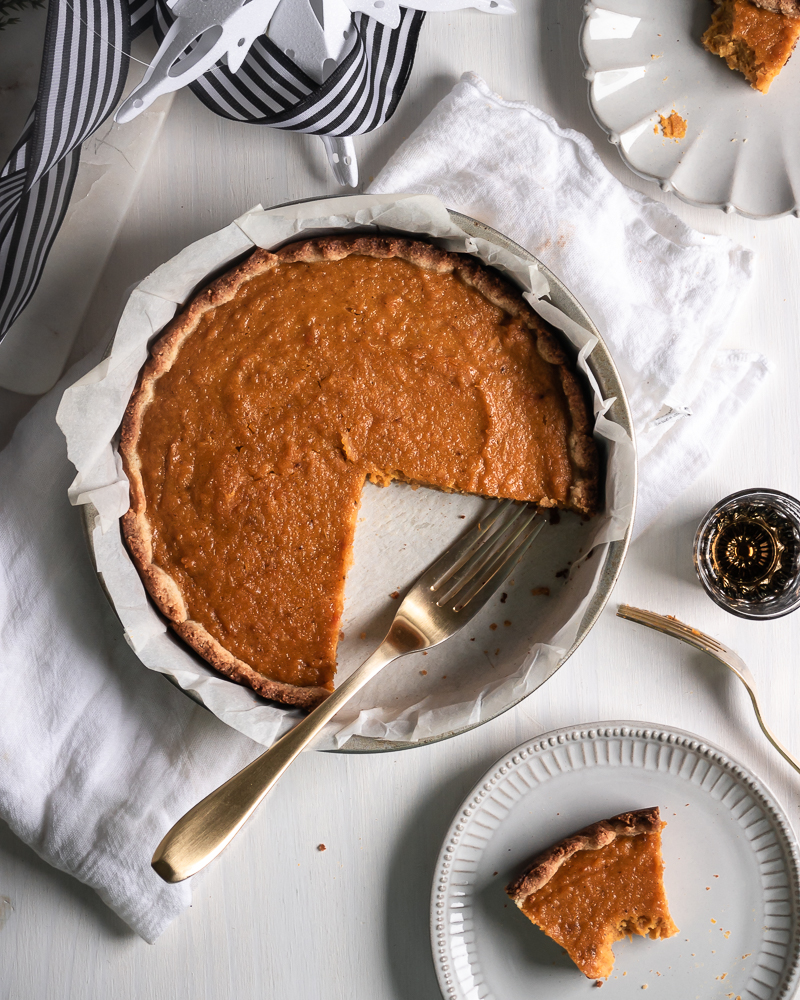 The Pumpkin Pie Myth
Does anyone actually know what's in canned pumpkin puree anymore?
Turns out, it's just a bunch of pumpkins.
Yeah, those squash rumors were false. I know because Snopes told me so and I trust them more than I trust Facebook. I think on a deeper level I kinda already knew because I've eaten Libby's Pumpkin Puree straight out of the can and it's slightly gross, unlike other variety of squash.
Two years ago Facebook basically said pumpkin purée was lie and didn't have real pumpkin in it. I was, unfortunately, one of the lie spreaders but now I'm a fact spreader! Here is the original article if you want the facts, too.
BUT-ternut however, super-duper delish when pureed AND consequently elevated to an even higher level of delicious when blended with beautifully brown butter and shot of bourbon.
A Labor of (Pie) Love
I know that I am asking all of you to not only ditch the tradish pumpkin pie this year but also to make your own squash purée and it's a bit of a stretch.
Turns out though, stretching is actually super good for you and you probably don't do it enough sooo…
Let's just get flexible with our holiday pie choice this year because plain old pumpkin is kind of stiff and boring, but I'm betting your guests would bend over backward for a little slice of Bourbon & Butternut Squash piieeee.
I know I would.
And I'll already be wearing yoga pants anyway.
Butternut Pie with Brown Butter & Bourbon!
Super sweet, thick, heavy, and all other things that make this pie
the superior dessert choice.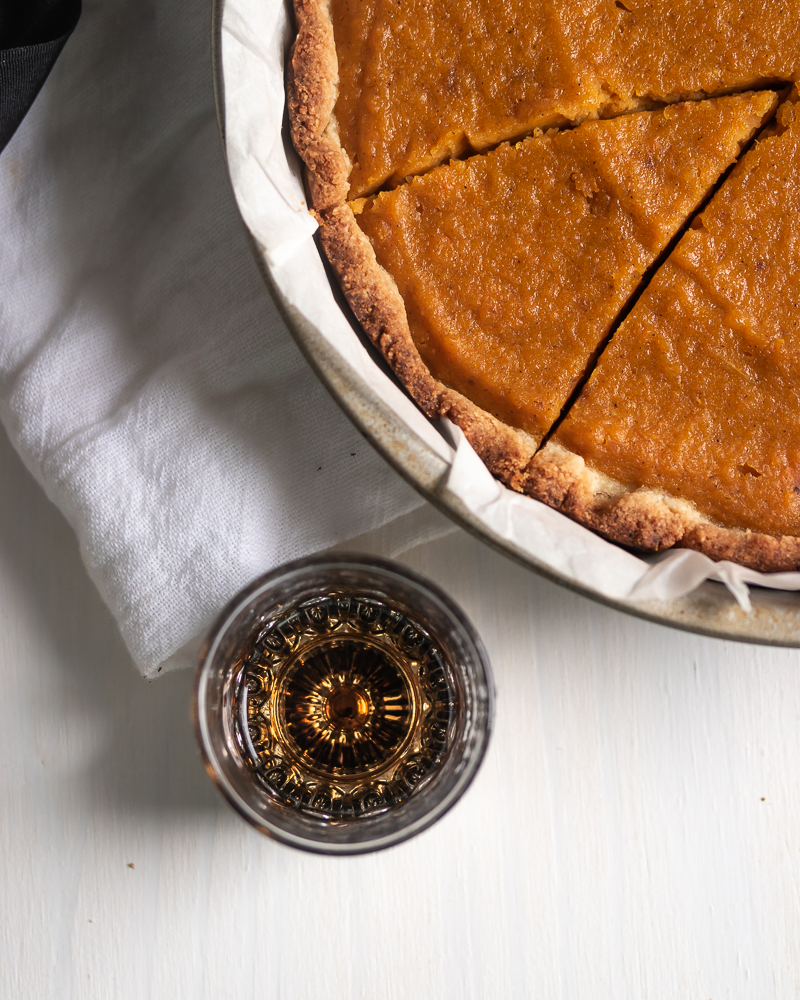 Butternut Squash 101:
1. Buy pre-cut butternut squash cubes.
They are at most grocery stores because manufacturers know cutting your own squash is a joke and no one does it anymore.
2. Roast instead of steaming.
It seriously makes it thicker (less water) and sweetens the heck out of the squash.
An almost-don't-even-need-sweetener level of sweet.
3. Do everything in the blender.
Seriously, don't even waste a bowl. Just blend it all up and pour.
A Note On Brown Butter & Bourbon
You can skip browning the butter, but brown butter is better.
You can skip the bourbon too but why?
Both add a delicate but unique flavor but if you want to test the waters
with just b-nut and no extras,
I understand.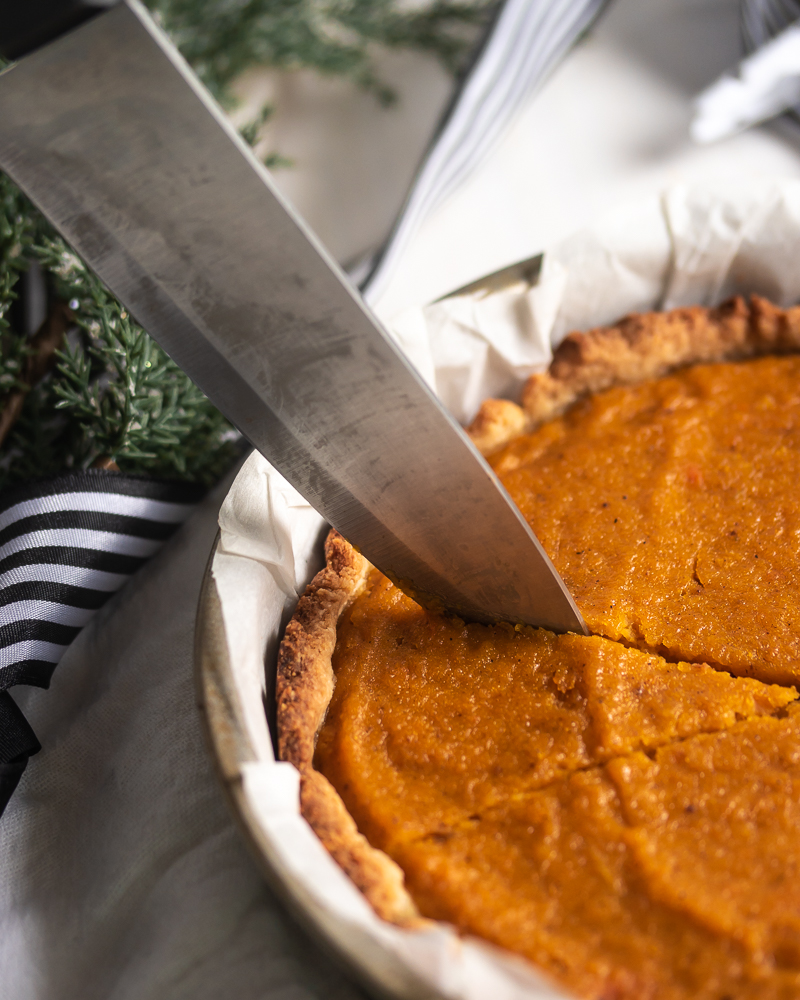 I also made this with three eggs instead of two once.
It was a lighter consistency but I honestly prefer the two egg method.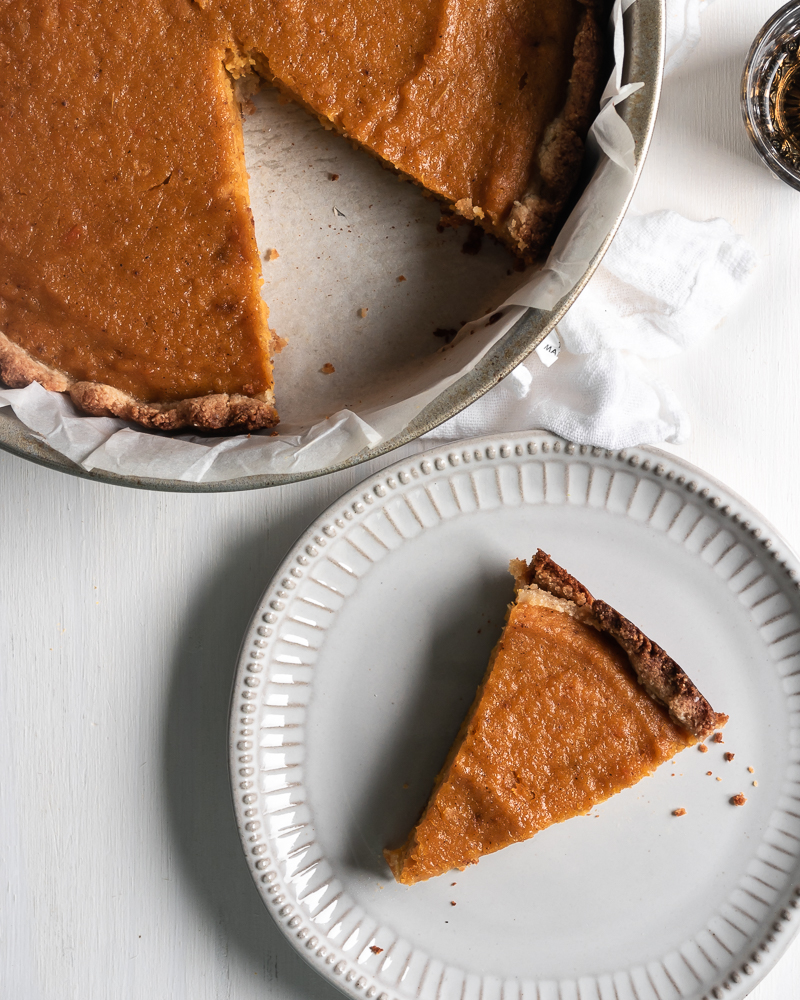 If you like sweet potato casserole, that's what this reminds me of.
Only it's in a pie shell and it won't kill me!
*FYI I'm allergic in case you were thinking of inviting
me to your Thanksgiving.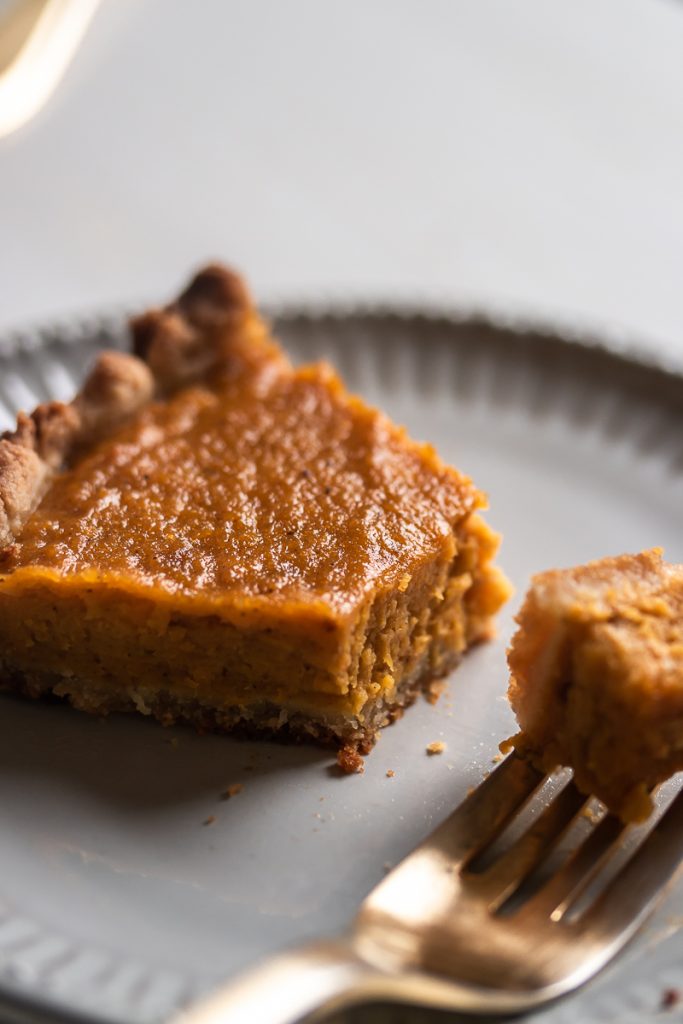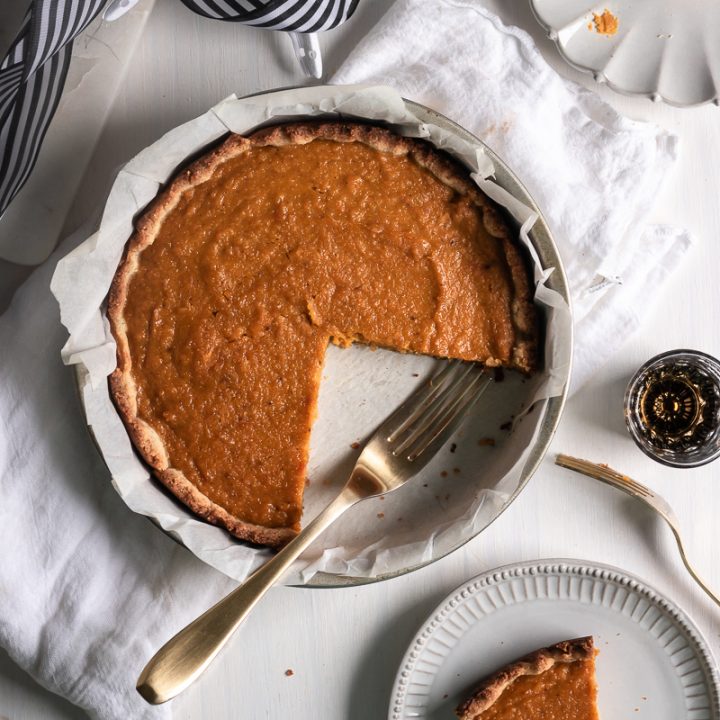 Butternut Squash Pie with Brown Butter & Bourbon!
Cook Time:
1 hour
40 seconds
Total Time:
1 hour
20 minutes
40 seconds
Butternut makes the perfect puree to fill your pie(hole) with a shot of bourbon and brown butter!
Ingredients
Pie Filling
3 cups Butternut Squash cubes, Fresh or Frozen, **3.5 cups for a large Pie
1/4 cup Heavy Cream
2 tbsp Brown Butter, instructions below, or melted butter
1 tsp Vanilla
1/4 tsp Pumpkin Pie Spice
1/8 tsp Cinnamon
1/8-1/4 cup Swerve, depending on squash sweetness
2 Whole Eggs
2 tbsp Good Bourbon
Crust
1 cup Almond Flour
2 tbsp Coconut Flour
1 tbsp Swerve (sweetener)
1/4 tsp Xanthan Gum
4 tbsp Cold Butter
Pinch Salt
Instructions
Begin by roasting the raw or frozen squash cubbes on a large baking sheet in a 400-degree oven. About 20 minutes total.
Crust
While the squash is roasting, whisk the dry crust ingredients together then cut in the cold butter.
Press into a greased SMALL pie pan (see my small cake pan story below!!) and bake at 400 for 8 minutes.
Remove from oven and let cool.
Pie Filling
In a blender or food processor, add the squash, brown butter, and heavy cream. Pulse until smooth.
Add sweetener, spices, and eggs to the blender and continue to pulse, scraping down the sides when needed.
Pour into prepared crust and cover ONLY the crust edges with foil to prevent burning.
Bake at 400 degrees for 15 minutes, then reduce oven temp to 350 and bake an additional 30-40 minutes or until the center is mostly set.
Cool, cut, serve!
*To brown butter
Melt butter over medium heat. Make sure your pan has a light-colored bottom so you can watch the color. Swirl occasionally to cook evenly.
Watch for the butter to bubble and turn from pale yellow to warm brown.
Once it's browned (not burned) remove from heat and transfer to a heat-proof bowl to cool.
*You can leave any dark bits in the pan, though some like them. I do not.
Notes
Pie Pan: In this recipe, I used a small round cake pan BUT it will still work in a regulation-size pie pan. You will just have a thinner pie OR you can add 1/2 cup of butternut squash chunks to your roasting pan! All other measurements will be the same!
**If you are having trouble blending the squash, you may add a few tbsp of water.
**You can also buy butternut puree in the store, but I recommend cooking some of the water off on the stovetop first! 1.5 cups of puree would do it.
Nutrition Information
Yield

8 slices
Serving Size

1 slice
Amount Per Serving
Calories

245
Total Fat

20g
Carbohydrates

11g
Net Carbohydrates

7g
Fiber

4g
Protein

6g
SO I have left my pie pan somewhere. That is why you see the pie up there👆 in a small cake pan.
This recipe will fit in a 9 in pie tin, NOT a deep dish. There isn't enough filling for that but you could certainly bump up the squash and add an egg.
When you put this in a pie tin, the crust will go just to the edge, not over and that's ok. The filling will also go right to the crust edge!