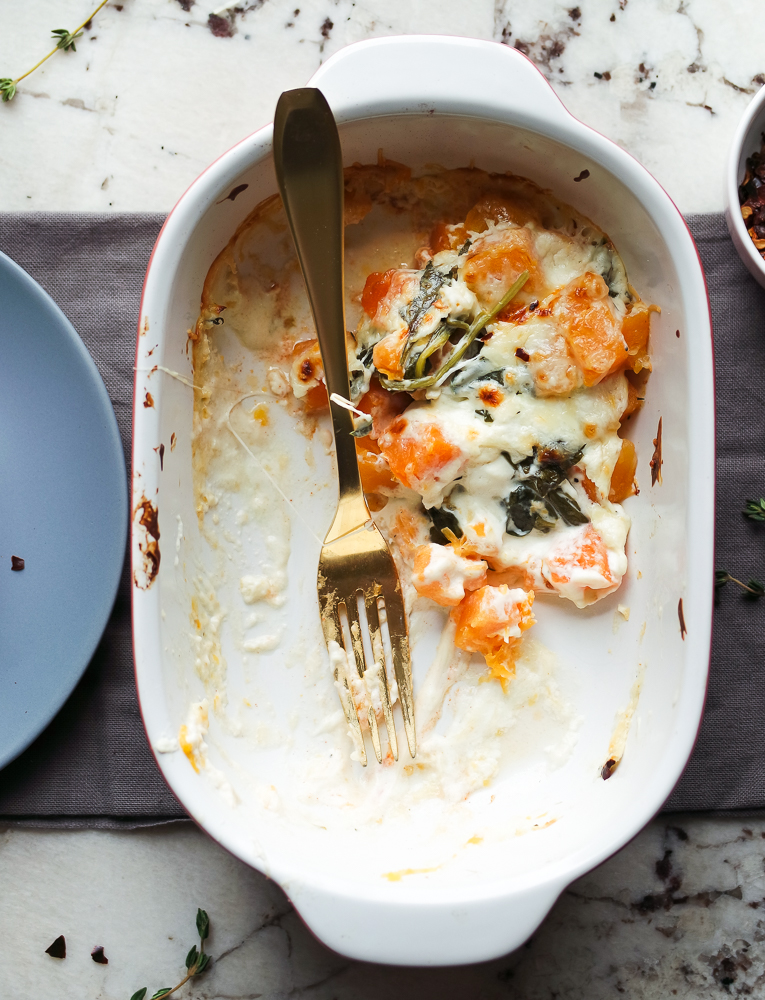 How do I love thee? Let me count the cheeses…
Mozzarella, I love you.
Parmesan, I love you more.
Romano and Asiago, xoxo.
Provolone, let's be alone.
Cream Cheese…alright, you get the picture.
Man, is there anything better than hunkering down with the one (or seven) cheeses that you love and just netflixing until spring? Name anything better, I dare you.
If some wisenheimer says donuts then I guess I'll call it a tie but that's it.
Comfort (without the guilt) food
There's only one other healthy comfort food that is a contender for Best Cheesy Casserole Ever and that's Creamy Scalloped Cauliflower. Other than that, no contest. So bubbly and cheesy when it's poppin' fresh outta the oven and then so dense and dreamy when it's leftovers, assuming you do in fact have any left over. Probably not though.
Maybe I should call this a casserole for one?
AND as if this recipe isn't already appealing, it's got that health factor going, too with all of it's veggies and low carb-ness and whatnot. I guess you could call this side the whole package aka All THAT.
Countless Cheeses & Butternut Squash Casserole
Because who wants to waste time counting cheeses when you could be eating cheeses?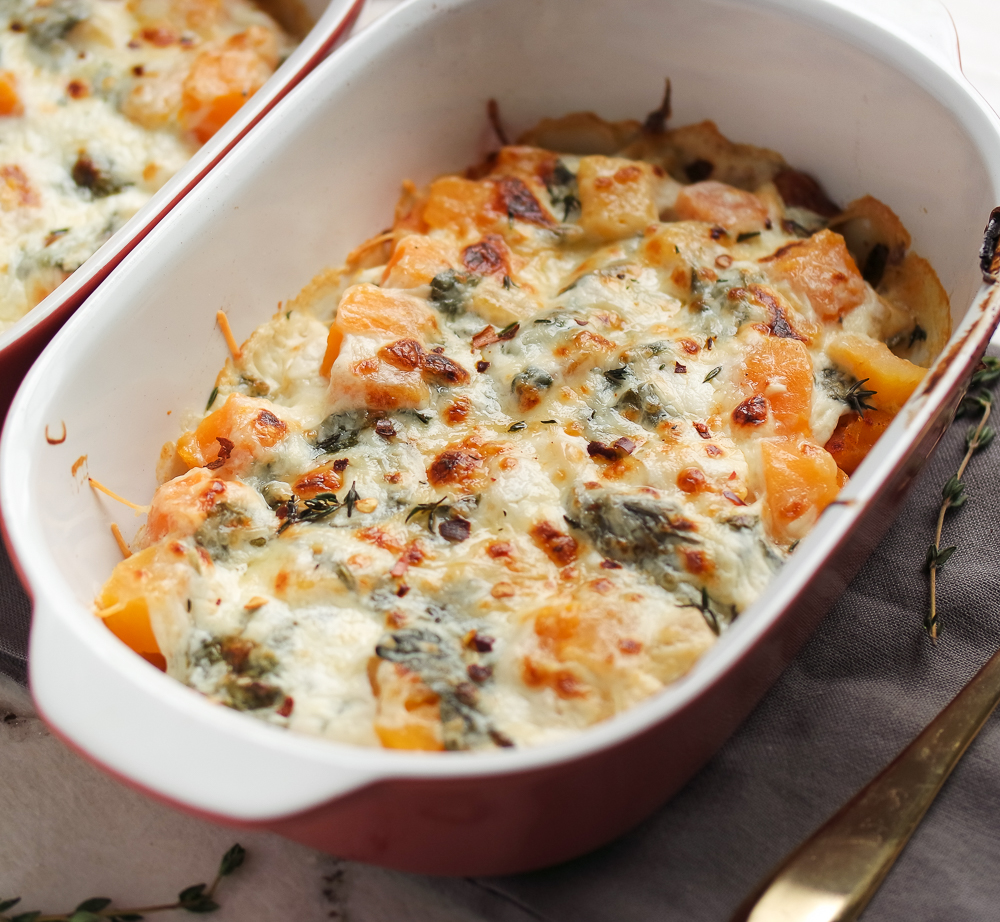 It all begins with the squash.
Nine times out of ten I'd say fresh is best but the work involved is horrendous. Squash peeling is the workout of a lifetime.
Luckily, frozen works great and the extra bit of moisture is welcome.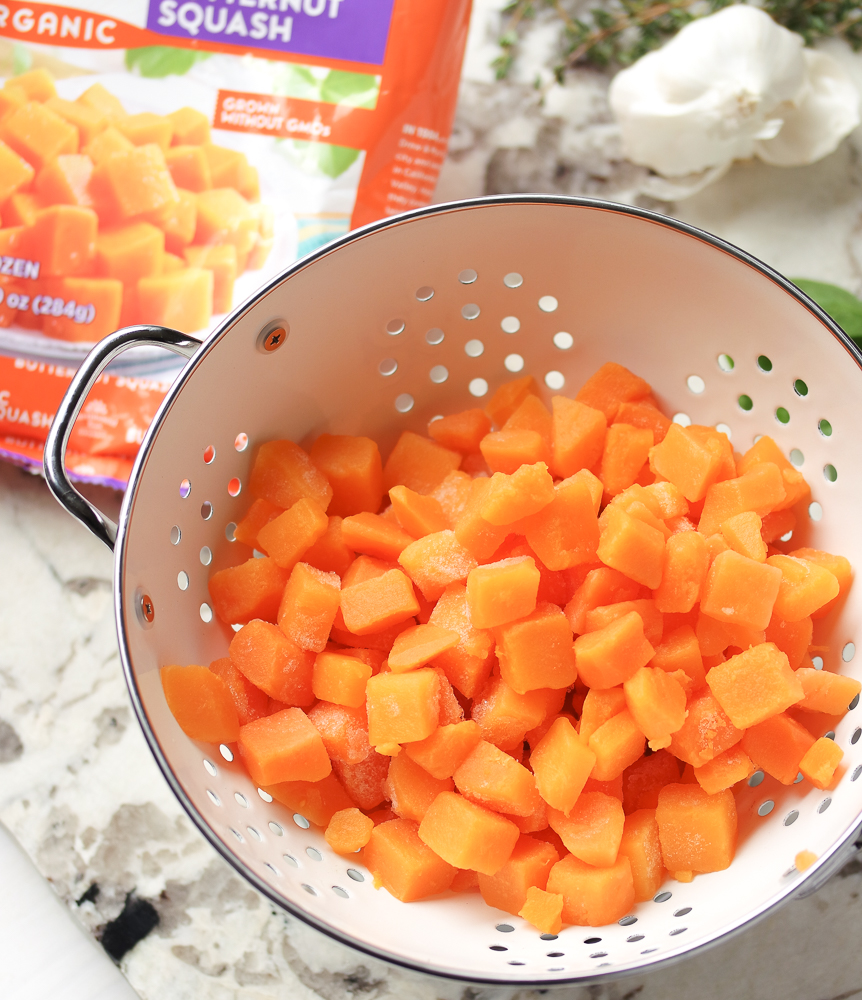 I love any food that involves getting layered over and over again.
I'm not sure why it's so rewarding but it is. Maybe it's an OCD thing…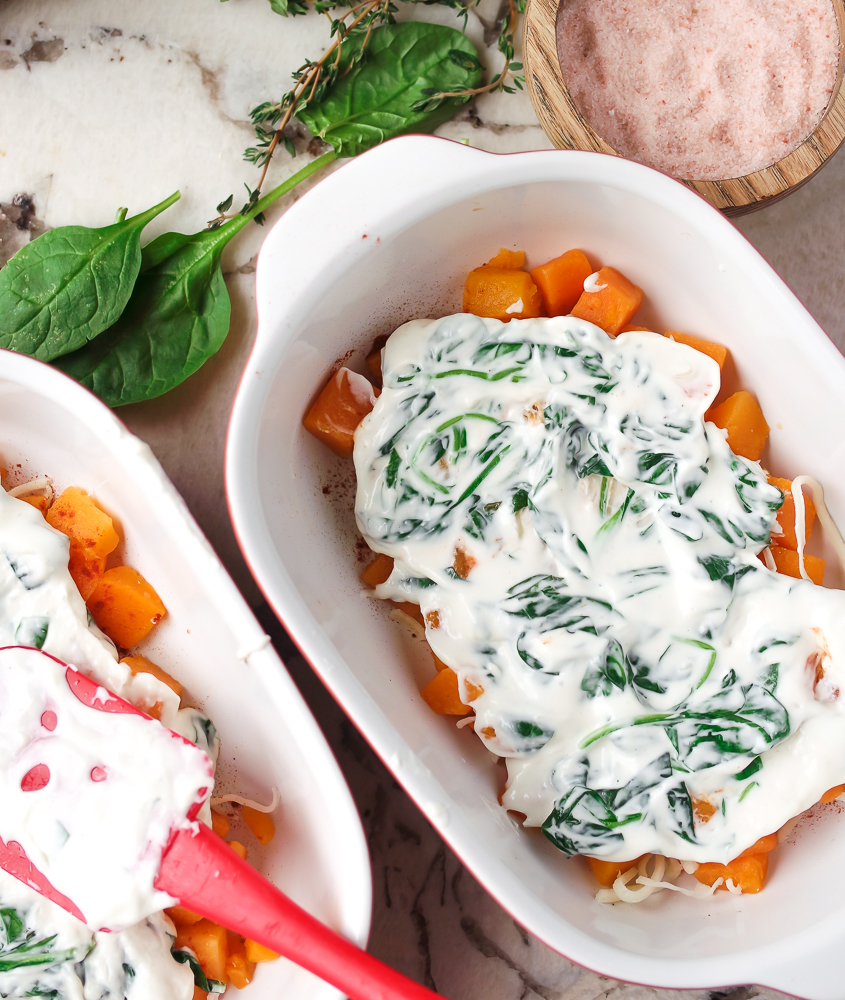 Squash on top of cheese on top of creamy cheese-soaked spinach on top of squash…and then more cheese, etc.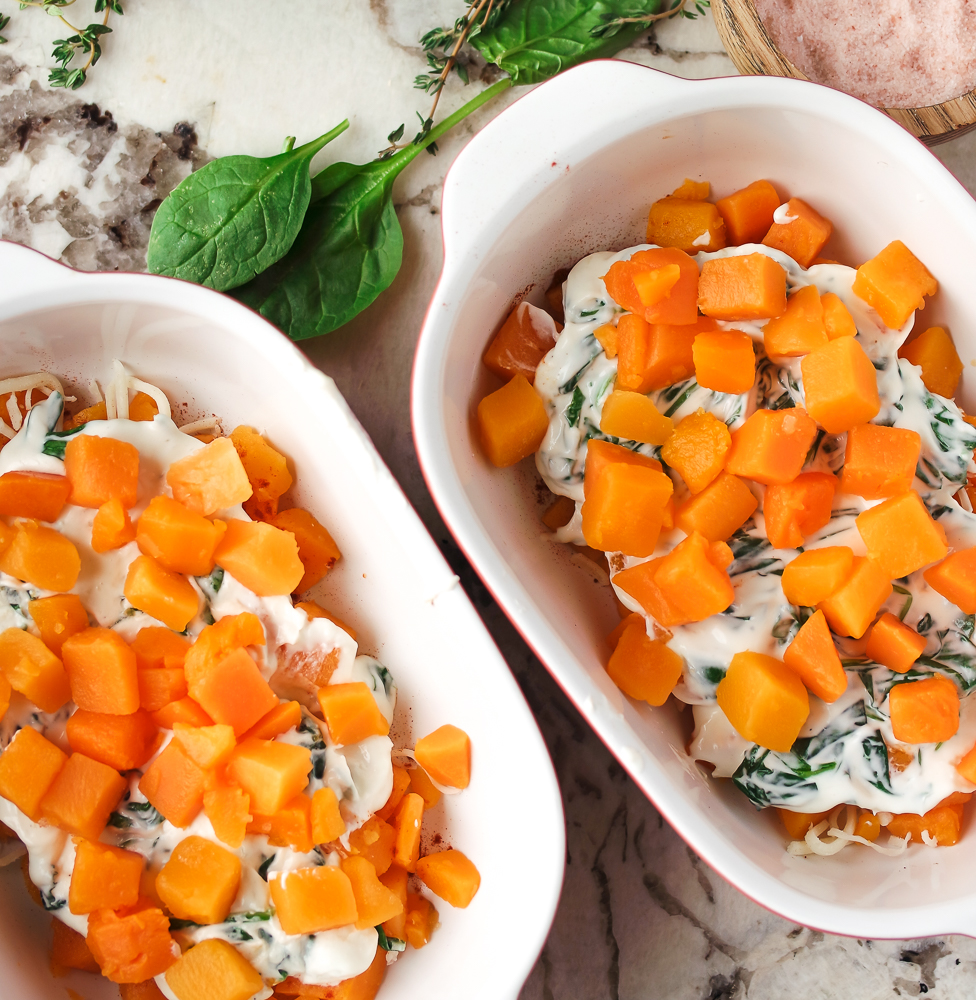 I like to bake it under a foil blankie because that promotes even cheese cookage.
Then I like to remove the blankie and bake it to release some of that moisture.
THEN I broil that beotch until it's so bubbly and crispy that my drool can no longer be contained.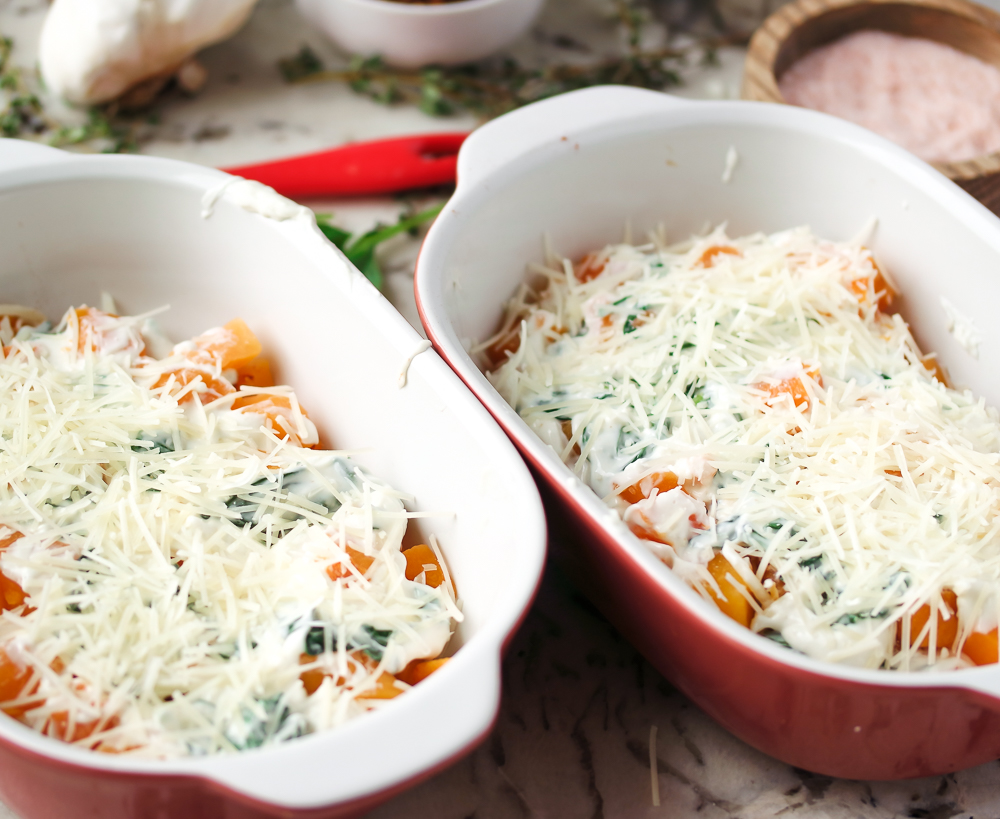 And top with fresh thyme because it's the holiday season and I'm feeling a little fancy.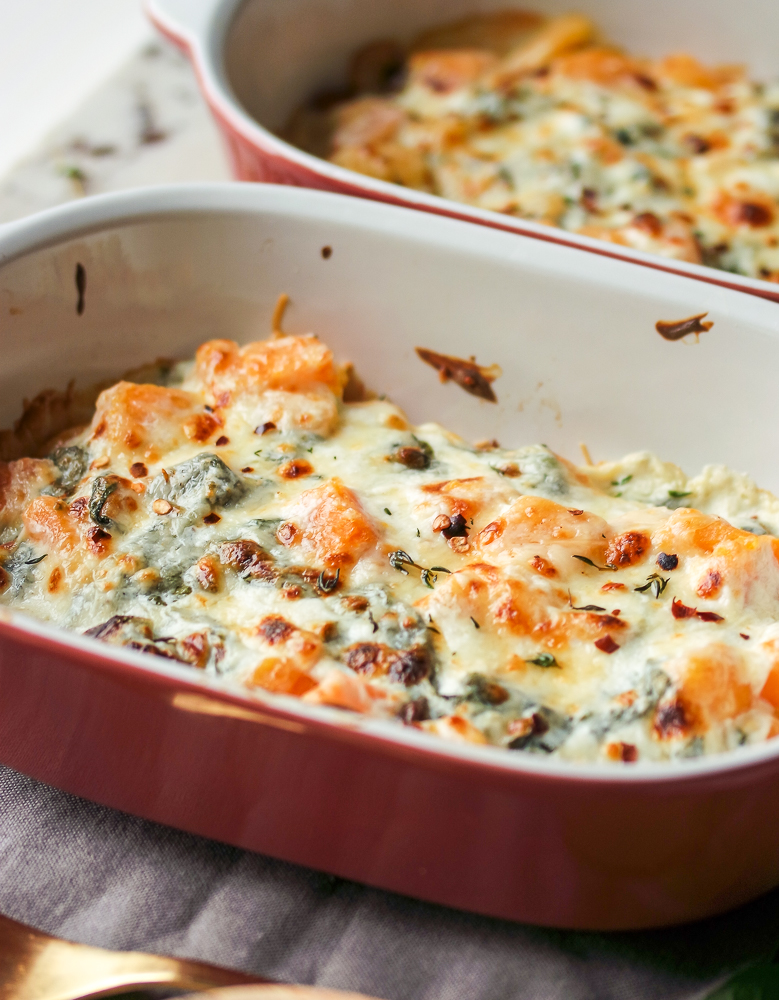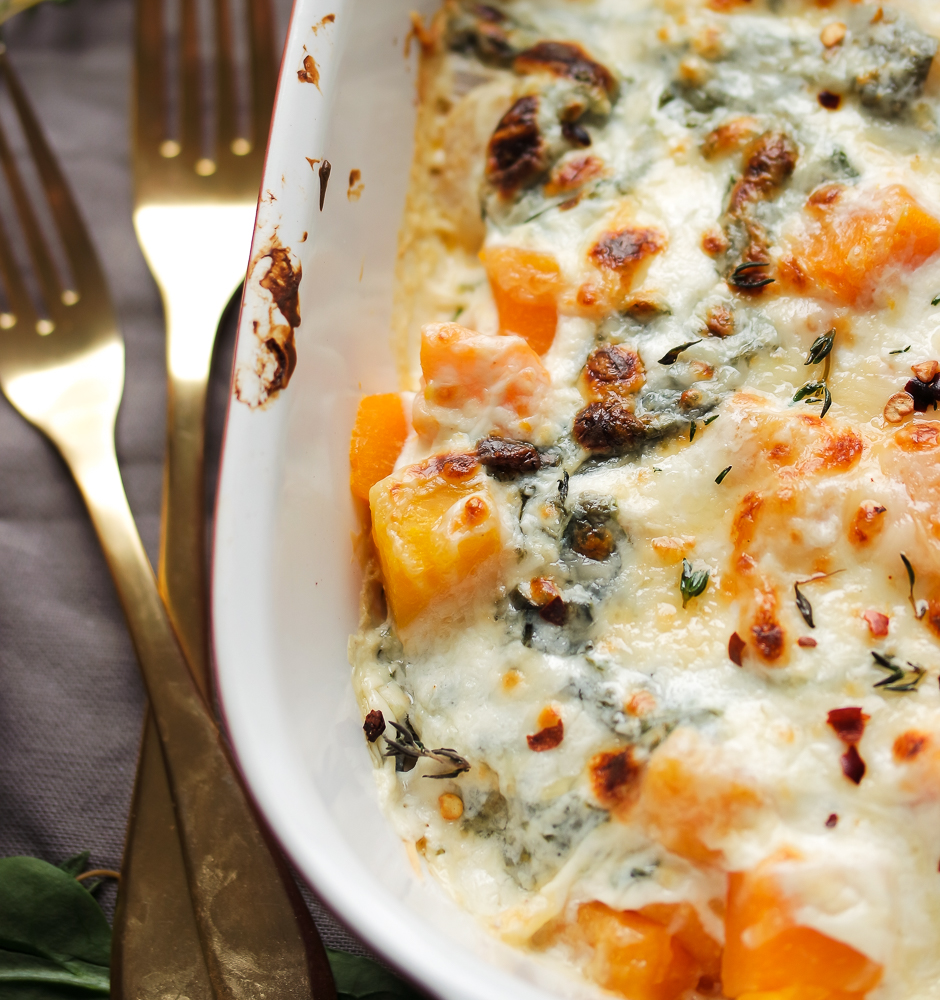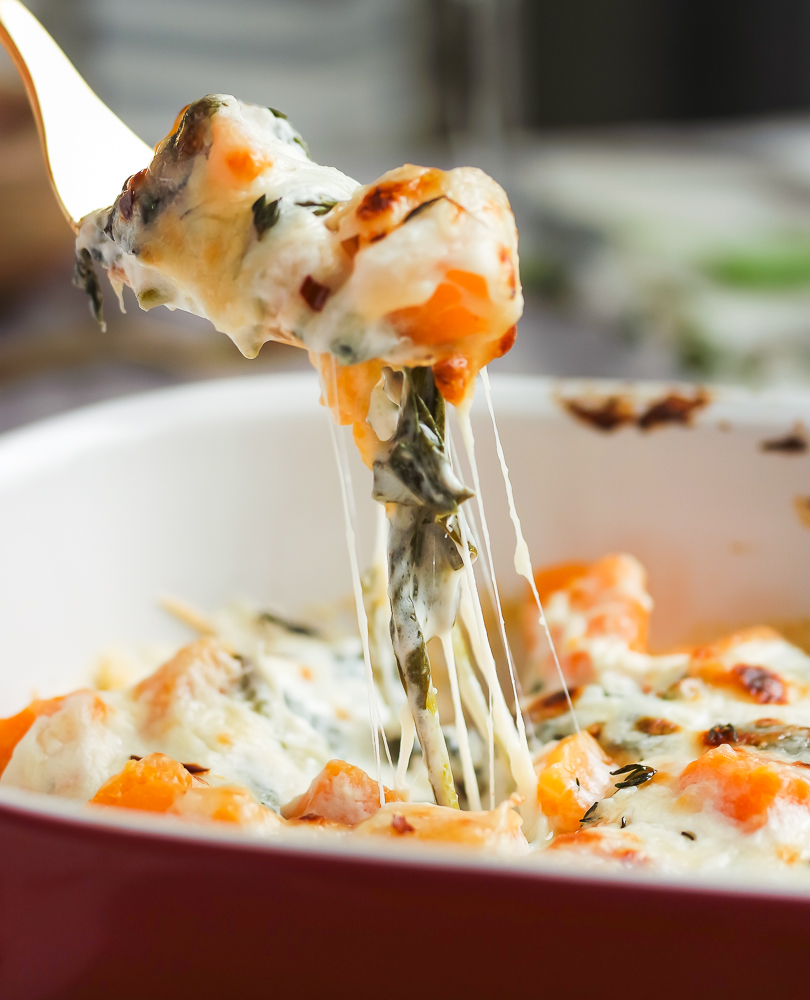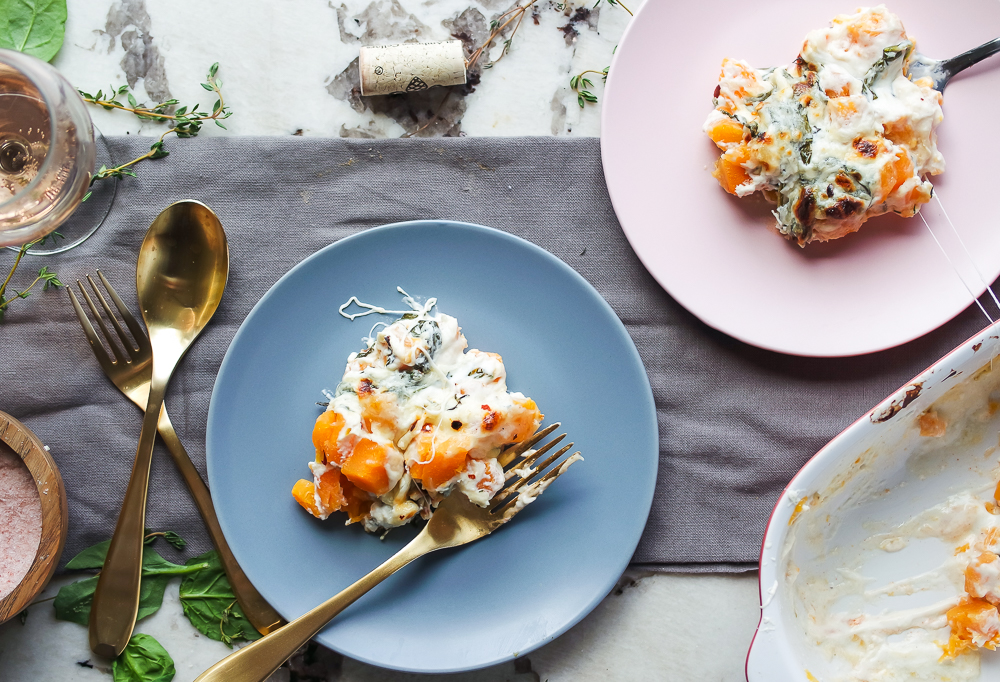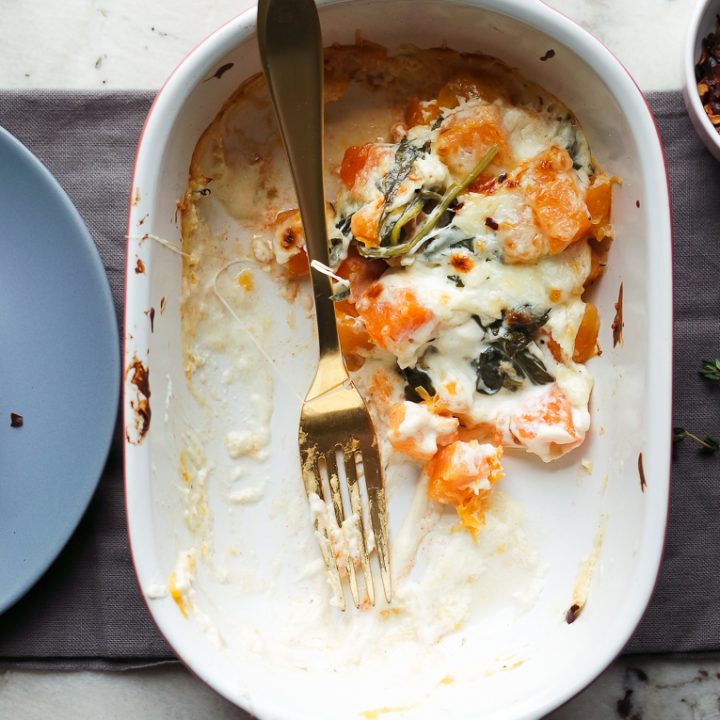 Creamy Spinach and Butternut Squash Casserole
Prepare to meet your new favorite holiday side that can double as a whole meal! Tangy, salty cheese and oh so sweet butternut squash.
Ingredients
2 10 oz Bags Frozen Butternut Squash
1 8 oz pckg Cream Cheese*
1 cup Shredded Parmesan Cheese
1 cup Milk* Whole or Dairy Alternative, or up to 2 cups
1 tbsp Butter
2 cups Baby Spinach
1/2 cup Shredded Italian Five Cheese Blend
1 tsp Smoked Paprika
1 tsp. Garlic Powder
1 tsp Sea Salt
1 tsp Fresh Thyme to garnish
Instructions
Heat oven to 350°.
In a saucepan melt butter, cream cheese, and milk and bring to a low simmer. Begin with 1 cup of milk and if the sauce becomes too thick, add an extra 1/4 cup at a time but no more than 2 cups total.
Stir constantly until the cream cheese is completely melted.
Sprinkle in shredded parmesan cheese slowly, allowing it to melt while you stir. This prevents major cheese clumping.
Fold in spinach 1 cup at a time until all of the leaves are wilted and cheese covered.
Using two 1.5 qt baking dishes, or one 3 qt, assemble the casserole by layering the frozen butternut squash and sprinkling with the smoked paprika, garlic powder, and salt, followed by a handful of the Italian cheese blend.
Cover in half of the cheese sauce, layer more squash and seasoning followed by the rest of the cheese sauce. Top with the more shredded parmesan cheese.
Cover with foil and bake for 30 minutes. Garnish with fresh thyme.
Remove foil and bake for an additional 10 minutes. Broil for just a few minutes to achieve optimal cheese browning and/or bubbling.
Notes
*MILK- the amount can be variable depending on how accurately you measure your cheese. If the sauce is feeling too thick, you can add up to 1 cup more of milk but you don't want it to be *too* runny because the squash will release moisture during the baking process!
Nutrition Information
Yield

10
Serving Size

1/3 cup
Amount Per Serving
Calories

210
Total Fat

13g
Carbohydrates

11g
Net Carbohydrates

10g
Fiber

1g
Protein

8g
Who's ready for sweater weather now?!?!