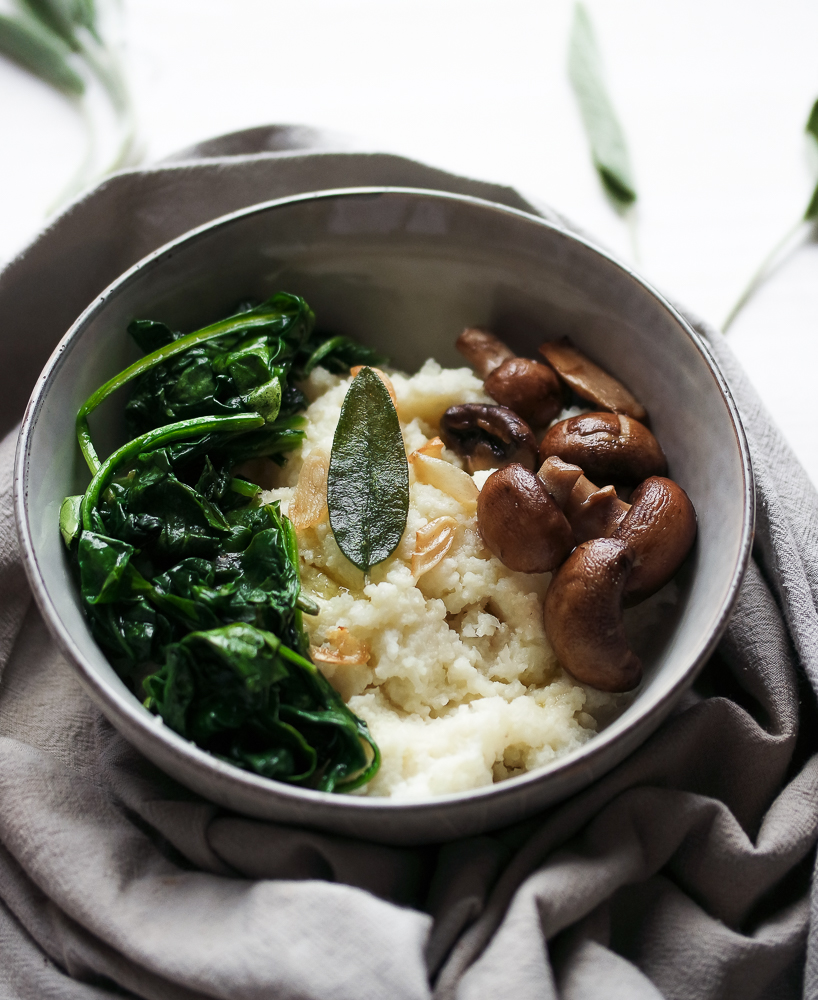 It's that time of year again when people start referring to it being "that time of year" again. I hate it. I hate that I say it, but I say it anyway because it's a nondescript, small talky, dead air filler that is by no means offensive to anyone. Just irritating.
Believe it or not, I'm a people person.
I also strongly dislike "gosh, it really snuck up on me" and "can you believe it's right around the corner" because it almost never means anything good, right? It's like we just skipped over a bunch of awesome stuff and now here we are. The dreaded holidays. Now before you freak the frick out because it's your favorite time of year, allow me to explain. Just as those the holidays can sneak up on you, so can the subsequent poundage on your waistline that is a result of all the merriment.
Yay! It's almost-I have nothing to wear and my pants feel too tight on me-season!
I blame Reese's and mashed potatoes because they are both vegetarian and gluten-free and after a few glasses of holiday wine I have no chill with either.
Okay, now the good news. THERE'S HOPE FOR US CARB LOVING MANIACS. Cauliflower Mash! I know, not that revolutionary. BUT this one is different because it's not super-duper heavy with a bazillion calories so we can still eat that low carb dessert.
Bring on the pie.
Whipped Cauliflower Mash with Spinach, Mushrooms, & Fried Sage
Meet your holiday weight-maintenance savior.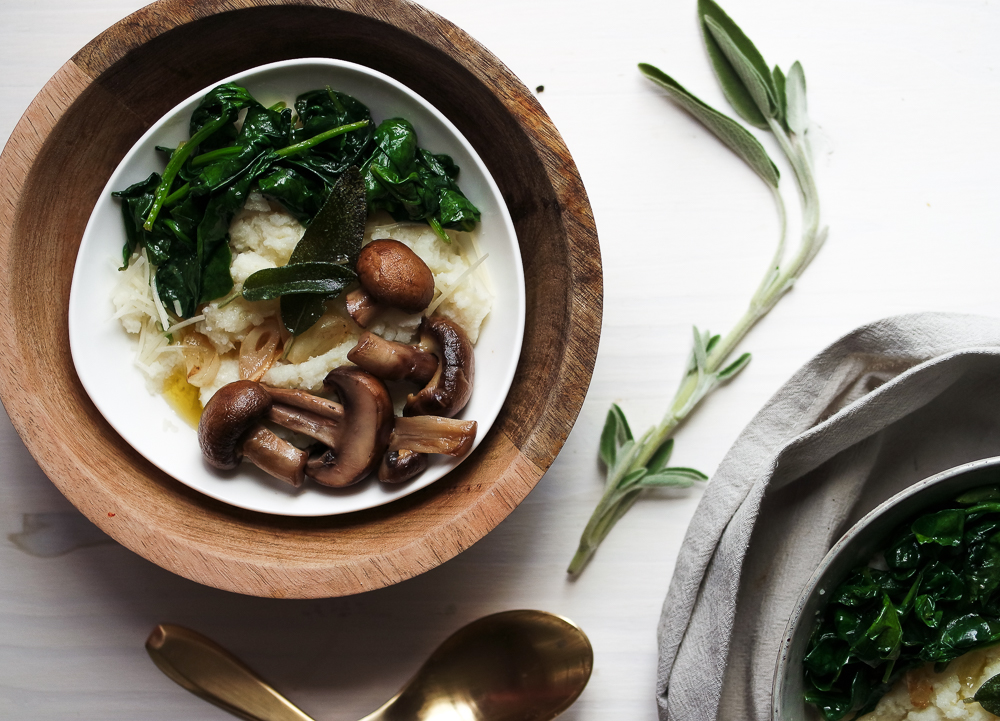 How To Make Perfect Fried Sage
Fried sage is a thing I learned about from my friend Jez and it's revolutionary. She heard read about it in The Forest Feast and suggested I try it and I was all "Okay, yeah sure Jez. A tiny furry fried leaf. Sounds appetizing." Which was all sarcasm but then I DID try it and OMG.
BRB so I can fry allllll of the leaves.
So all you need are some very fresh sage leaves and, depending on the size of your pan, a few tablespoons to 1/2 cup frying oil. Avocado Oil works great because it can handle higher temps. Then, just get your oil nice and hot and drop the leaves in one at a time!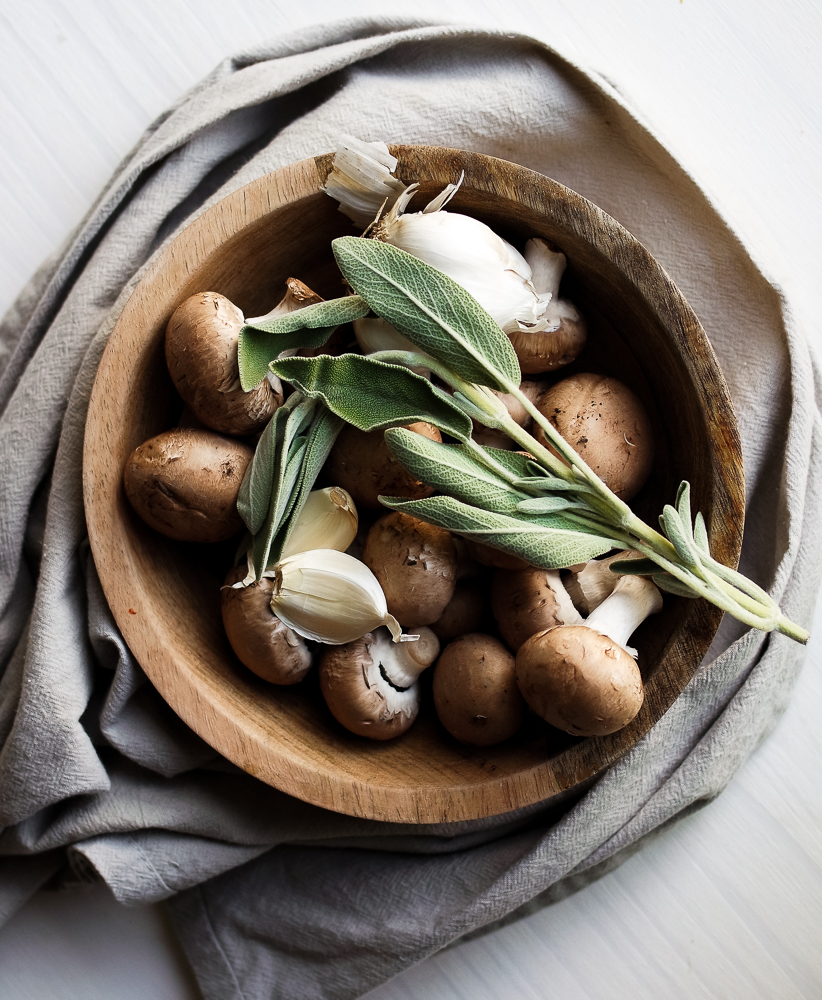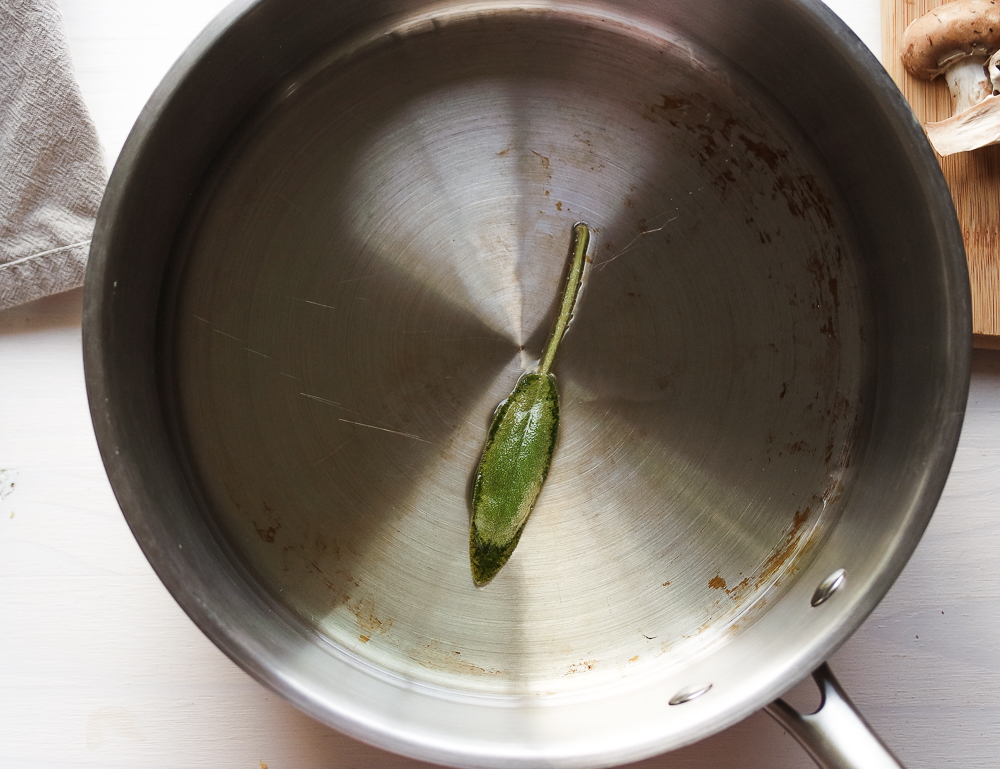 Fried Garlic
If you fry your garlic in the same oil you fry the sage leaves in, then you are left with the most flavorful oil ever. Perfect for sauteing your spinach with zero waste!
BOOM!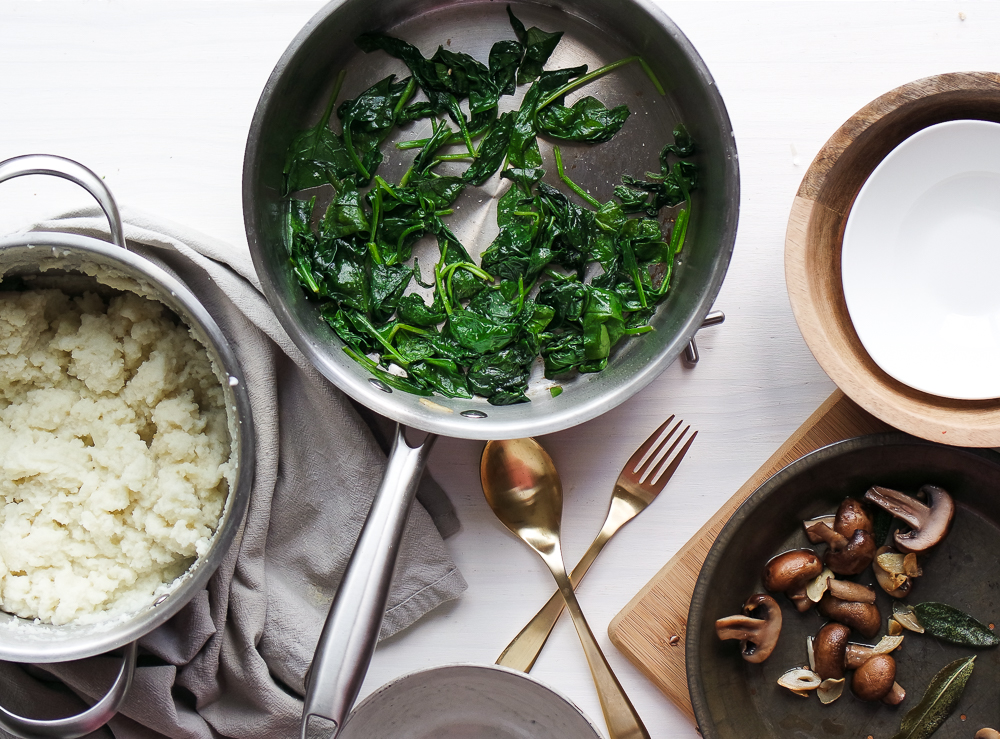 Making The Whipped Cauliflower Mash
You've got to get the cauliflower very tender. Just like making mashed potatoes, there is a balance between overdone and underdone. That's part one of the two-part trick.
The second important part to the best whipped cauliflower mash is to use an immersion blender or as I call it, stick blender. Because it's a stick that blends… And once it gets really fluffy, add the vegetable or chicken stock and sour cream (light or heavy) and blend it more. A handful of cheese never hurts, either.
Have you ever seen cauliflower look so dang much like potatoes?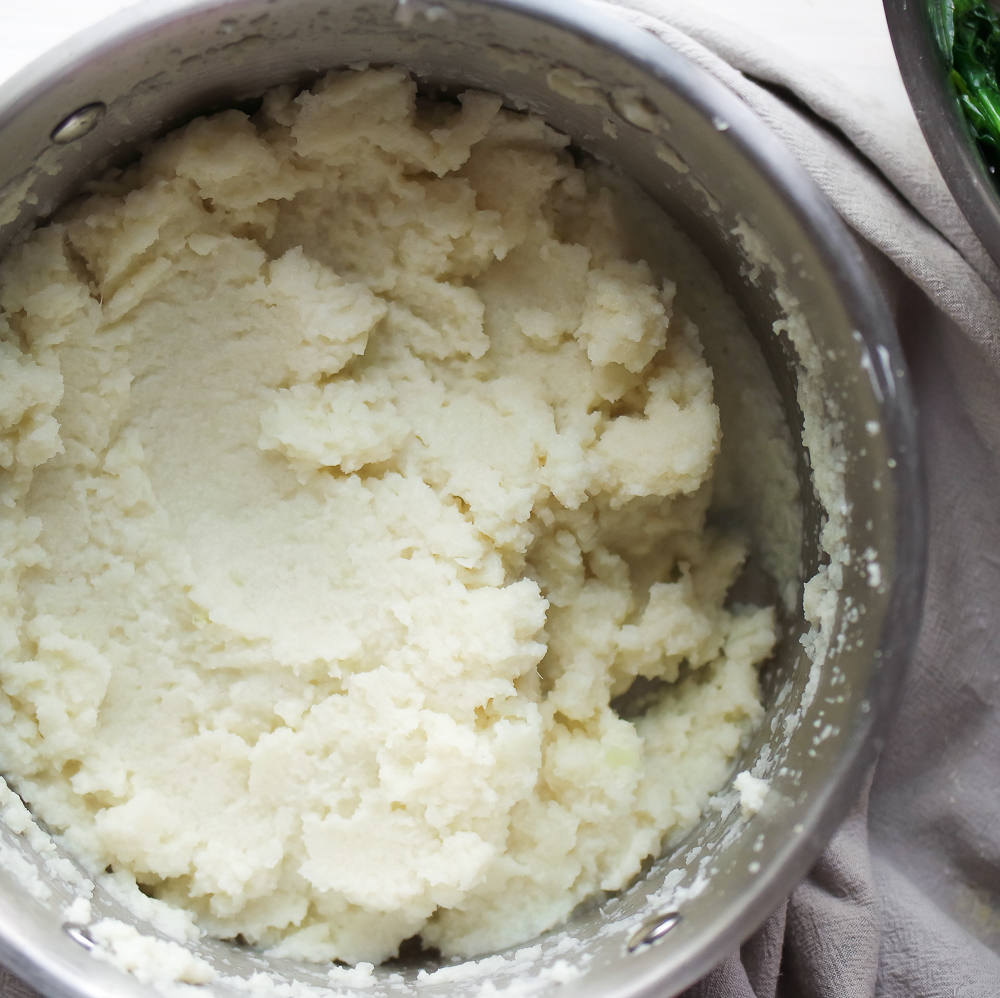 Building Your Mashed Cauliflower Bowl
Now that you have all of your ingredients prepared, top your individual whipped cauliflower mash servings with the fried spinach, garlic, sage, and maybe a drizzle of avocado oil. OH! And don't forget to season with extra salt if you see fit. I LOVE SALT so it's a given.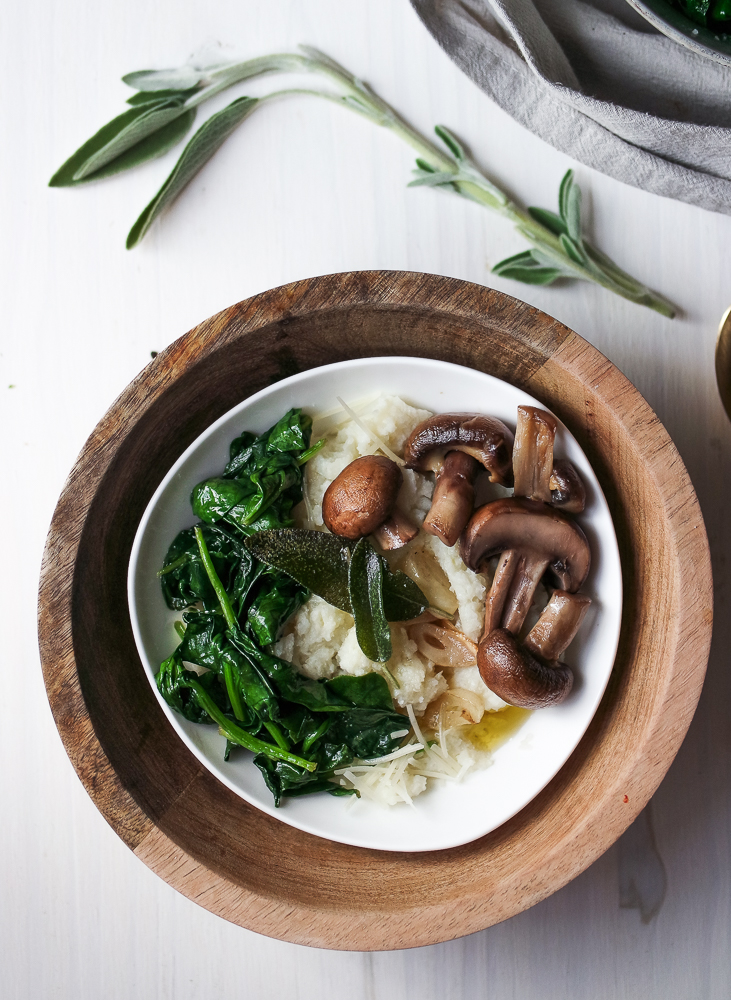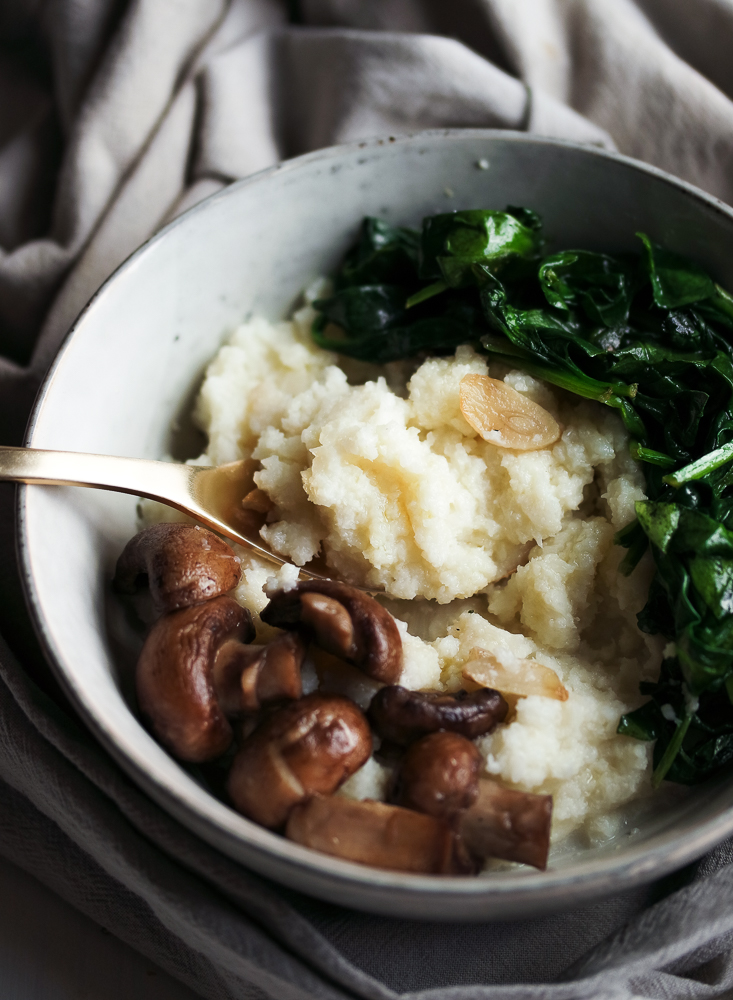 I can't wait to whip more cauliflower and top it with more fried leaves. Maybe I'll fry this houseplant that I'm currently murdering and see if that tastes good?
LOVE Cauliflower? Try these other recipes!
Keto Cauliflower Caprese Salad
Highly Addictive Parmesan Roasted Cauliflower
Creamy Scalloped Cauliflower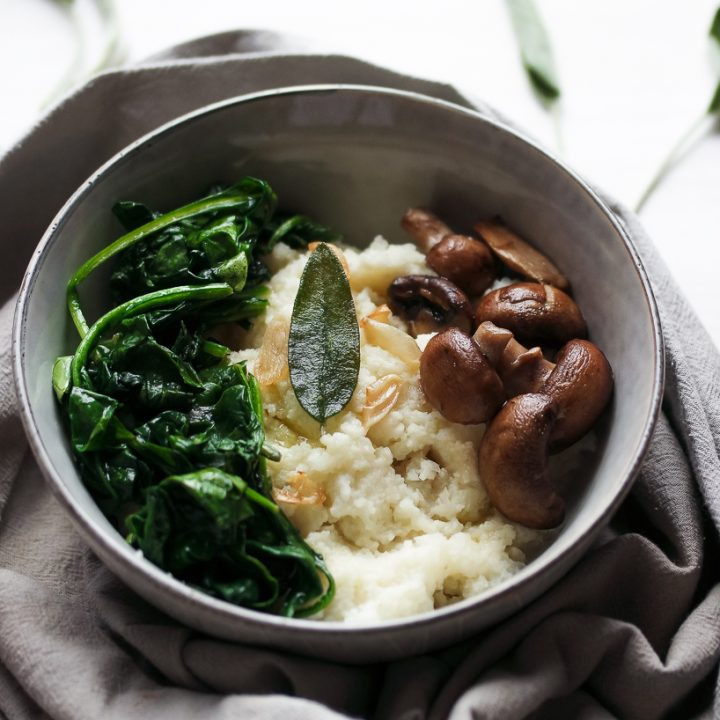 Whipped Cauliflower Mash With Spinach, Mushrooms, And Fried Sage
Additional Time:
10 minutes
Who needs gravy when you can top your creamy cauliflower mash with garlicky spinach, mushrooms and fried sage?
Ingredients
1 Head Cauliflower, broken into florets
1/4 to 1/2 cup Sour Cream (light or regular)
1/4 cup Parmesan Cheese
3 cups Baby Spinach
5-6 Baby Bella Mushrooms, sliced
4 cloves Garlic, sliced
3 tbsp Avocado Oil
4-5 Sage Leaves
Salt to taste
Instructions
Steam the cauliflower on the stovetop or in a microwave-safe steamer with 1/4 cup water until the florets are tender and break apart with a fork. About 6 minutes in a microwave or 10-15 on the stovetop.
Drain the water from the cauliflower and using an immersion blender, puree the cauliflower until smooth. This can also be done in a food processor.
Add the sour cream and vegetarian broth (1/4 cup at a time) and process with the blender until very smooth. Stir in parmesan cheese and a few pinches of salt.
In a large frypan, heat the oil on medium-high. Add the sage leaves and garlic to the oil and fry just until they begin to crisp.
Remove the sage and garlic from the pan and lay on a paper towel. Add the mushrooms to the hot oil, saute lightly and place on the paper towel to remove any excess oil.
Add the spinach to the remaining sage garlic oil and saute just until the leaves begin to wilt.
Season with salt to taste and serve with mushrooms, garlic, and sage over a heaping portion of cauliflower mash!
Nutrition Information
Serving Size

3/4 cup
Amount Per Serving
Calories

197
Total Fat

14g
Carbohydrates

12g
Net Carbohydrates

8g
Fiber

4g
Protein

8g