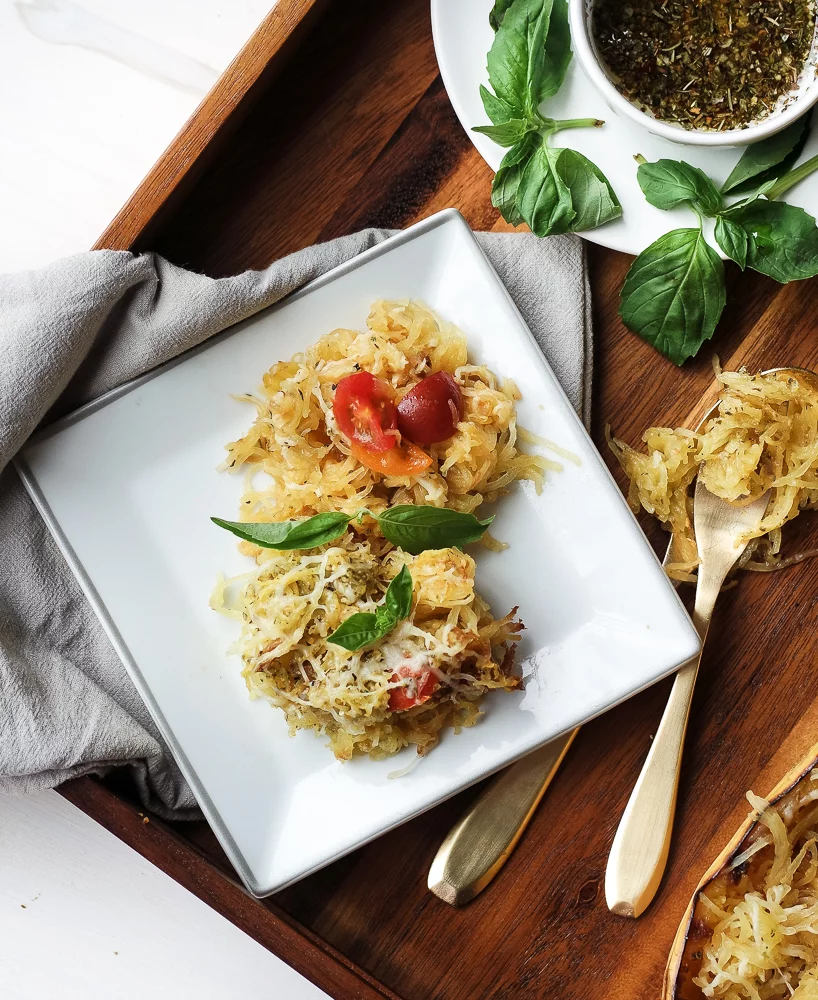 Why do we insist on complicating things?
Because we certainly do. I don't even know what examples to begin with because I'm currently overcomplicating this entire sentence. I've rewritten it three times if you need confirmation on the level of complication insanity.
True story.
Do any of you write on your mirror? I went to a work training and I learned this cute little trick of re-focusing your consciousness by writing something to focus on with a dry erase marker on your mirror. I guess you are most malleable when you first look in the mirror in the morning? ANYWAY, I gave it a try. My phrase was "It's Not That Complicated" since I love making simple things super difficult to the point that I just become overwhelmed and watch tv and obsess over that thing for seven hours. And here we are.
Spaghetti Squash-It's not that hard
Technically, it's hard to cut because the outer skin of squash is a beast. Then, there's the cook time and the delicate strands of "pasta". Will they hold together? Will they mush? Ahhhh! But the making of a spaghetti squash recipe can actually be pretty simple and delicious with minimal mushing and mashing and cutting off of the fingers.
TIP 1: Use your microwave
Instead of breaking your wrists and risking cutting your finger off, pop the squash in the microwave for about 3 minutes to soften it slightly and then cut it.
Don't cook it in there, it will explode.

Tip 2: Don't get scoop happy
You aren't gutting a Halloween pumpkin, you are making a gourmet meal. Act accordingly.
Scoop the seeds GENTLY as to not scrape out all of the goodness that you are going to cook and eat. If some of the stringy mesh is left, that's fine. It'll eat.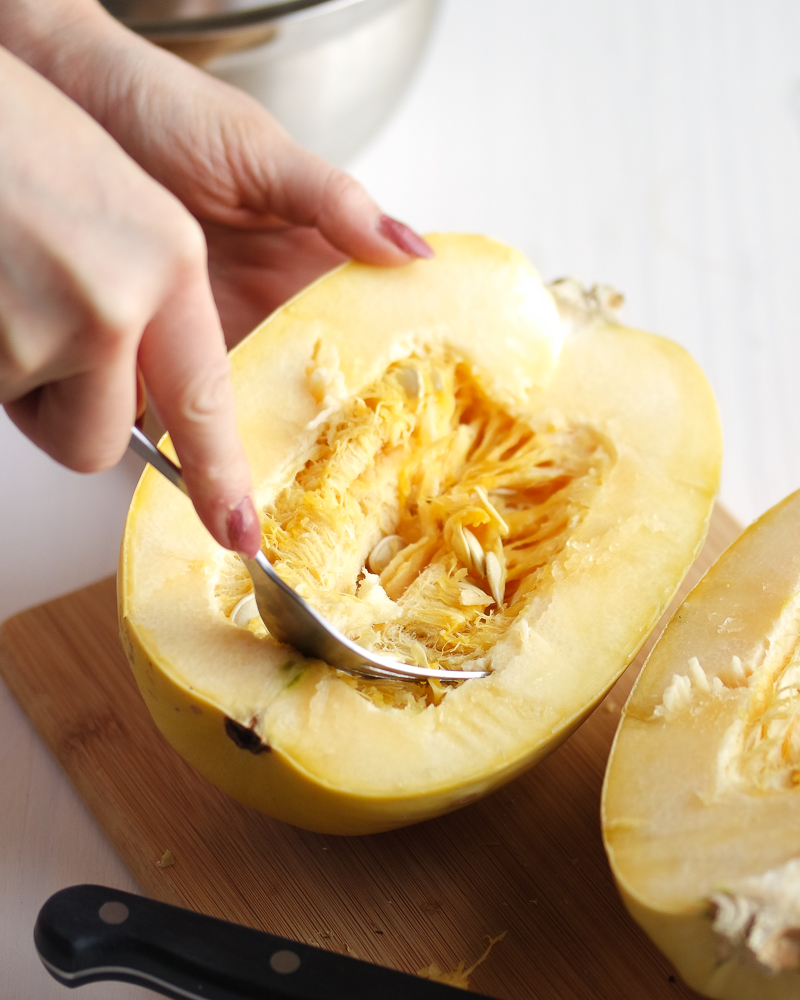 Tip 3: Bake it with water
After you've gutted your squash, lay it cut side down on a high rimmed baking sheet and add about 1/4 to 1/2 cup water into the pan. This will steam it and soften the squash quicker, reducing your baking time.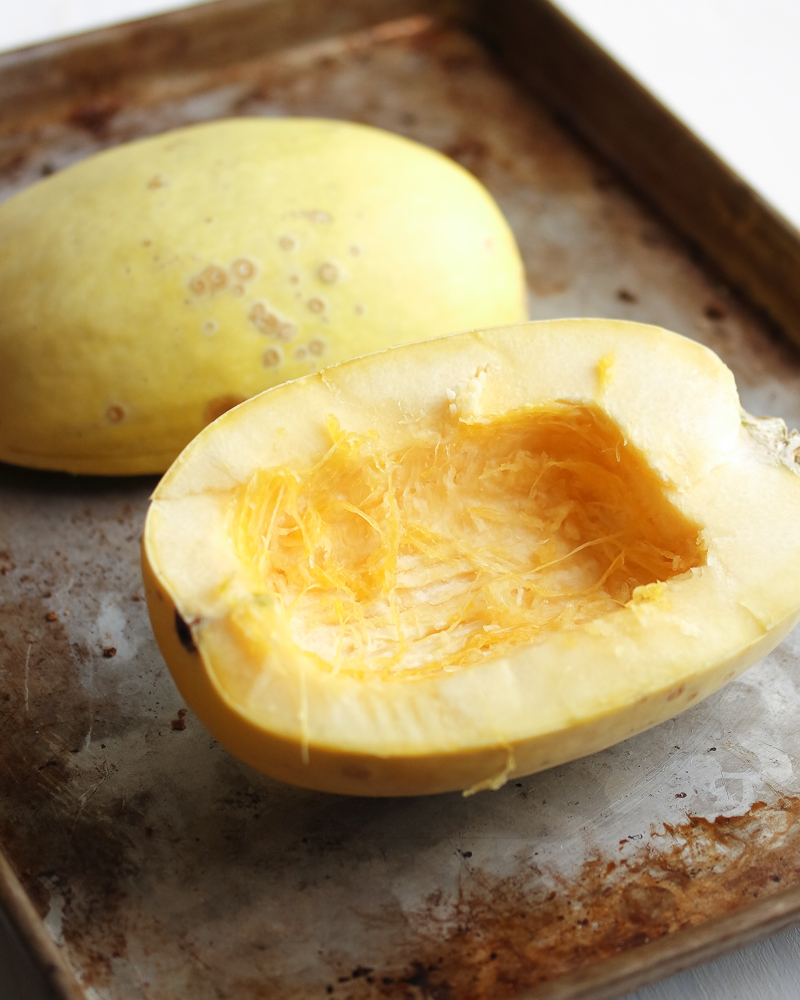 That is the end of the tips. Proceed to the photos of the recipe where we add ONLY THREE INGREDIENTS to make an amazing, 5-star quality recipe that is super Instagram worthy.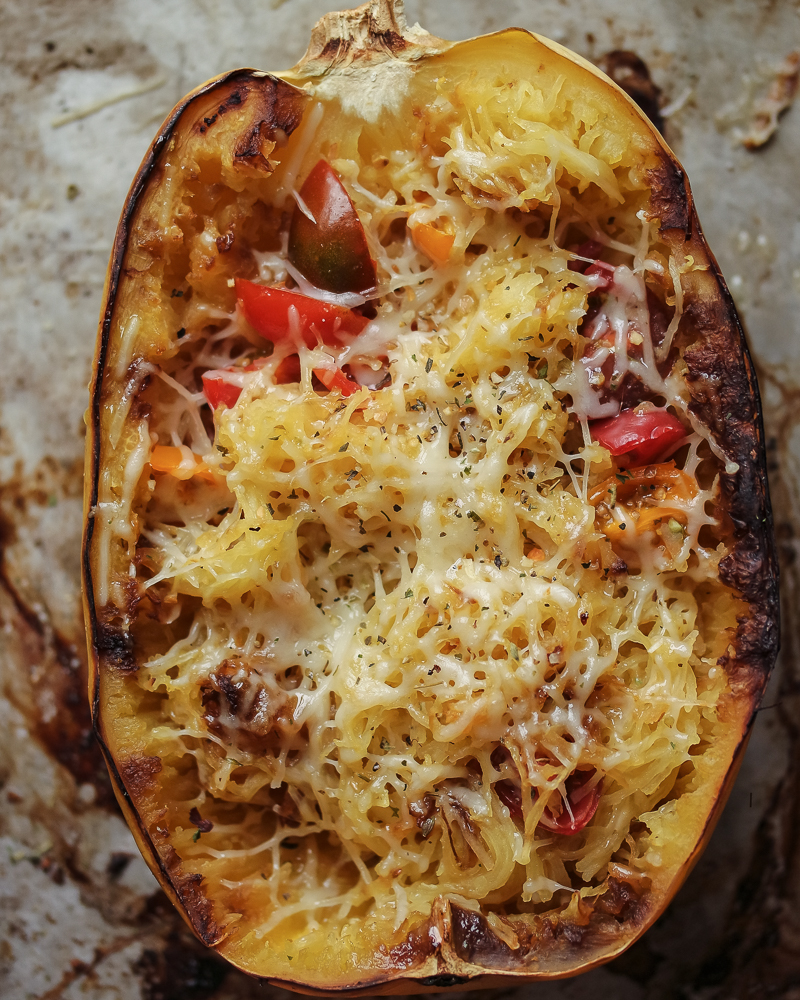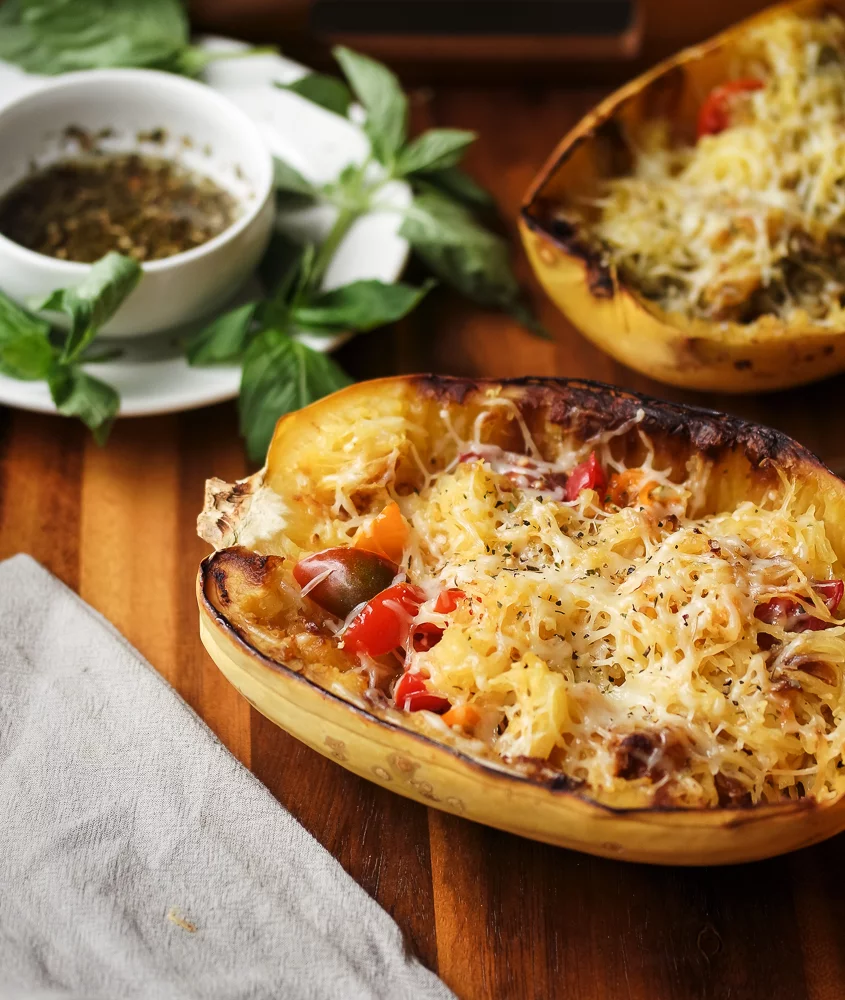 SIKE! One more tip
Bonus Tip: Serve it with Sauce A la Carte
Not everyone LOVES pesto. I know, insane.
Skip adding the sauces and cheese and serve them on the side. I have an oil and italian herb blend shown here but options include Marinara, Pesto, Sundried Tomato Bruschetta or Garlic Herb Butter.
Everyone can portion out their pasta and top it with whatever the heck they like!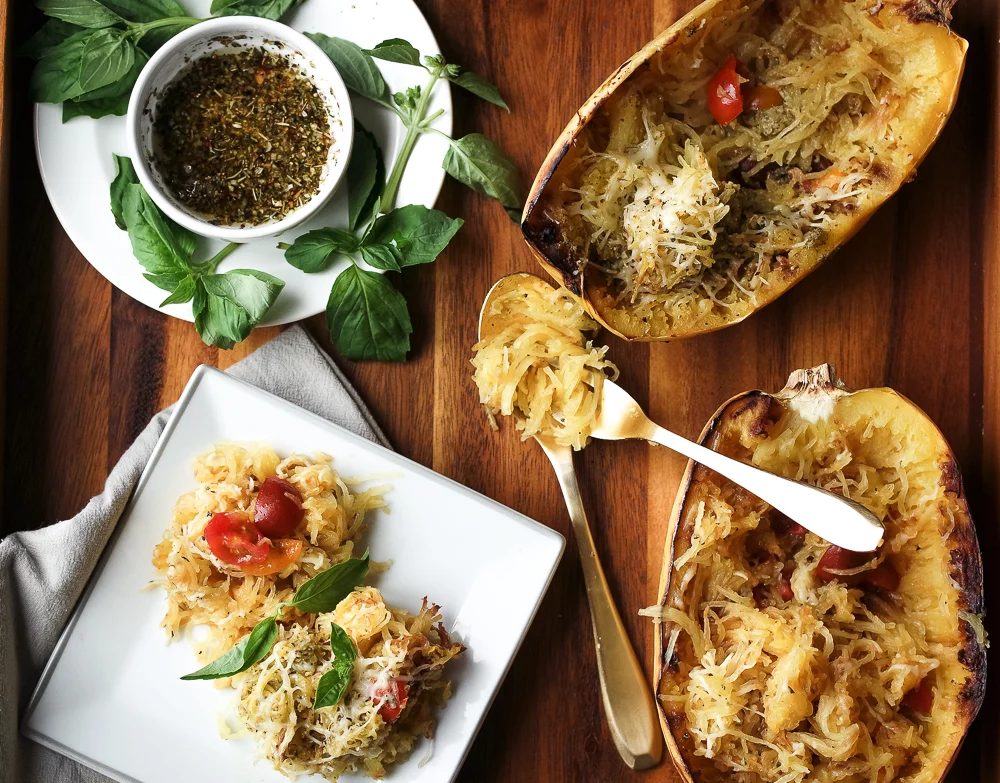 Basil is a great topper. So is more cheese. A variety of cheeses if you like.
Gruyère, Parmesan, Crumbled Feta! Anything goes!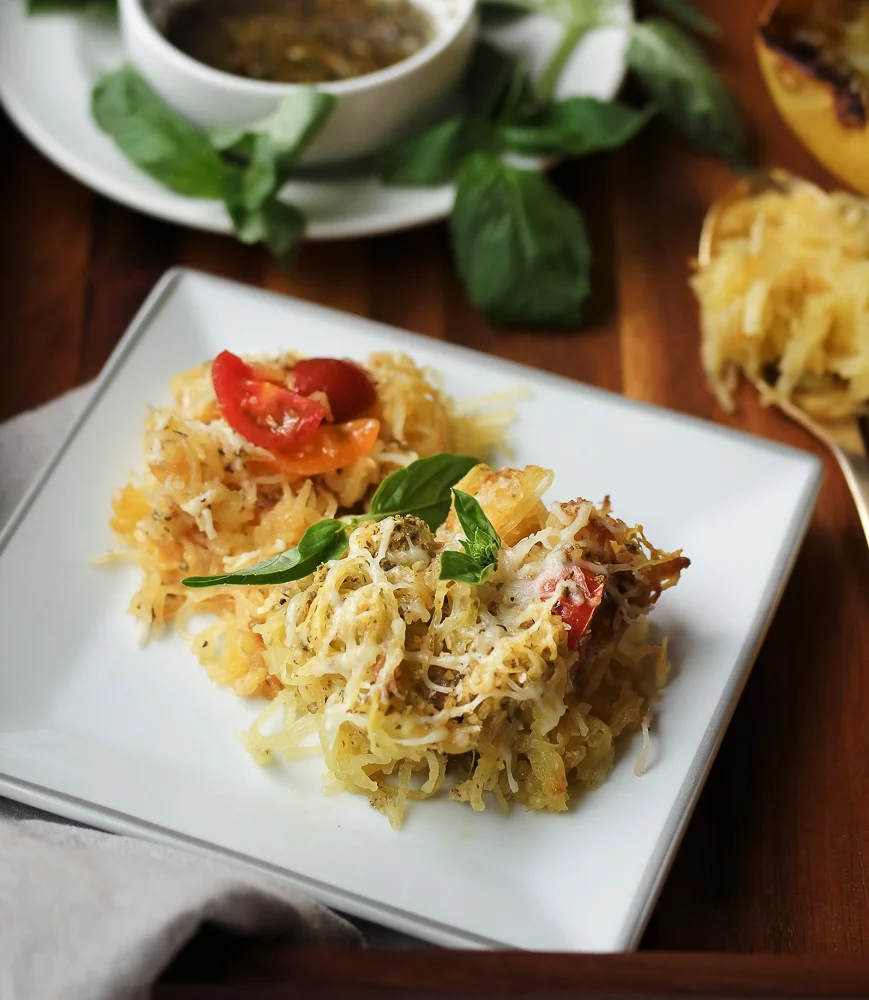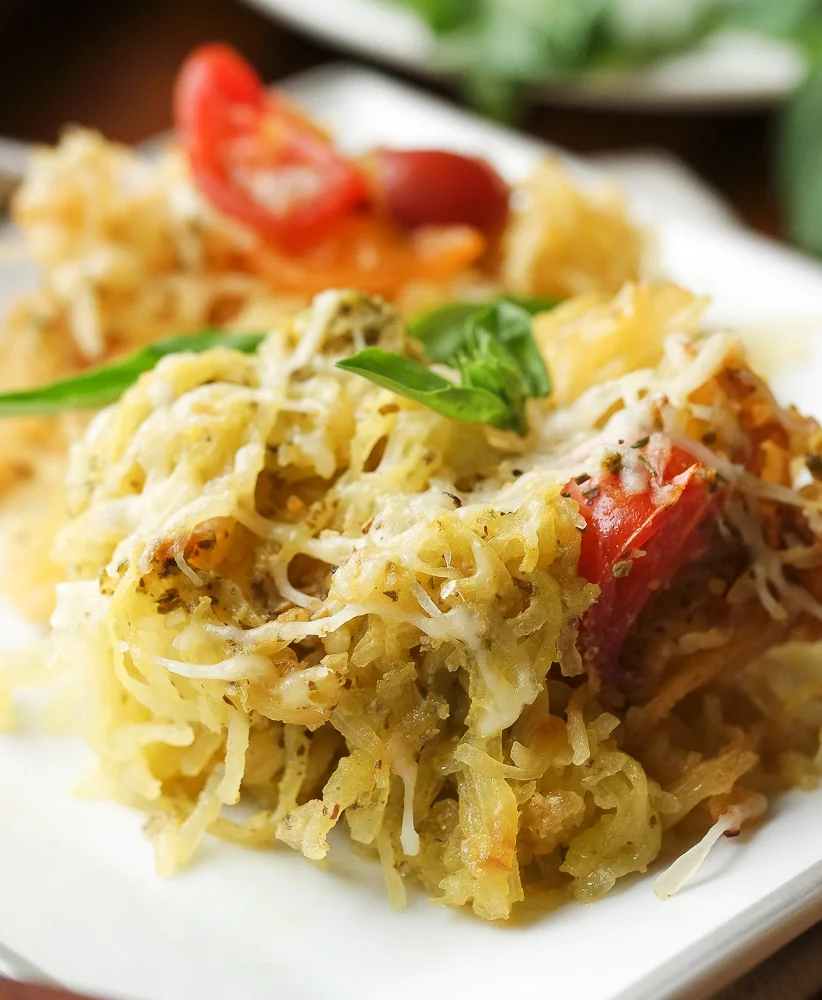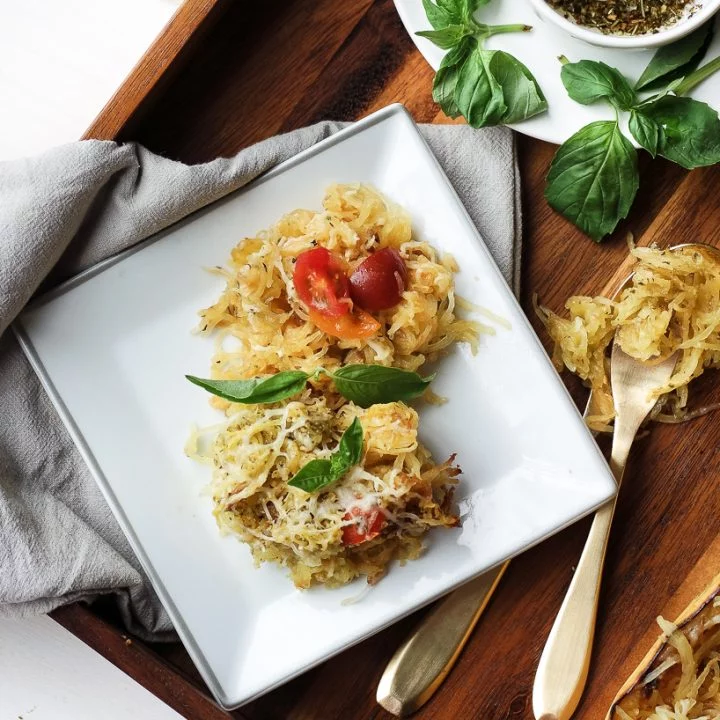 Simple Pesto Spaghetti Squash
We are making this squash so easy you'll want it every night! Presto-it's pesto!
Ingredients
1 Spaghetti Squash
2 tbsp Avocado or Olive Oil
2 Pinches Salt
4 tbsp Pesto
1 cup Cherry Tomatoes, halved
1 cup Shredded Parmesan Cheese
Instructions
Heat oven to 350
Prepare squash by cutting into two halves, end to end, and removing the seeds. Be careful not to scrape to viciously or you will begin to remove the edible portion!
Drizzle each half with olive oil and salt, lay on a baking sheet, cut side down, and bake for 30-45 minutes or until tender.
Once cool enough to touch, scoop 2 tbsp pesto per half into the squash.
Using a fork, gently drag the fork through the flesh of the squash to pull the strands of "pasta" free while you mix in the pesto.
Add tomato and cheese and place back in the oven set to "broil" and melt the cheese until brown and bubbly. Approximately 5 minutes.
Serve hot!
There are about a million things we can do with spaghetti squash but I'll save that for another day when I'm not trying to focus on being simple…