This post was updated on 10/27/2020 with new photos and a few tweaks to make the recipe better! Enjoy!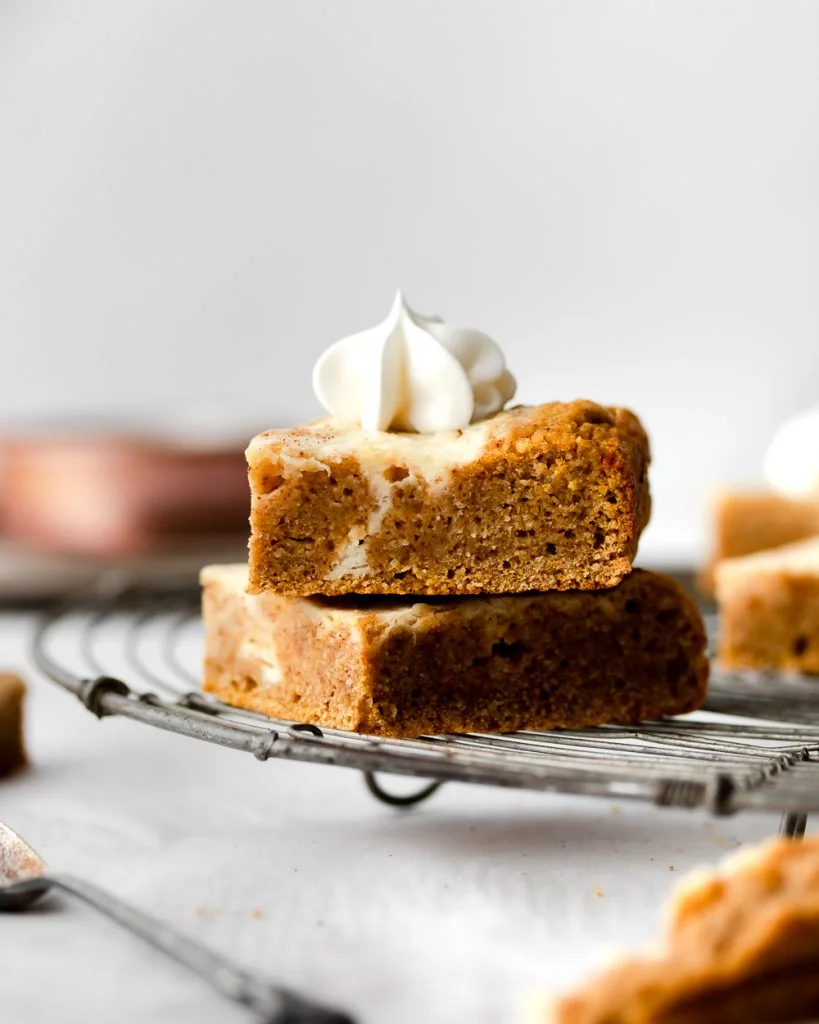 Raising the Bar…with cheesecake swirls!
There are more than a few pumpkin recipes in my past and unlike my dating history, I am proud of each and every one. All of them low carb, and none have ever disappointed when I needed my fall fix.
How's that for a double-duty dessert?
The Bold & the Beautiful & the Gourd-geous
As far as indulging our fall food desires go, we have our keto pumpkin spiced lattes and beloved gluten-free pumpkin donuts that pair so perfectly with crisp mornings and coffee, but what about pumpkin cakes? Sure, you can google "pumpk" and before you finish your thought, you've got 5 pages of pumpkin cakes frosted in cream cheese icing, but what about a cake with some cream cheese INSIDE as well? I hate to tell you, but the market is sparse ladies and gents. We must bake the cake and stuff it with cheesecake ourselves.
Greek Yogurt. AGAIN.
So what's in this magical keto dream cake made of pumpkin and not made of gluten? A lot of cream cheese, but don't be deceived. It's still pumpkin-spicy enough to fulfill your October quota. Tons of flavor is packed into a dense little cake bar and swirled around with a mixture of cream cheese and Greek yogurt. It's a little naughty, a little nice, and worth every bite.
Two desserts become one, and then we put whipped cream on it.
God Bless October.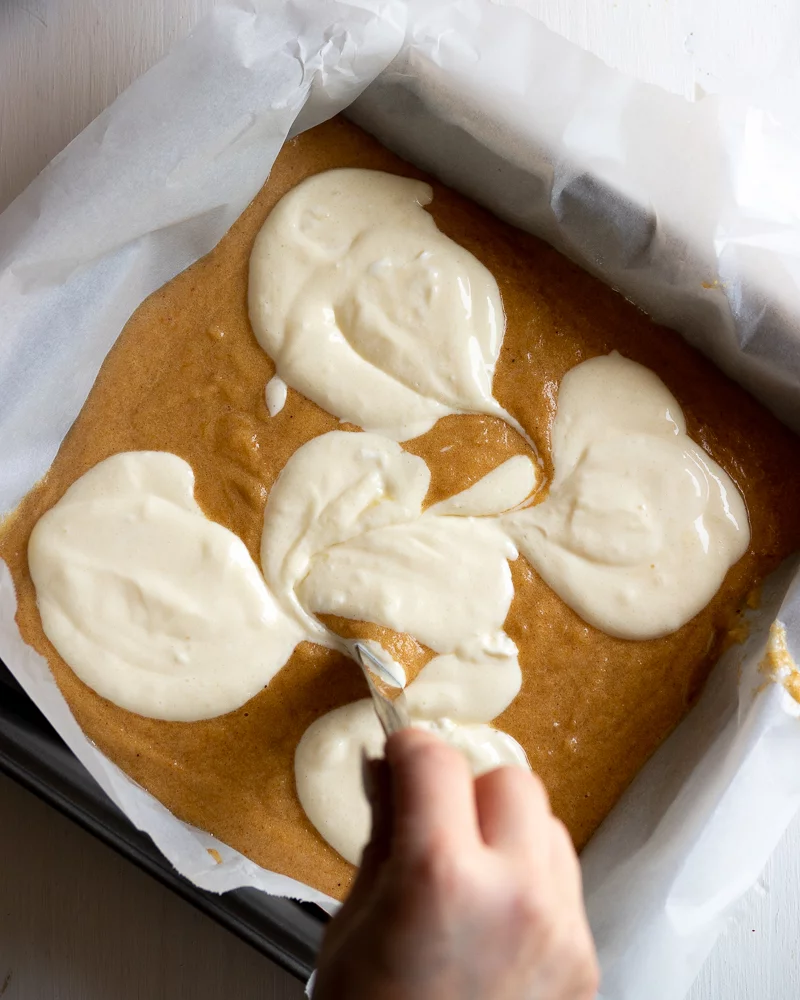 This cake seems intimidating, using two bowls and all, but
if you can bake a cake and you can bake a cheesecake, you've got it.
The swirls are the hardest part and honestly, the less "swirly" the better because then you get deep wells of cheesecake!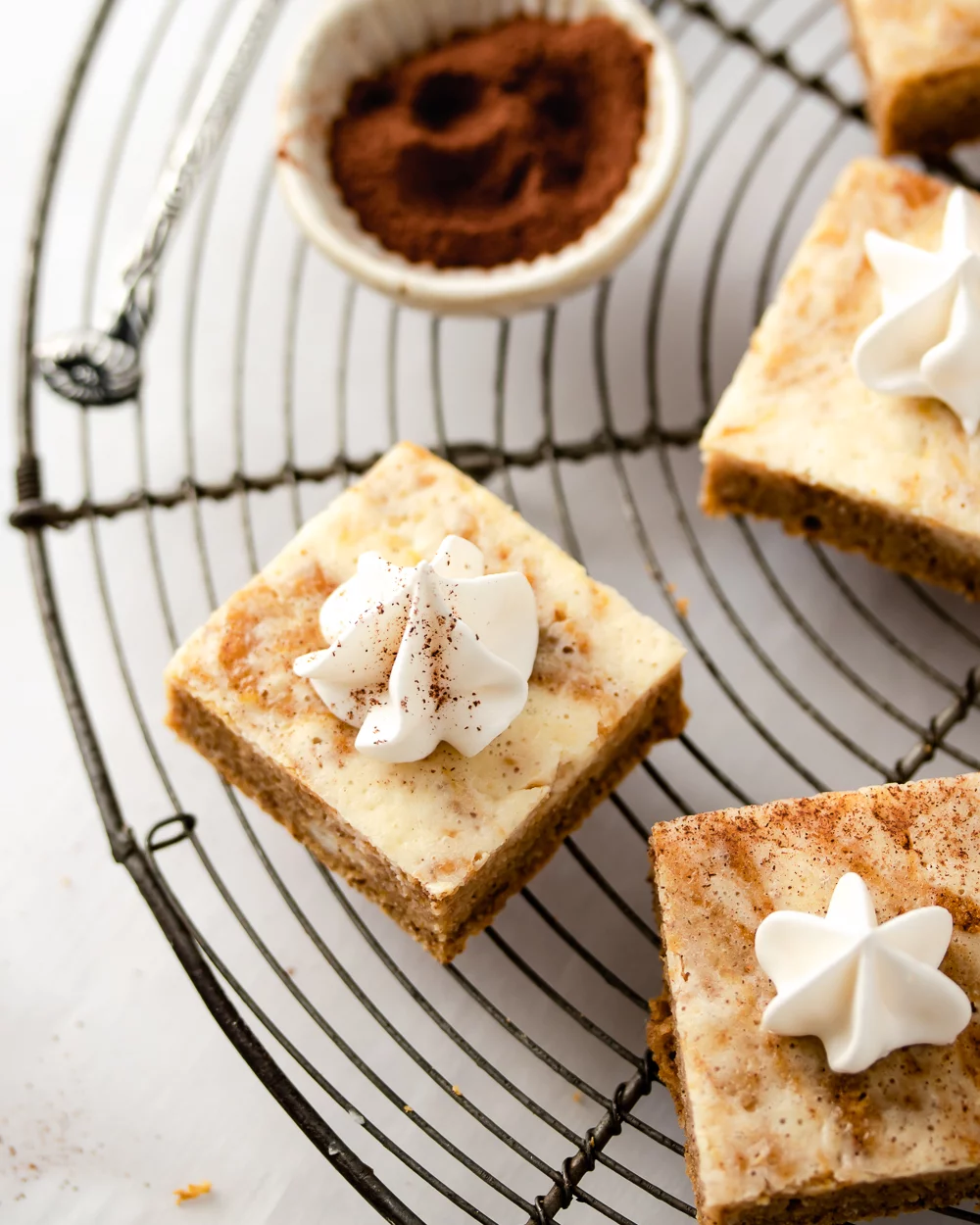 Post baking, let it cool slightly.
Cheesecake is a delicate thing, not one to be rough with.
Proceed with caution until set, and then you can let loose.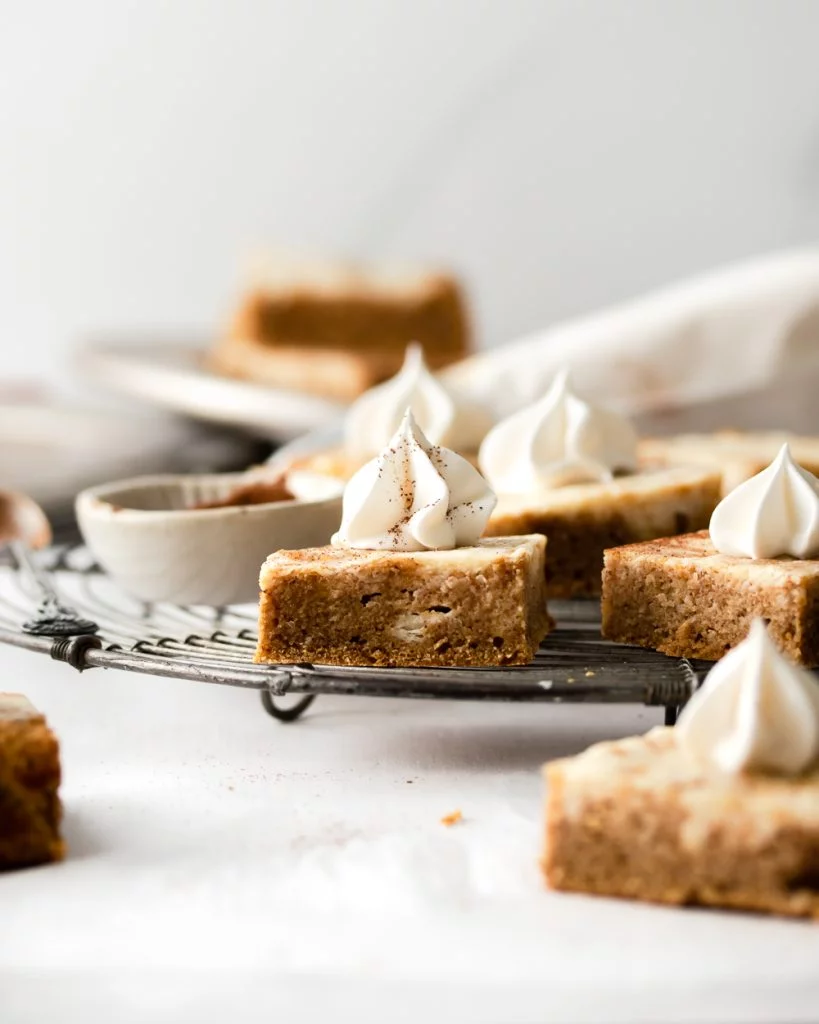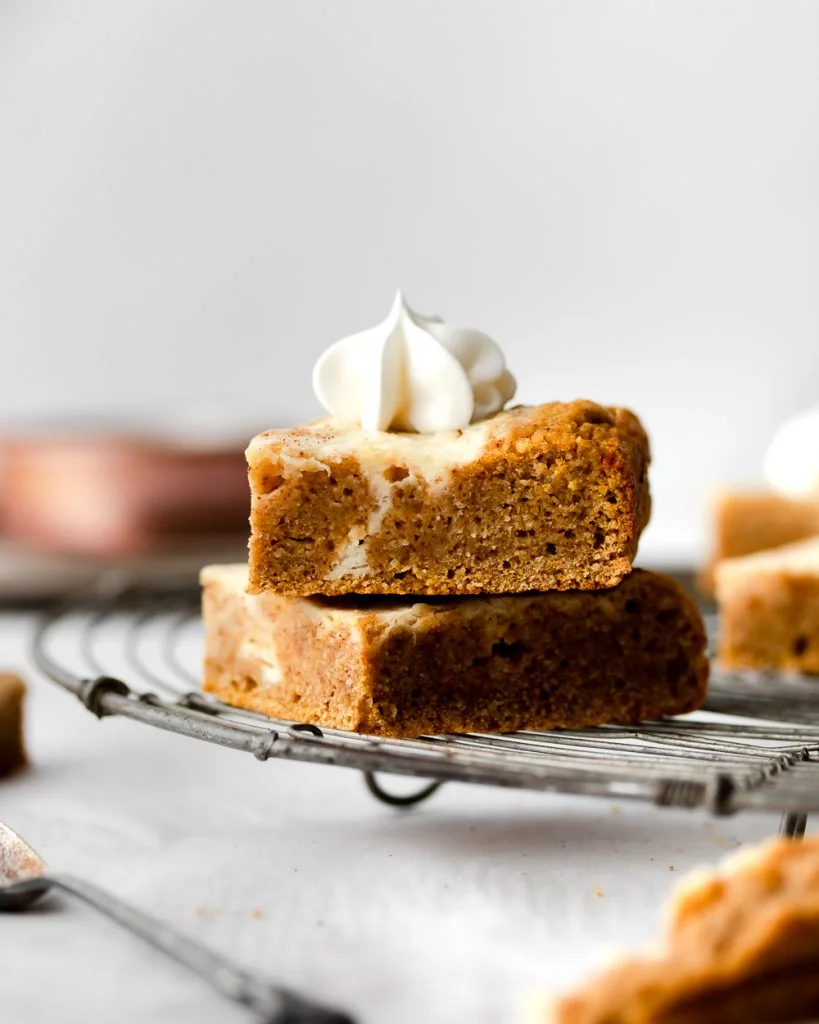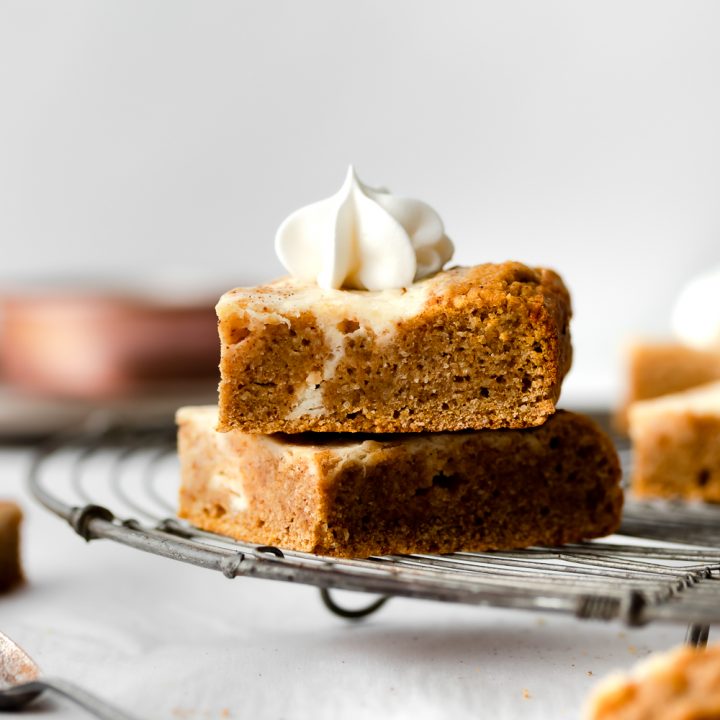 Swirly Cheesecake Pumpkin Bars
Low carb pumpkin bars become one with cheesecake swirls in this fall romance for your tastebuds.
Ingredients
For the Cheesecake Swirl
4 oz Cream Cheese, softened
1/4 cup full- fat Greek Yogurt, or 4 oz cream cheese
1 Egg
For the Pumpkin Cake
3 Eggs
2 tbsp Oil, or 4 tbsp melted cooled butter
1 tsp Vanilla Extract
1/2 tsp Ground Cinnamon
1/4 tsp Xanthan Gum,
Instructions
For the Cheesecake Swirl
Beat cream cheese, egg, and sweetener until smooth and let rest in the refrigerator while you make the batter.
For the Pumpkin Bars
Heat oven to 350°F and line a square baking dish with parchment.
Using a hand mixer or wire whisk beat the eggs, sweetener, oil, and pumpkin puree.
In a separate bowl, whisk together the almond flour, spices, coconut flour, psyllium husk powder, baking powder, and xanthan gum. Add the dry to the wet and mix well.
Scoop the cake mix into the prepared pan and smooth with a spatula.
Scoop 1/4 cup portions of the cream cheese filling into the pan, then swirl with a knife. This part doesn't have to be perfect!
Bake for 30-40 minutes or until the edges are set. Cool completely before cutting. Slice into bars and top with whipped cream!
Nutrition Information
Amount Per Serving
Calories

130
Total Fat

11g
Carbohydrates

4g
Net Carbohydrates

3g
Fiber

1g
Protein

5g