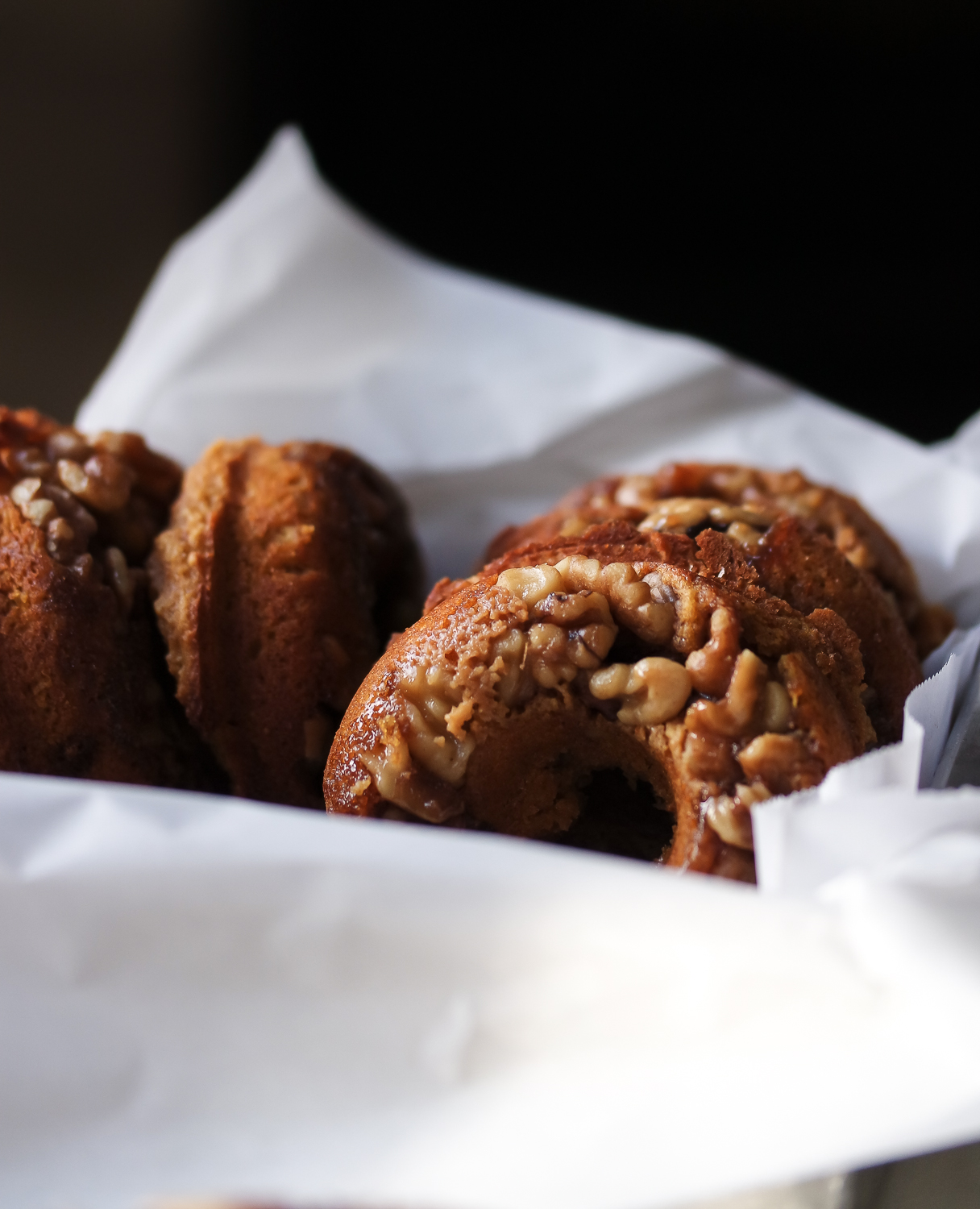 Last week was one of those weeks.
Anxieties were high because I'm still coping with this slow and painful loss of the sun, paired with 90° temps to really make you feel both sluggish and disgusting. That leads to me becoming a whiny crybaby with an insatiable sweet-&-sleep tooth.
A "sweet & sleep tooth" is a phrase I like to use when I want to blame the impulse to eat a bunch of sweets, then go comatose like a hibernating bear on my teeth. It's a wonder I'm still single, right?
So I walked into the kitchen and threw everything that looked like it would fit into a donut pan, licked the bowl clean, and waited. Does anyone else sit criss-cross applesauce on the floor in front of the oven while their food bakes? Just me? Okay…
What you see in these photos is not the product of that sweet & sleep session. It would have been if I had slowed down for two seconds and paid any sort of attention to what I put in them but noooooo. In my wild-eyed frenzy, I failed to pay attention and had to re-make this recipe THREE TIMES before I nailed it again.
But boy oh boy, did I nail it.
Because of that fateful night, the days of boring and blasé pumpkin-flavored things are gone.
Pumpkin Donuts with Walnut Brown Sugar Crumble
Welcome to the best pumpkin recipe that is both gf and low carb EVER.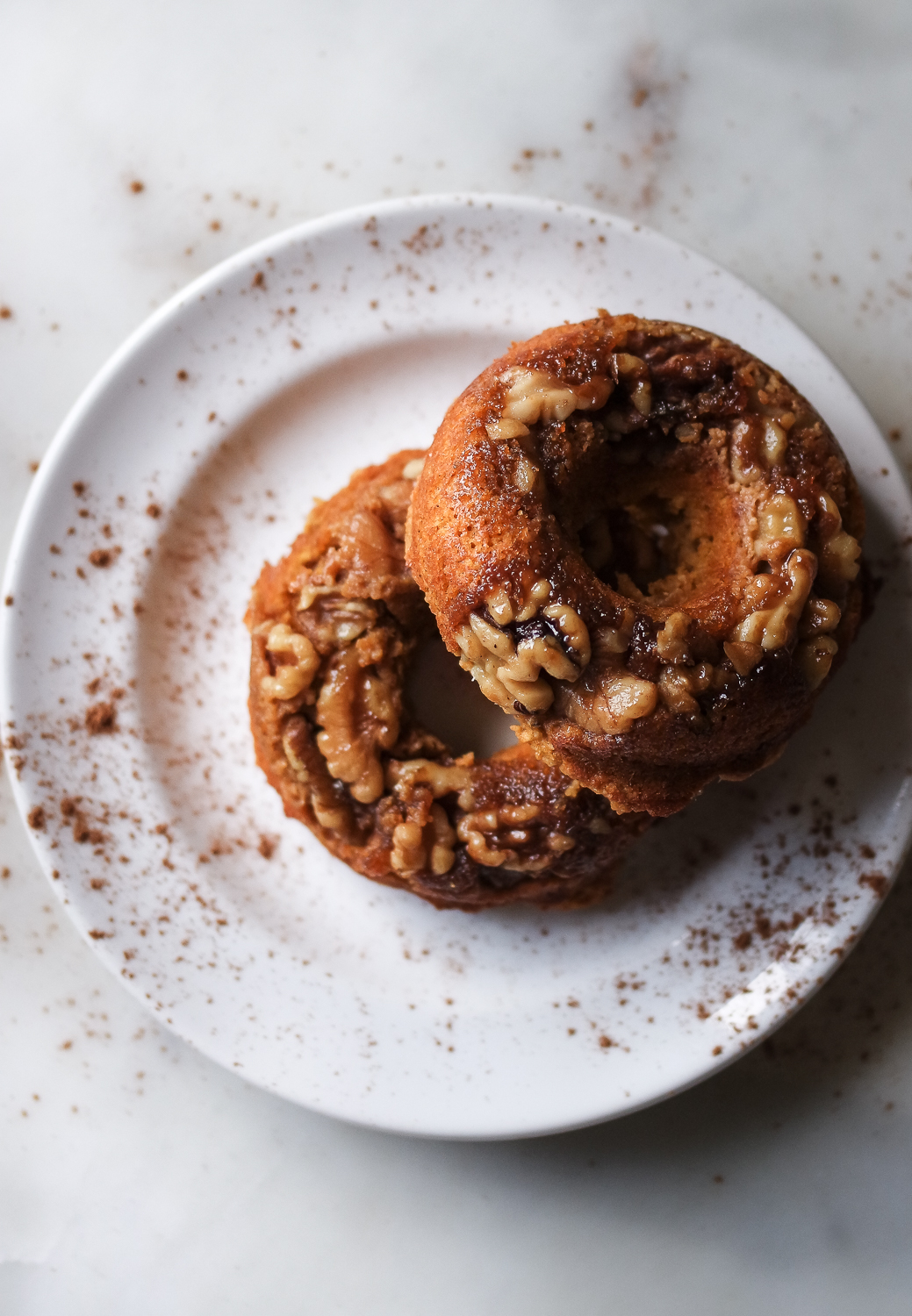 This is how a plain old, boring old, same old same old pumpkin donut becomes the broodiest, sexiest pumpkin donut alive.
Making A Low Carb Crumble
SO here is where nuts meet sugar and magic happens…
There is no recipe for this particular portion. Just crush and dump the nuts and sugar respectively.
The type of sweetener you use depends on your lifestyle. If you are paleo and coconut sugar is your thing, it will work perfectly. If you are Low Carb/Keto Swerve Brown is a great option. You can also use traditional brown sugar to get the caramelization!
AND don't forget cooking spray!!!
Lubrication is key for these to actually release from the pan.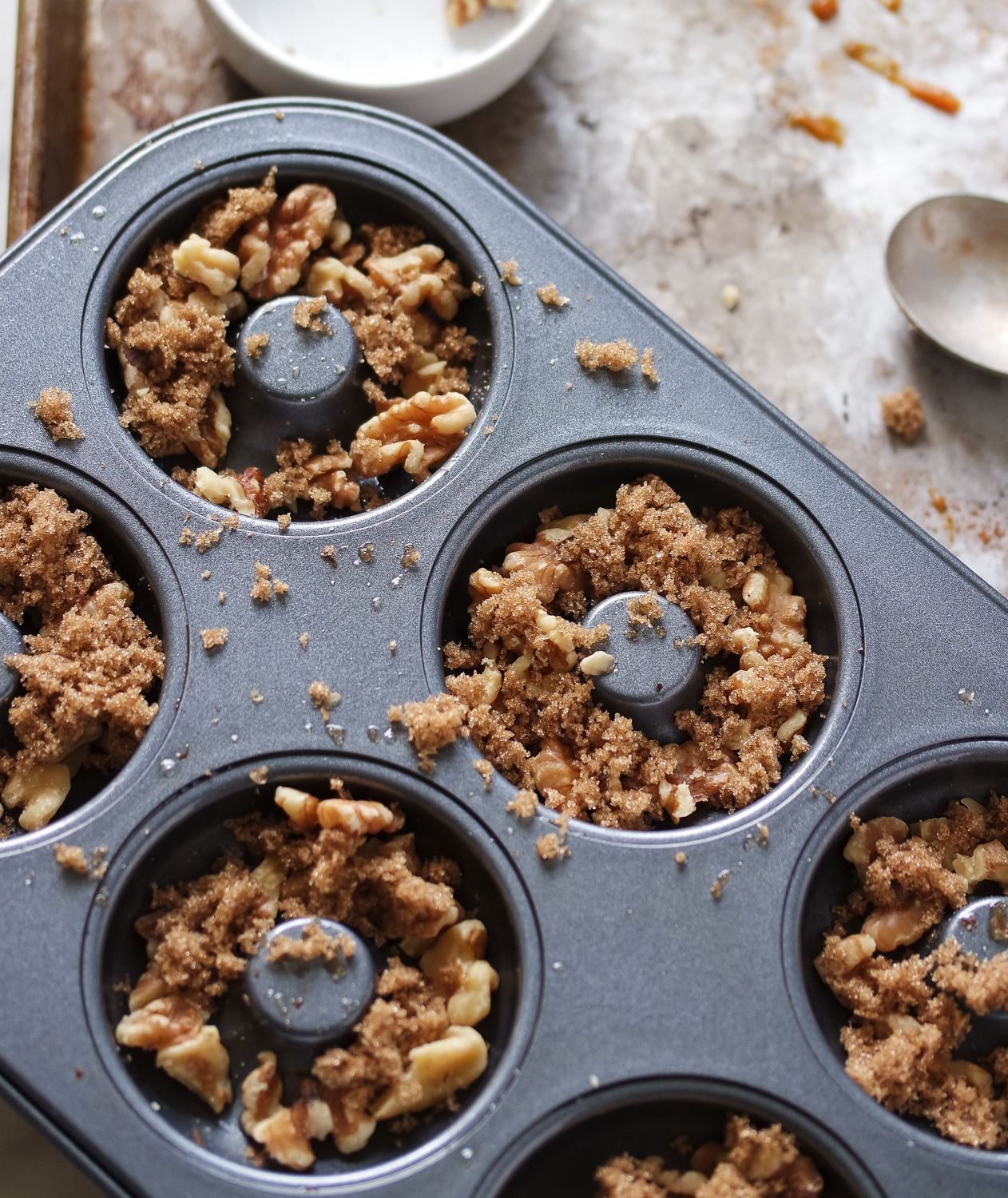 Yes, pumpkin is also an important player in making these donuts and object of desire but the pumpkin alone cannot get the job done, which is why you will see one photo of pumpkin and a million of brown sugar crumbly bits.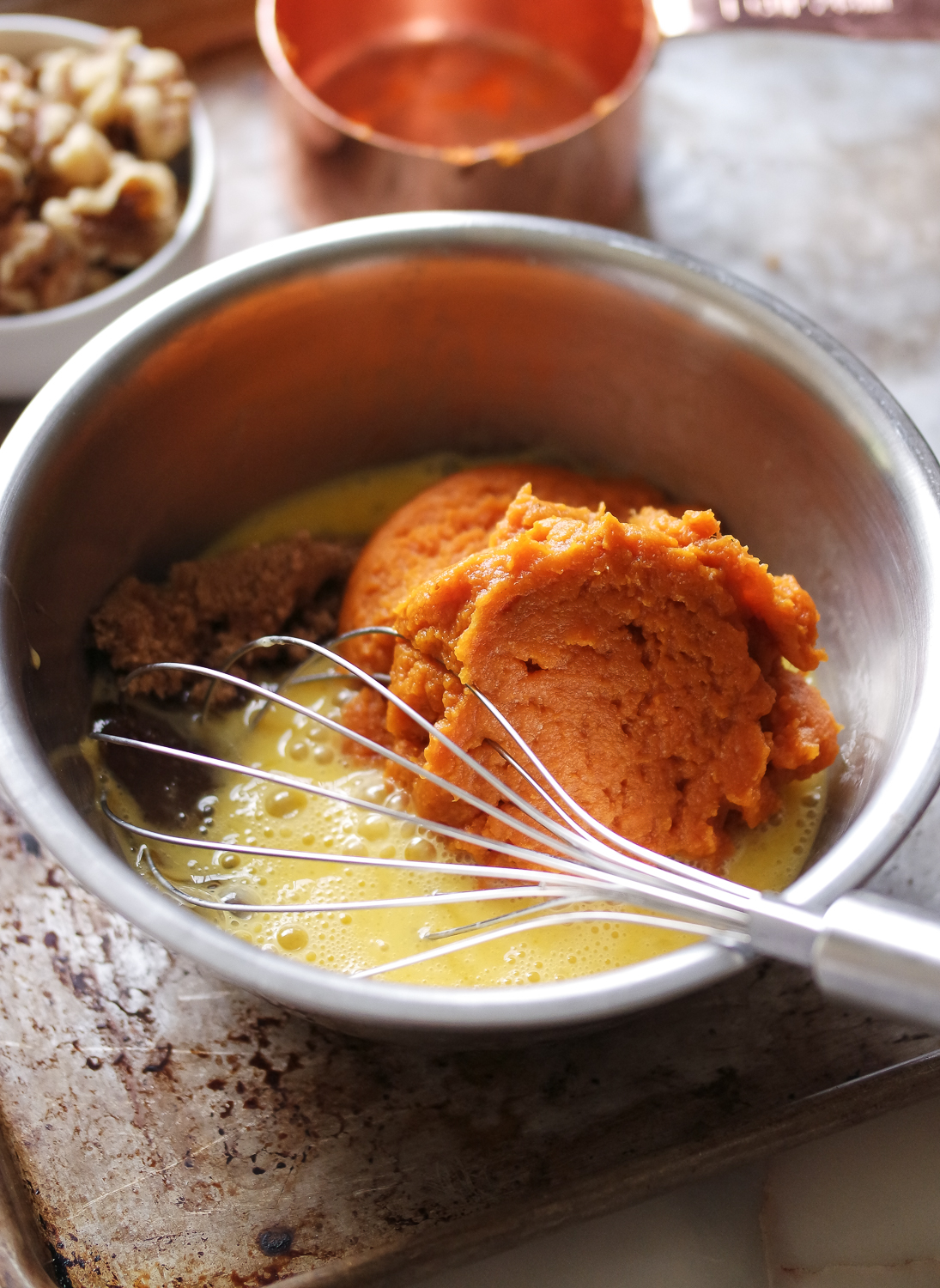 Pumpkin Spice
My very favorite way to get anything pumpkin-spiced is with Frontier Pumpkin Pie Spice. I love this brand so so much but you can use whatever you have on hand.
You may also want to add more cinnamon depending on your taste buds. My taste buds love cinnamon and I go overboard 100% of the time.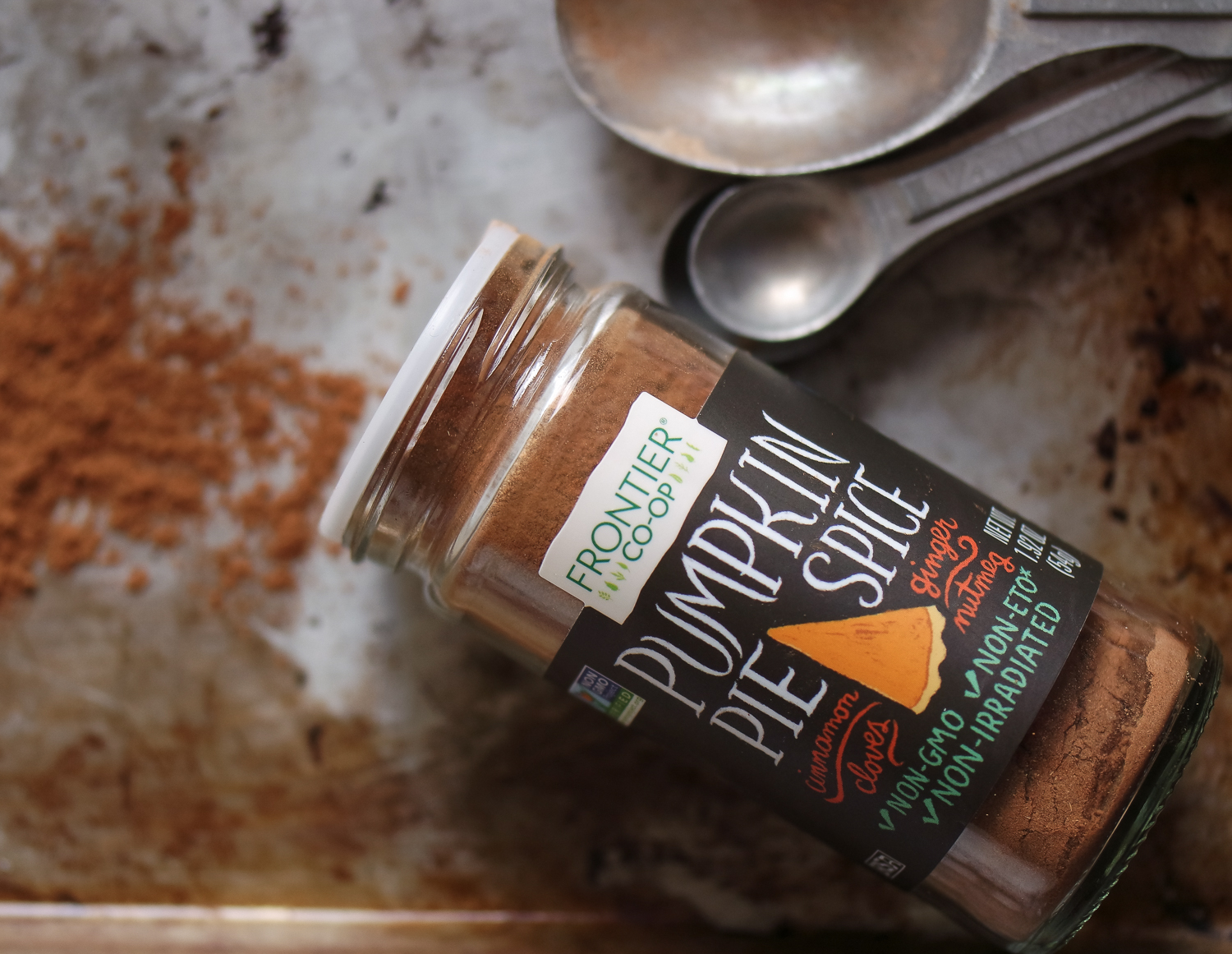 Donut Pan or Muffin Tin?
I have always preferred to use a donut pan vs a muffin tin or other baking tin with a small cavity. That doesn't mean you can't use one, I just can't guarantee how they will turn out!
One reviewer on my Baked Apple Cider Donuts recipe said that she had success with a different pan so don't let it stop you from trying!!

OKAY. Here we go with the nut hunks and the sugar crumbles.
ARE YOU READY?!?!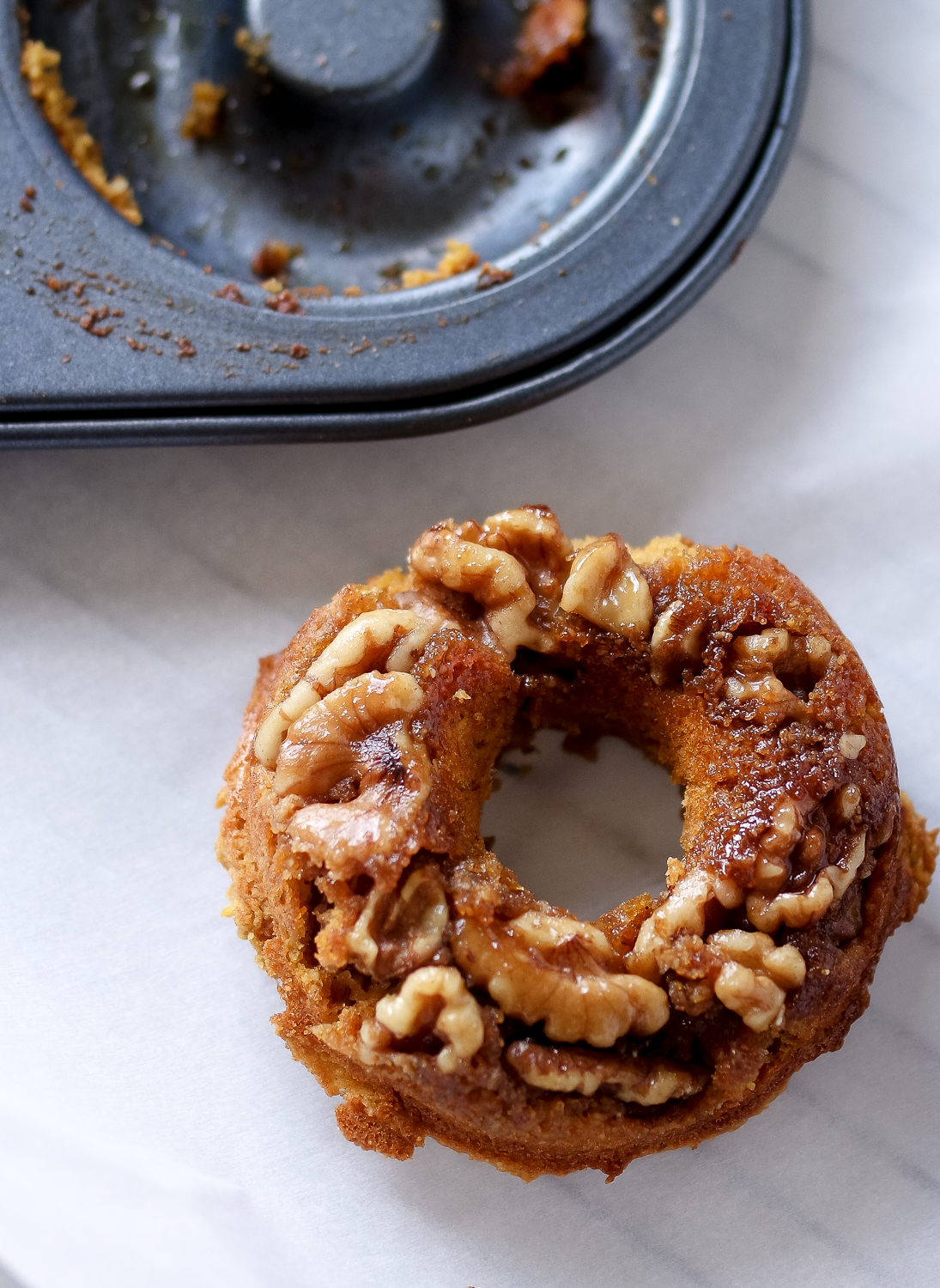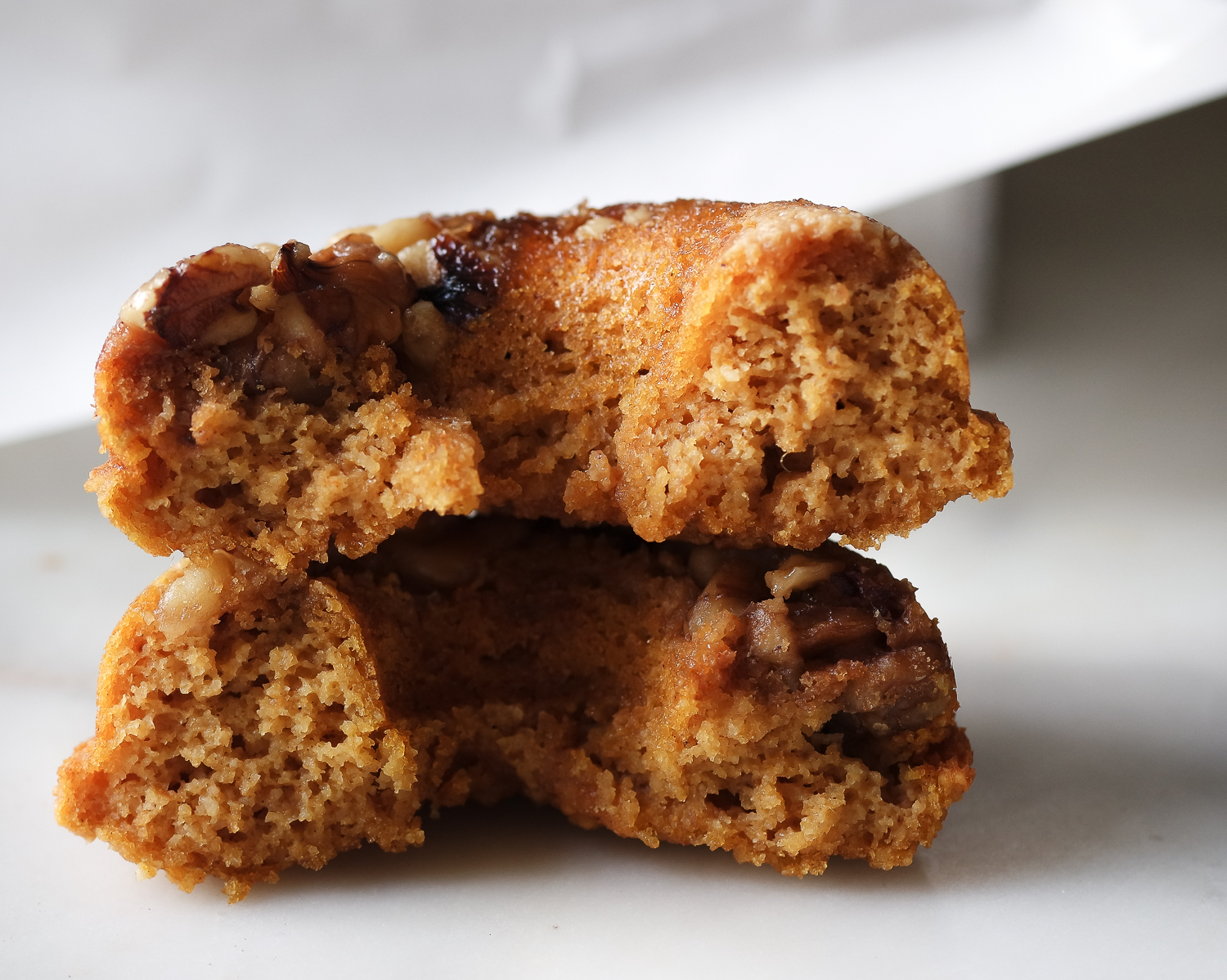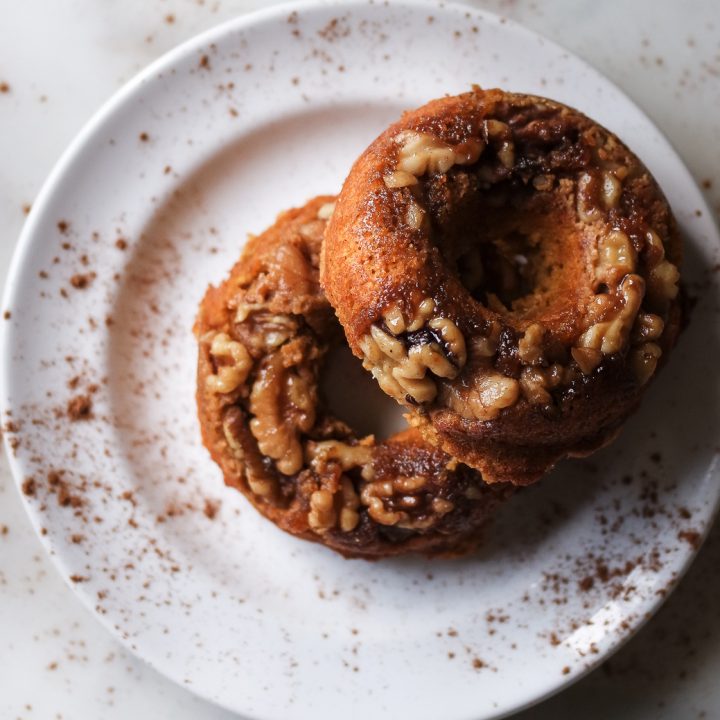 Low Carb Pumpkin Donuts with Brown Sugar Walnut Crumble
Pumpkin donuts are boring. Walnut and Brown Sugar Crumble Pumpkin Donuts are the donut everyone fantasizes about when they are with their plain pumpkin donut.
Ingredients
1 cup Almond Flour
1 tbsp Baking Powder
1/2 cup Pumpkin Puree
2 eggs
**Up to 1/4 cup of water if your batter is too thick. You want it spreadable but not pourable.
Crumble
Walnut Pieces
More Brown Sugar
Instructions
**Update!! I have updated the instructions slightly as of 10/2020 to make the process more clear! Same ingredients, just an easier way to mix!
Heat your oven to 350 and spray a donut pan with cooking spray.
Sprinkle the crushed walnuts and brown sugar in the wells of the donut pan and set aside to make the batter.
Beat the eggs, oil, pumpkin puree, and sugar until well combined. Set aside.
Mix all of the dry ingredients in a large bowl until each part is incorporated.
Fold half of the dry into the wet and mix. Add the rest of the flour and stir to form a gooey batter. If it feels too thick to work with, add water 1 tablespoon at a time until it is spreadable (up to 4 tablespoons).
Scoop the batter into the donut wells and bake for 20 minutes or until browned.
Nutrition Information
Serving Size

1 donut
Amount Per Serving
Calories

164
Total Fat

13g
Carbohydrates

7g
Fiber

3g
Protein

6g