This portable omelet "roll" is the to-go low carb breakfast you didn't know you needed! Packed with protein and ready to pack up and GO!
---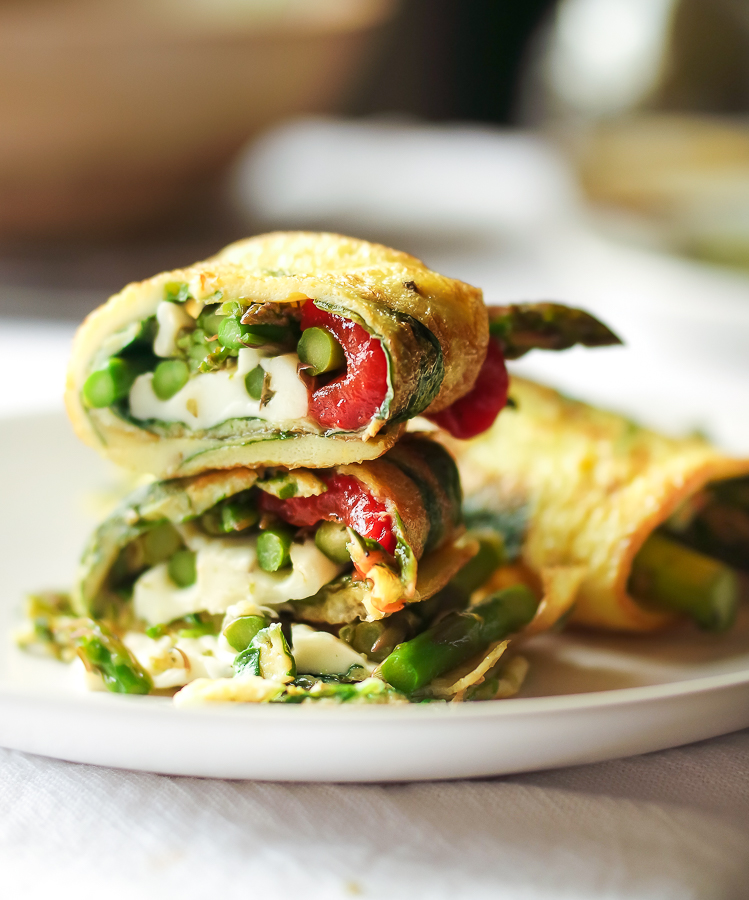 Problems Getting You Down!?! Run Away!
With an on-the-go breakfast and a new mindset, that is!
I know, it sounds like bad advice, but hear me out before you put on your powdered wig. That's still a saying, right? Nevermind.
Anytime I feel overwhelmed or have some terrible issue to deal with, the most common advice is to face it head-on and it's like, why? When I face my problems head-on I typically stress myself out, do it wrong, and everything gets weird and screwed up. When I just ignore the problems and take life one step at a time, it all works out.
That's why I've decided to take a que sera sera, Doris Day-ian approach to my problems and just live.
Overthinking? DONE! Super stress city? I've moved, forward my mail. Gosh, running away from your problems is, dare I say, healthy?
That's cardio, folks!
Okay okay, so I'm clearly in a mood today and maybe don't ignore all of your problems because that seems dangerous, but ditching the stress is a legit suggestion.
Also, when taking my advice and literally running away from problems and living your best life, you need a breakfast that will run right along with you.
Asparagus, Mozzarella & Roasted Red Pepper Stuffed Omelette
All of a sudden my problems are looking a lot less monumental and a whole lot more like opportunities for improvement (and breakfast food).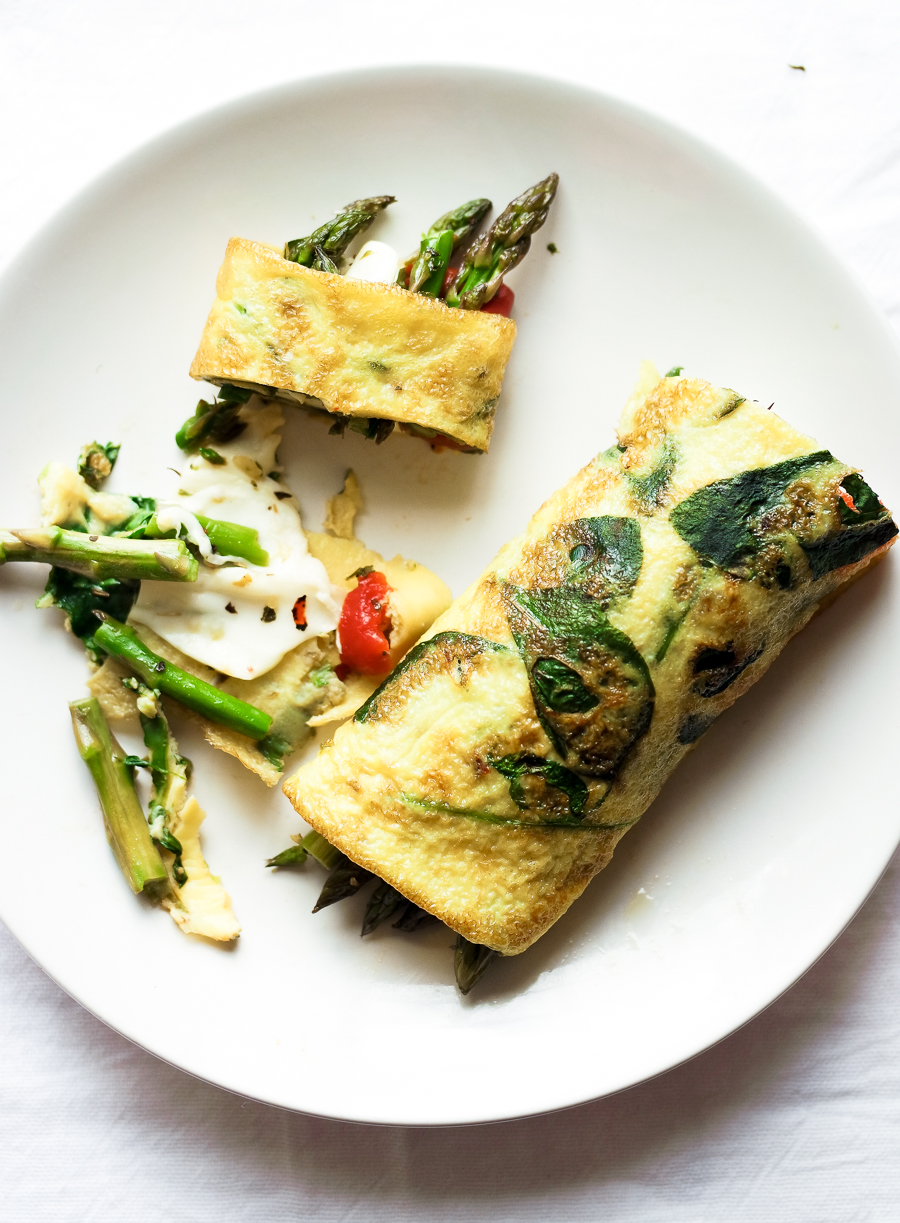 It all begins with a beautiful bounty of Asparagus.
If you want to read about how I forage for asparagus,
check out this cheesy post, too.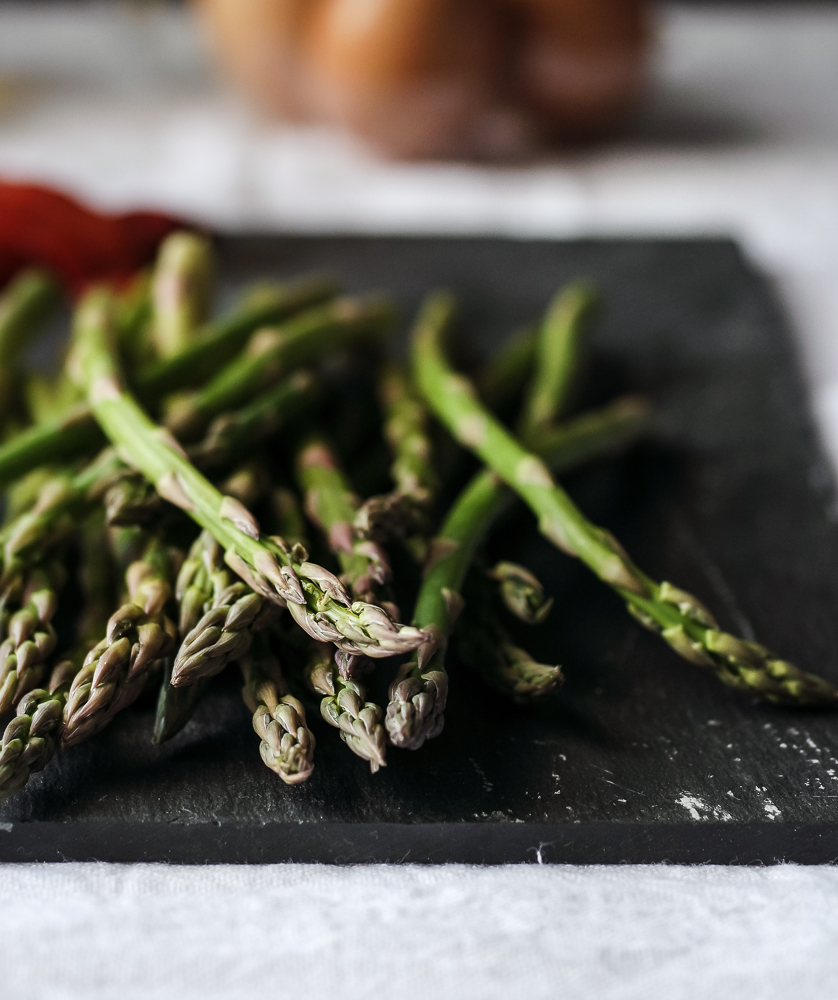 Breaking bread isn't really my thing but breaking asparagus is
something I can get behind.
Small stalks are best to make this omelet roll.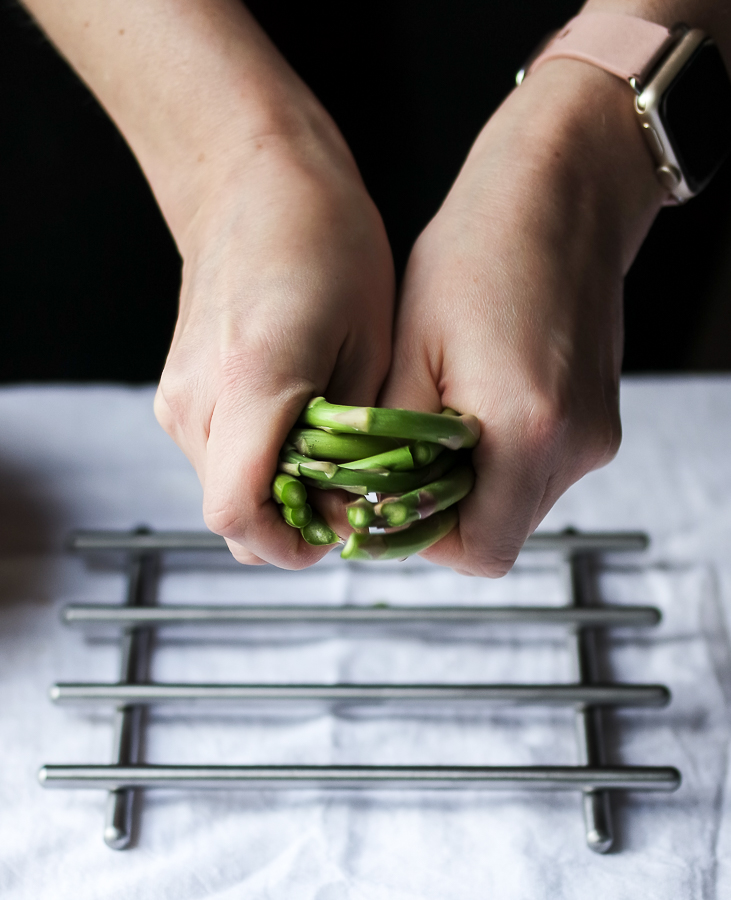 Season it. Sautee it. Set it aside.
Time to make the egg wrap.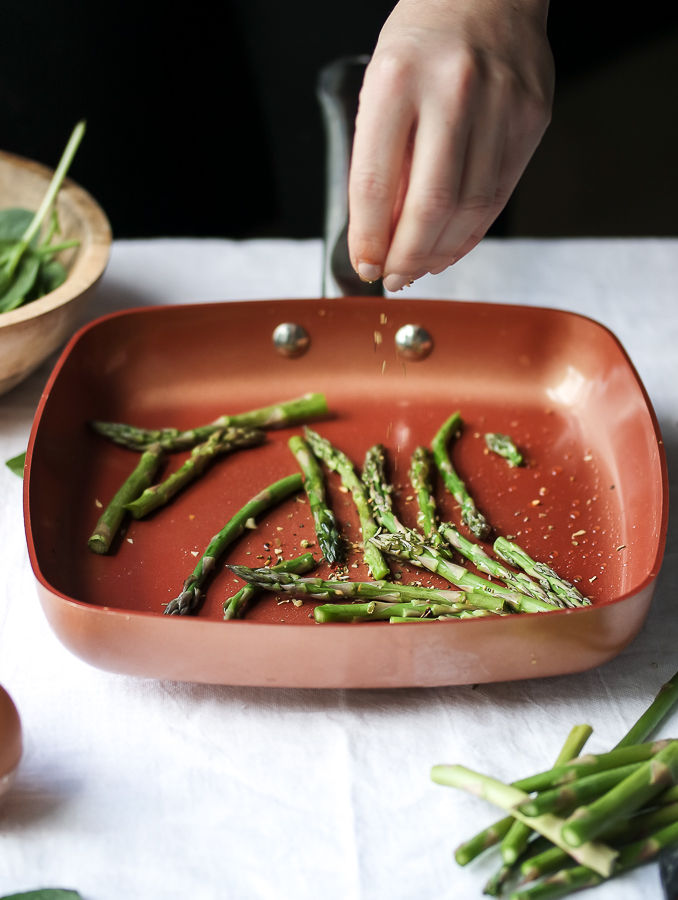 I highly recommend a copper pan like this.
Nothing ever sticks to it and you don't have to use a drop of oil if you don't want to.

I used a Weight Watchers low cal mozzarella cheese stick because
it's simple and I get plenty of fats in my diet.
I don't need alllllll of the dairy fat.
Also, you can see the roasted red pepper peeking out.
It's the kind from a jar, sliced into two hunks to span the egg pan.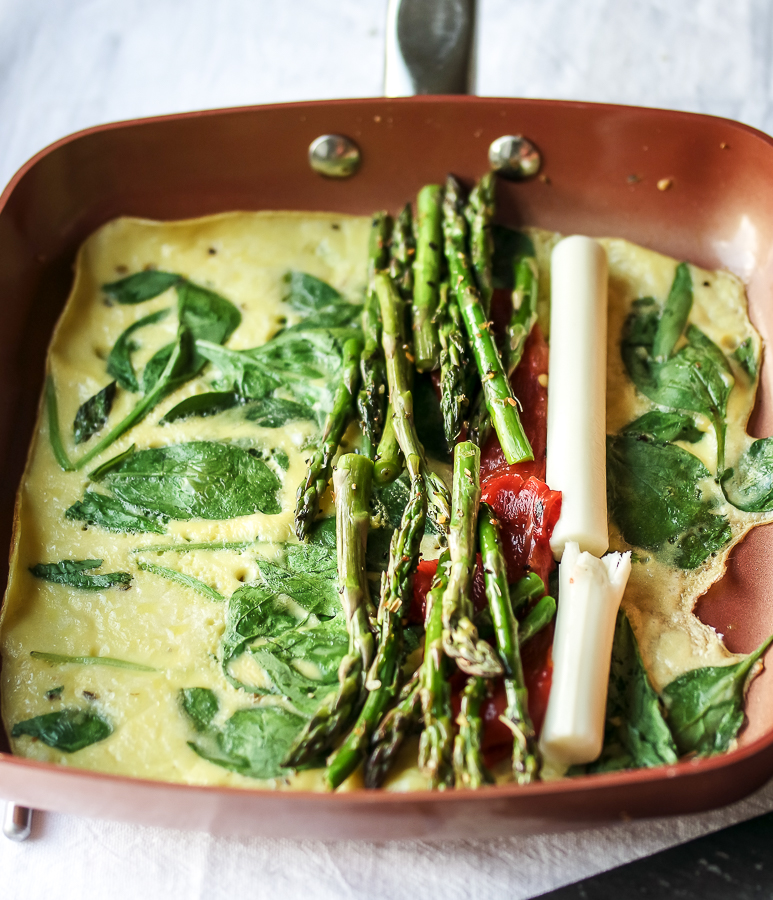 Nestle all of your fillings in your egg so it doesn't all spill
out whilst you are on the run.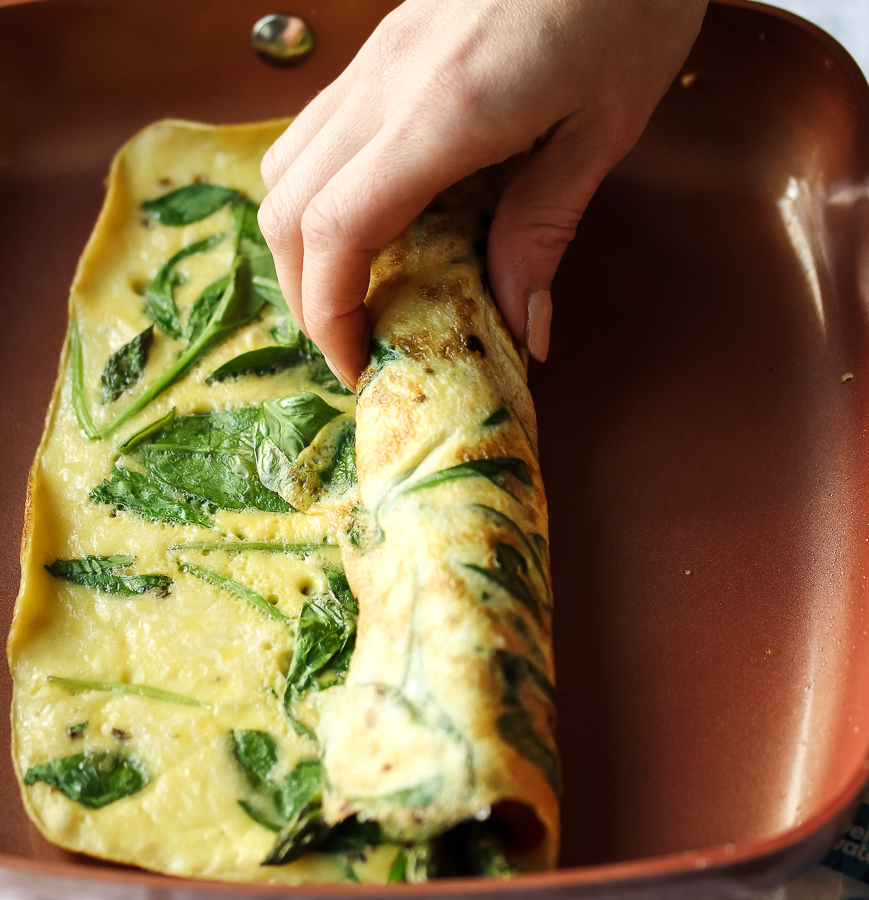 How cute are these little asparagus heads?
Just poking out, ready to be devoured.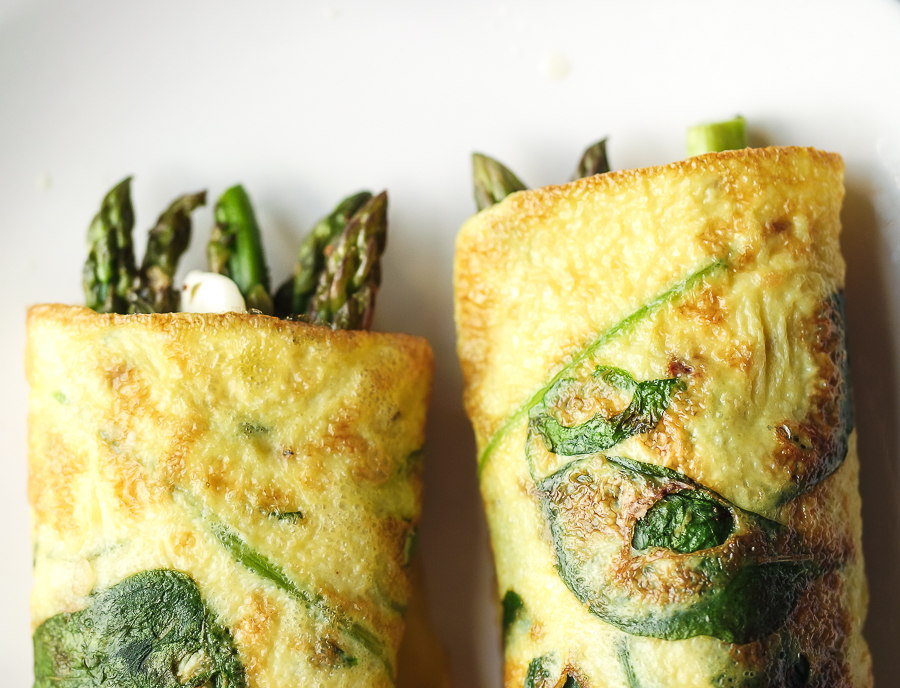 Asparagus Mozzarella & Roasted Red Pepper Omelette
A vegetarian omelette wrap that is just begging to be eating in the car during your 1 hr commute to the office...
Ingredients
8-10 Spears Asparagus
1 tsp Avocado Oil
1/2 cup Spinach
2 eggs, beaten
1 tbsp Avocado Oil, or olive oil
1 Mozzarella Cheese Stick, sub hunk mozzarella if you must
1/2 Roasted Red Pepper, jarred is fine
1 tsp Garlic Herb Seasoning
Salt to taste
Instructions
Saute the asparagus spears in 1 tsp of oil and season with garlic herb seasoning. Set aside.
Beat the egg and 1 tbsp oil until the mixture is frothy and smooth. Layer the spinach leaves in a large skillet and pour in the egg mixture, making sure the egg covers the entire pan. Cook on medium until the egg is set.
Layer the asparagus, cheese stick, and pepper at the end of your omelette. Using a spatula, fold the egg over the filling and begin to roll. Serve hot or make multiples and wrap in parchment. Store in the refrigerator for 3-5 days.
Nutrition Information
Yield

1 roll
Serving Size

1 roll
Amount Per Serving
Calories

370
Total Fat

31g
Carbohydrates

7g
Net Carbohydrates

5g
Fiber

2g
Protein

19g
Who's ready to rock and omelet roll this week out, stress-free?!