These keto pumpkin spice muffins are suuuper soft and deliciously moist with only 5g Net Carbs for a fully frosted serving!
---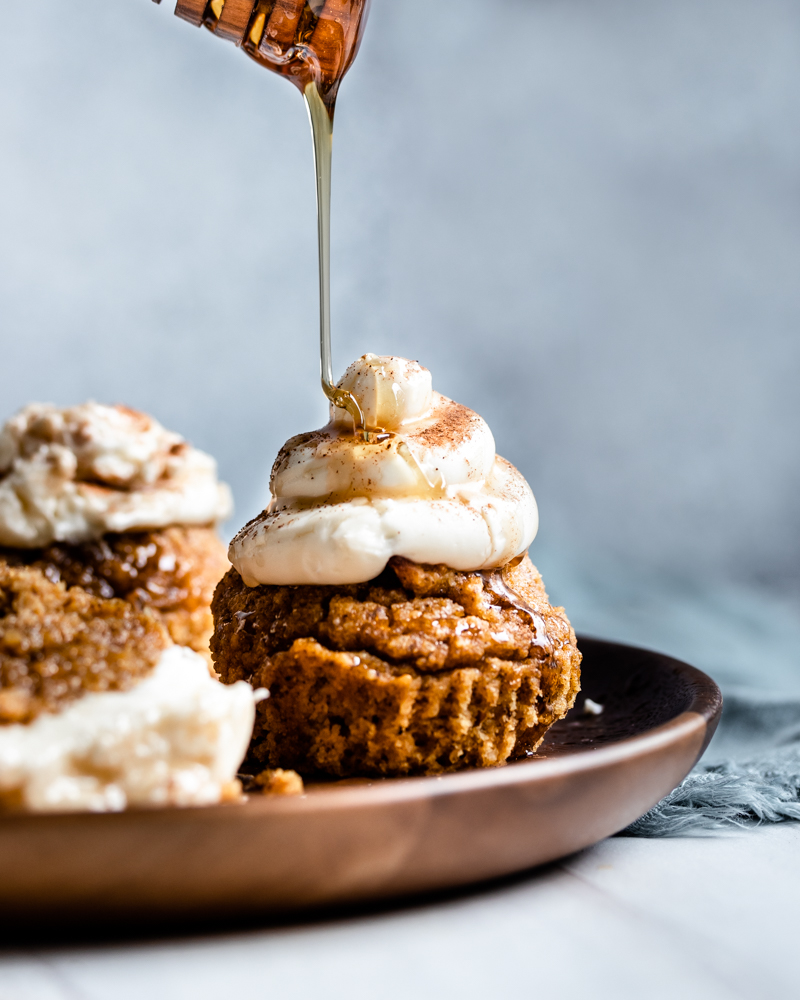 Ok, So I'm a Pumpkin Spice Girl
Let's stop walking around, denying the fact that we love pumpkin-spiced treats, then sneakily sneaking (yes, sneakily sneaking) to secretly bake our own stash of pumpkin-spiced treats. Why are we (you and me) living this lie??
It has to stop!!!
I blame the rude pumpkin-spice-shaming memes floating around the internet. And Starbucks. But today, my fall loving friends, we are declaring our love for spiced pumpkin treats and then making them suuuuper healthy and keto-friendly!
No Sugar + Spice = Still Pretty Nice
Sometimes keto and gluten-free treats can seem like imposter desserts, but not these babes! They taste so close to actual pumpkin spice muffins that I honestly couldn't tell the difference. Hand to God, they could even be *better* that the sugary gluten-filled version.
It's all thanks to this amazingly smooth and silky cream cheese frosting that has been whipped to perfection. I mean, look at it…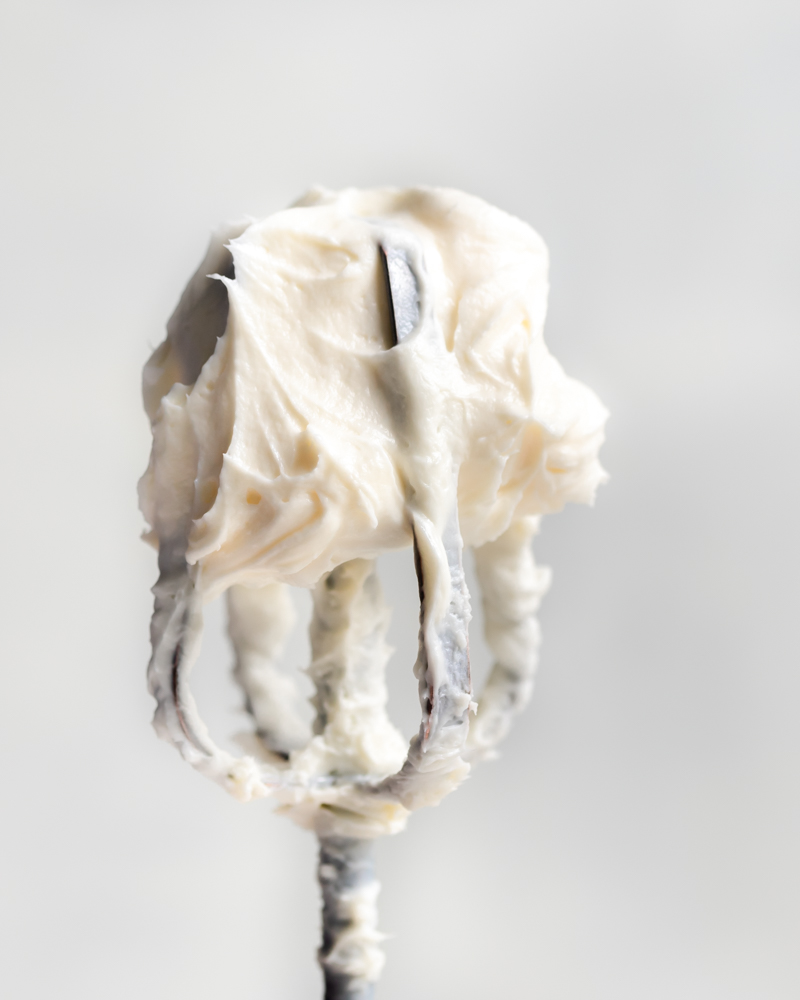 Beautiful.
Okay, now the major key to unlocking the silky sensual texture of this pretty basic frosting is using powdered Allulose (sweet without the cooling effect of erythritol) and whipping the ever-loving heck out of it. And don't forget that your butter HAS to be room temperature along with your cream cheese or it won't blend smooth!
Make sure you use block cream cheese only (no low-fat versions either!) or your frosting will be thin and runny aka not easily piped onto a cupcake or muffin.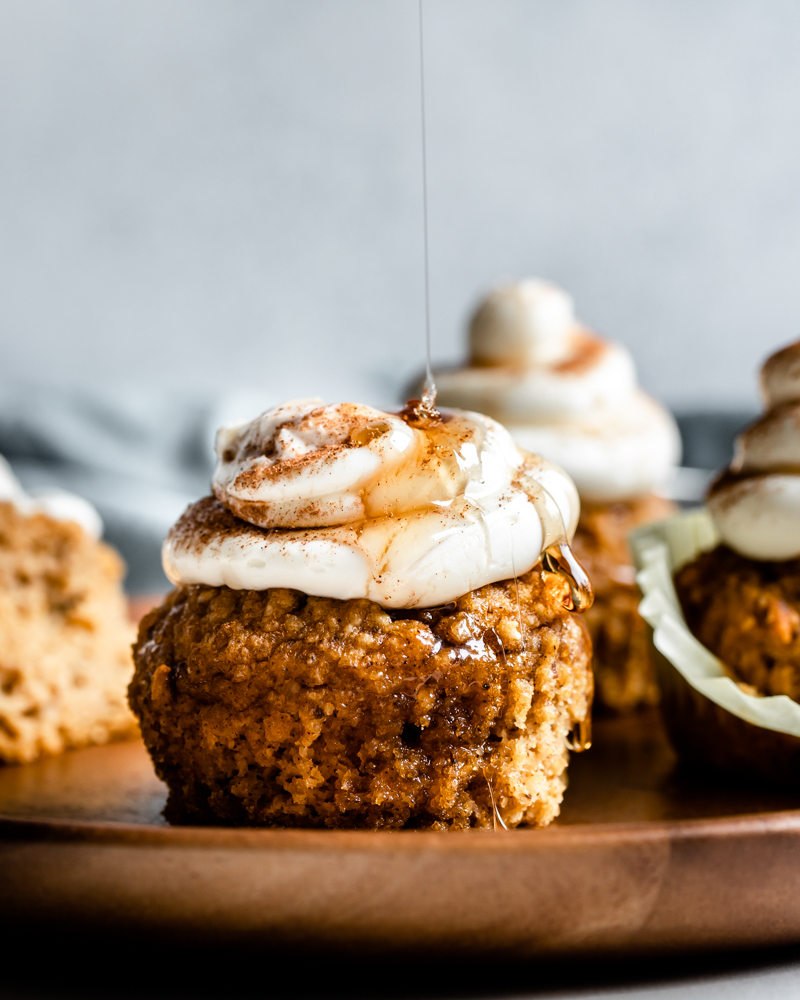 A healthy sprinkle of cinnamon is perfect to top these beautiful muffins but pumpkin spice would work equally as well! But don't skip the best part, which is a heavy-handed drizzle of sugar-free caramel syrup!! My fave is the Choczero Caramel but the Mape is great too.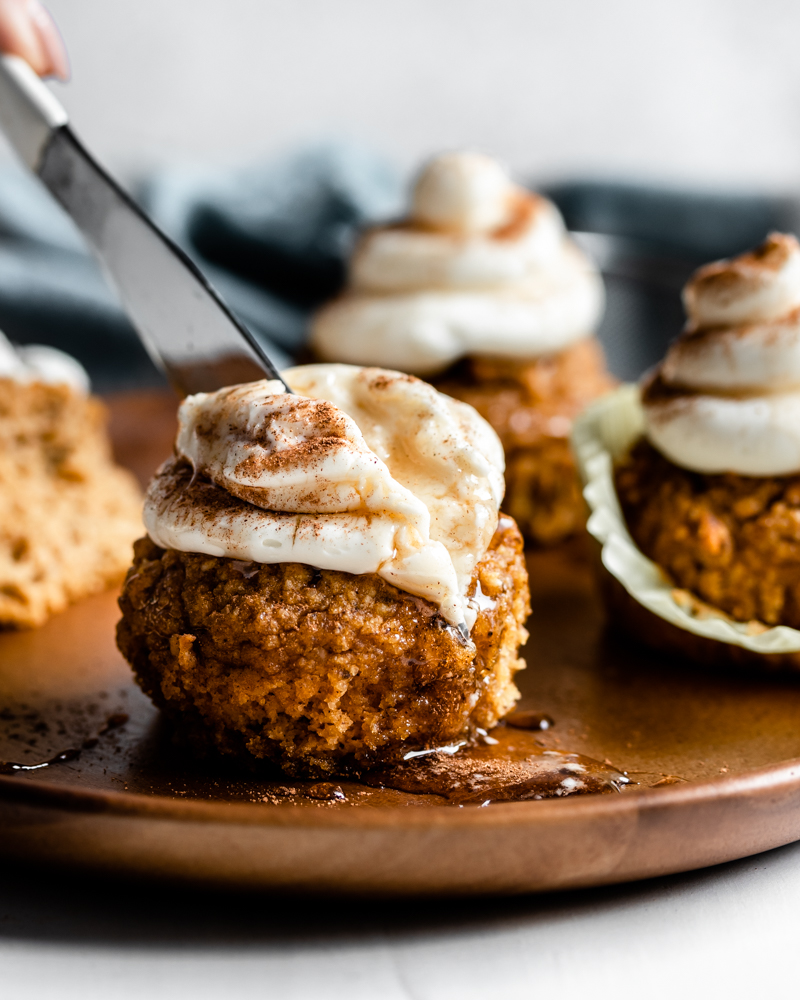 Oil vs Butter
It's common in keto baking to use butter instead of oil because almond flour lends to a softer, moister baked good. BUT but but…I have found that I love using oil (avocado or liquid coconut oil) because you get the soft added moisture but you use less! That's 1/8th cup verses 5 tbsp butter and a saving of 300 calories. Sounds good, eh???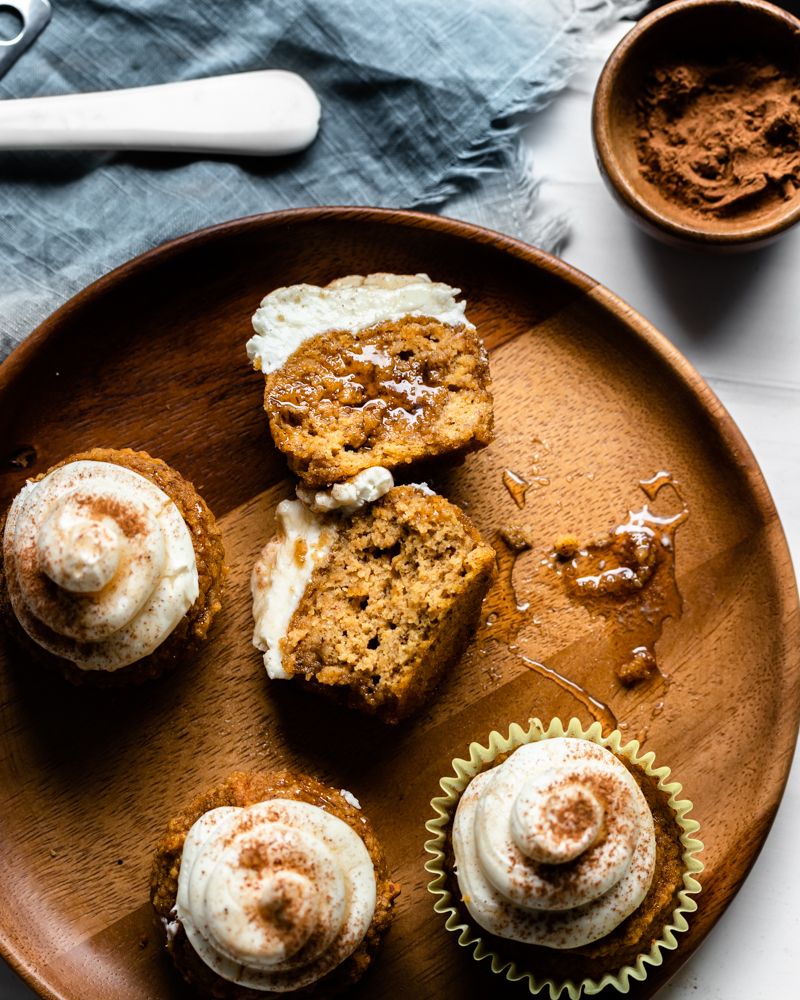 Not that the need it, but you could slather these muffins in a bit of butter and call them breakfast all. Fall. Long. *Insert swooning sounds here*
Want More Fall-Inspired Treats?
Try These!
Keto Sneaky Apple Crumble Bars
Low Carb Butternut Squash Pie with Bourbon Brown Butter!
Flourless Peanut Butter Blossoms with Homemade Kisses!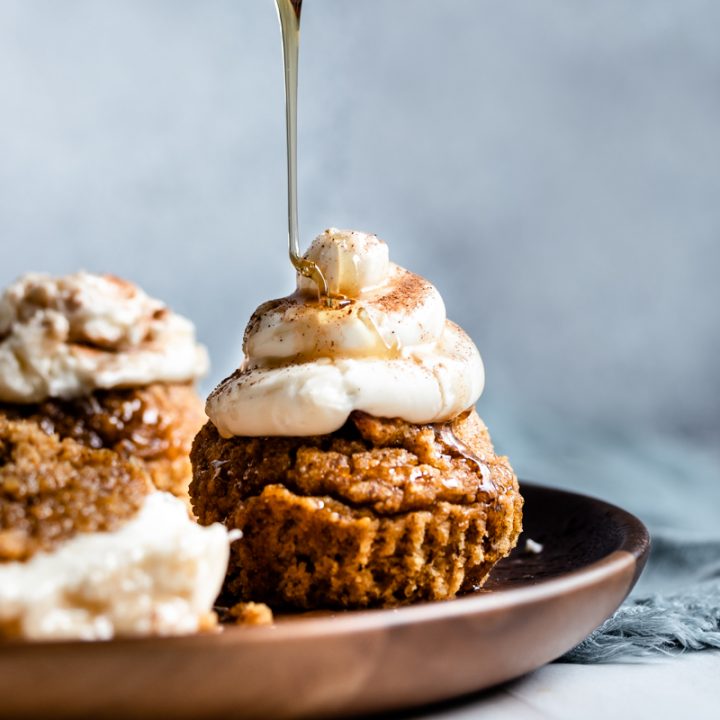 Super Moist Keto Pumpkin Spice Muffins!
Additional Time:
20 minutes
These grain free keto pumpkin spice muffins are super soft and won't dry out!
Ingredients
For the Muffins
1 cup Almond Flour
2 tbsp Coconut Flour
1 tbsp Ground Golden Flax seed 
1/2 tsp Baking Powder
1/4 tsp Baking Soda
1 tsp Pumpkin Pie Spice
1/2 tsp Ground Cinnamon
2 large Eggs
4-6 tbsp Allulose or Swerve* see notes
1 tsp Vanilla Extract
1/2 cup Pumpkin Puree
1/8 cup Avocado Oil, or coconut oil melted
For the Whipped Cream Cheese Frosting
5 oz Cream Cheese, softened
5 tbsp Unsalted Butter, room temperature
1/4 cup Powdered Allulose, or Swerve
1 tsp Vanilla Extract
Instructions
Whisk together the flours, ground flax, baking powder, baking soda, and spices. Set aside.
In a separate bowl, beat the egg and sweetener together until fluffy. Add the vanilla, pumpkin puree, and avocado oil and whisk to combine.
Slowly mix in the dry ingredients until a batter forms.
Line a cupcake pan with liners or spray with non-stick oil and dust with coconut flour. Portion the batter evenly between 6 cupcake wells for big servings or 7 for small.
Bake at 350° for 15 minutes, covering with foil at that time if they are over-browning. Continue to bake for 3-5 more minutes or until a toothpick inserted in the center comes out clean.
Make the Frosting: In a deep bowl, use an electric mixer to beat the cream cheese, soft butter, vanilla, and sweetener until smooth and fluffy. Keep refrigerated until ready to use
Let the muffins cool completely before frosting, then pipe or smear on a good portion of whipped cream cheese frosting. Dust with cinnamon and drizzle with Sugar-Free Caramel Syrup!
Notes
*Swerve (erythritol) does have a cooling effect that is more noticeable in frosting than in the muffins, so to avoid that I recommend Allulose! Just remember it is less sweet than swerve so you need to use about 2-4 tbsp more for the same sweetness!
Nutrition Information
Yield

6 Muffins
Serving Size

1 Frosted Muffin
Amount Per Serving
Calories

345
Total Fat

32g
Carbohydrates

9g
Net Carbohydrates

5g
Fiber

4g
Protein

8g