If blondes have more fun, then dirty blondies have the mostest(?) fun. Maybe the moistest fun?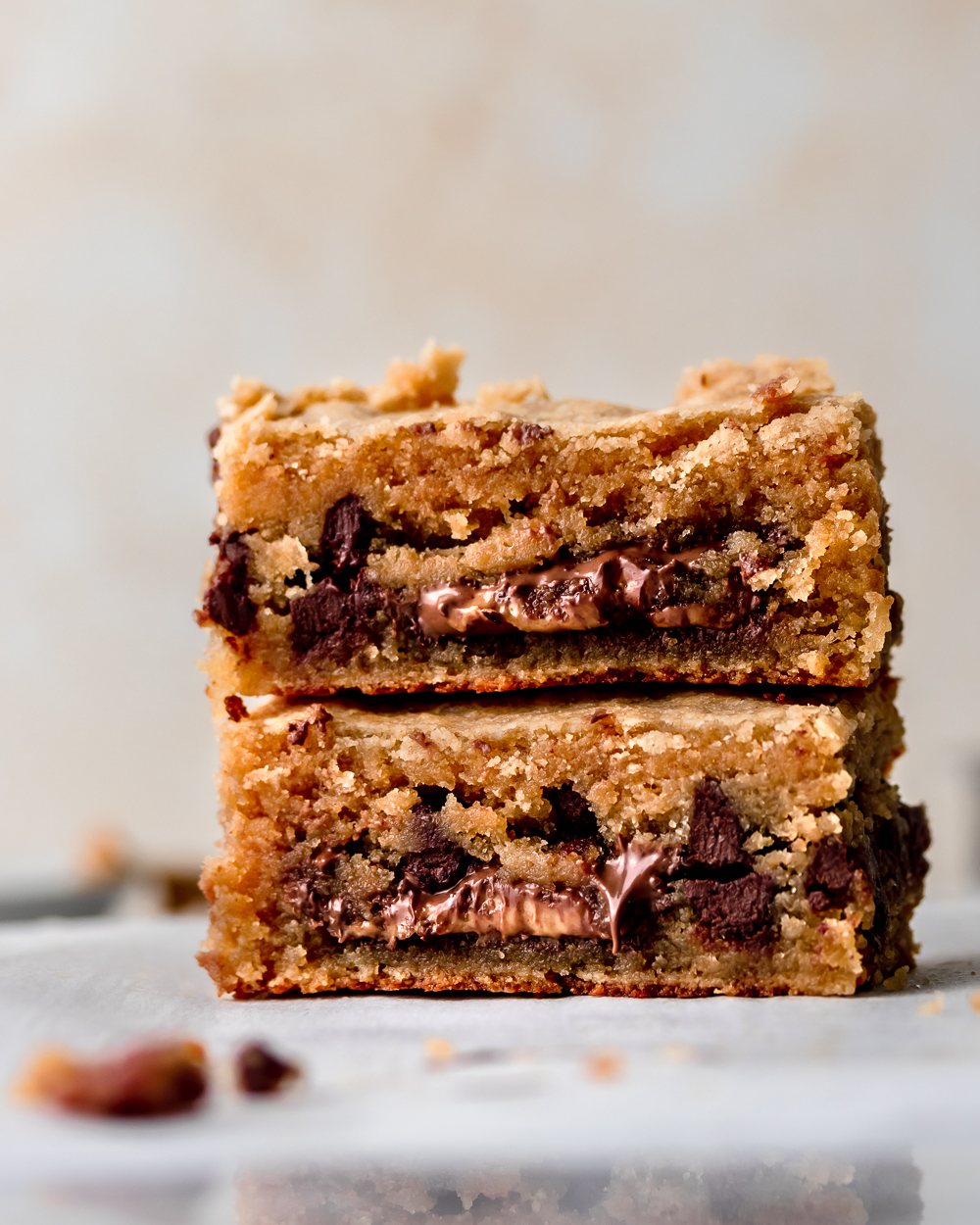 How To Tell If You're A Dirty Blondie
Are you deliciously sweet and subsequently salty?
Do you regularly find yourself looking like a snack?
Are you complex with multiple layers, each more enticing than the next?
May be described as a little doughy in the center, but that makes you even more attractive??
If you answered yes to any of those, you're probably some sort of beautiful dessert/woman hybrid and you should never change. And really, aren't we all? JK…but you're for sure going to love these blondies.
Dirty Blondies Have More Fun
Why? Because a Dirty Blondie is the perfect balance of caramel chocolate chips, peanut butter cups, salty pecan pieces, all stuffed between TWO layers of soft and rich peanut butter blondie dough. All while being gluten-free and low in carbs.
Let's see your boring old blondie recipe do THAT!
Little Known Fact: The dirtier the blondie, the better. See photos below for examples…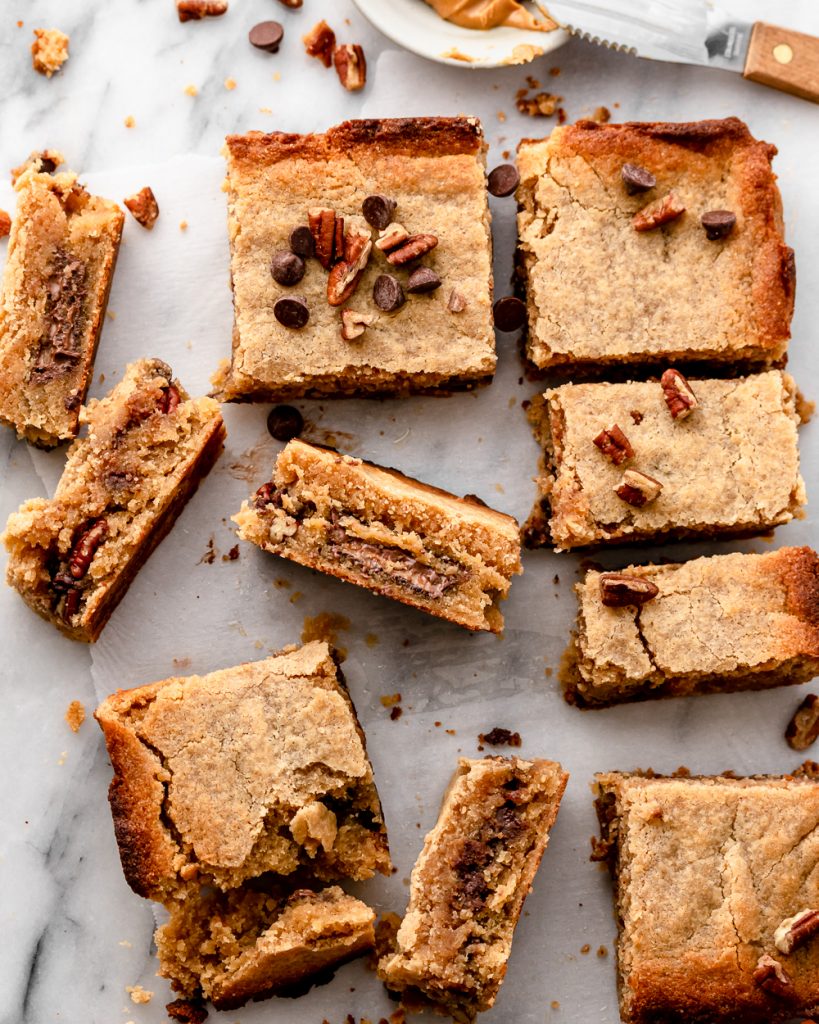 Can a blondie be clean and dirty at the same time? Because I think this is that time…and this is that blondie.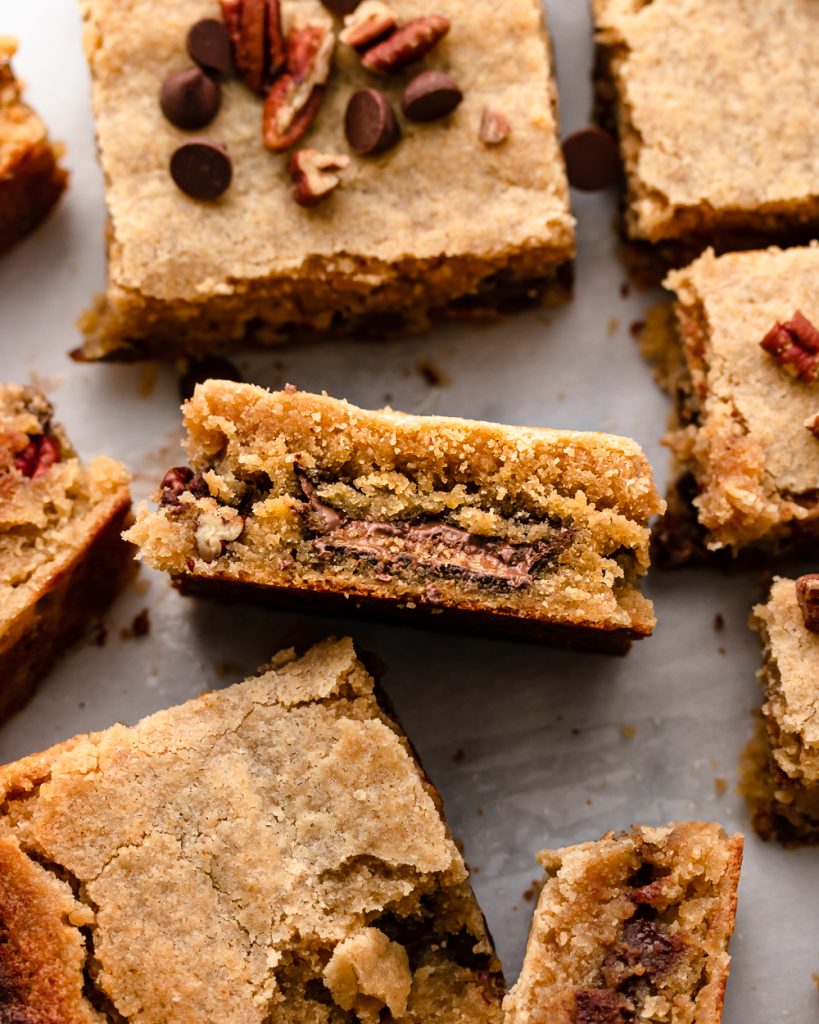 Just like any good thing, you have to have patience when baking a batch of dirty blondies.
IF you try to slice these before they cool, you'll go from dirty blondie to sloppy blondie which is honestly not a good look on any dessert. BE PATIENT!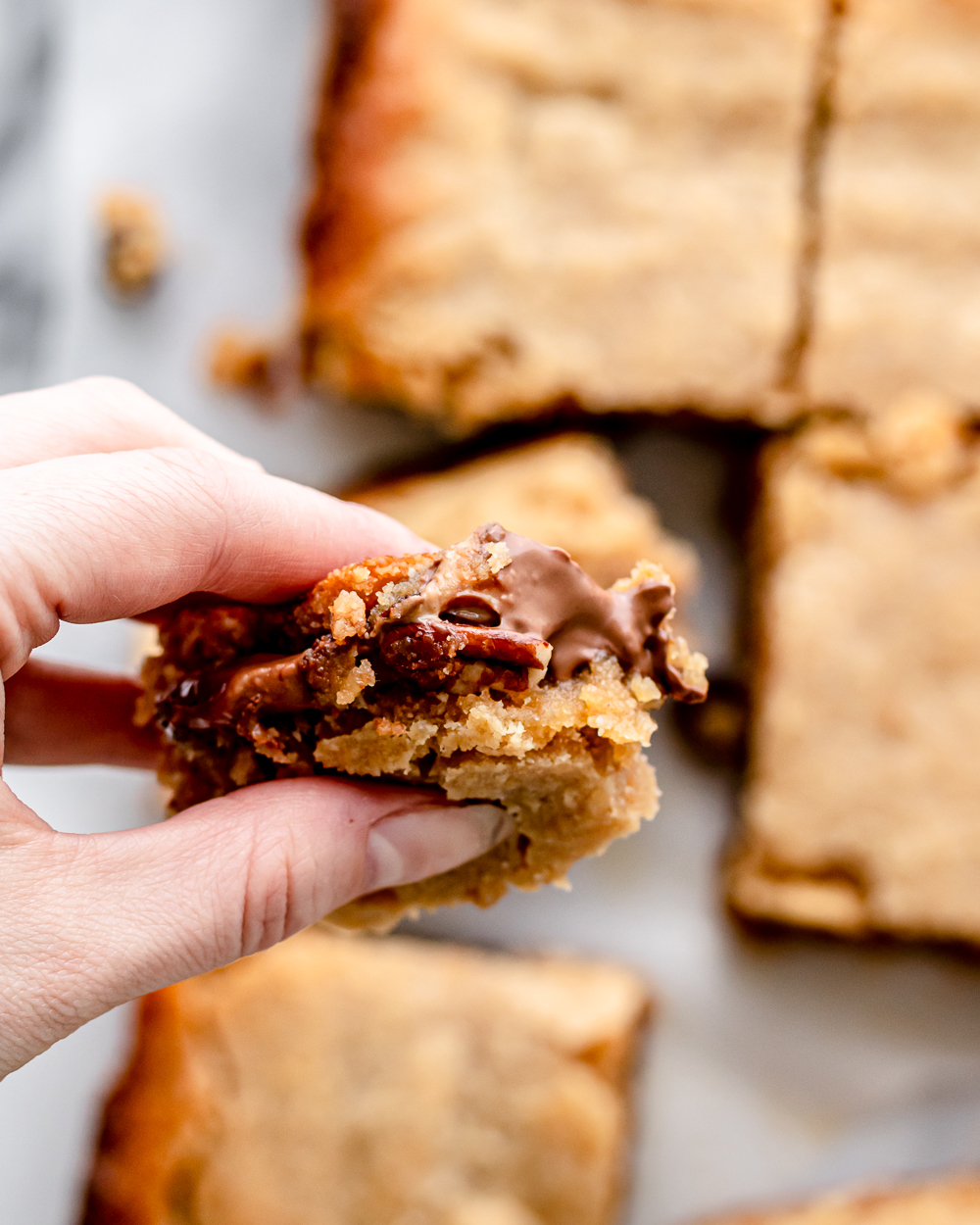 You'll also want to make sure you bake them until the edges are nice and brown. Low and slow! That's the key since these babies are THICK and the center takes a while to get done.
Intensity Level: 🍫🍫🍫
Afraid you can't handle a dirty blondie? Sorry, can't relate.
BUT if you're worried about biting off more (sweet) than you can chew, don't sweat it. Reduce the sweetness by skipping the layer of chocolate chips for a less indulgent but EVERY BIT as dirty, blondie. 💋
Want More Gluten-Free Treats? Try These!
Heads UP! This post contains affiliate links. As an Amazon affiliate, I earn from qualifying purchases.
Gluten Free Dirty Blondies
In a world full of plain jane desserts, have a little guilt-free fun and go dirty blondie.
Ingredients
15 tbsp Butter
1/2 cup Peanut Butter
1 tbsp Vanilla Extract
3 large Eggs
1 tsp Baking Powder
1/2 tsp Salt
Filling
1/2 cup Roasted Salted Pecan Pieces
Instructions
Heat oven to 350°F and line a light-colored 8x8 baking pan with parchment.
Melt the butter in the microwave. Stir in the peanut butter and mix until smooth. Add the vanilla and sweetener and stir.
In a separate bowl whisk the almond flour, baking powder, xanthan gum, and a pinch of salt.
In a large bowl combine the peanut butter mixture, eggs, and half of the flour and stir well. Add the rest of the flour and mix until a thick dough forms.
Press a little more than half of the dough into the bottom of the prepared pan. Gently press in the peanut butter cups, followed by the chocolate chips and pecan pieces. Top with the remaining dough.
Bake for 25 minutes, then reduce heat to 325 F and continue to bake for 15 minutes. Remove from oven and cover with foil to allow the center to finish baking and the filling to set.
Cool completely (I'm serious!) before slicing for the best dirty, not sloppy, blondie.
Notes
Coconut Oil doesn't work great here (the flavor and texture aren't perfect) but it can be done. I just don't recommend it!
Erythritol was my sweetener of choice in these because it had the best texture!
That's a huge batch! But if you want to halve the recipe and just stir in PB cups and chocolate chips, that works too!
Nutrition Information
Yield

16 slices
Serving Size

1 slice
Amount Per Serving
Calories

333
Total Fat

32g
Carbohydrates

7g
Net Carbohydrates

2g
Fiber

5g
Protein

9g