Silky smooth keto lemon bars are the tart dessert your diet has been missing!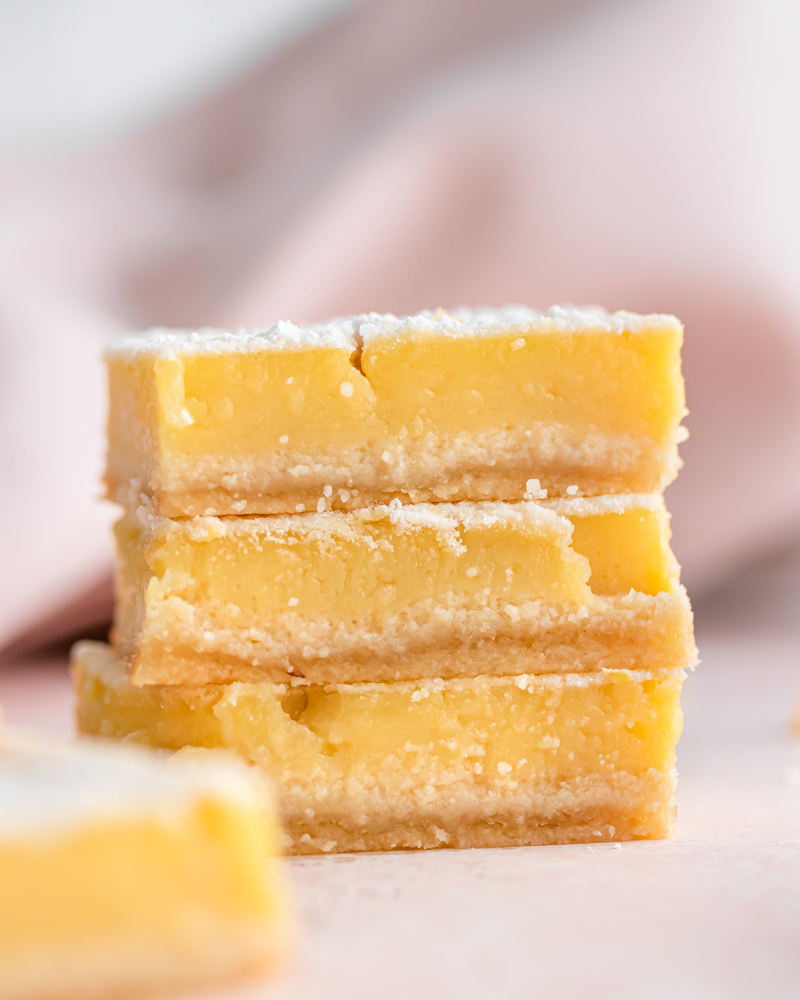 Okay, so these lemon bars aren't technically a mile high.
But I've been jones'n for a keto lemon bar recipe that can give me an inch of super-tart lemon filling. Let's face it. I deserve it. You deserve it. We will no longer be disappointed by wimpy lemon bars with lackluster flavor!
Let's talk Lemon Bar Basics.
That bar right there☝? It's got GIRTH and it's jam-packed with tart lemon flavor. Not too lemony, because the sweet shortbread crust and powdered Swerve topping mellow everything out.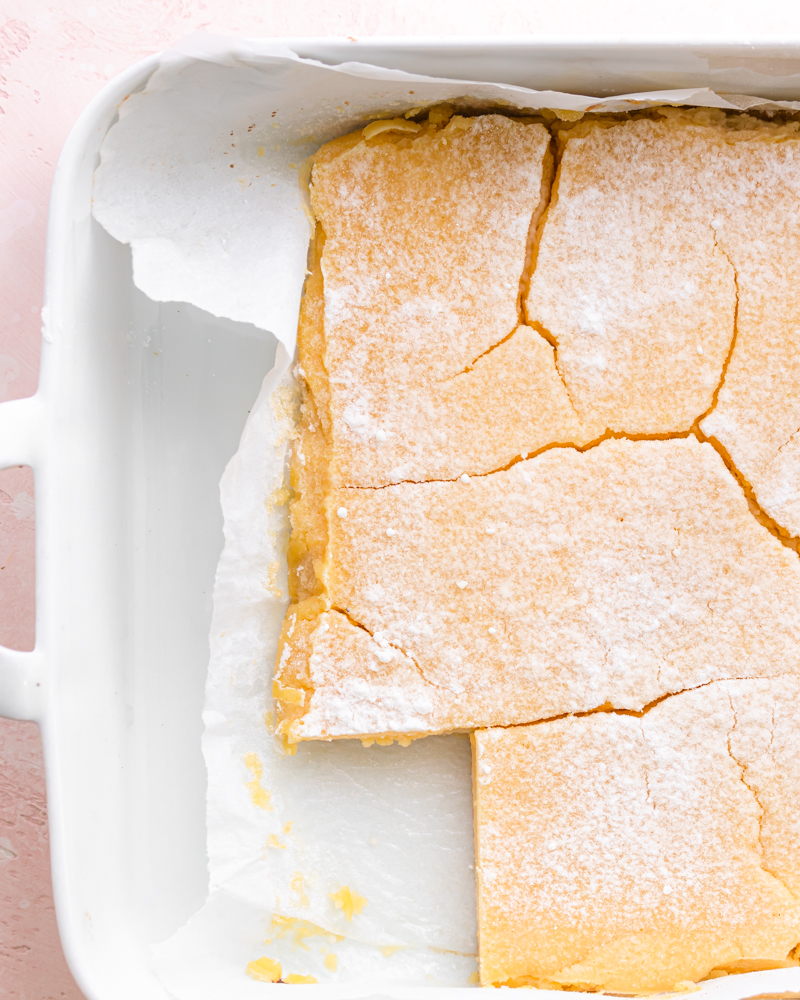 Putting the LEMON in lemon bars
If you want to make a keto lemon bar that actually tastes like lemon and acts like your grandma's blue-ribbon recipe, you have to use a bunch of lemon juice and a lot of eggs.
Don't worry! It won't taste eggy because of allllll of that glorious lemon.
Another tip that people might scoff at is using Real Lemon bottled lemon juice from concentrate. I KNOW! Crazy. Lazy. But super amaze-y. The flavor is there, the convenience is wild, and no one will know.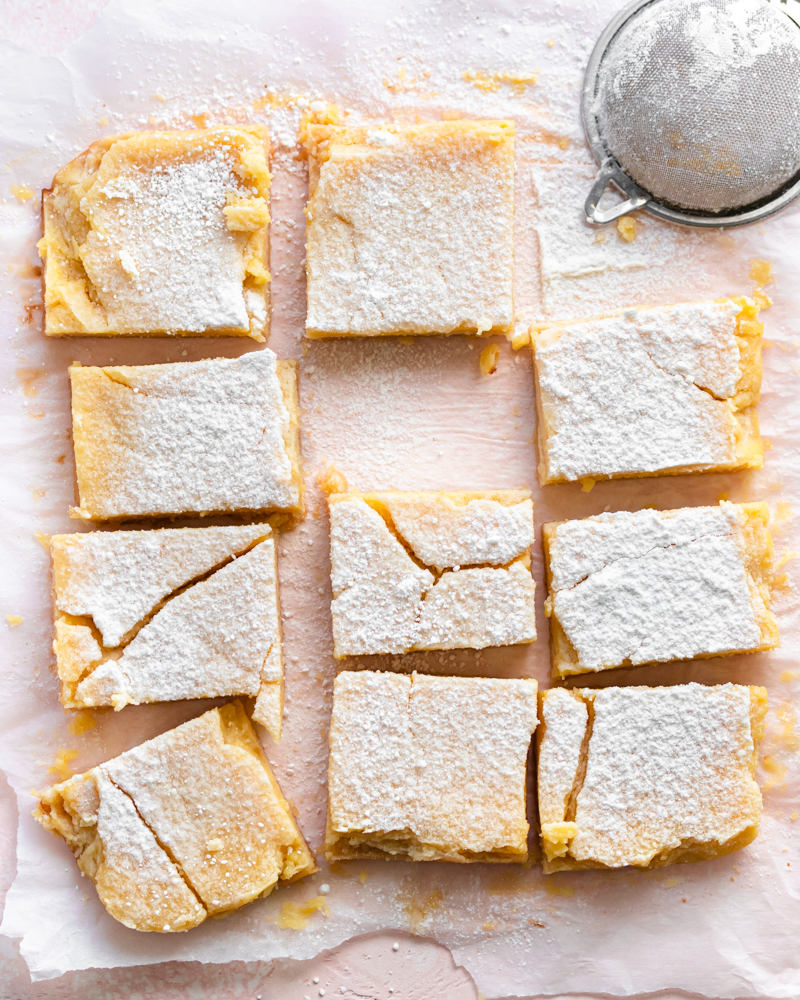 Pick Your Keto Sweeteners
You can use any keto-friendly sweetener you want, but I mainly used Swerve Granulated and Swerve Confectioner because I don't mind the bit of cooling you get with Erythritol. It also works best for making this filling set firm.
Other sweeteners like Monkfruit or Allulose will work too, just make sure you give it a taste before you bake. Because allulose doesn't bake like Swerve, you may have issues with your filling melting into the crust. My advice is to stick to Erythritol but if you must use Allulose, you'll definitely want to increase the volume to an additional 1/4 cup.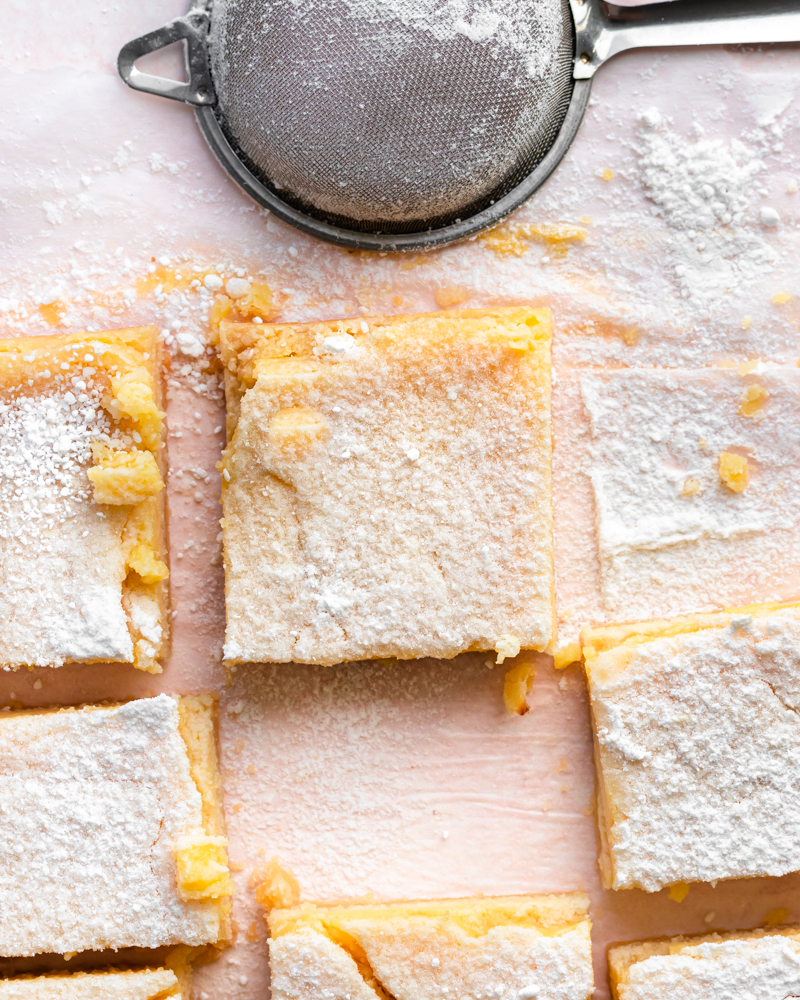 Best Baking Dish Size
You can bake these in a 9×9 square dish and they will be OKAY, but by baking them in an 8×8 dish, you are giving the filling a little help in the thickness department. That's a good thing.
If you don't have an 8×8 pan, take your 9×9 pan and ball up some aluminum foil into a 2-inch rectangle and use it as a spacer. Then, just line your pan with parchment and you've made a 6×9 pan, which also works!
See it in action in the Brownie recipe post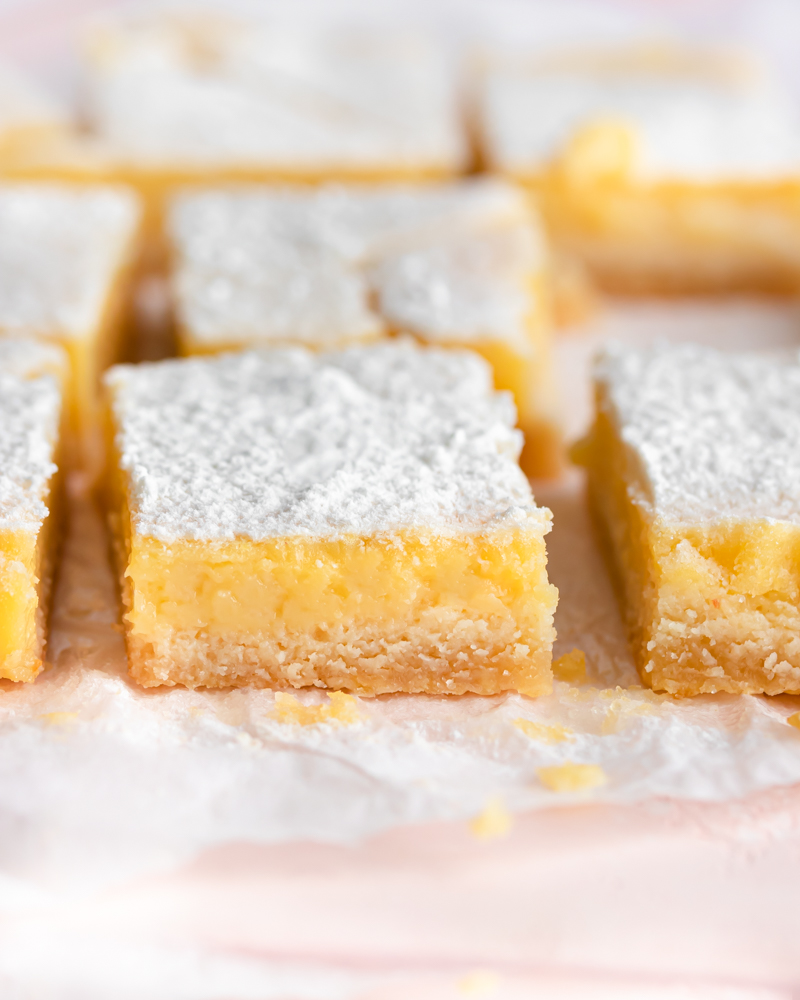 Fresh. Lemon. Squares. Or rectangles…either way, you're gonna love these!
Craving More Keto Sweets? Taste These!
---
Keto Orange Bars with Dark Chocolate
Super Tender Keto Raspberry Almond Ricotta Cake
Baked Lemon Poppy Seed Donuts that FEEL Fried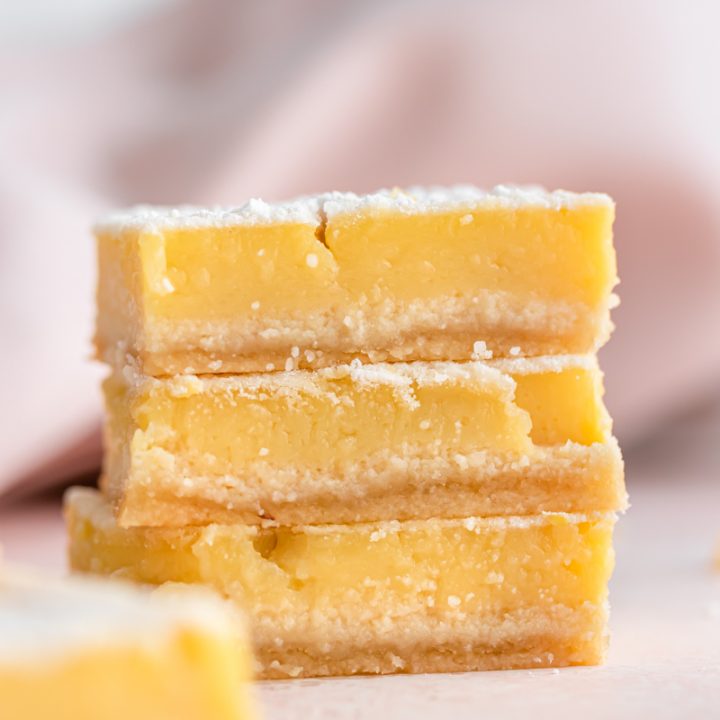 Mile High Keto Lemon Bars!
Total Time:
1 hour
50 minutes
You're gonna love these silky-smooth and wickedly tart keto lemon bars!
Ingredients
Filling
4 whole Large Eggs
1 Large Egg Yolk
1 tbsp Lemon Zest
1/8th tsp Xanthan Gum
Shortbread Crust
1 1/4 cup Almond Flour
3 tbsp cold Butter
1/8th tsp Xanthan Gum
1 tsp Lemon Zest
1-2 tsp Ice Cold Water
8 inch Square Baking Dish, see notes for my hack!
Instructions
Make the Crust
Line an 8x8 baking dish with parchment and heat oven to 350°
Whisk together the almond flour, sweetener, xanthan gum, and lemon zest. Cut in the butter and work the mixture until the dough forms. Add the cold water to help the mixture along.
Press the dough into the pan as evenly as possible. If the crust starts to tear or get too thin, just piece it back together and smooth it as best you can! It will bake just fine.
Bake for about 10 minutes but no longer than 13 minutes to keep the crust from burning during the second bake.
Lemon Filling
While the crust bakes, whisk the eggs, sugar, and lemon juice until smooth. Dust the xanthan gum over the mixture, a little at a time, and whisk to dissolve.
Once the crust is done baking, give the filling one more good stir to mix any undissolved sugar. *I like to strain my filling through a fine-mesh sieve for an ULTRA silky center!
Stir the lemon zest into the filling, then pour into the warm crust. Bake in your 350° oven for 20-25 minutes. Continue to bake if the center is still very wobbly, but be careful not to over-bake because the filling will begin to crack! (Like mine!)
Cool for 2 hours, then dust bars with Powdered Sweetener. Slice and Serve, and refrigerate for up to 1 week.
IF your crust and filling melt together or if the bars don't set, it's likely because of the sweetener! Swerve works best for these. Allulose or monk fruit are more temperamental.


Notes
Baking Dish Hack! If you want to have lemon bars with tall filling, a smaller baking dish is best! I use my 9x9 square pan and I ball up enough foil to take up 2 inches of space on the edge. Then, I put in my parchment and follow the recipe. You'll get the same results without having to buy a smaller pan! SEE PICS from my brownie pan hack
Nutrition Information
Yield

12 bars
Serving Size

1 bar
Amount Per Serving
Calories

125
Total Fat

11g
Carbohydrates

4g
Net Carbohydrates

3g
Fiber

1g