Any time I think of oranges two things come to mind: Florida and that knock knock joke that I always screwed up as a kid.
"Knock Knock!"
"Who's there?"
"Banana."
"Banana who?"
"Knock knock!" and then "Who's there?" and then again with the "Banana" until you are dangerously close to getting your ten-year-old self punched by your fourteen-year-old brother…"Orange you glad I didn't say banana?" (insert childish giggles here)
Only then, I did not possess the comedic timing I have today and would always lead with orange and not banana which totally effs the punchline. Oh, and I still ended up punched or pinched or some form of older sibling teasery.
Little sisters. Am I right?
So no, I don't typically think of "Orange Bars", or really any of the orange dessert varieties when I think of this sweet little piece of citrus. If anything I think "Lemon Bars! Yay!" which we all know are showstoppers but also do not include chocolate. It's as if I had to create this recipe just so I could have a traditional lemony type bar but also satisfy my chocolatey dessert quota. If not, I'd just end up eating lemon bars and thinking about chocolate bars and how much I wanted one of those, too. And then I'd eat chocolate.
It's a thing, I swear.
Dark Chocolate Salted Orange Bars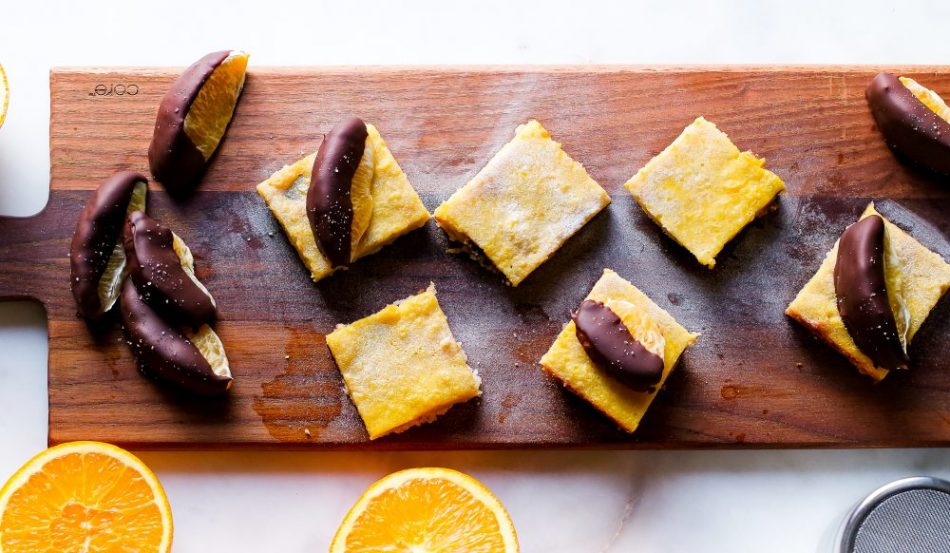 Originally this recipe was supposed to include blood oranges. Don't even get me started with how hard mother nature screwed me on that.
"Oh, blood oranges aren't in season, blah."
At least there were plenty of boring, plain oranges to be squeezed.
Interesting fact: chocolate is always in season. Just a tidbit for you health nuts out there that think fruits and vegetables are everything.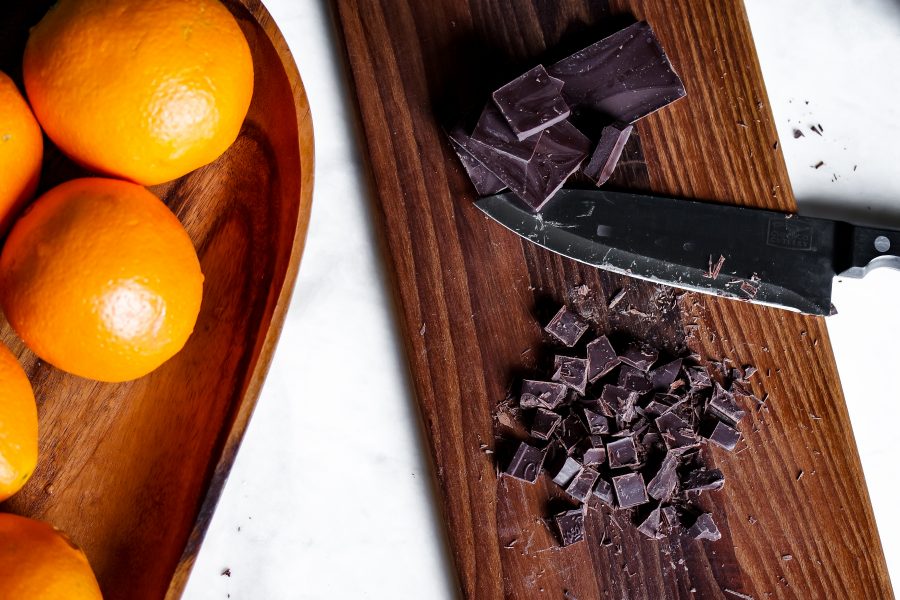 Who's laughing when you're out of cucumbers and I'm still flush with chocolate?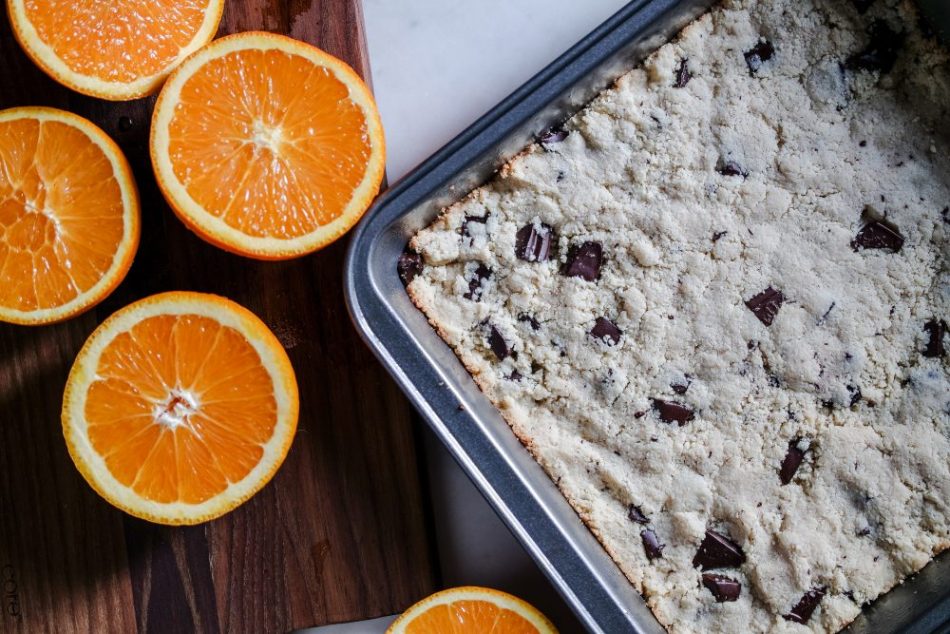 Not me. I'm too busy enjoying this deep, dark salted chocolate with my oranges. In bar form, no less. Preeeetty certain that these oranges aren't in season either…yet they are readily available?!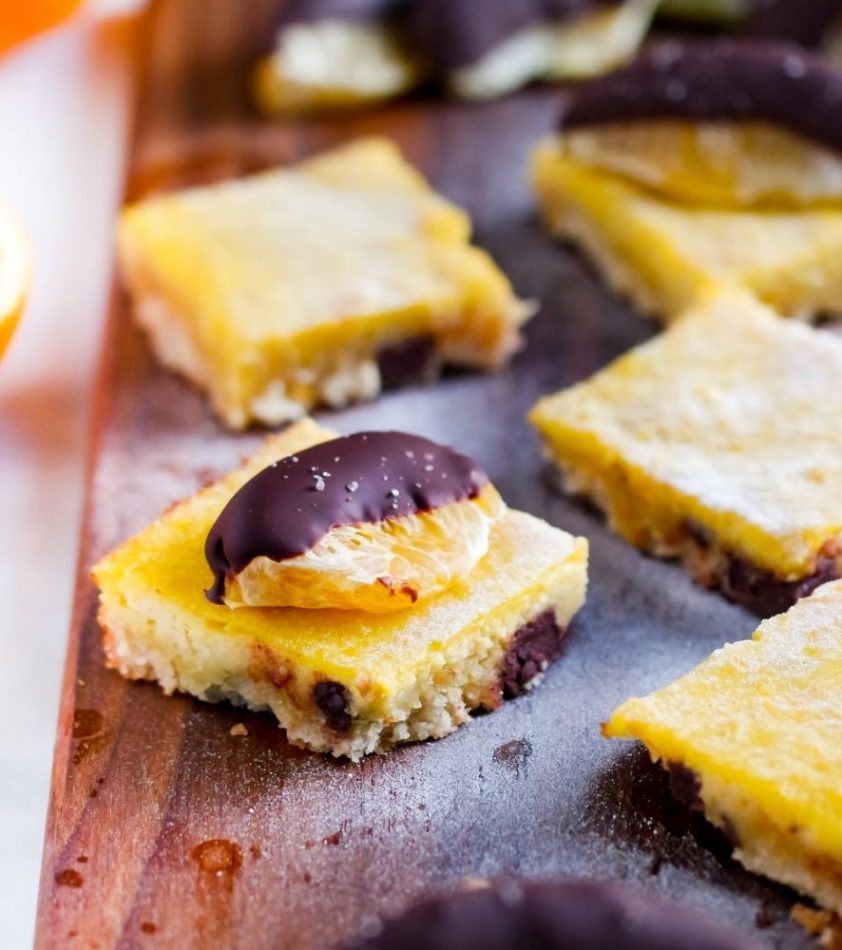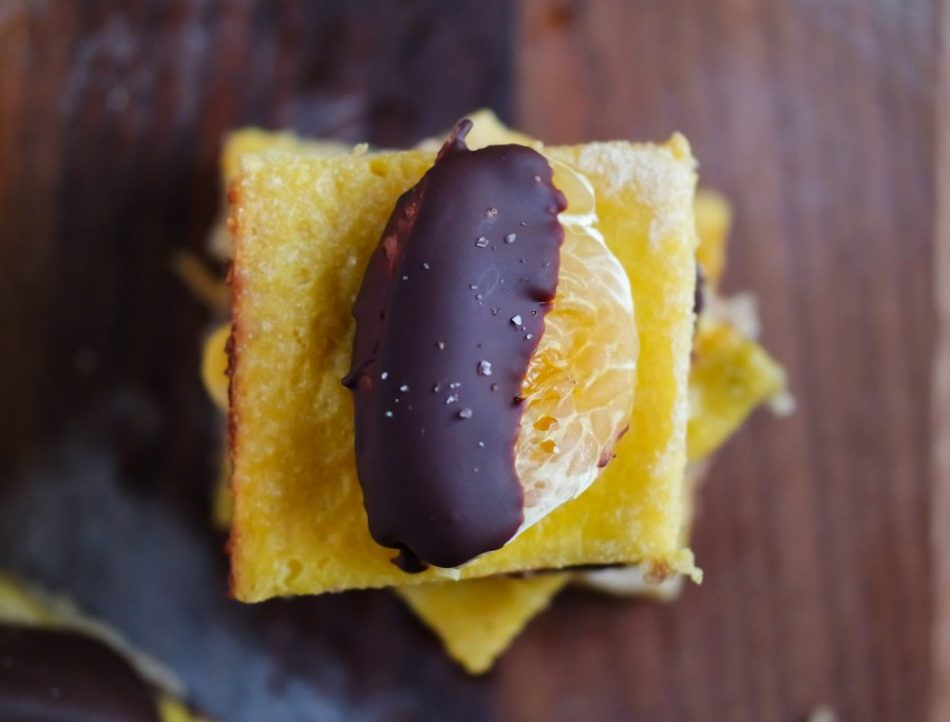 Dark Chocolate Salted Orange Bars
Total Time:
1 hour
30 minutes
A dark and bright twist on traditional keto lemon bars. Yep, we added orange!
Ingredients
Crust
2 c. Almond Flour
1/2 c. Truvia baking blend (or regular sugar if you're into that)
5 tbsp Butter, softened
5 oz Dark Chocolate, chopped - I used Low Carb Chocolate because, carbs.
1 tsp Sea Salt
Orange filling
1 c. Orange juice
4 egg yolks, 1 whole egg
1/2 c Swerve Confectioners Style Sugar ( or powdered sugar)
Zest of one Orange
1 tsp Orange extract- if your oranges are as bland as mine were you'll need this
Instructions
Crust
Preheat oven to 350° and prepare a square baking pan with nonstick spray. Combine ingredients and press into a baking dish. Bake for 10 minutes or until golden. Let cool and prepare orange filling.
Orange filling
In a large mixing bowl, combine 1 whole egg and 4 egg yolks with sweetener. Mix well. Add in orange juice, zest, and extract, mix and pour over previously baked crust.
Bake at 350° for 30 minutes. Let cool then sprinkle with Confectioner's Swerve.
Top with chocolate-covered oranges and sea salt if you are feeling fancy.