Escape to the tropics in the comfort of your own home with these Keto bakery-style cookies filled with toasted coconut and a splash of rum (flavoring)!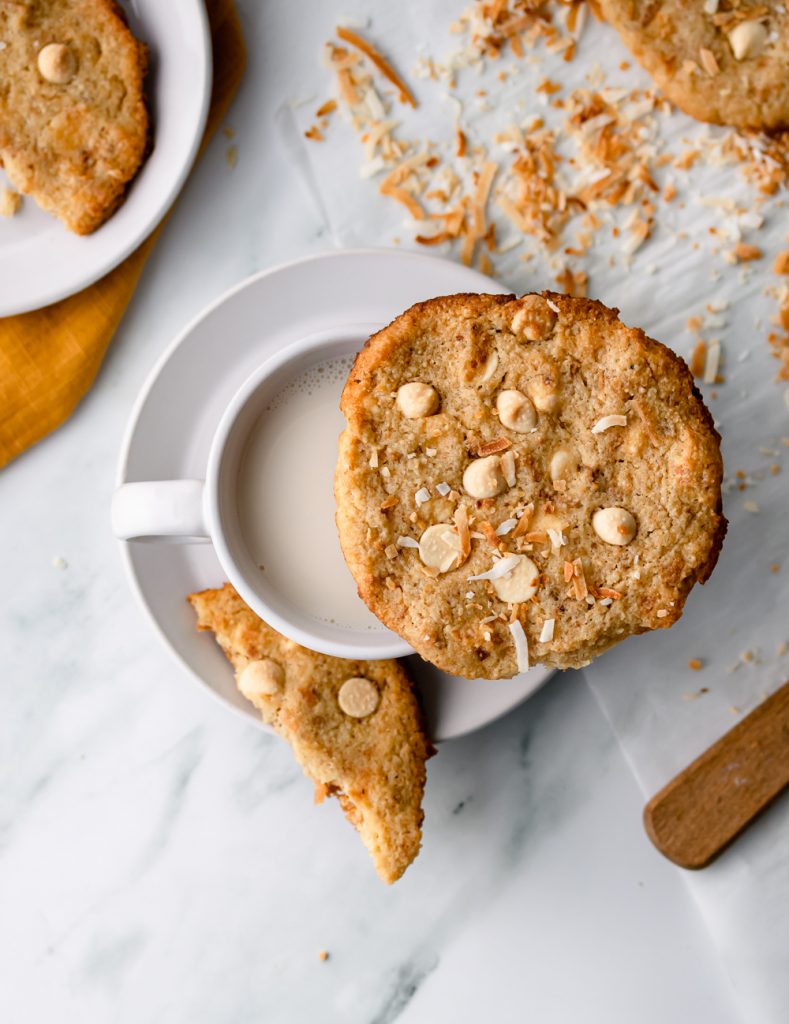 I'm Into That Big Cookie Energy
Not that small cookies don't have their place in my cabinet. They do. I can go TO TOWN and around on tiny bite-sized cookies, but sometimes that big-cooking craving hits, and a girl has to be prepared.
Listen, if the cookie doesn't take two hands to pick up, I'm not interested. Give me a cookie that looks like a plate and tates like buttery goodness. And if that isn't enough to make you drop your phone and run to the kitchen panting: there's toasted coconut, rum flavor, and white chocolate inside!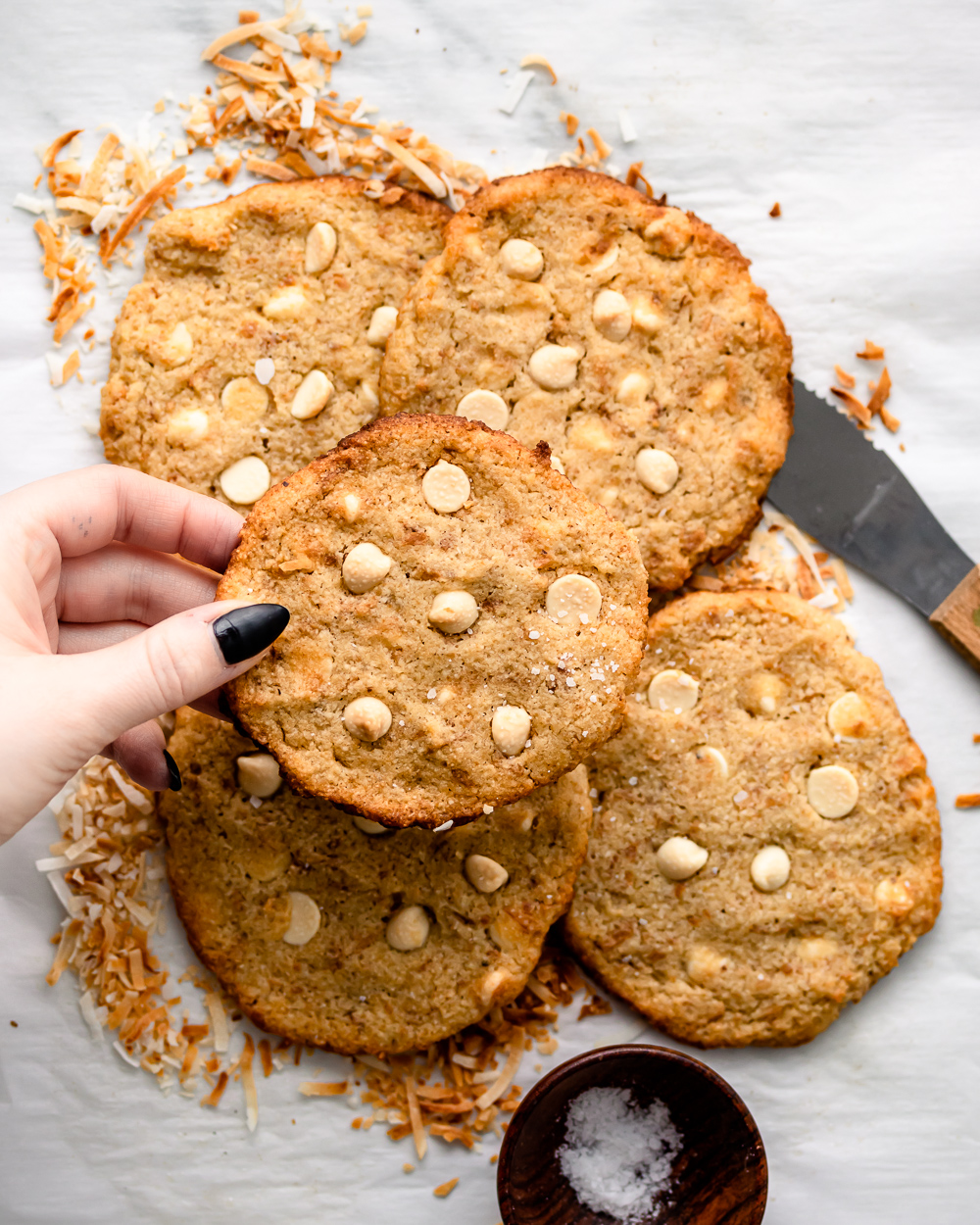 Baking Tips for BIG Keto Coconut Cookies
Cookie shaping is important. Just like most keto cookies, these won't spread or flatten much. To get the perfect shape, make sure to form your cookie to look like the photos above, keeping them large, round, and even in thickness. You don't want the edges to be thin and the center to be thick. The more even the cookie, the better it bakes! Make sure to have an even thickness throughout for the best cookie.
Room-temperature cookie dough is best. A lot of recipes call for chilling the dough but not here. For these keto coconut cookies to work and look "bakery style", you'll want the dough to be easy to work with and to spread a normal amount! The chilled dough is much harder to form and frankly, it's unnecessary.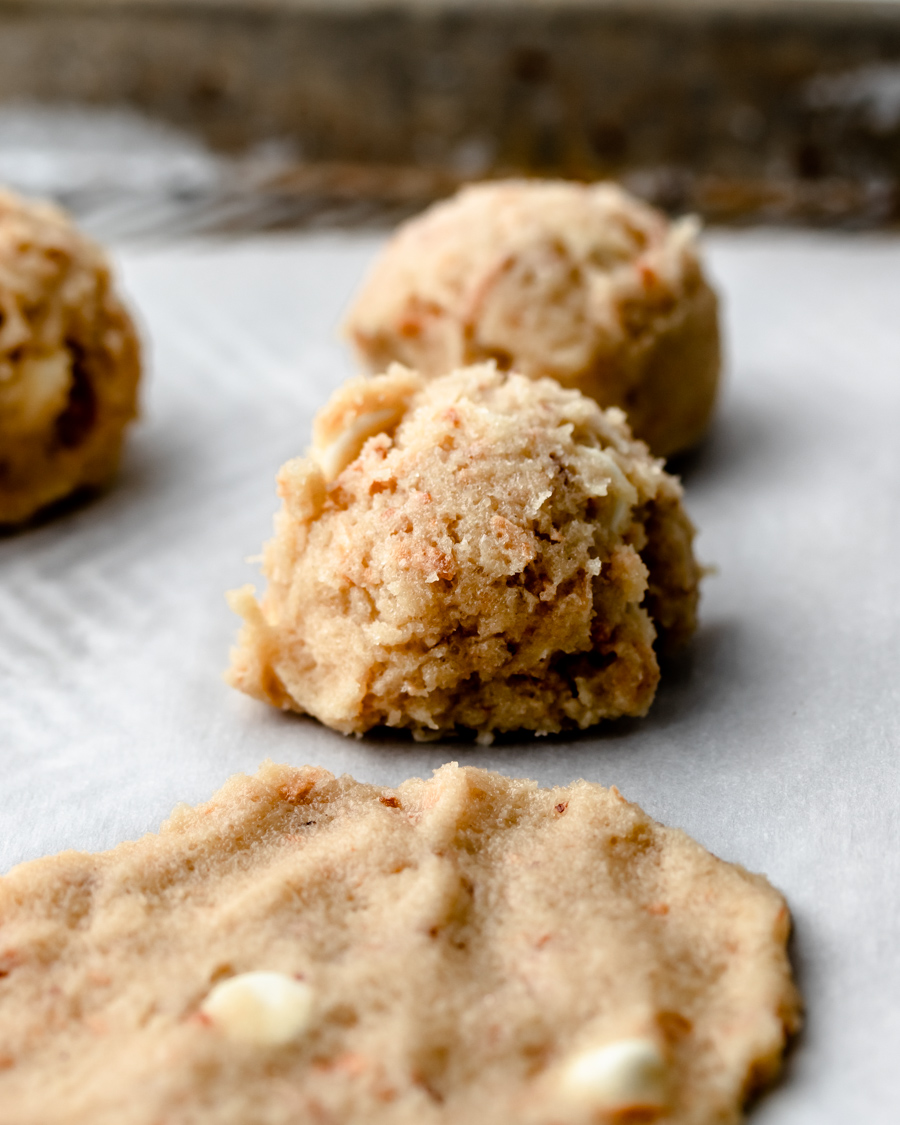 For crispy edges and firm texture, let the cookies cool in the open air! Erythritol takes time to cool and crisp, so right out of the oven, these cookies will be delicate and soft but will firm up as they chill.
Want a softer cookie instead of a crisp one? Keep the cookies on the thick side and keep the size smaller. These bakery-style cookies are made specifically to be a little crisp on the edges!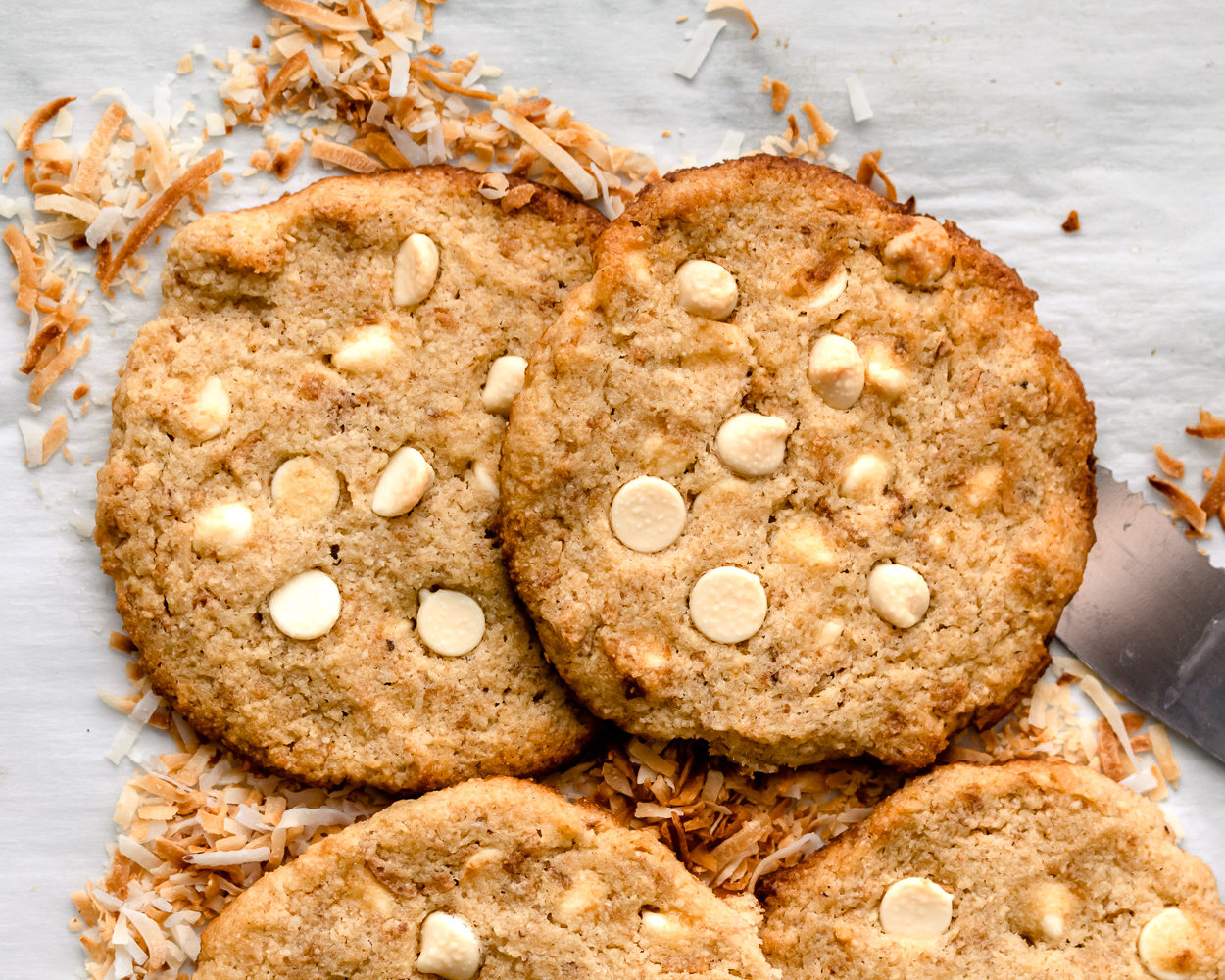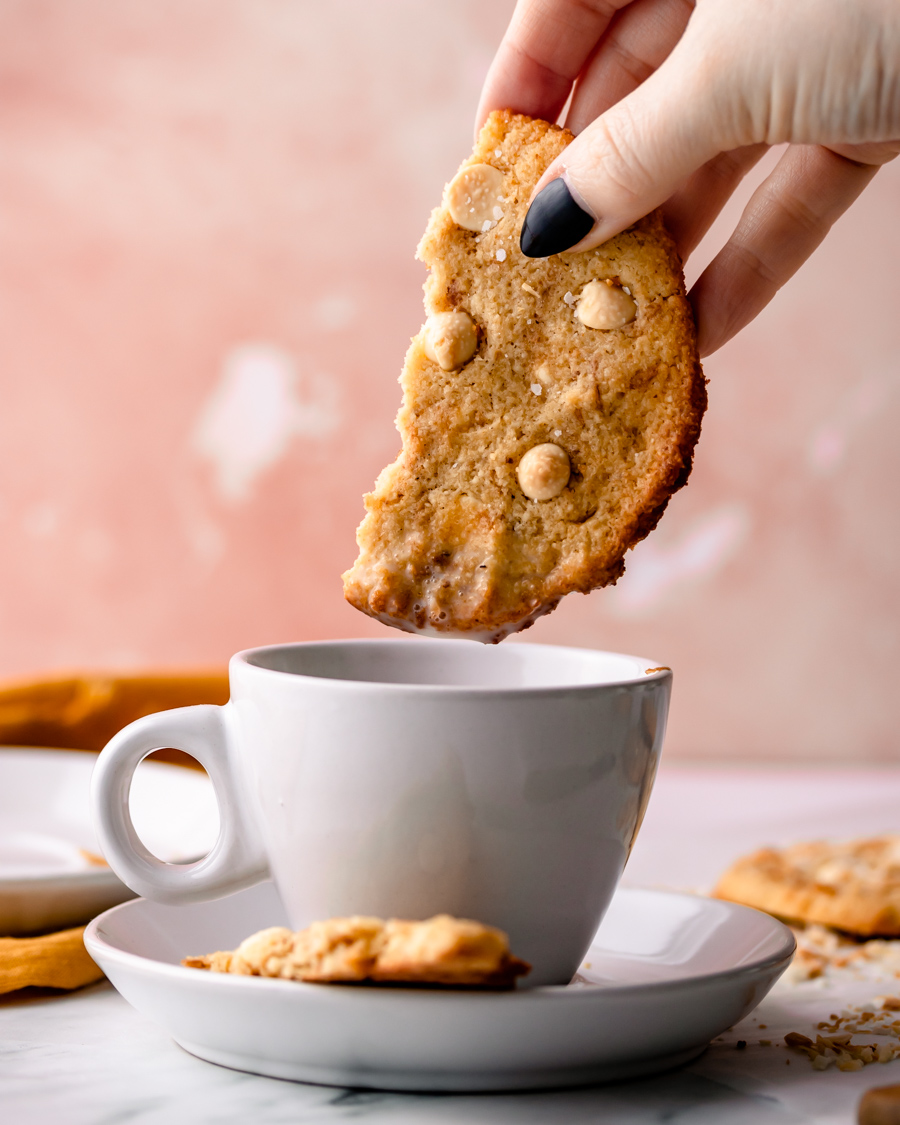 Substitutions & Solutions!
Ready to get bakin' but you're out of this or that? Here are what swaps and what flops!
Erythritol ➡ Allulose and Xylitol will work but they won't crisp up
Molasses ➡ Can omit OR use a no-calorie brown sugar like Swerve Brown in place of both the molasses and the erythritol.
Psyllium Husk Powder ➡ This holds everything together so you would need a starch like corn starch or tapioca starch.
Butter ➡ Coconut oil can work, but it's a higher percentage of fat so you'll need to use about 1/3 less so the cookies don't fall apart. The same goes for other shortenings. They won't get as crispy and tend to be dryer (in my opinion).
Looking for more? Try these!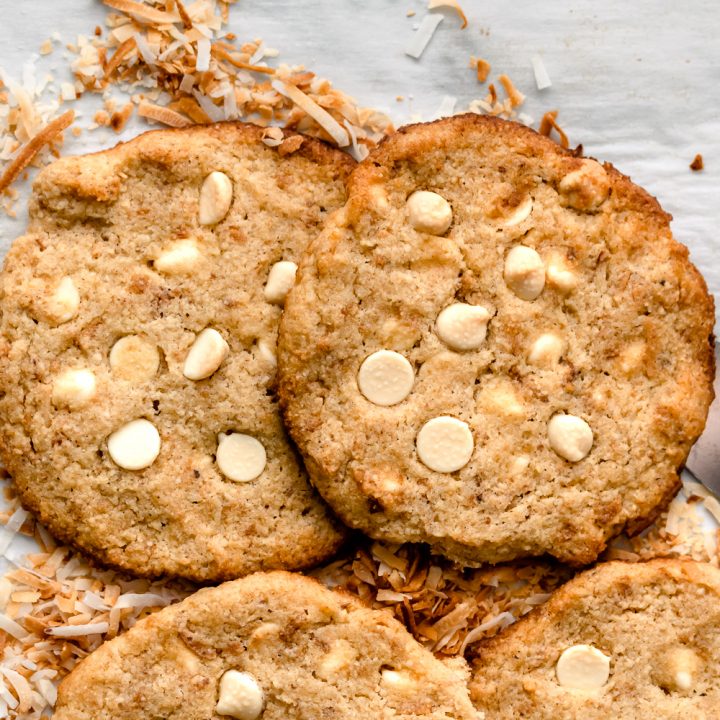 Keto Bakery Style Toasted Coconut Rum Cookies
Additional Time:
15 minutes
Deliciously crisp keto coconut cookies with a touch of rum flavor and a spattering of white chocolate!
Ingredients
8 tablespoons Butter, softened
1/2 cup Granulated Erythritol or 1/3 cup for a less sweet cookie
1 large Egg
1/2 teaspoon Baking Powder
Pinch of Salt
Instructions
Heat oven to 350° and line a cookie sheet with parchment for crisp cookies or a silicone baking mat for softer cookies.
Toast the coconut: Spread the coconut onto the parchment-lined cookie sheet at bake for 5-7 minutes or until lightly browned, watching carefully to avoid burning. Set aside to cool.
Cream the butter and sugar with a hand mixer or stand mixer until light and fluffy. Add the egg, vanilla, and rum extract and beat to combine. *The mixture might look lumpy or broken but that's normal!
In a separate bowl whisk the almond flour, coconut flour, psyllium husk, xanthan gum, salt, and baking powder to combine. Add the flour mixture to the egg mixture and mix with a spatula.
Fold in the cooled toasted coconut and white chocolate chips.
For Crisp Cookies: Scoop about 2 round tbsps of dough for each cookie and place about 3 inches apart on the prepared cookie sheet. Flatten each cookie to about 3 1/2 inch rounds making sure that the edge is the same thickness as the center. If the edges are too thin they over-brown! Bake for 9-11 minutes on the top rack of your oven. Let cool completely for an optimal crisp!
For Softer Cookies: Scoop about 2 round tbsps of dough per cookie and form into a ball. Arrange on the cookie sheet and only flatten slightly; the cookies won't spread much but will be thick and soft! Bake for 10-14 minutes, watching for the edges to set. Cool before moving and enjoy!
Notes
Check the post for substitutions on sweetener and flours!
Nutrition Information
Yield

10 large cookies
Amount Per Serving
Calories

210
Total Fat

19g
Carbohydrates

10g
Net Carbohydrates

6g
Fiber

4g
Protein

4g