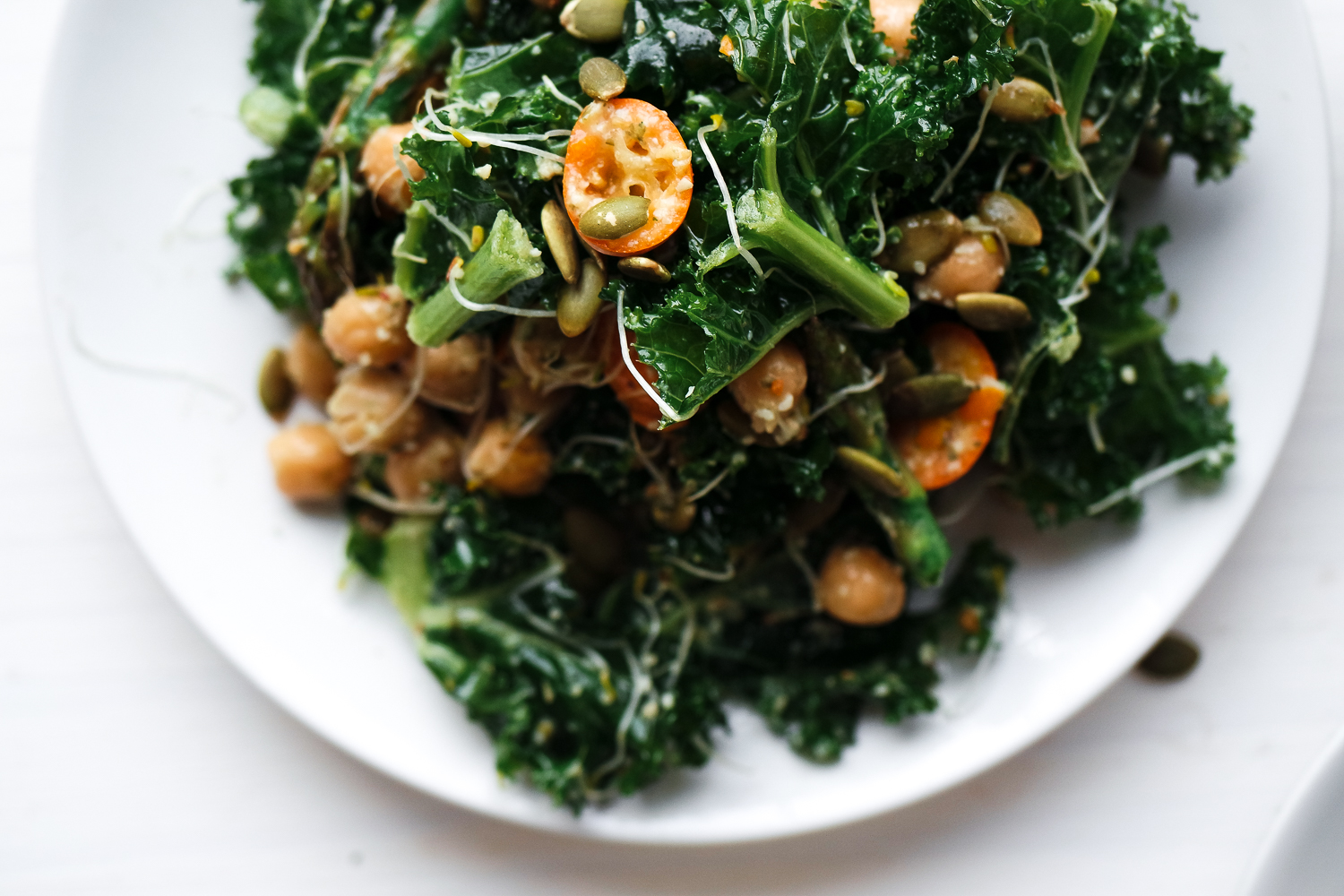 Reset it and forget it.
I have made the conscious decision to reset and forget, and you should too. Why? Because there is absolutely no point in constantly living out past failures (diet, dating or other) day after day after Every. Damn. Day. That's toxic as hell. And it has to stop.
Like, today.
With this salad.
MAYBE it's not as easy as one single, solitary salad to— oh I don't know— ease a heartache or a diet break or whatever it is that is bothering us at the moment. BUT it sure as hell can't hurt, right? RIGHT.
Kumquats Are The Answer. Probably.
SO as we are resetting and forgetting, it's important to remember to branch out. Meet NEW *fruit* (like a Kumquat!) in which to occupy your mind while forgetting about the 6'2″ dark haired "donut" that you just had to have. The donut was clearly bad for you. FORGET THE DONUT.
And have some kale and a Kumquat instead.
A kumquat would never do you like a donut would. It can't. There's too much good stuff within it to ever crush you with it's sugar crashy crushing power. Especially when paired with pumpkin seeds, kale, and sprouts.
Remember, you mustn't limit yourself in this reset. Be open to all of the vegetable and fruit prospects. The more, the merrier.
Detox Kale Salad with Kumquat Pumpkin Seed Pesto Dressing
Just a huge helping of really really good for you stuff.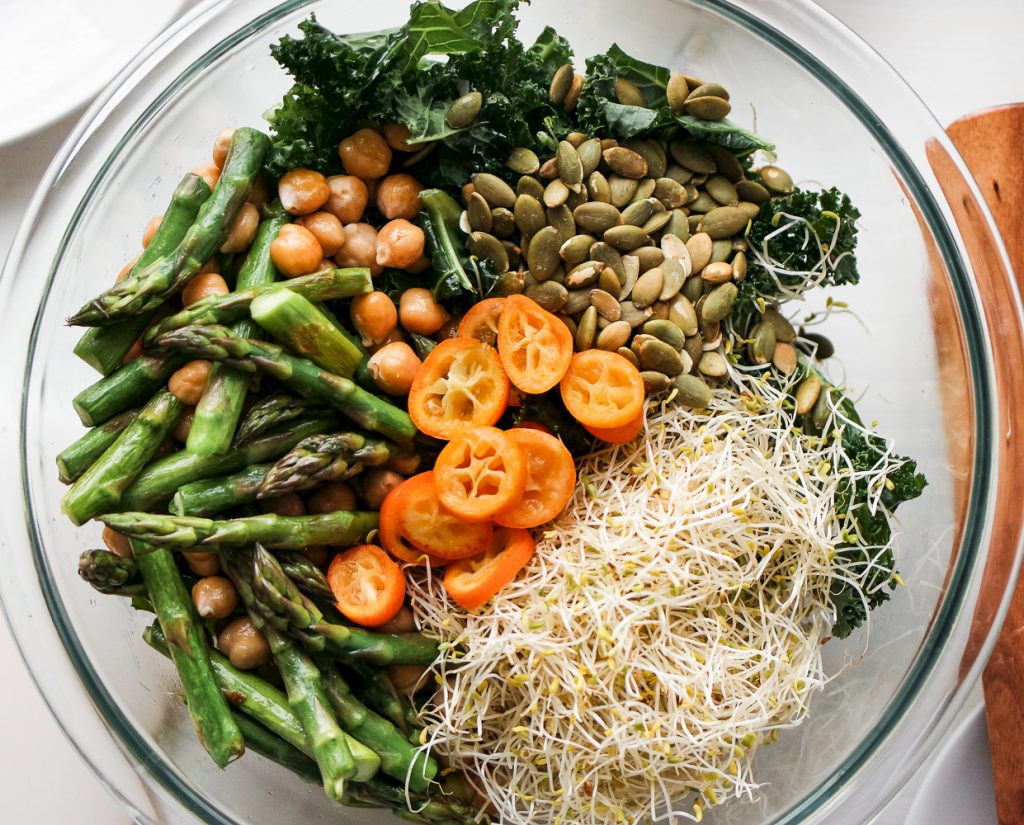 Look at that big bowl of redemption.
So much KALE to INHALE.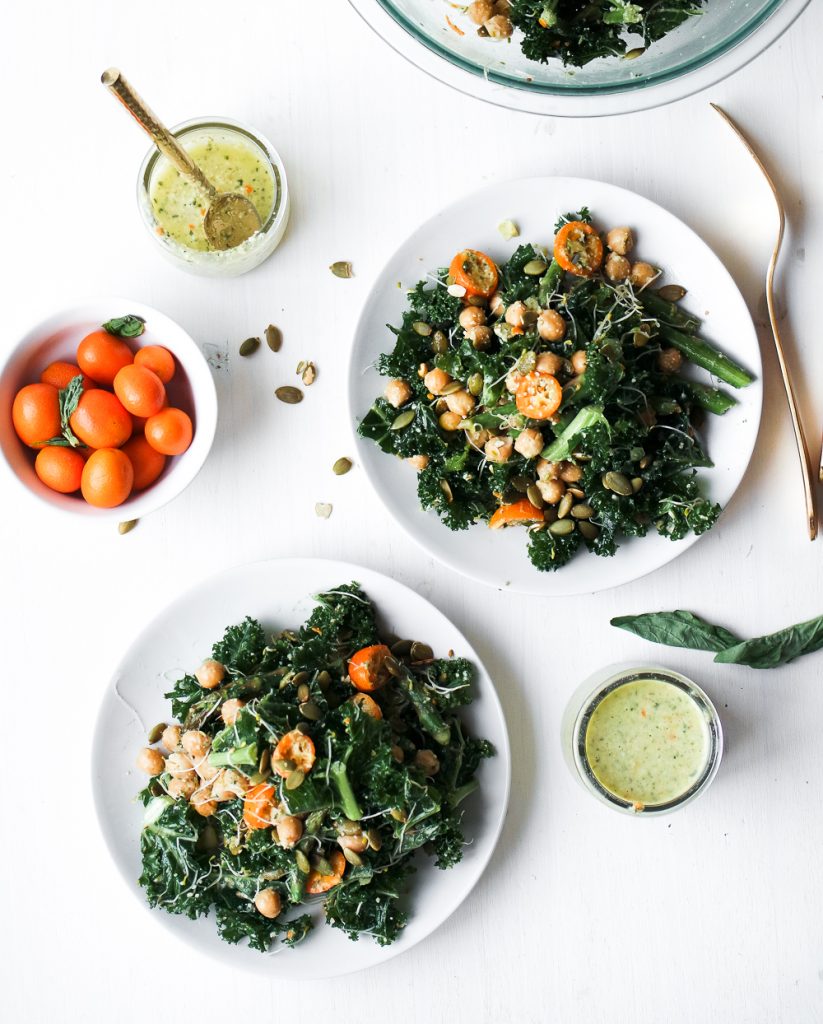 No pressure, but this dressing is pretty amazing.
It's a kumquat *pesto* that is not technically pesto at all, other than the fact that it has fresh basil and parm in it….and it's tangy and slightly sweet and not at all gross.
Plus it's a super pretty shade of green.
And it mixes so well with slightly toasty chickpeas and firm asparagus spears.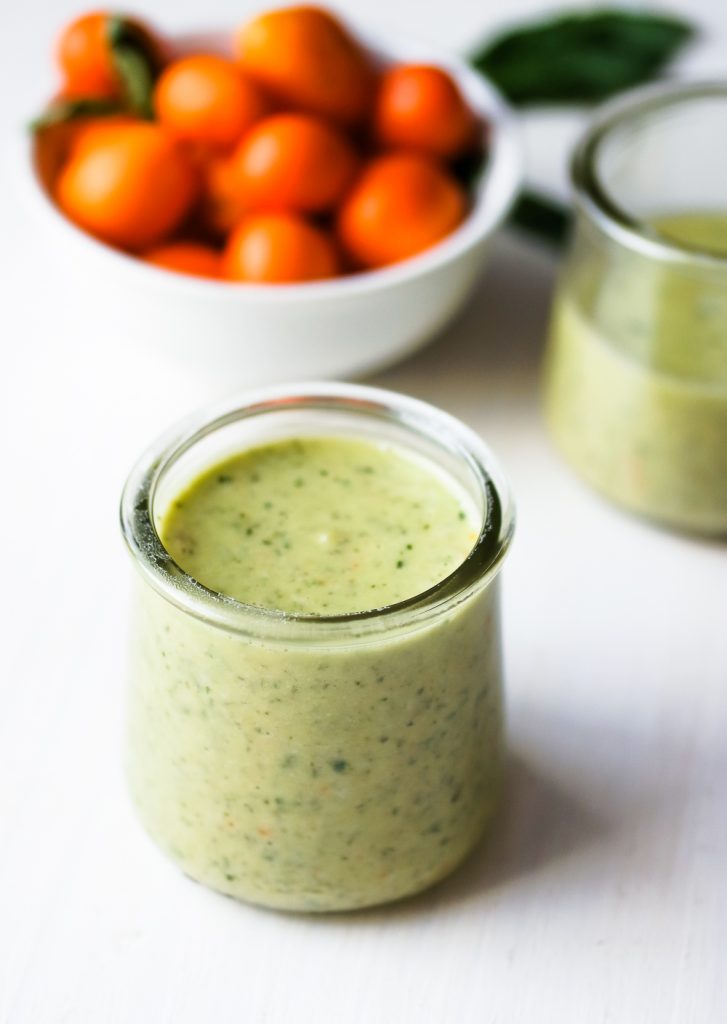 It's a little hunky and chunky because it's basically full of pureed Kumquats AKA mini oranges.
Also because I need a new food processor.
Sponsors are welcome.
I take paypal.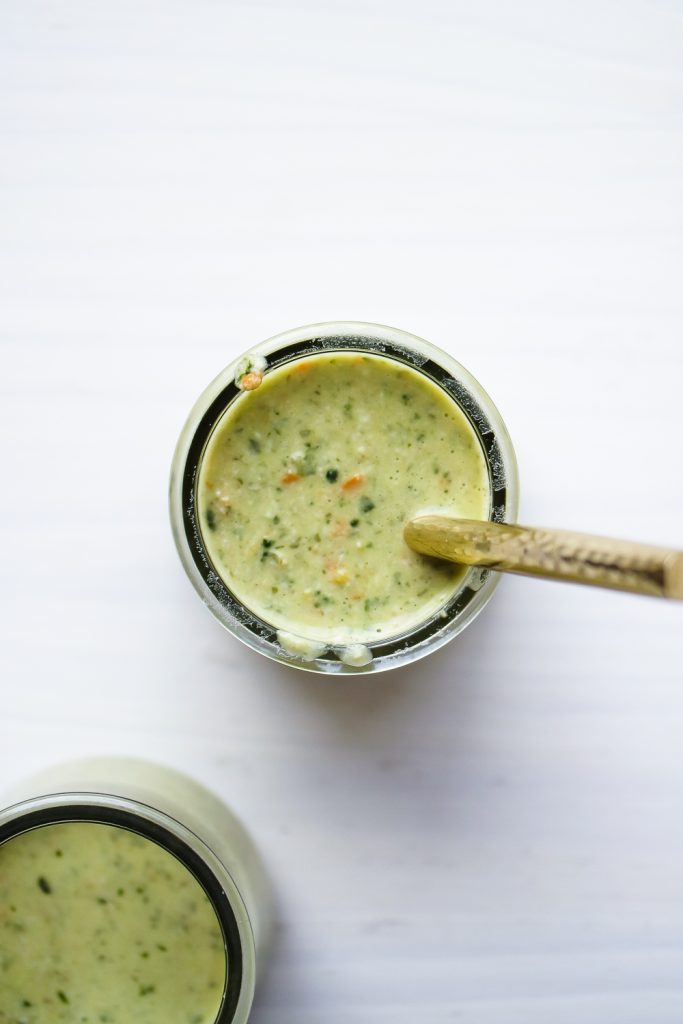 AND here are more pictures that I couldn't bear to delete because I loved them so dearly, followed by photos of the actual salad.
Detox Kale Salad with Kumquat Pumpkin Seed Pesto Dressing
Detoxing might not be real, but this salad is.
Ingredients
Kumquat Pumpkin Seed Pesto Dressing
5-6 Kumquats
1/4 cup Roasted Pumpkin Seeds
2 tbs Parmesan Cheese
1/4 cup Fresh Basil
1/2 cup Avocado Oil (or Olive Oil) *replace half with cider vinegar to reduce calories
1 cup Water
Salad
3 cups Kale
1 tbsp Avocado Oil
1 can Chickpeas, drained
1/2 lb Asparagus, chopped
1/2 cup Bean Sprouts
4 tbsp Pumpkin Seeds
Instructions
For the dressing
In a food processor plus all of the dressing ingredients except for the oil and water.
Once the mixture is roughly chopped, add the oil and water and blend until smooth. Set aside.
Salad Time
In a large mixing bowl, massage 1 tbsp oil into the leaves of the kale. Really work it.
While the kale is getting relaxed, saute the chickpeas and asparagus in a large non stick skillet over medium heat. I always add a little cooking spray but it's not necessary.
Watch for the chickpeas to brown slightly and split open. The asparagus should stay rather firm.
Toss the remaining ingredients together and dress the salad with the pesto.
Notes
Dressing Nutrition Info: 2 cups makes 8 1/4 cup servings
Cals: 189 Fat: 19g Net Carbs: 1g Protein: 6g
Nutrition Information
Amount Per Serving
Calories

216
Total Fat

8g
Carbohydrates

29g
Fiber

9g
Protein

11g