Who doesn't love gooey keto and gluten-free mozzarella sticks that can go right in your oven?!
---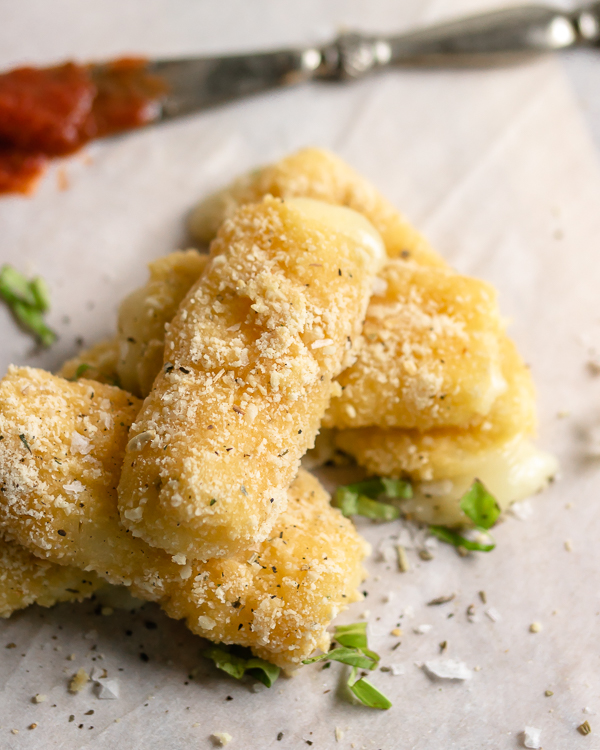 To Thine Own Self Be True.
That's Bill Shakespear's way of telling me I can't have an air fryer.
And it's 100% accurate.
It's not that I don't want the air fryer. I do. I want one. It would honestly make this recipe a lot easier and faster.
The issue is that I want the air fryer too badly. I know this because even as I type, I'm thinking of all of the good I can do with the air fryer, which makes me know immediately that I will actually do a lot of evil with it.
Fries.
Pizzas.
Desserts of all kinds.
Onion Rings…More Pizza.
But this recipe isn't about an air fryer. It's about an oven-baker.
I only bring up air frying because I know with 100% certainty that someone will say, "I bet this would be great in an air fryer!" and at that point, I'll finally cave and go get one. But that's a problem for future me.
Today me has to deal with the problem of portioning out baked mozzarella sticks responsibly.
Cheese Sticking 101
I'm going to level with you here because I'm all about honesty. Baking gluten-free AND keto cheese sticks in the oven is not the same as fried cheese sticks from Chili's. Almond flour just doesn't do cheese that way and I'm sorry.
What it WILL be like is a deliciously salty melted piece of cheese, coated in a little toasted almond flour and seasoned to perfection with the herbs of Italy.
Still pretty good.
There IS some freezing of the cheese involved, a double coat process, and toasted almond flour. You can't really skip these things or else your stick will turn out like the example picture below (ate them anyway) which is not ideal.
Here's why!
-Freezing the cheese helps the egg stick, which helps the almond flour stick.
-Freezing also helps the double coating happen.
-Toasting the almond flour is a flavor enhancer! Because the cheese sticks don't stay in the oven long enough to really "cook" the almond flour, toasting the flour first gives it a deeper flavor and crisp.
And Why It Didn't Work
So let's say you followed the directions to the letter but your sticks still sucked? Bummer. Here's what might have happened (aka what to avoid).
Your cheese was too "wet" which is a very accurate way to describe the moisture content of your mozzarella. Every brand is different, I don't care what the package says. Some sticks are soft and mild, others are firm, salty, and more stringy.

The softer they are, the gooier they get and that's not a compliment in the world of cheese sticks.

You Let it Linger and as we have learned from The Cranberries, it's a bad move. Be quick when moving your cheese stick from the egg mixture to the flour mixture!

If you keep rolling the cheese in almond flour over and over again, you'll end up with a clumpy mess that won't stick to anything but your hot little fingers.

You Let It Linger, Again but this time in the oven. Trust me when I say 'tis a far better thing to pull your sticks out slightly before alllll of the cheese melts. This isn't pizza. Don't wait for the cheese to be bubbling out everywhere, because it will.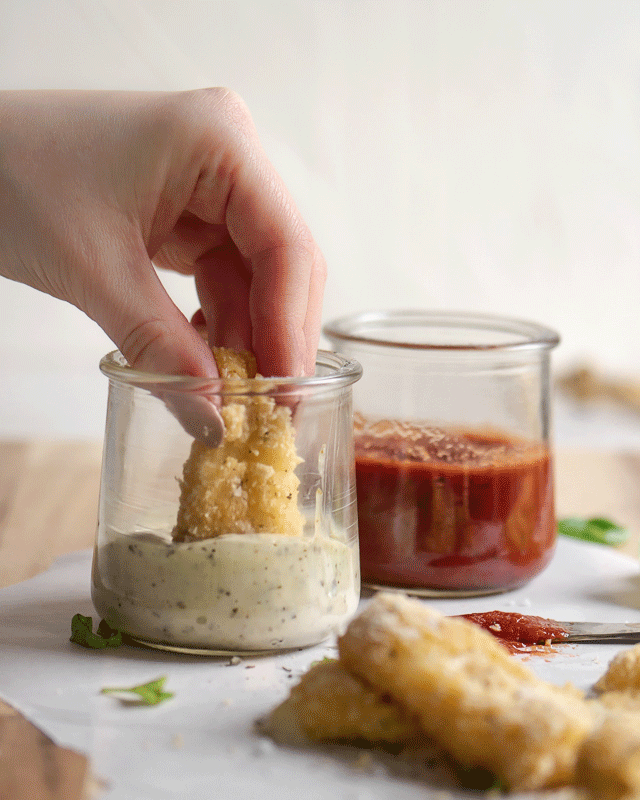 If you got through all of that without skipping ahead, bless you.
Keto Gooey Baked Mozzarella
Cheese Sticks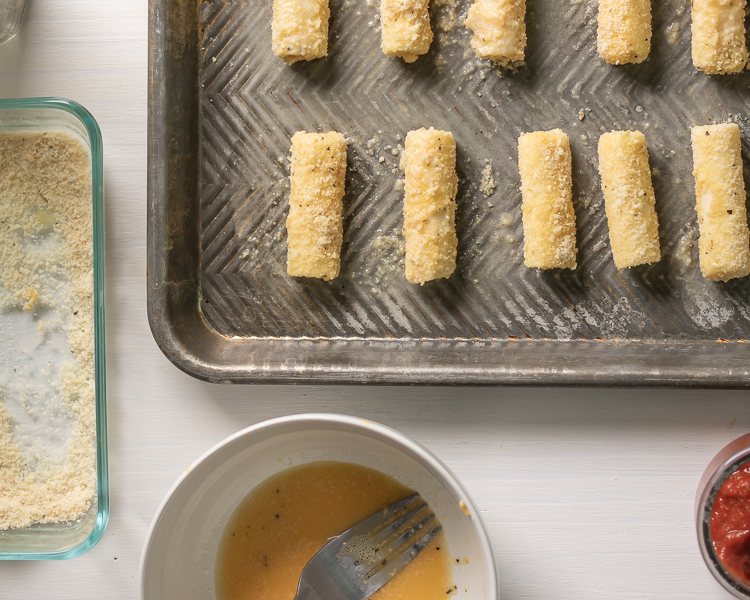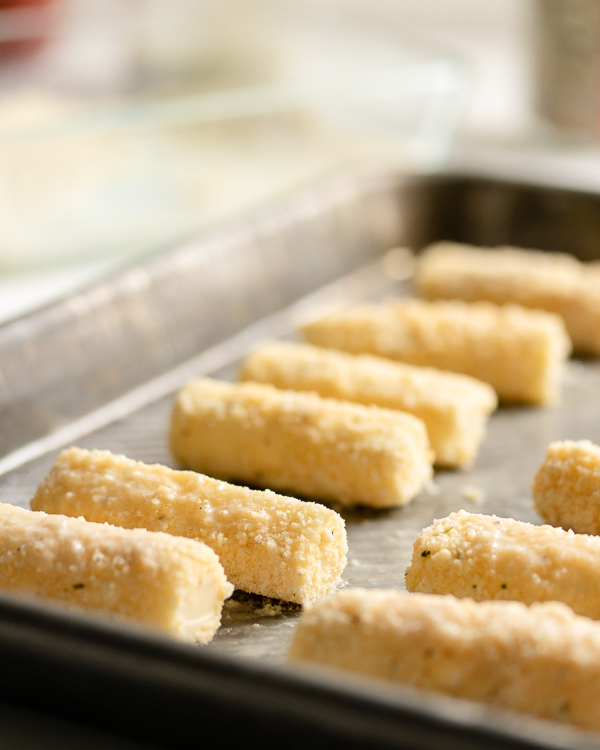 This is a photo depiction of what a double coat vs a single coating
looks like, so you know I'm not messing around.
The double coat is not just a suggestion.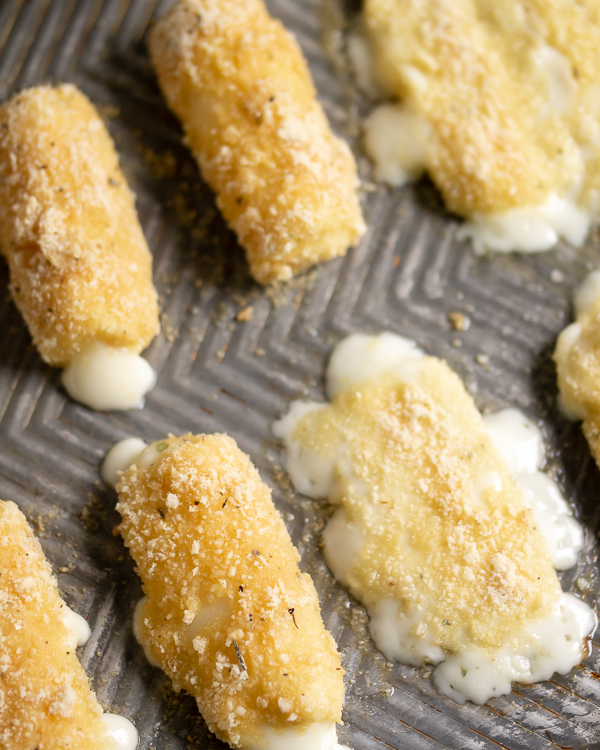 You can also see that they do still flatten a little.
That doesn't bother me as I see beyond looks and try to focus
what's on the inside. Which in this case, is cheese.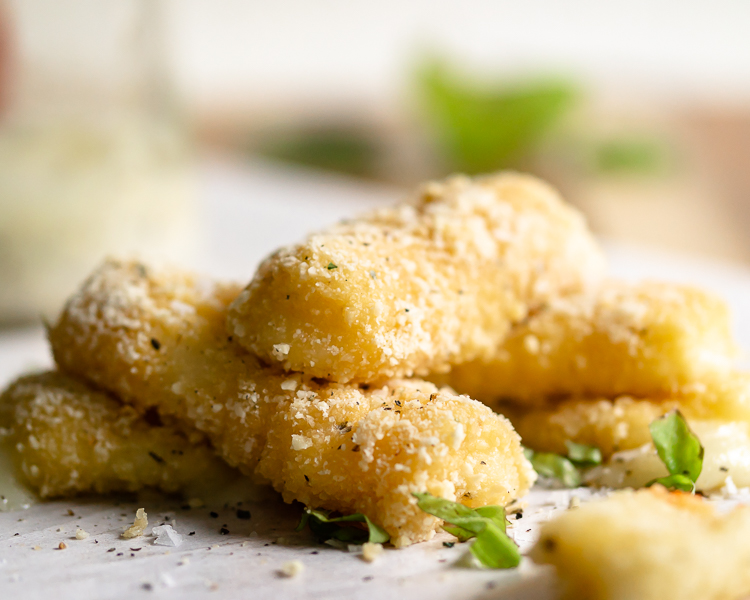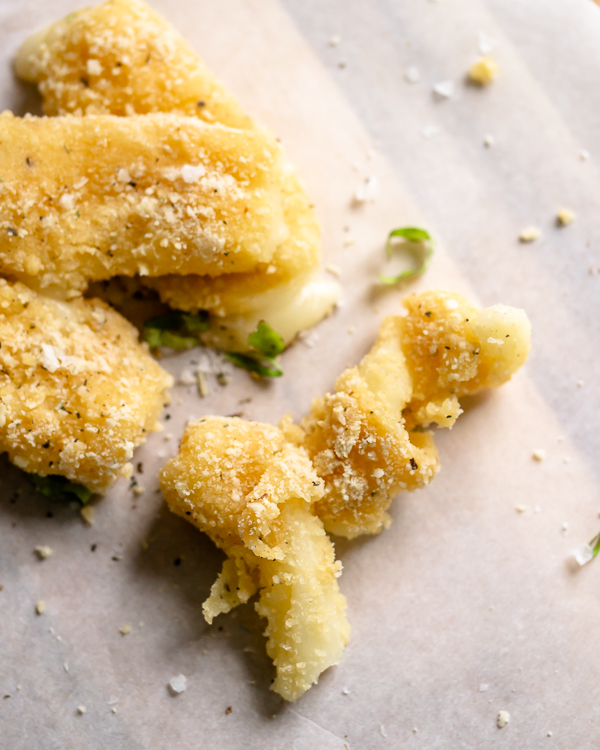 Looking For More Keto Sides? Try These!
Addictive Parmesan Roasted Cauliflower
Incredibly Easy Sheet Pan Veggies & Creamy Baked Feta
Unbelievably Crunchy Super Seed Crackers with Whipped Herb Ricotta Dip
Keto Gooey Baked Mozzarella Cheese Sticks
Total Time:
2 hours
10 minutes
Baked low carb/gluten free cheese sticks for you pre-meal eating pleasure!
Ingredients
6 Mozzarella String Cheese Sticks, halved and frozen for at least 2 hours
½ cup Almond Flour, toasted
1 tbsp Italian Seasoning
¼ cup Grated Parmesan Cheese
1 tsp Salt
1 Egg, beaten
Olive Oil Cooking Spray
Instructions
For the Breading
To toast the almond flour in a skillet, simply add the flour to a non-stick skillet over medium heat and stir occasionally to prevent scorching. This isn't required, but since these sticks don't have a long bake time, it helps with the coating texture!
Mix the toasted flour, Italian seasoning, grated parmesan cheese, and salt in a shallow dish.
Ready your beaten egg in a bowl big enough to dip your mozzarella cheese. That's important and a mistake I've made!
To Assemble
Heat oven to 450 and coat a baking sheet with non-stick cooking spray.
Dip the frozen cheese sticks in the egg wash, then roll gently in the breading mixture and lay on a plate (or baking sheet if it fits in your freezer). Freeze for 30 minutes.
Repeat the egg/breading process a second time with the frozen cheese sticks, paying attention to cover the ends completely, and return to the freezer for 10 more minutes. The second coating helps the sticks keep their shape.
Arrange the double-coated cheese sticks on the prepared baking sheet and bake for 8-10 minutes. A small amount of cheese may begin to leak out, which means they should be done!
Let cool slightly before eating!
Nutrition Information
Yield

4 servings
Serving Size

3 cheese sticks
Amount Per Serving
Calories

244
Total Fat

19g
Carbohydrates

4g
Net Carbohydrates

2g
Fiber

2g
Protein

17g