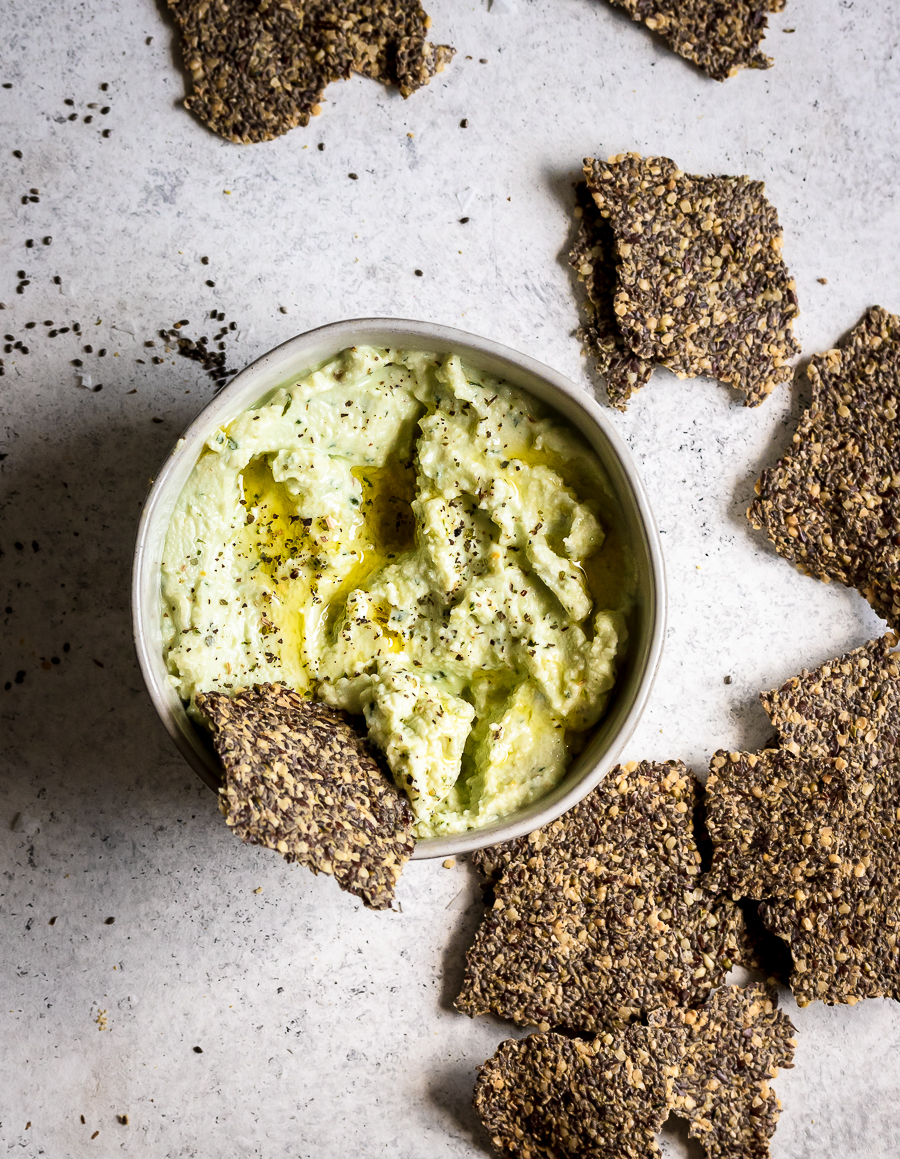 CRACKER
/ˈkrakər/
noun
plural noun: crackers
1. A highly addictive snack that requires a 12 step program to stop eating.
2. A thing that cracks. Probably me, from eating too many crackers.
You know how when you're sick, all you want is Saltine crackers and fizzy ginger soda? That's how I've felt lately, except I'm not sick at all—I just want to eat crackers. Weird, right? No matter what I do, my body just rejects all foods that aren't a salty cracker or chip.
It's a sickness.
Just like any incredibly important medical issue, it deserved my full attention. So I canceled all of my plans and devoted an entire Saturday to testing batch after batch of seed cracker variations. But then I realized, what's a cracker without some sort of amazing, mind-blowing, incredibly decadent tip?
It's a disappointment and it's not helping me get any better.
Super Crackers
Need a Super Dip
So obviously you're familiar with crackers and the fact that dip is essential. But what kind of dip do crackers like and will my crunch-craving illness approve? Turns out, whipped ricotta is a cracker approved dip! And since my body didn't reject the dip, could this be a cracker-and-dip sort of affliction that I have?
Probably too soon to tell, but man is this dip GOOD. You've got ricotta and herbs and salt, plus a little lemon to give it some bite. It's also a beautiful shade of green so the likelihood of it being some sort of naturopathic remedy for health is also a real possibility.
And did I mention all the seeds? If you didn't know, seeds are the life-force of all vegetation and contain all the genetic material to create an entire plant.
***I'm not sure if that's true or not, but it feels true.
But enough about health and my current snack addiction recovery program. Let's make some crackers and dip!
Unbelievably Crunchy Super Seed Crackers & Whipped Herb Ricotta Dip
Go ahead and snack away. It's good for you!
Probably!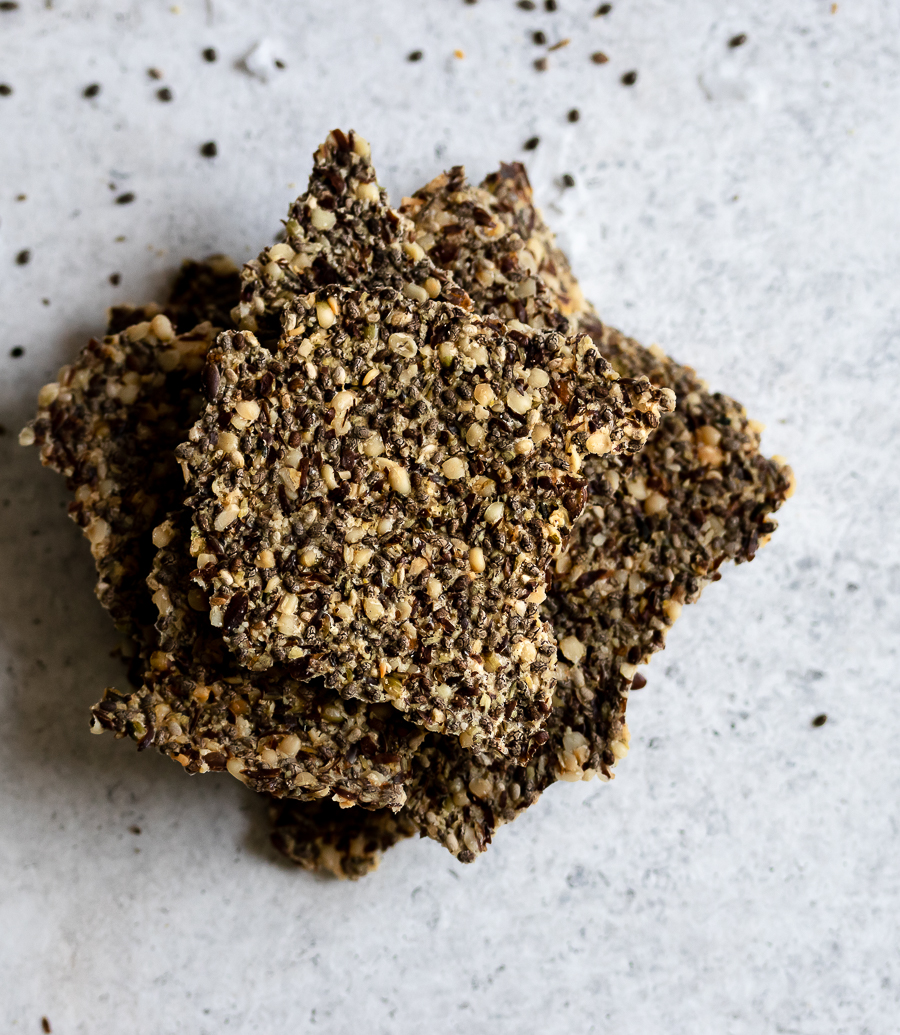 The best part about these crackers is how EASY they are.
No butter, no eggs, one bowl, and you can make them while watching tv.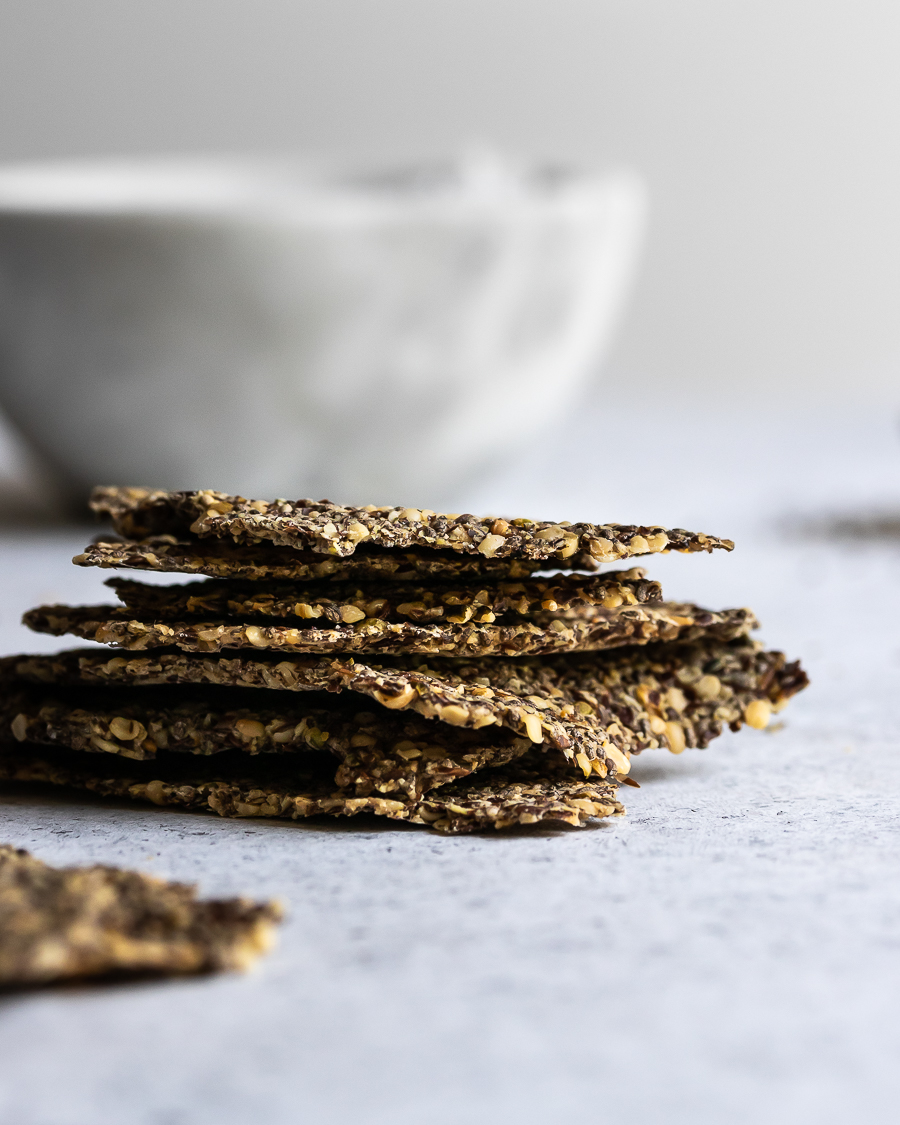 Just make VERY sure you get the crackers rolled out VERY thin.
VERY important!
Thin Crackers for Crunch
Here's what you do: lay a parchment sheet on your counter (the size of your pan) and then scoop the dough on it. THEN get some cling wrap and use it as a barrier to roll the dough out with a rolling pin.
You absolutely want to use a rolling-pin because that makes it level and even and everyone on Bon Appetite does it.
After that, you bake it TWICE. This is the tricky part:
Bake it, take the parchment off and flip it over (top side down) then peel the parchment off. The top side is now in contact with your bare naked sheet pan to be baked again.
Don't worry, it won't stick but it will crisp up even more!!!!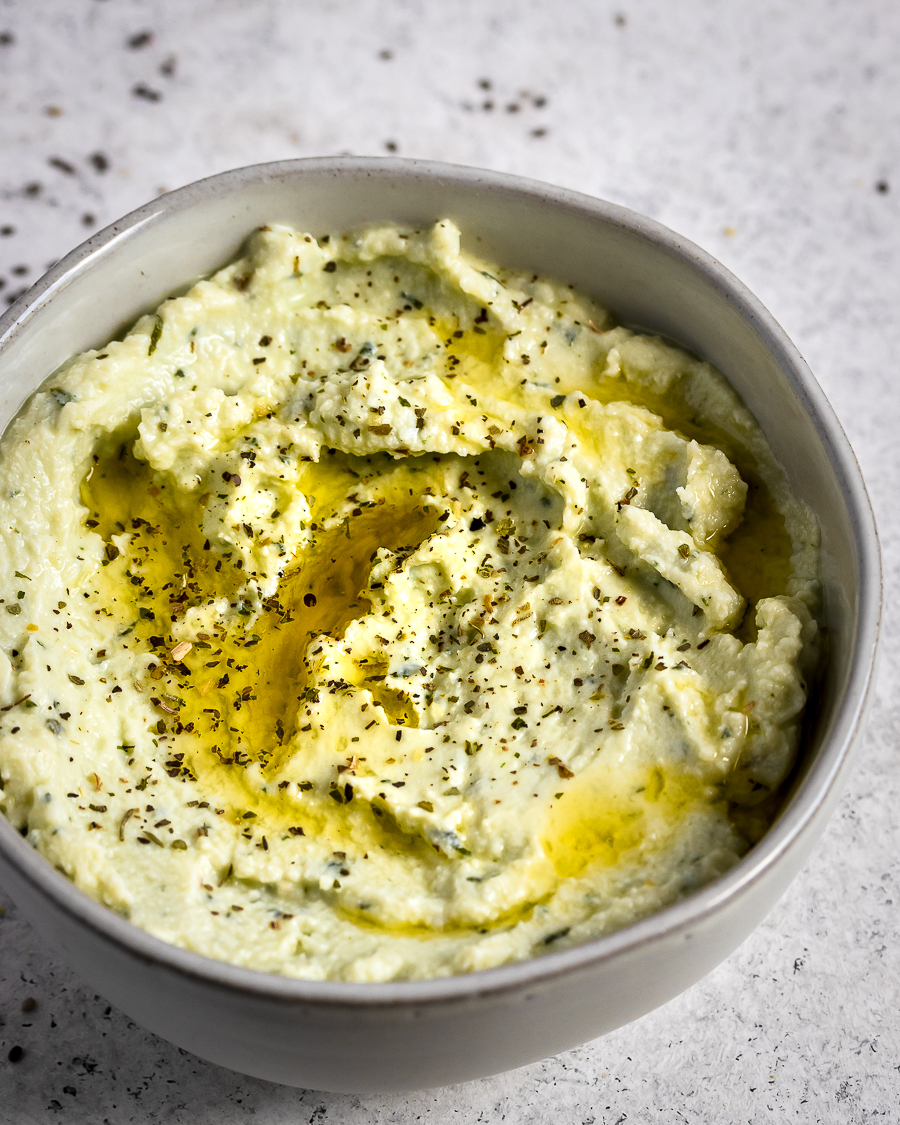 And then there's the dip.
One day of snacking this dip and I honestly think I'm cured.
Who needs modern medicine anyway? #FoodIsMedicine
Here are the ingredients I use! I'm an Amazon Affiliate and any purchases made through the links offer me a small percentage.
Golden Flax Seeds
Chia Seeds
Hulled Hemp Seeds
Flaky Salt
Nordic Ware Sheet Pan
Unbelievably Crunchy Keto Seed Crackers
Deliciously crisp and salty crackers made with chia, flax and hemp seeds!
Ingredients
Basic Cracker Method
1/4 cup Ground Golden Flax Seeds
1/4 cup Chia Seeds
1/4 cup Hulled Hemp Seeds
2 tbsp Almond Flour, optional
2-3 tsp Flaky Salt I like my crackers very salty
1/2 cup Water
Optional Seasonings
Cheesy Crackers 1 tbsp Nutritional Yeast + Ground Tumeric
Ground Rosemary + 1 tsp Olive Oil
1 tsp Onion Powder + 1 tsp Garlic Powder
Instructions
Heat oven to 350 (325 if your oven runs hot) and line a large baking sheet with parchment paper.
Mix all of the seeds, optional seasoning of your choice, and water in a large bowl and stir until the water is absorbed. The mixture should not be runny but should be spreadable.
Scoop the cracker dough onto the parchment and cover with plastic cling wrap (it won't stick like parchment will) and roll out into a very thin sheet. If you have a full sheet pan, it will cover most of it.
Remove the cling wrap and place in the oven for about 20 minutes (check it at 15), watching for the edges of the cracker to begin to curl upward slightly.
Remove from the oven and gently flip the parchment over directly onto the baking sheet to crisp the other side. Peel off the parchment and return to the oven to continue to bake for an additional 10-20 minutes. At this time, you can gently slice or break the crackers into pieces to help them get extra crisp.
Once the crackers no longer feel moist or soft to the touch, remove from the oven and let cool completely. The longer they cool and air dry, the crisper they get!
Nutrition Information
Amount Per Serving
Calories

183
Total Fat

14g
Carbohydrates

9g
Fiber

8g
Protein

8g
Whipped Herb Ricotta Dip
Creamy and bright whipped ricotta is the perfect low carb companion to veggies and crispy crackers!
Ingredients
1.5 cups Ricotta Cheese
7-10 leaves Fresh Basil
1 tbsp Lemon Juice
2 tbsp Olive Oil
1 tbsp Flaky Salt (I love salt, clearly)
1 tsp Dried Italian Herb Seasoning
Cracked Pepper to taste
More olive oil and lemon juice to garnish
Instructions
Place all ingredients in a food processor and blend until smooth. Taste the mix and if it's too bland for your liking, add a dash more of lemon juice and/or salt.
Scoop the dip into a medium size bowl and use a spoon to create a well. Drizzle with olive oil and lemon juice. You can also add a sprinkle of Italian seasoning as well!
Nutrition Information
Amount Per Serving
Calories

128
Total Fat

11g
Carbohydrates

3g
Protein

6g